Axios Pro: Energy Policy
Thought Bubble
March 13, 2023
😓 Just another Manic Monday! (especially if you bank with SVB ...)
🐻 Today's last song comes from Rep. Bruce Westerman, who was listening to "Smokey the Bear" by Steve Nelson and Jack Rollins.
1 big thing: Mining's hot seat moment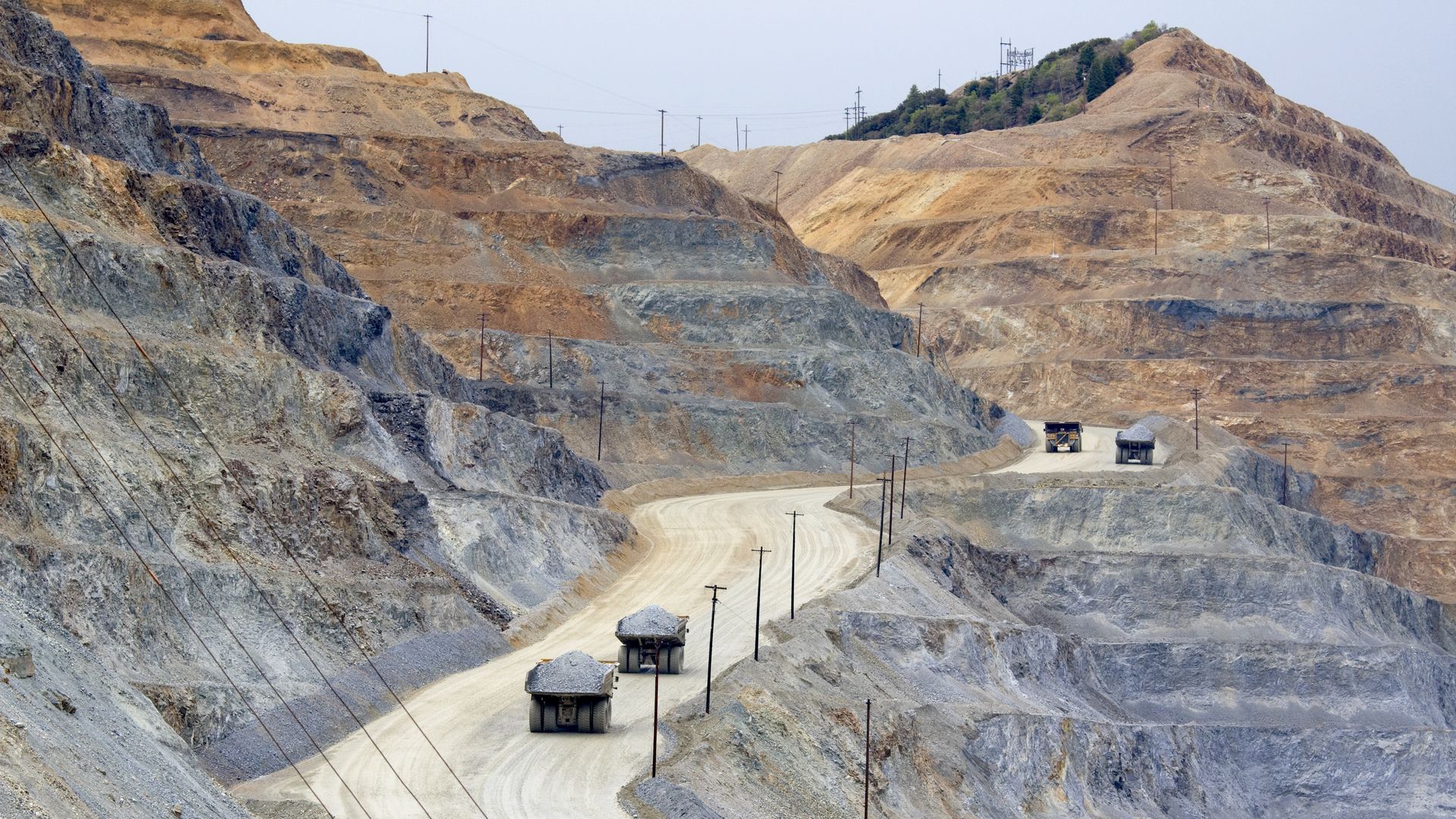 Permitting overhaul efforts have veered left into an unexpected conversation: how to hold mining companies accountable for their environmental and human rights problems.
Why it matters: After years of bipartisan love for mining, the global minerals business is suddenly in the Beltway hot seat as its relevance rises in a decarbonizing world.
Driving the news: Republicans and Democrats have started work in earnest on competing proposals to change the energy permit process — and mining's many impacts keep coming up.
To much surprise, the Natural Resources Committee last week approved an amendment to GOP-led permits legislation that would let the Interior Secretary ban foreign-owned mining firms with a "known record" of human rights abuses from federal lands.
The amendment — from freshman firebrand Rep. Anna Paulina Luna — passed by voice vote after the GOP blocked a nearly identical proposal from ranking member Raúl Grijalva.
"Documented human rights violations and those sorts of things ... we don't need those companies here doing business," Natural Resources Chair Bruce Westerman told Nick.
The situation is leading some Democrats to say it's worth talking about changing the nation's 150-year old hardrock mining law as progressives prep their own permits proposal.
"If they're working [on] permitting reform, I think you can't exactly avoid that, 'cause I think they're all tied together," Rep. Ruben Gallego, who is running for Senate in Arizona, told Jael.
Between the lines: These developments could have huge implications for mining companies headquartered outside the U.S., and create a political quagmire for lawmakers trying to accelerate domestic mine development.
Republicans plan to wrap the Natural Resources bill — the TAPP American Resources Act — into the broader energy bill they're putting on the House floor.
Grijalva said Luna's amendment would impact some of the biggest mining companies in the world with U.S. operations.
Zoom in: He cited Rio Tinto, a U.K.-based mining giant reviled in the human rights space for destroying Native sacred sites and polluting vulnerable communities.
Rio Tinto, which we reported may also face GOP oversight for its China ties, is one of two global mining companies behind Resolution Copper, a massive project at an Apache holy site that Grijalva has spent his career trying to kill.
Luna's amendment "caught me by surprise. I just thanked her," he told Nick after the markup. "I said, 'That was brilliant.'"
Rio Tinto declined to comment.
The other side: The National Mining Association, which represents coal and hardrock mining companies operating in the U.S., opposes the amendment in its current form.
NMA spokesman Conor Bernstein said in a statement that companies with a "well-documented history of flaunting globally accepted mining and human rights standards — such as Chinese mining companies in the Democratic Republic of the Congo — should not be permitted to operate on U.S. public lands."
But Bernstein said the amendment is also "ripe for abuse by those seeking to block all domestic mining projects."
Yes, but: Westerman said lawmakers can work on the language "if we need to."
"I think [mining companies are] generally in agreement with that because I think they can defend their record, but we just have to make sure there's not unintended consequences," he said.
The big picture: Despite lots of industry progress, mines and waste storage sites continue to collapse all over the world.
That's why as progressives prep their own permits proposal, they're bringing up the mining law. It doesn't require companies to pay royalties the way oil, gas and coal companies do.
What they're saying: Michigan Rep. Debbie Dingell seems particularly interested in changes because they could make communities impacted by any new mining boom feel as if they're at the table.
Rep. Scott Peters, the Democrat spearheading talks with Republicans on a permits deal, agreed that "of course we should" talk about the mining law.
Less eager is the NMA, which told Jael it wants "targeted agreements and legislative action" to compromise on areas such as royalties.
Bernstein added: "[T]here are some in this administration and Congress who are seeking to further complicate our permitting process under the false promise of modernizing today's mining laws."
View archive