Defense bill's climate/energy crossovers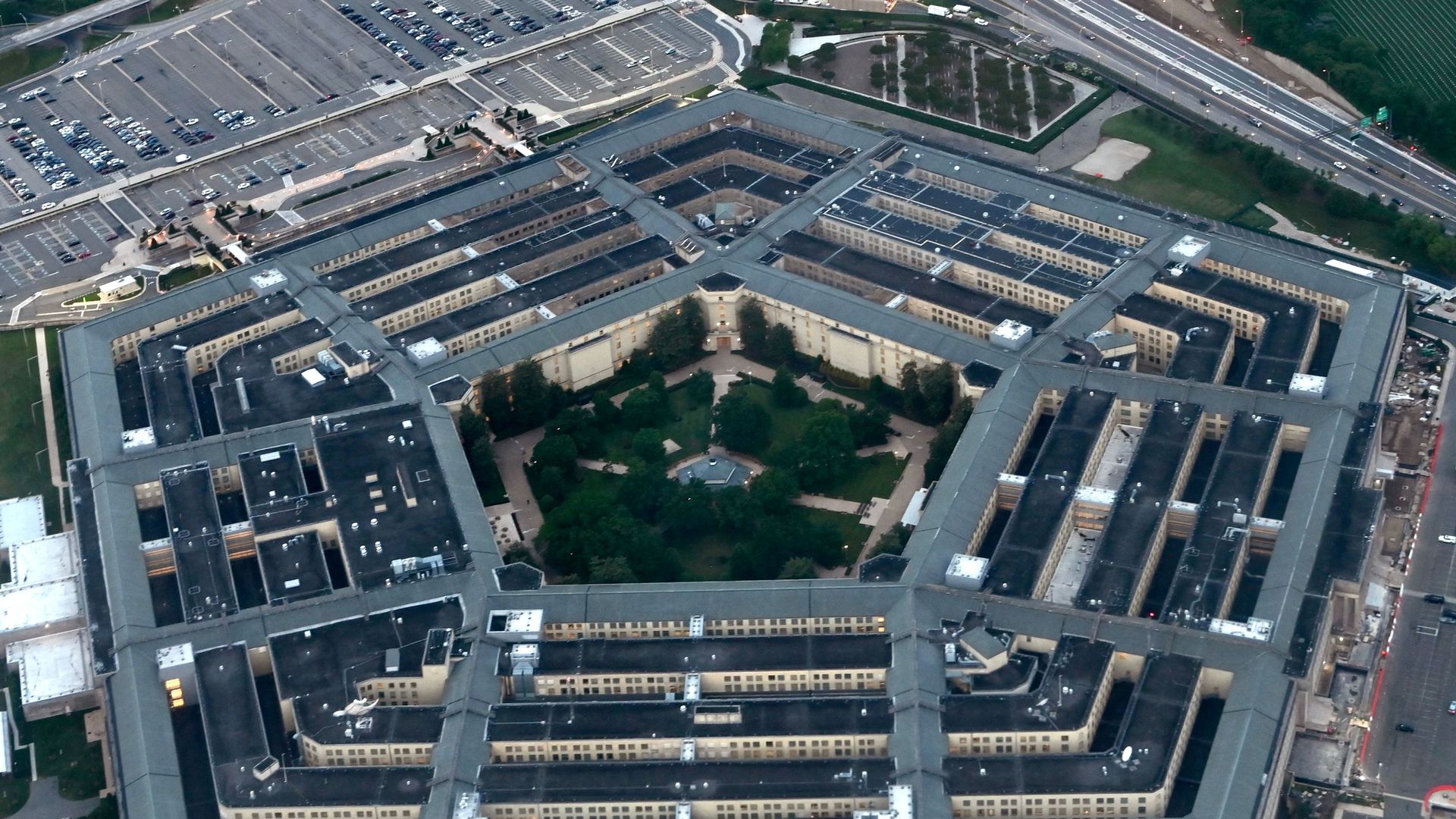 This year's defense authorization bill will be fertile ground for resource- and climate-related riders impacting the energy transition.
Why it matters: The Pentagon warns that climate change is a national security risk — and says the same about U.S. reliance on foreign supply chains.
We're starting to see signs of a bipartisan rallying cry to combine those issues into a mix of policy ideas that could wind up in the must-pass bill.
Here are some of the conversations:
🏔 Mining for the climate: We're watching many proposals to combat the U.S. reliance on foreign mineral supplies used by defense, energy and tech.
President Biden said last week he's pushing Congress to let him fund minerals-related projects in Australia related to the energy transition under a 1950 wartime industrial support law, the Defense Production Act.
We're watching for a proposed ban on imported enriched uranium from Russia as a bipartisan proposal moves on the Hill with industry support.
Reps. Eric Swalwell and Guy Reschenthaler are shopping around a tax credit for domestic rare earth magnets, a China-dependent resource necessary for the U.S. defense manufacturing sector.
🌅 Offshore opening: Reps. Garret Graves and John Garamendi nearly succeeded last year in passing a provision in the NDAA that would have limited the use of foreign crews on vessels working offshore energy projects.
They're at it again, having added the language to the latest Coast Guard reauthorization bill.
Industry is worried it would effectively kill U.S. offshore wind development with what it sees as infeasible workforce requirements.
Unions, meanwhile, say the provision would close a legal loophole and allow American workers to more easily compete against non-U.S. crews.
🇨🇳 Select's China selections: We're expecting a big potential rider from Rep. Mike Gallagher, chair of the GOP-made House select committee on China — one that may get bipartisan backing.
Gallagher's eyeing stricter implementation of the new China-centric forced labor law that has bedeviled the U.S. solar industry. He's targeting the government's use of "de minimis" exceptions to allow some imports of smaller dollar values.
We'll be watching to see how close Gallagher can bring Democrats to his positions, as well as whether there'll be red lines on implications for the energy transition (and/or bubbling civil rights concerns about anti-China politics).
🏞 Pastoral priorities: We're on the lookout for the public lands designations and Endangered Species Act provisions that perennially enter the NDAA debate (cough sage grouse cough).
Colorado Democrats last year got the Colorado Outdoor Recreation and Economy Act into the House version of the NDAA. It fell out in negotiations, but they introduced the latest version this month.
🧪 Plus, this year's bill will likely carry language related to certain kinds of PFAS, the "forever chemicals" that the military used for years in firefighting foam.
Go deeper