July 06, 2020
Welcome back to Axios World. We're starting in Ethiopia tonight and traveling to the Falkland Islands, all in 1,556 words (6 minutes).
New readers, please sign up here. Returning ones, please tell a friend. Now, let's dive in.
1 big thing: Ethiopia on the brink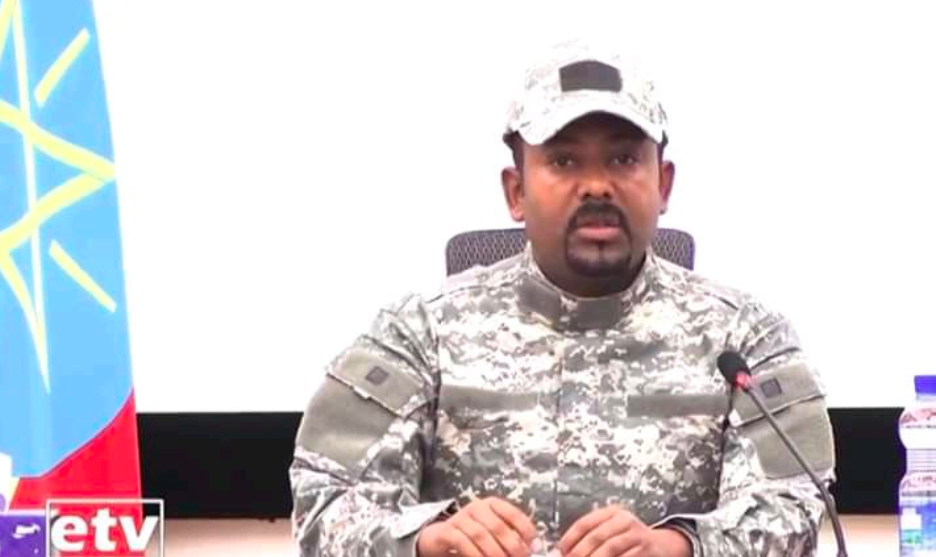 The image of a Nobel Peace laureate in military fatigues encapsulates the moment in which Ethiopia finds itself — on the verge of a transition to democracy, a descent into violence or, perhaps, a precarious combination of the two.
Driving the news: At least 166 people were killed after an iconic musician, Haacaaluu Hundeessaa, was murdered last Monday in Addis Ababa, the capital. Prime Minister Abiy Ahmed responded to the violence by sending in troops and shutting off the internet. High-profile opposition leaders were arrested, along with some 2,300 others.
Abiy claimed that "external forces" were "pulling the strings" in an effort to destabilize Ethiopia at a critical moment — a reference to the standoff with Egypt over access to the Nile.
Most of the deaths after Hundeessaa's killing came in intercommunal violence, however. Some of it was reportedly carried out by militant wings of hardline political factions.
"Considering who the dead and wounded are, there are clear indications that they were targeted for ethnic reasons," DW's Yoahannes Geberegziabeher reports from Addis Ababa.
Zoom in: The violence took place in Oromia state, also the site of the 2014–2017 uprising that swept Abiy, Ethiopia's first Oromo prime minister, to power.
Hundeessaa, 34, "basically provided the soundtrack to the uprising," says Murithi Mutiga, project director for the Horn of Africa for the International Crisis Group.
The Oromo people are Ethiopia's largest ethnic group but have faced decades of oppression and exclusion from power.
While Abiy's rise was initially viewed as a victory, some Oromo politicians have come to view him as another barrier to their demands, including greater autonomy for Oromia.
Abiy espouses a broader Ethiopian nationalism, not defined by ethnicity.
The big picture: "This is a hideously complex transition in a context where elites are divided on the very definition of the Ethiopian state," Mutiga says.
"Some want it to be much more decentralized. Others, like the prime minister, are very keen on a more centralized and coherent state."
"It's not surprising that amid such bitter divisions, occasional shocks — as we've seen repeatedly over the past couple of months — have brought a swell of grievance to the surface and resulted in significant casualties."
Those grievances had been forcefully suppressed before Abiy came to power. He permitted greater freedoms for the press and civil society, freed political prisoners and allowed dissidents to return.
"In a sense, it is a welcome step that he has opened up the political space, but on the other hand, this opening up has come with significant challenges," Mutiga says.
The tensions have forced Abiy into a difficult balancing act. He now faces accusations of heavy-handedness and even of authoritarian behavior, in particular for repeatedly resorting to internet blackouts.
His critics also contend his decision to move elections from August to next year was based not on the pandemic but a desire to maintain power.
2. Three things to watch
Abiy was awarded the Nobel Prize and global acclaim for his efforts in the first year of his premiership toward peace with neighboring Eritrea and democracy at home.
Why it matters: This is a hinge moment for the prime minister and for his country, Africa's second-largest by population, on at least three fronts:
1. The dam: Ethiopia says it will begin filling the reservoir of its massive Grand Renaissance Dam this month even absent a deal with Egypt and Sudan, which rely on the flow of the Nile.
Some in Egypt have threatened war. Foreign Minister Sameh Shoukry appealed to the UN Security Council over what he called "a threat of potentially existential proportions."
War is unlikely and a deal is possible (the main sticking point involves how Ethiopia will handle droughts). But proceeding this month could unleash geopolitical tensions before it unlocks the dam's significant economic potential.
2. The economy: Ethiopia has been a shining light of global development. But what had been the world's fastest-growing economy over the last decade has now collided with the global COVID downturn.
The IMF expects growth to fall from 9% to 1.9% this year. That's the lowest rate since 2003 when the country saw severe famine.
3. The election: Abiy was selected by a committee in Norway, but he still hasn't been elected by the people of Ethiopia.
The Nobel laureate may be best positioned to build a broad coalition in a country of 114 million people and 80 ethnic groups. But victory isn't guaranteed and, worryingly, neither is peace.
3. Europe: Macron's midterm crisis
French President Emmanuel Macron is hitting refresh after three years in power, replacing his popular prime minister on Friday and reshuffling his Cabinet today.
Why it matters: Macron's focus is now on the economic recovery from the coronavirus as the 2022 election begins to loom a bit larger on the horizon.
While his approval ratings have ticked up slightly during the pandemic, they have been deep underwater since the early days of his presidency.
Driving the news: Local elections last week offered a window into how Macron's reputation differs at home and abroad.
He is perhaps one of the leaders most closely associated with the global fight against climate change, having convened international gatherings and offered impassioned oratory on the issue. He even sparked the Yellow Vest protests by announcing a gas tax.
So it may come as a surprise that the main contributor to his party's drubbing was the eco-conscious left. The Greens took Bordeaux, Lyon and Strasbourg, and allied in Paris with Socialist Anne Hidalgo, who was easily re-elected.
Critics say Macron's actions on climate haven't matched his rhetoric (he withdrew the gas tax, for example).
Between the lines: This is another issue on which, by positioning himself as a president of "neither right nor left," Macron may end up pleasing almost no one.
What to watch: The incoming prime minister, Jean Castex, is seen as a low-key but industrious bureaucrat, according to the FT. The outgoing one, Édouard Philippe, is far more popular than his old boss and could even challenge him in 2022.
4. North America: Stuck in the middle
1. Demands are growing louder to tighten security at America's southern border. Unusually, they're coming from Mexico.
"Hundreds of thousands of Americans have continued crossing the border into Mexico for recreational purposes," the Washington Post reports, even as travel in the opposite direction must be deemed "essential."
With cases spiking in border states like Texas, Mexican officials are begging the central government to step up its restrictions.
2. Americans are being kept out of Canada. Even provinces reliant on American tourists tend to want to keep it that way.
"A national survey by Destination Canada ... found that just 24 percent of people in Quebec somewhat or strongly agreed with welcoming U.S. visitors. ... In British Columbia, the figure was 6 percent," per the Post.
3. Mexican President Andrés Manuel López Obrador will be crossing the border for a visit with President Trump on Wednesday.
That required two major shifts from López Obrador: he hadn't previously left the country as president, and he hadn't previously agreed to be tested for COVID-19.
House Democrats criticized the visit — to mark the new North American trade deal — as a "blatant attempt to politicize the U.S.-Mexico relationship." Trump responded with a brief, hand-written note.
5. South America: How Guayaquil saved itself
Guayaquil offered the world some of the grimmest images to date from the pandemic: bodies lying in the streets as the health system buckled under a sudden influx of cases.
Flashback: "On April 4, at the height of the pandemic, 778 people died in Guayas, the province where Guayaquil is located, about 10 times the province's normal daily death rate," per WSJ.
Flash forward: "In June, the province had about 60 deaths a day, with just a handful attributed to Covid-19."
How it happened: The government, aided by a 32-year-old urban planner named Hector Hugo, used data to "pinpoint which neighborhoods were the hardest hit and where the virus would likely spread next," per the Journal.
Teams were then dispatched to find sick people before they turned up at the hospital.
Why it matters: "Guayaquil is the first large city in the developing world to be hit hard by Covid-19 and manage a turnaround."
6. What I'm reading: Remembering the Falklands
Most of the world has heard very little about the Falkland Islands since 1982, when the U.K. and Argentina fought a war there that left 900 soldiers and three islanders dead.
Zoom in: Since then, life on the islands (known in Argentina as the Malvinas) has changed dramatically, Larissa MacFarquhar reports in the New Yorker.
Before the war, the islands were home to 1,800 people, many of them poor shepherds battling to survive in a harsh place with few roads, no phones (islanders eavesdropped on doctors' consultations with their neighbors, held via radio), and an uncertain future.
As recently as 1971, a young man washed up in Stanley, the only town on the islands, to find much of the population there to welcome him, "the men in ties and mackintoshes, the ladies in the sort of dresses he remembered his mother wearing when he was a boy."
After the war came valuable fishing rights, British investment and immigrants attracted by the newfound prosperity. Per capita income now rivals Qatar.
Travelers no longer drop in unexpectedly, hoping for food and a place to sleep.
New roads and more cars meant island-wide gatherings were both easier to hold and far less meaningful. Eventually, they petered out.
But, but, but: Those who pine for the old days are reminded that "everyone was poor and miserable and half the population was trying to leave."
Worth noting: Before Argentina invaded the islands, the U.K. was considering handing them over voluntarily, MacFarquhar notes.
7. Stories we're watching
Quoted:
"We want to be your friend, we want to be your partner, but if you want to make China a hostile country, you have to bear the consequences."
— Liu Xiaoming, China's ambassador to the U.K., over Britain's positions on Hong Kong and Huawei