Welcome to Axios World, where two evenings a week we break down what you need to know about the big stories from around the world.
Thanks for joining me! Tell your friends and colleagues to sign up here, and send tips and feedback to [email protected]
1 big thing: Awaiting Trump's "final decision"
President Trump has made "no final decision" on military action in Syria after meeting with his national security team this afternoon, the White House says.
Why it matters: U.S. allies and adversaries alike are waiting for a signal from Trump, who yesterday warned that missiles "will be coming" but has avoided making similar statements today. He tweeted that the response could come "very soon or not so soon at all" and told reporters "we'll see what happens."
The latest: The U.S. has blood and urine samples from Saturday's attack in Syria which "have tested positive for chemical weapons," NBC News reports, citing officials who said "intelligence from the U.S. and other countries, including images" indicates the Assad regime was responsible.
What's next: Trump just spoke with U.K. Prime Minister May and will also speak with French President Macron this evening. Both countries appeared to move closer to military action today...
In the U.K.: May's cabinet unanimously agreed it is "highly likely that the regime is responsible for Saturday's attack" and "vital that the use of chemical weapons did not go unchallenged." The cabinet backed an "international response," signaling the U.K. could take part in strikes.
In France: Macron said, "we have proof that last week chemical weapons, at least chlorine, were used by the regime of Bashar Al Assad." Macron, who vowed last year that the use of chemical weapons "would result in reprisal and an immediate response," said he would decide what action to take "in due course."
In Germany: Chancellor Angela Merkel ruled out military action but said Germany supports "everything done to send a signal that this use of chemical weapons is not acceptable."
Worth noting: Saudi Crown Prince Mohammed bin Salman said Tuesday that the kingdom "will be present" in the international response "if our alliance with our partners requires it."
Go deeper: Trump's options for striking in Syria.
Bonus: Pompeo's up and TPP's back
Secretary of State designate Mike Pompeo faced questions on everything from North Korea to Robert Mueller in a confirmation hearing today before the Senate Foreign Relations committee. The highlights.
President Trump deputized his chief economic adviser and top trade negotiator to look into re-entering Trans-Pacific Partnership negotiations, Axios has confirmed. A Japanese diplomat tells Axios' Erica Pandey, "We would welcome the U.S. anytime back to TPP."

Flashback: Trump signed an executive order pulling the U.S. out of the trade deal in January 2017, and the 11 remaining countries came to a new agreement in March.
Go deeper: Erica on Trump, TPP and the rise of China.
2. Scoop: U.S. urged Israel to end Poland dispute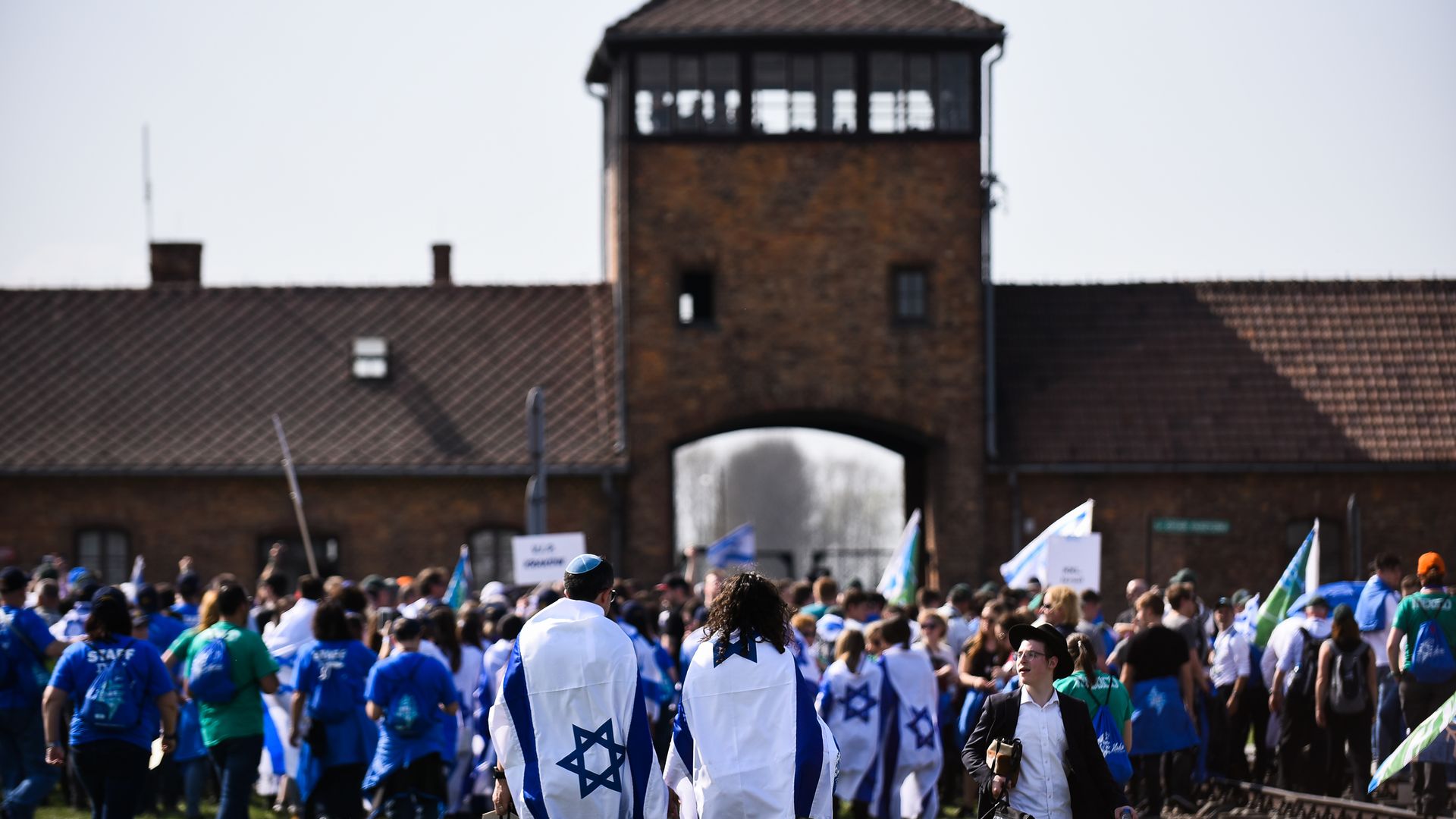 The Trump administration has urged Israel several times in the last few weeks to try to solve the crisis that erupted with Poland over a controversial law which makes it illegal to attribute crimes committed during the Holocaust to Poland, Axios contributor Barak Ravid reports.
"Senior Israeli officials told me the U.S. conveyed their messages in several channels both to the Israeli government and to opposition leaders and asked them to temper their public rhetoric against Poland."
"A senior official at the Israeli foreign ministry told me: 'The Americans made clear they don't like the Holocaust law, think it is unacceptable and asked the Polish government to fix it. But at the same time they told us Poland is an important U.S. ally, especially in NATO, and also an Israeli ally and therefore there is a need to deal with the crisis carefully and not damage the alliance.'"
Go deeper: Read Barak's full report.
3. Expert Voices: Caste conflict on the ballot in India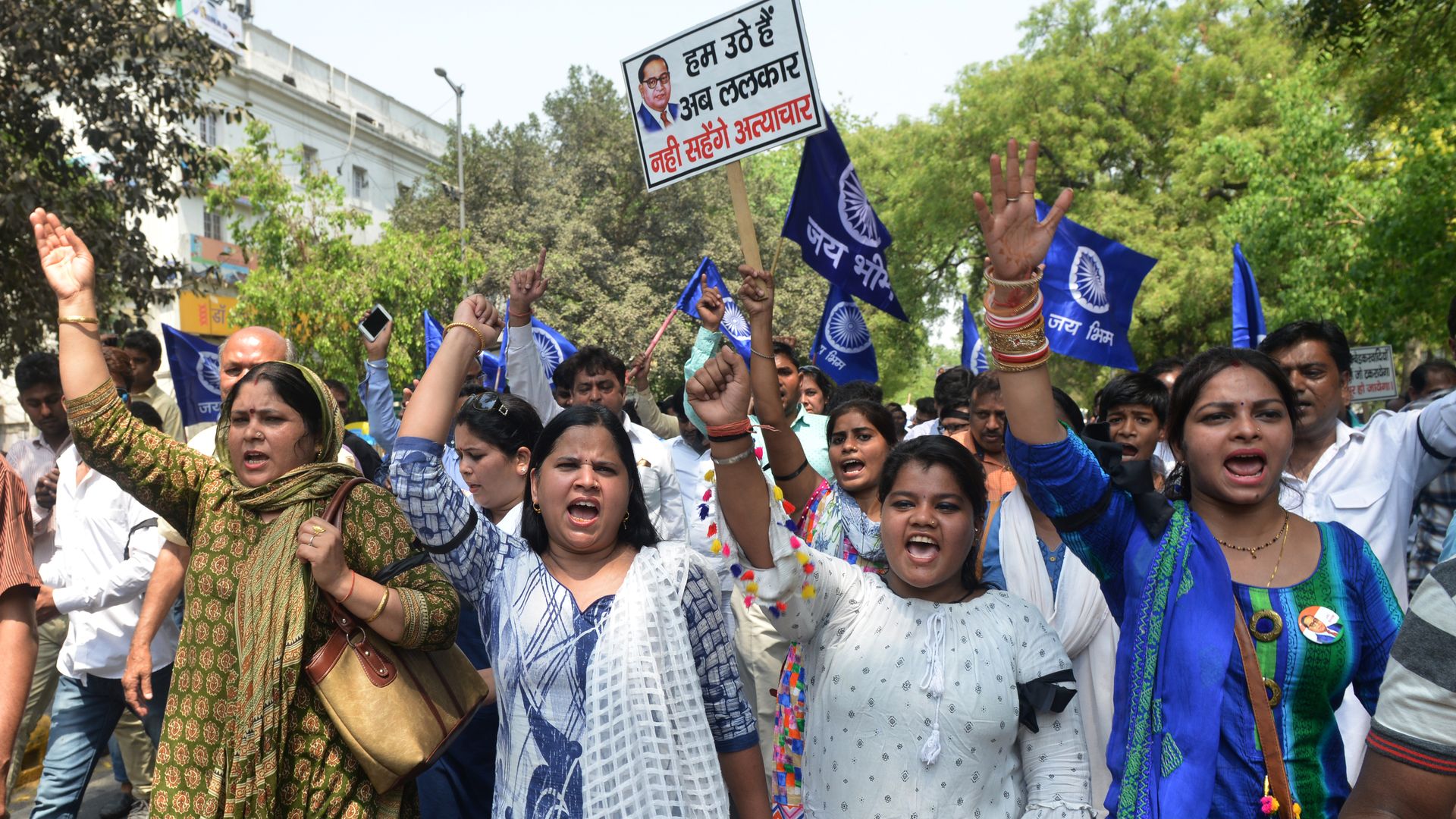 Since last week, thousands of Dalits — a broad category of India's most marginalized populations — have protested a Supreme Court ruling that dilutes a critical piece of anti-discrimination legislation, Georgetown professor Shareen Joshi writes:
"Clashes between protesters, police and upper-caste groups across 10 states have led to curfews, property damage and more than 10 deaths."
"Dalits account for a fifth of India's population, and so will play a critical role in state elections this year and national elections in 2019. With more protests scheduled this week ... the fight between the BJP and its opposition parties to win Dalit support is intensifying."
What to watch: "A new generation of Dalit leaders has started to reject tokenism and seek genuine empowerment. Their success in stepping into parliament in 2019, with or without the ruling BJP, could be a big step toward a more democratic India."
4. Latin America: A big, Trump-less summit
The Summit of the Americas, beginning tomorrow in Peru, was to be the centerpiece of President Trump's first visit to Latin America, and the first time he met many of the region's leaders. Instead, he's sending Mike Pence and staying home to focus on Syria.
Why that matters...
This is the 8th Summit of the Americas, and the first time the U.S. president has declined to attend.
Trump is deeply unpopular in Latin America: A Gallup poll sticks his approval across the region at 16%. Jason Marczak, director of the Atlantic Council's Latin America Center, says Trump's decision is a "significant blow" to the chances of improving relations with the region and its leaders.
Meanwhile, China is making massive investments in Latin America, and passed the U.S. as the top trading partner for several countries, including Brazil, in recent years.
What to watch: The theme of the summit is fighting corruption — appropriate given the scandals wreaking havoc around the region, but a bit awkward for a few of the attendees. The most urgent question is whether an agreement can be reached to confront the crisis in Venezuela.
5. Europe: Russia sanctions strike London
The latest U.S. sanctions on Russian oligarchs and companies have big implications in London, which has long been a playground of the Russian elite. Axios' Shannon Vavra breaks it down:
The U.S. is warning that if U.K. banks want to continue working with American financial institutions, they will have to cut off their links with Russian billionaires and companies sanctioned last week.
The Times of London reports that British banks "rushed to cut ties with Russian companies hit by U.S. sanctions," and that "the implications of the sanctions against Russia in London are potentially highly significant."
"In the case that some U.K. banks have not yet off-boarded U.S.-sanctioned clients, then those banks would be well-advised to do so immediately to avoid catastrophic consequences to their business model moving forward," Tyler Cullis, an attorney who advises clients on dealing with U.S. economic sanctions, tells Shannon.
6. Africa: Ethiopia's chance for "change and love"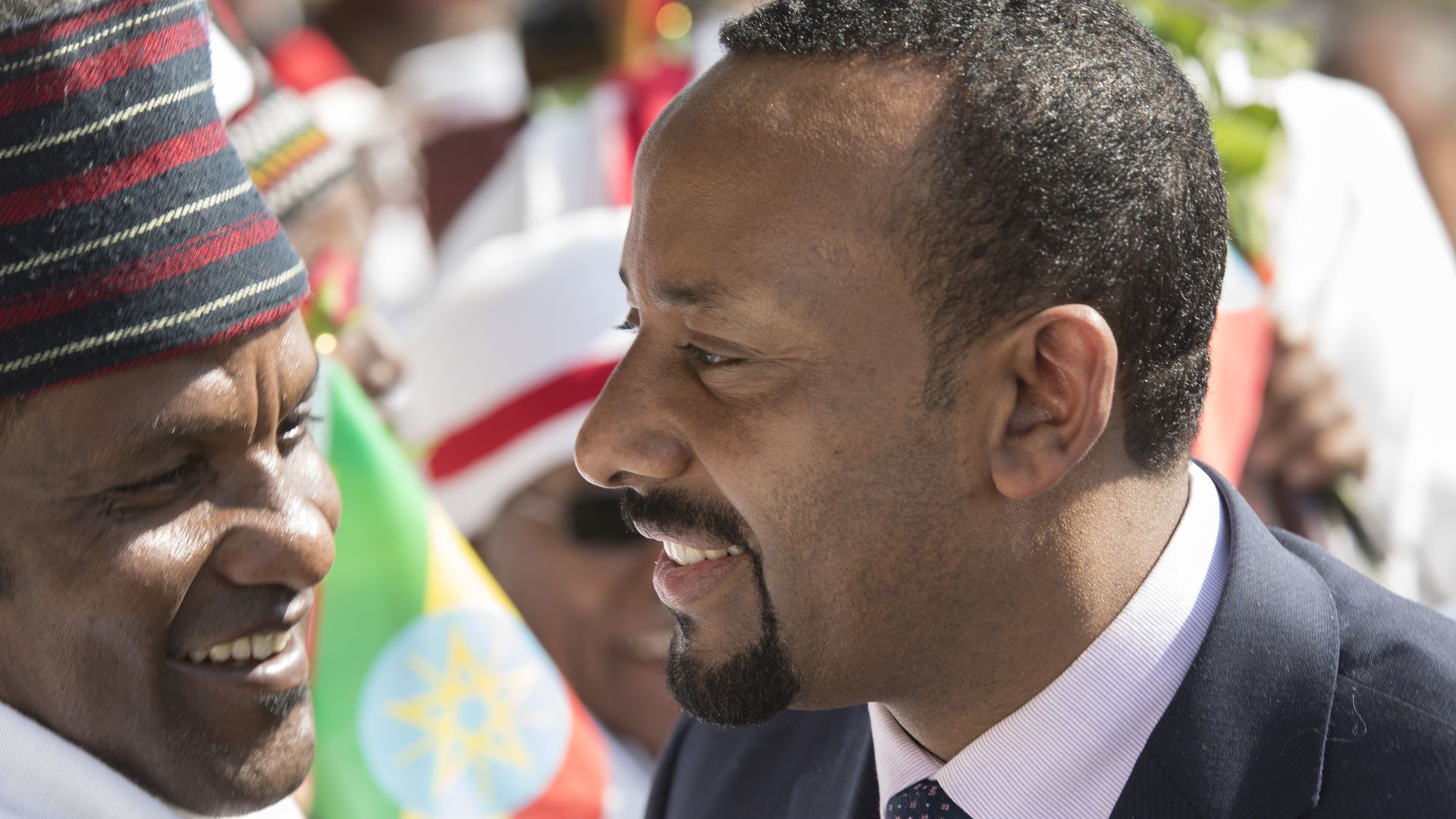 Ethiopia's new leader visited a "hotbed of anti-government protests" yesterday, per AFP, asking for patience and declaring, "We are now on the path of change and love."
Prime Minister Abiy Ahmed, 42, is a fresh face in more ways than one as Africa's youngest leader and the first prime minister to come from the Oromo ethnic group — Ethiopia's largest. His predecessor resigned in February with the country slipping deeper into political unrest.
"The region of Oromia has been the scene of deadly anti-government protests for more than three years. Anger over land seizures and government repression is compounded by a belief that other ethnic groups ... have conspired to keep Oromos out of power," per the Economist.
"As a young man, I've never heard of an Oromo being leader of Ethiopia," student Dejenu Taye told AFP. "Being a leader is not enough. I'm now looking forward to him keeping his promises."
Go deeper: The world's fastest growing economy, in one of its poorest nations.
7. Stories we're watching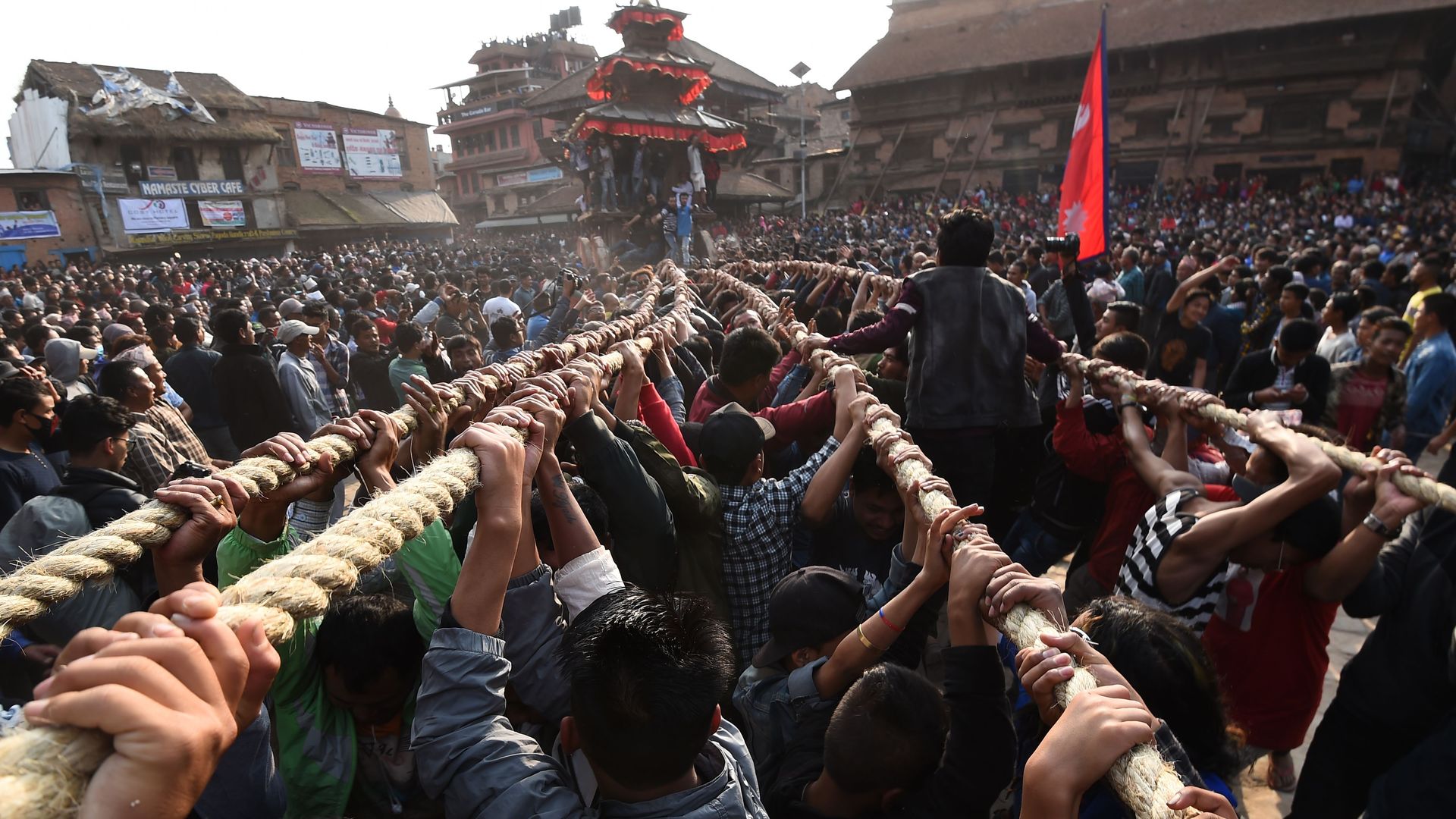 Quoted:
"No, it's not a bromance. There is a common interest on both sides to reach an understanding. Any French president wants to have a good relationship with the president of the U.S."
— French Ambassador to the U.S. Gerard Araud on the Macron-Trump relationship, speaking today at the Atlantic Council
Thanks for reading. See you Monday evening!