Axios World
October 29, 2018
Welcome to Axios World, where two evenings a week we break down what you need to know about the big stories from around the globe.
Thanks for joining me! Please tell your friends and colleagues to sign up here, and I'd love your tips and feedback: [email protected].
I'm coming to you from the Republic of Georgia, where I spent the past four days as part of a German Marshall Fund delegation observing Sunday's presidential election and meeting with the leading candidates, the current president, foreign minister, speaker of parliament, and leaders in civil society, the clergy and business. What I saw and heard here will comprise the top half of today's edition.
1 big thing: Oligarch humbled in Russia-tinged election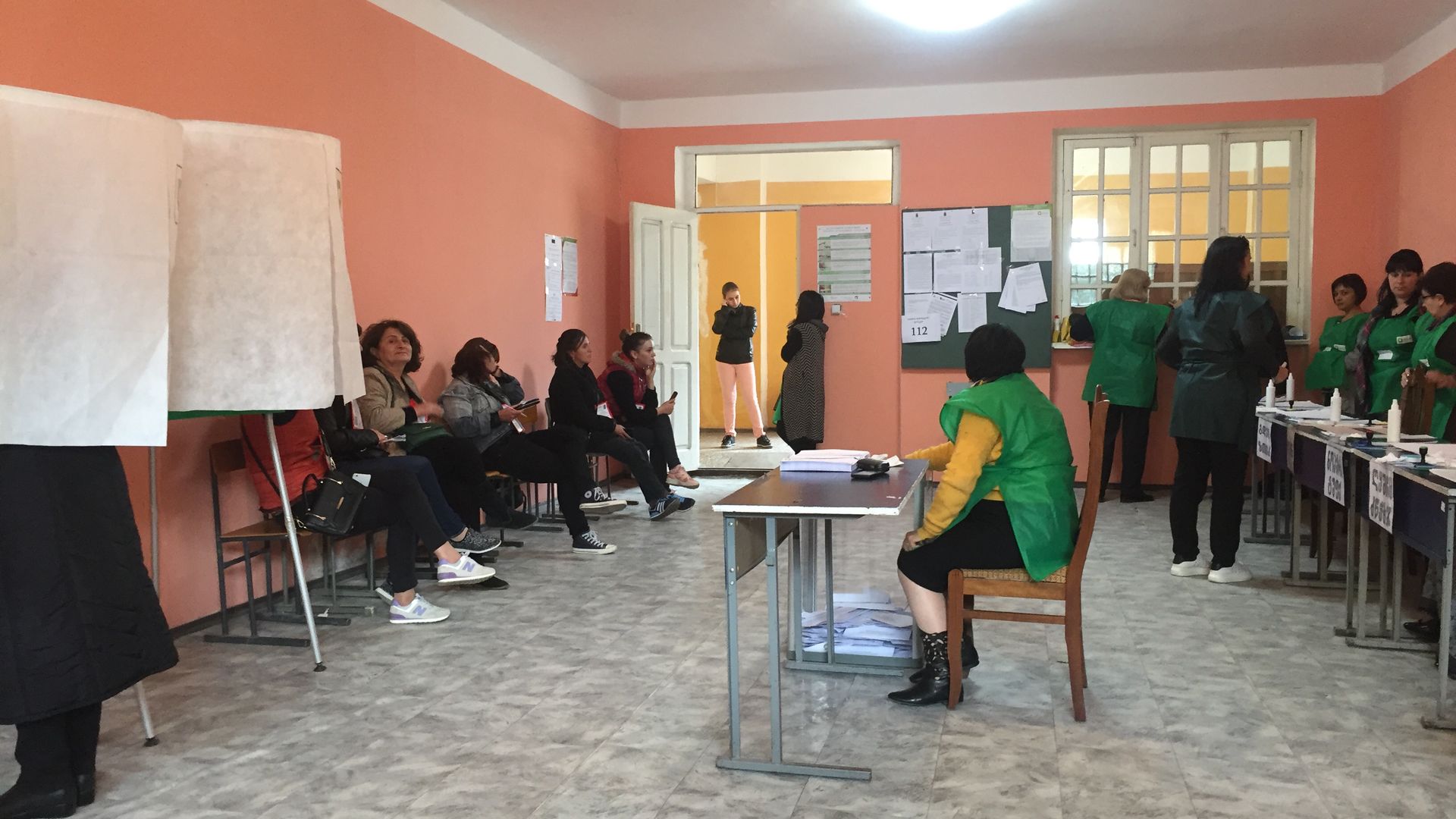 TBILISI and RUSTAVI, Georgia — The strength of Georgia's democracy and of its all-powerful ruling party will be put to the test over the next two weeks after a deadlocked presidential election on Sunday necessitated what is sure to be a bitter runoff.
Why it matters: In Georgia, it goes almost without saying that Moscow is the enemy, the West provides the path forward and strengthening democracy is the way to get there. But leading figures in the former Soviet republic's politics and society are fearful that this consensus is beginning to break down. In four days here I heard the phrase "existential crisis" more than once. As always, one chief fear is Russia. Another is that the fragile system will begin to implode through some combination of corruption, hopelessness and political score-settling.
Sunday's election was supposed to be just a show of strength ahead of crucial parliamentary elections in two years' time. Georgia's next president will have greatly reduced powers as the country transitions to a new political system, and the ruling party — Georgian Dream (GD) — was expected to win fairly easily.
Instead, GD-backed Salome Zurabishvili, an unpopular, French-born "independent" candidate, was decried by her political enemies as a racist and a traitor, based on comments she made about the 2008 war with Russia.
Grigol Vashadze, her fairly uninspiring opponent from the United National Movement (UNM), meanwhile, was labeled a puppet and a Russian mole because he'd lived and served in Moscow. The letters "KGB" were sprayed across many of his campaign posters.
The ruling party in Georgia has enormous institutional advantages, which were on display in the industrial town of Rustavi. "Observers" lingered outside polling places, crossing off their lists the names of those expected (or pressured) to vote for GD. Still, Zurabishvili fell well short of 50%.
The election was ultimately a proxy war between one man who lost power and wants it back — UNM leader-in-exile Mikheil Saakashvili — and another who has tremendous power and exerts it largely from the shadows — Bidzina Ivanishvili.
It felt appropriate that Ivanishvili was among the leading Georgians we did not meet. An oligarch who built his $5 billion fortune in Russia, Ivanishvili founded GD (which he now chairs), served briefly as prime minister after toppling Saakashvili and then retreated to his glass palace above Tbilisi. He seemed to linger in the background of our conversations with officials but rarely entered them directly without prodding.
Outgoing President Giorgi Margvelashvili, who was hand-selected by Ivanishvili before falling out with him spectacularly early in his term, claims even he doesn't know how involved the oligarch is in day-to-day governing. "People say, 'This is a message from the ultimate truth, from God,'" he told me, referring to Ivanishvili. "I have no way of knowing if it's true. It's all only rumors."
Zurabishvili told me she has met with Ivanishvili only three times, but expects to consult with him before making major decisions as president in order to avoid a political schism with a man who has churned through three prime ministers in the past three years.
Unlike in much of the former Soviet Union, there is real suspense to Georgian democracy. I found myself on an elevator with Vashadze after a pre-election meeting in which he exuded all the anger and exhaustion of a man who believed he would be robbed of an election. I mumbled a question about the polls and whether they'd match the official results. He grabbed me by the arm as I went to leave and said:
"You're in Georgia! Anything can happen."
2. Front lines of a frozen conflict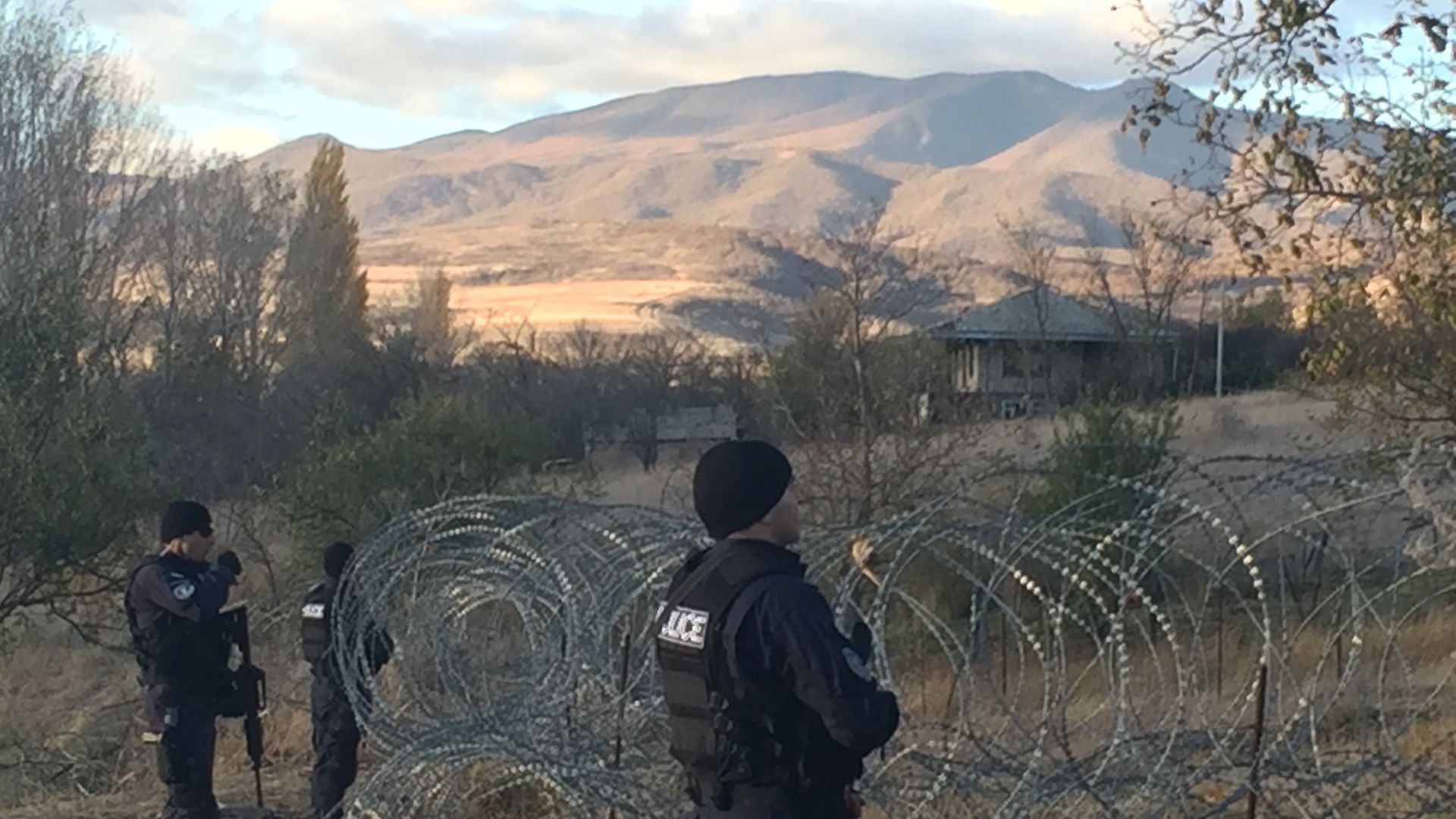 We were escorted to the "occupation line" by a convoy of trucks. When we arrived, 10 heavily armed members of the Georgian security services fanned out along the barrier that divides Georgia from Georgia — or, if you ask Moscow, from the Republic of South Ossetia.
No issue is more critical to the Georgian people and the future of the country than the Russian occupation of Abkhazia and South Ossetia. But while everyone we met with in Tbilisi raised the issue, they all acknowledged they lacked a solution.
Where things stand: Russia controls one-fifth of Georgia's territory. A "borderization" process that began in 2011 has seen barriers go up that can only be crossed via a few tightly controlled entry points. The Georgians say the Russians are moving the barriers outward meter by meter. Abductions along the dividing line have stirred outrage.
By the numbers: There are roughly 240,000 people living in Abkhazia and 50,000 in South Ossetia. Another 260,000 people displaced by the conflict live in Georgia. Some 2,500 ethnic Georgians remain in South Ossetia and are forced to speak and study Russian. There are 3 Russian military bases housing 10,000 troops within South Ossetia, as well as 20 FSB (intelligence) outposts, a briefer from the Georgian security services told us.
The bigger picture: South Ossetia is one of several "frozen zones" in the post-Soviet space. Those living there have almost no contact with the rest of Georgia, except when they are allowed to travel south for medical treatment. Policymakers told us making contact wherever possible — business ties, humanitarian support — is the best way to begin to resolve the conflict. They also said the Russians know that and are determined to prevent it.
Mapped: Frozen conflicts in the former USSR
"Since the fall of the Soviet Union, Russia's international military operations have focused almost exclusively on its neighbors, former Soviet republics," the New York Times' Liam Stack and Karen Zraick write in "Frozen Zones: How Russia Maintains Influence in the Post-Cold War Era."
"One pattern is clear: interventions that inflame conflict and create permanently tense and unstable 'frozen zones,' allowing Russia to exert influence and confound its opponents and, often, its rivals in the West. The Kremlin has said that it is protecting its own interests and those of ethnic Russians in those areas."
Photo: Life on the dividing line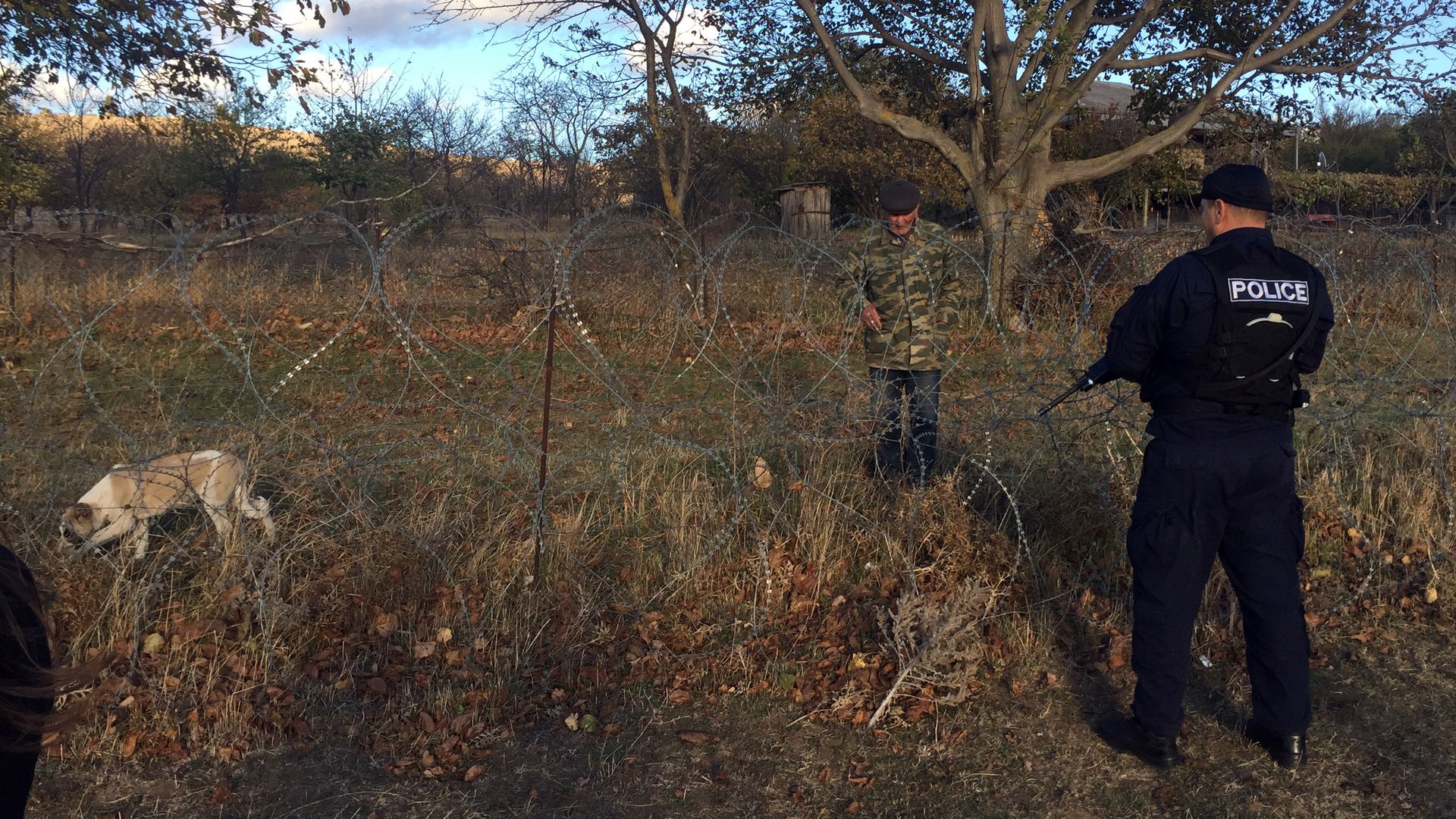 3. Russian threat haunts daily life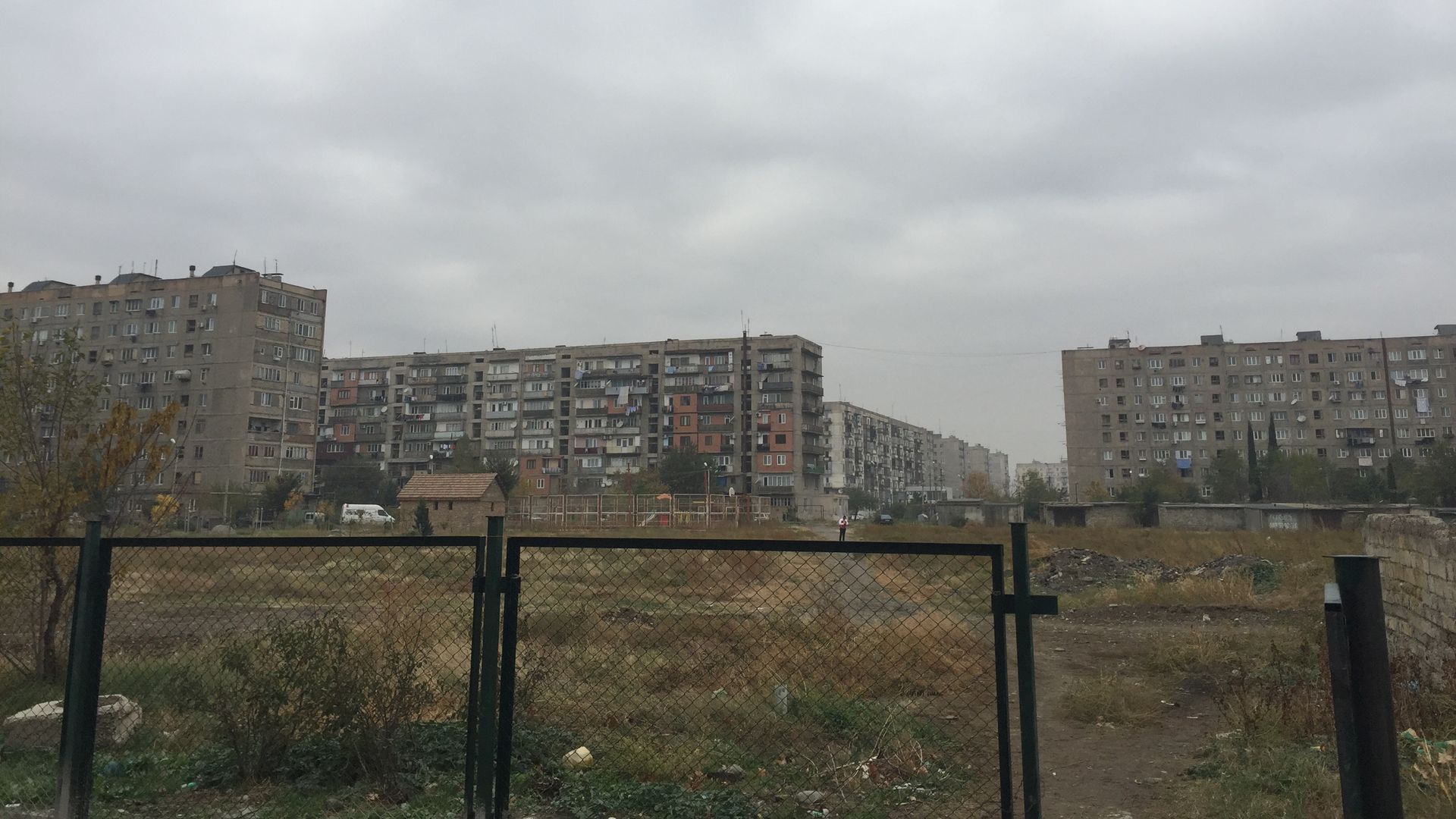 An enormous winged insect buzzed through the room, causing continual disruptions and hovering close to the conversation. Parliamentary Speaker Irakli Kobakhidze, who had been addressing us in a low monotone about constitutional reform, deadpanned: "It's Russian."
Russia is ever-present in Georgian politics. Kremlin propaganda and misinformation are rife, and the rise of far-right groups — which aren't explicitly pro-Russian but instead anti-Western — can be linked directly to Russia.
Given the dynamics surrounding oligarchs who made or hope to keep their fortunes in Vladimir Putin's Russia, it's also not entirely clear whether Ivanishvili is outside of Moscow's gravitational pull.
It's not just politics. Many priests and members of the Georgian Orthodox Church hierarchy trained in Russia. Some almost certainly had (or have) links to Russian intelligence. The church tends to be closer to socially conservative Russia, and more suspicious of Europe, than the population at large.
The church is the most trusted institution in Georgian society, and Patriarch Ilia II is one of the most influential figures. He tends to reflect the pro-Europe views of the country as a whole. He's also 85 and in ill health. His successor is likely to have a different view.
The Georgian church hasn't taken a position on the granting of independence to the Ukrainian church, a dramatic split that infuriated Moscow. There's concern in Tbilisi that if Georgia backs Ukraine, Russia could support independent churches in Abkhazia and South Ossetia.
Meanwhile, exports to Russia have been gradually rising. Zurab Kachkachishvili, director of the International Chamber of Commerce, says Russia is viewed as "a savior" by some in the agricultural sector, but he's urging them to diversify.
Moscow wants Georgia to be reliant on the trading relationship, he says, to increase the pain when it cuts back.
The bottom line: David Usupashvili, a presidential candidate who ultimately finished fifth, put it this way: "The fragmentation of society is reaching a very dangerous level. And there is Mr. Putin. And he is waiting."
4. South America: Bolsonaro's victory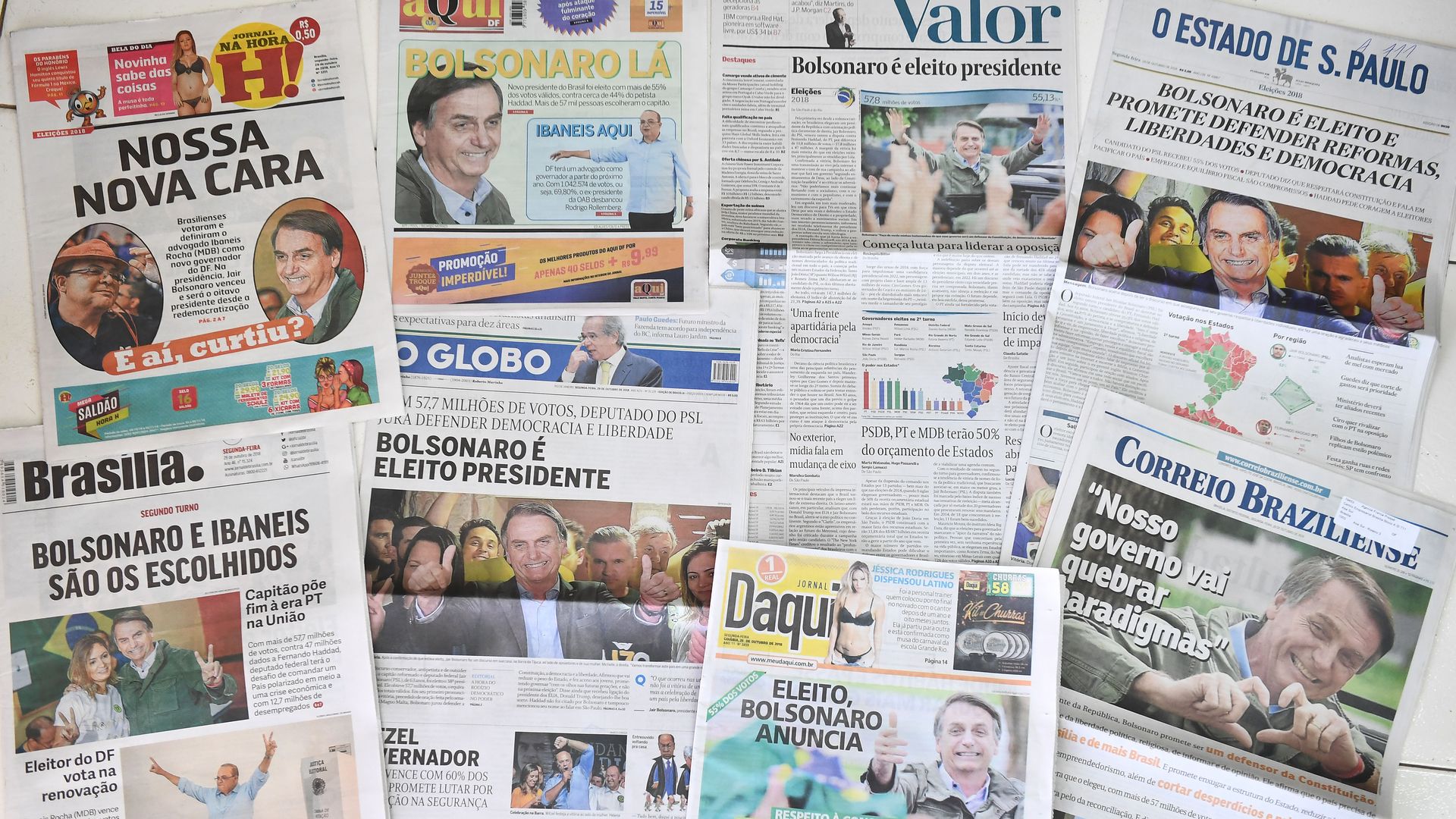 Two looks at Brazil's far-right President-elect Jair Bolsonaro via Axios Expert Voices ...
Bolsonaro won for a simple reason, writes Michael McCarthy of American University's CLALS: He credibly promised to turn Brazilian politics upside down.
Effective governance will require transitioning from the politics of redemption to the politics of pragmatism. Though his Social Liberal Party performed better than expected, winning 52 seats in the 513-member lower house of Congress, Bolsonaro will need a larger coalition to pass legislation.
And Brazil's hard turn to the right opens the door to the military's return to power as Bolsonaro sets the country on a new course for trade and foreign policy.
But while Bolsonaro's victory has upended Brazil's political establishment, the country's beleaguered business community has greeted it with surging support, writes Blue Star Strategies' Daniel Erikson.
Brazil's benchmark stock index hit a record high following his 55%–45% win. Much of the bullishness stems from his appointment of Paulo Guedes, a University of Chicago–trained economist with free-market views, as his chief economic adviser. But Guedes' proposals conflict with Bolsonaro's 27-year congressional service, during which he was skeptical of privatization, opposed pension reform and supported increased wages for government employees.
The bottom line: Bolsonaro's promise to break with statist policies and political corruption of past governments proved a winning formula with voters. However, his prospects for reviving Brazil's struggling economy are much more uncertain than suggested by the stock market surge accompanying his electoral victory.
5. Merkel's fading star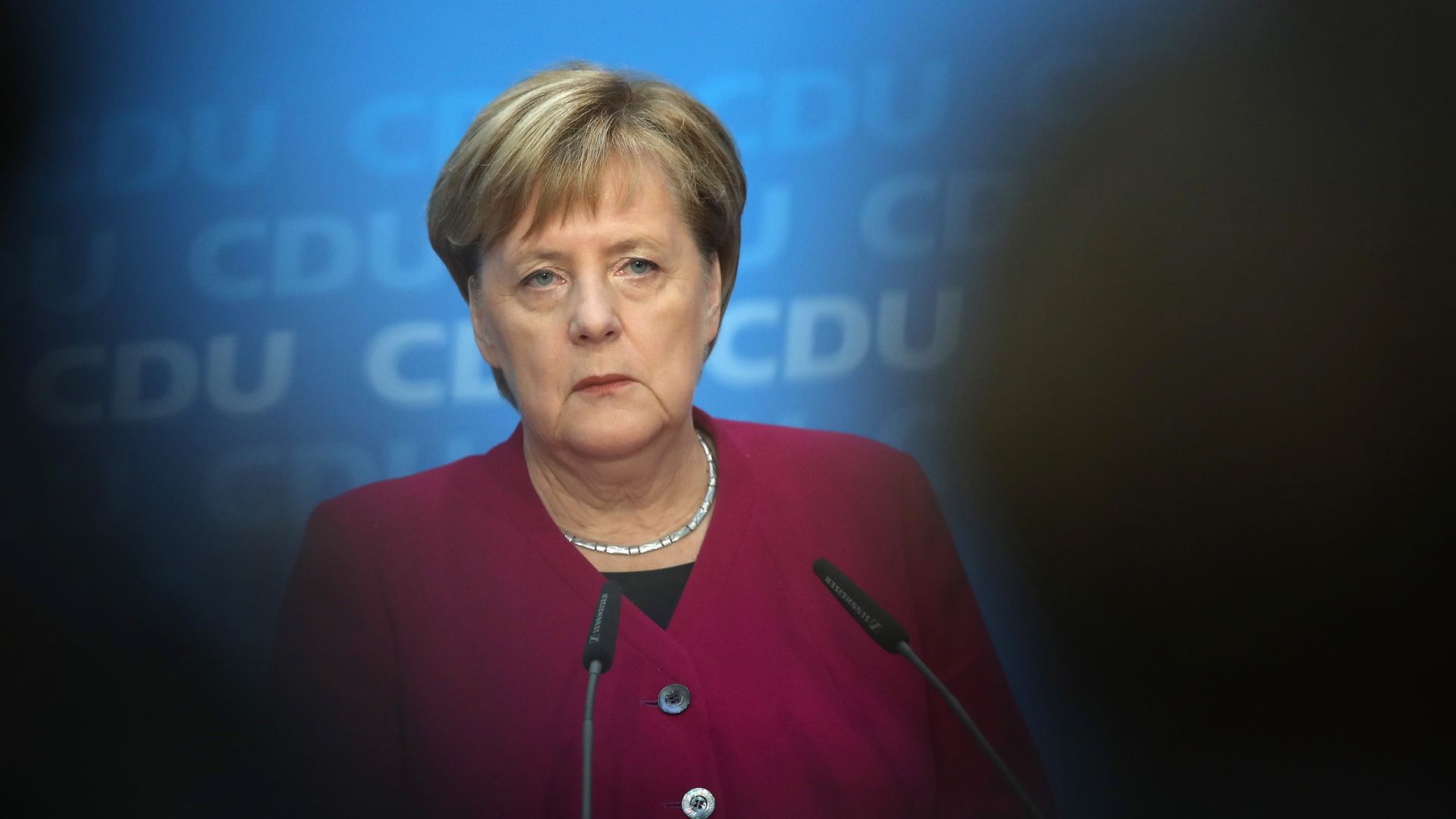 German Chancellor Angela Merkel announced Monday she would not be running for re-election in 2021 and that she would step down as party chair of the Christian Democratic Union (CDU) in December.
Why it matters: Long considered a bulwark of liberal democracy and a guiding force on the international stage, Merkel's longevity is unrivaled in the free world, writes Axios' Zach Basu. In her 13 years in office, the other 18 G-20 countries (not including the EU) have cycled through a combined 70 heads of state. But Merkel's unraveling, as inconceivable as it may have once seemed, was a fate foretold.
The backdrop: The first hints of Merkel's political demise came during last September's elections, when her center-right CDU/CSU alliance earned just 32.9% of the vote (down 8.6% from 2013) and failed to form a coalition government for nearly 6 months.
Merkel's decision to accept more than 1 million refugees during the 2015 migrant crisis angered many conservatives, at one point forcing a standoff with her own interior minister that threatened to blow up a 7-decade-strong alliance. Meanwhile, the far-right Alternative for Germany (AfD), capitalizing on immigration fears and establishment woes, entered the German parliament for the first time in 2017 with nearly 13% of the vote.
Regional elections this month in Bavaria and Hesse dealt fresh blows to the centrist parties inside Merkel's coalition, with both the Social Democrats and CDU/CSU suffering their worst losses in decades. AfD and the liberal Greens surged by about 9% in both states, suggesting that the strength of the German establishment — as we've seen all over the world in 2018 — is being chipped away by an ever-polarizing electorate.
The bottom line: As political commentator Nina Schick notes in an insightful Twitter thread, "[Merkel] has been Chancellor during the 2008 financial crash, the Eurozone crisis, the Arab Spring, Russia's invasion of Ukraine, the migrant crisis, the Syrian war and Brexit. Her exit will have meaning for not only Germany, but for the EU and the world."
6. Asia: India's rise writ large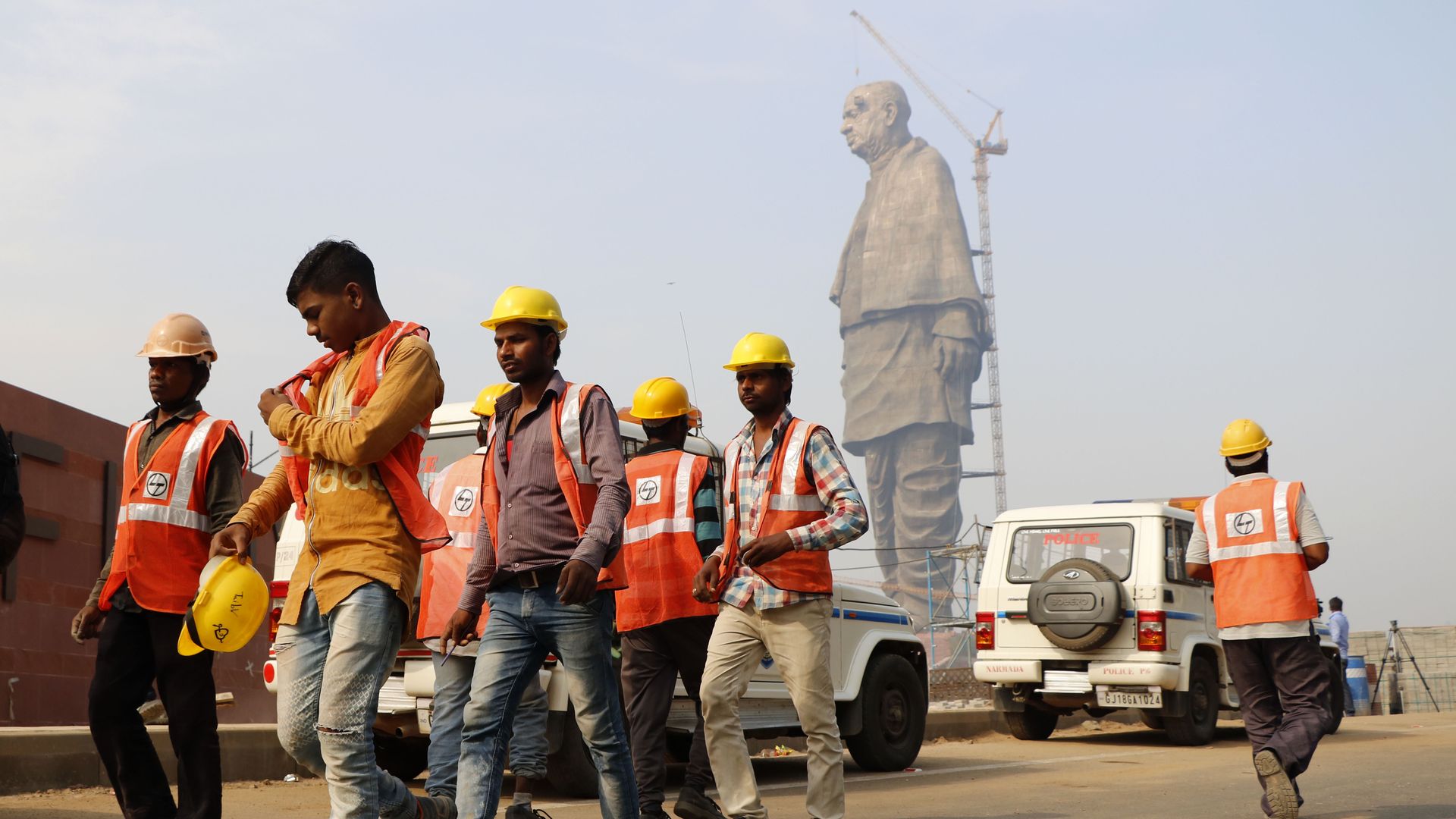 "India's new Statue of Unity, to be formally unveiled Wednesday, depicts Sardar Vallabhbhai Patel, an independence-era leader credited with uniting the fledgling nation in the 1940s when he served as India's first home minister," reports the Washington Post.
At 597 feet, the statue dwarfs the 152-foot Statue of Liberty.
The big picture: "It is considered a trifecta for Prime Minister Narendra Modi: a nod to his Hindu political base, a landmark site in his home state, and a showcase of the nation's growing prosperity and status as a rising global power."
Hindol Sengupta, a Patel biographer, tells the Post: "In Modi's worldview this statue is a crucial part of the signaling of the rise of India and the presenting before the world that rise in visual terms."
Yes, but: "Some critics cringe at the images intended to project wealth and power. Art historian Shukla Sawant called it 'paternalistic' public art."
The bottom line, via Sengupta: "[T]his is Modi's Lincoln Memorial."
7. Stories we're watching
Quoted:
"Failure of any one nation to adhere to international norms and the rule of law undermines regional stability at a time when it is needed most."
— James Mattis
on Saudi Arabia
Thanks for stopping by — see you Thursday evening