Welcome to Axios World, where two evenings a week we break down what you need to know about the big stories from around the globe.
Thanks for joining me! Please tell your friends and colleagues to sign up, and I'd love your tips and feedback: lawler@axios.com.
Situational awareness: President Trump intends to nominate Patrick Shanahan as secretary of defense. Shanahan has been acting secretary since January.
It's been a chaotic few days in U.S. foreign policy, including flare-ups with Iran, North Korea and China.
We'll get to all that. But we're starting this edition with a big story centering on a small country, brought to you by Axios fellow Phanindra Dahal.
1 big thing: Front-row seat to great power rivalry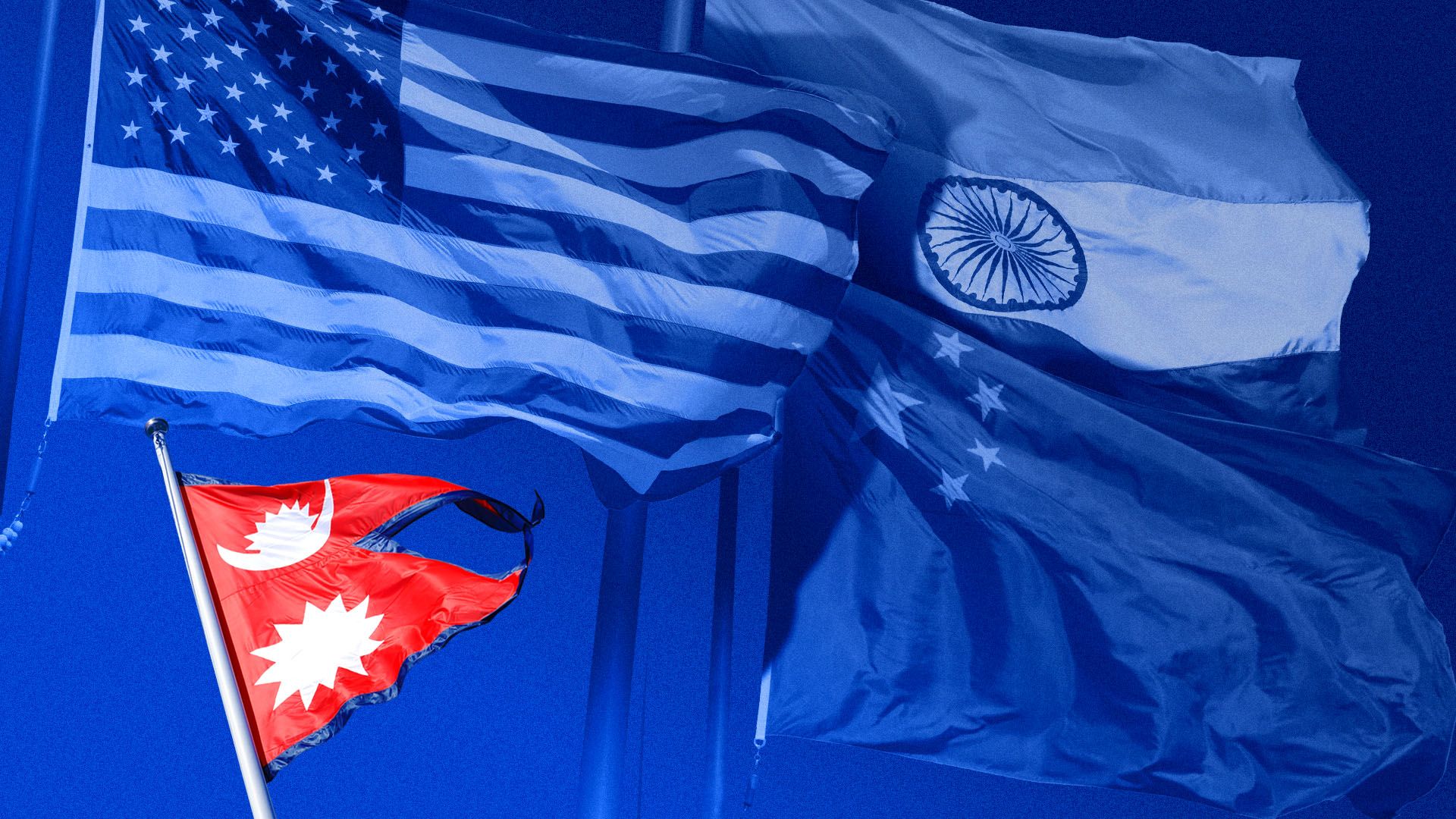 The Trump administration says Nepal is "central" to its strategy in the Indo-Pacific, but the small South Asian country is already home to a battle for influence between its giant neighbors: China and India.
Why it matters: Nepal is a signatory to Beijing's Belt and Road initiative, and the government sees a railway deal with China as a "game changer" for the country, Foreign Minister Pradeep Gyawali tells Axios.
The U.S. is also flexing its muscles, though, while India is desperate to keep Nepal in its sphere of influence. Gyawali says investment from the big powers is welcome, but Nepal won't take sides in their great power contest.
India remains Nepal's largest trading partner and maintains close cultural and economic ties.
However, relations deteriorated rapidly following an unofficial border blockade in the aftermath of a devastating earthquake in Nepal in 2015.
Nepal has a longstanding military relationship with India, and has conducted joint exercises with Delhi, the U.S. and U.K. In 2017, however, Nepal conducted its first joint exercises with China.
China offers Nepal an attractive alternative to Indian domination. It's Nepal's largest source of foreign direct investment and has rapidly spread its tentacles in South Asia. China is now the largest trading partner of Bangladesh, Maldives and Pakistan.
A protocol signed at the recent Belt and Road summit in Beijing, which Nepal's president attended, allows Nepal to access 7 Chinese ports, ending dependence on India for third-country trade.
Even more significant is a railway project which would connect China to Kathmandu, and eventually to Nepal's border with India. The multi-billion dollar project would pass through some of the world's most difficult mountainous topography.
China's Belt and Road investments could boost Nepal's trade by 35% to 45%, according to one estimate.
The U.S. also granted Nepal $500 million for infrastructure development, in 2017.
Meanwhile, U.S. diplomats have cautioned Nepal that Chinese investment could lead to unsustainable debts — sparking a public rebuke from Beijing.
The attention from the U.S. provides an opportunity for Kathmandu to look beyond Delhi and Beijing. However, it also puts the impoverished Himalayan nation in the awkward situation of having to strike a balance with rival powers.
The big picture: "Nepal has geographical limitations. It can't antagonize India and it can't abandon China," says Sridhar Khatri, former executive director of the South Asia Center for Policy Studies.
"When you have two strong and growing economic powers as neighbors, even leakages can benefit. Soon, India-China annual trade will hit the $100 billion target. There is a massive opportunity for Nepal."
But, but, but: Khatri says the India-China rivalry, and the greater U.S. attention, has made for "a complicated quadrangle relationship" for a country which lacks a "clear foreign policy" and where policies can be "whimsical and personality driven."
What to watch: The benefits of the planned infrastructure projects are far off, and many Nepalis are skeptical they'll ever match what's being promised. Meanwhile, there's some bemusement that great powers seem to be putting so much emphasis on Nepal.
U.S. Secretary of State Mike Pompeo's statement declaring Nepal "central" to U.S. strategy also noted that he and Gyawali had discussed "global issues, including North Korea." Some Nepalis wondered what a small country 2,500 miles from Pyongyang could be expected to do.
Update: ANC wins in South Africa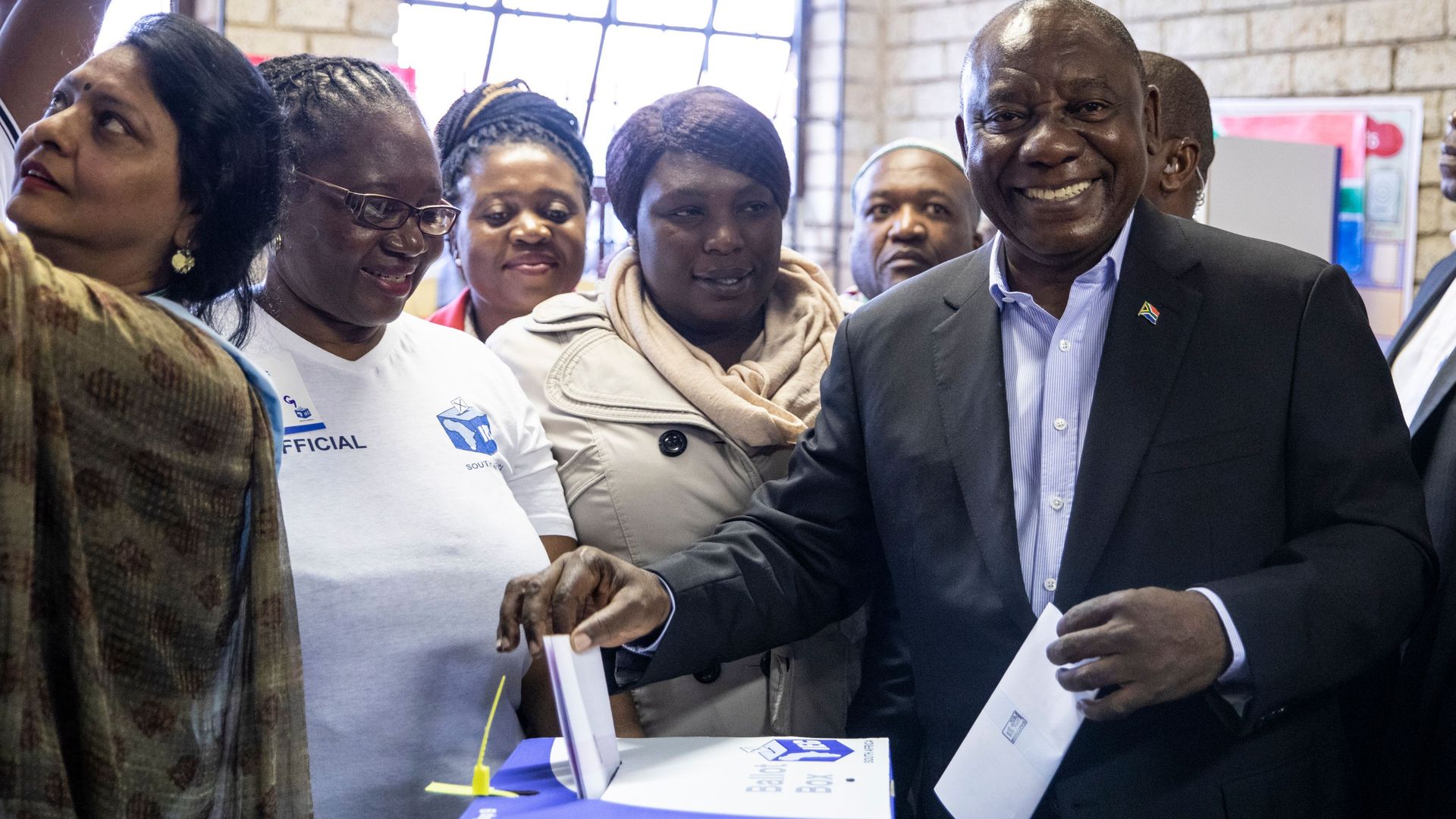 South Africa's ruling ANC party won yesterday's election with around 56% of the vote. That's down from 62% in 2014, but nonetheless means Cyril Ramaphosa will get a full term as president.
Ramaphosa issued an election day apology, saying that under his predecessor, Jacob Zuma, "corruption got into the way, patronage got into the way and not focusing on the needs of our people got in the way." He asked for voters' confidence that things were changing under his leadership.
2. Iran: Deal in danger. Bolton in action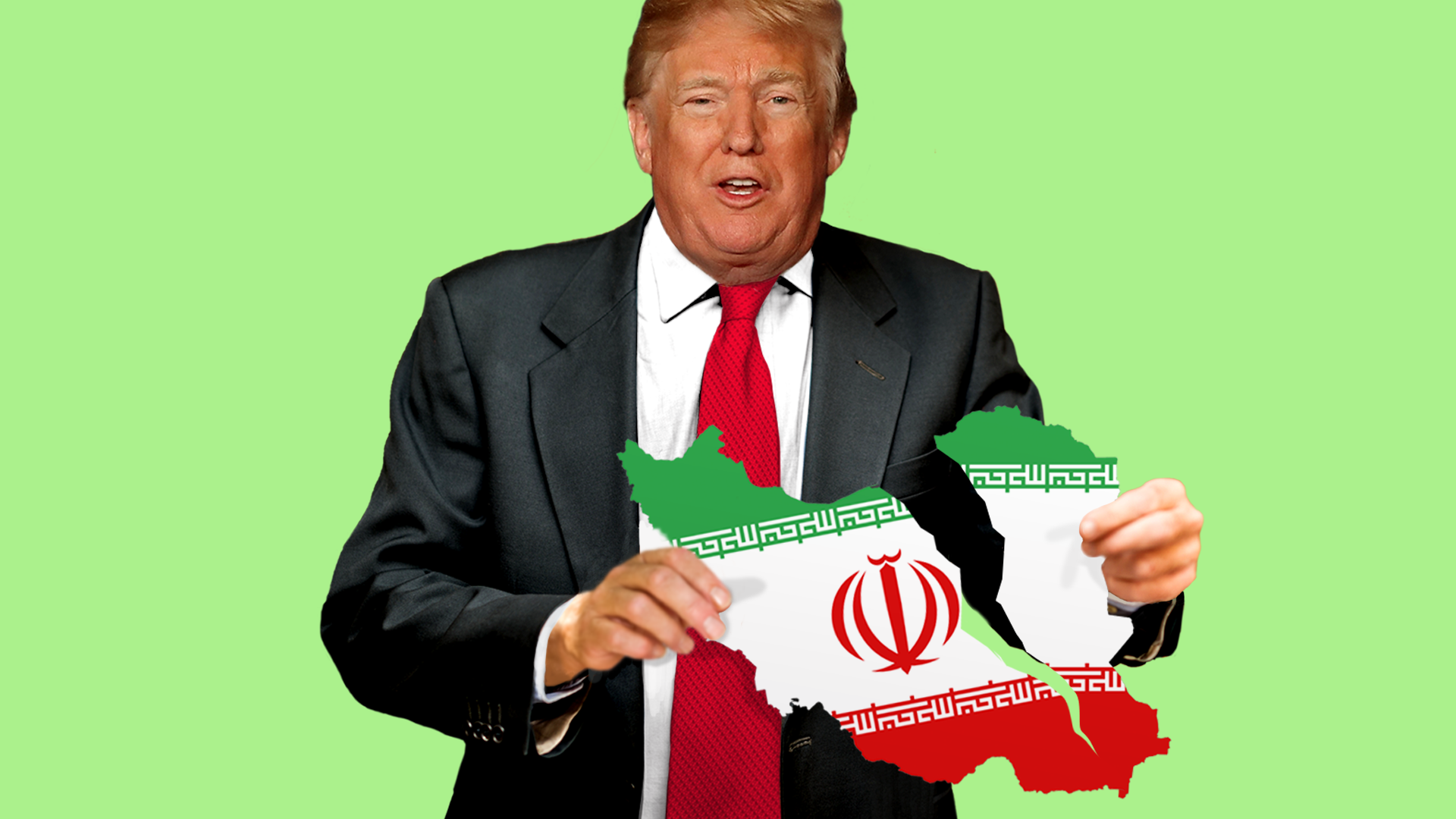 National Security Adviser John Bolton "convened a meeting at CIA headquarters last week with the Trump administration's top intelligence, diplomatic and military advisers to discuss Iran," NBC News reports tonight.
Why it matters: There has been a flurry of activity at the top levels of the Trump administration since Bolton announced an aircraft carrier was heading to the Gulf and indicated the U.S. had intelligence of an Iranian plot to attack Americans or U.S. allies (Iran denies that). Concerns over the potential for war are rising.
Iranian President Hassan Rouhani meanwhile announced a partial withdrawal from the 2015 nuclear deal yesterday, a year after the U.S. unilaterally pulled out.
Rouhani said Iran would resume high-level uranium enrichment unless the European signatories to the deal manage to shield its oil and financial sectors from sanctions within 60 days — an ultimatum the Europeans rejected.
Between the lines: "U.S. policy has undoubtedly inflicted economic harm on Iran," but there are no signs the regime is in danger of collapse, Ali Vaez of the International Crisis Group writes for Axios Expert Voices.
"In the absence of visible changes in Tehran's political calculus, Washington is defending the sanctions based only on their quantity and severity," he writes.
"The net effect of maximum pressure is an Iran with its economy in ruins but its regime intact," he argues. Meanwhile, "the threat of a nuclear escalation across the Middle East" is growing.
What to watch: "The White House appears to believe that the U.S. will come out ahead whether Iran honors the nuclear deal or withdraws from it," argues Joel Rubin of the Washington Strategy Group. "This rose-colored policy logic recalls the statements that preceded the 2003 U.S. invasion of Iraq."
3. North Korea: Ship seized, missiles launched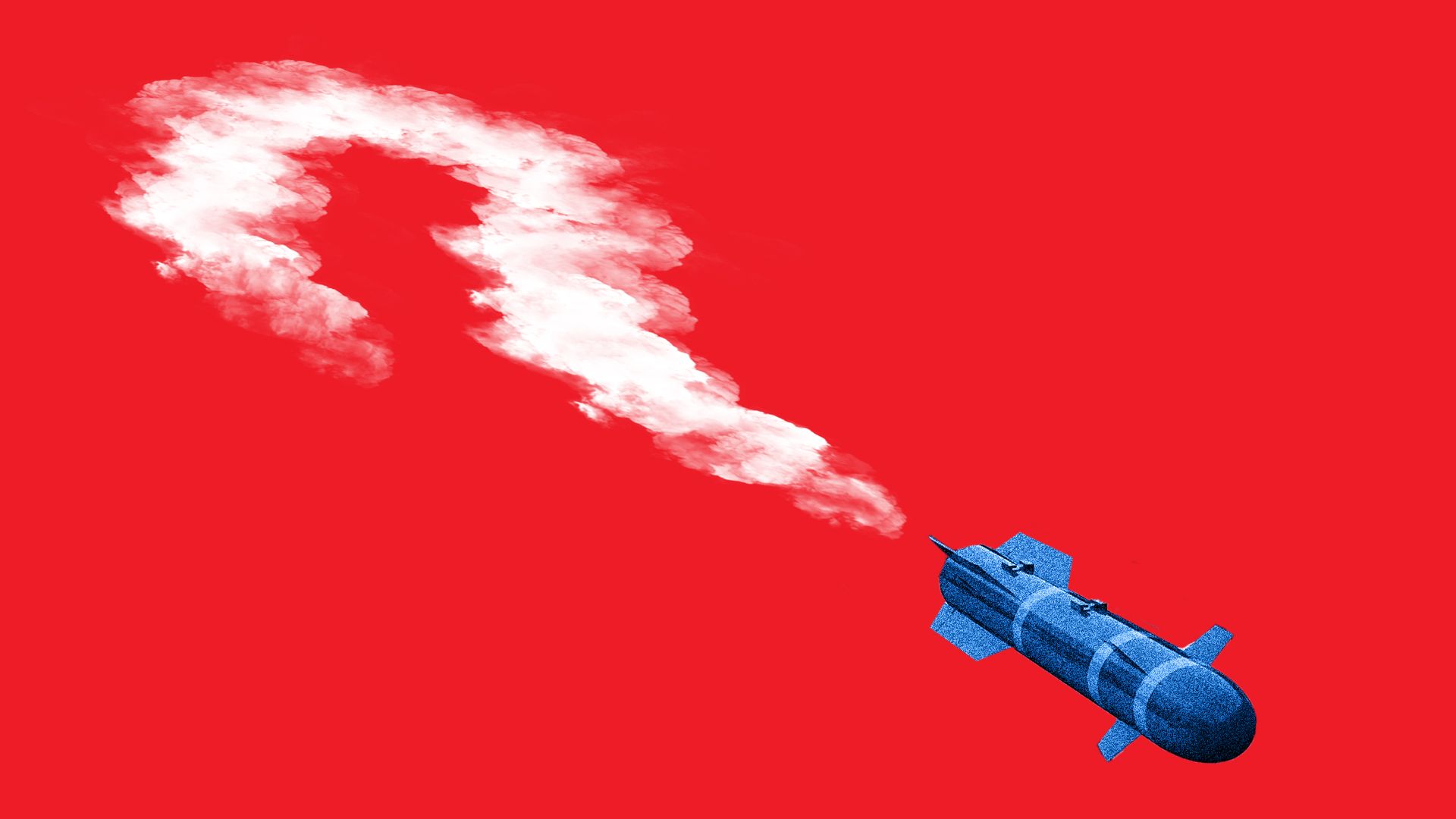 The U.S. has seized a North Korean ship, named the Wise Honest, for transporting coal in violation of U.N. sanctions, the Justice Department announced today.
The backdrop: This was the first such move taken against North Korea, and was announced just hours after the country test-fired what appeared to be 2 short-range ballistic missiles, the latest in a flurry of provocative moves.
Geoffrey Berman, the U.S. attorney in Manhattan, said there was "no connection" between the events. He said North Korea was using the Wise Honest to illicitly export coal and import heavy machinery.
"Experts have said that to evade sanctions, North Korea conducts its illicit trading with a fleet of ghost ships that paint false names on their hulls, steal identification numbers from other vessels and execute their trades via ship-to-ship transfers at sea, to avoid prying eyes at ports," per the Washington Post.
What to watch: Kim Jong-un is clearly testing President Trump, and will probably keep prodding until he gets a reaction. For now, Trump isn't taking the bait:
"Nobody's happy about it, but we're taking a good look and we'll see. We'll see. The relationship continues, but we'll see what happens. I know they want to negotiate, they're talking about negotiating, but I don't think they're ready to negotiate."
— Trump today, on North Korea's latest missile tests
4. Trade: View from the cliff's edge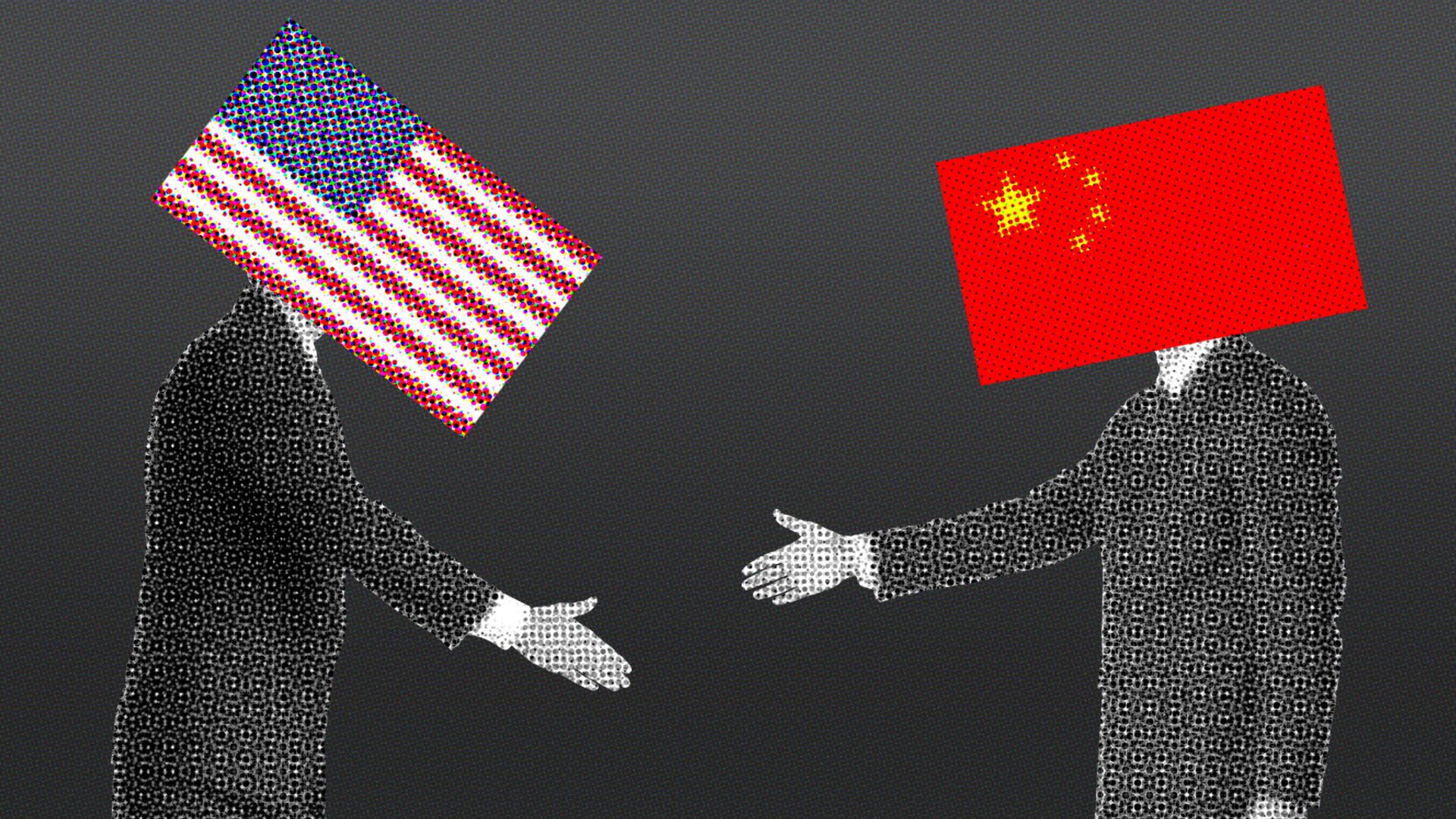 Chinese Vice Premier Liu He has arrived for last-minute negotiations with U.S. officials including Trade Representative Robert Lighthizer that are ongoing as this newsletter goes out, Bloomberg reports.
The backdrop: U.S. tariffs on $200 billion in Chinese goods are due to jump from 10% to 25% at 12:01 am on Friday after Trump earlier this week angrily accused the Chinese of backtracking on trade commitments.
Trump revealed today that Chinese President Xi Jinping had written him "a beautiful letter." He also said he had "no idea what's going to happen," and that "we're going to find out about China tonight." 
Axios contributor Bill Bishop writes in his Sinocism newsletter that the best case scenario appears to be "an agreement to delay the increased tariffs to keep talking for a specified period of time," but that if the U.S. does pull the trigger tonight "there are few brakes to keep the relationship from deteriorating rapidly."
How we got here: "[T]he U.S. thought China agreed to detail the laws it would change to implement the trade deal under negotiation. Beijing said it had no intention of doing so, triggering Mr. Trump's threat Sunday to escalate tariffs and bringing the dispute into the open," the WSJ reports.
"The hardened battle lines were prompted by Beijing's decision to take a more aggressive stance in negotiations, according to the people following the talks. They said Beijing was emboldened by the perception that the U.S. was ready to compromise."
Go deeper: The world can't afford a trade war right now.
Podcast: Silence for the Uighurs
I joined Axios' Dan Primack on his Pro Rata podcast today, talking about why the position of so much of the world on China's detention of over 1 million Uighur Muslims is, "no comment."
5. Pompeo hits Iran and China, ignores Germany and climate change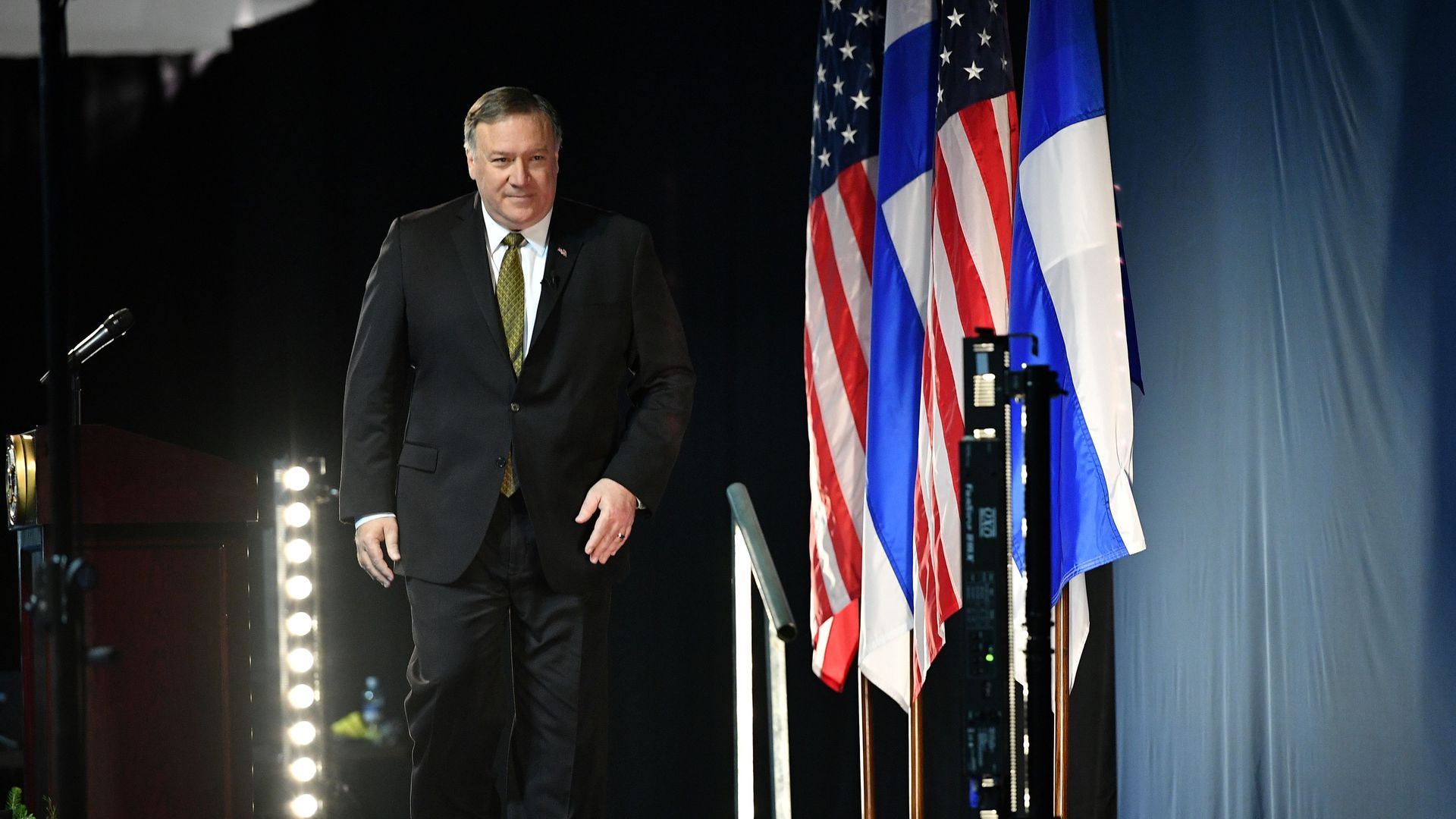 Pompeo has had an interesting week.
He traveled to Baghdad rather than Berlin on Tuesday, citing "pressing issues" in cancelling last-minute on Chancellor Angela Merkel. He then skipped a trip to Greenland today.
Pompeo did make it to London yesterday, where he invoked Margaret Thatcher to press the U.K. to stand up to China.
Pompeo's week began at an Arctic Council summit in Finland.
Instead of portraying climate change as a threat to the U.S. and the 4 million who call the Arctic home, he said the increasingly accessible Arctic should be looked at as an emerging zone of economic opportunity and great power competition, Axios' Science editor Andrew Freedman reports.
The U.S. then objected to references to climate change in a ministerial declaration, scuttling such a document for the first time in the 23-year history of the organization.
What they're saying:
"Pompeo just said that ice is melting, but did not mention why. ... The Trump presidency is trying to stir the calm Arctic atmosphere by creating these narratives of conflict, tension and resource possibilities. They are not much based on facts, but they may influence how people think about the region."
— Timo Koivurova, director of the Arctic Center at the University of Lapland
The bottom line: Rafe Pomerance, chair of Arctic 21 and a senior fellow at the Woods Hole Research Center, says the real threat isn't China or Russia's Arctic ambitions, as Pompeo portrayed it, but rather climate change itself. "That's the real security challenge," he told Andrew. "This other stuff is small potatoes."
6. What I'm reading: Orbán's war on education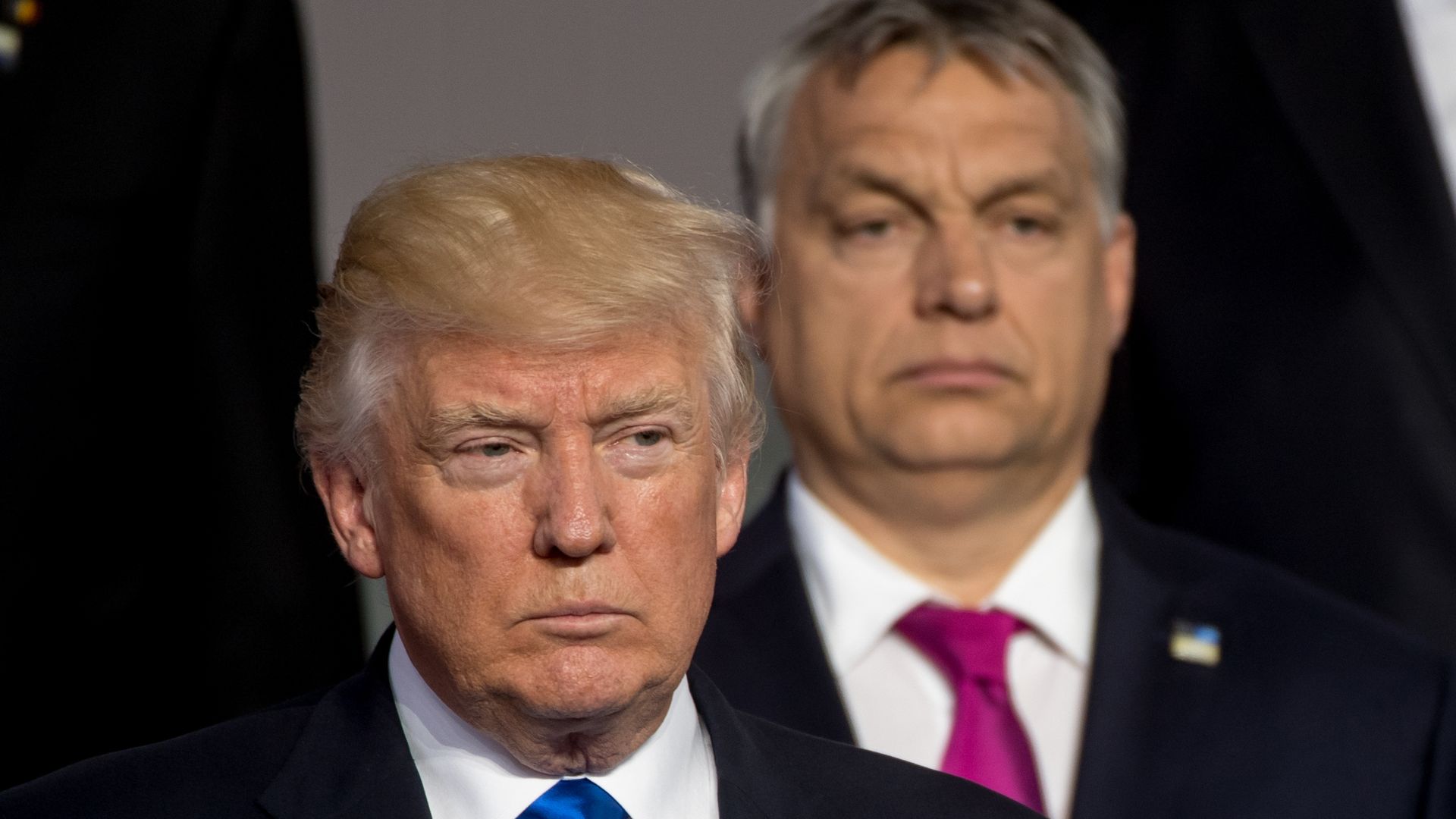 Trump will welcome Hungary's authoritarian prime minister, Viktor Orbán, to the White House on Monday.
Back home, Orbán has "systematically crushed" Hungary's higher-education system as part of his "quest for eternal political life," Franklin Foer writes in the Atlantic.
"Like Pol Pot or Josef Stalin, Orbán dreams of liquidating the intelligentsia, draining the public of education, and molding a more pliant nation. But he is a state-of-the-art autocrat; he understands that he need not resort to the truncheon or the midnight knock at the door. His assault on civil society arrives in the guise of legalisms subverting the institutions that might challenge his authority."
"Orbán has lowered the age at which compulsory education ends from 18 to 16, triggering a spike in high-school dropouts. Textbooks and curricula, once the domain of municipalities, have been centralized and now inculcate the regime's politics."
"The country's universities, which had been free, have begun charging tuition, and the cost now exceeds the reach of most Hungarians. Hungary used to have the highest level of university enrollment in postcommunist Europe; it now has one of the lowest."
Between the lines: "How did the Orbán of the early '90s, with his long hair and academic aspirations, become the architect of illiberalism? One theory suggests that political expediency pulled him to the right. But the liberals had also wishfully imposed their hopes on Orbán, never looking carefully enough at him to notice that he deeply resented them."
Go deeper: "Trump's outreach to Orbán will be seen as an effort to bolster populists, weaken Europe's strained political center and undermine the EU," Charles Kupchan of the Council on Foreign Relations writes for Axios Expert Voices.
7. Stories we're watching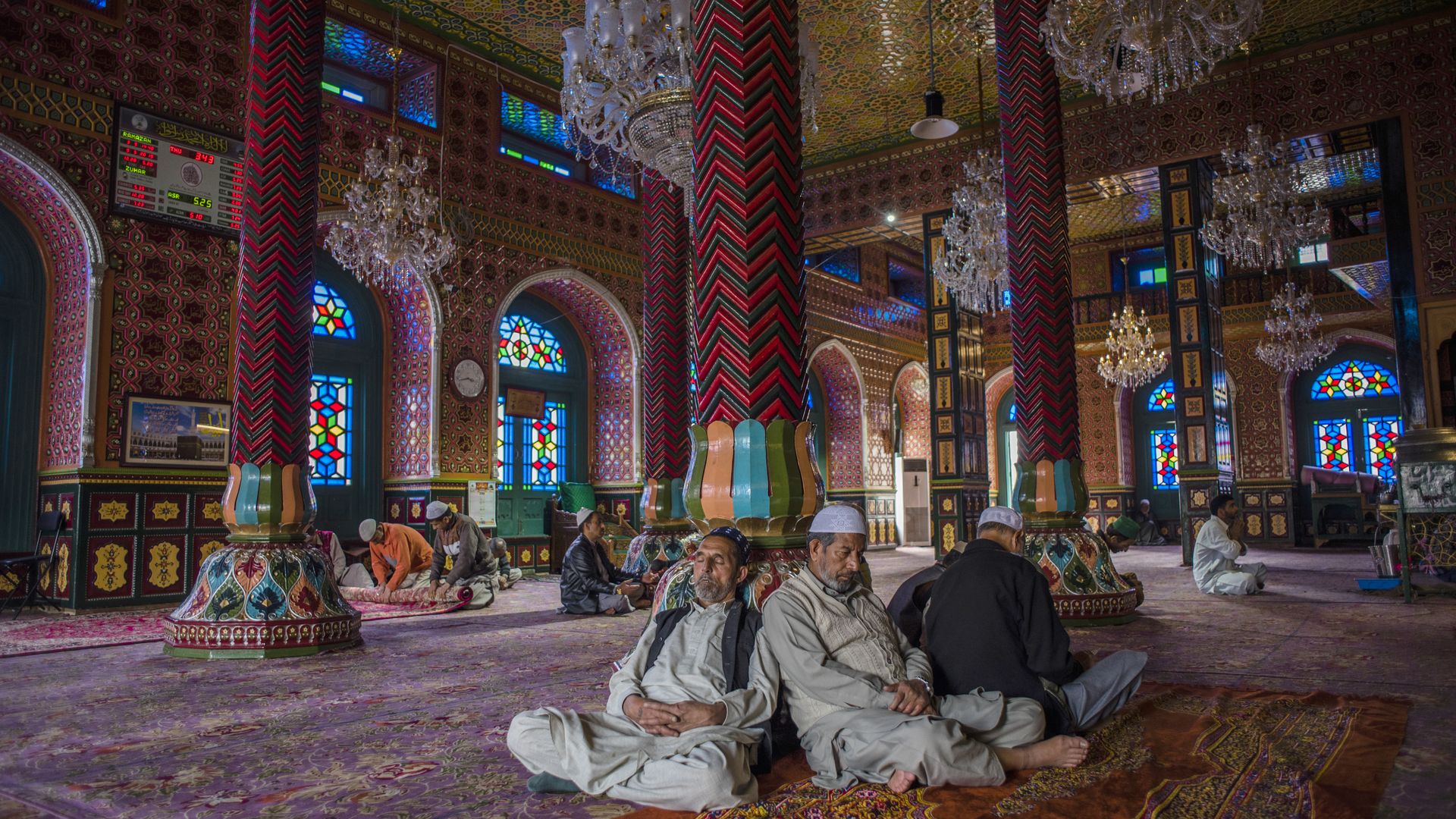 Quoted:
"I want to show that the idiocy in our country has gotten so strong that the police will detain me now even though there are no inscriptions, no slogans, without my chanting or saying anything."
— Aslan Sagutdinov held a blank sign in Uralsk, Kazakhstan. Police
appeared puzzled
. But sure enough, they detained him.
Thanks for reading — have a wonderful weekend.