Axios Vitals
January 12, 2022
Good morning, Vitals readers. Today's newsletter is 653 words or a 2-minute read.
Situational awareness: The Biden administration announced Wednesday it's increasing the number of COVID-19 tests available to schools by 10 million per month, amid the Omicron surge.
👉 Psst! If you haven't heard yet, Axios Pro is here. If you're interested in deeper news and analysis on business deals, including on health care tech, check it out.
1 big thing: Medicare sidelines Aduhelm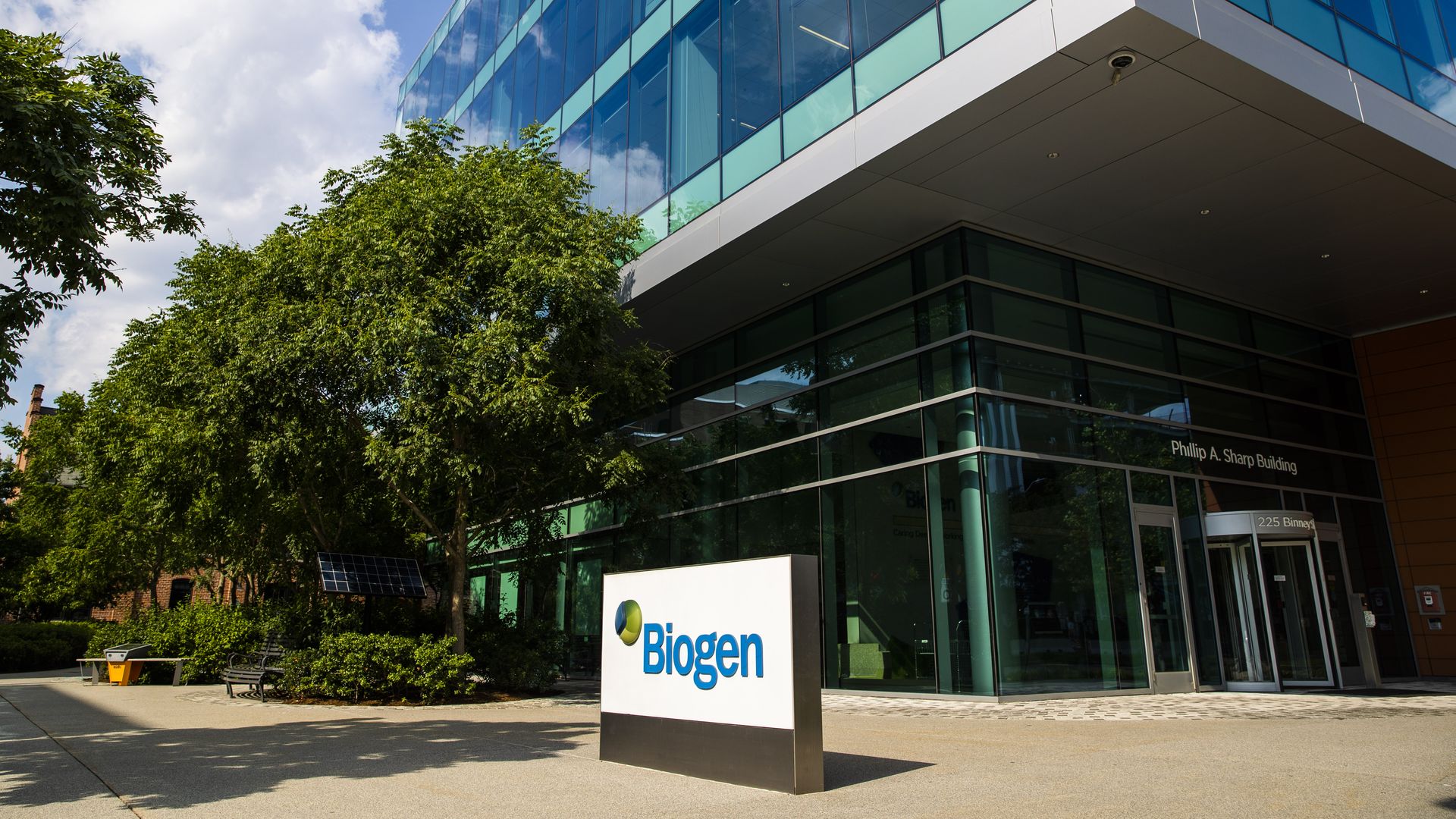 It's possible 2022 Medicare premiums won't rise nearly as much as originally forecast if CMS' proposed coverage for the controversial Alzheimer's drug Aduhelm is finalized in April, Axios' Bob Herman writes.
Driving the news: Medicare proposed on Tuesday covering Aduhelm, but only for patients enrolled in randomized clinical studies.
CMS would oversee the trials, under what's called "coverage with evidence development."
What's next: The proposal, which threw shade toward the FDA's approval of the drug, came after HHS Secretary Xavier Becerra asked CMS to "reassess" next year's Medicare premiums once Biogen lowered the price of Aduhelm.
Medicare premiums can now reflect both the price cut and the fact that few people are likely to take the drug, due to these new coverage limitations, Tricia Neuman, a Medicare expert at the Kaiser Family Foundation, tweeted.
"You have a better sense of how many people can pass through the eye of the needle," said Mark Miller, the former head of the Medicare Payment Advisory Commission, who is now at Arnold Ventures. A lower price and fewer patients "should be pulling the premium down."
The bottom line: Medicare officials sent a signal to the pharmaceutical industry that Aduhelm — an IV medication with unproven clinical benefit, serious side effects and a $28,000 annual price tag — and other Alzheimer's drugs must show they work to gain Medicare's full coverage and payment.
2. Poll: Health and safety over in-person learning
More than half of Americans say it's more important to protect the health and safety of teachers and students by moving to remote learning than to keep schools open for in-person learning, Axios' Caitlin Owens writes from a new Harris Poll provided exclusively to Axios.
While 56% of respondents said protecting the health and safety of teachers and students is more important, 44% said it's more important to have schools open for in-person learning to avoid further interrupting students' education.
More than six-in-10 Gen Z, millennial and Gen X respondents chose health and safety over in-person learning, as did 62% of parents with children younger than 18.
Only 48% of boomers — or respondents 57 and older — said the same.
Only 37% of GOP respondents chose health and safety, compared with 57% of independents and 70% of Democrats.
3. Visualized: Why we need better masks
Wearing the right mask — the right way — can be the most powerful tool in your arsenal to slow the spread of COVID-19, Axios visual journalist Will Chase reports.
Why it matters: In light of the high transmissibility of the Omicron variant and its ability to infect even people who have been vaccinated and boosted, the CDC is considering recommending mask upgrades, the Washington Post reported.
Fitted particle-filtering masks like N95s are up to 75x more effective at preventing COVID infection than surgical masks, researchers at Max Planck Institute in Germany found in a recently published study.
4. Hot mic moment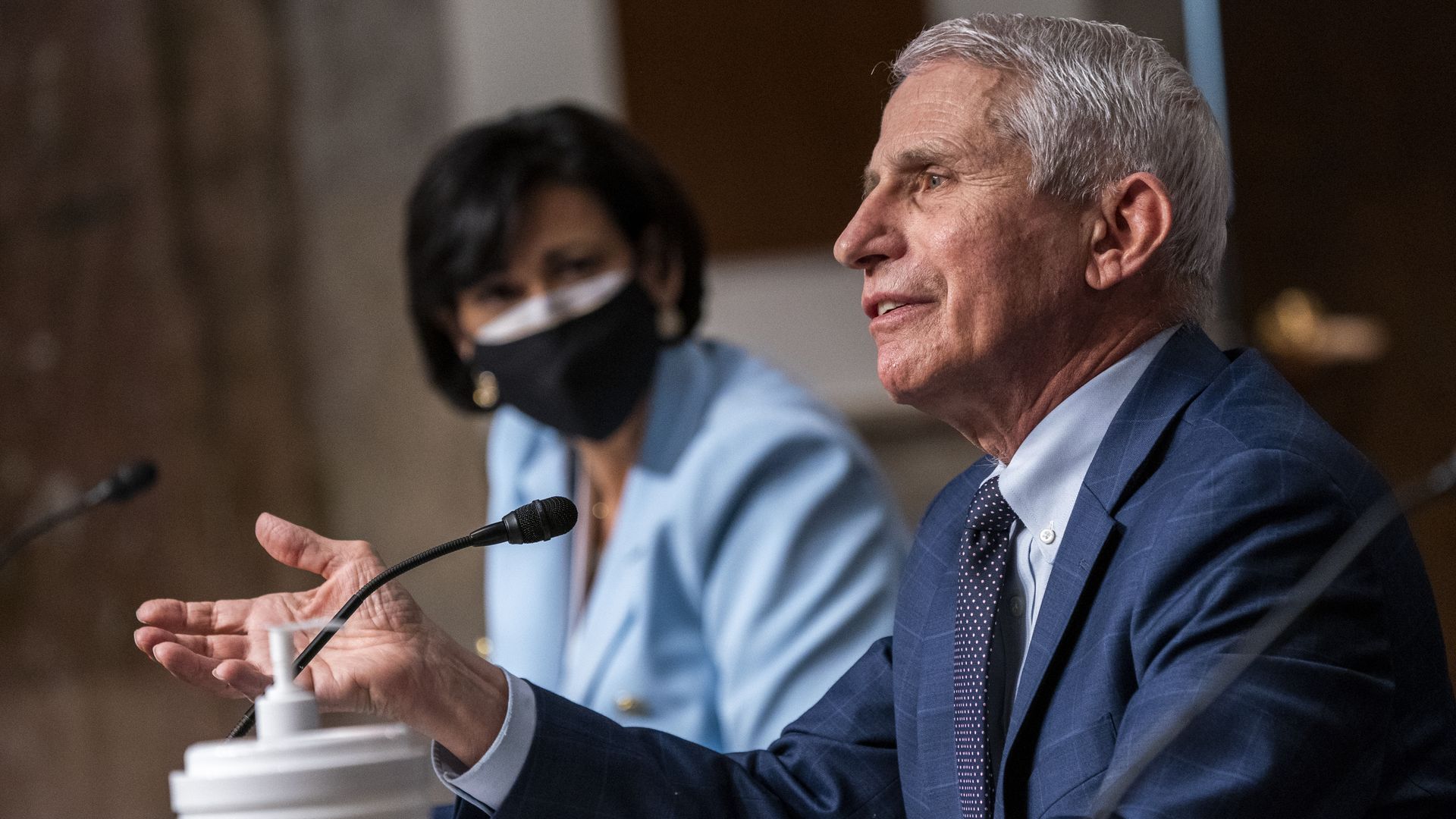 NIAID director Anthony Fauci got caught on a hot mic during a Senate HELP Committee hearing that, at times, grew heated on Tuesday.
The White House chief medical adviser could be reportedly be heard saying, "What a moron" after an exchange over financial disclosures with Sen. Roger Marshall (R-Kan.), who is also an obstetrician.
While most of the fireworks flew between the senior administration official and Sen. Rand Paul, Fauci and CDC director Rochelle Walensky also faced sharp questions over confusion in the administration's COVID-19 messaging, as well as preparedness when it came to tests.
News you can use: Why you shouldn't try to get a case of Omicron out of the way. Seriously, just don't. (CNN)
5. Catch up quick
Federal agencies must begin testing unvaccinated workers weekly starting Feb. 15. (Washington Post)
California lawmakers are eyeing a plan that could make it the first state in the U.S. to offer government-funded, universal health care. (The Guardian)
And ... in light of the strain on health providers, some folks are taking DIY to a whole new level with a do-it-yourself health care movement. (Wall Street Journal)
👋 We'd love to hear from you. Feel free to send me tips or comments by replying to this email or on Twitter @TreedinDC.