Axios Vitals
July 11, 2019
Good morning. Today's word count is 1,000, or <4 minutes.
1 big thing ... scoop: White House kills the rebate rule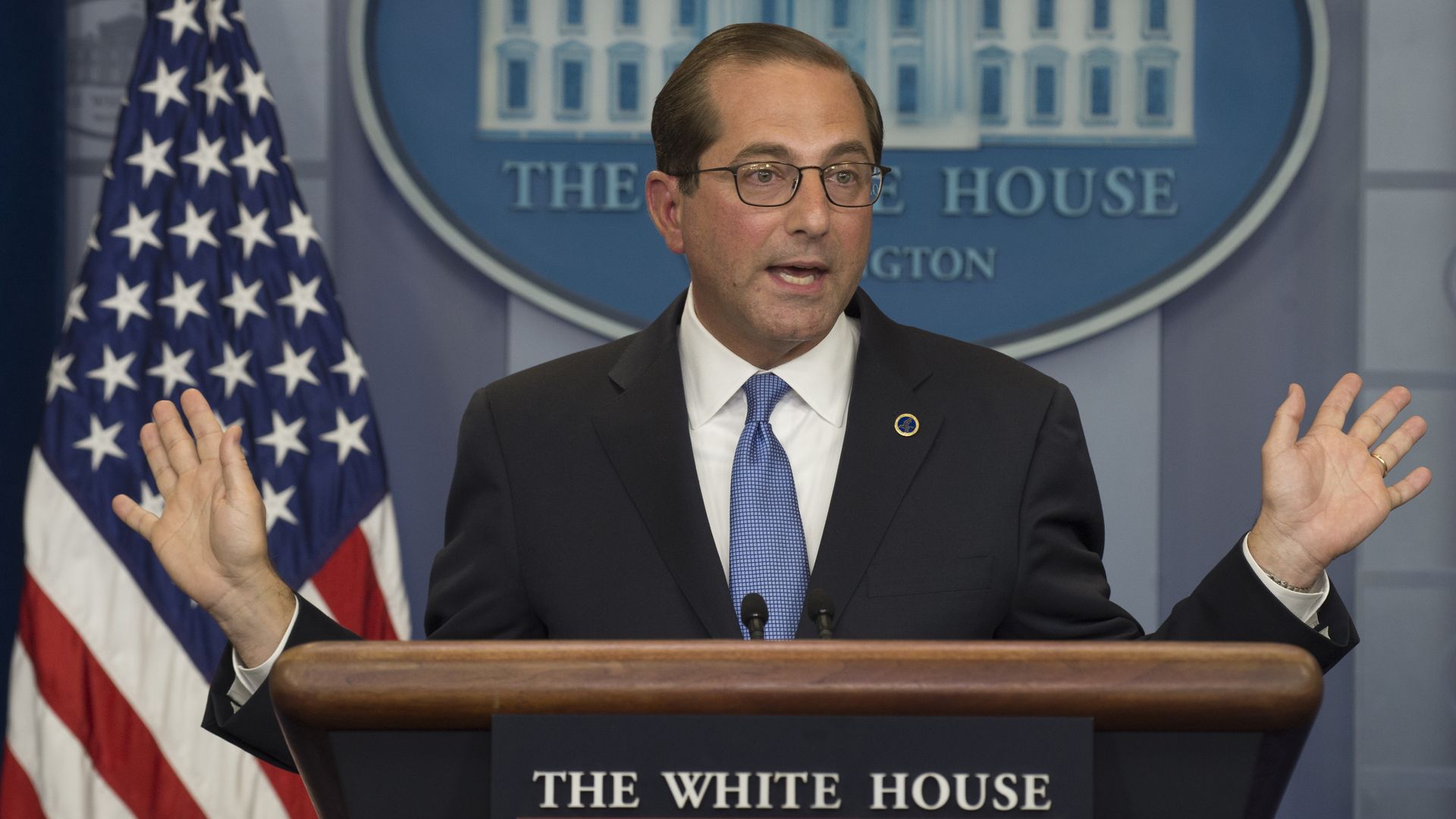 A big part of the Trump administration's plan to lower drug prices is now dead, White House spokesman Judd Deere confirmed to Axios.
Why it matters: The administration is backing away from an effort to change the way money flows through federal health care programs — one of the most sweeping elements of its drug-pricing blueprint.
How it works: The now-dead proposal would have overhauled the rebates collected by pharmacy benefit managers — the middlemen between insurance plans and drug companies.
They negotiate discounted prices in the form of a rebate, but keep some of those rebates for themselves as profit.
Trump's proposal would have banned that arrangement in Medicare and Medicaid, requiring PBMs to pass the rebates on to patients at the pharmacy counter and find a different way to bring in their own revenues.
What they're saying: "Based on careful analysis and thorough consideration, the President has decided to withdraw the rebate rule," Deere said.
"President Trump will consider using any and all tools to ensure that prescription drug costs will continue to decline," he added.
Between the lines: This is very bad news for the pharmaceutical industry, which blames middlemen for high drug prices and vocally supported the proposed rebate overhaul. It's very good news for insurers and PBMs.
What's next: This will increase the pressure for the administration to finalize its other major drug-pricing push — which the pharmaceutical industry loathes.
That proposal would set Medicare's prices for certain drugs based on the prices other countries pay. It likely "will be the executive order of choice," a source close to the administration said.
What we're watching: The administration is also open to a controversial proposal being discussed in the Senate that would limit how much drug companies can increase their prices within Medicare's drug benefit.
"Driving down outrageous price hikes in prescription drug prices is a priority for the President, and a policy like an inflation cap for Part D drugs is something the Trump administration is seriously considering," a senior administration official said.
2. Trump wants to stem the tide of kidney disease
President Trump signed an executive order yesterday to modernize kidney-disease treatment for the first time in decades, a move that could reduce spending and improve treatment for one of the country's most pervasive illnesses.
Why it matters: This could be a big deal for the 37 million Americans suffering from chronic kidney disease, including 726,000 with kidney failure.
The big picture: The executive order requires Medicare to test different payment models encouraging preventive kidney care, home dialysis (versus facility-based dialysis) and kidney transplants.
The administration will also push for the development of artificial kidneys and speed up the kidney matching process so that more people can get transplants.
The administration's goals are ambitious: It wants to reduce the number of patients with kidney failure by 25% by 2030, have 80% of patients who do develop it in 2025 either receive home dialysis or a kidney transplant, and double the number of kidneys available for transplant by 2030.
What they're saying: Encouraging home dialysis would obviously shake up the business models of dialysis clinic operators, namely the duopoly of DaVita and Fresenius. But they've already been moving in this direction, said Dan Mendelson, founder of Avalere Health.
The bottom line: The focus on home dialysis and prevention are good for patients, and the executive order "could also reduce federal cost somewhat if implemented properly — but we need more detail to really assess that," Mendelson said.
Go deeper: The growing toll of kidney disease
3. J&J's stranglehold on a blockbuster drug
Sales of Remicade, Johnson & Johnson's blockbuster drug that treats autoimmune and inflammatory diseases, are declining. But the drug still controls more than 90% of the market and commands a high U.S. price tag even though cheaper versions have existed for almost 3 years, Axios' Bob Herman reports.
The bottom line: Biosimilar competition for Remicade "is essentially a failed market," Bernstein pharmaceutical analyst Ronny Gal wrote in a note to investors yesterday.
Driving the news: Biosimilars have fared much better in Europe, especially for Remicade competitors.
Remicade's price has fallen 21% in the U.S. since cheaper alternatives have been approved, but its price has dropped 74% in European countries, according to Bernstein.
Meanwhile, many U.S. hospitals that administer Remicade don't offer a biosimilar.
A lawsuit from Pfizer, which makes a Remicade competitor, alleges Johnson & Johnson has made sweetheart deals with health insurers to prefer Remicade.
Looking ahead: "We expect adoption to remain sluggish," Gal wrote.
Go deeper: Biosimilars have failed to take off
4. Providers get surprise billing consolation prize
Providers notched a small win in the surprise billing debate this week, as the leading House committee tweaked its proposal to partially address doctors' concerns that it advantaged insurers in contract negotiations.
Yes, but: The American Medical Association, the Federation of American Hospitals and the American Hospital Association still oppose the bill.
The proposal still determines how much providers get paid for out-of-network care by tying it to the median in-network price for the service in that geographic area.
But that rate won't fluctuate year to year — instead, it'd be tied to the median in-network commercial rate for 2019 and grow over time with inflation.
Why it matters: Some providers have argued that if there's a new benchmark rate every year, insurers would have leverage to keep negotiating lower in-network rates over time.
The other side: Some economists say that the threat of surprise bills has led to artificially high in-network rates, and the new provision ties the benchmark rate to inflated prices.
"Put another way, freezing rates at their current level means that providers will continue to benefit from their willingness to surprise bill patients," said the American Enterprise Institute's Ben Ippolito.
5. Universal flu vaccine means big bucks for biotech firms
Osivax, a French developer of a universal flu vaccine, raised €8 million in Series A funding led by Noshaq, Axios' Dan Primack reports.
Why it matters: Developing a universal flu vaccine is fast becoming biotech's holy grail.
Wednesday's deal comes just 1 day after a Cincinnati-based universal flu startup called Blue Water Vaccines raised $7 million, and a couple months after the U.S. National Institutes of Health launched clinical trials of its own. And then there were those nasal vaccine tests on llamas.
Our thought bubble, via Bob: It's an arms race of taxpayers versus private capital.