Axios Vitals
July 09, 2018
Good morning ... hope you had a nice holiday break.
Buckle up, because we — Bob Herman and Caitlin Owens — are driving the Vitals bus today while Sam Baker returns from some well-deserved time off. But have no fear, the entire team will be back in full force in the health care news stream today. Let's get to it!
1 big thing: What to expect from the national opioids lawsuit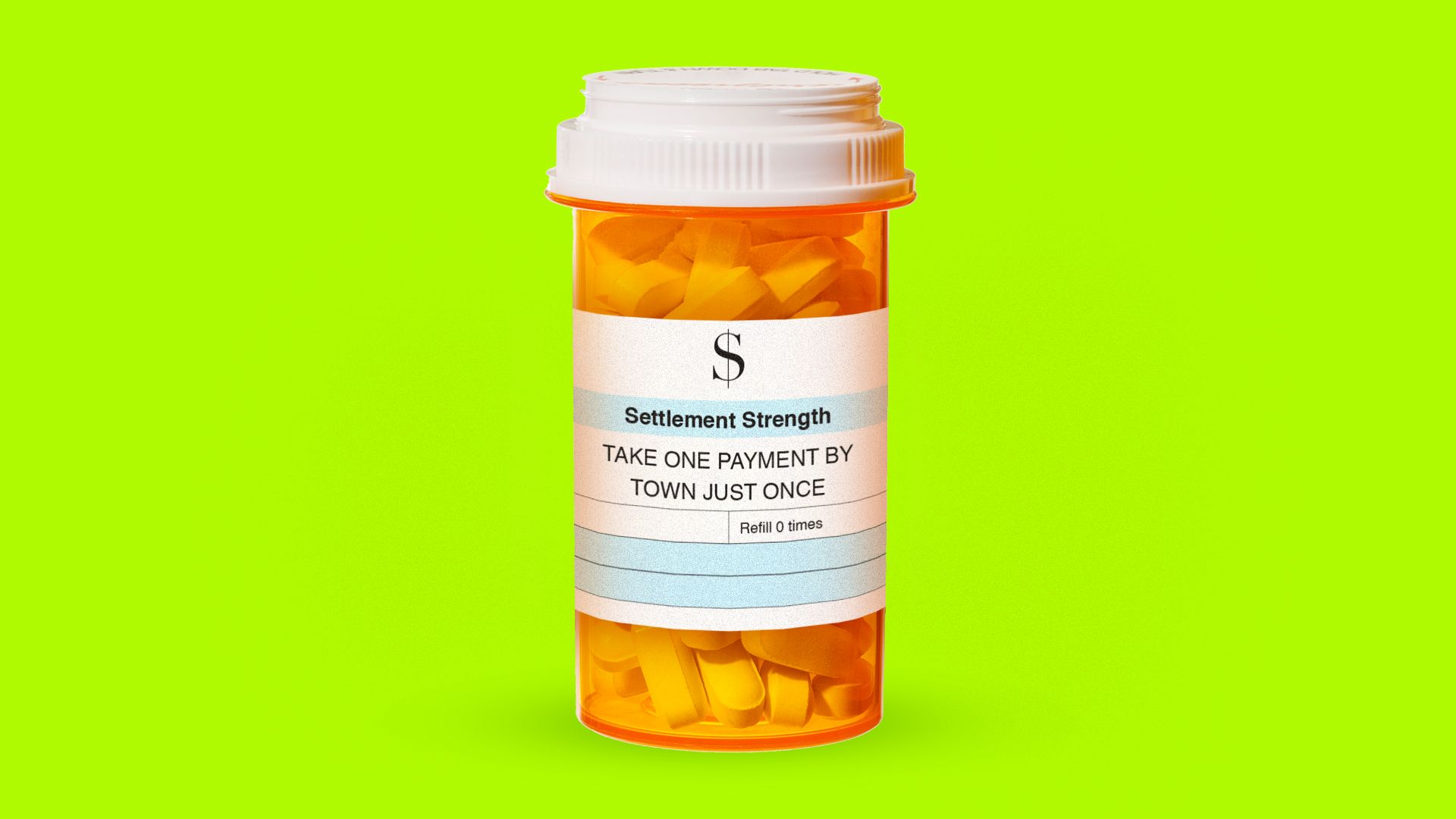 The huge federal opioid lawsuit could result in health care companies paying "hundreds of billions" of dollars to communities afflicted by the epidemic, a lawyer for the plaintiffs told Caitlin. Wall Street watchers told Bob a settlement may be on the horizon — but the companies aren't sweating it.
The lawsuit, brought by hundreds of communities across the country, alleges that opioid manufacturers, drug distributors, pharmacies and pharmacy benefit managers behaved in ways that contributed to the opioid epidemic and thus should be held financially responsible for it.
Most of the companies haven't said much about the lawsuit. One defendant, Cardinal Health, said in January that it has done the right thing but wouldn't rule out a settlement.
Why it matters: The opioid epidemic has caused mass devastation across the country, and Congress hasn't been able to keep up. If the plaintiffs win, this could be an alternative funding source for all of the treatment and changes to the health care system that experts say are needed going forward.
"This litigation hopefully supplements whatever the governments are able to pay with money coming from the companies that caused the problem to begin with," said Paul Hanly, the lawyer for the plaintiffs.
Yes, but: The companies involved, including Johnson & Johnson, McKesson and CVS Health, have barely talked about the case publicly, and Wall Street believes any outcome will be mostly benign.
"Settlements should not change the financial health of the companies," said Brian Tanquilut, a health care analyst at Jefferies, an investment bank.
2. Pharmacy sticker shock is here
Back in February, we highlighted how more consumers who use drug copay coupons are likely to be surprised with higher costs this summer when they pick up their prescriptions.
Well, it's happening. Employers, health insurers and pharmacy benefit managers started using "copay accumulator" programs that don't count the value of drug copay coupons toward a person's out-of-pocket costs, and people are starting to feel shock at the pharmacy counter.
"It's putting a greater burden on patients bearing the cost of their drugs, and it's really impacting adherence to medications," said Carl Schmid, deputy executive director of The AIDS Institute, a patient group that receives drug industry funding.
Schmid said his organization has heard from several people living with HIV who were not aware of the changes to their plans and thought they had reached their deductibles.
But, but, but: It's worth reminding that Medicare and Medicaid classify drug copay coupons as illegal kickbacks since they steer patients toward specific drugs and provide incentives for manufacturers to raise prices at will. Yet, discount cards are kosher in commercial health plans.
Go deeper: PepsiCo and Walmart are not counting drug copay coupons toward their employees' deductibles and out-of-pocket maximums this year.
3. The risk adjustment showstopper
The Centers for Medicare & Medicaid Services officially confirmed a Wall Street Journal report over the weekend: The agency is freezing $10.4 billion in transfer payments from a major Affordable Care Act program called risk adjustment.
The bottom line: This move is a sure-fire way to inject uncertainty into the ACA individual marketplaces that could, at a minimum, lead to higher premiums next year and possibly further insurance company exits.
"Carriers who think they might get shorted will have to consider re-pricing, and those planning to enter new markets will have to reassess their exposure," said Katherine Hempstead of the Robert Wood Johnson Foundation.
How it works: ACA risk adjustment transfers funds from health plans that enroll healthier members to companies that enroll sicker members to create a more level playing field.
The Trump administration justified the suspension as necessary due to conflicting court rulings from two lawsuits brought by health insurers.
But freezing the risk adjustment program immediately hurts companies expecting payments and provides windfalls to companies expecting to pay into the program.
Molina Healthcare, for example, is supposed to pay $912 million into risk adjustment for the 2017 benefit year but is temporarily off the hook.
What to watch: The Trump administration could resolve this issue relatively quickly, Katie Keith points out in Health Affairs. It could simply issue a notice to clarify how risk adjustment has been operating, but Trump officials have hardly been keen to help out a law they've openly opposed.
Especially important, however, is the fact that the risk adjustment "payments themselves should not be at risk" even though litigation is holding everything up, Keith writes.
4. All aboard the health care jobs train
Employment in the health care industry increased by another 25,000 jobs in June, according to the latest government figures. Health care has now added more than 135,000 jobs so far in 2018.
Be smart: Health care has been a jobs engine for several years now, and it's difficult to see when it will really slow down as the population gets older. Most jobs are being added in the outpatient setting, which includes doctors' offices, surgery centers and home health — which makes sense as more care gets shifted out of hospitals.
5. While you were weekending ...
What we're watching today: All SCOTUS, all day. President Trump plans to announce his nominee at 9pm Eastern, but don't be surprised if the name leaks before then.
What we're watching this week:
National Coalition on Health Care event covering strategies to reduce health care costs, Tuesday, 10am Eastern, in D.C.
House Energy and Commerce Committee hearing on the 340B program, Wednesday, 10am Eastern.
Altarum symposium on sustainable health spending and policy solutions, Thursday, 8:30am Eastern, in D.C. and webcast.
Big Medicare rules affecting hospital outpatient departments, physician payments and accountable care organizations could be released any day now.
Contact us: Did you know that we love tips, feedback and GIFs just as much as Sam? Email us at [email protected] and [email protected], or yell at us on Twitter at @bobjherman and @caitlinnowens.