Axios Vitals
June 23, 2017
Good morning ... So that went well, didn't it? The Senate health care bill is out, everybody loves it, and it looks like it's on its way to speedy passage next week. Why, what have you heard?
The winners and losers of the Senate bill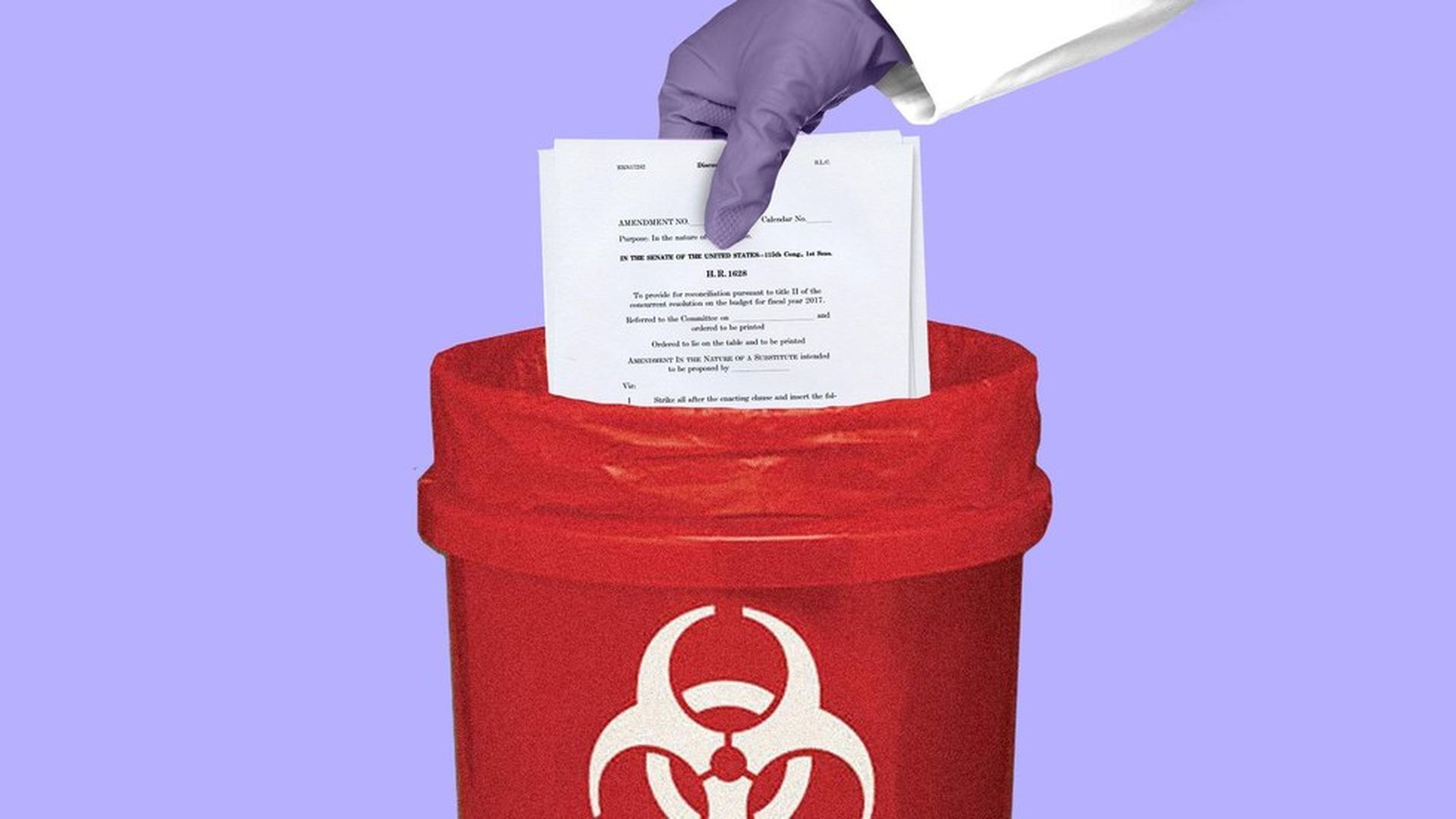 The health care bill Senate Republicans unveiled yesterday would not replace the Affordable Care Act. It would replace Medicaid.
With the notable exception of the individual mandate, the most fundamental changes the ACA made to the health care system — the exchanges, the federal government's role in subsidizing individual premiums, and some level of benefit mandates — would endure. But the Senate bill would repurpose those same tools to reverse the flow of costs and benefits. It would use the same means to a different end.
Winners and losers: Every health care policy comes with trade-offs:
The biggest winners — would be young people who don't use much health care, who were the "losers" under the ACA. Those consumers would no longer face a penalty for going uninsured. They'd get bigger subsidies than they're getting now. And the broader shifts in the health care market would favor people who don't need to use it.
The losers — would be older consumers and the poor, broadly. Although the bill phases in its Medicaid cuts more slowly than its House counterpart, once they took effect, the Senate's cuts would be deeper. And in the individual insurance market, older consumers would see their financial assistance shrink.
The politics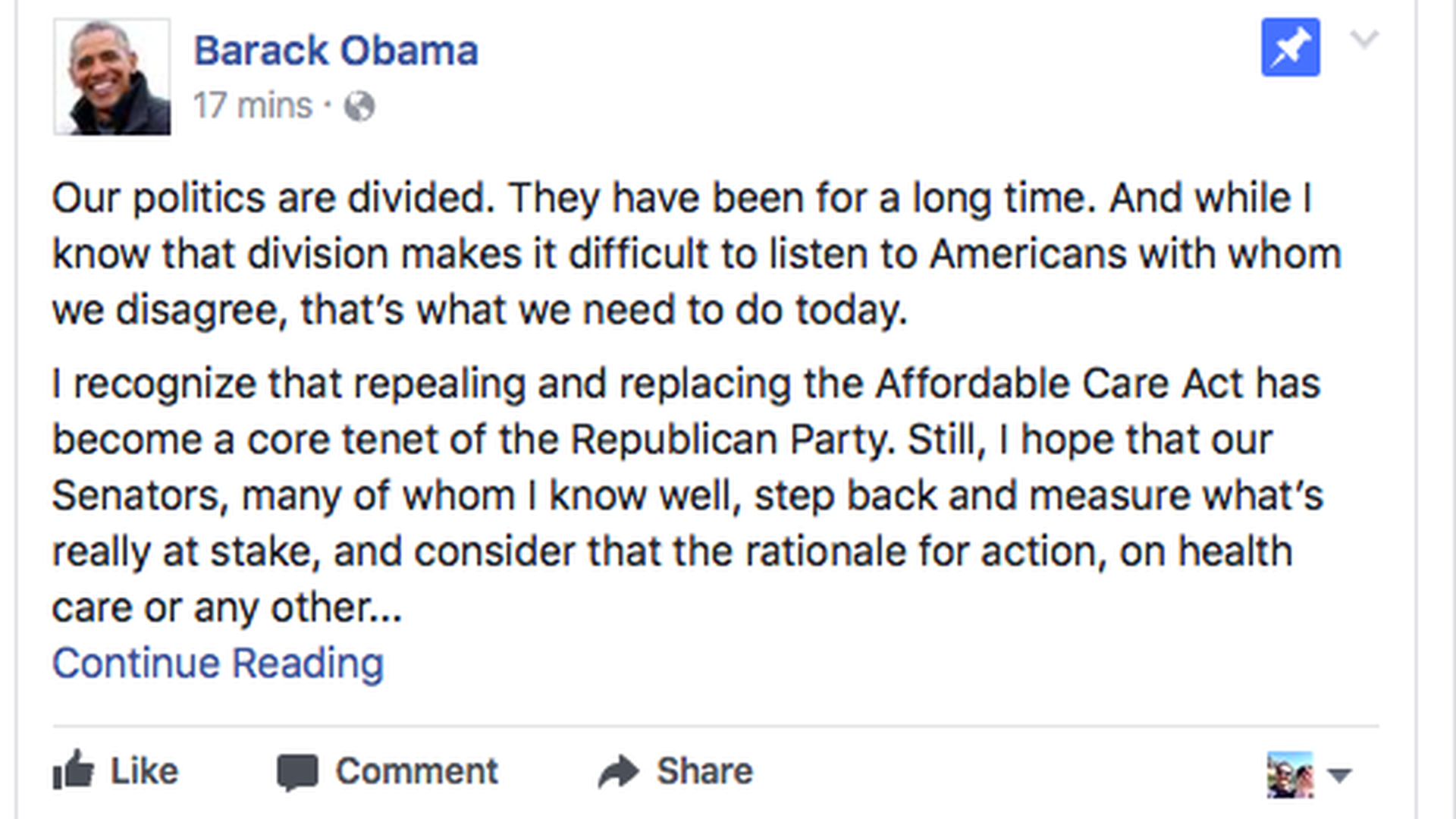 Conservative GOP reaction: Sen. Ted Cruz is clearly establishing himself as the dealmaker on the right. He joined Sens. Mike Lee, Ron Johnson, and Rand Paul yesterday in a statement saying they haven't gotten to "yes," but also released his own statement outlining how badly he wants to get there. If he can bring one of those three senators along, and McConnell can keep all the moderates on board, this bill will pass.
Moderate GOP reaction: Sen. Susan Collins and her fellow moderate Republicans were circumspect yesterday, and we don't expect them to say anything very definitive until they see a CBO score — expected early next week — and get a sense for how many people the bill would cover.
The Democrats: They're uniformly and vociferously opposed to the bill. (Here's what former President Barack Obama wrote yesterday in an emotional Facebook post.)
Among the fires McConnell will likely have to put out in the next seven days:
Planned Parenthood and abortion: Collins won't support the bill's provisions to prohibit federal funding from going to insurance plans that cover abortion and to de-fund Planned Parenthood. McConnell's best hope might be that the parliamentarian axes them and Cruz accepts the decision.
Insurance regulations: Another big target for conservatives that's hard to do through reconciliation. This bill is a delicate enough balance as it is; losing almost anything to Senate budget rules — especially if senators want to fight the parliamentarian's ruling — will be a problem.
Medicaid: The group of senators more protective of Medicaid (Shelley Moore Capito, Dean Heller, Rob Portman, etc.) was relatively quiet yesterday, but the bill does include tight funding caps they've previously said they couldn't support.
Amendments in general: Caitlin Owens reports that McConnell doesn't want any (or many) Republican amendments. So, expect even more Democratic messaging amendments once the bill hits the floor.
Big changes come in small packages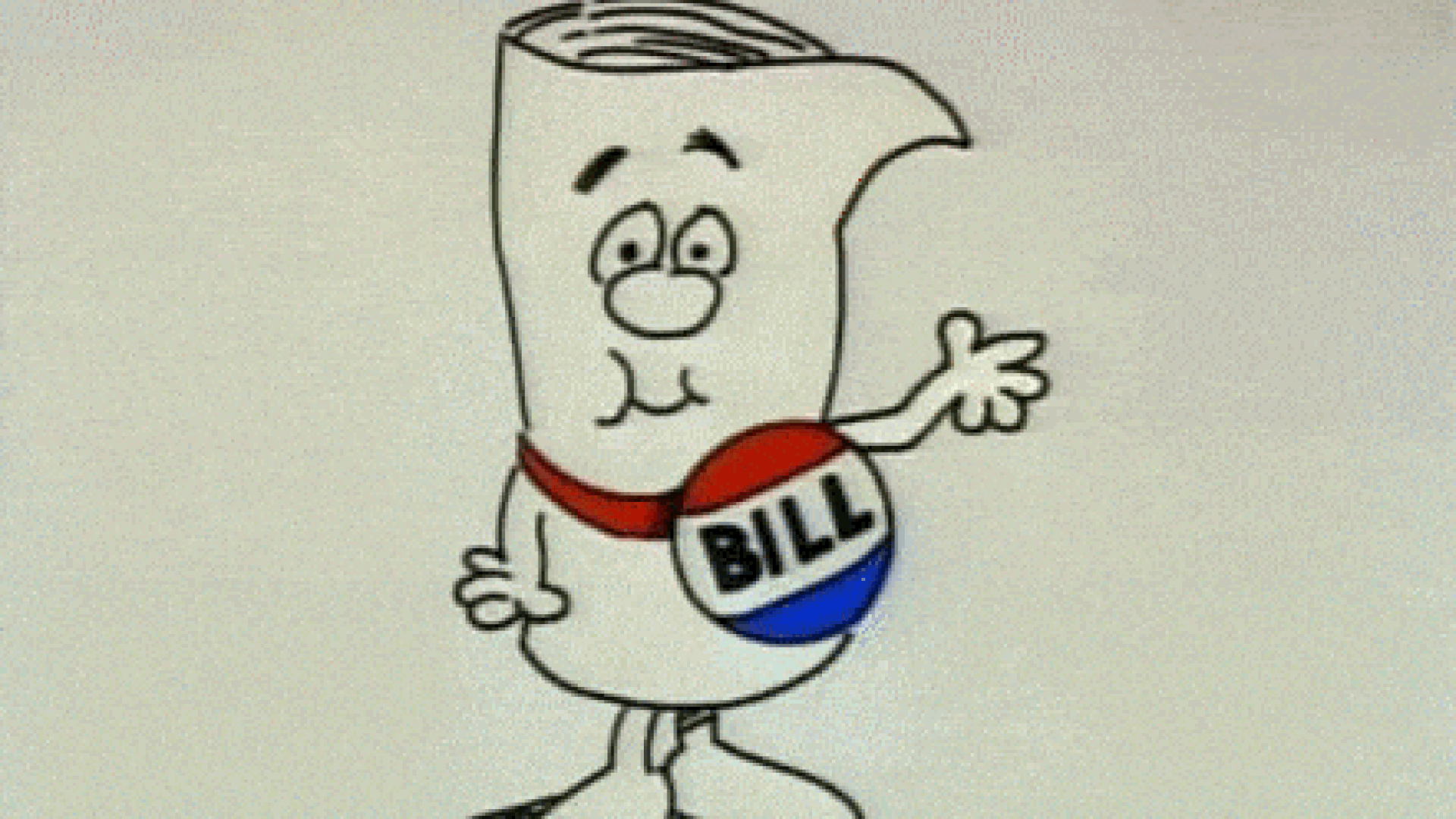 Conservatives have long wanted to nudge the system toward plans with lower premiums and higher out-of-pocket costs. And the Senate bill would achieve that through a seemingly minor technical change. ("Changing the actuarial value for benchmark plans" — what could sound more boring?)
Yes, but: Some experts say that change, in combination with other parts of the bill, could have some serious consequences — causing both premiums and deductibles to rise, with destabilizing effects on the broader market. This is both a potential problem on its own and a great snapshot of how the bill would shift around the ACA's costs and benefits.
Digging deeper:
The bill would push more consumers into plans with higher out-of-pocket costs (comparable plans on the market today carry average annual deductibles of $6,000).
It would ultimately repeal a subsidy that helps cover out-of-pocket costs.
The bill would add an age adjustment to the ACA's premium subsidies; many older consumers would have to cover more of their premiums on their own.
It also would repeal the individual mandate, but it doesn't include any mechanism to take its place. Republicans want to add a "continuous coverage" provision to encourage people to sign up, but it's not in the bill yet.
"I think there's a strong chance this bill could keep the markets stable through the 2020 election, but the wheels could come off after that," Kaiser Family Foundation's Larry Levitt said.
The surprises you may have missed
Don't miss our speed-read summary for the high points of the Senate bill, but there are also some other significant changes that got lost in a lot of the early coverage:
The "affordability test" for employer health coverage would be eliminated. That means that if an employer offered virtually any kind of health coverage, even if it's skimpy, a worker would no longer be able to get a tax credit to buy health insurance elsewhere. (h/t Yvette Fontenot)
On the other hand, the Medicaid "coverage gap" would be eliminated, too. Under the ACA, people could only get tax credits between 100% and 400% of the poverty line — so some low-income people in states that didn't expand Medicaid didn't qualify. The Senate bill's tax credits would cover everyone below 350% of the poverty line, so they'd fill the gap. (h/t Chris Jacobs)
But because people would have to cover more costs on their own, those low-income people still might not be better off, per the Washington Post.
And just like the House bill, the Senate bill would allow insurers to charge older customers five times as much as younger ones, rather than three times as much under the ACA.
The big picture
"This is no longer an Obamacare repeal bill. That's good. On the other hand, this is just a giant cut in Medicaid ... and that's bad." — MIT's Jonathan Gruber, who consulted on the ACA
"Once the dust settles, it will emerge that the Senate bill will have far-reaching effects on American health care: for the better." — Forbes' Avik Roy
The ACA is more popular than the House health care bill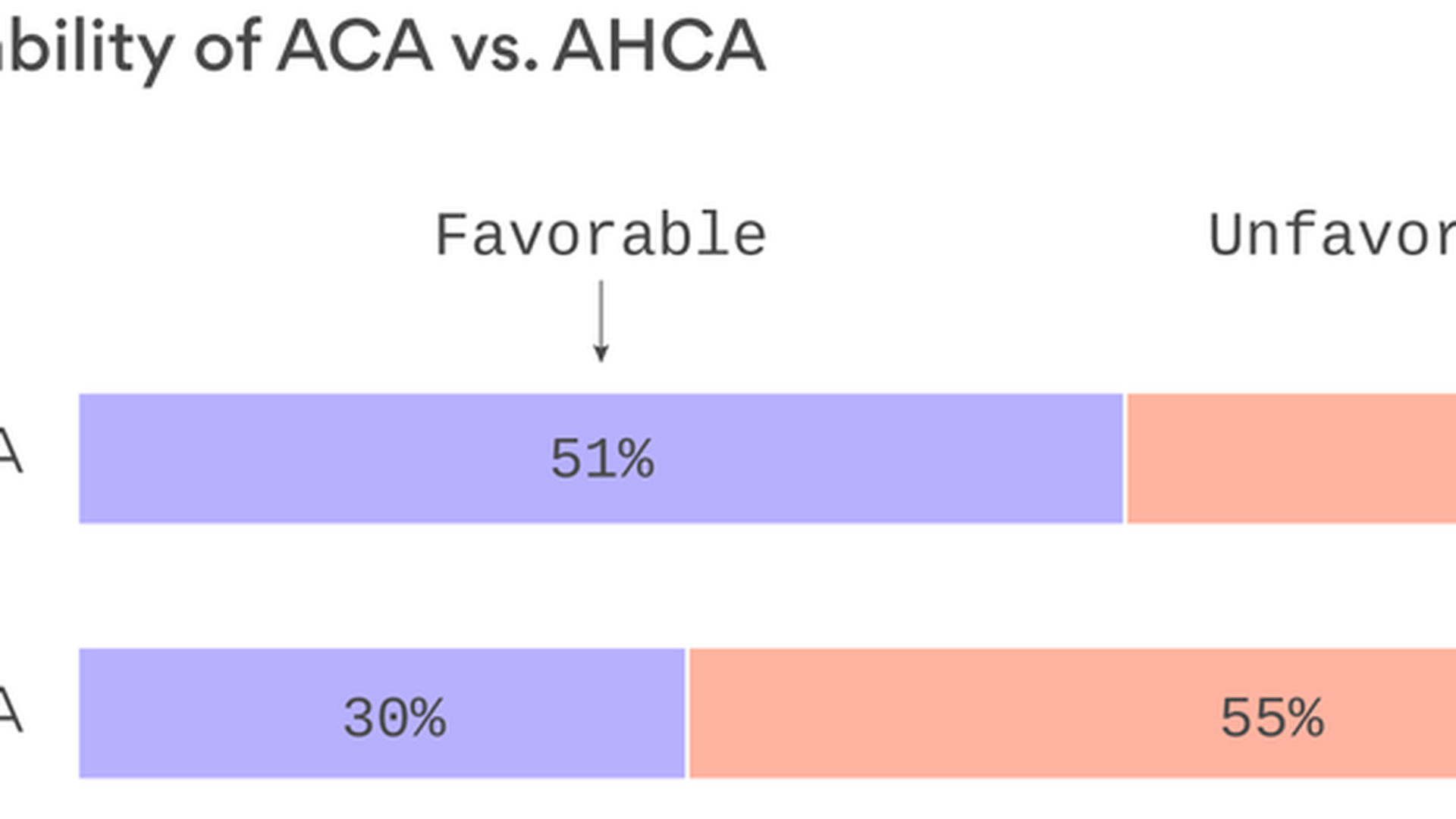 We knew the Republican health care effort wasn't polling well, but a new Kaiser Family Foundation poll out this morning puts a finer point on it: It's way less popular than the ACA it's supposed to replace.
Just 30% of the public likes the American Health Care Act, the House health care bill. (The poll was done before the Senate bill came out.) Meanwhile, the ACA, which has never been loved, is slowly becoming more accepted. It's now favored by 51% of the public — the first time it's topped 51% since Kaiser started polling on it in 2010.
Other highlights:
Republicans still support the AHCA, but their support has gotten softer. It's down to 56% (was 67% last month).
Nearly three fourths of the public have favorable views of Medicaid — but 70% say states should be able to impose work requirements for non-disabled adults, as Republicans want.
Good news for Republicans and Democrats: The public doesn't blame either of you for insurers pulling out of the ACA markets. It blames the insurance companies — four in 10 Americans say the insurers are withdrawing because of profit-driven decisions.
Behind the partial repeal of the "Cadillac tax"
The Senate bill repeals nearly all of the ACA's taxes, except for the so-called "Cadillac tax" on high-cost plans offered by employers. The bill would delay the Cadillac tax, despised by Republicans and Democrats but beloved by health economists, from going into effect until 2026. But there's a reason for that, Bob Herman reports.
A full repeal of the Cadillac tax would violate Senate budget rules, since it would increase the federal deficit down the road. The 40% levy would affect more employer plans as time goes on.Instead, the Senate likely will propose an amendment next week that fully repeals the Cadillac tax but stipulates the Byrd rule does not apply.James Gelfand of the ERISA Industry Committee, a lobbying group representing large Fortune 500 companies, told Bob his group hopes Heller will propose the amendment. Heller proposed a similar amendment in 2015, and it got widespread support.Gelfand has been in touch with Senate Republican leaders, who said they are "committed to repealing the Cadillac tax" but didn't want to jeopardize the budget reconciliation process.
Turmoil in EpiPen world
Mylan held its long-awaited shareholder meeting yesterday, and Bob Herman reports that investors made it clear they aren't thrilled with CEO Heather Bresch, former chief Robert Coury, and the entire board of directors.
Details:
A majority of shareholders voted against Mylan's executive compensation packages for 2016 — the third time that's happened at the EpiPen manufacturer since 2010, according to Bloomberg. The "say-on-pay" vote is nonbinding, so the board can still pay executives whatever it wants. Mylan said it "will carefully consider these results." Mylan trumpeted in a press release that all of its board directors were "duly and validly elected." But Mylan, now headquartered in the Netherlands, follows a Dutch rule where a supermajority is needed to remove a board member. Translation: Mylan board members could have been re-elected with as little as a third of shareholder support.A Mylan spokesperson would not release the final board voting results and said they'd be filed with the Securities and Exchange Commission "in coming days."
What we're watching next week: The CBO score of the Senate bill, which is expected early in the week. The awkward dinner date between President Trump and Ted Cruz to cut a health care deal, because that's where this is all headed, isn't it? Also, the health care vote.
Please send us bourbon now. But if all you have is tips and leaks: [email protected], [email protected].