Axios Vitals
October 19, 2020
Good morning.
Today's word count is 898, or a 3.5-minute read.
1 big thing: Coronavirus hospitalizations are on the rise
Coronavirus hospitalizations are increasing in 39 states, and 16 report being at or near their all-time peak, Axios' Andrew Witherspoon and Sam Baker write.
The big picture: No state is anywhere near the worst-case situation of not having enough capacity to handle its COVID-19 outbreak. But rising hospitalization rates are a sign that things are getting worse, at a dangerous time, and a reminder that this virus can do serious harm.
By the numbers: 39 states saw an increase over the past two weeks in the percentage of available hospital beds occupied by coronavirus patients.
Wisconsin is faring the worst, with 9.4% of the state's beds occupied by COVID-19 patients.
16 states are at or near the highest hospitalization rates they've seen at any point in the pandemic.
Yes, but: The all-time peak of coronavirus hospitalizations happened in the spring, when 40% of New Jersey's beds were occupied by coronavirus patients. Thankfully, even the the worst-performing states today are still a far cry from that.
Between the lines: These numbers, combined with the nationwide surge in new infections, confirm that the pandemic in the U.S. is getting worse — just as the cold weather season begins in some parts of the country, which experts have long seen as a potentially dangerous inflection point.
They also suggest that most parts of the country won't need to pause or scale back non-coronavirus treatments, as hospitals did in the spring when no one was quite sure how bad things could get.
In rural areas, however, even a modestly sized outbreak can strain local hospital capacity.
2. Targeted lockdowns becoming more popular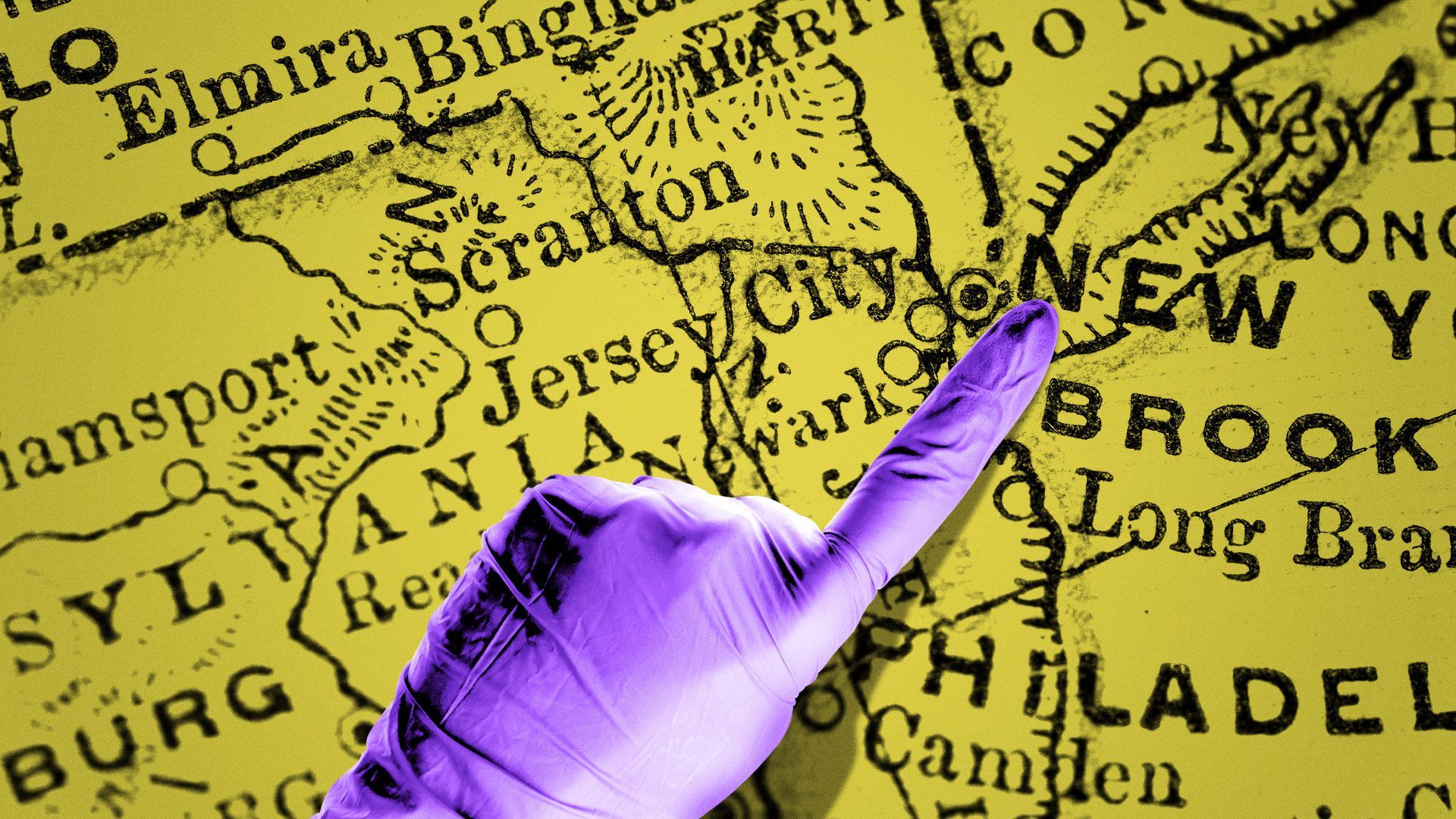 As a new wave of coronavirus cases hits the U.S. and Europe, governments are shifting away from total shutdowns toward more geographically targeted lockdowns to stifle the virus' spread, Axios' Bryan Walsh reports.
Why it matters: Precision shutdowns can slow emerging outbreaks while lessening the overall economic impact of the response. But they risk a backlash from those who are targeted, and may not be strong enough to keep a highly contagious virus under control.
Driving the news: New York City tried to control a flare-up of new coronavirus cases this month by instituting partial shutdowns on a neighborhood-by-neighborhood basis, curtailing economic and social activity in areas harder hit by the virus while continuing reopening elsewhere.
British Prime Minister Boris Johnson on Monday instituted a similar response for the U.K., putting in place a three-tier escalating system of lockdowns on a city or regional basis.
What's new: Some early research indicates more-targeted lockdowns can effectively smother outbreaks while leaving broader city and regional economies mostly intact.
A paper published by a team of economists in July found a more precise shutdown focused on places where viral spread was most common could have reduced economic losses in New York by as much as 50% compared to a uniform lockdown.
Yes, but: Individuals move around a city, and some epidemiologists worry that over time cases will break out of targeted lockdown areas and spark a wider outbreak.
3. More Hispanic Americans are dying from the virus
Hispanic Americans made up a larger portion of coronavirus deaths from May to August than they did earlier in the pandemic, and both Black and Hispanic Americans made up a disproportionate number of deaths compared to their share of the overall population, the CDC said in an analysis released Friday.
The big picture: Since the beginning of the pandemic, it's been clear that the coronavirus has had an outsized impact on Black and Latino communities due to a myriad of long-standing inequalities in the health care system and throughout society.
What they found: From May to August, deaths among white Americans decreased from 56.9% to 51.5% of all deaths, and fatalities among Black Americans fell from 20.3% to 17.4%. Deaths among Hispanic Americans, however, rose to 26.4% from 16.3%, Axios' Orion Rummler writes.
"Although there has been a geographic shift in COVID-19–associated deaths from the Northeast to the West and South, where Hispanic persons account for a higher percentage of the population, this analysis found that ethnic disparities among decedents in the West and South increased during May–August, 2020, suggesting that the geographic shift alone does not entirely account for the increase in percentage of Hispanic decedents nationwide," the CDC writes.
The bottom line: Racial disparities aren't going away as the pandemic drags on.
4. Early signs that lung damage is reversible
One of the most frightening effects of the coronavirus is the damage it can cause to the lungs of those who survive it, but there's some early evidence that this damage is reversible, the New York Times reports.
Driving the news: "At a recent European Respiratory Society meeting, doctors presented early results of a few small studies that offered a glimmer of hope, indicating that in at least some cases, patients' lungs show signs of recovery especially with intensive aftercare and exercise," per NYT.
Neither study has yet been peer-reviewed or published.
The big picture: It's impossible to know the long-term effects of the virus yet, as it's only been around for less than a year. But this is a positive sign.
Go deeper: The coronavirus' alarming impact on the body
5. Catch up quick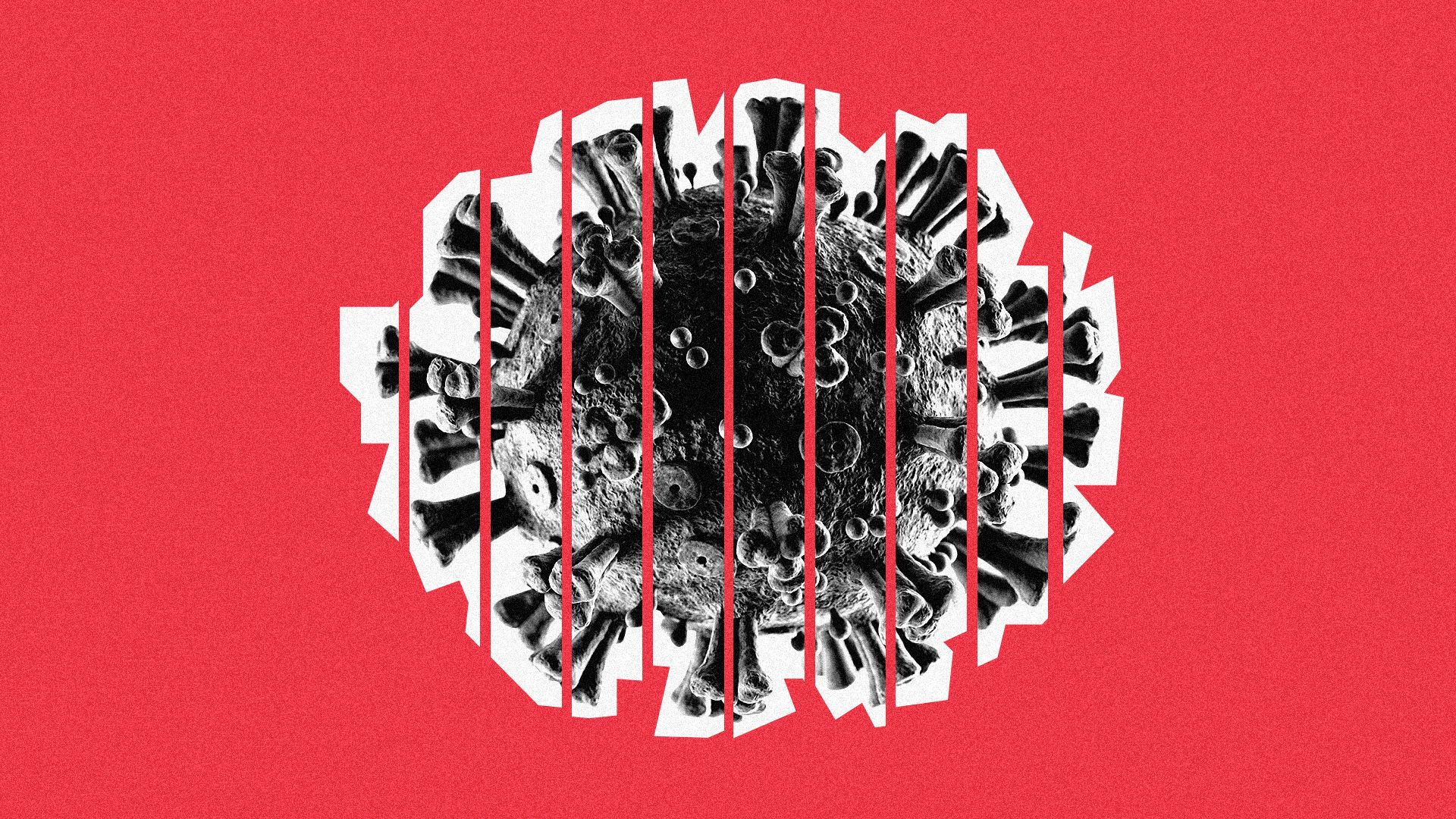 More than 1,000 current and former CDC epidemic intelligence officers have signed an open letter, decrying "the ominous politicization" of the agency throughout the coronavirus pandemic.
Twitter took down a tweet from one of President Trump's most visible coronavirus task force members, Scott Atlas, that claimed widespread use of face masks does not help slow the spread of COVID-19.
Pfizer says people might start getting COVID-19 vaccines before the end of the year, according to a timeline it laid out Friday.
NIAID director Anthony Fauci told CBS' "60 Minutes" in an interview broadcast Sunday he's "absolutely not" surprised that President Trump contracted COVID-19 after seeing him on TV in a crowded place with "almost nobody wearing a mask."
New York Gov. Andrew Cuomo on Saturday announced the state will deploy a "micro-cluster strategy" to target the coronavirus "block-by-block" instead of at the statewide or regional levels.
Streets in the usually bustling Paris and eight other French cities were "deserted" Saturday, as a four-week overnight curfew came into effect to combat spiking coronavirus cases, BBC reports.