Good morning ... Hope you had a restful weekend, 'cause you're gonna need it. Insurers are filing their rates, Republicans are trying to finish their bill, Democrats are planning to pull out all the stops, resistance-wise, and oh yeah, the most expensive House race in history finally gets resolved on Tuesday. Take a deep breath and buy an extra coffee pot.
https://www.axios.com/newsletters/axios-vitals-85bc0812-ca5f-4af7-9adb-755ef0619569.html?chunk=0#story0
Welcome to an extremely important week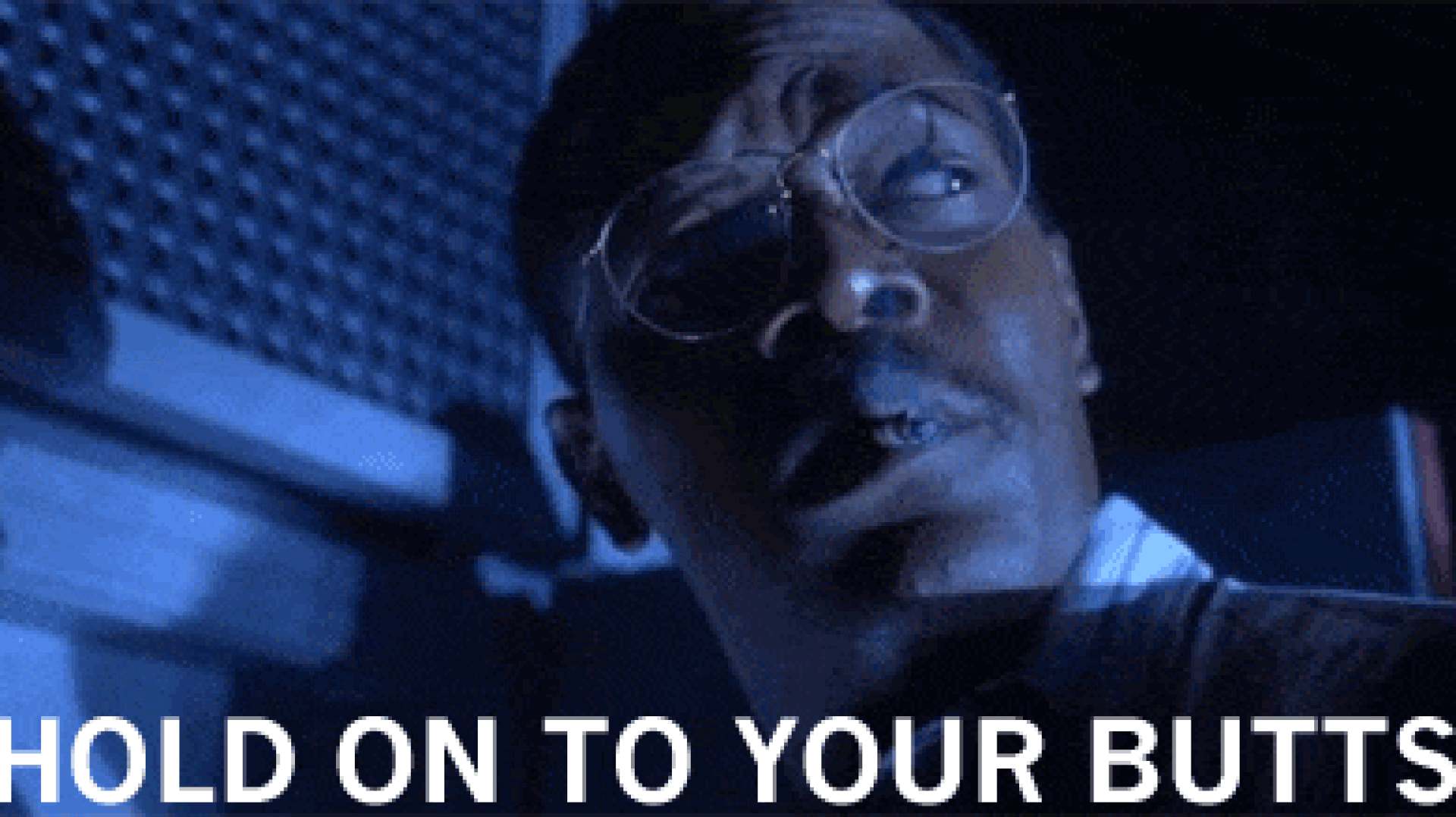 This could prove to be a make-or-break week on a couple of fronts, both politically and on the ground:
Our colleague Jonathan Swan reports that Senate Majority Leader Mitch McConnell still wants to hold a health care vote before the July 4 recess — which means he'd need to wrap up negotiations (such as they are) on the substance of the bill this week.
Wednesday is the deadline for insurance companies to decide whether they want to participate in 39 states' exchanges — and, if they do, to decide to what kind of plans they want to offer and how much they want to charge.
What we're watching: These two events will both play off one another. Insurers have made it pretty clear they're skeptical about the Affordable Care Act's exchanges — or at least looking to charge higher premiums within those markets — in part because of they don't know what the those marketplaces are going to look like next year.
Deeper look: The rate-filing deadline could be a double-edged sword: Republicans will obviously seize on big premium increases, along with any decisions to leave certain markets entirely, as a sign that the ACA is failing. And some of these markets really were in legitimate trouble well before President Trump was elected.
On the other hand: Democratic-led states have already built in their hedge against that talking point, and insurers have plainly said that part of their conservatism here is fueled by the uncertainty that Washington Republicans have caused.
https://www.axios.com/newsletters/axios-vitals-85bc0812-ca5f-4af7-9adb-755ef0619569.html?chunk=1#story1
The shrinking ACA insurance market
We've all heard about the insurers that are pulling out of ACA marketplaces, but sometimes you have to see it to really get it. This map, by Axios visuals editor Lazaro Gamio, is based on data from the Kaiser Family Foundation for the first four years of the ACA marketplaces. You can really see the difference in 2017, when high-profile insurance left 21% of all ACA customers with only one insurer in their area.
For context: This doesn't even count 2018, when there could be as many as 47 counties with no insurer at all. We'll have a better idea after this week's filing deadline, of course.
Why it matters: There are definite signs that the Trump administration's opposition to the ACA is hurting the marketplace for next year, as we wrote on Friday. But it's important to remember what was happening before the administration ever took office.
https://www.axios.com/newsletters/axios-vitals-85bc0812-ca5f-4af7-9adb-755ef0619569.html?chunk=2#story2
The Democrats strike back: Get ready for lots of words
Senate Democrats are going to try to make as much noise as they can this week to protest the Republican health care bill. Democrats may or may not try to bring Senate business to a halt, per CNN (they're wary of pushing too hard given the raw emotions over last week's shooting). They'll probably at least try to hold a talkathon on the Senate floor into the late-night hours today, Politico reports.
What we're hearing: This is partly to draw attention to the damage they believe the bill will cause, and partly to scold Republicans for the secrecy of their process, a Senate Democratic aide tells us. But it's also their way of trying to put the spotlight back on health care, after watching two Russia hearings overshadow the health care debate the last two weeks.
https://www.axios.com/newsletters/axios-vitals-85bc0812-ca5f-4af7-9adb-755ef0619569.html?chunk=3#story3
The uneven gains in health care job growth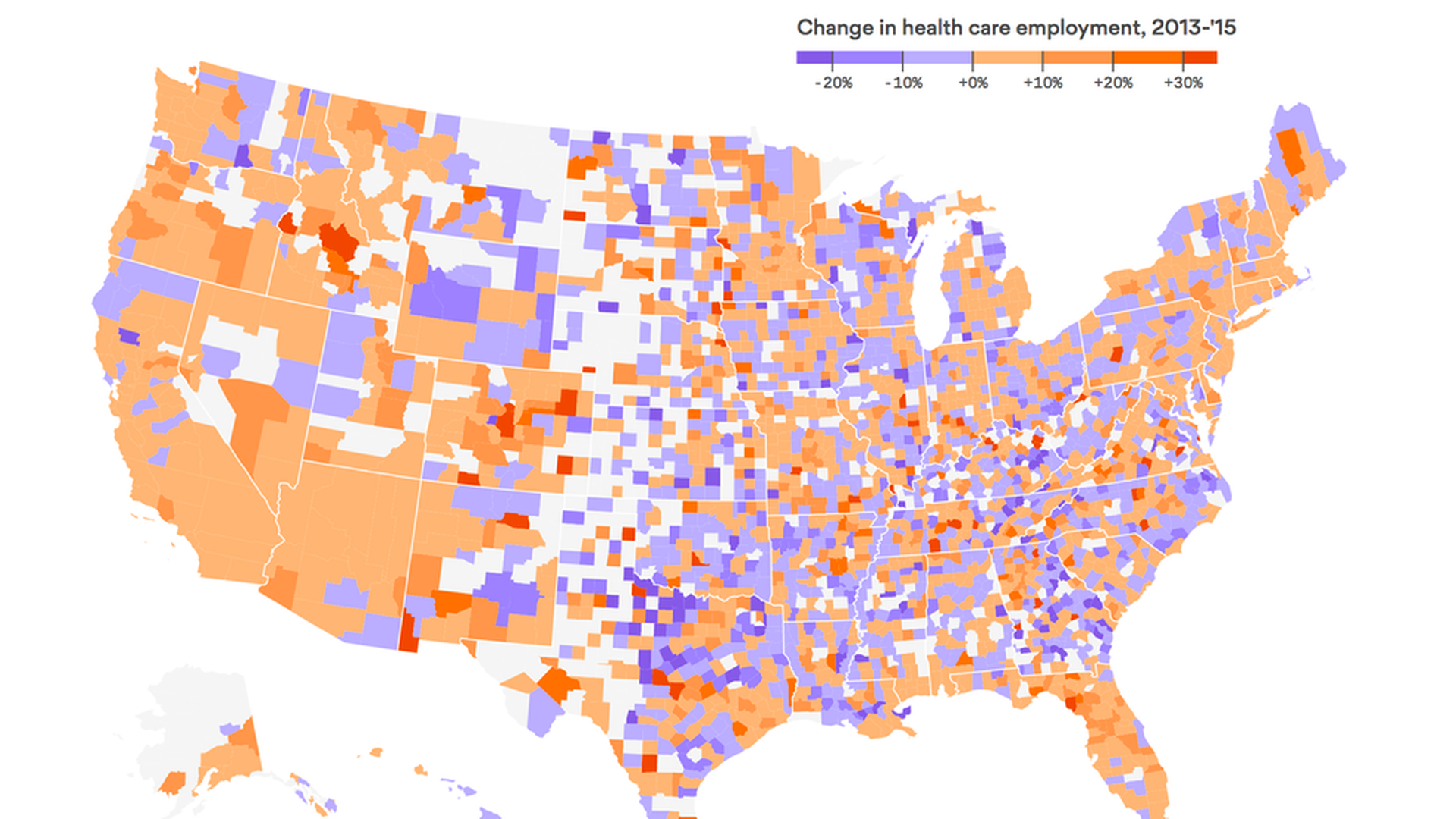 The U.S. economy has had one big, reliable source of increased employment over the last decade: health care, which added jobs even during the 2008-2009 recession. But this growth hasn't been evenly distributed — health jobs have been a bonanza for Californians and New Mexicans, but east of the Rockies, not so much.
Why it matters: If the Republican-controlled Congress cuts coverage, that could slow down job growth. This map shows winners and losers in terms of health care employment, should a new law be enacted.
https://www.axios.com/newsletters/axios-vitals-85bc0812-ca5f-4af7-9adb-755ef0619569.html?chunk=4#story4
There's probably not a lot of gaming of ACA risk adjustment
Bob Herman has a followup this morning to the big story he broke last week about Zoom, the Oregon startup that's under FBI investigation for allegedly gaming the ACA's risk adjustment program. His conclusion: The company is probably an outlier, if it did what it's accused of doing. Risk adjustment experts haven't heard a lot of reports of other insurers trying to avoid paying into the program, which is supposed to help insurers with sicker customers.
Yes, but: There's a lot of potential for abuse, and there's a long history of it with Medicare Advantage, which also has a risk adjustment program. As one insurance industry expert told Bob: "The amount of money that can be moved around with risk adjustment can be fairly high."
https://www.axios.com/newsletters/axios-vitals-85bc0812-ca5f-4af7-9adb-755ef0619569.html?chunk=5#story5
Why value-based pricing could help the drug industry's agenda
Axios contributor Steve Brill says the apparent push from the administration and PhRMA for value-based drug pricing needs to be looked at carefully — because it could be PhRMA's Trojan horse to get traction on two long-sought agenda items.
First: The need to negotiate value-based contracts with insurers could result in the FDA waiving rules on marketing or promoting drugs off label. After all, Brill notes, how can a company talk about getting a bonus or paying a penalty for a drug's effectiveness in treating a wide range of illnesses, if it can't talk about how the drug might be used to attack that wide range of illnesses?
Second: The bonus and penalty regime could be a way for PhRMA to get Medicaid's "best price" rules thrown out — because in some instances the "best price" could be a deep discount, or zero, if the drug doesn't work for a particular patient or group of patients.
PhRMA's response: Spokeswoman Holly Campbell says there's broad agreement that "outdated regulations need to be modernized to keep pace with the shift to value in health care." To do that, she said, "biopharmaceutical companies need to be able to communicate with insurance companies about the potential benefits and risks of their medicines."
But on Medicaid, Campbell said, "we need to modify – but not eliminate" the best price rules.
https://www.axios.com/newsletters/axios-vitals-85bc0812-ca5f-4af7-9adb-755ef0619569.html?chunk=6#story6
While you were weekending ...
Trump's executive order on drug prices may not have much bite after all.
6 members of the Presidential Advisory Council on HIV/AIDS have resigned, saying they're convinced that Trump doesn't care about HIV.
Sen. Marco Rubio's warning about the health care bill on CBS's Face the Nation: "The Senate is not a place where you can just cook up something behind closed doors and rush it for a vote on the floor."