Axios Vitals
February 06, 2017
Happy Monday, and welcome back. Been hearing some scary buzz about how late at night the Senate might vote this week on Tom Price's confirmation for Health and Human Services secretary. Why? Because they have to use up the debate time, and senators like to talk, and Democrats want to talk about Price and attorney general nominee Jeff Sessions, and ... well, let's not think about it anymore.
Here's where Obamacare enrollment dropped the most
It might have been the least surprising Obamacare development of the year: The partial enrollment numbers released Friday show that this year's enrollment will be lower than last year's, after the Trump administration pulled outreach advertising in the final week. These are the states that saw the biggest drop, according to the results in the 39 states that use HealthCare.gov (we're still waiting for results from the other states):
Georgia: - 93,965
Texas: - 78,918
Louisiana: - 70,571
North Carolina: - 64,329
Missouri: - 45,819
Between the lines: It's not a shocker to see Tom Price's home state of Georgia, and my home state of Texas, at the top of the list — most of the political leaders in those states are hostile to the law. But in Louisiana, which has a Democratic governor, Bob Herman notes that there could be a different explanation: Louisiana expanded Medicaid last summer, which means many low-income people who had Obamacare likely switched to Medicaid if they qualified. Read more in my story from Friday.
Where did enrollment rise? Paul Ryan's state
There were some surprises in the enrollment numbers — because even though the overall trend was down, there were a few cases where the signups inched up a bit. In House Speaker Paul Ryan's home state of Wisconsin, enrollment actually increased by 3,829 over last year, even though Ryan is leading the charge for repeal.
That was nothing compared to Senate Finance Committee chairman Orrin Hatch's home state of Utah, where signups increased by 21,550 over last year — or Florida, where enrollment surged by 17,206 despite Gov. Rick Scott's vocal opposition to the law. Even in those states, though, signups might have slowed a bit at the end: The Salt Lake Tribune had Utah's enrollment even farther ahead of last year's as of mid-January.
Jennifer Sullivan of Enroll America, a group that promotes Obamacare coverage, tells me that a lot of factors could explain why those states did better than others — anything from how many customers got subsidies to the strength of the outreach "ground game." Both were possible factors in Florida.
Trump on Obamacare replacement: Maybe next year?
Ready to freak out over something else President Trump said? In his pre-Super Bowl interview with Bill O'Reilly yesterday, Trump had a newly relaxed timeframe for rolling out his plan for Obamacare repeal and replacement. "Maybe it'll take until sometime in next year," Trump said.
A closer read: "We're going to be putting it in fairly soon, I think that, yes, I would like to say by the end of the year at least the rudiments but we should have something within the year and the following year."
Why it might matter: Trump may just be reflecting the problems all Republicans are having. It's no secret that the momentum has slowed a bit as Republicans in Congress try to figure out their next moves.
Why it might not: Trump doesn't control the schedule in Congress. That's up to GOP leaders. And Ryan made it clear last week that he wants to get moving by the end of March — though to make that deadline, the committees are going to have to start working on actual legislation pretty soon.
Don't worry — the health insurers will be OK
Bob Herman takes a broader look this morning at how health insurers are dealing with the uncertainty over Obamacare repeal — and gives us a needed reminder that they have a lot of other business besides Obamacare. And because of that, they should be just fine, as long as they can get through the transition to whatever replaces the law.
They'll still have plenty of business in employer coverage as well as partnership opportunities with the government, in programs like like Medicare Advantage and Medicaid managed care. And under President Trump and Republican majorities in Congress, there could be even more — as well as a chance to get rid of some of the regulations that have built up under Obamacare. Read Bob's story here.
The Obamacare town halls are back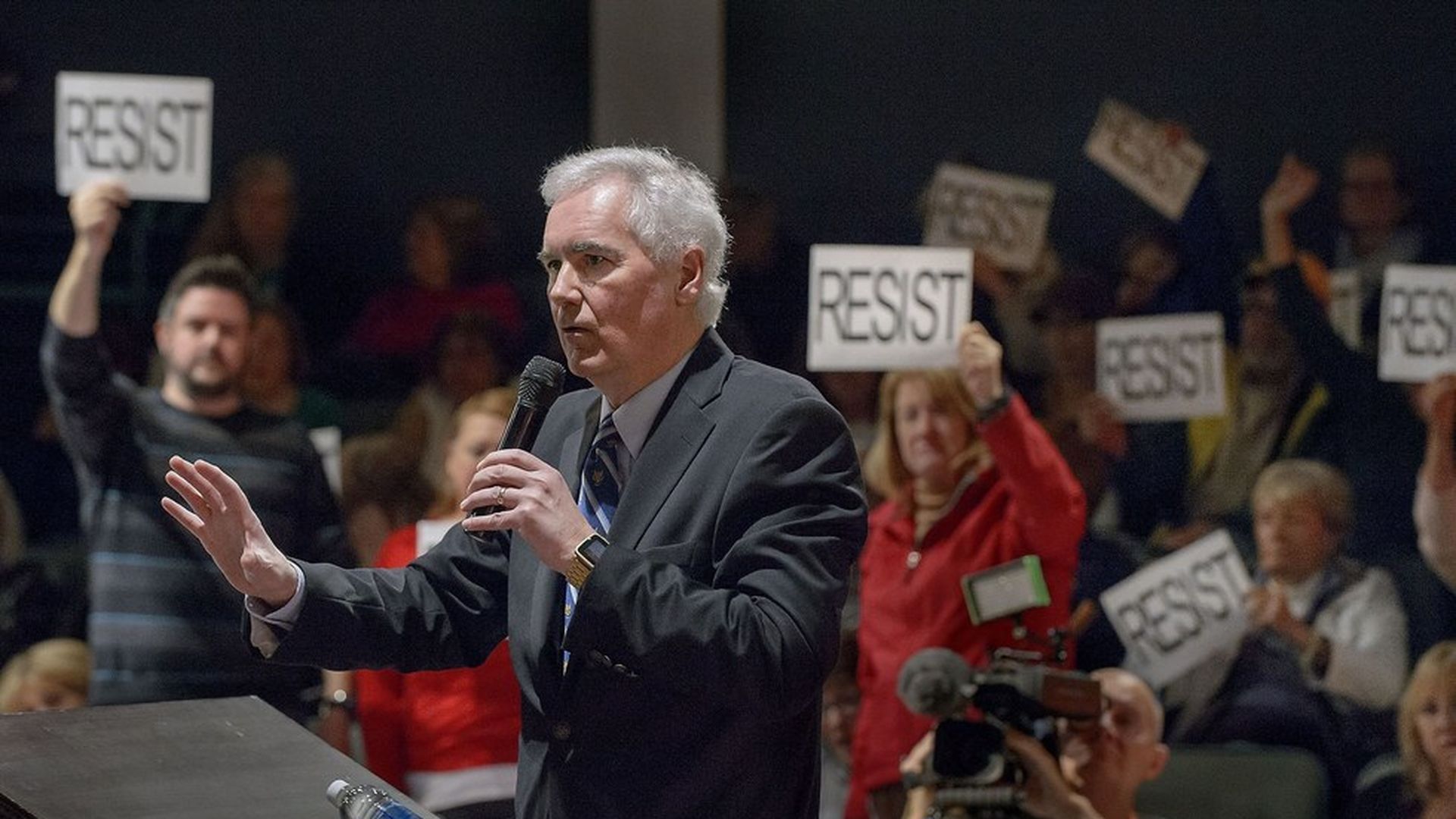 This time, it's the Republicans who are getting the blowback from Obamacare supporters, rather than Democrats being shouted down by the law's opponents. Rep. Tom McClintock had to have a police escort as he left a crowded and angry town hall meeting in Roseville, California, per the Los Angeles Times. One reporter's video captured a group of demonstrators chanting, "Shame! Shame!" And in Florida, a constituent with a heart condition pleaded with Rep. Gus Bilirakis not to get rid of the law, the Tampa Bay Times reported.
What it means: On one level, it may be the second-least-surprising Obamacare development, and it certainly shouldn't have been a surprise to Republicans. (There are people who like the law and depend on it? Who knew?) But it's also more vocal than most Obamacare supporters have been during the law's many other challenges. Like the polling that shows the law is getting more popular now, it's another sign that energy is moving toward the pro-Obamacare side — right when it might be too late.
While you were weekending
The problem with piecemeal Obamacare replacement
Caitlin Owens had a smart piece on Friday about what happens if the Republicans chop up the Obamacare replacement bills into pieces, which seems to be a real possibility. The biggest problems:
You may never know exactly what happens to health care coverage and costs, because you can't get a true apples-to-apples comparison.
Just because you can pass the first bill doesn't mean you can pass the next one.
On the bright side, it might be easier for the public to follow if you don't cram a ton of changes into one monster bill. ICYMI, give it a read here.
What we're watching this week: Senate confirmation vote on Tom Price, possibly late Thursday (depending on how much debate time Democrats use on him and other nominees).
Thanks for reading, and always let me know what else should be on our radar: [email protected].