Axios Vitals
October 29, 2019
Good morning. Today's word count is 892 words, or ~3 minutes.
1 big thing: We all pay for the opioid epidemic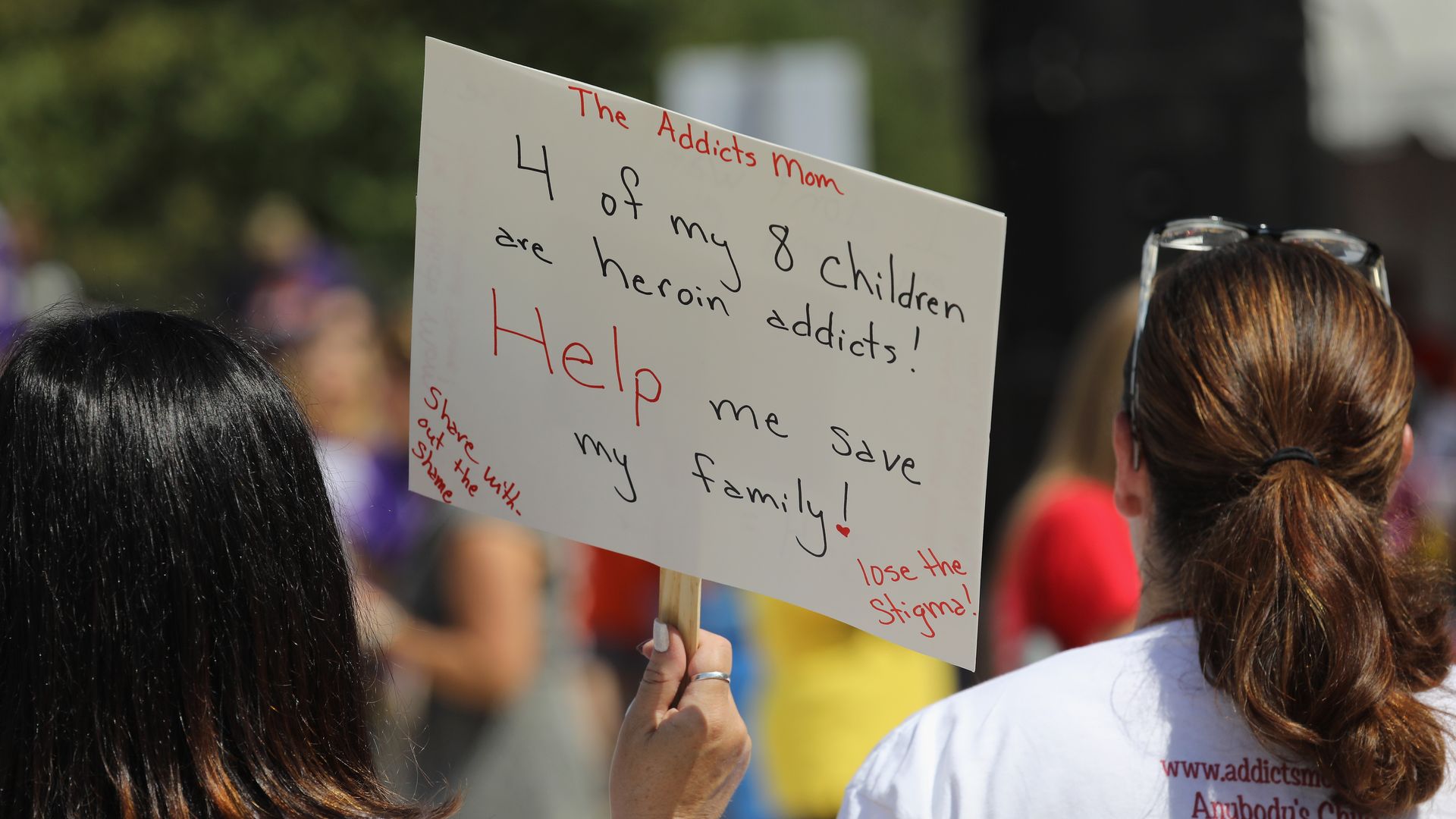 The ongoing opioid crisis cost $696 billion in 2018 and more than $2.5 trillion between 2015 and 2018, according to a new estimate by the White House Council of Economic Advisers.
Why it matters: Much of this cost is attributable to lives lost to opioids, but a good amount of it is borne by state and federal governments — and thus taxpayers.
Meanwhile, opioid litigation settlement talks are homing in on payouts nowhere near this amount.
For context: $696 billion was 3.4% of GDP last year — an astronomical amount.
The estimate is much higher than a recent report by the Society of Actuaries because of the way CEA calculated the value of a life.
It also includes health care and substance abuse treatment costs, criminal justice costs and reduced productivity costs.
The big picture: The drug manufacturers and distributors being sued by thousands of communities struck a deal last week with the plaintiffs that kept the first federal opioids trial from beginning as scheduled. But a larger deal to settle all of the pending lawsuits has yet to be reached.
Some state attorneys general have announced a settlement framework worth $48 billion, but nothing is final.
What they're saying: Andrew Kolodny of Brandeis University said that at least some of the plaintiffs have the resources to pay much more to help addressing the epidemic they've been accused of creating.
"The distributors and Johnson & Johnson have extremely deep pockets," he added. "Considering the cost of the mess they created and the estimate that comes from the White House Counsel of Economic Advisors, $48 billion is way too little."
The bottom line: "We're all paying for this," Kolodny said. "We're paying an enormous price, both in terms of economic and human costs."
2. How to pay for Medicare for All
Financing full-blown, single-payer Medicare for All — which is estimated to cost roughly $30 trillion over a decade — would require aggressive changes in taxes, spending or borrowing, according to an analysis by the Committee for a Responsible Federal Budget.
Between the lines: "Tax increases on high earners, corporations, and the financial sector by themselves could not cover much more than one-third of the cost of Medicare for All," the report concludes — meaning that the middle class would be forced to shoulder some of the burden.
Yes, but: As with everything, this would create winners and losers. Plenty of people would end up paying less in taxes than they currently pay for private health care.
The costs of "Medicare for All" are also scalable, based on how generous the coverage is and how much providers are paid.
Details: Some of the ways to pay for "Medicare for All," per CRFB, include:
A new 32% payroll tax on wages
An additional 25% income tax
A 42% value-added tax on consumption
A "public premium" averaging $7,500 per capita – or $12,000 per person who wouldn't otherwise be on public insurance
More than doubling all individual and corporate income tax rates
Reducing non-health federal spending by 80%
More than doubling the national debt
These policies would have massive economic impacts, reverberating far beyond health care.
3. Surescripts hit with another lawsuit
A small pharmacy in New York has filed a class-action lawsuit against Surescripts, alleging that the company conspired with other health technology vendors to keep monopoly control over the market for electronically filled prescriptions, Axios' Bob Herman reports.
The big picture: Antitrust litigation is piling up quickly against Surescripts, as the company's customers and federal regulators alike believe it has locked competitors out of a space that has become necessary to fill four out of five drug prescriptions.
Between the lines: A lot of the lawsuit, filed by Falconer Pharmacy, builds on allegations from the Federal Trade Commission and Amazon.
Namely, it says Surescripts has forced pharmacies and vendors to use only its electronic prescribing network at noncompetitive rates, or else face even higher prices as "non-loyal" customers.
But, but, but: The lawsuit goes one step further, naming technology vendors RelayHealth (now part of Change Healthcare) and Allscripts as co-conspirators.
Surescripts CEO Tom Skelton said the company is "disappointed in the allegations."
"We take seriously our role in helping serve patients and the people who care for them, and we remain confident that our business practices support that goal."
The bottom line: Surescripts is one of the most obvious monopolies in health care. The increasing legal heat raises questions about whether regulators and policymakers would advocate for breaking up the company or mandating price concessions.
4. Walgreens shies away from in-store clinics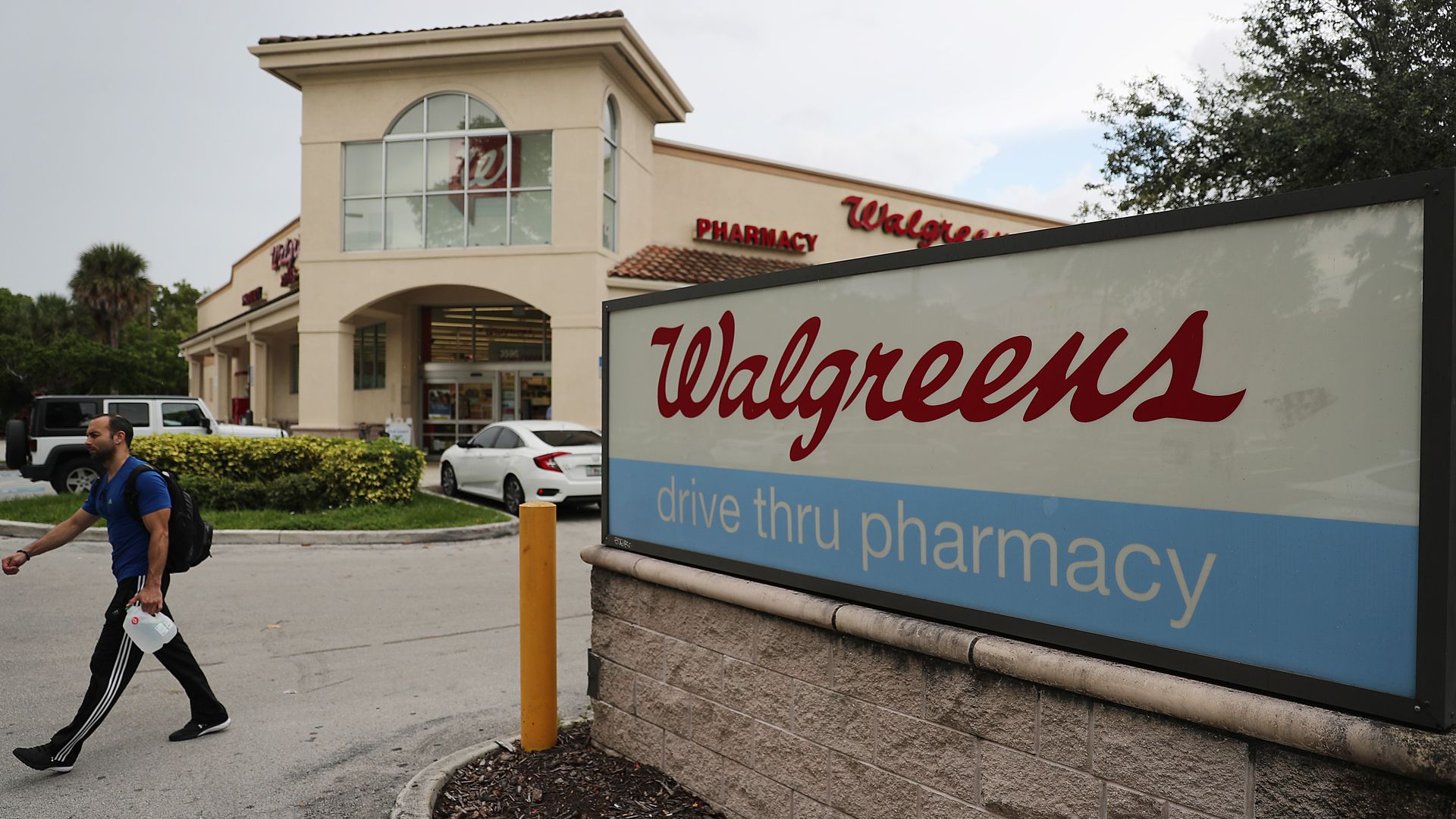 Walgreens is inviting outside providers to deliver medical services to its pharmacies as it tries to move away from in-store clinics, the Wall Street Journal reports.
The big picture: The drugstore chain's decision signals a shift from treating minor issues to treating chronic conditions such as diabetes, heart disease and hypertension, Axios' Marisa Fernandez writes.
Treatment for chronically ill patients could offset slowing revenue from prescription drugs and competition from online retailers.
By the numbers: Chronic conditions account for about 90% the U.S.'s annual health-care spending of $3.3 trillion, according to the Centers for Disease Control and Prevention.
Walgreens has about 400 walk-in clinics and CVS Health has 1,000 Minute Clinic locations, which have "barely broken even," WSJ writes.
The company will close 160 of its in-store clinics.
Go deeper: Walgreens, Kroger become latest retailers to halt e-cigarette sales
5. Providers face life without electricity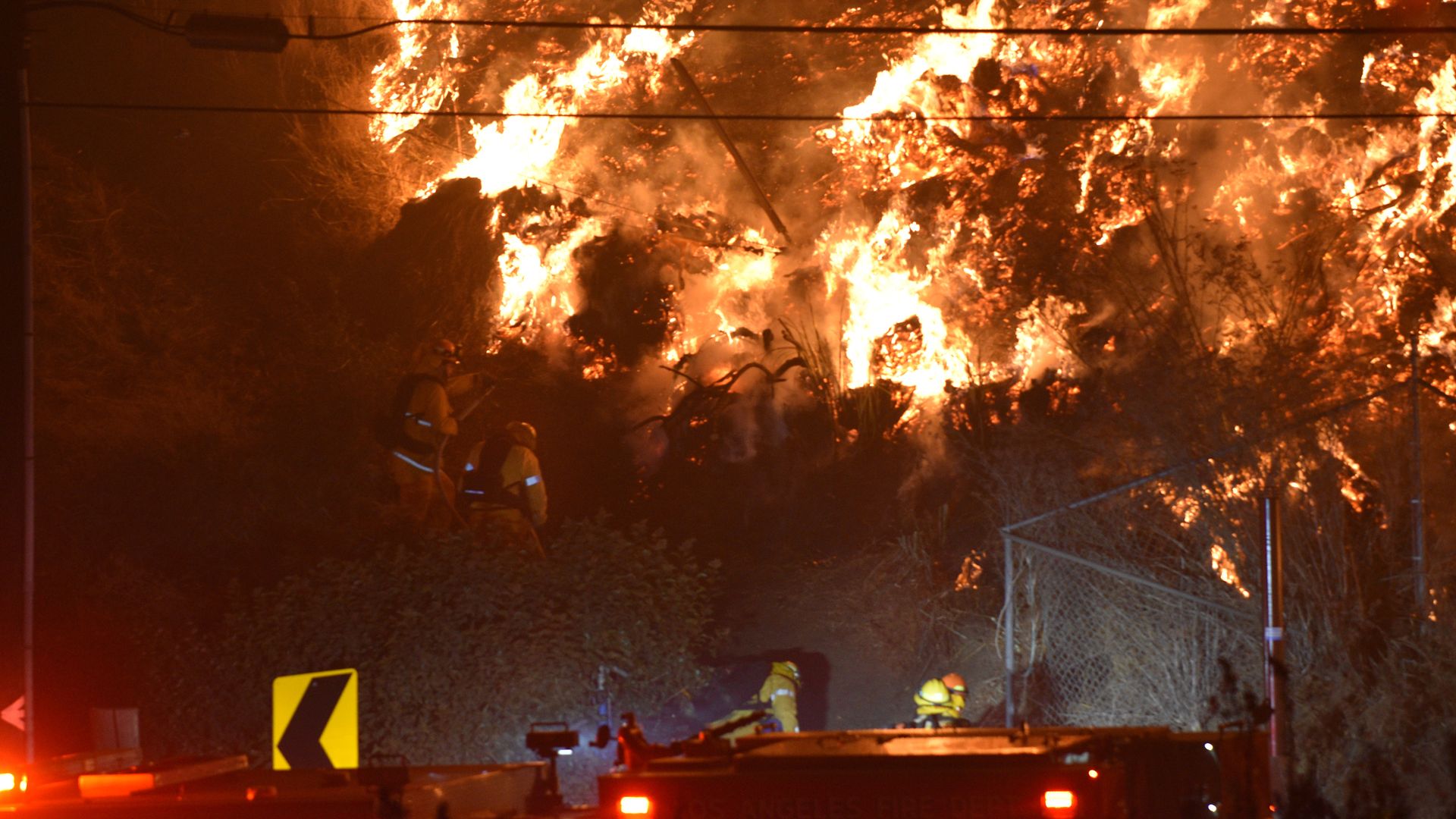 California's planned blackouts — a response to wildfires — have left providers to make difficult decisions and created scenarios that are likely to become only more common in the future, The Verge reports.
Case in point: Winters Healthcare, a community clinic based in Winters, Calif., recently faced the decision of whether to keep a refrigerator full of vaccines running or to keep its community's electronic health care records online — its backup generator couldn't do both.
What we're watching: California's power outages are likely to only become more frequent as the climate continues to change. Weather-related power outages are also on the rise due to extreme weather events.
"As a result, it's more critical than ever that health care facilities are prepared for a present and future where power isn't a guarantee," The Verge's Nicole Wetsman writes.