Good morning ... Senate Republicans are going to start writing their health care bill over next week's recess! While they think on it, we've got a look at which states would get hit the hardest by Medicaid per-capita caps, and the health insurance lobby has given the Senate a lengthy wish list to help them write faster.
And we've got one more newsletter for you: On Tuesday, we're launching Axios PM, Mike Allen's afternoon update with the most important stories of the day. It's a good way to catch up if you've been busy and need the quickest possible rundown of everything you missed. Sign up here.
https://www.axios.com/newsletters/axios-vitals-47742240-16c0-466b-8cb8-1c83d58c8066.html?chunk=0#story0
What happens under different Medicaid per-capita caps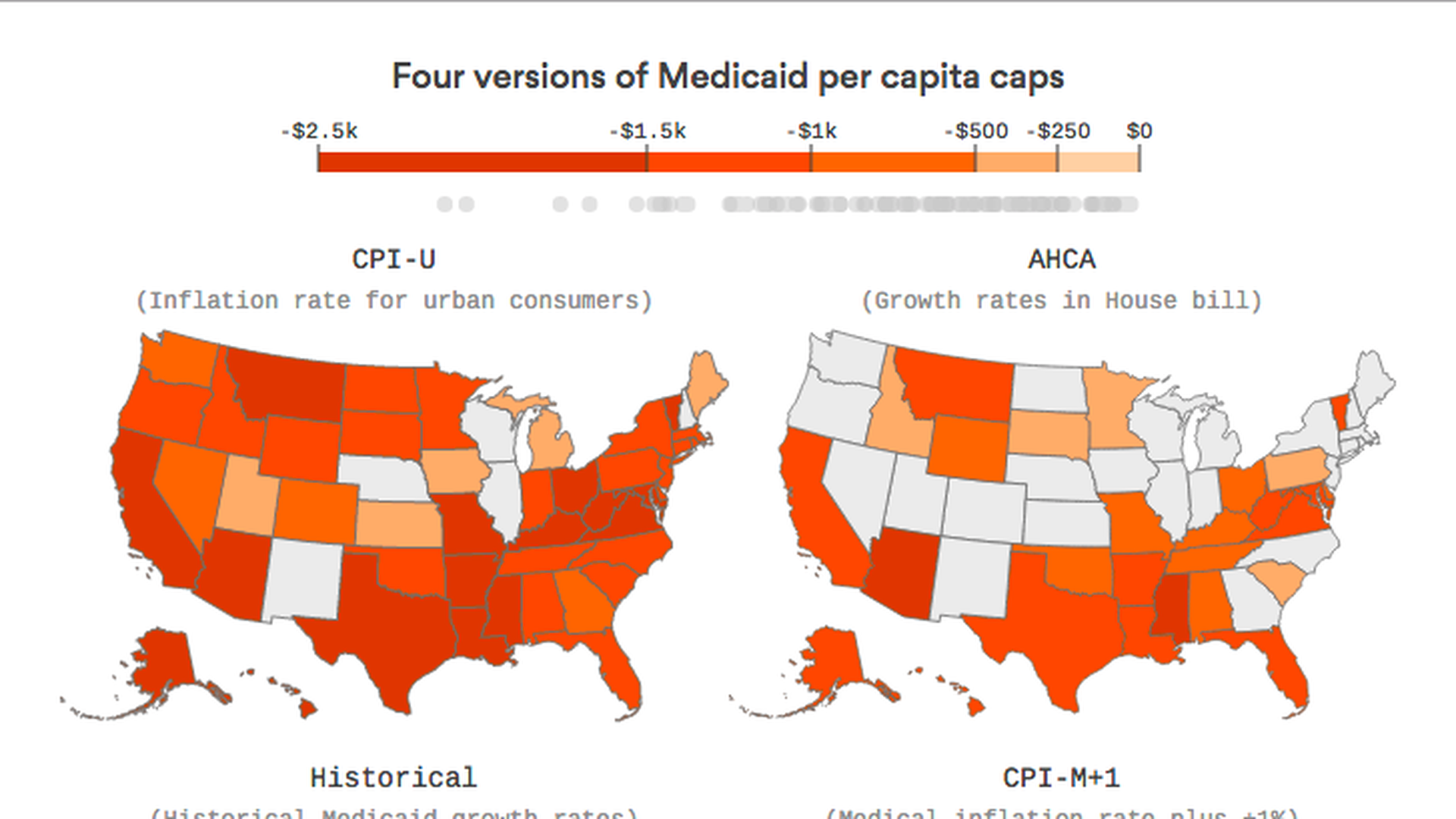 One of the biggest health care decisions Senate Republicans will have to make, if they take the House idea of per-capita caps for Medicaid, is what spending growth rate to use. Here's a look at how many states would be hit under four different growth rates, using data from the Center for American Progress, a liberal think tank.
Their analysis is here, but we'll just show you the numbers and let you figure it out. And check out our interactive graphic here. The point is, if you see orange or red, the state is losing federal money. And red = really bad.
The maps compare what would happen if Medicaid per capita spending was limited to:
The growth rates in the House bill.A looser measure, the medical inflation rate plus one percentage point.A tighter measure, the inflation rate for all urban consumers (favored by conservatives like Sen. Mike Lee).Historical Medicaid growth rates.What it means: This is what would have happened to these states in 2011 under the different kinds of caps. It's not a guarantee of what would happen in the future, since the state populations and health care costs are likely to change.The bottom line: Some states would be fine, because their spending wouldn't hit the caps — but the limits could hit anywhere from 23 to 45 states, depending on how tight the caps are.
https://www.axios.com/newsletters/axios-vitals-47742240-16c0-466b-8cb8-1c83d58c8066.html?chunk=1#story1
AHIP's Senate wish list
America's Health Insurance Plans, the primary lobbying group for health insurers, didn't have anything to say publicly after yesterday's Congressional Budget Office report on the final House bill. But it sure had a lot to say to Senate Finance Committee chairman Orrin Hatch about what should be in the Senate health care bill, and what it doesn't like about the House bill.
The main points from its letter to Hatch:
Reinsurance works.
Don't cut Medicaid so much.
Don't get rid of the pre-existing condition coverage rules.
Do let them charge more for older customers.
The tax credits should give more help to poor people, older people, and customers in high-cost areas.
Make sure people don't drop in and out of coverage.
In the meantime, give us our cost-sharing payments.
Between the lines: Bob Herman notes that the internal politics are tricky. AHIP largely represents two schools of insurers, and it's extremely difficult balancing their opposing interests.
The first school is the not-for-profits and safety nets that really don't like the Republican health care bill (think Kaiser Permanente, whose CEO, Bernard Tyson, is AHIP's board chair for 2018). The other is the big for-profits that care a lot about tax reform and wouldn't mind seeing the Affordable Care Act's taxes go away.
Don't forget: Aetna and UnitedHealth Group left AHIP in 2015, realizing they could advocate for their interests better on their own. AHIP CEO Marilyn Tavenner told Bob last year that she's keeping the door open for them to return.
https://www.axios.com/newsletters/axios-vitals-47742240-16c0-466b-8cb8-1c83d58c8066.html?chunk=2#story2
The Senate's can't-do spirit
They may be about to start writing the bill, but that doesn't mean Senate Republicans are in a good frame of mind about it. It's not like they've solved their biggest dilemmas after three weeks of talking. Politico sums it up with this quote from one unidentified Republican senator: ""If I had to bet my house, I'd bet we don't get it done."
Yes, but: It's not surprising that they're pessimistic, especially after CBO's devastating analysis of the House bill. But the larger political reality hasn't changed: They've spent seven years running on repeal of the ACA, and they're going to put in a lot more effort before they're ready to tell their voters that they can't do it.
https://www.axios.com/newsletters/axios-vitals-47742240-16c0-466b-8cb8-1c83d58c8066.html?chunk=3#story3
What the House bill could mean for drug costs
There was another point in the Congressional Budget Office report that didn't get much attention, Caitlin Owens reports: It could leave some people on the hook for high drug prices. That's because of the waivers that would allow states to write their own essential benefit rules — which could make health plans cheaper, because insurers could cover less.
But on the flip side, people who use those services would pay a lot more out of pocket for them if they were no longer covered. One of these essential health benefits is prescription drug coverage. Even if plans decided to keep covering these benefits, out-of-pocket spending could increase because annual or lifetime limits would be allowed. "That could happen, for example, to some people who use expensive prescription drugs," CBO writes.
Our thought bubble: The cost of prescription drugs ranks highest on the list of voters' health care concerns. If these costs go up under the GOP health care bill, not down, people probably won't be happy.
https://www.axios.com/newsletters/axios-vitals-47742240-16c0-466b-8cb8-1c83d58c8066.html?chunk=4#story4
NC Blue Cross blames the insurer payments
Health insurers are starting to get more specific about why they're hiking their premiums for next year. When Blue Cross and Blue Shield of North Carolina announced yesterday that they're seeking a 22.9 percent rate hike for next year, they were clear about the reason: the lack of guarantees that they'll get paid for the ACA's cost-sharing reduction subsidies. Without that uncertainty, the insurer said, the rate hike would have been 8.8 percent.
Key quote: From Brian Tajlili, director of actuarial and pricing services: "We're seeing the market begin to stabilize after three years of coverage...Unfortunately, the lack of CSR funding significantly increases the rates for all ACA customers."
Why it matters: It's not that there were no problems in the ACA markets before — but now that a major insurer is clearly pointing the finger at the Trump administration and Congress for causing the current problems, it's a good bet that others will follow.
https://www.axios.com/newsletters/axios-vitals-47742240-16c0-466b-8cb8-1c83d58c8066.html?chunk=5#story5
Judge to HHS: Turn over the health care records
We've written before about American Oversight, the watchdog group that is trying to use the Freedom of Information Act to pry loose lots of records about the ACA repeal. Yesterday, a federal judge ordered the Department of Health and Human Services and the Office of Management and Budget to turn over thousands of pages of records about health care discussions between the agencies and Congress.
When: The deadline is Sept. 5, but they're supposed to turn over some of it by the end of June and some by the end of July.
Why it matters: If the group actually gets any of these records, it could be a massive document dump about what went on behind the scenes in drafting the health care bills.
https://www.axios.com/newsletters/axios-vitals-47742240-16c0-466b-8cb8-1c83d58c8066.html?chunk=6#story6
The latest from the business world
While most of the health care community stares deeply into the text of the CBO report, Bob Herman found a few business items worth flagging:
Medtronic, one of the largest medical device companies in the world, just closed the books on its fiscal 2017. It posted a $4 billion net profit on almost $30 billion of revenue. Like other medical device companies, Medtronic is enjoying a temporary moratorium from the ACA's medical device tax. A majority of Aetna shareholders struck down proposals that would have shined a light on Aetna's indirect lobbying activities and would have required the health insurer to file an annual report about whether there is a gender pay gap — proposals that Aetna was against.Optum, the health data and consulting arm of UnitedHealth Group, and drug company Merck agreed to a deal to find ways to pay drug manufacturers based on how well their medicines work. The two sides will publicly share their data, but the jury is still out on these types of "outcomes-based contracts" — and whether they save any money at all, or just fiddle at the margins.