Axios Vitals
September 12, 2017
Good morning ... Busy day. Let's just get into it.
HELP hits a roadblock on state waivers
My Axios colleague Caitlin Owens reported yesterday that things aren't going quite as smoothly as they appear within the Senate HELP Committee, as it tries to map out a plan to stabilize states' Affordable Care Act exchanges.
The problem: Disagreements over how broadly to alter the process by which states can waive some of the law's requirements.
Publicly, the discussion has focused on process changes: making it easier for states to request a waiver.
But privately, a GOP aide told Caitlin, HELP Committee Chairman Lamar Alexander has talked more openly about wanting to loosen the substantive rules for the waiver process — the so-called "guardrails" that say states' alternatives have to meet the same coverage goals as the ACA.
Democrats' fear: Once you stop requiring states' alternative ideas to meet the same standards as the ACA, you've started pulling a thread that could unravel the many interconnected components of the ACA's consumer protections.
Yes, but: Alexander still sounded like he wanted to safeguard those popular provisions when Caitlin caught up with him yesterday evening:
"Usually when people say 'guardrail,' the first thing that comes to mind is pre-existing conditions and lifetime limits and you can stay on your parents' plan until you're 26 years old. We're not talking about changing any of that," he told Caitlin.
"The consumer protections that are important to most people are pre-existing conditions. That was really the big change with the Affordable Care Act … and we wouldn't change that."
The bottom line: Just changing the application process isn't much for Republicans to write home about. But the more any deal weakens those "guardrails," the more likely it is to implicate some of the law's most popular provisions and thus alienate Democrats. But failing to reach a deal leaves the ACA weak in certain places, which is also no good for Democrats, and isn't what Alexander wants, either.
Equifax handles ACA data
Equifax doesn't just track consumers' credit (and then expose nearly half of all Americans to possible identity theft) — it also handles income verification for HealthCare.gov.
Per Bloomberg, the company has a contract worth $329 million over five years to verify the incomes of people signing up for ACA coverage. It's the only company with such a contract, Bloomberg reports, but federal officials said company officials have told them that HealthCare.gov information wasn't part of the massive hack that compromised millions of Social Security numbers and other personal information.
Hurricane victims' health care needs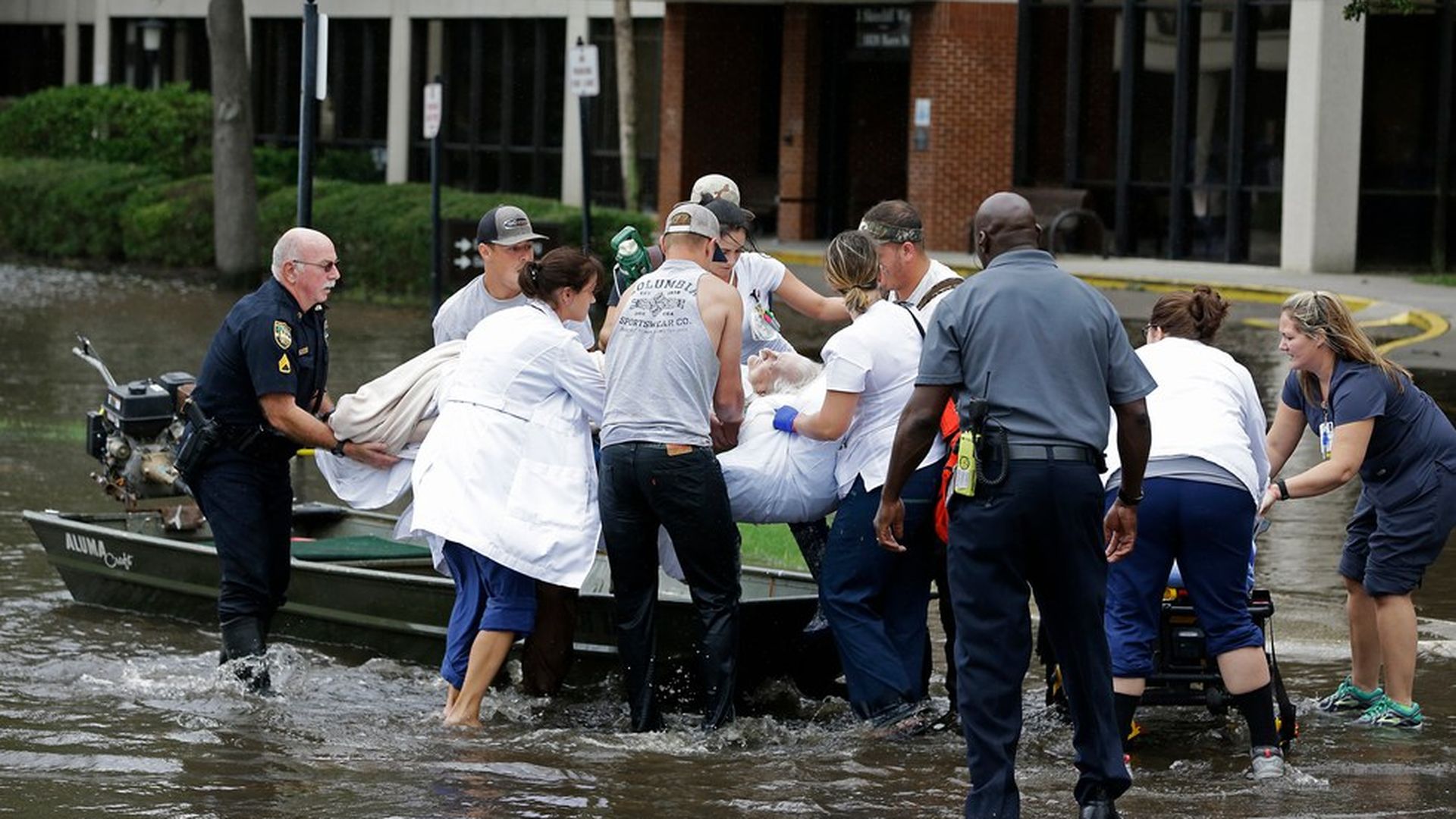 The rebuilding from Hurricanes Harvey and Irma will take years — and repairing those storms' damage to the health care system will be a major part of that effort. As Florida begins to take stock of Irma's damage and Texas enters the second week of its recovery, both states' health care systems are facing critical emergencies and are just beginning to grapple with longer-term challenges.
"Everything about the details of people getting health care in the usual way is going to be disrupted," said Irwin Redlener, the director of the National Center for Disaster Preparedness at Columbia University.
Some key concerns, per Redlener:
The most immediate priorities: Attending to people who needed but couldn't get maintenance medications; who were undergoing tightly managed treatments like chemotherapy; and who depend on medical devices that need electricity.
Storms disrupt all of those protocols. And restoring them isn't easy, with pharmacies and hospitals damaged, evacuated patients gradually returning home, and millions still without power. "The absence of electricity is a powerful public health problem," Redlener said.
Floodwater is incredibly dirty, and Texas especially has to worry about displaced chemicals and other industrial products. But water supplies will be tested extensively before residents are told they're safe to drink.
Redlener said he's especially concerned about children and people with mental illnesses — groups for whom stability and a sense of "normal life" are particularly important. Even after hospitals and pharmacies are fully back online, the loss of homes and neighborhoods can contribute to "toxic stress," he said.
How 'copper plans' would work
Alexander has made it clear he's interested in adding a "copper," or catastrophic, plan option to the exchanges for people 30 and older.
So what exactly would this do?
A catastrophic plan — which is already available to people younger than 30 — is a policy whose deductible is equal to the law's cap on out-of-pocket spending.
The catch, as Larry Levitt of the Kaiser Family Foundation points out, is that a catastrophic plan is "pretty much indistinguishable from a bronze plan" in terms of how much of an enrollee's health care costs it covers.
To resolve this, the law's out-of-pocket maximum would have to be waived.
Experts with differing ideologies generally agree that making this change wouldn't have major consequences. Best-case scenario, it would bring more young, healthy people into the marketplace. Worst-case scenario, it would siphon off some of the young, healthy people from more comprehensive plans, raising premiums for people still enrolled in them.
CDC cracks down on its communications staff
The Centers for Disease Control and Prevention is trying to crack down on its employees' conversations with the press, according to an internal email obtained by Axios. The message — sent by public affairs officer Jeffrey Lancashire and dated Aug. 31 — instructs all CDC employees not to speak to reporters, "even for a simple data-related question."
What it said:
"Effective immediately and until further notice, any and all correspondence with any member of the news media, regardless of the nature of the inquiry, must be cleared through CDC's Atlanta Communications Office," Lancashire wrote. "This correspondence includes everything from formal interview requests to the most basic of data requests."
Lancashire did not respond to requests for comment about the policy. But I'd love to know what harm was being done by CDC employees answering "the most basic of data requests." If you work at the CDC and have any insight, go ahead and communicate directly with me: [email protected].
The politics of Cassidy-Graham
The health care plan from Sens. Bill Cassidy and Lindsey Graham is wildly unlikely to go anywhere as a substantive effort, but it's still proceeding apace as a political document — as something for Republicans to point to, and Democrats to attack.
What's happening:
A summary obtained by NBC News yesterday basically confirms the broad outlines of the plan, and fills in a few details: The bill would equalize the federal spending between Medicaid expansion and non-expansion states, then roll Medicaid money as well as the ACA's insurance subsidies into a block grant for the states.
Meanwhile, here's a sneak peek at liberals' messaging over the plan — a digital ad from American Bridge, targeting Sen. Dean Heller, who's a cosponsor of the emerging bill, which the ad calls "the worst health care law yet." American Bridge says the spot is "just a sample of what we'll be doing if other Republican Senators endorse it."
My thought bubble: The Cassidy-Graham bill is very unlikely to ever become a health care law. It would have to have 51 votes, which is a stretch, and it would have to get there by Sept. 30, which is an even bigger stretch.
Medicaid directors' tentative sighs of relief
State Medicaid directors feel they dodged a bullet with the failure of congressional Republicans' plans to dramatically cut the program, but know more changes are on the horizon. That's the mood Axios' Bob Herman picked up yesterday at a conference run by Health Management Associates, which has become the de facto consulting shop for the Medicaid industry.
Bob has a full readout here, but here are a few quick takeaways:
Medicaid "would be a fundamentally different program" under congressional Republicans' proposals, California Medicaid director Mari Cantwell said. "It was about cutting the Medicaid program to be something else."
Seema Verma, head of the federal Centers for Medicare and Medicaid Services, has helped design many conservative Medicaid waivers, emboldening red states. However, "innovation is not going to get you what you need," Kansas Medicaid director Mike Randol said. What will? "Delivery system reform."
Say hello to more managed care.
Why it matters: Medicaid covers more than 74 million Americans, and though the political fight over the program often focuses on its coverage for poor people, it does a lot more. Medicaid also covers vulnerable populations including kids and adults with disabilities, frail seniors, the blind, and people who are home-bound.
"We have very sick people that we're taking care of and we need to spend money on," Cantwell said. "It's not a homogenous population."
What we're watching today: HELP Committee hearing on state flexibility at 10 a.m. (webcast here). Finance Committee hearing on "issues impacting cost and coverage," also at 10 a.m. (webcast here). Census Bureau releases new data on the number of uninsured Americans at, you guessed it, 10 a.m. Gonna be one of those mornings. Census webcast here.
Sen. Claire McCaskill and the other Democrats on the Senate Homeland Security and Governmental Affairs Committee hold a roundtable at 11 a.m. on their investigation of Insys Therapeutics and opioid manufacturers' marketing tactics.
What we're watching this week: Sen. Bernie Sanders introduces his single-payer bill on Wednesday. HELP Committee wraps up its stabilization hearings Thursday. Energy and Commerce hearing Thursday on health care workforce programs.
Are you a Democrat who might want to run for president? I'd love a heads-up before you co-sponsor Sanders' single-payer bill: [email protected]