Good morning ... Did you think, after so many weeks of nonstop madness, you might be in for a brief respite? That health care would quiet down for a while, we could all catch our breath, maybe go on a little vacation, or at least get some sleep before dealing with the next crisis? WRONG. It never stops.
Why the markets could actually collapse — with Trump's help
President Trump says the Affordable Care Act is already imploding, but insurers say there are two things that could really destabilize the already fragile markets: cut off the cost-sharing reduction payments to insurers, and weaken the individual mandate. Between Trump's Twitter account and Health and Human Services secretary Tom Price's remarks on the Sunday talk shows, the Trump administration has suggested it might do both.
What to watch:
White House counselor Kellyanne Conway said on Fox News Sunday that Trump would decide this week whether to keep making the CSR payments, which help insurers reduce deductibles and other out-of-pocket costs for low-income people. But it has been clear for months that Trump wants to stop them, especially since Congress still hasn't funded them.
It will take longer to see whether Price would actually take any action against the individual mandate, but if he does, he's likely to just broaden the exemptions that would be granted. He can't wipe the mandate off the books. And it's the IRS that actually enforces the penalties — so watch them, too.
Mark your calendar: The deadline for insurers to adjust the rates they've already filed is Aug. 16. That's when insurers who warned of additional premium increases without the CSR payments would raise their rates. America's Health Insurance Plans, the main health insurance trade group, says premiums will rise by 20% if the CSRs aren't funded.
Top priority: Bob Herman reports this morning that the CSR payments are the top priority for health insurers now that the ACA effort has fallen apart — and they were already worried that Trump would be impulsive and follow through on his past threats to cut off the payments. Now that he's been tweeting about it this weekend, they're sure to be more nervous than ever.
Who came out of the health care debate stronger
The struggle to repeal the ACA was the first real test of how Republicans would handle their total control of the House, Senate, and White House — and how the health care world would respond. And though the top-line effort was a failure, this won't be the last big legislative test for Republicans, and the power dynamic in Washington shifted significantly during the health care debate.
So, who came out of the health care mess stronger, and who came out weaker? Be sure to read our full analysis this morning, but here's a quick breakdown:
Stronger:
House leadership: People make a lot of jokes about Speaker Paul Ryan being unable to control his caucus, while Senate Majority Leader Mitch McConnell is seen as a master legislator. This time, though, it was Ryan who got a bill passed — and McConnell who couldn't.
Rep. Mark Meadows
Sen. Ted Cruz
Sen. Susan Collins
Weaker:
Sen. Dean Heller
Sen. John Cornyn
The Trump administration
Slow-rolling failure on your first legislative priority is never a great way to start off an administration.
Trump himself didn't do much to help sell repeal, and calling the House bill "mean" made some Republicans both angry and wary of Trump's willingness to back them up.
Interior secretary Ryan Zinke's reported threats to Sen. Lisa Murkowski were counterproductive, as was the West Wing's desire to go ahead with politically difficult votes that were likely to fail.
Insurers
Does this sound like someone who wants a bipartisan deal?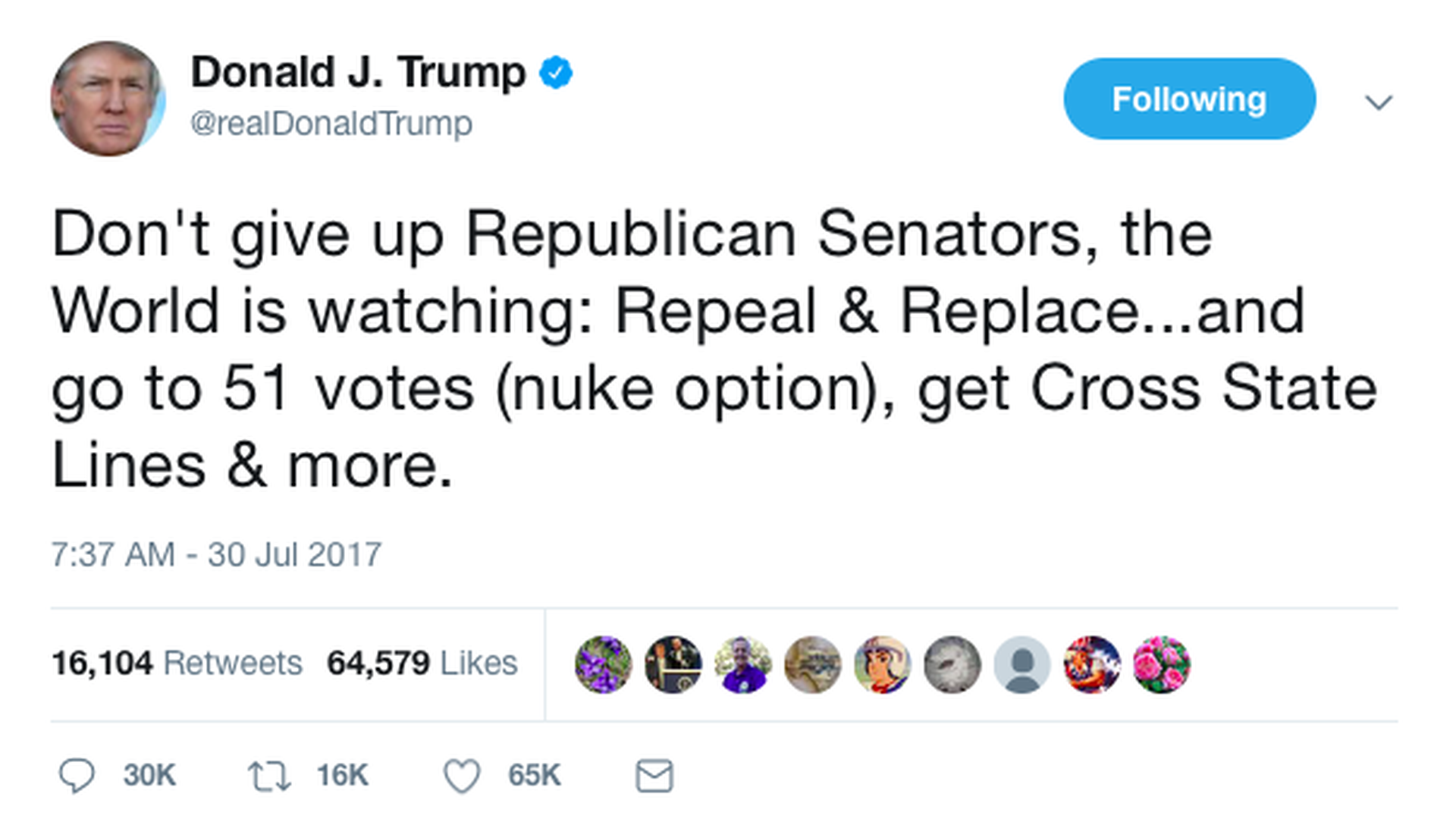 There's been a lot of talk that the next step after the failure of repeal should be a bipartisan effort to stabilize the health insurance markets (and Democratic leaders have tried to encourage that talk). But that's not the message Trump sent with his tweets this weekend. He spent a lot of time urging the Senate to keep trying to repeal and replace the ACA.
He even recommended what he called the "nuke option." Relax, everyone — he meant the Senate nuclear option. It's still a big deal — that's where they would eliminate the legislative filibuster so Republicans could pass a complete health care plan with 51 votes, rather than 60.
Yes, we know — Senate Republicans couldn't even get 50 votes for anything last week. But note that Trump mentioned "Cross State Lines," his shorthand for association health plans, which couldn't be done through budget reconciliation. That suggests he's also frustrated that Republicans were never able to vote on a complete repeal and replace plan, and had to throw out anything that required 60 votes.
So much for Sen. John McCain's message. Key quote from his floor speech after he returned (and before he tanked the last repeal bill): "What have we to lose by trying to work together to find those solutions? We're not getting much done apart."
"It's time to pivot to tax reform"
That's what Tim Phillips, president of Americans for Prosperity — a conservative group aligned with the Koch brothers — said when David asked him what the next steps on ACA repeal should be. That says a lot about the state of the repeal effort, especially at a time when Trump and top administration officials aren't ready to move on.
He still thinks Republicans shouldn't give up and should come back to it later, as the ACA markets get worse. But "for now, they need to pivot to tax reform and look for new approaches on Obamacare."
"It's an epic failure across the board, and that includes the House and Senate." But didn't the House at least pass a bill? "It wasn't a full repeal" — which is what Republicans had promised.
Yes, but: Not all conservative groups are ready to hit the pause button. FreedomWorks president Adam Brandon, for example, wants Republicans to shift to a "death by a thousand cuts" strategy — including a reworked version of Cruz's "Consumer Freedom Option" and whatever steps Price can take on his own to loosen the ACA rules.
And Heritage Action wants the Senate to keep looking for ways to revive the repeal effort, according to Dan Holler, the group's vice president. What should they try that the Senate hasn't already tried? Not clear, Holler acknowledged — "but just throwing up their hands and not continuing to work on it isn't acceptable."
Don't forget the punishment: Brandon also wants Senate GOP leaders to take away Murkowski's position as chairwoman of the Senate Energy and Natural Resources Committee — to see if she'll keep voting "no" on repeal after that.
While you were weekending ...
The "official White House position" is that the Senate shouldn't move on to other issues until it votes again on health care, White House budget director Mick Mulvaney said on CNN's "State of the Union."
Mulvaney also confirmed that when Trump tweeted about "bailouts" for members of Congress, he meant to signal that he wants the Office of Personnel Management to stop lawmakers from being able to receive an employer subsidy for the coverage they're already purchasing on the exchanges.
Although McCain said he was consulting with Arizona Gov. Doug Ducey, the governor wasn't opposed to letting the health care process proceed via the "skinny repeal" bill, AZCentral.com reports.
As the Senate bill was going down, Vice President Mike Pence came up to Collins on the Senate floor and told her, "Boy, are you tough," Collins revealed on "State of the Union."
Collins also said she'd be opposed to the White House intentionally making things worse in the ACA exchanges, including by cutting off cost-sharing subsidies.
What we're watching this week: Maybe a final decision from Trump on the CSR payments. It's also a good idea to watch the Senate to see if they'll take up the reauthorization of the Food and Drug Administration's user fees, although a spokesman for McConnell says it's not clear if that will happen this week.
Also: Pfizer earnings call, Tuesday before markets open. Humana earnings call, Wednesday before markets open. Aetna earnings call, Thursday before markets open. Cigna earnings call, Friday before markets open.
Let us know what's on your health care radar, now that it can include other stuff: david@axios.com, baker@axios.com.