Axios Vitals
August 13, 2020
Good morning.
Today's word count is 1,218, or a 5-minute read.
1 big thing: We're doing a lot less coronavirus testing
The U.S. is cutting back on coronavirus testing. Nationally, the number of tests performed each day is about 17% lower than it was at the end of July, and testing is also declining in hard-hit states.
Why it matters: This big reduction in testing has helped clear away delays that undermined the response to the pandemic. But doing fewer tests can also undermine the response to the pandemic.
By the numbers: At the end of July, America was doing more than 800,000 tests a day. This week, it's hovered around 715,000.
Even as states with particularly bad outbreaks pull back on their testing, the proportion of tests coming back positive is still high — which would normally be an indication that they need to be doing more tests.
In Texas, 19% of tests are coming back positive, according to Nephron Research. In Florida, the rate of positive tests is 18%, and in Nevada, 17%.
Yes, but: Experts have said reducing the demand for testing may be the best way to alleviate long delays, which made tests all but useless. And that appears to be working.
Driving the news: The Department of Health and Human Services estimated this week that nearly 90% of all tests are being completed within three days — a big improvement from turnaround times that had been stretching well over a week.
Quest Diagnostics says its expected turnaround time is now 2–3 days, and less for priority patients. LabCorp announced a similar turnaround time last week.
The bottom line: The U.S. is averaging 50,000 new cases a day, and that high caseload is ultimately why the demand for testing is more than the system can handle.
We can't get our caseload under control without fast, widespread testing, but we can't achieve fast, widespread testing with such a high caseload.
2. The two sides of America's coronavirus response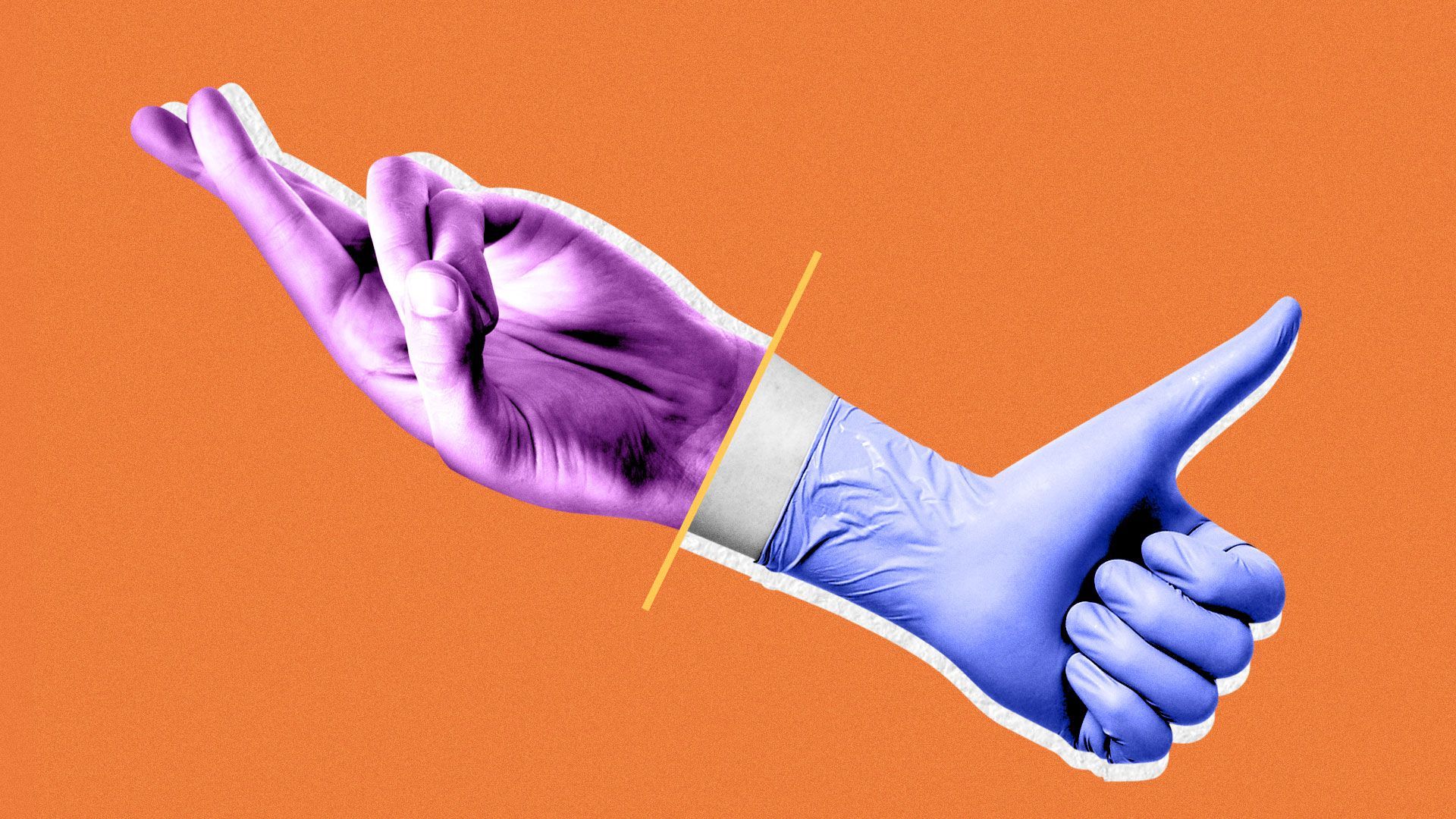 America's bungled political and social response to the coronavirus exists side-by-side with a record-breaking push to create a vaccine with U.S. companies and scientists at the center, Axios' Bryan Walsh reports.
Why it matters: America's two-sided response serves as an X-ray of the country itself — still capable of world-beating feats at the high end, but increasingly struggling with what should be the simple business of governing itself.
What's happening: An index published last week by FP Analytics, an independent research division of Foreign Policy, ranked the U.S. 31st out of 36 countries in its assessment of government responses to COVID-19.
That puts it below developed countries like New Zealand and Denmark, and also lower than nations with fewer resources like Ghana, Kenya and South Africa.
Yes, but: Work on a COVID-19 vaccine is progressing astonishingly fast, with the Cambridge-based biotech company Moderna and the National Institutes of Health announcing at the end of July that they had begun Phase 3 of the clinical trial.
Their efforts are part of a global rush to a vaccine, and while companies in the U.K. and China are jockeying for the lead, U.S. companies and the NIH's resources and expertise have been key to the effort.
So which is the real American response to COVID-19? The bungled testing policies, the politically driven rush to reopen, the tragic racial divide seen in the sick and the dead? Or the warp-speed work to develop a vaccine in a year when most past efforts took decades?
Be smart: It's both.
3. The latest in the U.S.
The U.S. reported 1,485 deaths due to the coronavirus on Wednesday, COVID Tracking Project data shows. It's the highest single-day COVID-19 death toll since May 15, when the country reported 1,507 deaths.
Democrats and the Trump administration remain "miles apart" on negotiations over a coronavirus stimulus deal, House Speaker Nancy Pelosi (D-Calif.) said on Wednesday.
New Jersey Gov. Phil Murphy (D) announced Wednesday he will sign an executive order allowing private and public K–12 schools and universities to reopen for in-person learning in September.
Sheriff Billy Woods of Marion County, Florida, prohibited his employees from wearing masks at work on Tuesday, disputing — in spite of scientific evidence — that they help curb the spread of coronavirus, the Ocala Star-Banner reports.
"Superforecasters" have shown an uncanny knack for accurately predicting major events, including the course of the coronavirus pandemic, Bryan writes.
America's confidence in the public school system rose by 12 points this year to 41% — its highest point since 2004, according to a Gallup poll released Wednesday.
4. The latest worldwide
The U.K. slumped into recession as its gross domestic product GDP shrank 20.4% compared with the first three months of the year, the Office of National Statistics confirmed Wednesday.
France reported more than 2,500 new COVID-19 cases in 24 hours — the largest single-day number since May. French officials said the situation was "clearly worsening," per France 24.
New Zealand now has 13 local coronavirus cases linked to four people who tested positive on Tuesday, ending the country's run of no local cases for 102 days.
The Netherlands' top health official told parliament Tuesday that 4,036 additional cases had been confirmed in seven days — a rise of 55% on the previous week, the Guardian notes.
5. Virus cases falling, but don't get comfortable
America's coronavirus outbreak is slowing down after a summer of explosive growth, Axios' Sam Baker and Andrew Witherspoon report.
By the numbers: The U.S. is averaging roughly 52,000 new cases per day — still a lot of cases, but about 10.5% fewer than it was averaging last week.
Where it stands: New cases slowed over the past week in 21 states, including Arizona, Florida, Texas and the Southern states that experienced dramatic outbreaks in June and July.
Details: Each week, Axios tracks the change in new cases in each state. We use a seven-day average to minimize disruptions from inconsistencies in states' reporting.
The big picture: Infections skyrocketed over the summer, and this week's improvements aren't enough to offset that damage. States will have to keep this downward trend going for a long time before they can consider their outbreaks to be well controlled.
The catch: As you read above, testing is also down across the U.S., by about 4.5% this week.
The bottom line: Progress has to start somewhere, and these numbers are encouraging. But the U.S. still has a very big coronavirus outbreak and a flawed, incomplete plan of attack to fight it.
6. Lawsuit against Molina unsealed
A newly unsealed lawsuit accuses Molina Healthcare of cutting corners in its mental health services for children and defrauding Medicaid in the process, Sam reports.
The big picture: Molina provides Medicaid managed-care plans in more than a dozen states. The whistleblower suit accuses the company of overbilling specifically for children's behavioral health services, to the tune of at least $20 million across multiple federal, state and local agencies.
Details: The lawsuit, which was filed in 2018 but under seal until last month, claims that Molina and two of its subsidiaries failed to maintain individualized treatment plans for some of the children it covered, as required by law. 
The company billed some care as if it had been supervised by a professional, even when it wasn't, the lawsuit says, and didn't give some of its providers the proper training.
The suit also alleges that Molina provided care for kids who weren't eligible, either because their conditions were too severe for this kind of counseling to make a difference or because their family members couldn't or wouldn't take part in Molina's therapy sessions.
And it says Molina illegally fired an employee who complained about those practices.
The other side: Spokespeople from Molina did not respond to a request for comment on the suit.
Editor's note: The second item and chart in yesterday's Vitals were corrected to show there was roughly $50 billion (not $58 billion) in U.S. net sales. We had previously included international sales for Biktarvy, Enbrel, Januvia, Remicade and Stelara.