Good morning ... Senate Republican leaders are, by and large, bucking President Trump's insistence that they stick around and halt other business until they can figure out a health care deal: "I think it's time to move on. You can come back to health care later, though probably not with reconciliation," Sen. Roy Blunt said yesterday.
But don't let that fool you: There's still plenty of action — and plenty of tumult — in the executive branch and in the states.
Price's unprecedented predicament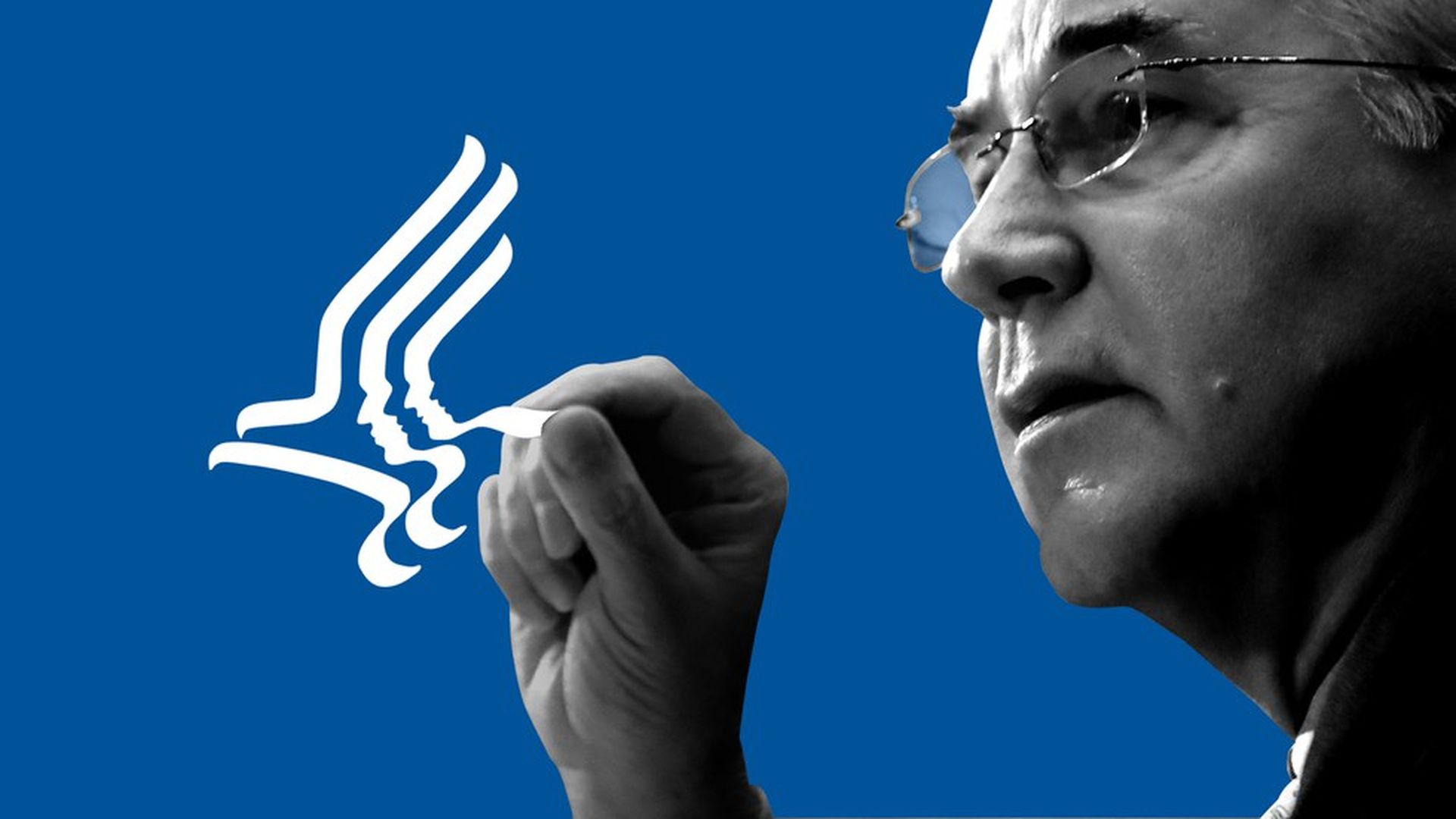 It's hard to think of another Cabinet secretary in recent memory who's been as hostile to part of his duties as Health and Human Services secretary Tom Price is to overseeing the Affordable Care Act. Most new administrations come in with some reservations about their predecessors' policy decisions and aim to nudge things in a new direction — but that's hardly the same thing as producing PR materials attacking a law you're supposed to be implementing, while reportedly using money set aside to promote that program.
"If you believe in the rule of law, then those reservations notwithstanding, the executive branch has a duty to execute the laws," said William Galston, who served in the early days of the Clinton administration and now chairs the governance studies program at the Brookings Institution.
Why it matters: Now that the Senate is moving on from the failed repeal effort, the future of the ACA is in Price's hands. And even though Price insisted this weekend that "our job is to follow the law of the land," the ACA isn't going to thrive under hostile leadership. More from Sam here.
For context:
Democrats never loved Medicare Advantage, the partially privatized program created under the George W. Bush administration, and didn't love the structure of Medicare's prescription-drug benefit, either.
But when President Obama came into office, his administration carried out those programs relatively normally.
The closest parallel, Galston said, would be the tug-of-war between administrations at the Environmental Protection Agency, which has been sued in the past for refusing to carry out responsibilities it had been tasked with. If Price goes that far, he also could face the threat of legal action.
If the insurer payments are cut off...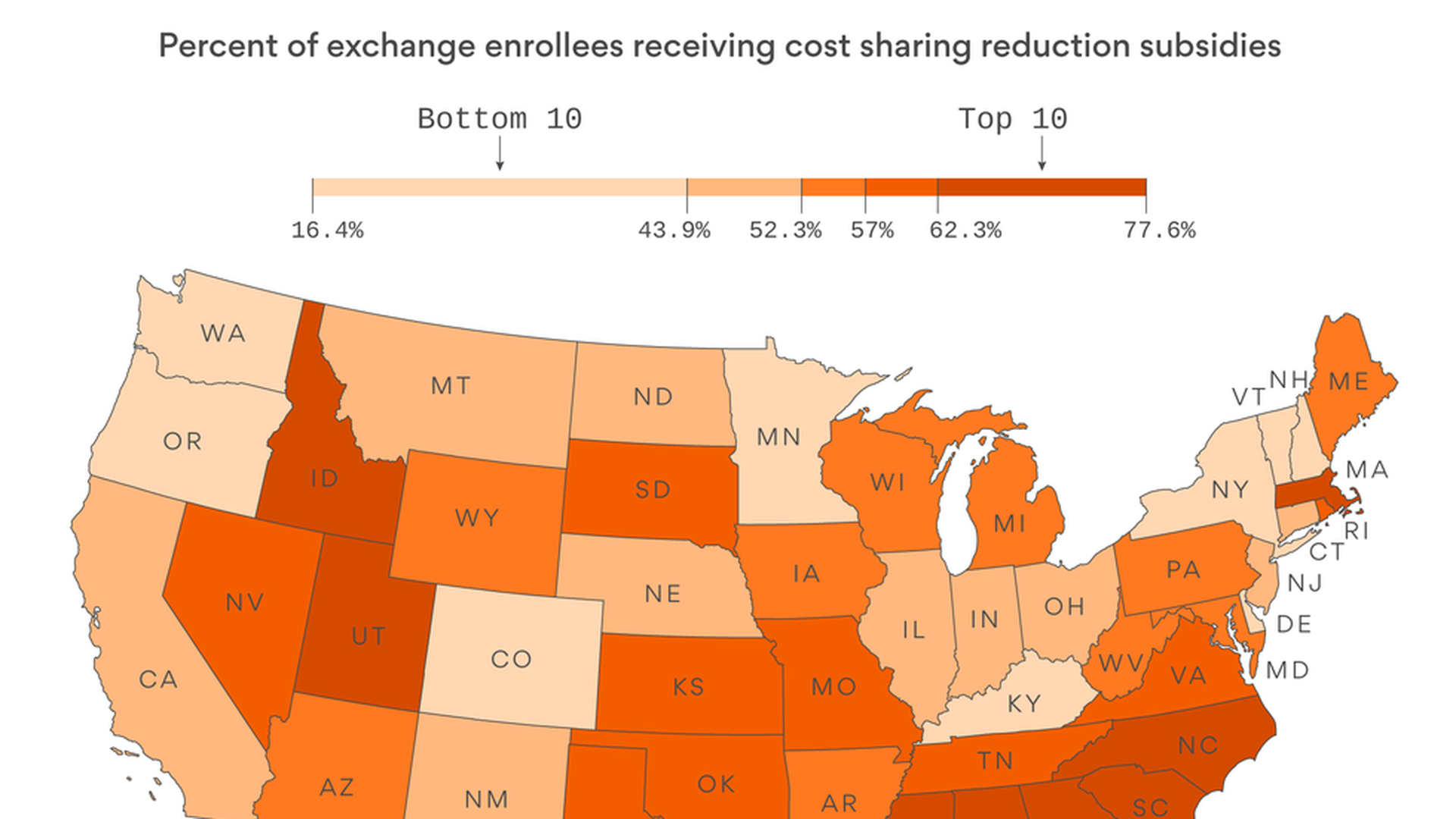 We could get a decision from Trump today on whether the administration will keep paying insurers for their cost-sharing reduction subsidies to low-income people. A few things to keep in mind if he stops the payments:
Insurers have to keep providing the subsidies anyway — they just won't be reimbursed. That's why they'd respond by raising premiums for next year by as much as another 20%.
In Iowa, Medica — the last ACA insurer standing — says it would raise its premiums another 12% to 20% for next year if the payments end, per the Des Moines Register.
About 5.9 million people get the subsidies — about 57% of everyone who's enrolled in ACA private insurance coverage, according to the Centers for Medicare and Medicaid Services.
They're heavily concentrated in red states, and especially in the south, as you can see from this map by our visuals editor, Lazaro Gamio. (We ran this map back in April, and now that the payments are under threat again, we thought it was time for an encore.)
The move would end up costing the federal government more money, rather than saving money, because the ACA tax credits would adjust to cover the higher premiums. The Kaiser Family Foundation predicts a net increase of $2.3 billion in federal costs next year.
But anyone who doesn't qualify for the tax credits would have to eat the extra costs.
The White House will point out, correctly, that Congress didn't fund the payments and that it could end the uncertainty at any time by doing so.
Now that the repeal bill — which would have funded the payments for two years — has collapsed, most Republicans won't want to provide the funding on its own. But some are reluctantly acknowledging they may have no choice. "I think we're going to have to do that," Senate Finance Committee chairman Orrin Hatch told Reuters.
Democrats are already pouncing on Heller's flip-flop
The campaign of Sen. Dean Heller's Democratic challenger, Jacky Rosen, is out with a blistering digital ad highlighting his changing stance on health care. While Heller came out strongly against an early version of the Senate's ACA replacement bill, he ended up voting to begin debate on the bill and then for "skinny repeal," which would have increased the number of uninsured Americans by 16 million, according to the Congressional Budget Office. (He voted against the replacement plan and a partial repeal of the health care law without a replacement.)
Why this matters: This is only the beginning of what is sure to be a dominant theme of the campaign against Heller in Nevada: He was against the GOP plan until Trump pressured him, and then Heller ended up voting for a plan that would have wreaked havoc in the individual market.
Where the "bare counties" are left
Until yesterday, there were 38 counties in the United States that were expected to have no ACA insurer options for next year. Now there are 19, after Ohio found insurers to cover all but one of its "bare counties."
Not the kind of development you'd expect from an imploding program. Here's how it stands now, per the Kaiser Family Foundation:
14 counties in Nevada, four in Indiana, and one in Ohio have no insurance options
Number of people affected: 12,076
Percentage of ACA enrollees: 0.1%
Yes, but: As many as 1,370 counties could have only one insurer next year, according to an analysis by USA Today and the Robert Wood Johnson Foundation — meaning people won't be able to shop around for insurance, which was one of the main goals of the ACA. So it's not like you can say it's going well, either.
How Republicans helped stabilize Minnesota's ACA exchange
Insurance premiums might actually go down next year in Minnesota, if HHS grants a waiver the state has requested — and which Republicans in the state legislature supported. State officials released early rate filings yesterday that said the waiver, which would establish a reinsurance program in the state, would substantially curb insurers' premium increases.
A Blue Cross plan in the state said it would seek rate hikes of 16% to 32% without the reinsurance program; with it, rate changes would range from a 1.5% reduction to an 11% increase.
Where it stands: Minnesota is still waiting for HHS to sign off on the reinsurance waiver. It recently granted a similar request to Alaska.
Why it matters: Minnesota's experience, like Ohio's, shows that collapsing markets and skyrocketing premiums aren't inevitable — and in both cases, Republicans tried to stabilize their states' markets rather than torpedo them. But they can only do so much if the Trump administration decides to go the other way.
​Why you shouldn't read too much into the latest repeal push
There was a lot of chatter yesterday about a health care proposal put together by Sens. Bill Cassidy and Lindsey Graham, after Cassidy made his way to the White House to pitch it. But you should extremely skeptical about this going anywhere for two big reasons:
First of all, Senate GOP leadership is clearly saying it's time to move on:
"Until there's something that can get us 50 or north of 50, I think we've had our vote and we're moving on to tax reform," Sen. John Thune said last night, adding that "everybody wanted to give regular order, the bipartisan approach, a chance. People now have that opportunity."
And here's Majority Whip John Cornyn, responding to Budget director Mick Mulvaney's suggestion the Senate take no more votes until it succeeds on health care: "I don't think he's got much experience in the Senate, as I recall. And he's got a big job, he ought to do that job and let us do our job."
Secondly, Axios' Caitlin Owens took a deep dive into the Graham-Cassidy bill — cosponsored by Heller — and confirmed it would solve none of the problems that divided the GOP over the Senate's repeal-and-replace bill, known as the Better Care Reconciliation Act:
The proposal would keep BCRA's per-capita cap on Medicaid spending.
It would repeal the ACA's Medicaid expansion as well as its subsidies, instead giving states block grants they could use to help cover those populations.
Those block grants would only grow by 2% annually. This means that by 2026, spending on Medicaid expansion and subsidies would be 34% lower than under current law, according to the left-leaning Center for Budget and Policy Priorities.
The proposal would move federal funding from expansion to non-expansion states, creating even deeper cuts in places like Arizona, Ohio, and West Virginia.
One goof in yesterday's Vitals: Trump's tweet about "Cross State Lines" was shorthand for selling health insurance across state lines, not association health plans. We knew that and should have typed it that way.
What we're watching today: Possible Trump decision on the CSR payments. Also, Pfizer earnings call before markets open.
What we're watching this week: Humana earnings call, Wednesday before markets open. Aetna earnings call, Thursday before markets open. Cigna earnings call, Friday before markets open.
Hit us up with cool health care news tips, especially anything that has nothing to do with the ACA: david@axios.com, baker@axios.com.