Axios from Tel Aviv
November 25, 2020
Welcome back to Axios from Tel Aviv.
In today's issue: The Israeli military prepares for a surprise from President Trump on Iran; leaders in Ankara and Ramallah prepare for President-elect Biden; and negotiators from Israel and Lebanon argue over rocks (1,919 words, 7 minutes).
Thanks for reading, and please tell your friends to sign up.
1 big thing: Israel prepares for possible Trump strike on Iran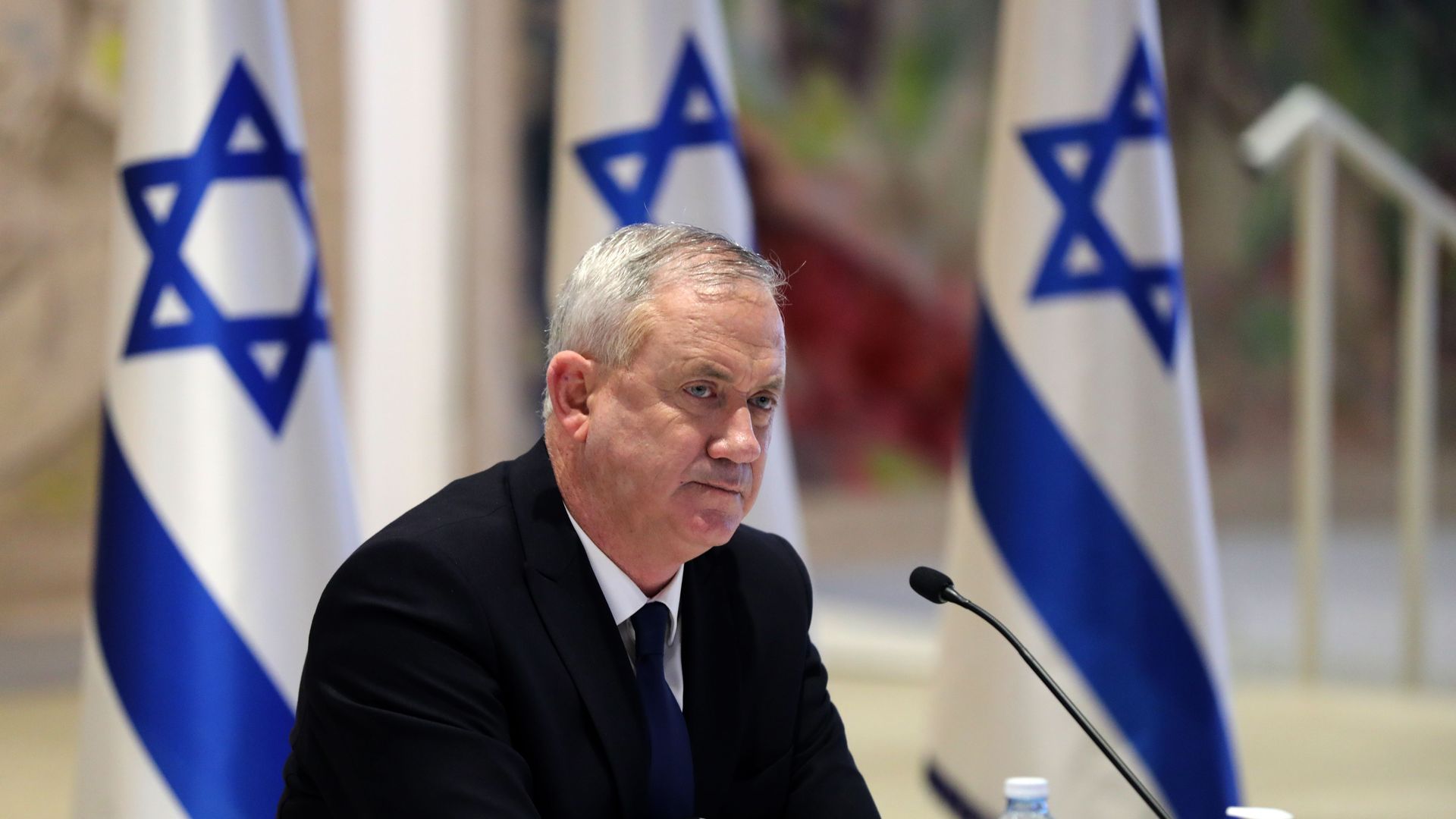 The Israel Defense Forces have been preparing in recent weeks for the possibility that the U.S. will conduct a military strike against Iran before President Trump leaves office, senior Israeli officials tell me.
Why it matters: The Israeli government instructed the IDF to undertake the preparations not because of any intelligence or assessment that Trump will order such a strike, but because senior Israeli officials anticipate "a very sensitive period" ahead of President-elect Biden's inauguration on Jan. 20.
The IDF's preparedness measures relate to possible Iranian retaliation against Israel directly or through Iranian proxies in Syria, Gaza and Lebanon, the Israeli officials said.
Flashback: Last week, the New York Times reported that Trump raised the possibility of attacking Iran's uranium enrichment facility in Natanz in a meeting with senior members of his national security team.
Trump raised the idea after being briefed on an International Atomic Energy Agency report about Iran's growing stockpiles of enriched uranium, but top officials — including Vice President Mike Pence and Secretary of State Mike Pompeo — warned about the risks of regional escalation, per the Times.
Trump seemed convinced that it would be too risky to strike Iran directly, but has considered other options, the Times reports.
What's happening: Israeli Minister of Defense Benny Gantz spoke twice in the last two weeks with Christopher Miller, Trump's acting defense secretary. They discussed Iran as well as Syria and a recent defense cooperation agreement, Israeli officials say.
Pompeo visited Israel and several Gulf countries last week to discuss Iran. State Department officials traveling with Pompeo told reporters that "all options are on the table."
Last Sunday, Israeli Prime Minister Benjamin Netanyahu met in Saudi Arabia with Crown Prince Mohammed bin Salman. One of the main issues discussed was Iran, Israeli officials say.
While Pompeo was in the Gulf, U.S. Central Command announced that B-52 strategic bombers conducted a "short-notice, long-range mission into the Middle East to deter aggression and reassure U.S. partners and allies." That was seen as a signal to Iran.
Hossein Dehghan, an adviser to Iran's leader and a former minister of defense, told AP that a U.S. military strike against Iran could set off a "full-fledged war" in the Middle East.
What's next: Senior Israeli officials tell me they expect that Israel will get prior notice ahead of any U.S. strike against Iran. But they're concerned that won't be sufficient to fully prepare. Thus the order to the IDF to start taking preparatory steps under the assumption that such a scenario is possible.
2. The view from Ankara: Expecting friction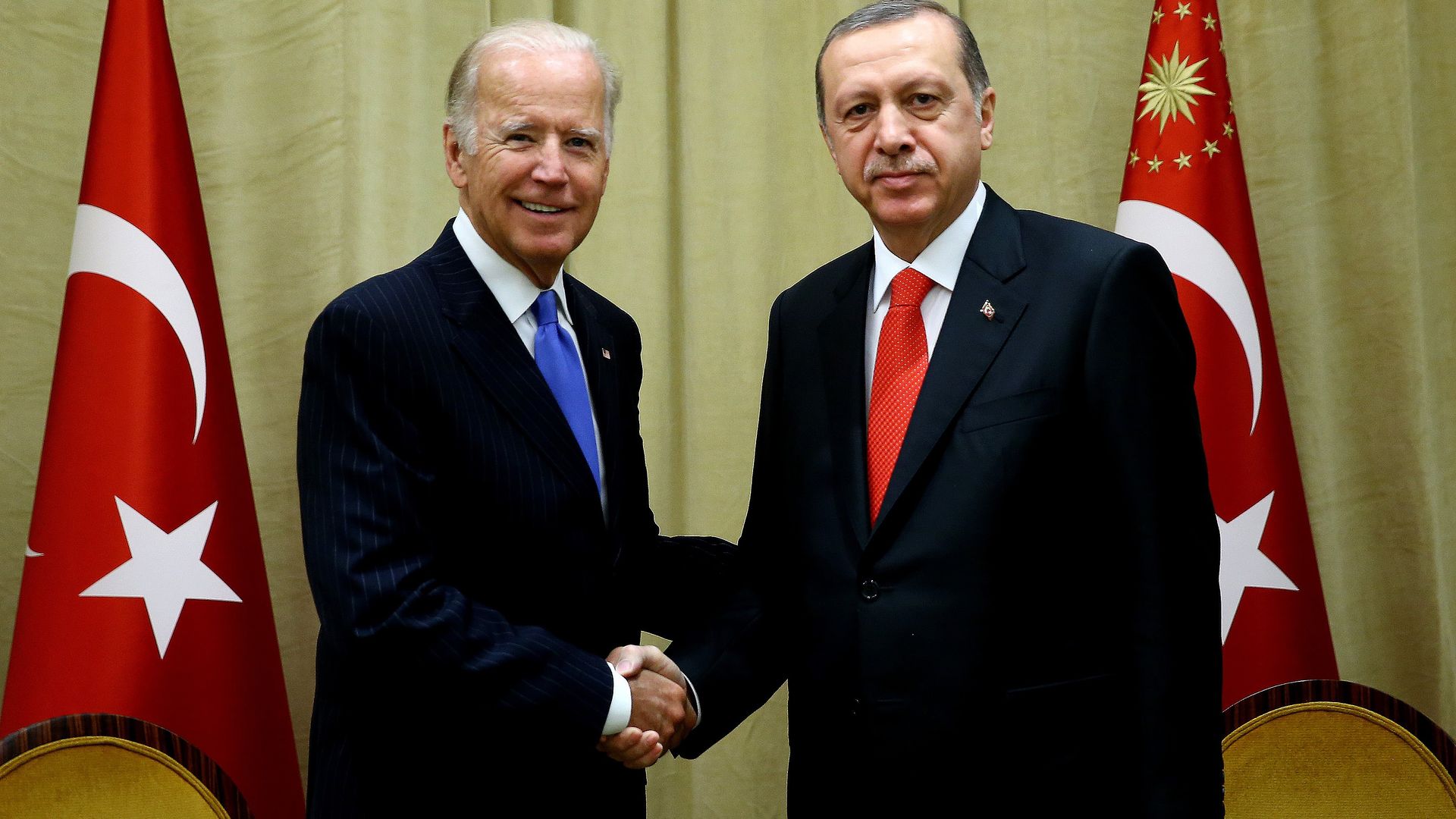 The incoming Biden administration's foreign policy priorities and worldview will collide with those of the Turkish government, journalist Menekse Tokyay writes from Ankara.
Why it matters: The U.S. needs its NATO ally Turkey for its efforts to contain Russia, counter Iran and deal with other crises in the Middle East. But relations between Biden and Turkish President Recep Tayyip Erdoğan are expected to be strained.
Erdoğan forged close personal ties with Trump, who prevented the implementation of sanctions against Turkey over business dealings with Iran and its purchase of a Russian S-400 missile defense system. (The S-400 purchase did lead the U.S. to expel Turkey from the F-35 program.)
Trump also gave Erdoğan an almost free hand in his military operations in Syria.
What to watch: After Trump leaves office, Ankara will no longer benefit from this shield. Potential sanctions under a less friendly White House would not only damage the economy, but also undermine the international prestige of a NATO ally.
Driving the news: Erdoğan was the last leader of a NATO ally to acknowledge Biden's victory. Meanwhile, Turkey's main secular opposition, the Republican People's Party (CHP), and the pro-Kurdish People's Democratic Party (HDP) immediately congratulated him.
Flashback: Biden and Erdoğan have history. Back in 2014, a diplomatic crisis emerged between the two countries after Biden dropped a bombshell during an interview with the New York Times.
Biden called Erdoğan an "autocrat" and said he would support the opposition's efforts to defeat him.
Biden also implied that Turkey had helped the rise of ISIS by letting foreign fighters cross the border into Syria. He ultimately had to offer Erdoğan an official apology.
What they're saying: Biden's 2014 remarks recently went viral in Turkey, leading Erdoğan to criticize him again.
"Politicians in the U.S. don't even feel the need to hide their fascist plans about Turkey. They also don't hesitate to say in front of cameras that they want to achieve what they couldn't do with a coup by supporting the opposition," Erdoğan said after a Cabinet meeting. 
State of play: Erdoğan took several major domestic political steps in recent days, including replacing the central bank governor, which led to the resignation of the finance minister (who also happens to be his son-in-law).
Later, Erdoğan announced an upcoming wave of democratic reforms, without revealing any details.
He sent warm messages to both the EU and the U.S., saying that Turkey's place is nowhere other than in Europe and that he wants to cooperate more closely with the U.S. 
What's next: If Erdoğan wants to avoid a crisis with the Biden administration, he could freeze the S-400 deal with Russia, make symbolic democratic reforms or accommodate the Kurdish PYD forces in Syria.
Such policies would require U-turns on a number of issues, but Erdoğan has proven to be pragmatic enough in the past.
3. Palestinians prepare charm offensive for Biden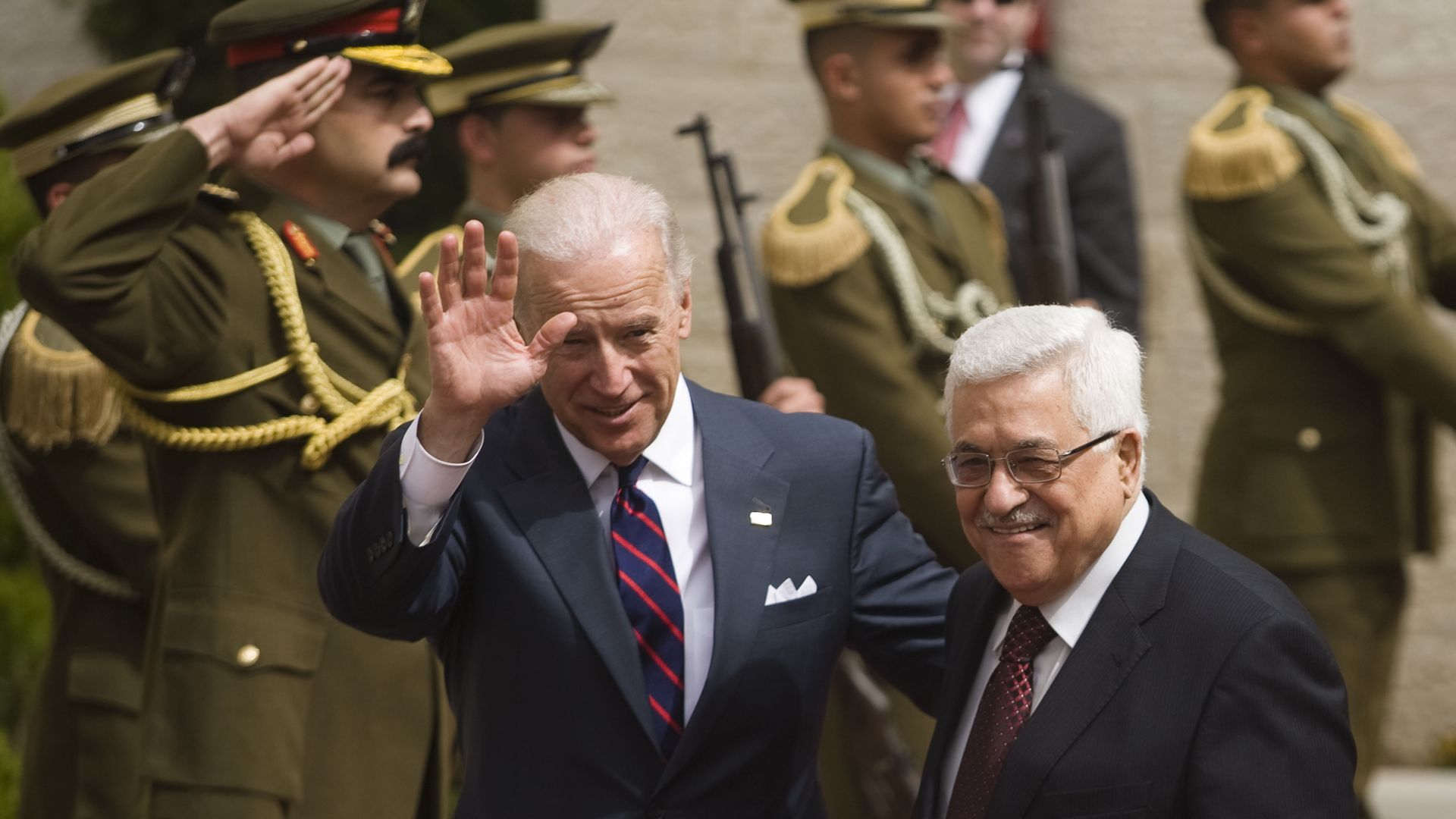 Palestinian leaders are considering several initiatives that they hope will encourage strong relations with the incoming administration and make it easier for Biden to roll back Trump's policies.
Why it matters: After four years of deep crisis in U.S.-Palestinian relations, President Mahmoud Abbas desperately needs to rebuild his standing in Washington.
Driving the news: After Biden's election, the Palestinians ended their boycott of civilian and security coordination with Israel and agreed to accept outstanding tax revenues collected by Israel on their behalf. That was the first step in setting the stage for engagement with the Biden administration.
Another step was returning Palestinian ambassadors to their posts in the UAE and Bahrain, after withdrawing them to protest the normalization agreements with Israel.
The Palestinians are also planning to announce that they're prepared to conduct a review of anti-Israeli incitement in government media.
One possible policy change would target the system of allowances paid by the Palestinian Authority to Palestinian prisoners in Israeli jails and the families of alleged Palestinian terrorists killed by Israeli soldiers.
At a Council on Foreign Relations event last week, Palestinian Prime Minister Mohammad Shtayyeh defended the allowances, referring to them as a welfare system. But he added that "if some changes are needed," the Palestinians are ready to consider them.
Palestinian officials say they are thinking of changing the criteria so that the size of the allowances would be based only on economic needs and not on the actions of the prisoners.
The big picture: The allowance system was termed "pay for slay" by the Trump administration because Palestinian prisoners who committed more serious crimes and served more time in Israeli jails received more money, regardless of their economic situation.
That became a point of tension almost from Day 1 after the Palestinians rebuffed the Trump administration's requests that the system be changed.
In March 2018, Trump signed the "Taylor Force Act," which conditioned a big chunk of U.S. financial aid to the Palestinian Authority on ending the payments.
What's next: A phone call between Biden and Abbas is expected in the coming days. It will signal the beginning of a rapprochement between the U.S. and the Palestinians.
4. The Bibi Barometer: Hello, submarines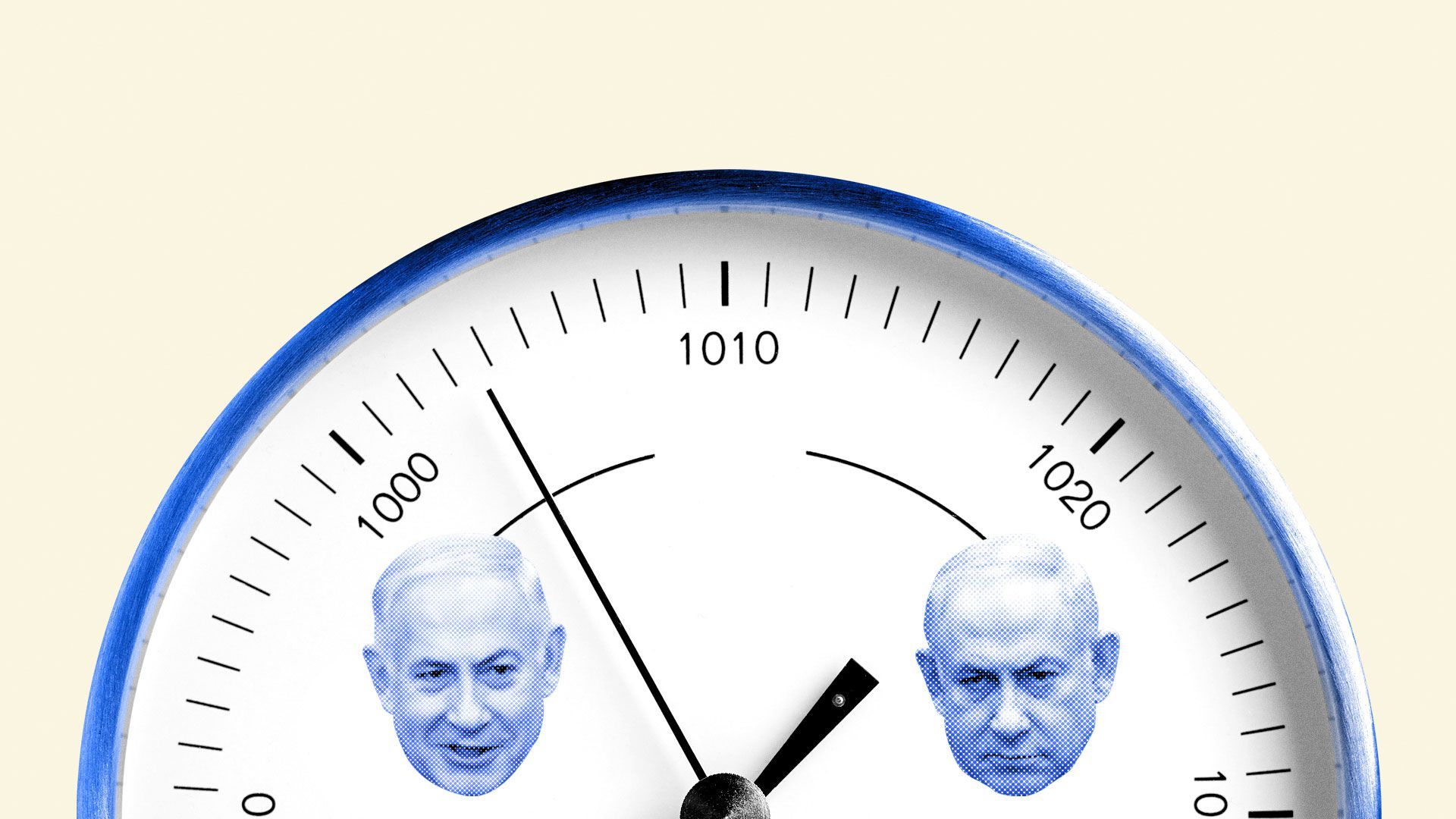 Benny Gantz may have put the last nail in the coffin of Israel's power-sharing government when he formed an inquiry panel to probe the "submarine affair," a scandal that has ensnared some of Netanyahu's close advisers and confidants.
Why it matters: For Netanyahu, this is a declaration of war by his coalition partner. The inquiry could lead to the conclusion that Netanyahu mishandled sensitive national security matters and cause him major political damage.
In an extreme scenario, it could lead to the reopening of a police investigation against him.
The backstory: The scandal involves the purchase in 2016 of submarines and warships from a German company. An investigation into alleged corruption connected to the deal has already led to indictments against Netanyahu allies, but the prime minister has not been investigated as a suspect.
Still, serious questions were raised about his decision-making around the two deals, which were worth billions of dollars and involved one of Israel's most sensitive weapon systems that, according to foreign press reports, can carry nuclear weapons.
Under his authority as defense minister, Gantz formed a panel to investigate those decisions.
How it happened: Gantz promised such an inquiry while campaigning against Netanyahu but shelved the initiative after forming a government with him.
Under pressure from within his party, and increasingly confident that Netanyahu plans to renege on the deal that would see them switch jobs next year, Gantz made his move.
He has faced sharp criticism from his base for forming a government with Netanyahu in the first place, and decided to cut his losses before new elections are called in the next four weeks.
What's next: The deadline for passing a budget and preventing elections is Dec. 23, but many inside Gantz's party are pressing him to vote with the opposition in favor of dissolving the Knesset as early as next week.
Gantz believes Netanyahu won't pass a budget that locks in the government long enough for him to become prime minister.
If the Knesset dissolves in the next four weeks, elections are expected in March 2021.
Gantz gave the inquiry panel a four-month deadline, with an unstated goal of publishing the conclusions days before the new elections.
New polls published on Tuesday showed that even though Netanyahu's favorability plummeted during the COVID-19 crisis, he still has the best chance of forming a government if new elections are called.
The polls showed Netanyahu's right-wing bloc winning between 64 and 68 seats, above the 61 needed for a majority.
5. Rock diplomacy between Israel and Lebanon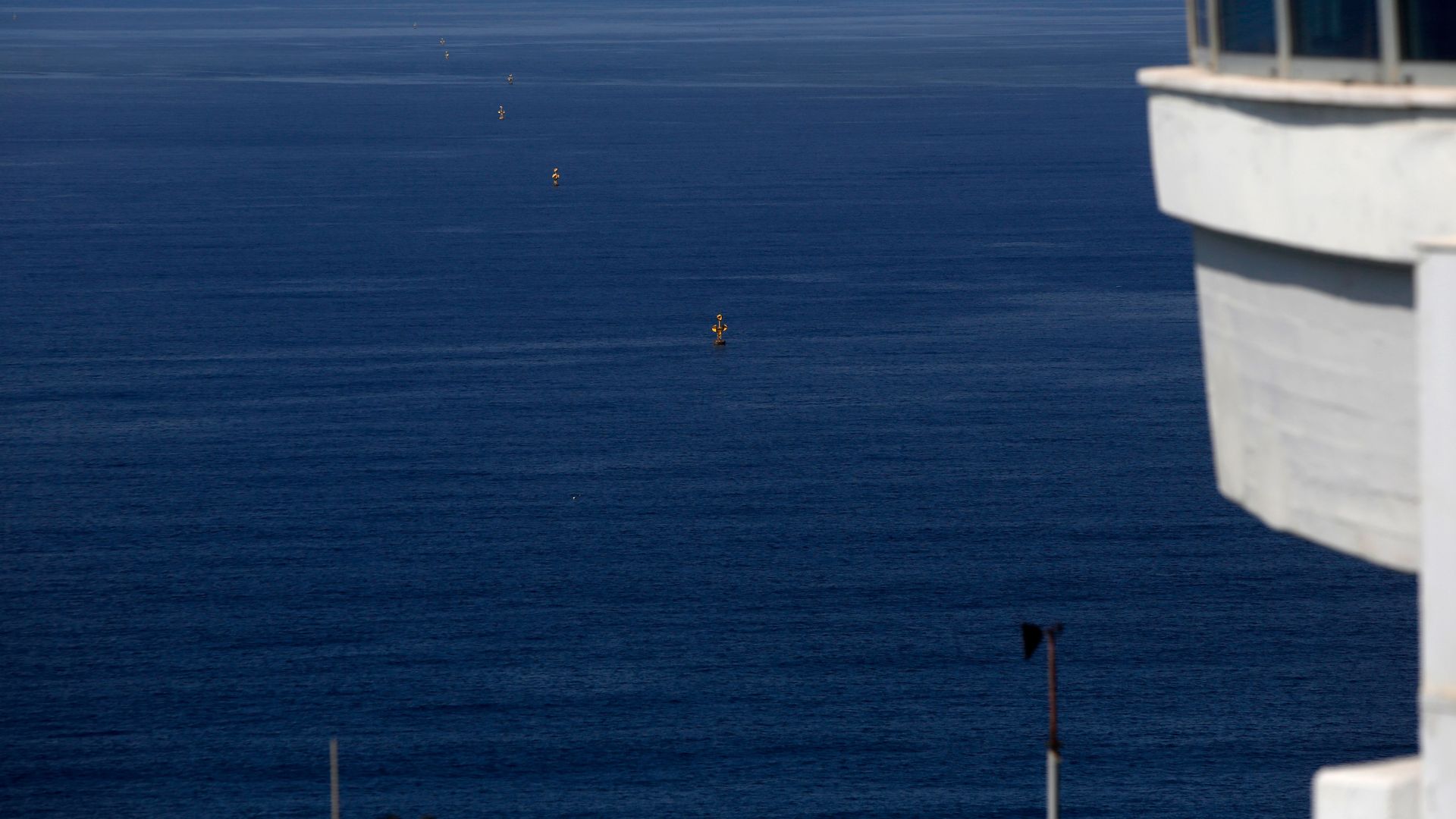 Talks between Israel and Lebanon on their maritime border are stuck, with the sides arguing over which of two rocks the border line should start from, Israeli officials tell me.
Why it matters: These are the first such talks in 30 years between the countries. They're driven by a dispute over natural gas exploration in the eastern Mediterranean Sea, and the revenues at stake could reach into the tens of billions of dollars.
The state of play: Four rounds of talks have taken place so far, mediated by the U.S.
During the second meeting, Lebanese negotiators presented a map that extended the border line to the south and included waters Lebanon had never claimed before, Israeli officials say.
The Israelis rejected the Lebanese map and retaliated by hardening their own position — extending the line further to the north on their map.
That meeting eventually devolved into an argument, Israeli officials say. In the third and fourth meetings, the atmosphere improved but the parties didn't budge.
One contentious sticking point, which embodied all of the historical and cultural complexities of the Middle East, has to do with the point on shore from which the border line should begin.
The Lebanese pointed to a rock that is 100 feet south of the current border, citing a French-British agreement from 1923.
The Israelis rejected that position, citing a different French-British agreement from 1920, which places the line 2 miles to the north.
What they're saying: Israeli Minister of Energy Yuval Steinitz, to whom the Israeli negotiators report, told me he knew the opening months of talks would mostly be "a Middle East-style bazaar of maximalist demands and provocations" before any progress is made.
"We didn't give it a big chance to succeed because we knew who we were dealing with. So on the one hand there is no progress and the parties are taking tough positions, but on the other hand they want to continue the talks," Steinitz said.
What's next: The fifth meeting between the parties will take place in early December. Steinitz told me the U.S. mediator, John Desrocher, still hasn't tabled any bridging proposals.
"We don't have any creative solution — maybe at some point the Americans will present such ideas," he said.