Axios Sports
March 30, 2023
👋 Good morning! Our season preview is a labor of love from an Orioles fan (Kendall) whose team is on the rise and a Nationals fan (Jeff) whose team is decidedly not. But today, only one thing matters: Baseball. Is. Back.
📆 Join us today: We're co-hosting a virtual event today from 12-1pm ET alongside the Aspen Institute. Join us for a brief conversation: Future of Sports: Protecting High School Athletes After Damar Hamlin. Register here to attend.
Today's word count: 2,060 (8 minutes).
Let's play ball...
1 big thing: A season of change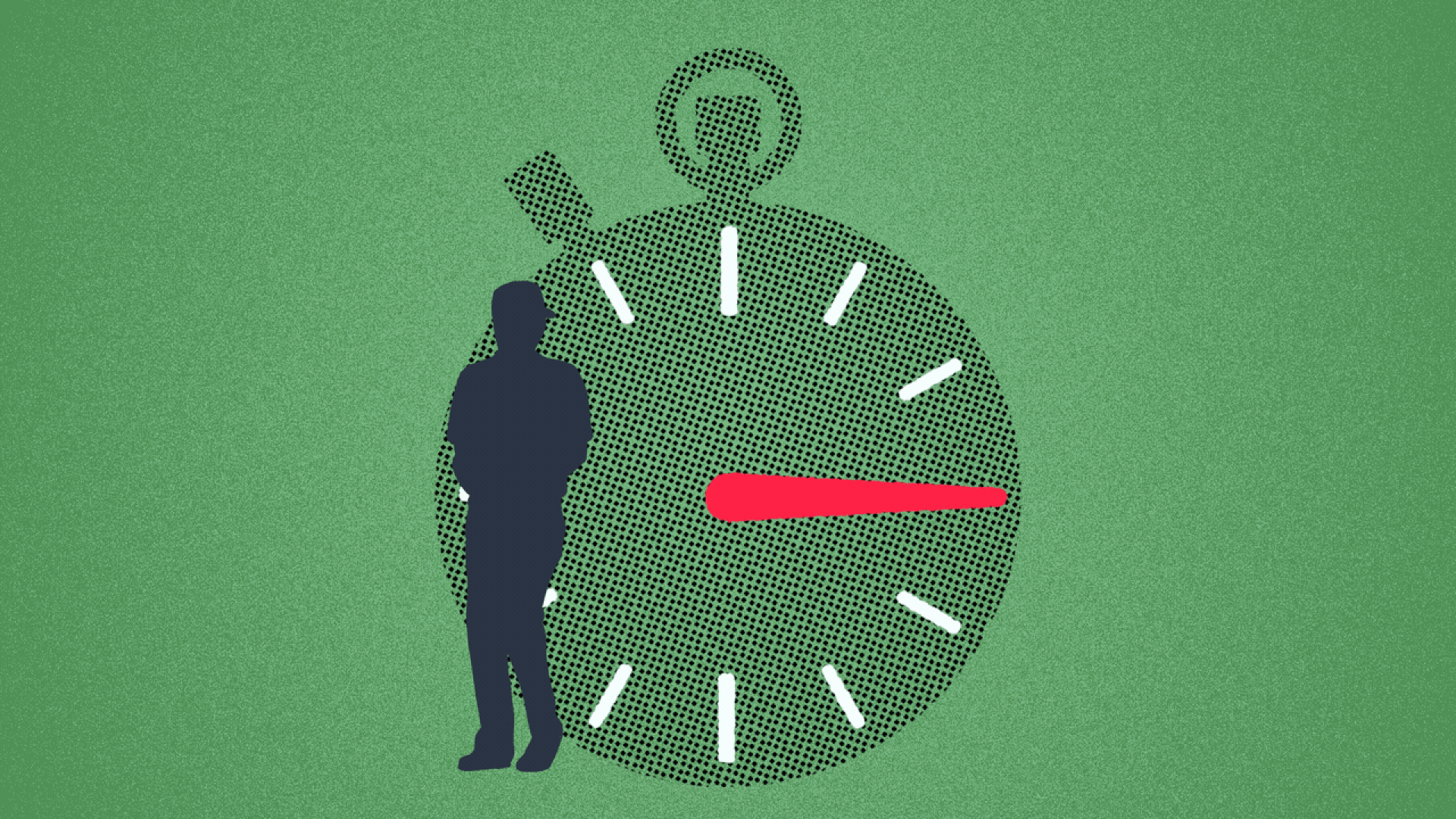 Opening Day is here at last, and fans and players alike are about to experience a season unlike any before.
What to watch: MLB implemented four major rule changes this offseason in an effort to decrease the length of games and increase the action.
By the numbers: 40 years ago, the average nine-inning MLB game lasted just 2 hours, 36 minutes. But it has crossed the 3-hour mark in eight of the last nine seasons, reaching a peak of 3 hours, 10 minutes in 2021.
State of play: The analytics movement has transformed pro sports. But while it's led to more excitement in, say, football (more passing and less punting), it has robbed baseball of the action that used to be a hallmark of the game.
What they're saying: MLB hopes these new rules will "free up the players to put on a show," as actor Bryan Cranston says in one of MLB's new promo spots.
"This is the game we all want to see. Get the ball, pitch the ball. Keep the defense on their toes. Field like Ozzie [Smith], run like Rickey [Henderson]. So get that shift outta here. Free up the players to put on a show. It's the best game in the world; now, it's even better."
— Bryan Cranston
The big picture: While these on-field changes will alter the flow of games, one major off-field change will alter the standings.
Go deeper:
2. Snapshot: AL preview
The American League has been dominated recently by the defending champion Astros, who've made at least the ALCS in each of the past six years. Can someone end their reign?
Each team in five words or less…
Astros (projected record: 89-73): Reigning champs favored to repeat.
Yankees (89-73): All Rise for captain Judge.
Blue Jays (88-74): This lineup will score runs.
Rays (86-76): Fifth straight postseason coming? Probably.
Angels (84-78): Will Ohtani + Trout finally = October?
Twins (83-79): Correa is still in Minny!
Guardians (82-80): Ideal roster for new rules.
Mariners (82-80): J-Rod's ready for his encore.
Rangers (82-80): Welcome to Texas, Jacob.
Red Sox (82-80): Can Chris Sale stay healthy?
White Sox (80-82): Anything's better than joyless 2022.
Orioles (76-86): Young, fun, and super talented.
Royals (72-90): Still a couple years away.
Tigers (72-90): Miggy's last ride.
Athletics (69-93): Clock ticking on Vegas move?
Awards predictions:
MVP: Shohei Ohtani (RHP/DH, Angels)
Cy Young: Alek Manoah (RHP, Blue Jays)
ROY: Gunnar Henderson (3B, Orioles)
Divisional previews ... AL East, AL Central, AL West (AP)
3. Snapshot: NL preview
The National League has crowned a different champion in each of the past four years — most recently the Phillies after their surprise October run. Will that streak continue?
Each team in five words or less…
Braves (projected record: 93-69): Young core ready to dominate.
Padres (92-70): This roster is absolutely stacked.
Mets (90-72): Cohen spends; can he win?
Dodgers (88-74): Not favored? A refreshing change.
Cardinals (87-75): Lars Nootbaar breakout incoming.
Brewers (86-76): Pitchers are legit. But offense?
Phillies (85-77): Gained Trea, but lost Rhys.
Giants (83-79): Lineup could sure use Correa!
Marlins (80-82): Almost contenders. This the year?
Diamondbacks (78-84): Bold prediction: wild card team.
Cubs (77-85): Can Bellinger regain MVP form?
Pirates (75-87): Oneil Cruz, Statcast superstar.
Reds (70-92): Sneaky talent, but still rebuilding.
Nationals (67-95): They'll always have 2019.
Rockies (67-95): So. Many. Injuries. Bummer.
Awards predictions:
MVP: Juan Soto (LF, Padres)
Cy Young: Spencer Strider (RHP, Braves)
ROY: Corbin Carroll (LF, Diamondbacks)
Divisional previews ... NL East, NL Central, NL West (AP)
4. 💵 Top earners: Ohtani leads the way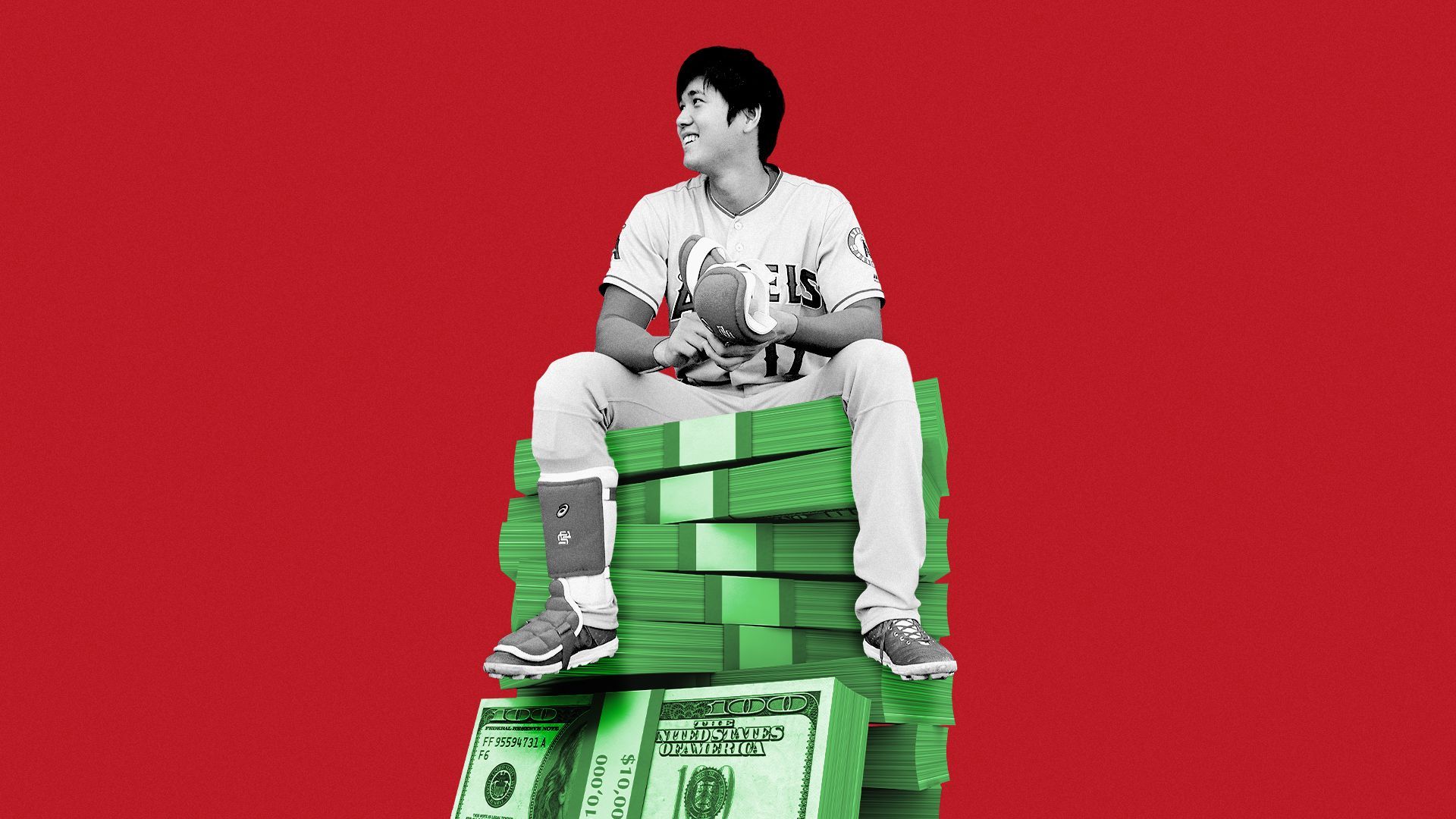 Shohei Ohtani will make an estimated $70 million dollars this year both on and off the field, as he attempts to lead the Angels to their first playoff berth since 2014.
Why it matters: That's a record for MLB players, per Sportico, topping Max Scherzer's $59 million in 2022.
By the numbers: Ohtani will make $40 million off endorsements alone from partners in the U.S. and Japan — including New Balance, Fanatics and Seiko.
That's six times more endorsement money than any other baseball player will earn this year. Bryce Harper is the closest with $7 million.
Then there's Ohtani's $30 million salary, which is the most ever for an arbitration-eligible player.
Looking ahead: Ohtani could become baseball's first $500 million man when he hits free agency next offseason. All signs point to him breaking teammate Mike Trout's record for the largest contract in MLB history (12 years, $426.5 million).
5. ⭐️ Fantasy baseball: Top players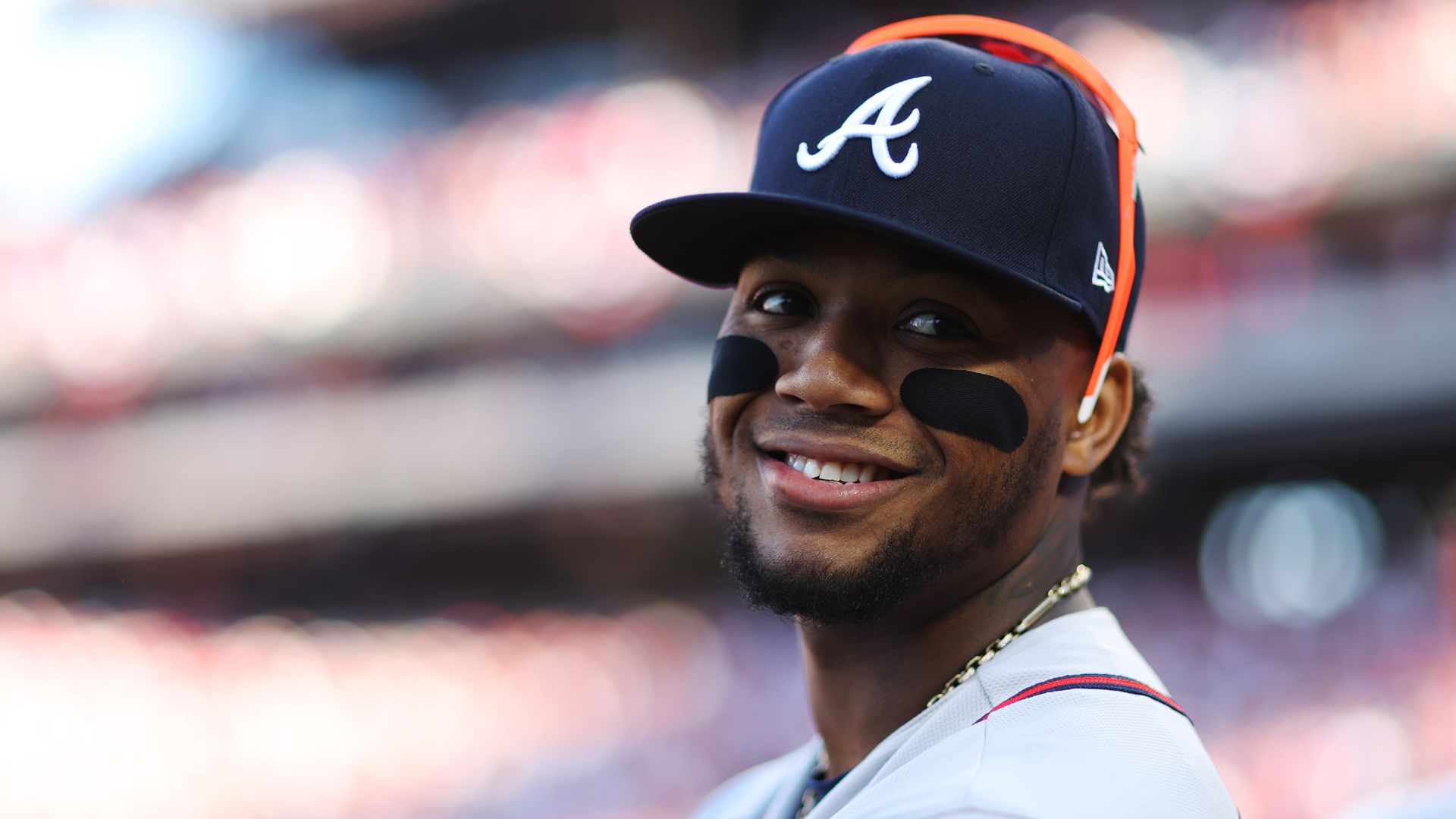 Fantasy baseball rankings are a pretty good, if imperfect, facsimile of the real thing, and this year it will be fascinating to watch how rule changes affect value.
Will speedsters be even more valuable as they steal more bases and leg out more infield hits?
Will pitchers be more dominant with the advent of the pitch clock, or might they tire more quickly due to the pace and make it through fewer innings?
Will Joey Gallo gain enough additional hits due to the shift being banned that he becomes roster-able again? Only time will tell.
Top 25 hitters: (via FantasyPros consensus rankings)
Ronald Acuña Jr. (RF, Braves)
Trea Turner (SS, Phillies)
Aaron Judge (OF, Yankees)
José Ramírez (3B, Guardians)
Julio Rodríguez (CF, Mariners)
Kyle Tucker (RF, Astros)
Juan Soto (LF, Padres)
Vladimir Guerrero Jr. (1B/DH Blue Jays)
Shohei Ohtani (DH, Angels)
Mookie Betts (RF/2B, Dodgers)
11-25: Yordan Álvarez (LF/DH, Astros); Freddie Freeman (1B, Dodgers); Mike Trout (CF, Angels); Manny Machado (3B, Padres); Bo Bichette (SS, Blue Jays); Bobby Witt Jr. (SS/3B, Royals); Rafael Devers (3B, Red Sox); Pete Alonso (1B, Mets); Fernando Tatis Jr. (OF, Padres); Paul Goldschmidt (1B, Cardinals); Austin Riley (3B, Braves); Francisco Lindor (SS, Mets); Michael Harris II (CF, Braves); Nolan Arenado (3B, Cardinals); Randy Arozarena (OF, Rays)
Top 25 pitchers:
Ohtani (SP, Angels)
Corbin Burnes (SP, Brewers)
Gerrit Cole (SP, Yankees)
Aaron Nola (SP, Phillies)
Sandy Alcantara (SP, Marlins)
Spencer Strider (SP, Braves)
Jacob deGrom (SP, Rangers)
Max Scherzer (SP, Mets)
Justin Verlander (SP, Mets)
Brandon Woodruff (SP, Brewers)
11-25: Shane McClanahan (SP, Rays); Emmanuel Clase (RP, Guardians); Shane Bieber (SP, Guardians); Zack Wheeler (SP, Phillies); Josh Hader (RP, Padres); Julio Urías (SP, Dodgers); Dylan Cease (SP, White Sox); Kevin Gausman (SP, Blue Jays); Luis Castillo (SP, Mariners); Cristian Javier (SP, Astros); Devin Williams (RP, Brewers); Jordan Romano (RP, Blue Jays); Zac Gallen (SP, Diamondbacks); Alek Manoah (SP, Blue Jays); Max Fried (SP, Braves)
6. 💵 This just in: Minor league pay bump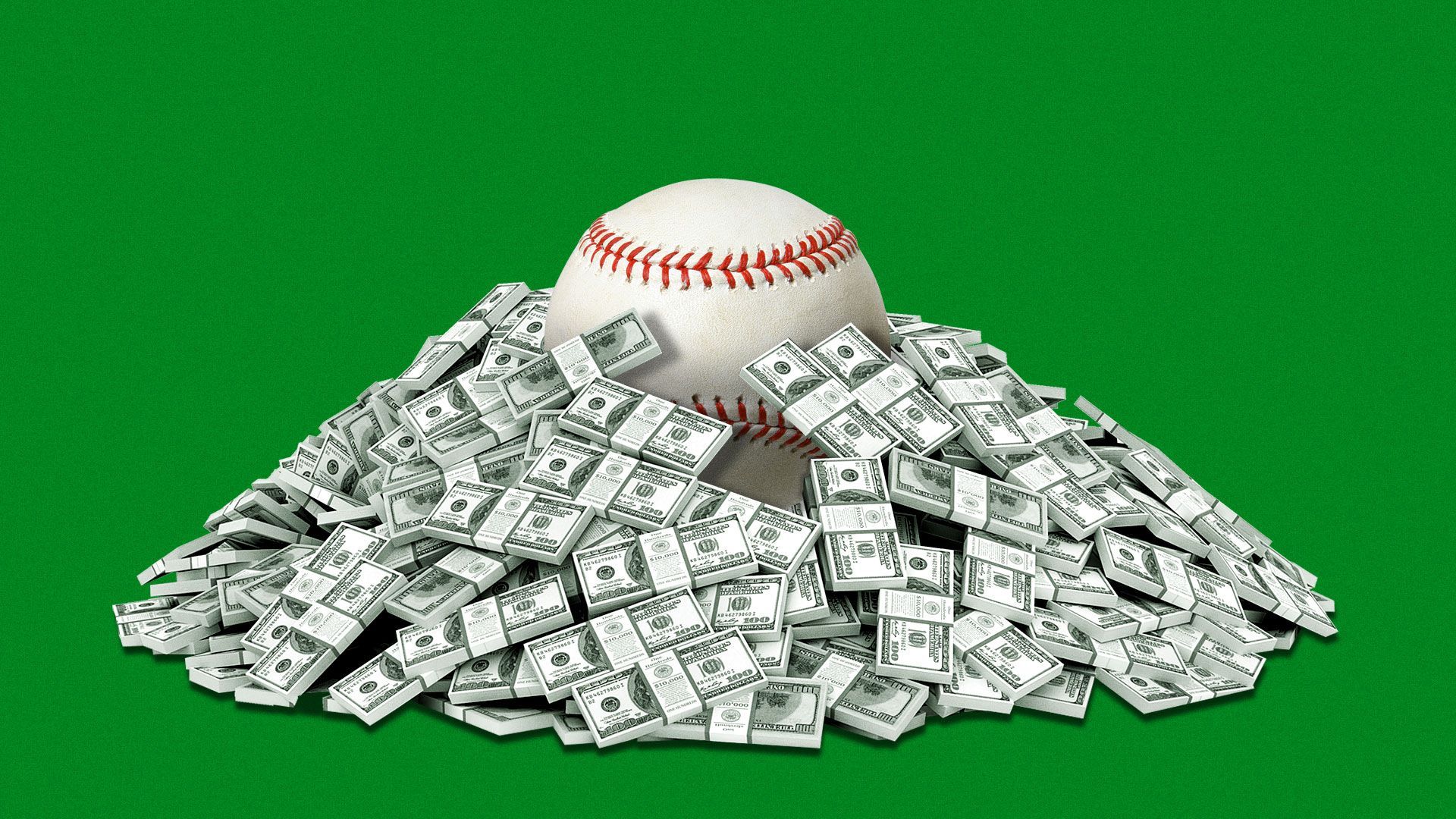 Minor league players and MLB struck a tentative deal Wednesday on a historic first collective bargaining agreement.
Why it matters: The deal will more than double every player's salary, ESPN reports.
Triple-A: $17,500 per year to $35,800
Double-A: $13,800 to $30,250
High-A: $11,000 to $27,300
Single-A: $11,000 to $26,200
Complex league: $4,800 to $19,800
In related news: A federal judge approved a $185 million settlement on Wednesday in a lawsuit by minor leaguers against MLB for violating federal minimum wage laws.
On average, the settlement would provide ~$5,000 to $5,500 per player.
More than 20,000 players are involved in the settlement, notes The Athletic ($).
7. 🏟️ Ranking all 30 MLB ballparks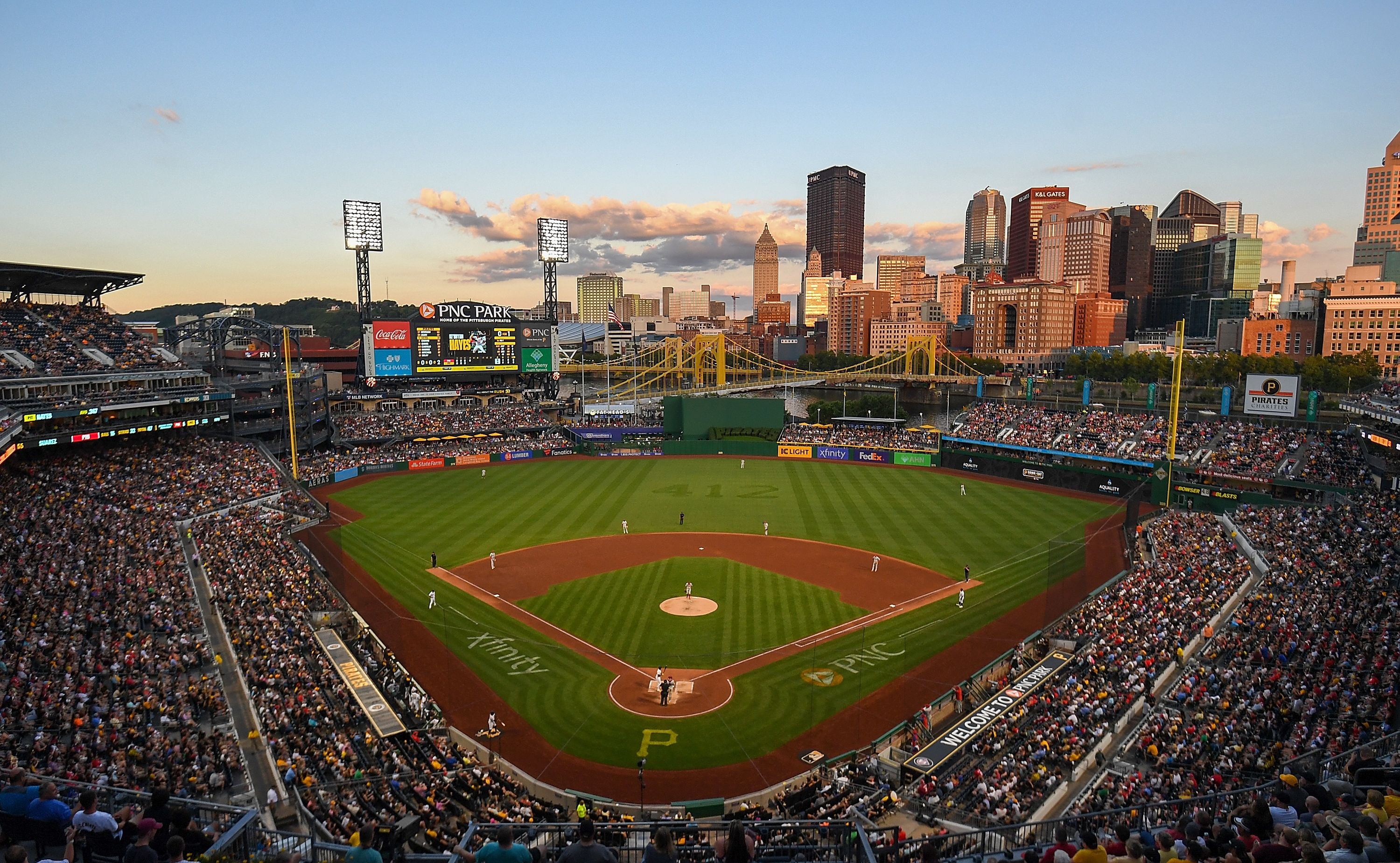 The best thing about MLB stadiums is that no two are alike. Here is our definitive (read: extremely subjective) ranking of all 30 ballparks.
The top 10: We place a premium on great views, unique features and baseball history.
1. PNC Park (Pirates) … Roberto Clemente Bridge!
2. Fenway Park (Red Sox) … The Green Monster!
3. Wrigley Field (Cubs) .. The ivy!
4. Camden Yards (Orioles) … The warehouse!
5. Oracle Park (Giants) … McCovey Cove!
6. Petco Park (Padres) … The (other) warehouse!
7. Coors Field (Rockies) … The sunsets!
8. Busch Stadium (Cardinals) … The Gateway Arch!
9. Dodger Stadium (Dodgers) … The hexagonal scoreboards!
10. Minute Maid Park (Astros) … The train tracks!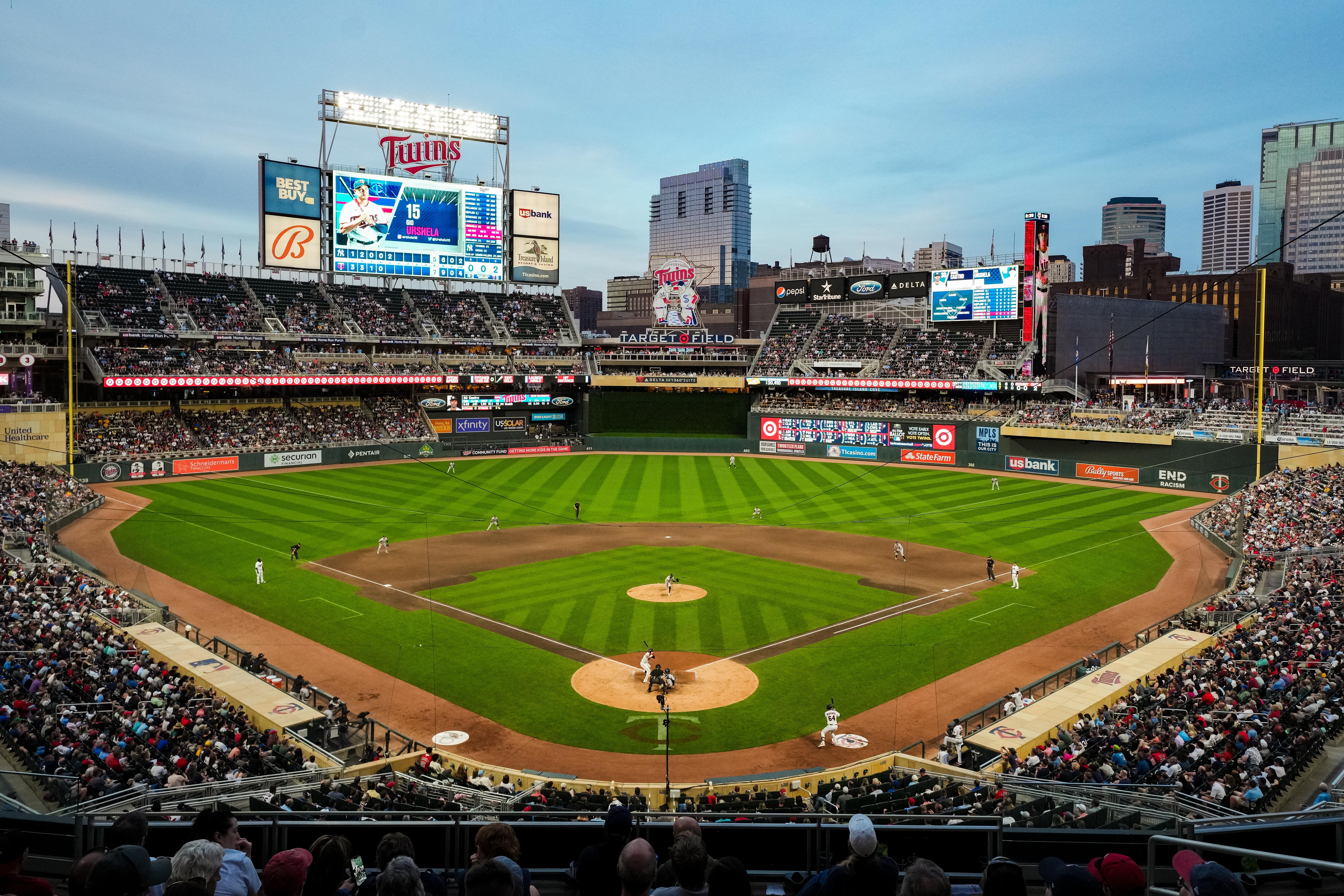 The next 10: There's nothing particularly bad about any of these, and some have really fun features. They just don't quite crack the top of the list.
11. Target Field (Twins)
12. Guaranteed Rate Field (White Sox)
13. T-Mobile Park (Mariners)
14. Nationals Park (Nationals)
15. Citi Field (Mets)
16. Truist Park (Braves)
17. Great American Ball Park (Reds)
18. Citizens Bank Park (Phillies)
19. Yankee Stadium (Yankees)
20. Globe Life Field (Rangers)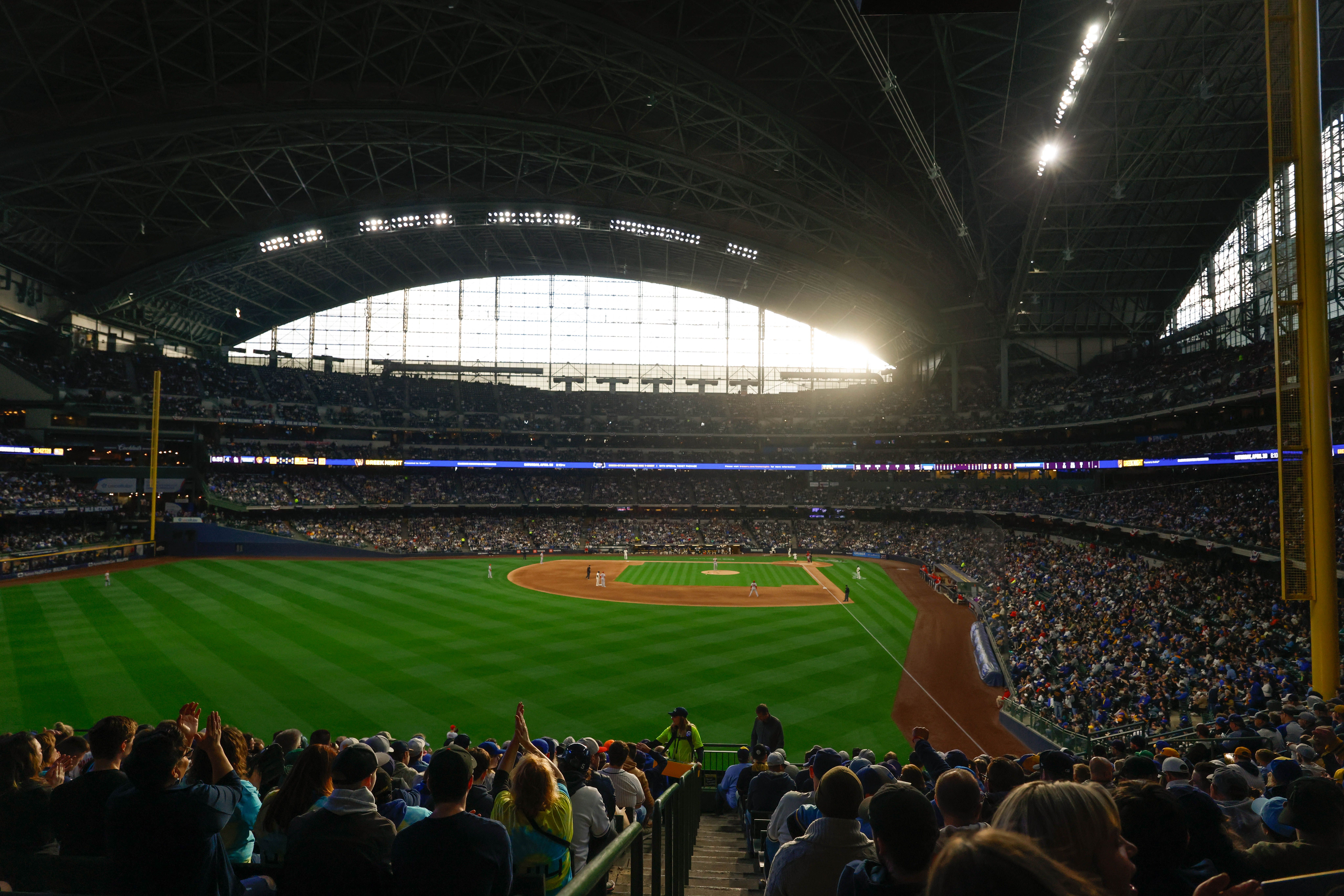 The last 10: Hey, at least they made the top 30!
21. American Family Field (Brewers)
22. loanDepot Park (Marlins)
23. Kauffman Stadium (Royals)
24. Progressive Field (Guardians)
25. Comerica Park (Tigers)
26. Chase Field (Diamondbacks)
27. Angel Stadium (Angels)
28. Rogers Centre (Blue Jays)
29. Tropicana Field (Rays)
30. Oakland Coliseum (Athletics)
8. 📺 Watchlist: Opening Day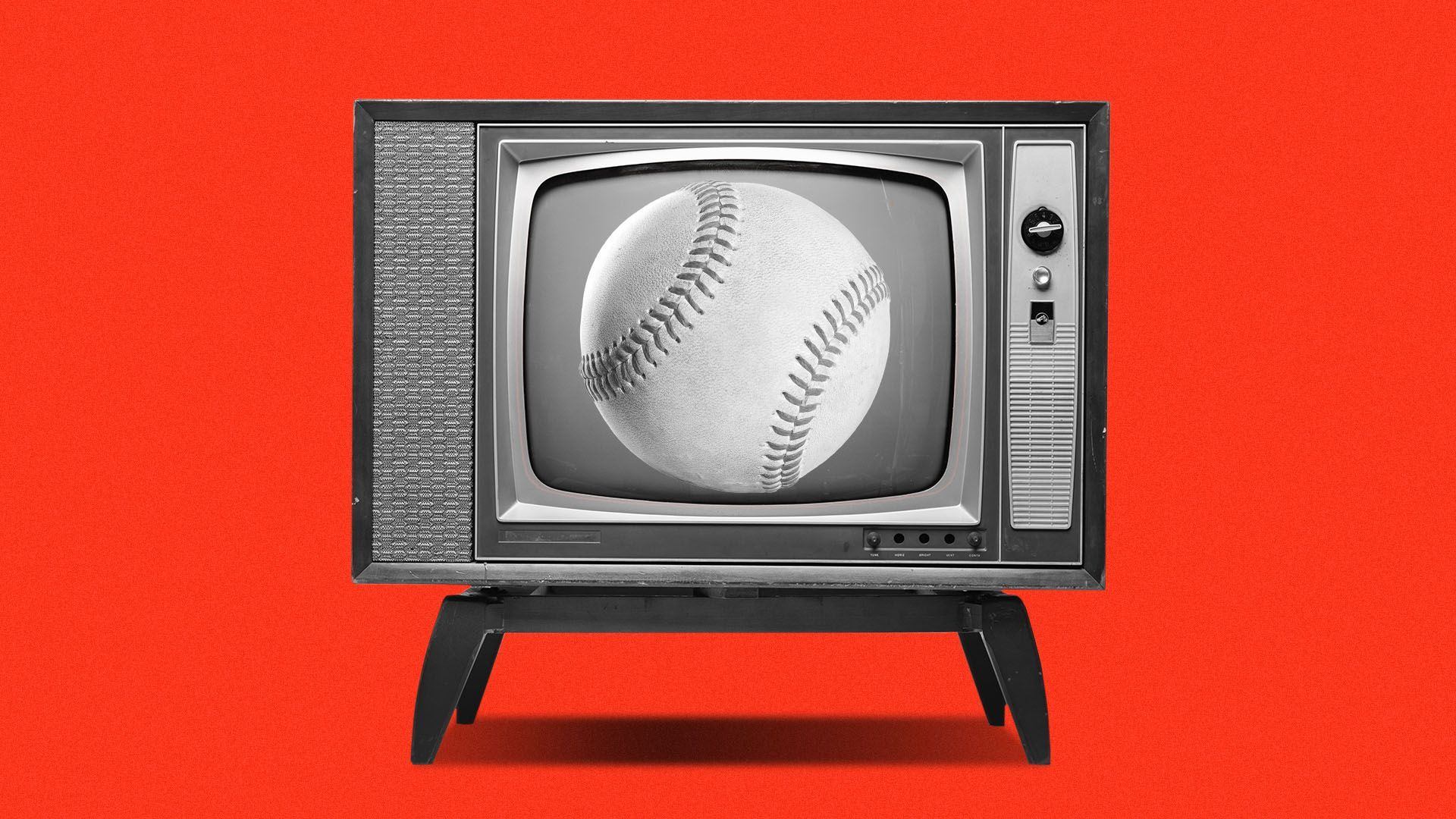 All 30 teams are scheduled to play today. If they all do, it'll be the first time since 1968 that every club opens on the same date.
The intrigue: Eight former Cy Young winners (*) are set to take the mound.
The rest:
9. 👑 Triple Crown trivia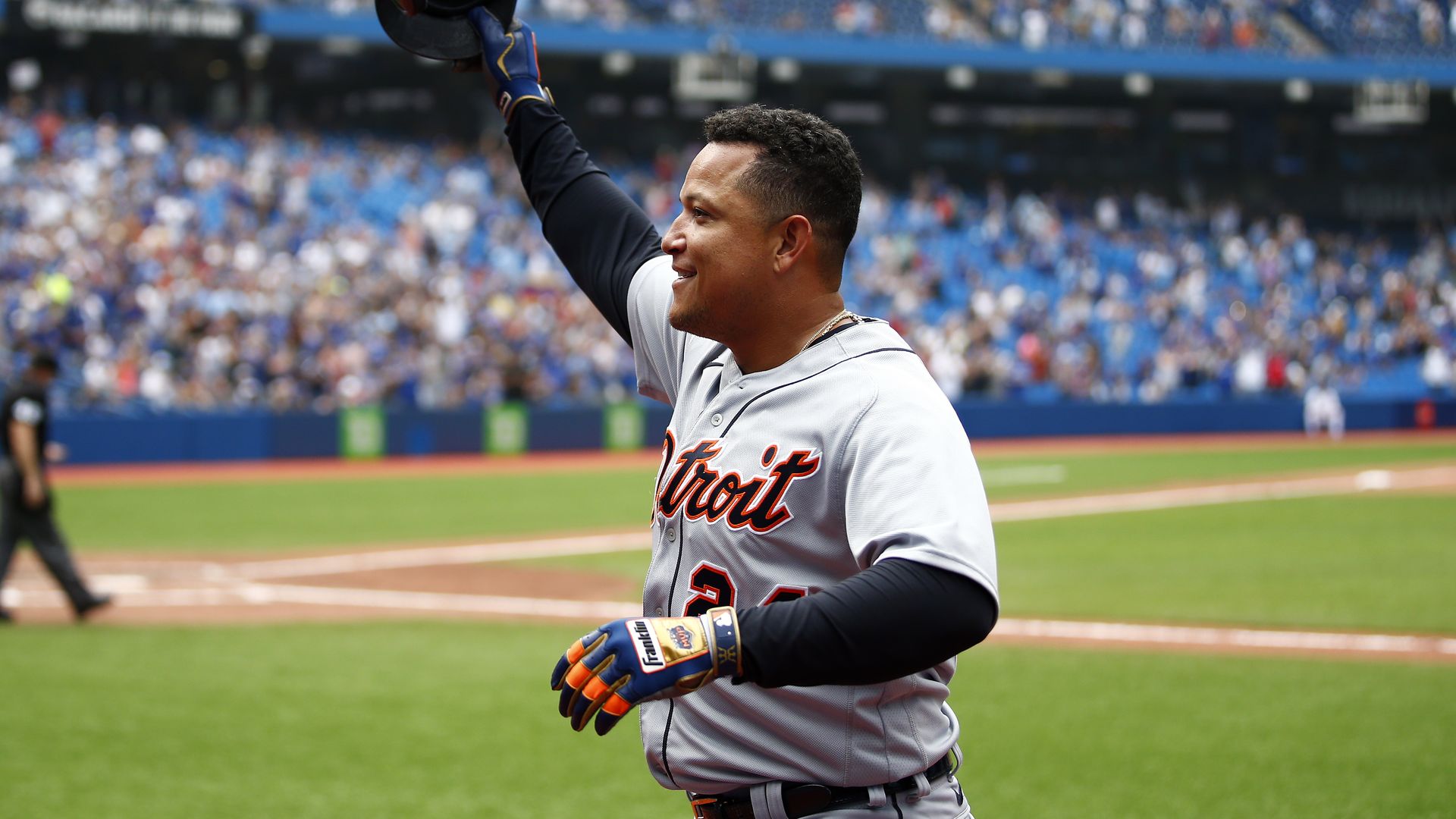 Miguel Cabrera, who will retire after this season, recorded MLB's most recent batting Triple Crown in 2012 (BA/HR/RBI).
Question: Who recorded the most recent pitching Triple Crown (Wins/ERA/SO)?
Hint: 2020.
Answer at the bottom.
10. 📆 On this day: March 30, 1993
30 years ago today, Charlie Brown finally hit a home run.
Context: Despite his love for baseball, the famous "Peanuts" character wasn't very good, and the neighborhood's dysfunctional team was a long-running gag.
But after 40 years, Charlie finally went deep in a comic strip on March 30, 1993 — lifting Snoopy, Schroeder, Lucy and the gang to a rare victory.
The homer came off one of Charlie's nemeses, Royanne Hobbs, who claimed to be the great-granddaughter of the fictional Roy Hobbs from "The Natural."
The exit velocity and launch angle are still unknown.
The big picture: Baseball was frequently featured in the nearly 18,000 "Peanuts" strips created by the late Charles M. Schulz. American as American can be.
🍿 Watch: Clip from "Charlie Brown's All-Stars" (YouTube)
Talk tomorrow,
Kendall "Play ball!" Baker
Trivia answer: Shane Bieber (Indians)
🙏 Thanks for reading! Follow us for more (@kendallbaker and @jeffreytracy). Friends can sign up here. Thanks to Matt Piper for copy edits.