Axios Sports
February 13, 2023
🏈 Good morning! Well, that was fun. What a football game.
Today's word count: 1,445 words (5 minutes).
Let's sports...
1 big thing: The Chiefs are champs again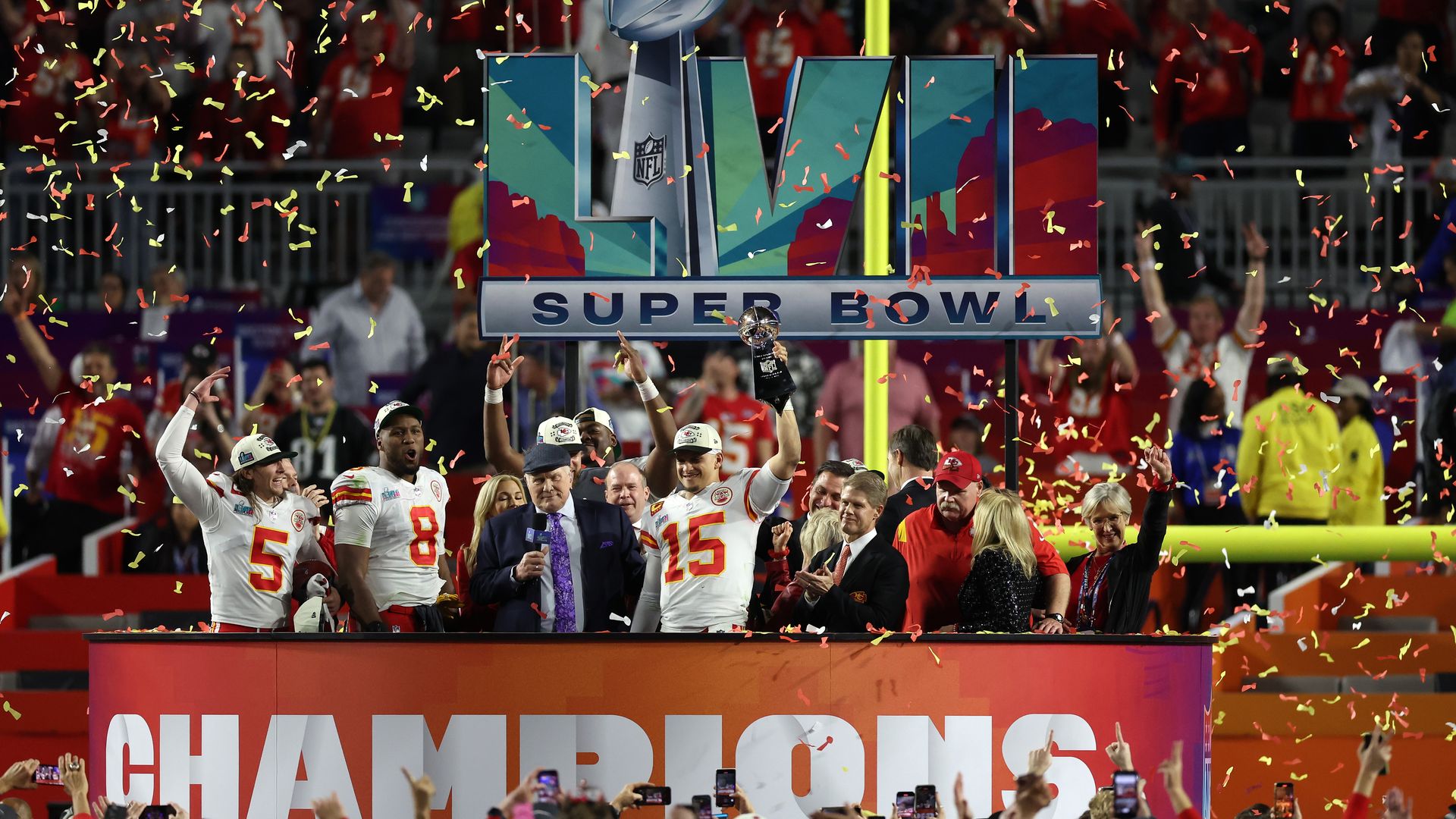 The Chiefs are world champions for the second time in four years, beating the Eagles, 38-35, on Sunday in the third-highest-scoring Super Bowl ever.
ICYMI: Philadelphia took a 10-point lead into the locker room behind MVP runner-up Jalen Hurts, who ran for two scores and threw for another in the first half alone.
Then, the MVP took over: Patrick Mahomes engineered a near-perfect second half on a bum ankle, throwing just one incompletion (a throwaway) and scoring on all four drives to set up the game-winning field goal in the final seconds.
The Eagles had more first downs, converted more third-down and fourth-down attempts, ran more plays, gained more yards and won the time of possession. But it didn't matter.
The highlights: Two second-half plays stood out as true game-changers for Kansas City.
The return: Up 28-27 with 10 minutes left, Kadarius Toney recorded the longest punt return in Super Bowl history — a 65-yard gallop to the five-yard line that set up the insurance score.
The scramble: With under three minutes left and the game tied at 35, Mahomes scrambled 26 yards to get the Chiefs into the red zone for what would become the game-winning score.
QB comparison: Mahomes and Hurts, whose combined age was the youngest for opposing QBs in Super Bowl history, both gave epic performances in their historic matchup.
Mahomes: 21/27, 182 yards, 3 TD; 6 carries, 44 yards … Super Bowl MVP
Hurts: 27/38, 304 yards, TD; 15 carries, 70 yards, 3 TD … Most rush TD and rush yards ever by a QB in a Super Bowl.
Between the lines: It's only fitting that a season featuring a historic number of close games ended with a three-point thriller between the No. 1 seeds. It's almost like the NFL is scripted. Almost.
The big picture: The Chiefs have won two championships and 75 games (including the playoffs) since 2018. Only the 2003-07 Patriots (77 wins) have won more games in a five-year span.
Go deeper: Making the case that this was the best Super Bowl ever (ESPN+)
2. Mahomes' GOAT-like trajectory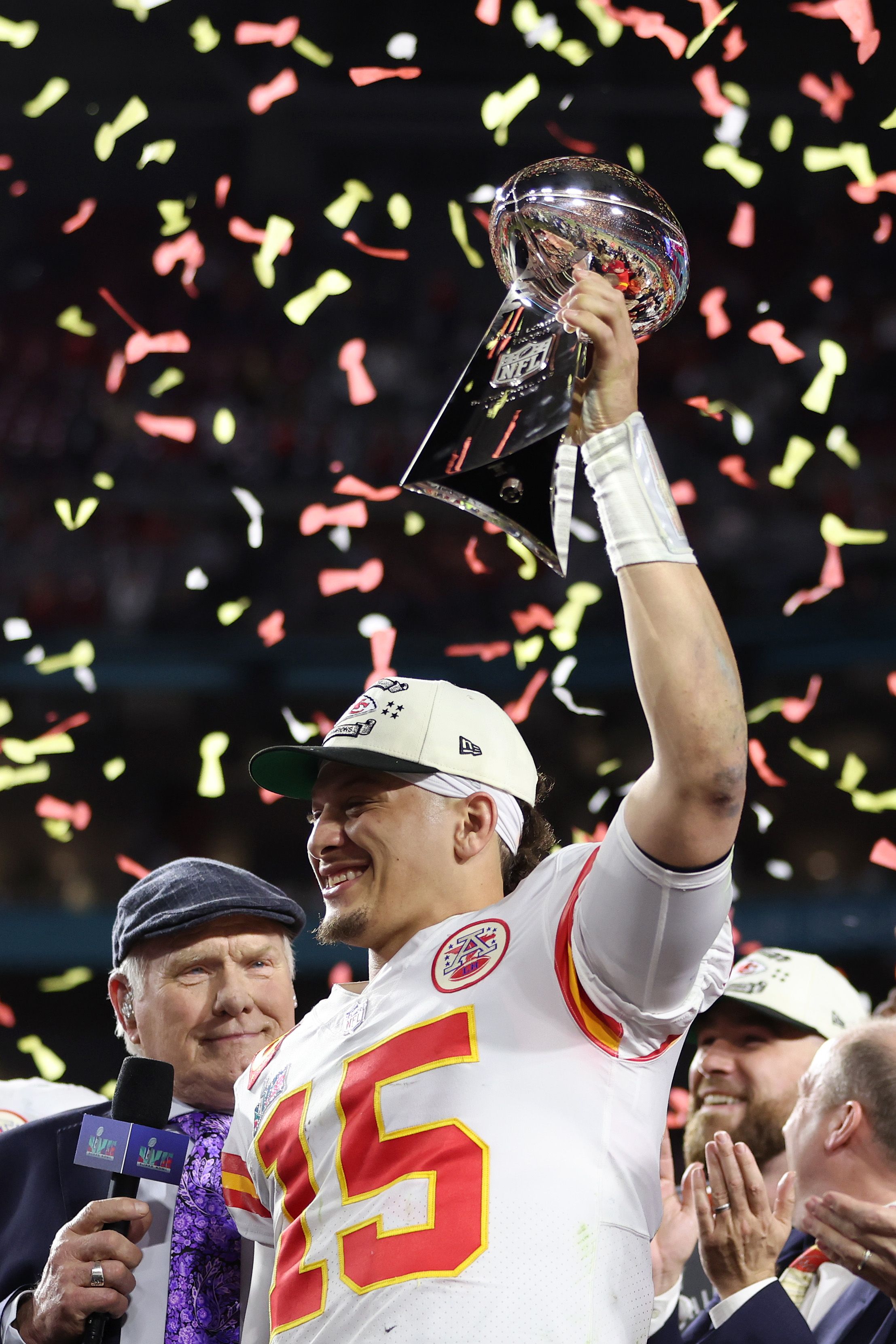 Patrick Mahomes has already compiled a résumé that would be the envy of nearly every QB in NFL history — and he's only 27 years old.
By the numbers: He's one of just three players with two MVPs, two Super Bowls and two Super Bowl MVPs, joining Tom Brady and Joe Montana, who both took twice as long to do it.
He's the first player in NFL history to win multiple championships and multiple league MVPs within his first six seasons. If he retired tomorrow, he's a first-ballot Hall of Famer.
This season alone, Mahomes led the NFL in passing yards and TD while winning both league and Super Bowl MVP. Just three other players have done that in their whole career (Brady, Peyton Manning, Kurt Warner).
The big picture: Mahomes has had the greatest first five seasons as a starter of any QB who has ever lived. And he may just be getting started.
"I'm not going to say dynasty yet," he said after hoisting his second Lombardi Trophy in four years.
"Because we're not done."
The bottom line: Mahomes has a long way to go before prying the title of GOAT away from Brady, but that's starting to look like a very real possibility somewhere down the line.
3. The controversial call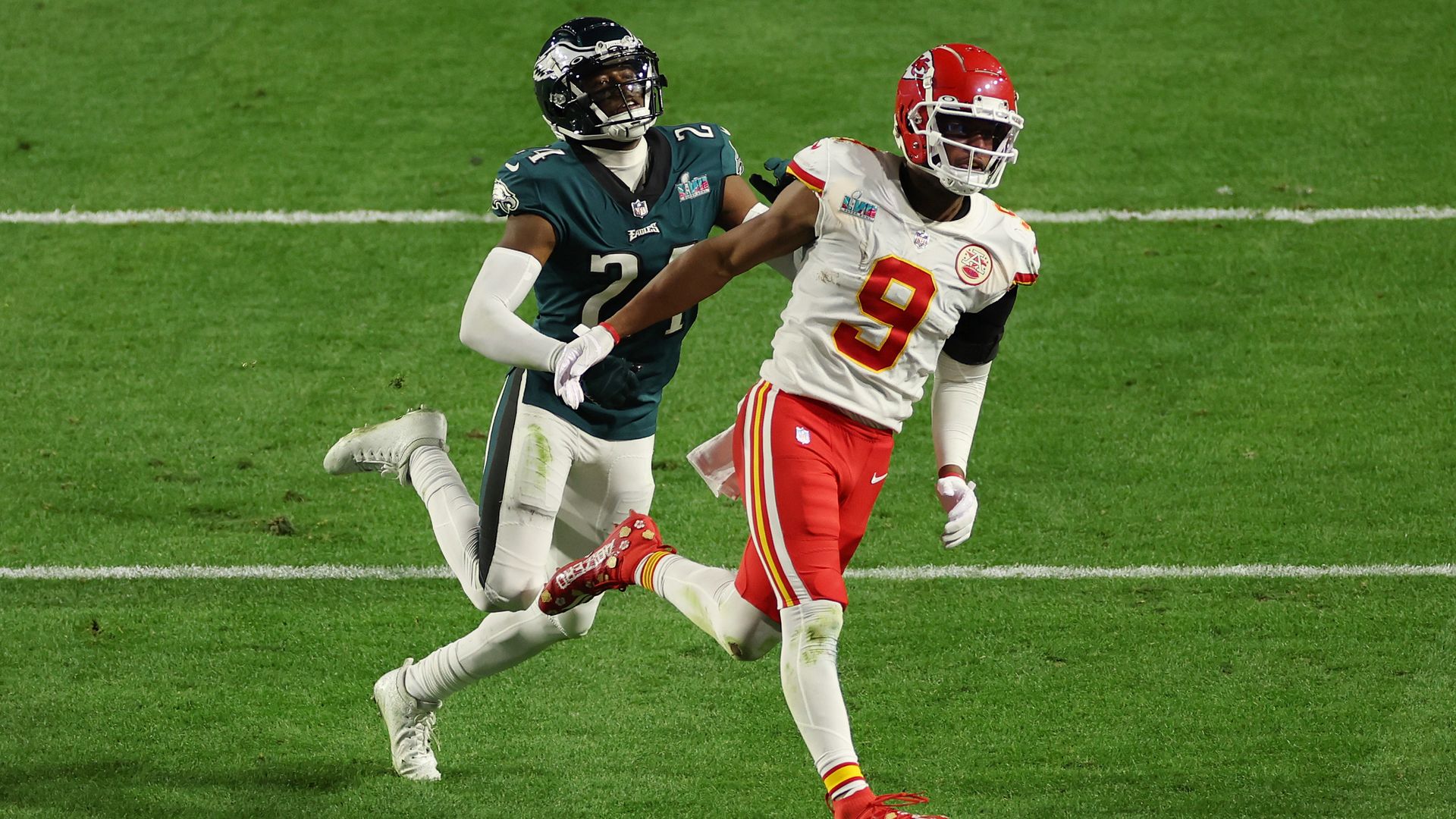 A questionable defensive holding call on Eagles cornerback James Bradberry set up the Chiefs' game-winning field goal — a brutal way for such an awesome game to end.
With Kansas City facing 3rd and 8 from Philadelphia's 15-yard line with 1:54 remaining, Patrick Mahomes threw a pass toward JuJu Smith-Schuster in the end zone.
The ball fell incomplete but Bradberry was called for holding, giving the Chiefs a first down and the ability to essentially run the clock out.
What they're saying: "It was a hold," Bradberry admitted after the game. "I tugged his jersey. I was hoping they would let it slide." There's the word from the man himself. Still… maybe swallow your whistle there.
Elsewhere: Let's not forget — there were two other questionable calls that both went in Philadelphia's favor.
4. Comeback kids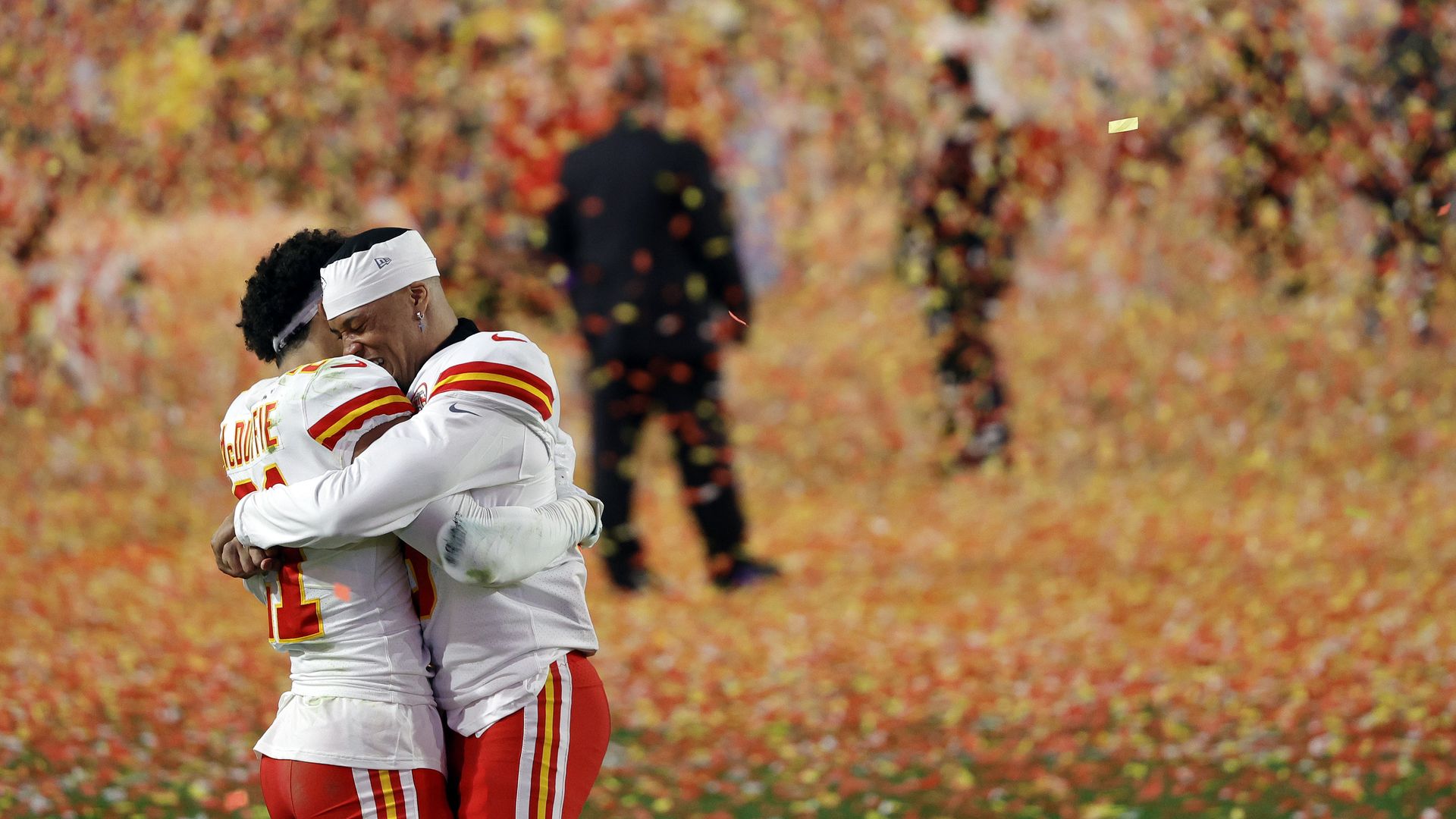 Teams are now 26-2 after leading by double digits at halftime of the Super Bowl.
Super Bowl LI: Patriots come back from 18 down to beat the Falcons.
Super Bowl LVII: Chiefs come back from 10 down to beat the Eagles.
5. The curse has been broken!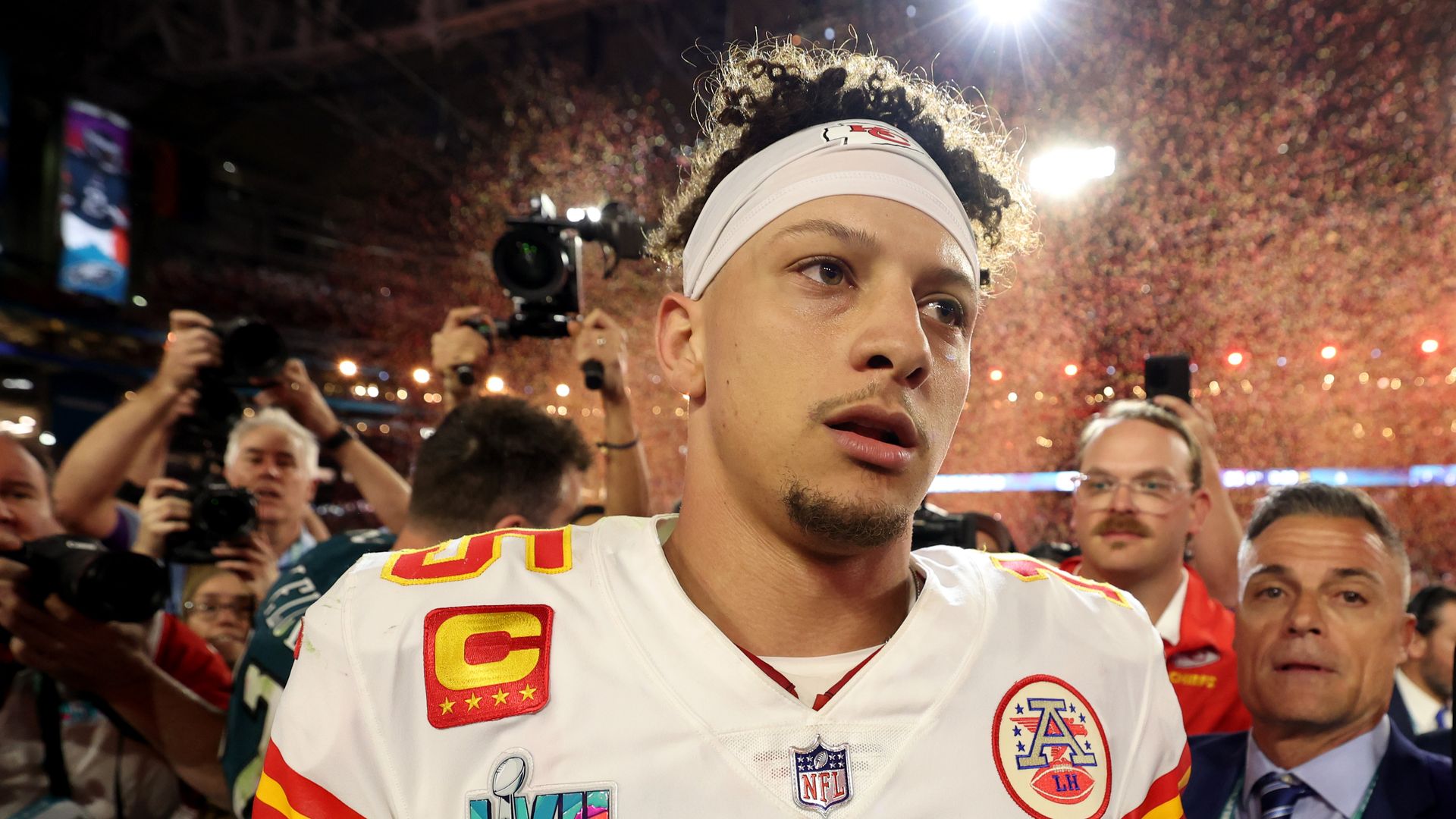 6. Lightning round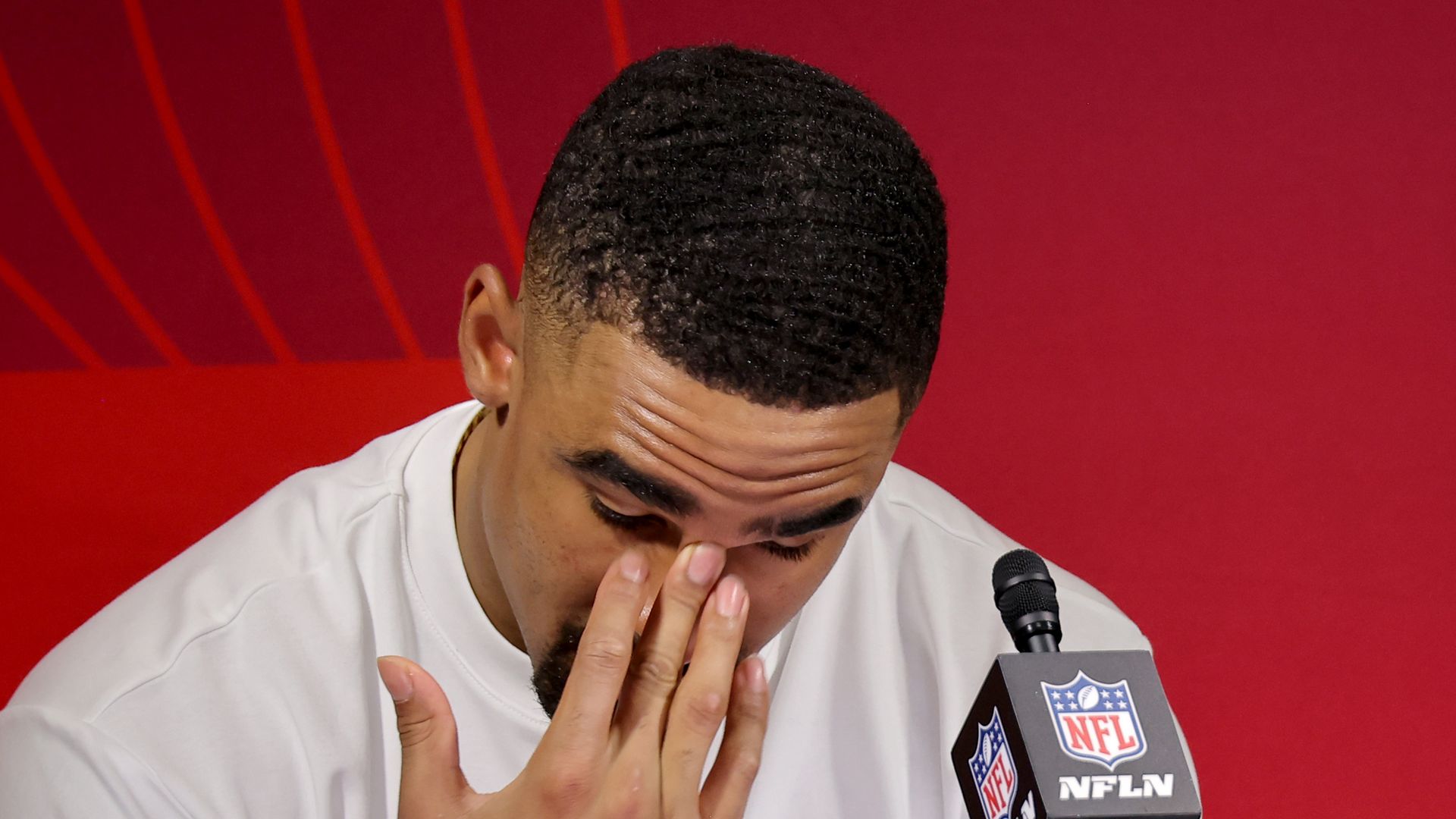 0-3: Philadelphia has lost three championship games in a little over three months, with the Eagles joining the Phillies (lost to the Astros in the World Series) and Union (lost to LAFC in the MLS Cup Final).
Kelce passes Gronk: Travis Kelce's first-quarter score was his 16th career postseason receiving TD, passing Rob Gronkowski for second-most in NFL history (Jerry Rice, 22).
2024 Super Bowl odds: The Chiefs (+550) open as favorites to win next year's Super Bowl, followed by the 49ers (+600), Bills (+650), Eagles (+800) and Bengals (+900).
No Biden interview: Presidents traditionally sit down for an interview with the network that airs the Super Bowl, but negotiations between the White House and Fox broke down this year.
Super Bowl babies: Chiefs guard Nick Allegretti's wife, Christina, delivered healthy twin girls on Sunday morning, hours before the girlfriend of Chiefs WR Mecole Hardman went into labor.
7. The music was great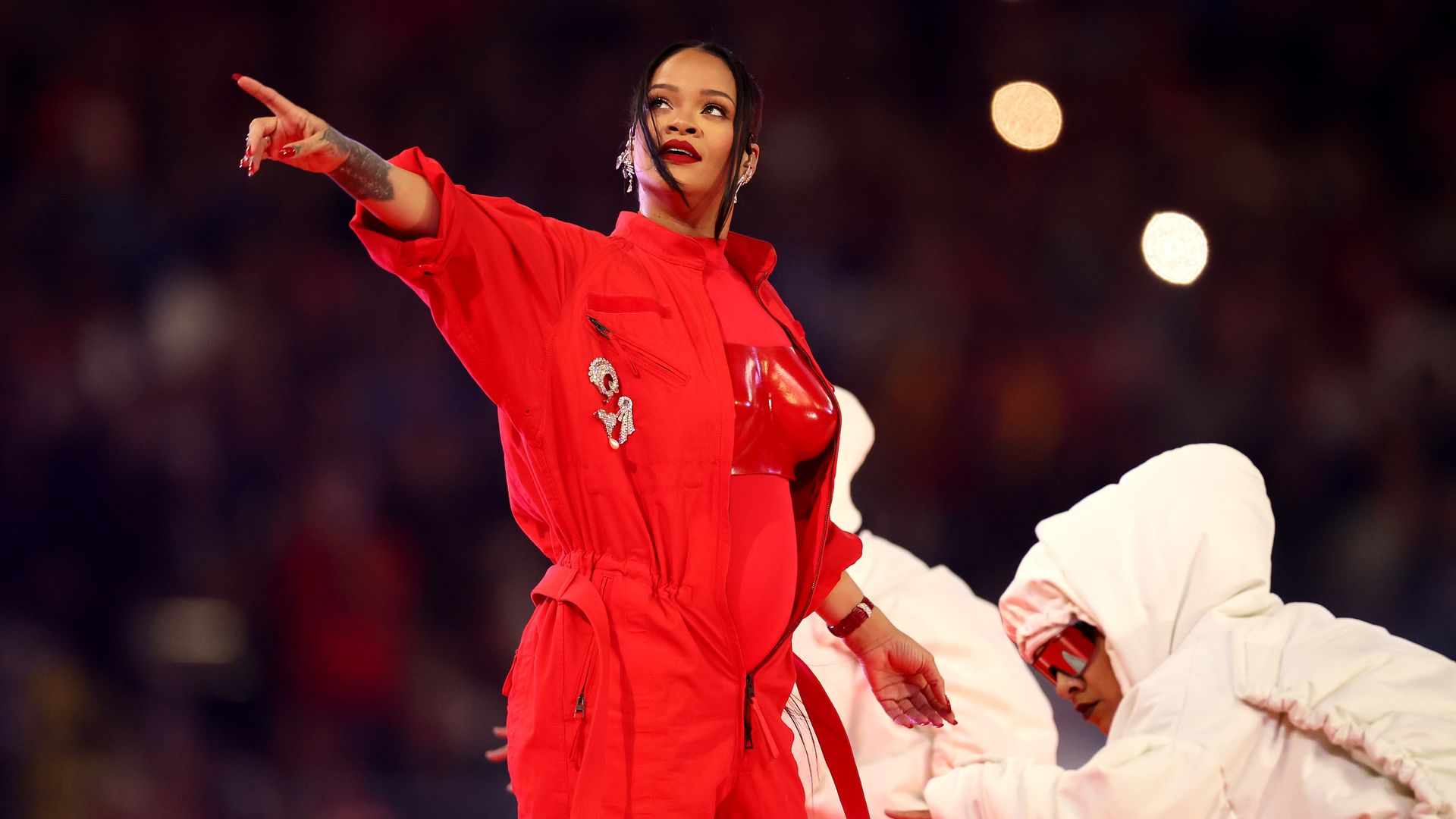 Rihanna lit up State Farm Stadium with her first live performance in years — a 13-minute, rapid-fire medley comprising 12 of her mega-hits.
She didn't bring any guests, but she wasn't exactly solo, either: the baby bump that viewers immediately noticed was confirmed to be her second pregnancy in as many years.
Flanked by dozens of backup dancers clad in all white, Rihanna and her ruby-red ensemble rose high above the field on floating platforms — designed to protect the grass below.
Set list: Rihanna's 12-song set opened with "B**** Better Have My Money" and closed with "Diamonds," as fireworks exploded from the roof.
"B**** Better Have My Money"
"Where Have You Been?"
"Only Girl in the World"
"We Found Love"
"Rude Boy"
"Work"
"Wild Thoughts"
"Pour It Up"
"All of the Lights"
"Run This Town"
"Umbrella"
"Diamonds"
More music:
"The Star-Spangled Banner": Country star Chris Stapleton's rendition of the national anthem brought Eagles coach Nick Sirianni to tears.
"Lift Every Voice and Sing": Exactly 123 years after the song's first public performance, Emmy award-winning actress Sheryl Lee Ralph ("Abbott Elementary") became the first person to sing the Black national anthem on the field before the Super Bowl.
"America the Beautiful": R&B legend Babyface performed a soulful, acoustic version with a custom-painted red, white and blue guitar.
🎶 Watch: Rihanna's full performance (YouTube)
8. The ads were pretty bad
Not a great year for Super Bowl commercials, as very few stood out as memorable. But the best ones still delivered.
The best:
The worst: FanDuel hyped Rob Gronkowski's live "Kick of Destiny" for months as part of a $10 million bonus bets promotion, but the final product was horrible. The production looked cheap and pre-recorded, and the kick — called wide left — looked like it was good? Bizarre.
🍿 Plus: As always, there were lots of trailers for upcoming blockbusters.
Go deeper: How Super Bowl ads have evolved (Axios)
9. Super Bowl trivia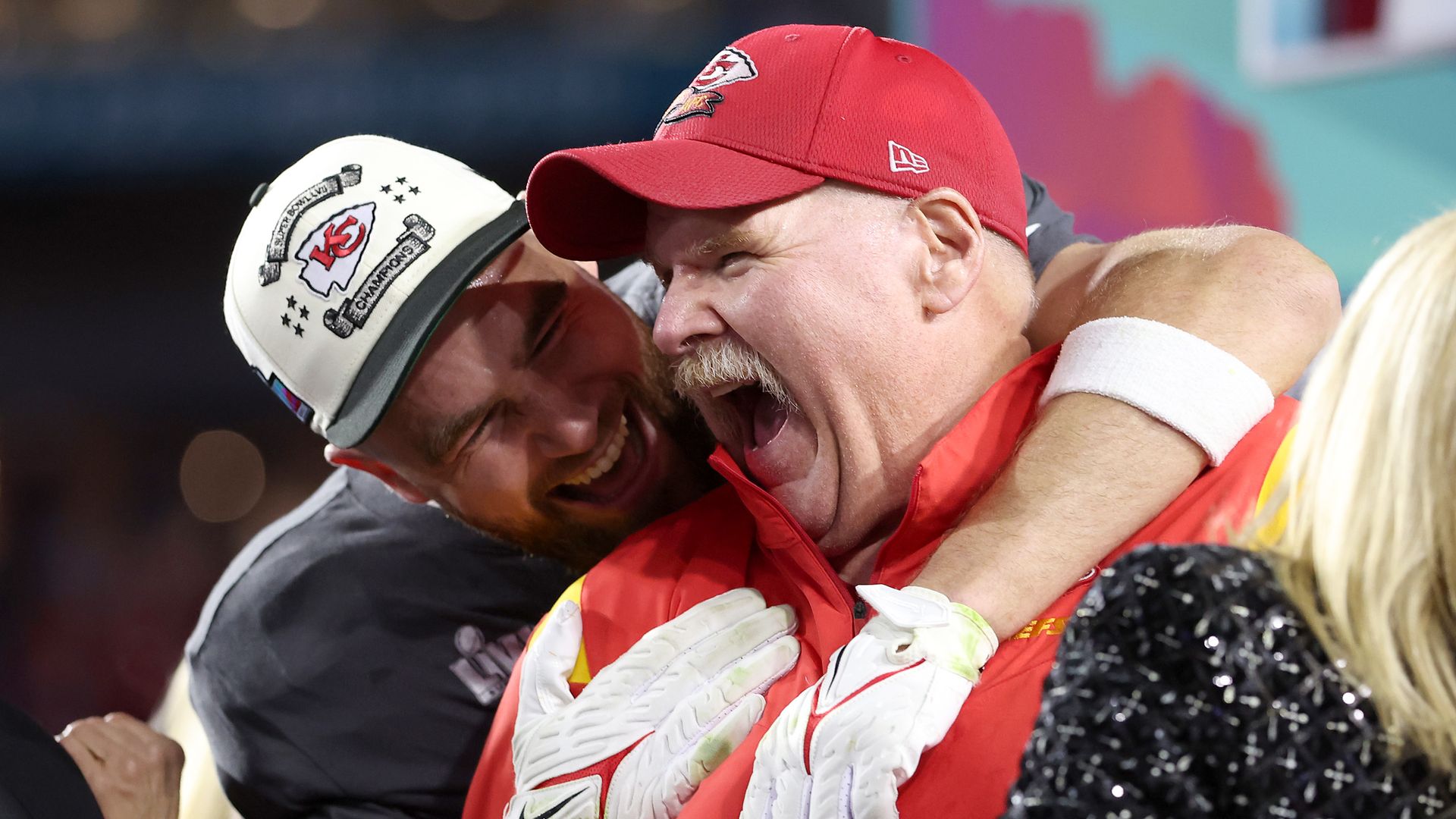 Andy Reid is the fifth head coach to win at least three Super Bowls.
Question: Who are the other four?
Hint: Two are still alive.
Answer at the bottom.
10. 1 big disaster: The $800K field
The NFL spent two years and $800,000 preparing the grass for Sunday's game. It was grown at a local sod farm, installed two weeks ago and rolled out each morning for daily sunshine.
The result: An unmitigated disaster. Players were slipping and sliding all night, forcing Jalen Hurts and others to change cleats. "It was like playing on a water park," said Eagles offensive tackle Jordan Mailata.
The bottom line: Rihanna performing on a platform suspended hundreds of feet in the air was the most stable footing anyone had all night.
Talk tomorrow,
Kendall "Philly will handle this well" Baker
Trivia answer: Bill Belichick (6), Chuck Noll (4), Bill Walsh (3), Joe Gibbs (3)
🙏 Have a great day! Follow us for more (@kendallbaker and @jeffreytracy). Friends can sign up here. Thanks to Carolyn DiPaolo for copy edits.