Axios Sports
September 30, 2019
👋 Happy Monday! Lots to cover this morning. Let's sports...
🏈 Monday Night Football: The Steelers (-3.5) host the Bengals in a matchup of winless rivals. Coverage starts at 8:15pm ET on ESPN.
🏀 WNBA Finals: Elena Delle Donne (22-10-5) led the Washington Mystics past Courtney Williams (26-5-5) and the Connecticut Sun, 95-86, yesterday afternoon to take a 1-0 lead. Game 2 is tomorrow.
Today's word count: 1,569 words (<6 minutes)
1 big thing: ⚾️ 10 teams, 4 weeks, 1 champion
With the 2019 regular season officially in the rearview, one thing is clear: it's been a season of extremes for America's pastime, both in the box scores and the standings:
Box scores: A whopping 15 teams either set or tied their single-season record for home runs, while pitchers obliterated the strikeout record.
Standings: For the second time ever, 4 teams had 100 losses (Tigers, Orioles, Marlins, Royals). And for the first time ever, 4 teams had 100 wins (Astros, Dodgers, Yankees, Twins).
What's next: Those 4 juggernauts, along with the Braves, Cardinals, Athletics, Rays, Nationals and Brewers make up the 10-team postseason field. The action begins tomorrow.
Coming up (full schedule):
Tuesday: Brewers at Nationals (NL Wild Card Game)
Wednesday: Rays at Athletics (AL Wild Card Game)
Thursday: Cardinals at Braves (NLDS); TBD at Dodgers (NLDS)
Friday: Twins at Yankees (ALDS); TBD at Astros (ALDS); Cardinals at Braves (NLDS); TBD at Dodgers (NLDS)
Top 10 players (per MLB.com):
Cody Bellinger, Dodgers
Justin Verlander, Astros
Gerrit Cole, Astros
Alex Bregman, Astros
Anthony Rendon, Nationals
Max Scherzer, Nationals
Ronald Acuña Jr., Braves
Matt Chapman, Athletics
Jack Flaherty, Cardinals
Aaron Judge, Yankees
Go deeper: If you need more baseball and you need it now, scroll to the bottom for a look back at the regular season, along with my AL and NL awards picks.
2. ⛳️ Sports!!!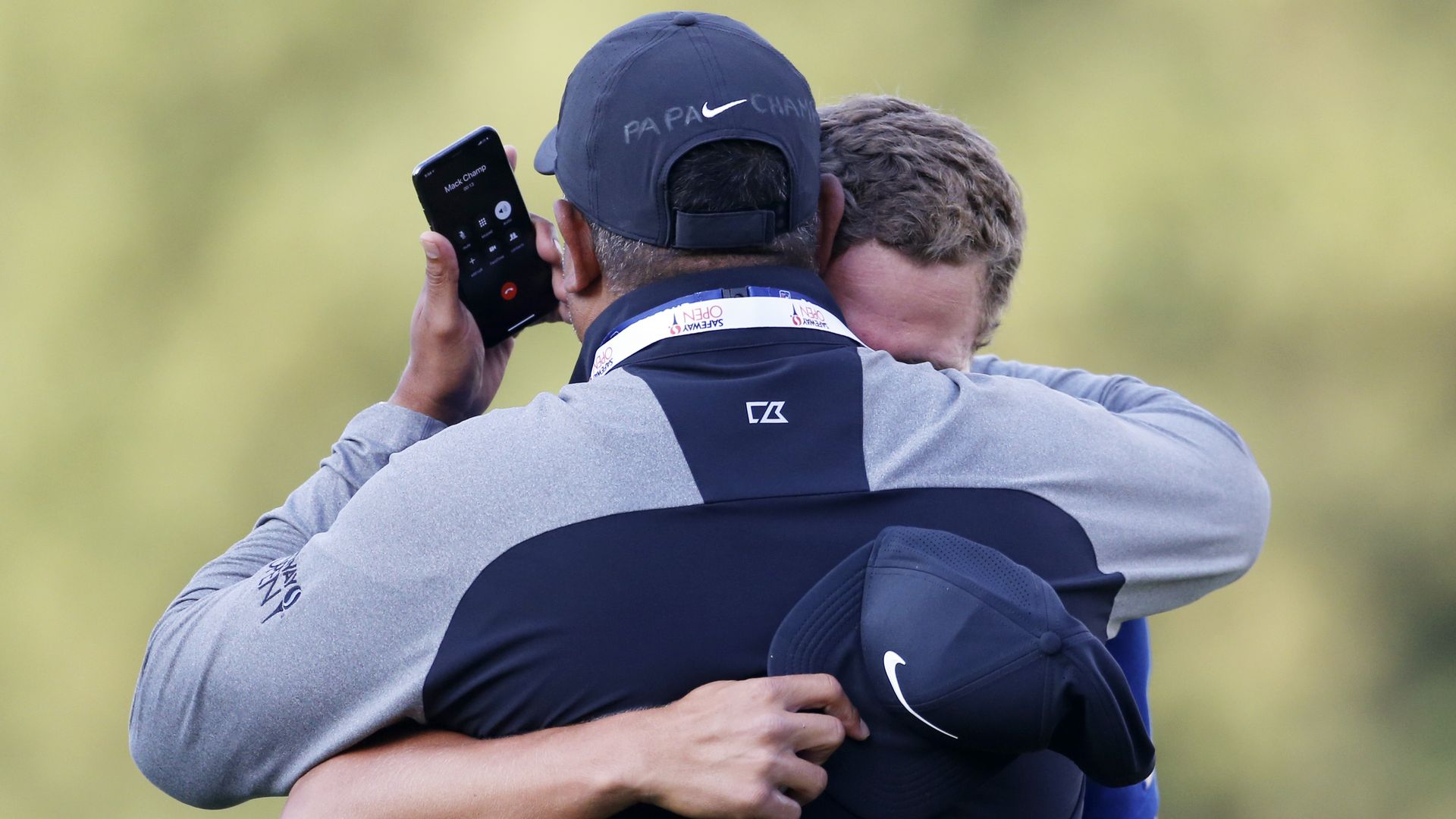 Cameron Champ won the Safeway Open yesterday, completing a 4-day journey at Napa Valley's Silverado Resort that felt like a movie script — as sports often do.
The backdrop: Champ was playing for his grandfather, Mack, who has Stage IV stomach cancer and is currently in hospice care at the Champ family home in Sacramento, just an hour drive from Silverado.
Mack is the one who introduced Cam to the game, and the 24-year-old didn't know the full extent of his grandfather's deteriorating condition until last week.
Highlight: Champ was faced with a birdie putt on 18 to win the tournament, and he sunk it with tears in his eyes. His father, Jeff, immediately ran onto the green to hug his son and handed Cam a cell phone. Mack was on the other end. Sports!!!
"No matter if I win one more tournament, 10 more tournaments, whatever it may be, this will be the greatest moment of my golf career."
— Cam Champ,
via The Golf Channel
P.S. ... You should get to know this kid. Great human, bright future.
Next big thing: Champ impressed as a rookie this past season and is widely hailed as the most promising African-American golfer since Tiger Woods.
Absolute bombs: He led the Tour in average driving distance as a rookie (317.9 yards), beating out second-place Rory McIlroy (313.5) by more than 4 yards.
Go deeper: Cameron Champ is going places his grandfather wasn't allowed (The Undefeated)
3. 🏈 NFL Sunday: By the numbers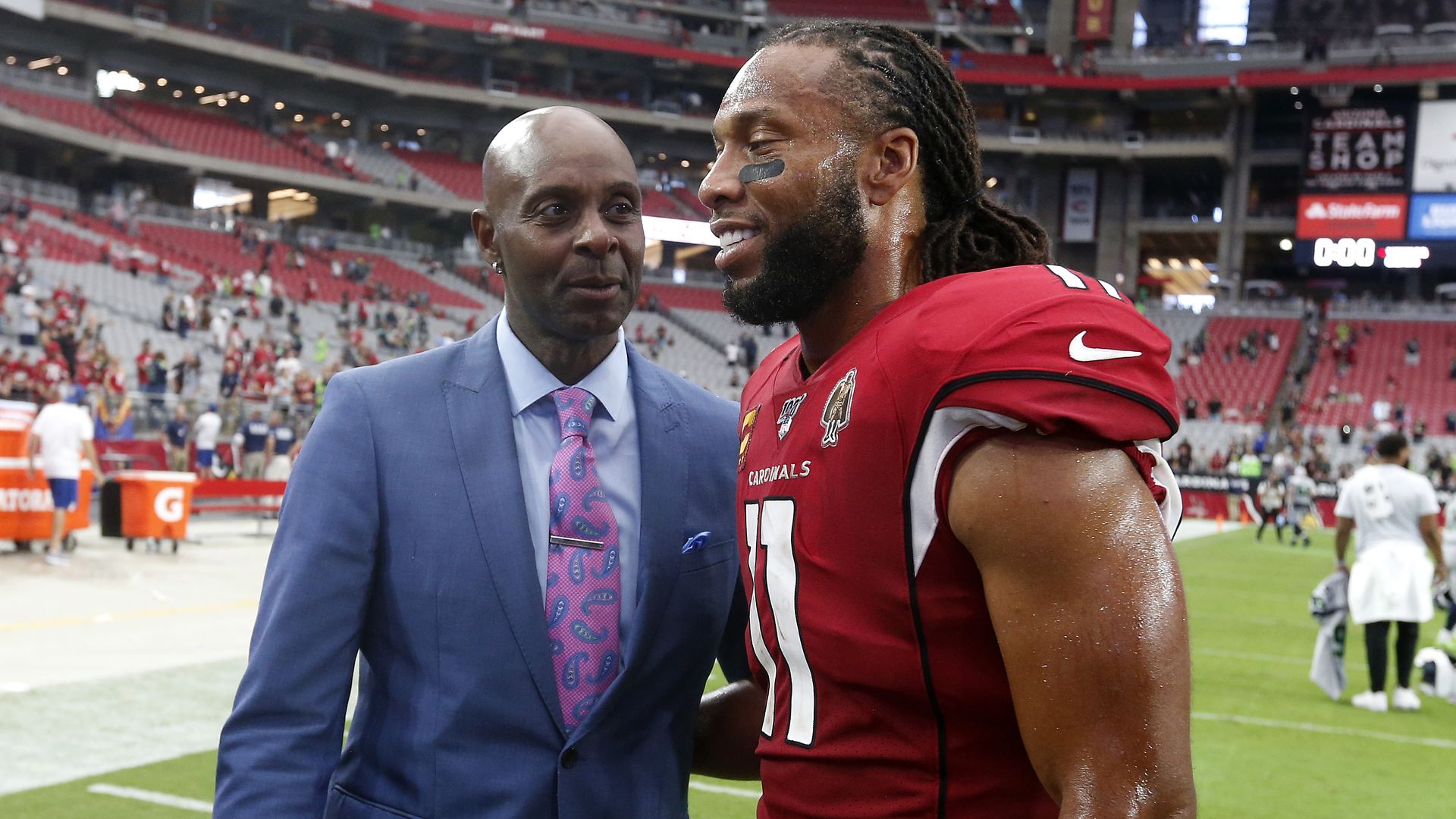 1,326 receptions: Cardinals WR Larry Fitzgerald snatched his 1,326th career catch, moving past Tony Gonzalez for second place all-time behind Jerry Rice (1,549).
15,021 rushing yards: Bills RB Frank Gore became just the 4th player in NFL history to reach 15,000 career rushing yards. The 3 players ahead of him: Barry Sanders (15,269), Walter Payton (16,726) and Emmitt Smith (18,355).
16 wins: He didn't play well in the Pats' 16-10 win over the Bills, but Tom Brady still managed to win his 16th game in Buffalo since 2001. That's 2 more wins than any Bills QB has there in that timespan, which is actually insane. (Drew Bledsoe and Tyrod Taylor are second with 14.)
2-2 record: After 4 weeks, every team in the AFC South (Texans, Colts, Jaguars, Titans) has the same record: 2 wins, 2 losses.
95 points: The Buccaneers and Rams scored a combined 95 points (most this year) in Tampa Bay's stunning 55-40 win. They also combined for 154 plays, 63 first downs, 982 yards and 25 penalties.
14 fumbles in 13 games: After yet another costly fumble, it's time to reopen the discussion that every scout was having prior the 2016 draft: Are Jared Goff's hands too small?
~ 15 years: In his team's 12-10 win over the Cowboys, Teddy Bridgewater became the first Saints QB not named Drew Brees to win a game in the Superdome since Dec. 26, 2004 (Aaron Brooks).
80 sacks: Kyler Murray is on pace to be sacked 80 times, which would break the all-time record set by fellow former No. 1 pick David Carr (76 in 2002).
500 yards allowed: After getting thrashed by Nick Chubb and the Browns, the Ravens defense has now allowed 500 yards in back-to-back weeks for the first time ever. Nobody tell Ray Lewis.
25 points x 25 games: Patrick Mahomes failed to throw a TD pass for just the 3rd time in his career, but the Chiefs still scored 34 points, their 25th straight game with at least 25 points. Wild.
Go deeper:
4. 🏈 AP Top 25: Alabama leapfrogs Clemson
Alabama overtook Clemson for the top spot in this week's AP poll after the Tide steamrolled Ole Miss, while the Tigers were a 2-point conversion away from a colossal upset in Chapel Hill.
Stat of the week: Oklahoma QB Jalen Hurts has recorded a passer rating of at least 245.0 in 4 straight games. Prior to his impeccable run, no FBS player since 1996 had done that more than twice in a season, per The Athletic (subscription).
Team of the week: Wake Forest is ranked for the first time since 2008, ending what was the third-longest top 25 drought among Power 5 schools, behind Indiana (1994) and Purdue (2007).
Story of the week: Do you want to cry? Watch this.
5. 📸 Photos: World Athletics Championships
The world track and field championships are currently underway in Doha, Qatar, where the extreme heat has taken center stage. Some results from the weekend…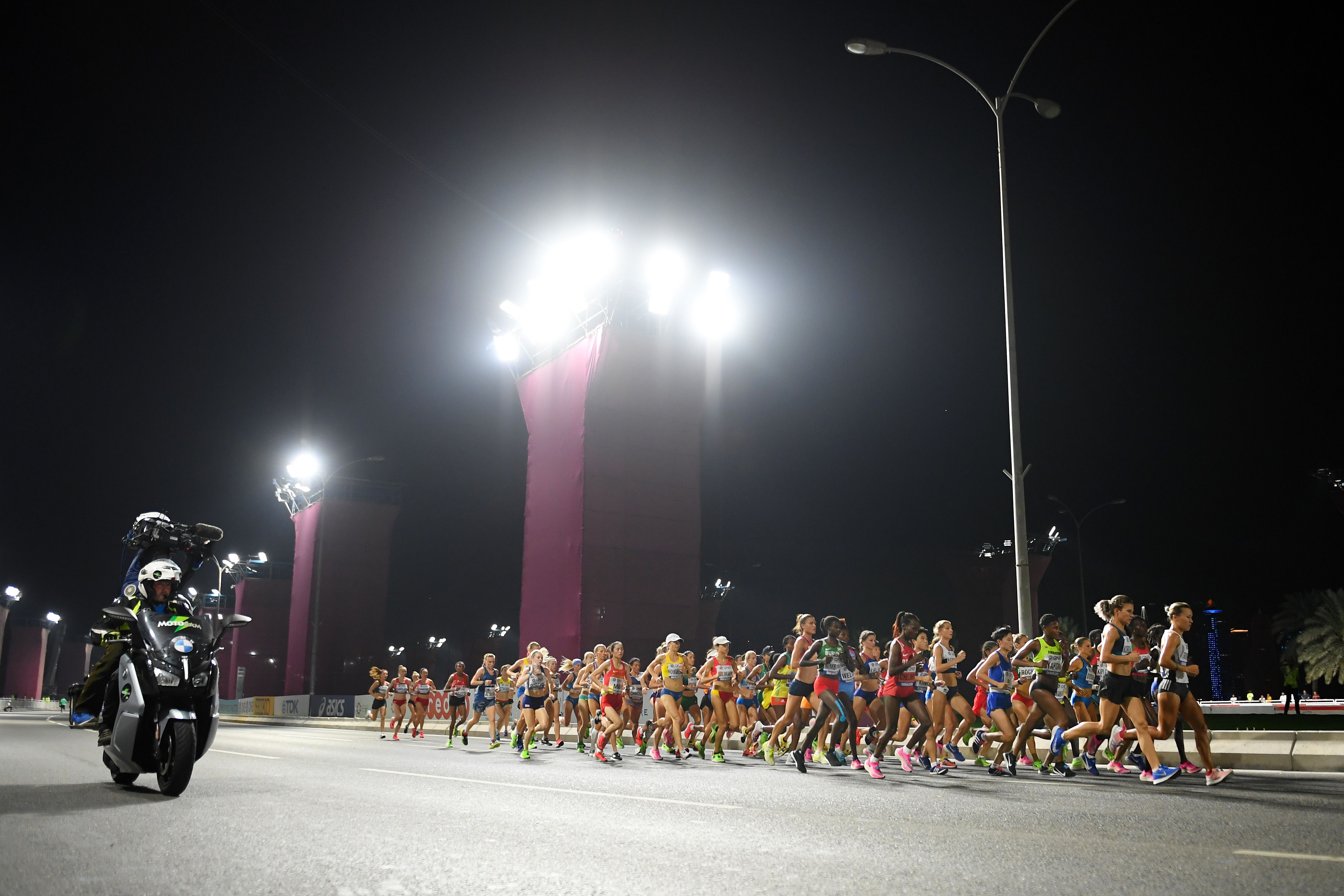 Women's marathon: Temperatures on Friday were so bad that organizers decided to start the women's marathon at midnight. And even then, it was 90°F with 70% humidity.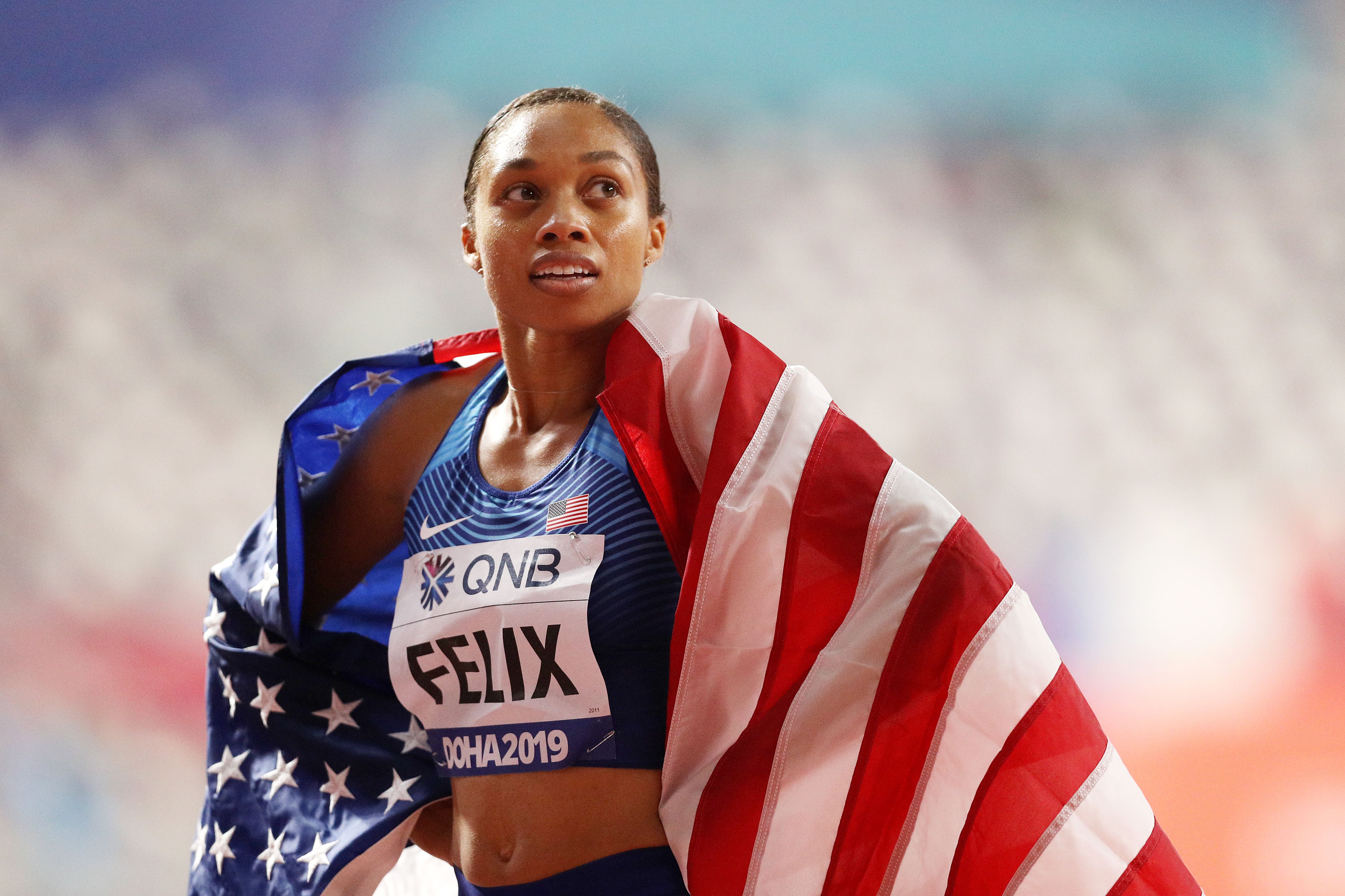 4x400 mixed relay: New mom Allyson Felix helped the U.S. set a new world record in the 4x400-meter mixed relay. It was Felix's 12th gold medal at the world championships, surpassing Usain Bolt for the most all-time.
Speaking of new moms, Jamaica's Shelly-Ann Fraser-Pryce's 2-year-old son Zyon joined her on the track for her victory lap after she won the women's 100-meter in a season-best 10.71 seconds.
Go deeper: Pryce and Felix celebrate victories for equality (LA Times)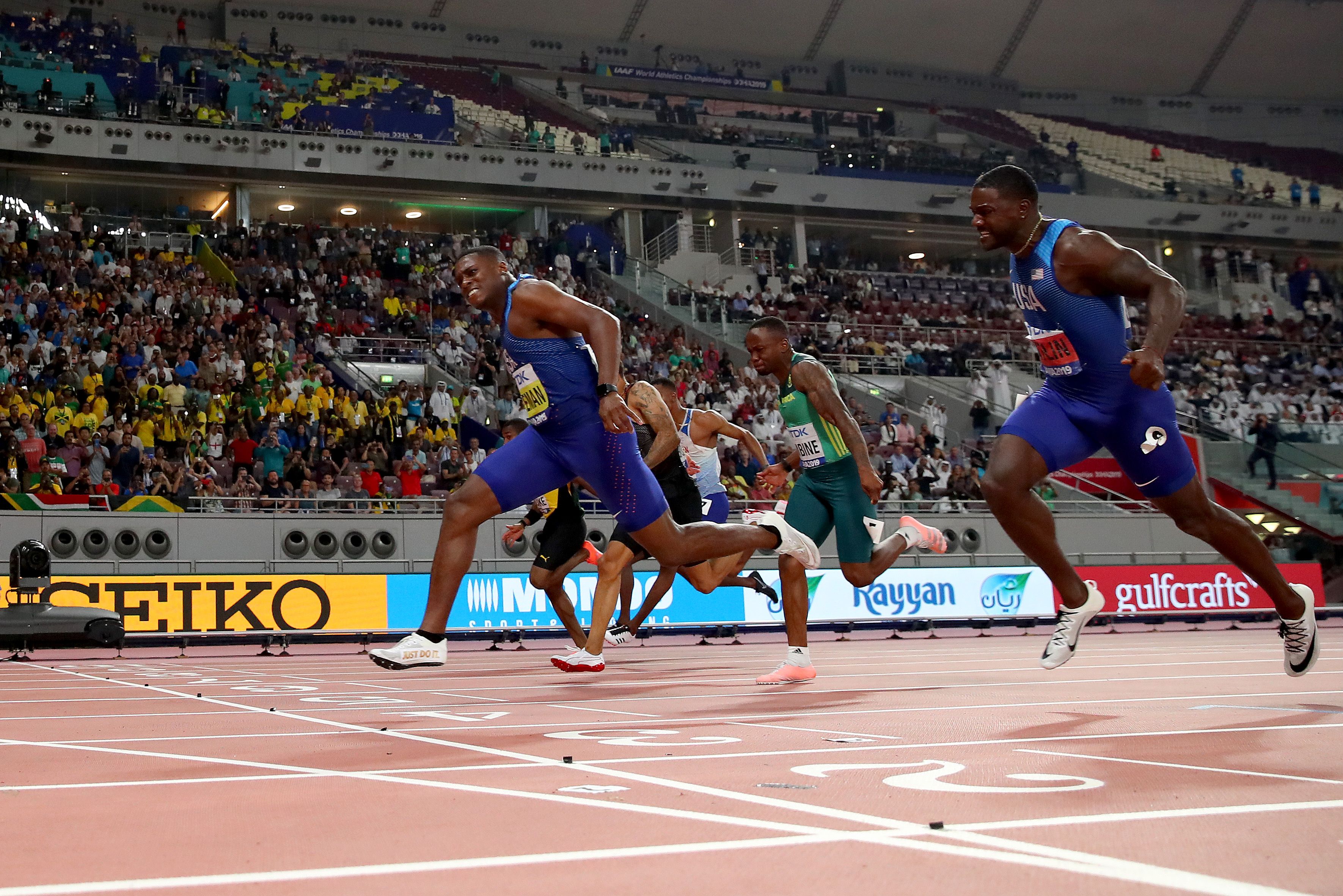 Men's 100-meter: 23-year-old American Christian Coleman won the men's 100-meter final in 9.76 seconds — the best time in the world this year. Fellow American Justin Gatlin placed second (9.89).
Yes, but: Coleman was almost banned from competing after missing 3 drug tests in a single year, so while he's earned the right to be called the fastest man in the world, his victory is shrouded in controversy.
6. Sept. 30, 1939: 🏈 First football game on TV
80 years ago today, Fordham University — a national power at the time — hosted tiny Waynesburg College (now University) in the first football game ever televised.
The backdrop: TV was a sensation at that year's World's Fair in Queens, but it was still very much an experiment and only ~500 people tuned in to see Fordham win 34-7.
The details: The game took place on Randall's Island in New York City and was broadcast on an experimental station called W2XBS, which is now WNBC, NBC's flagship station.
What they were saying:
"When I returned to my home in Youngstown, Ohio, I told my wife about it. She was all excited, asking me what television was and how did it work. Of course, I did not know."
— Game official Jack McPhee
Go deeper: When Fordham introduced football to television (WSJ)
7. 🏈 CFB trivia
Notre Dame picked up the program's 900th win on Saturday with a 35-20 victory over Virginia.
Question: Can you name the other 6 FBS schools in the 900-win club?
Hint: Big Ten (3), Big 12 (2), SEC (1).
Answer at the bottom.
8. Spikeball Week: 🏐 How to play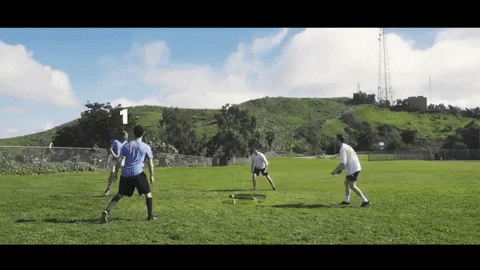 With the Spikeball Nationals coming up this weekend in Richmond, Va., we'll be spending the next few days examining the popular lawn game/sport and its surprisingly vibrant pro circuit.
How to play: Spikeball is played 2 vs. 2. To start a point, the serving team hits the ball down onto the net so that it ricochets up at their opponents.
3 touches: The returning team has up to 3 alternating hits (think bump, set, spike) to return the ball back onto the net. If a team fails to return the ball, the rally ends and the other team gets a point.
No boundaries: After the serve, players can move anywhere around the net to play the ball. If a defender impedes or collides with an offender, the infracted player can demand a replay of the point.
Scoring: Points are scored when the ball hits the rim, the ground, or bounces more than once on the net. Games are typically played to 11, 15 or 21 and must be won by 2 points.
Go deeper:
9. ⚾️ AL in review
The American League featured plenty of boom and bust. The only race that came down to the wire was the wild card, where the Rays and A's beat out the Indians.
My awards picks:
MVP: Mike Trout, Angels (runner-up: Alex Bregman, Astros)
Cy Young: Gerrit Cole, Astros (Justin Verlander, Astros)
Rookie of the Year: Yordan Alvarez, Astros (John Means, Orioles)
Manager of the Year: Aaron Boone, Yankees (Rocco Baldelli, Twins)
10. ⚾️ NL in review
The National League was much more competitive. The East provided drama all season, the wild card race was wild and the Cardinals didn't clinch the Central until yesterday.
My awards picks:
MVP: Cody Bellinger, Dodgers (runner-up: Christian Yelich, Brewers)
Cy Young: Jacob deGrom, Mets (Max Scherzer, Nationals)
Rookie of the Year: Pete Alonso, Mets (Mike Soroka, Braves)
Manager of the Year: Craig Counsell, Brewers (Mike Shildt, Cardinals)