👋 Good morning! The Packers host the Eagles at 8:20pm ET tonight (Fox, NFLN, Amazon).
Today's word count: 1,475 words (5 minutes)
1 big thing: 🏉 Rugby, explained
If there was ever a time to familiarize yourself with rugby, it's now. The 2019 Rugby World Cup is in full swing, and the U.S. and England are facing off as we speak (6:45am ET, NBCSN). Let's see what I can do with 450 words...
How it works: The object of rugby is to score more points than the opposing team by doing things like carrying the ball over their goal line and kicking the ball through their goal posts.
You can run forward with the ball, but you can only pass it backwards or sideways.
You can also kick the ball. It can travel forward, but any teammates in front of it when it gets kicked are considered offside until the kicker or another teammate runs ahead of them.
Details: Each team has 15 players and up to 7 subs; Two 40-minute halves; The field is a little over 100 yards long and 70 yards wide; Like soccer, referees can issue penalty cards (yellow, red).
How to score:
Try (5 points): A try is scored when a player touches the ball down inside the opponents' in-goal area (basically an end zone).
Conversion (2 points): After scoring a try, that team can add 2 more points by kicking the ball between the goal posts and over the crossbar from a spot in line with where the try was scored.
Penalty (3 points): When awarded a penalty after the opponent commits a foul, a team may choose to kick the ball between the goal posts.
Drop goal (3 points): Teams can also kick the ball between the goal posts at any time during open play. To do this, a player must drop the ball on the ground and kick it on the half-volley.
Open play:
The tackle: When brought to the ground, the ball carrier must release the ball, the tackler must release the ball carrier and they both must roll away from the ball to allow others to come in and contest for it.
The ruck: A tackle typically results in a "ruck," in which both teams compete for the ball. Players aren't allowed to handle the ball and must use their feet or dive over it so that it emerges behind the pile, at which point it can be picked up.
The maul: This is essentially a ruck while standing up. The ball carrier is standing up and at least one opposition player and one of his teammates are holding onto him.
Restarts:
The scrum: This happens after a minor infringement (i.e. forward pass) or if the ball becomes unplayable in a ruck or maul. The forwards on both teams line up and push against each other while the ball is rolled between them.
The lineout: To restart play after the ball leaves the field, teams line up about a yard apart while the ball is thrown between them. Players are allowed to lift teammates up to gain possession.
Go deeper: Rugby underdogs again, the U.S. team hopes to turn a corner (NYT)
2. 🍾 Cue the champagne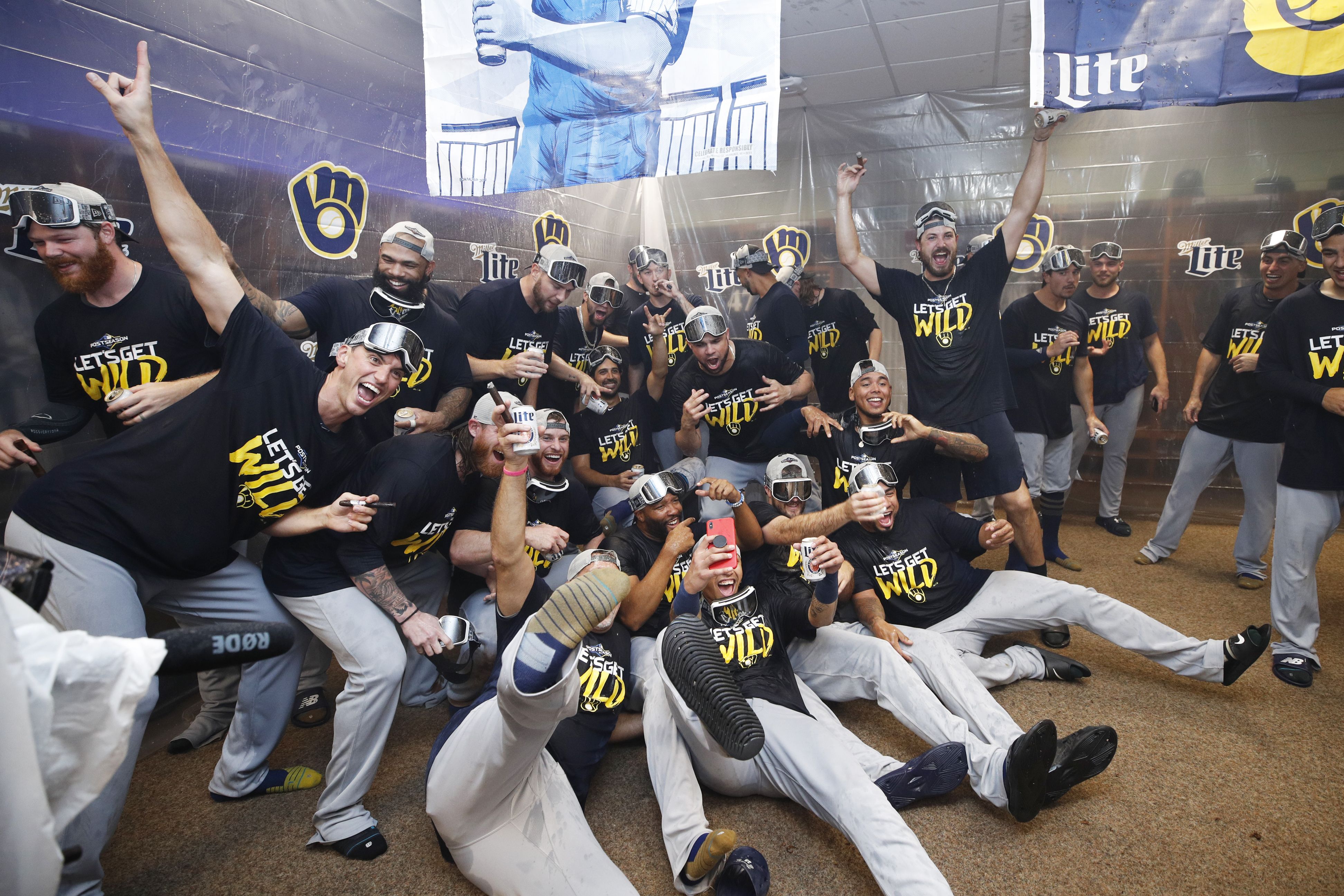 Photo: Joe Robbins/Getty Images
CINCINNATI — On Sept. 5, the Brewers were 7.5 games behind the first-place Cardinals in the NL Central and 5 games behind the Cubs for the second wild card. Their playoff odds? 3.1%.
19 games and 17 wins later, the Brewers not only clinched a playoff spot by beating the Reds last night, but they're now just 1.5 games behind the Cards for the division lead. Absolutely incredible.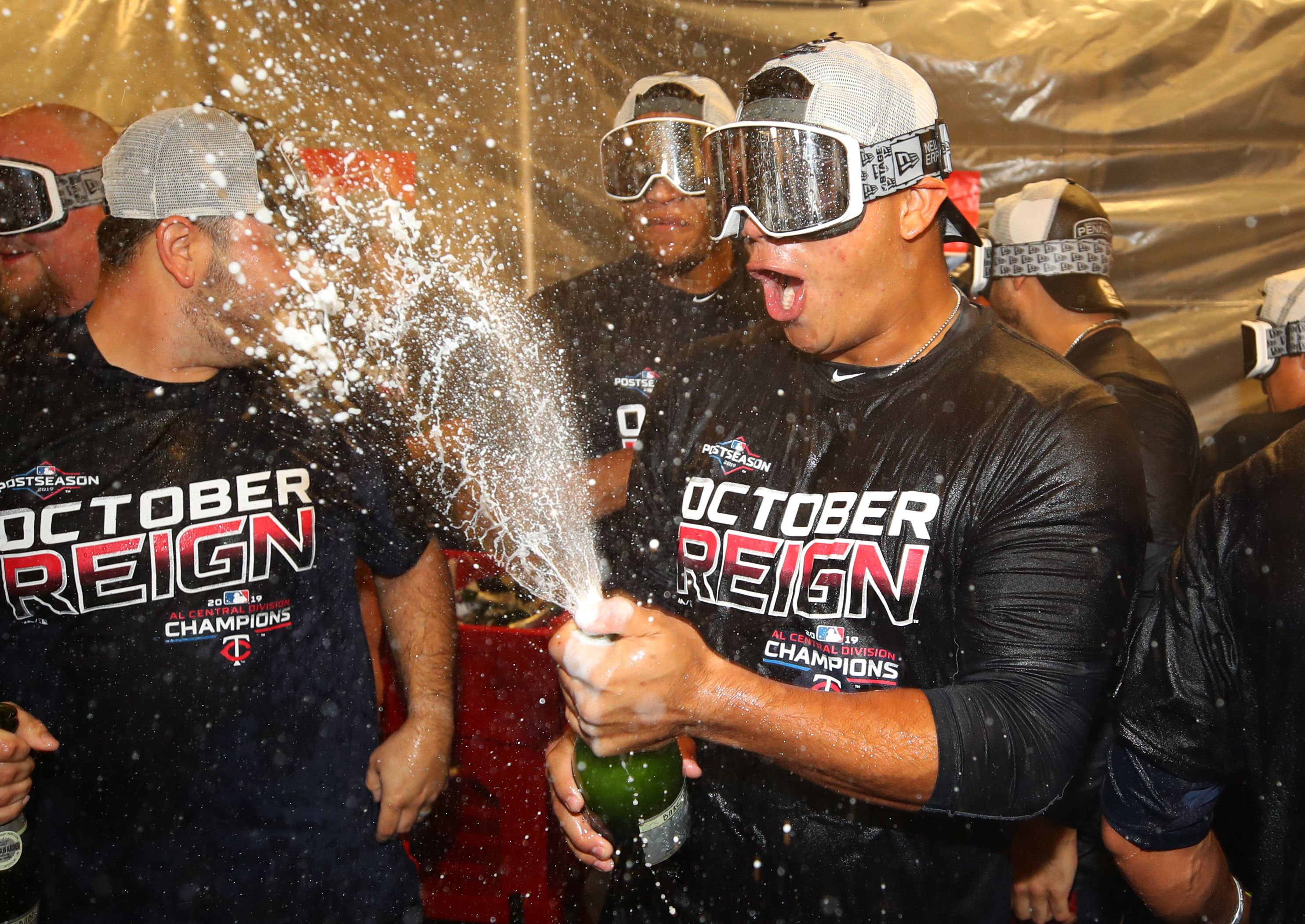 Photo: Gregory Shamus/Getty Images
DETROIT — Thanks to their win over the Tigers and the Indians' loss to the White Sox, the Twins clinched their first AL Central title since 2010 last night in the Motor City.
By the numbers: After being out-homered by their opponents in 26 of the past 27 seasons, the Twins obliterated the single-season HR record this year (tied with the Yankees for the major league lead with 299).
3. 🏈 NFL: By the numbers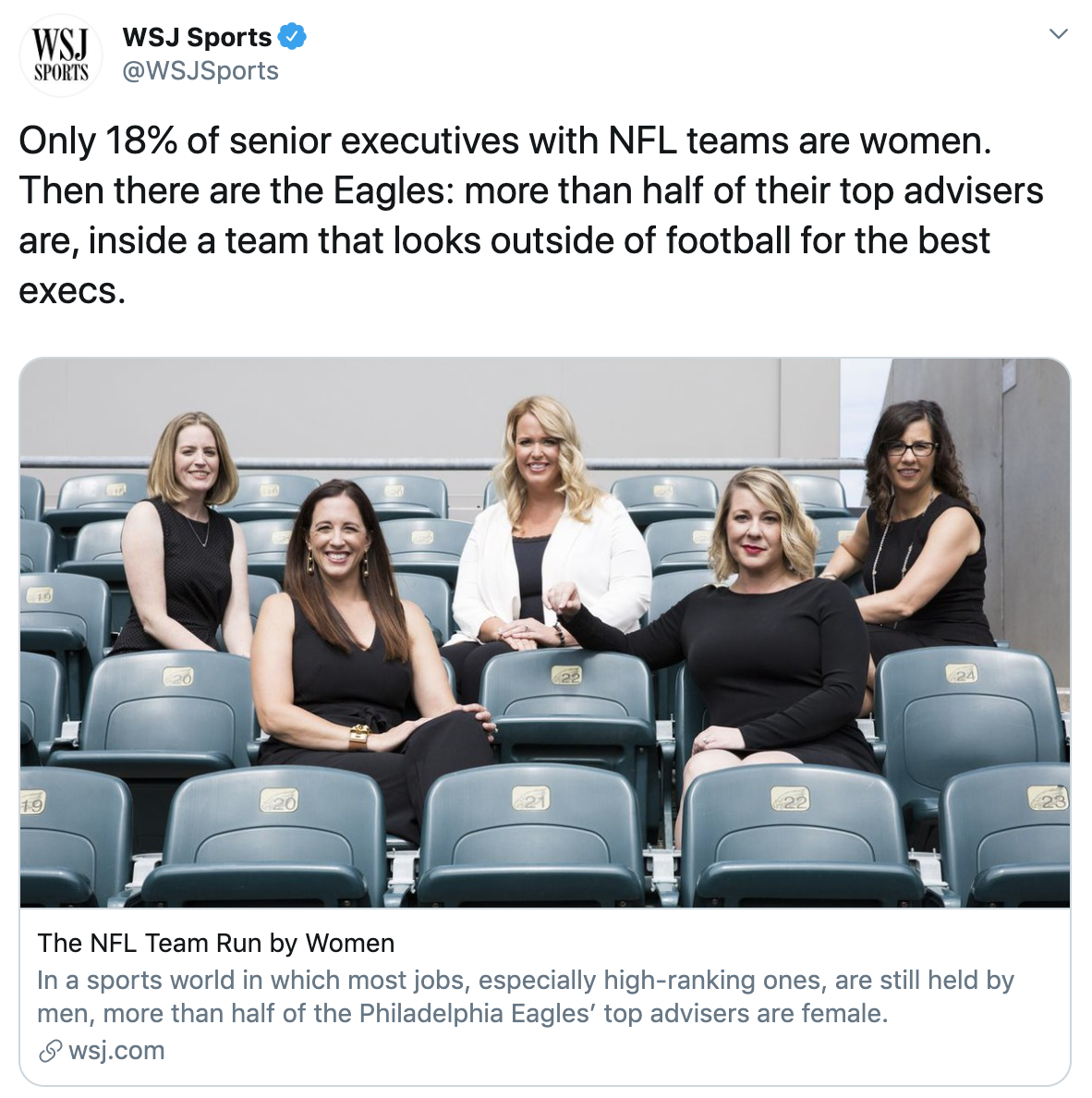 Screenshot: @WSJSports (Twitter)
18% of senior execs
Women make up just 18% of all senior executives with NFL teams. But in Philadelphia, they make up more than half of Eagles owner Jeffery Lurie's top advisers, per WSJ (subscription).
The big picture: "Part of achieving this mix ... involved doing something radical in the insular world of football: hiring people from outside football." After all, "there's a growing body of research that indicates that diversity at the upper tiers of management is the best way to run any business."
$1.2 million fine
Melvin Gordon will reportedly return to the Chargers today, ending a 2-month-long contract holdout that showed just how little leverage a running back has in today's NFL.
Fines incoming: "Gordon will be subject to $1.2 million worth of fines while losing out on $989,118 worth of base salary [and] the Chargers will seek to collect that money," per ESPN.
6,373 passing yards
Last year, Patrick Mahomes threw 50 TD (tied for second-most ever) and became the 7th QB in history to exceed 5,000 passing yards. This year, he's on pace for 53 TD and a record-smashing 6,373 passing yards.
4. 🏟 Stadium concessions, minus the long wait in line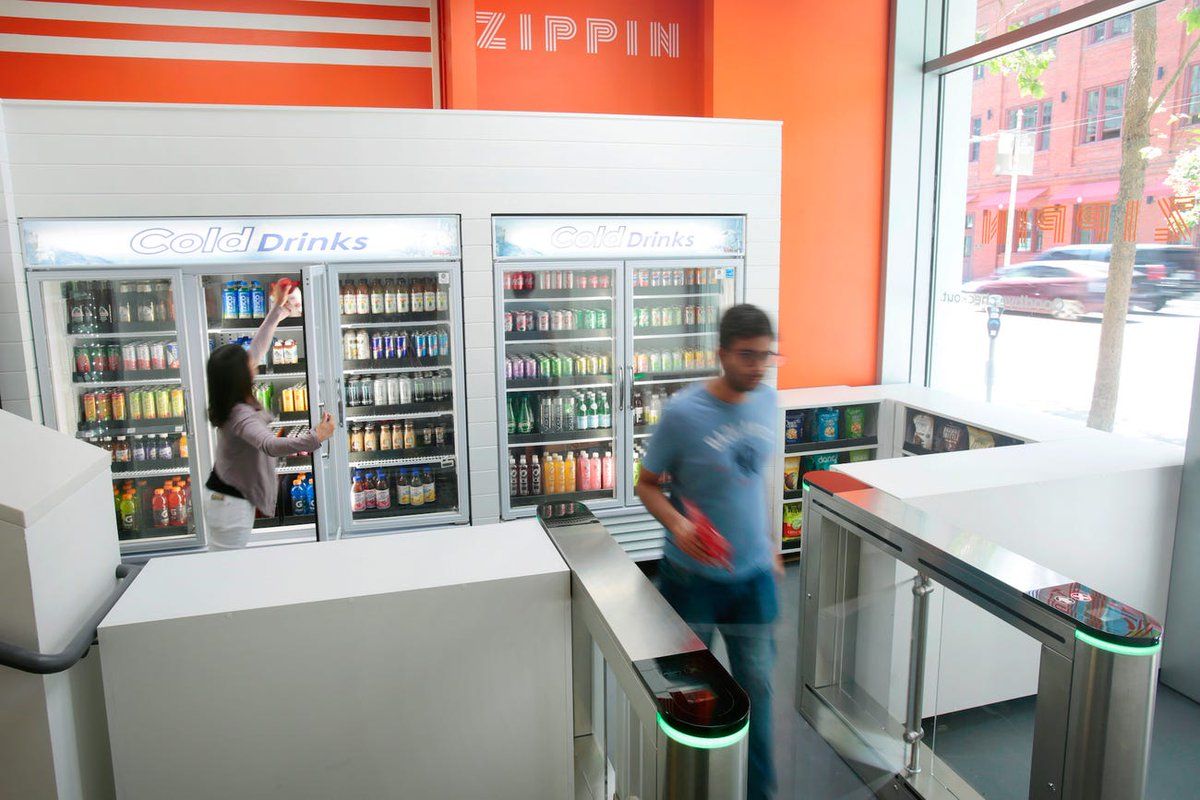 Courtesy: Sacramento Kings
Golden 1 Center, home of the Sacramento Kings, is debuting the world's first in-arena checkout-free convenience store this season. Fans will be able to grab beer and food in seconds — and walk out without waiting in line.
5. ⚽️ MLS playoff picture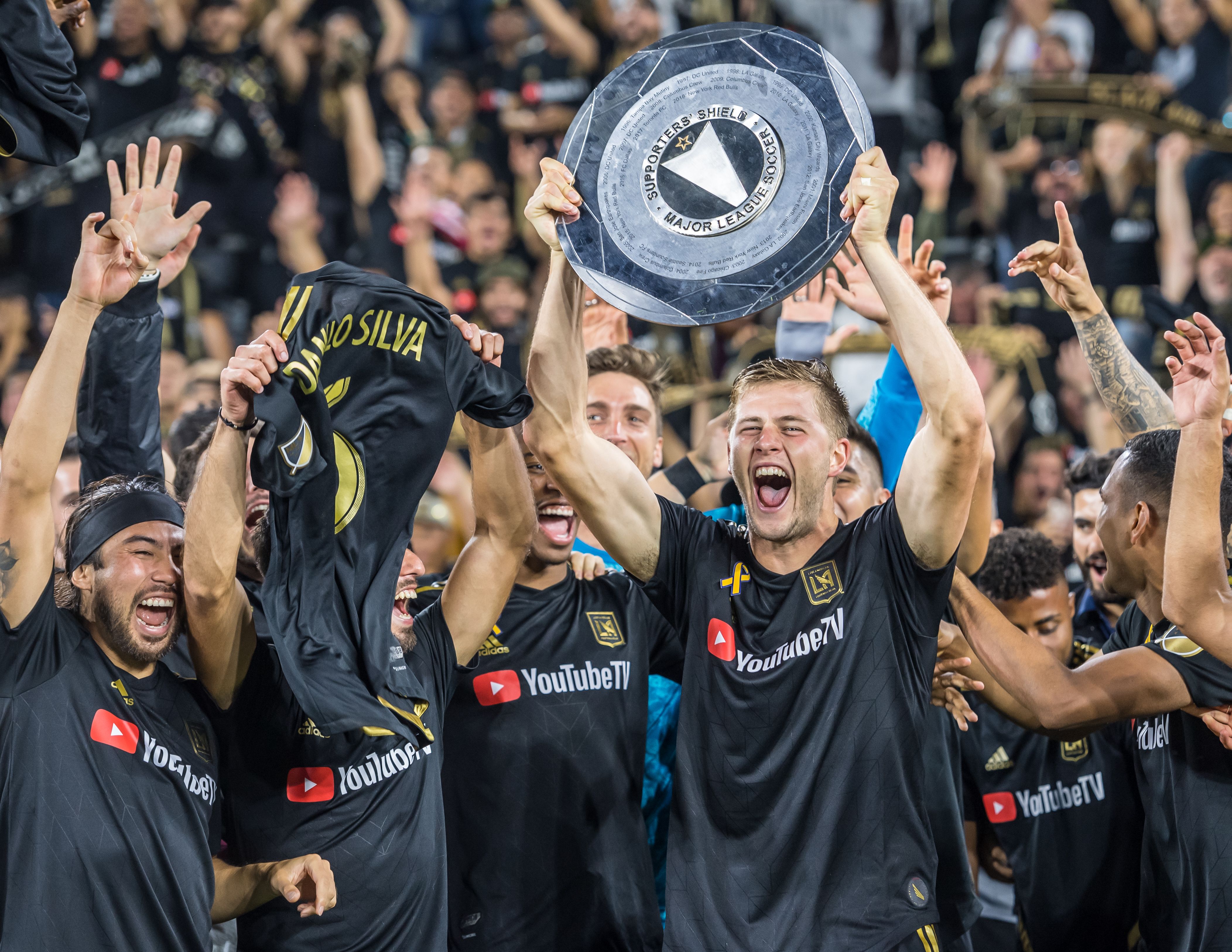 Photo: Shaun Clark/Getty Images
In just its second year as an MLS franchise, LAFC clinched the 2019 Supporters' Shield (league's best record) with a 3-1 win over the Houston Dynamo last night.
Why it matters: By virtue of having the league's best record, LAFC won't have to play a single road game in the playoffs. They also have a first-round bye thanks to winning the Western Conference.
By the numbers: With 2 games left, LAFC needs just 4 points (a win and a tie) to break the single-season points record (71). Meanwhile, captain Carlos Vela needs just 2 goals to break Josef Martinez's record (31), which he set last year.
The backdrop: Supporters' Shield winners this decade: LAFC (2019), New York Red Bulls (2013, 2015, 2018), Toronto FC (2017), FC Dallas (2016), Seattle Sounders (2014), San Jose Earthquakes (2012), LA Galaxy (2010, 2011).
The playoff picture: 14 of the league's 24 teams make the playoffs, up from 12 last year. Each conference is seeded Nos. 1–7 and the top seed gets a first-round bye. Here's where things stand following last night's full slate...
Western Conference:
LAFC: 65 points (clinched bye)
Minnesota United: 52 (clinched)
LA Galaxy: 51 (clinched)
Seattle Sounders: 50 (clinched)
Real Salt Lake: 47
Portland Timbers: 45
FC Dallas: 45
8–12:
Still alive: San Jose Earthquakes (44), Colorado Rapids (39)
Eliminated: Houston Dynamo (37), Sporting Kansas City (37), Vancouver Whitecaps (31)
Eastern Conference:
NYCFC: 61 points (clinched)
Philadelphia Union: 55 (clinched)
Atlanta United: 54 (clinched)
D.C. United: 48 (clinched)
New York Red Bulls: 47 (clinched)
Toronto FC: 46 (clinched)
New England Revolution: 42
8–12:
Still alive: Chicago Fire (38), Montreal Impact (37), Orlando City (36)
Eliminated: Columbus Crew (35), FC Cincinnati (22)
Go deeper: How the playoff races are shaping up in Week 30 (MLS)
6. Sept. 26, 1961: ⚾️ Roger Maris hits No. 60
58 years ago today, Roger Maris hit his 60th HR of the season, tying Babe Ruth's all-time record.
5 days later, he hit No. 61 to break the record in the very last game of the season. (Fun fact: Due to a tie, the Yankees played 163 games that year.)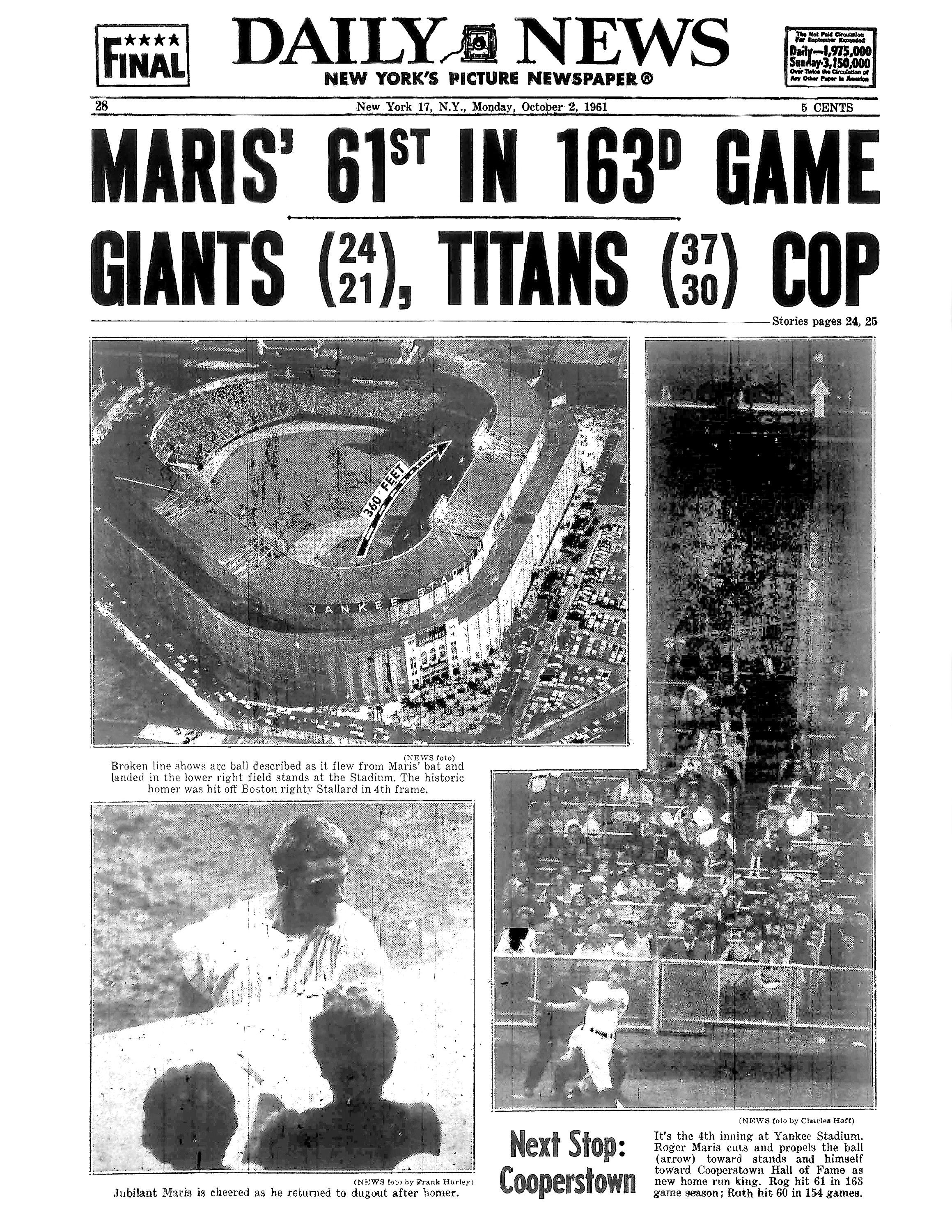 Photo: NY Daily News Archive via Getty Images
Travel back in time: It always blows my mind how you can basically find footage of anything on the internet. God bless you, YouTube. God bless you...
7. 🏈 NFL trivia
Question: Who currently leads the NFL in rushing yards?
Hint: ACC.
Answer at the bottom.
8. The Ocho: 🤖 Sumo bots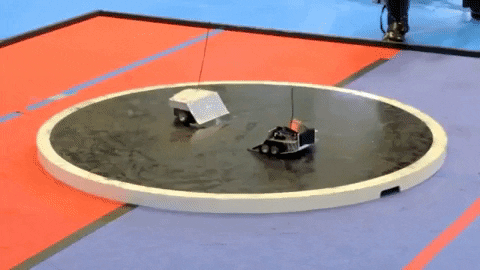 If the next "Star Wars" movie doesn't include a duel between 2 of those toaster-looking droids in the back of a dimly-lit bar with some weird-looking aliens gambling their spaceships on the outcome, I won't be mad at J.J. Abrams — just disappointed.
9. 📚 Good reads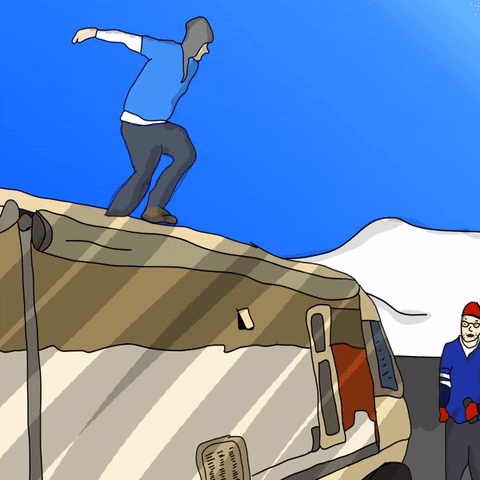 🏈 The unexplainable, undeniably entertaining rituals of the Bills mafia (John Gonzalez, The Ringer)
"The Buffalo teams of the past few decades have lost a lot of games, but instead of inspiring apathy or outrage, they've spawned a dedicated and deeply weird group of partisans who drink alcohol out of bowling balls, jump through tables, and spray ketchup on each other, all in the name of good fun."
👟 Can Jordan Brand make us care about a non-MJ sneaker? (Wosny Lambre, The Athletic)
"Jordan Brand has consistently bricked its attempts at launching culturally relevant signature shoe lines for over a decade now, but in Zion Williamson, it has its easiest layup to date."
🏒 From mascot to meme to megastar: How Gritty took over the world (Barry Melrose, ESPN)
"Here's an oral history of how the new king of Philly ascended to the mascot throne and went from getting roasted to being the toast of the sports world."
10. ⚾️ Chart du jour
This season, MLB obliterated the record for home runs — and just set the single-season strikeout record for the 12th straight season. Welcome to the new normal.
See you tomorrow,
Kendall "Barry Melrose writes words?" Baker
Trivia answer: Vikings RB and former FSU star Dalvin Cook (375 yards)