Axios Sports
July 12, 2019
👋 Good morning from Washington, D.C., where I'm in town for our Axios retreat.
10am ET: Nadal vs. Federer. YES.
Today's word count: 1,544 words (~6 mins)
1 big thing: 🏏 Cricket, explained
England and New Zealand will go head-to-head in the Cricket World Cup Final on Sunday, with both countries looking to win their first ever world title.
Knowing next to nothing about cricket, we spent the last couple days educating ourselves so that we could, in turn, educate you. Hope you find it useful.
The basics: Cricket is played with two teams of 11 players that take turns batting and playing the field. Like baseball, the objective is to score more runs than the opposing team.
The field: A cricket field is made up of a large grass oval with a 66-foot-long playing area, or "pitch," in the middle. While a baseball field has boundaries that determine fair vs. foul, in cricket, the entire field is in play.
Wickets: On both ends of the pitch are wickets, which are made up of three wooden poles called "stumps" and connected on top by two horizontal wooden pieces called "bails." (see illustration below)
The batting team sends out two batsmen who always work in pairs. Their job is to score runs and defend their wickets, and they continue hitting until they get out.
If the batsman hits the ball and both he and the non-striking batsman safely run to the opposite crease, this scores one run. They try to do this as many times as possible, scoring a run each time.
If the batsman hits the ball and it reaches the boundary (aka, outfield fence) on the ground, this automatically scores four runs (no running required).
If the batsman hits the ball and it reaches the boundary on the fly (aka, a home run), this automatically scores six runs.
If the bowler bowls the ball too high, too wide or throws a "no-ball" (an illegal bowl of any kind), this automatically scores one run.
The fielding team puts all 11 players on the field, one of whom is designated as the bowler (aka, pitcher). The five main ways to get a batsman out:
Bowled out: If the bowler bowls the ball and it knocks over either a stump or a bail, the batsman has been bowled out.
Caught out: If the batsman hits the ball in the air and a fielder catches it, he's been caught out.
Run out: If a batsman runs for his partner's crease and the ball is thrown into the wickets before he gets there, he's been run out.
Leg before wicket (LBW): If the ball hits the batsman's leg and the umpire thinks it would have hit the wickets if his leg wasn't in the way, he's ruled out.
Stumped out: If the batsman swings and misses and the wicket keeper (aka, catcher) catches the ball and pushes it into the wickets before the batter can return to the crease, he's been stumped out.
Game format: After six bowled balls (aka, an "over"), the field of play flips (the pitch is symmetrical so you can play in either direction) and the bowler changes.
Cricket formats vary, but in the World Cup, an "inning" ends after 50 overs — or when the batting team has batted through the order. Once both teams have batted, the game ends and the team with the higher score wins.
BONUS: 🏏 Here's what a wicket, bat and ball look like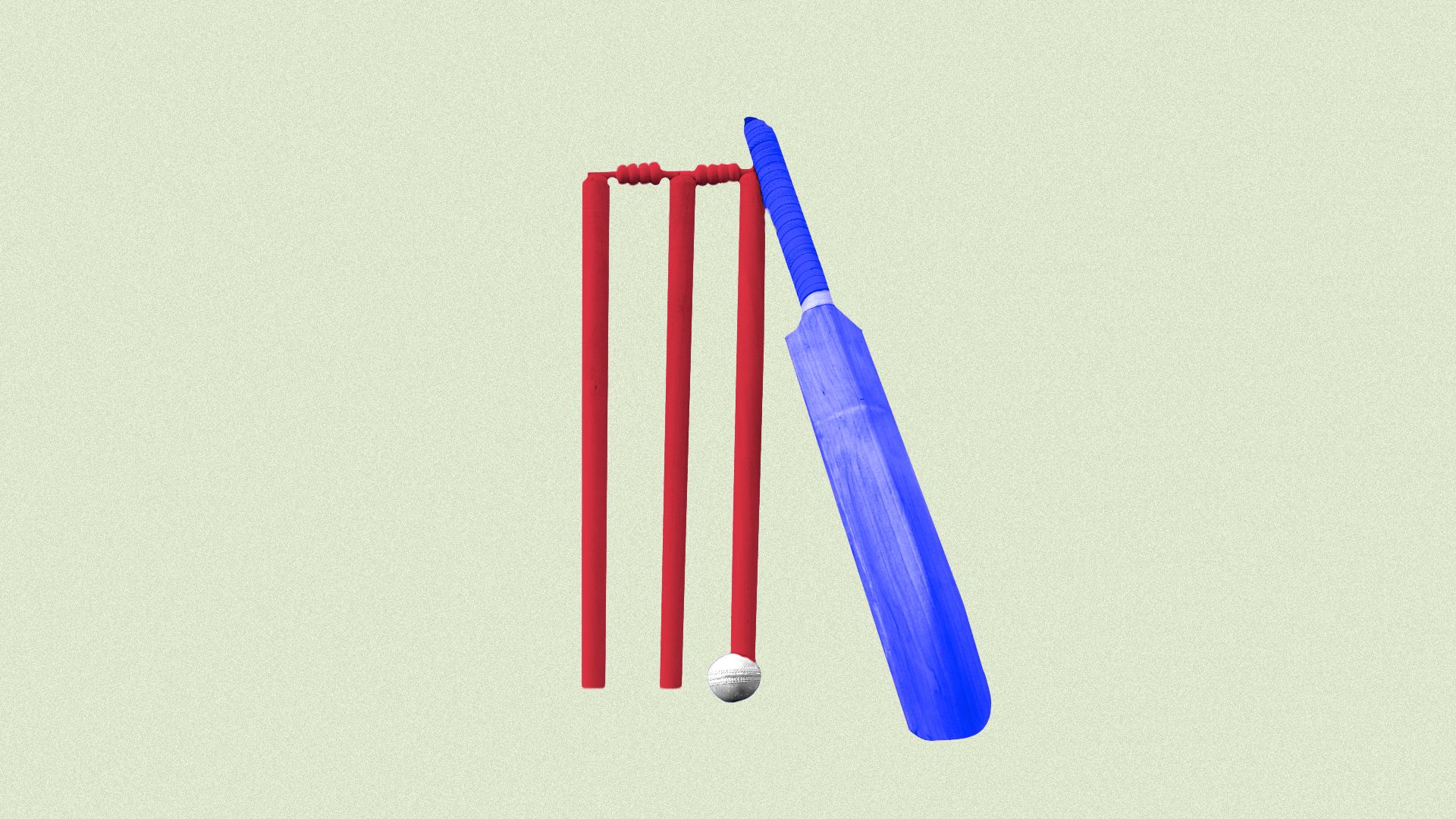 And here's an awesome episode of Netflix's "Patriot Act" that examines how cricket has evolved from a sport of British colonizers into a tool of diplomacy.
It also gets into how much cricket has grown in India thanks to the flashy Indian Premier League, which was founded by a guy who is now a wanted fugitive living in exile in London. Like I said, awesome episode.
2. 🏈 NFL owners still pushing for 18-game season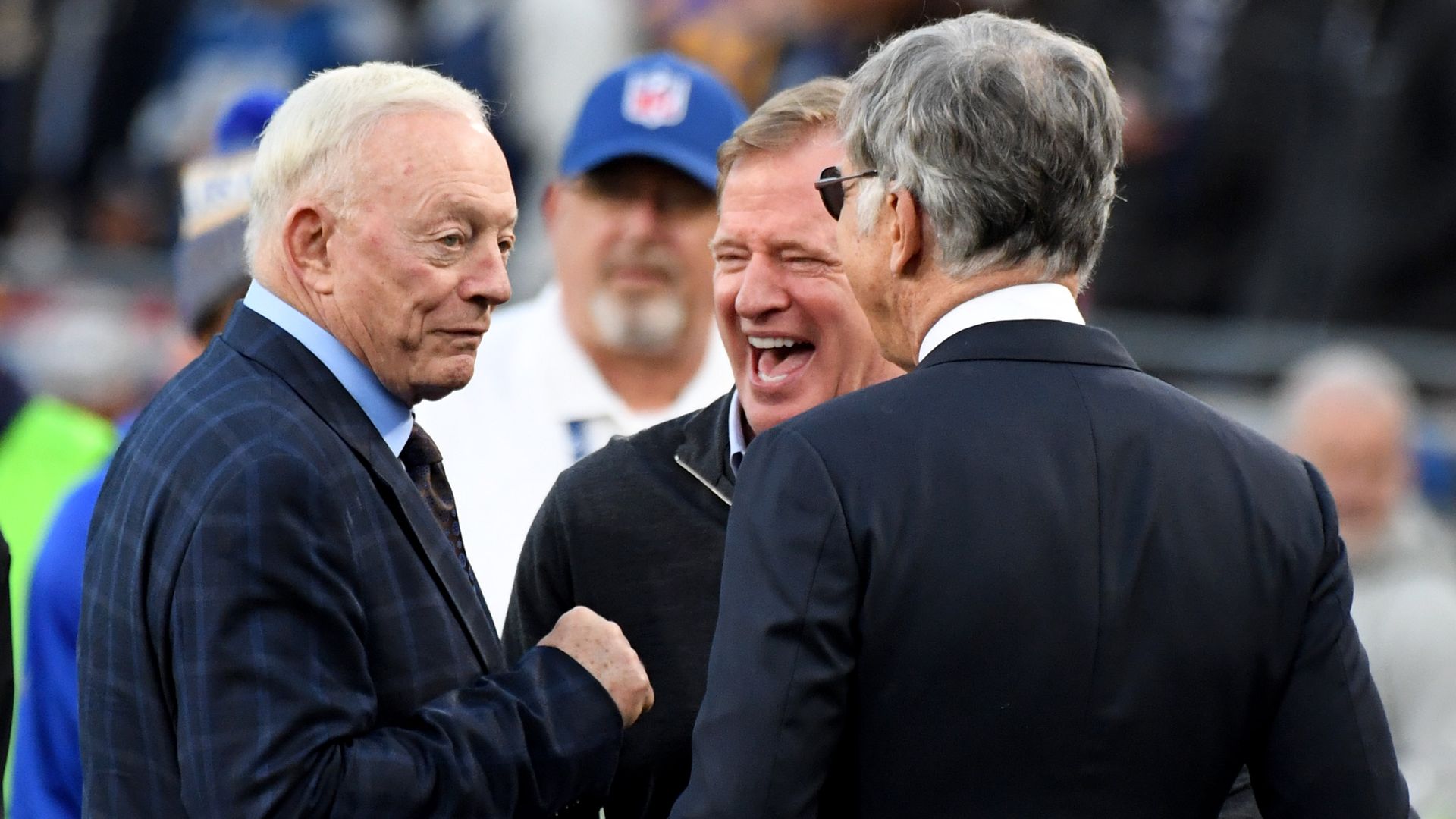 With the NFL and its players union in the midst of negotiating a new collective bargaining agreement, owners continue to push for an 18-game regular season.
Why it matters: The NFLPA estimates that an additional two games could add as much as $2.5 billion in annual revenue, which would, in turn, add ~$15 million to the salary cap.
"Across the league's 32 teams, that has the potential to put nearly half a billion dollars in the hands of players annually," writes WSJ's Andrew Beaton (subscription).
Yes, but: The players are pushing back mainly due to injury concerns.
The additional two games would reduce the average career span from 3.3 years to 2.8 years, according to the NFLPA's estimates, which is significant because players don't become eligible for post-career benefits until they've played for three years.
One potential solution that the owners have proposed is to play 18 games but only allow each player to play in 16 of them … which is maybe the dumbest idea I've ever heard and such a blatant way to make more money while diluting the product. I can't even take it seriously.
The bottom line: This debate isn't going anywhere so get used to it.
3. 🏀 Russell Westbrook is now a Houston Rocket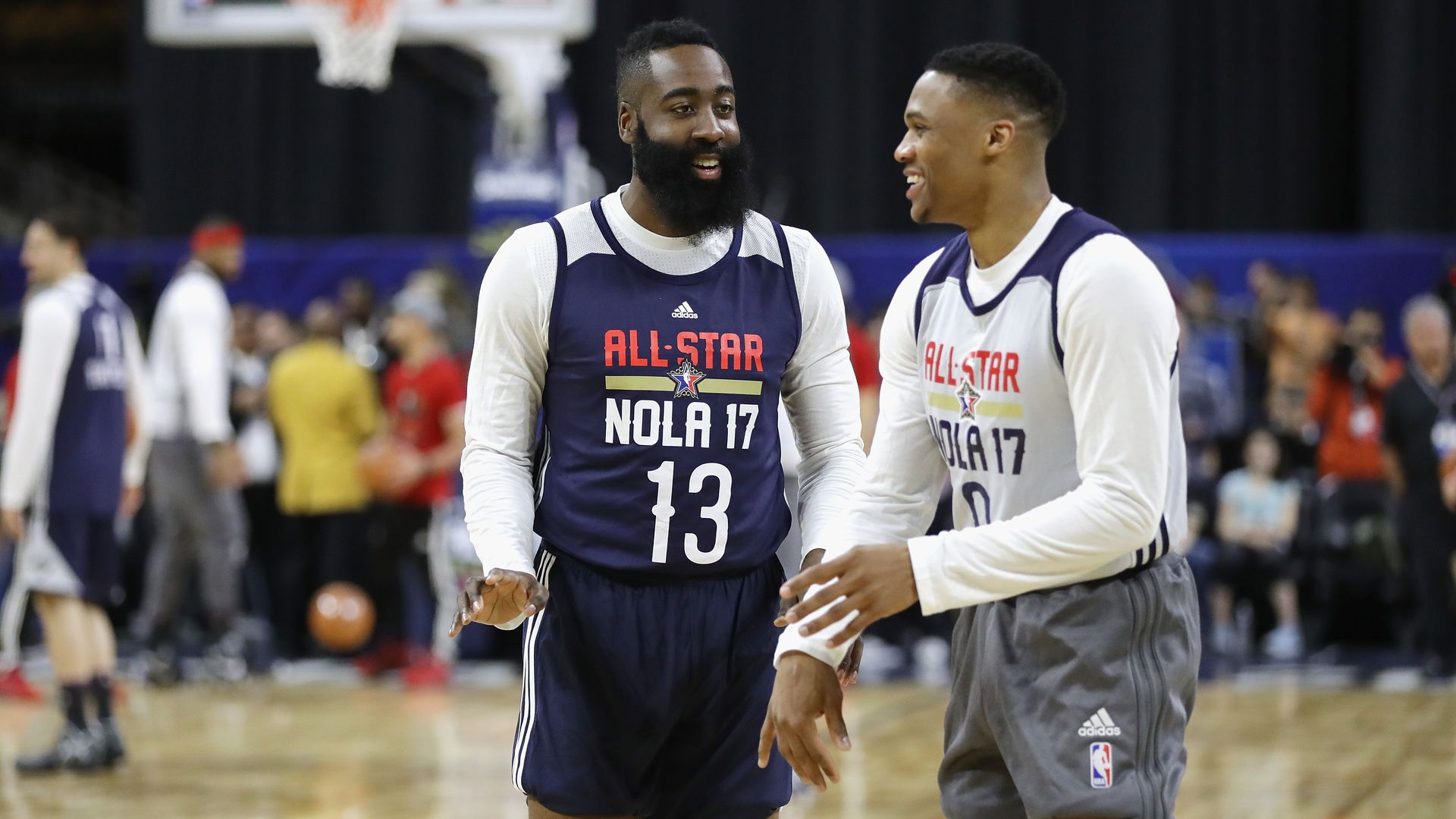 Just when you thought it was safe to avoid Twitter, the Rockets and Thunder agreed to a blockbuster deal that will send Russell Westbrook to Houston in exchange for Chris Paul, first-round picks in 2024 and 2026, and pick swaps in 2021 and 2025.
Why it matters: This move pairs two former teammates and MVPs (Westbrook and James Harden), adding further intrigue to an already loaded Western Conference. At the same time, it's a curious trade that presents more questions than answers.
Can they share the rock? Over the last five seasons, Westbrook and Harden ranked first and second, respectively, in usage rate among all NBA players. And now they're on the same team.
Style clash: The most three-point obsessed team in the NBA just traded for the worst high-volume three-point shooter in NBA history. Will Mike D'Antoni adjust Houston's offense to better suit Russ? Or is the hope that he learns how to shoot overnight?
Meanwhile, Chris Paul joins a Thunder team that is in rebuild mode after acquiring a whopping eight first-round picks since draft night. My guess is they flip him, possibly to the Timberwolves, Heat or Pistons.
P.S. … This is brain-melting. Of the 24 players in the 2017 NBA All-Star Game, just eight (in italics) are still with the same team.
East starters: Kyrie Irving, DeMar DeRozan, LeBron James, Jimmy Butler, Giannis Antetokounmpo
East reserves: Isaiah Thomas, John Wall, Carmelo Anthony, Kevin Love, Paul George, Kemba Walker, Paul Millsap, Kyle Lowry
West starters: Steph Curry, James Harden, Kevin Durant, Kawhi Leonard, Anthony Davis
West reserves: Russell Westbrook, Klay Thompson, DeMarcus Cousins, Draymond Green, Marc Gasol, DeAndre Jordan, Gordon Hayward
4. 💰In related news: Part owner of Thunder puts stake up for sale
The estate of late oilman Aubrey McClendon is seeking to sell its 22% stake in the Thunder, per Bloomberg, Axios' Dan Primack writes.
Why it matters: This comes just as the Thunder traded away their most valuable asset (Westbrook). Can't imagine that move went over too well at Inner Circle Sports, the New York investment bank that's managing the sale.
The bottom line: "It's difficult to pinpoint a value for McClendon's stake, which comes with voting rights but few other perks, according to [sources]," writes Bloomberg's Scott Soshnick.
"There's no representation on the board or decision-making authority. In such cases, buyers will often seek to apply what's called a limited partner discount. ... Such discounts usually range from 10% to 20%."
Go deeper: Sign up for Dan's Pro Rata newsletter, which covers the deals and dealmakers in venture capital, private equity and M&A.
5. Everything else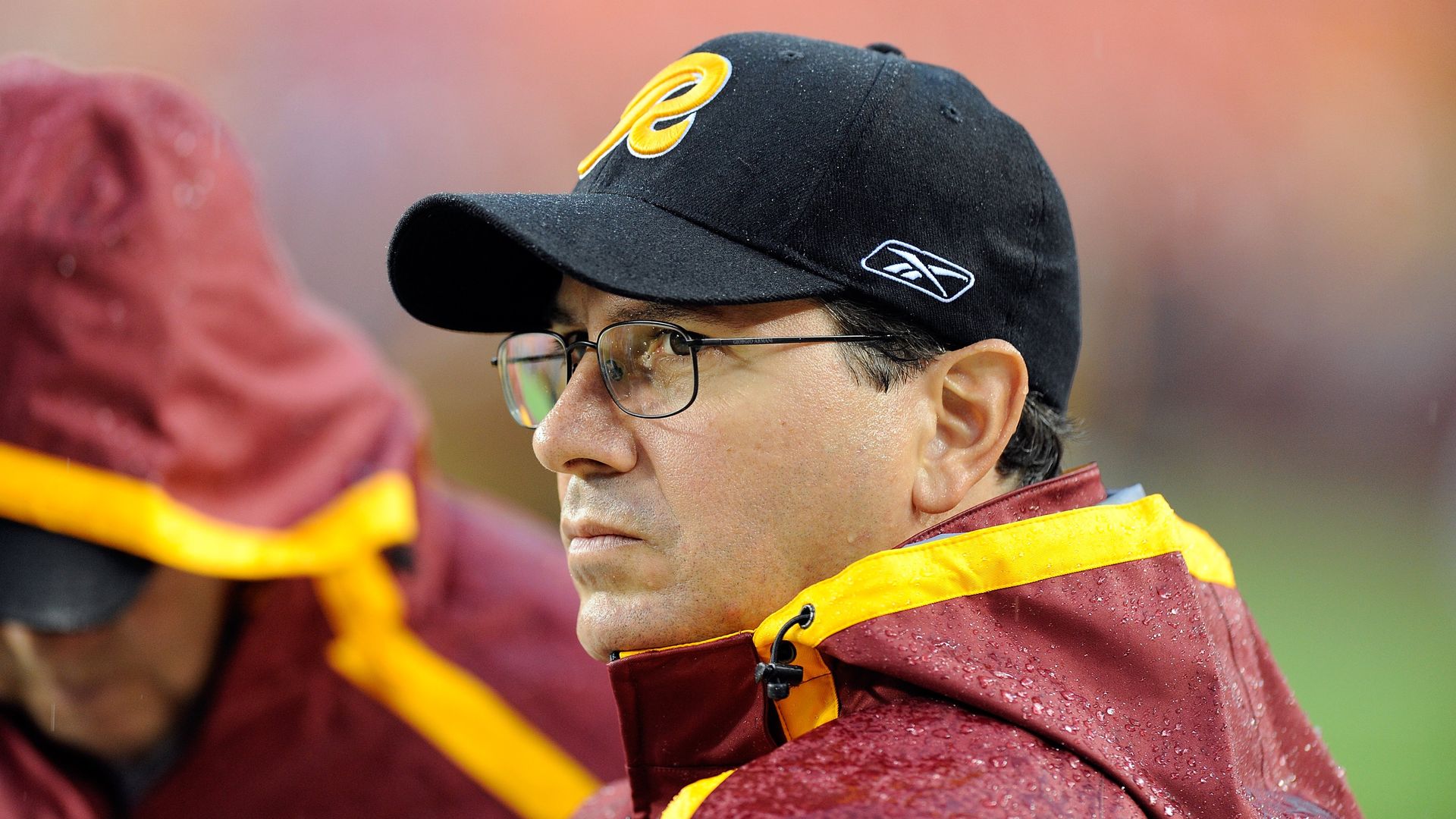 🏈 NFL: The Washington Redskins organization has reportedly experienced a "mass exodus" of employees since January. "Almost 40 people have left, behind the scenes," said 106.7 The Fan's Chris Russell, citing multiple sources. "Nobody wants to work there. It's a terrible culture."
⚽️ Soccer: The analytics movement has yet to transform soccer like it has most other major sports, with the possible exception of hockey. But as one Deadspin writer who attended a recent "soccer analytics bootcamp" found out, some believe a revolution is coming. "Moneyball for soccer," if you will.
🎾 Wimbledon: Here are the key questions entering tomorrow's Wimbledon women's final between Serena Williams and Simona Halep.
🏀 College hoops: After four years as an All-American lacrosse star at Loyola, Pat Spencer will play basketball at Northwestern this winter, returning to a sport that he hasn't played competitively since starring on the hardwood for his high school. Should be a fun story to follow.
⚾️ Good read: "It's been a series of firsts for Tommy Edman since he made his MLB debut for the St. Louis Cardinals on June 8: first at-bat, first hit, and first home run. His cousin has reveled in every moment." (The Ringer)
6. July 12, 1979: ⚾️ Panic! at Comiskey Park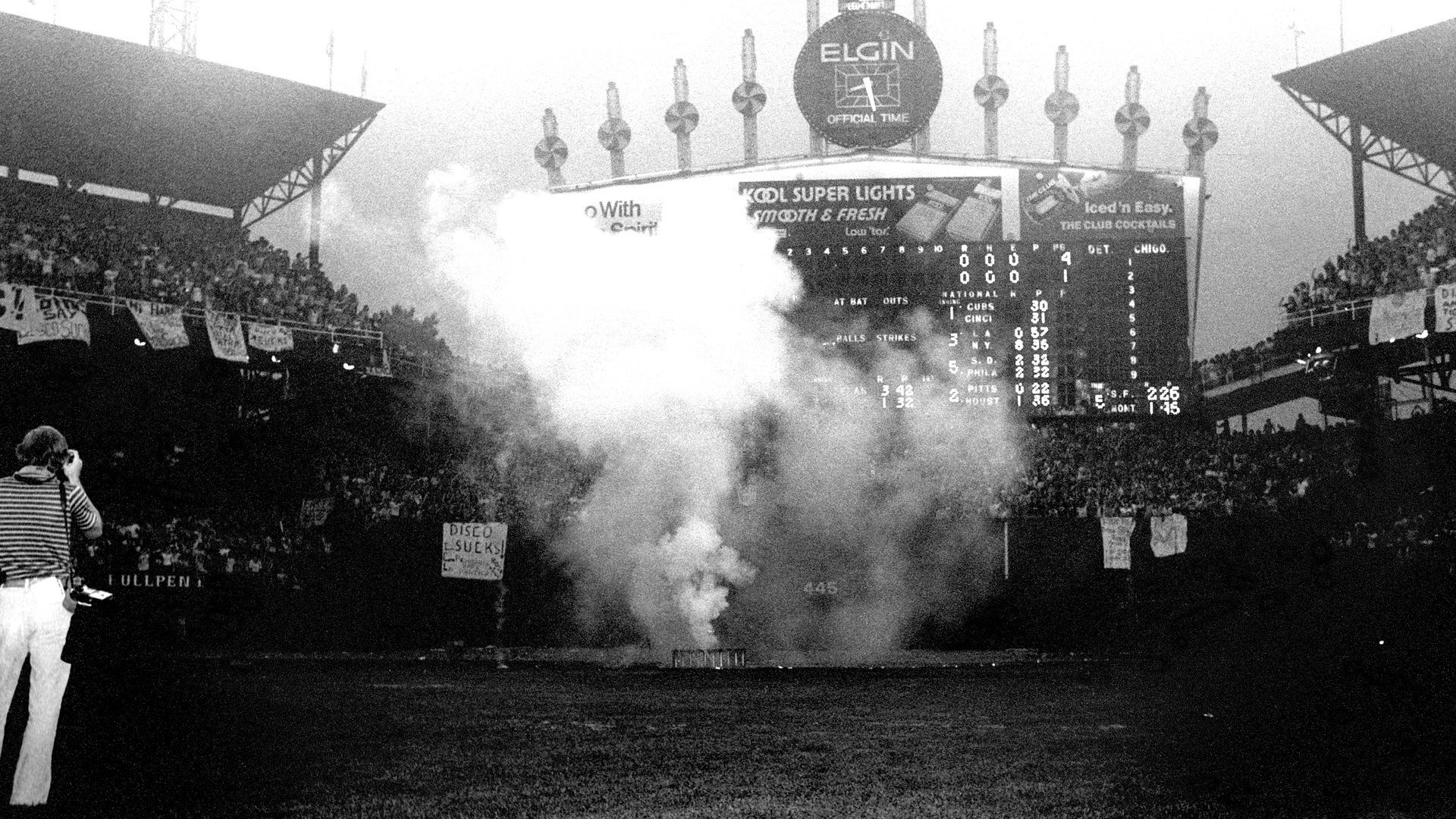 40 years ago today, the Chicago White Sox hosted Disco Demolition night — a promotion encouraging fans to blow up their disco records on the field. What could possibly go wrong?
Details: The White Sox offered 98 cent admission to a doubleheader for anyone who brought a disco record to blow up during the intermission between the two games.
A crowd of 50,000 showed up to the field with records. After the explosion, thousands rioted and caused so much damage that the second game was canceled.
Between the lines: Critics say the controversial promotion was a not-so-subtle attack on minority groups, who had been some of the early adopters of disco.
Go deeper:
7. ⚾️ MLB trivia
Milwaukee's Christian Yelich (31) and Mike Moustakas (25) combined for 56 homers before the All-Star Break — the most by two teammate since 2013.
Question: Can you name the pair of teammates that reached that mark in 2013?
Hint: AL East.
Answer at the bottom.
8. The Ocho: 🇪🇸 Here's Josh Norman jumping over a bull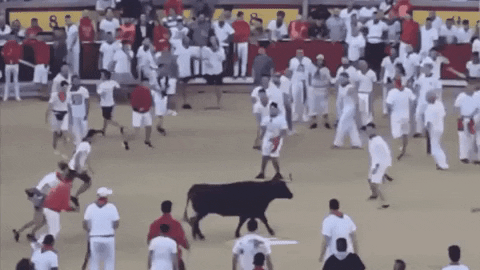 Washington Redskins cornerback Josh Norman fulfilled a dream by taking part in the running of the bulls in Pamplona, Spain, this week.
Of course, Norman, known for his competitive nature and trash talk, had to one-up everybody and jump over the bull.
I'll give him credit, though — even the bull turns around to admire his hops, in what appears to be disbelief. "Did you see that?! I totally had that guy!"
Enjoy the weekend,
Kendall "Cricket enthusiast (as of yesterday)" Baker
Trivia answer: Baltimore's Chris Davis (37) and Adam Jones (19)