Axios Sneak Peek
December 17, 2020
Welcome to Sneak Peek, our nightly lookahead from both ends of Pennsylvania Avenue, plus our best scoops.
The inauguration is in 35 days.
⚡Situational Awareness: Vice President Mike Pence and President-elect Joe Biden will get the COVID-19 vaccine in the coming days, but not everyone's ready to follow suit, Politico and the New York Times report.
Today's newsletter — edited by Axios contributor Glen Johnson — is 686 words, a 3-minute read.
1 big thing: 💰Progressives fear false stimulus hope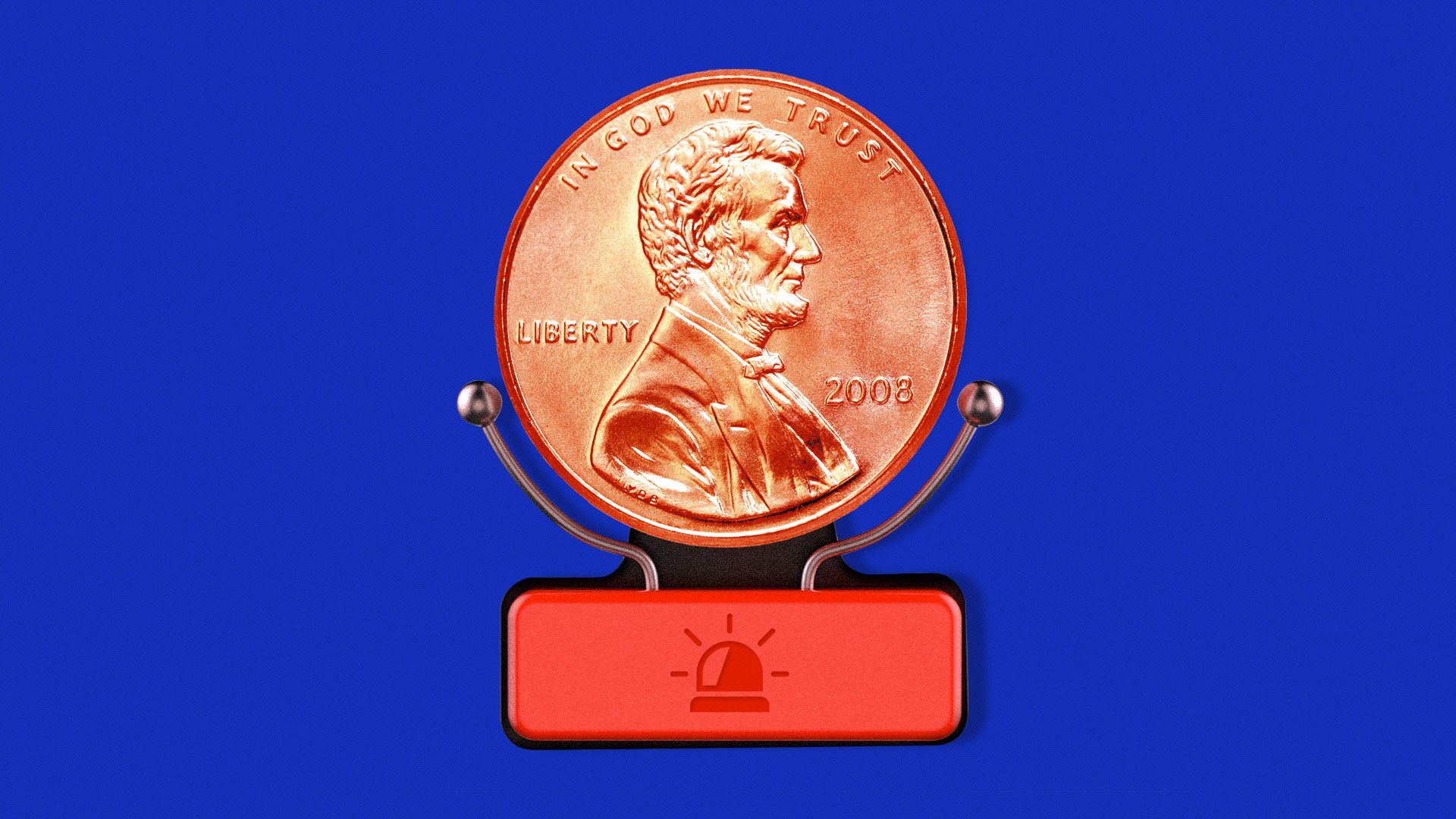 A leading progressive is sounding the alarm about an "austerity mindset" inside the Democratic Party, suggesting the biggest stimulus package Joe Biden gets may come during this lame-duck session of Congress, Axios' Jonathan Swan reports.
Why it matters: Faiz Shakir, a senior adviser to Bernie Sanders and the senator's 2020 campaign manager, says Democrats may be embracing a misguided assumption Biden will get another bite at the stimulus apple next year. Recent history, he argues, shows that won't be the case — which is partly why Sanders has been so aggressively pushing for the biggest package possible during the current negotiations.
"Before Biden even enters office, Democrats are limiting the ambitions of what we can pass in a COVID relief package, saying it can't have a 't' in front of it, it shouldn't be above $1 trillion, with the assumptions that somehow we're going to have future runs of COVID relief packages to fill in the gaps," Shakir tells Swan.
He points to recent talk from moderate Democrats like Sen. Joe Manchin, after the West Virginian talked about what could be regained in a hypothetical second round of stimulus talks next year.
Shakir, as well as several other top progressives who spoke privately to Axios, said, "We should not assume that."
2. Nancy Pelosi's Interior play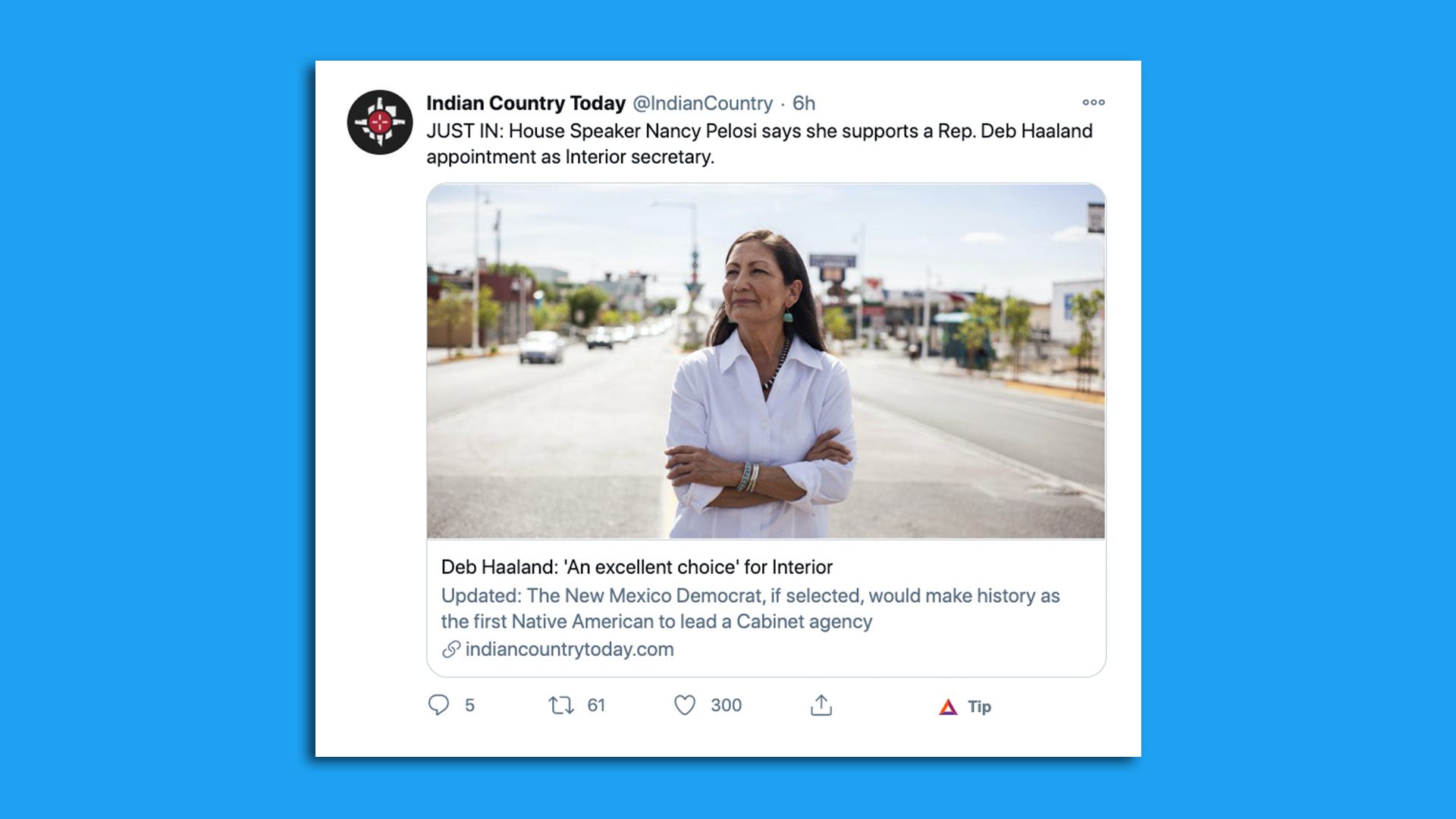 Nancy Pelosi's public endorsement of Rep. Deb Haaland to be Interior secretary alleviates pressure on the House speaker from Native American groups — and throws it right back on Biden to put the New Mexico Democrat in his Cabinet, Axios' Hans Nichols and Alexi McCammond report.
Why it matters: The president-elect has been casting about to find an Interior secretary he both desires and adds diversity to a Cabinet he's pledged will resemble the American people. The Democrats' fear about losing their slim majority in the House had given him a reason not to pick Haaland, despite her wide tribal backing.
The big picture: Biden has already made history with his Cabinet picks by nominating the first openly gay American (Pete Buttigieg), the first female Treasury secretary (Janet Yellen) and the first Black secretary of Defense (Lloyd Austin).
If Biden does settle on Haaland, she would be the first Native American to join the Cabinet. She would also be his point person in tribal negotiations. Native Americans are celebrating their large turnout on Biden's behalf.
3. How stimulus got legs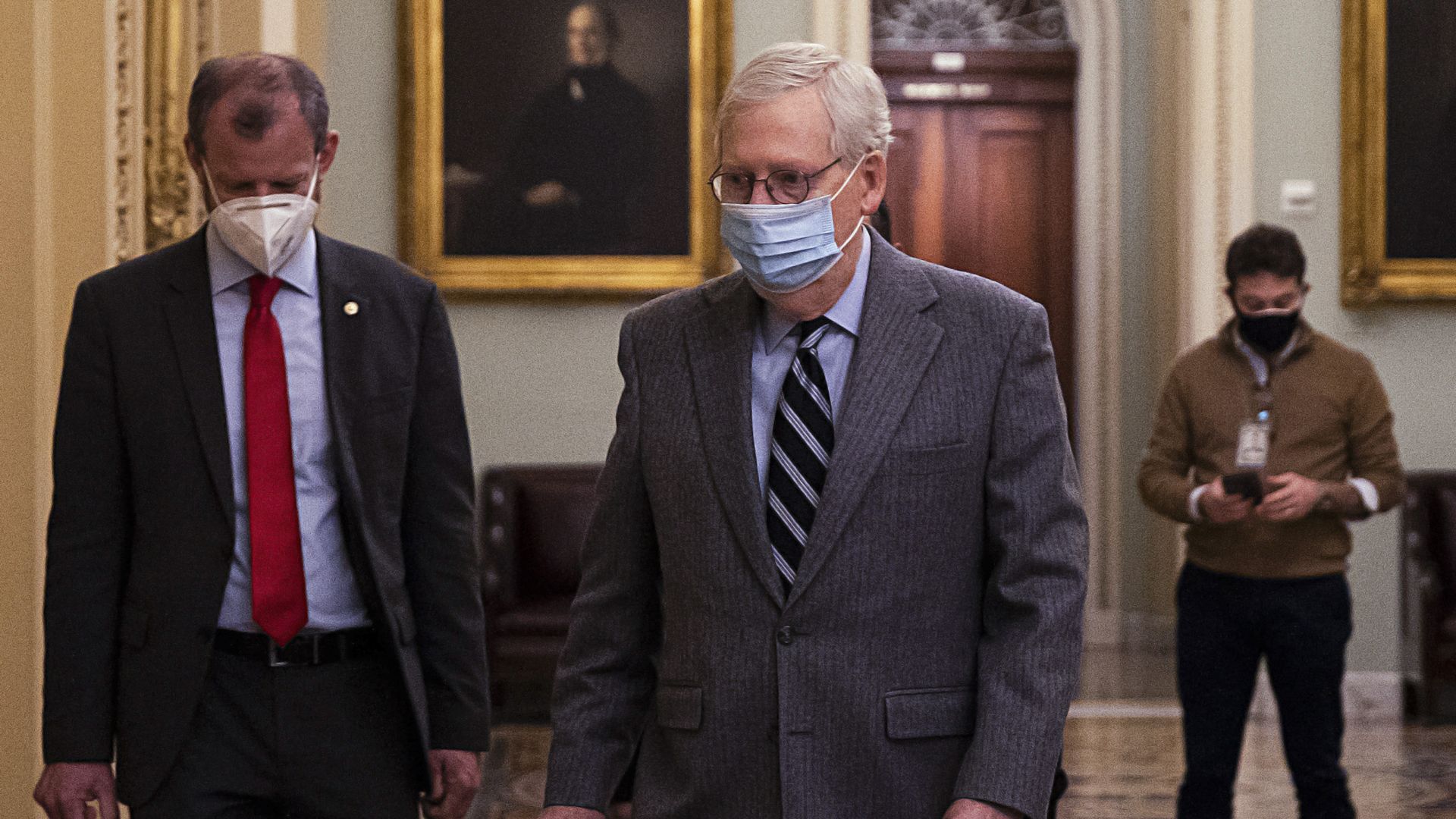 The coronavirus stimulus package emerging in Congress would let all the players declare victory — even if long-suffering Americans disagree, Axios' Alayna Treene reports.
Tale of the tape: Mitch McConnell can say the final $900 billion price tag is similar to the one he put out in July. Democrats can say the bill excludes the majority leader's demand for liability protections for businesses. And the bipartisan group that kickstarted the final round of talks can point to the success of their bicameral alliance.
The latest: Congressional leaders are hours away from announcing an 11th-hour stimulus package, just days before many of the existing coronavirus relief measures expire on Jan. 1, 2021.
The new bill is expected to include a second round of direct payments of around $600, $300 per week in enhanced unemployment benefits and $325 billion in aid for small businesses.
It leaves out the Democrats' previous demand for state and local aid, as well as a Republican-backed shield that would protect businesses from COVID-related liability lawsuits.
Both sides compromised, which is why we're optimistic there's a legitimate shot they pull this off.
4. House Armed Services steps up cybersecurity — after hack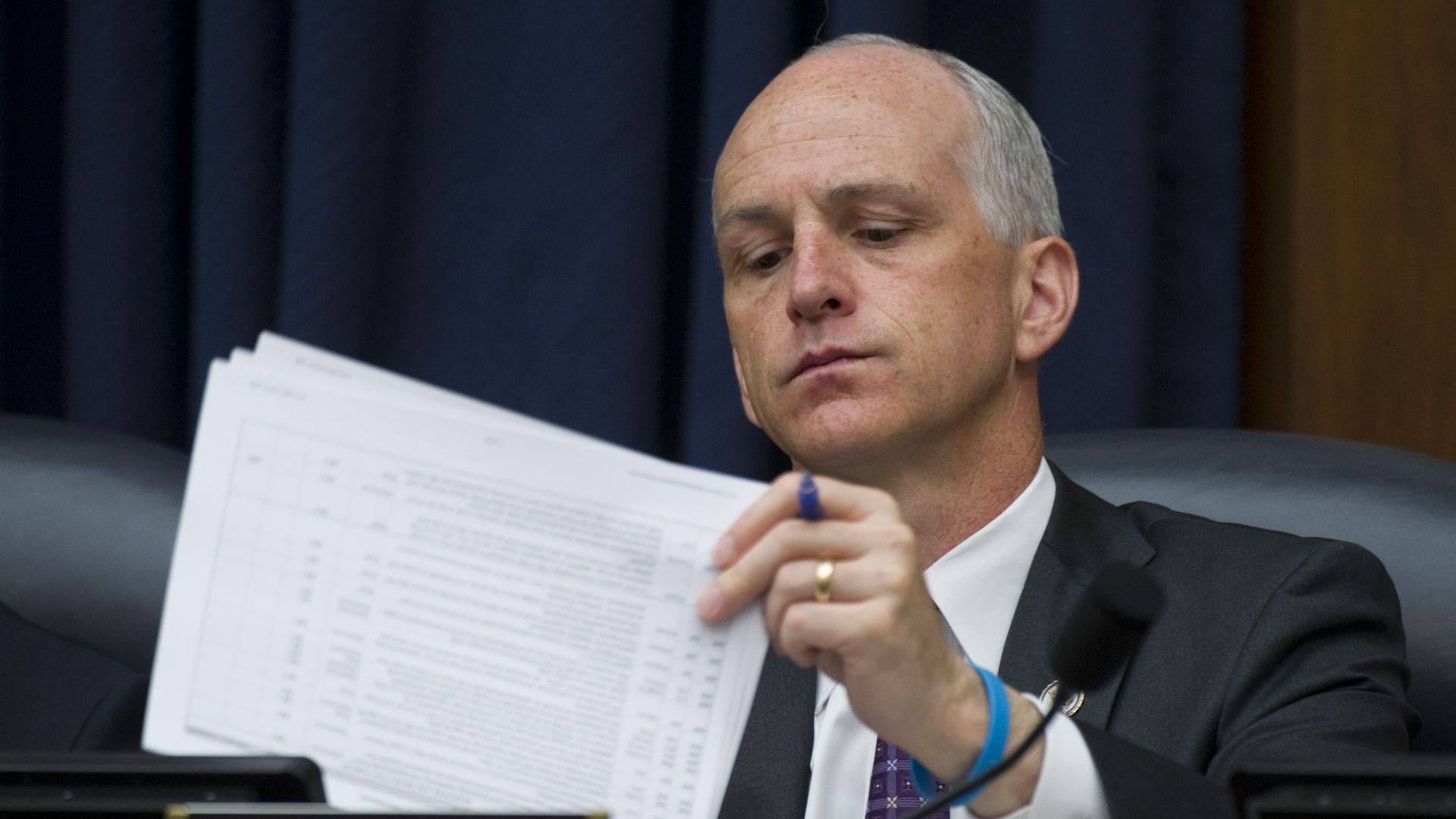 House Armed Services Committee Chairman Adam Smith has outlined a plan for his body to improve its oversight of cybersecurity, although experts say suspected Russian cyberattacks show the focus is late in coming.
Why it matters: The alleged Russian penetration of the Pentagon and Treasury Commerce, State, Homeland Security, and other departments shows the sweep of digital warfare and the need for an all-hands, all-of-government response.
The proposal being presented by Smith (D-Wash.) calls for splitting the existing Subcommittee on Intelligence and Emerging Threats and Capabilities into two more subcommittees. The changes would take effect next month when the 117th Congress convenes.
The Subcommittee on Future Defense Technologies would focus on the cybersecurity of Defense Department networks and weapons systems. It would oversee $31.5 billion in federal spending.
The Subcommittee on Intelligence and Special Operations would focus on the security of national and defense intelligence programs and activities. It would oversee $17.3 billion in spending.
5. First man standing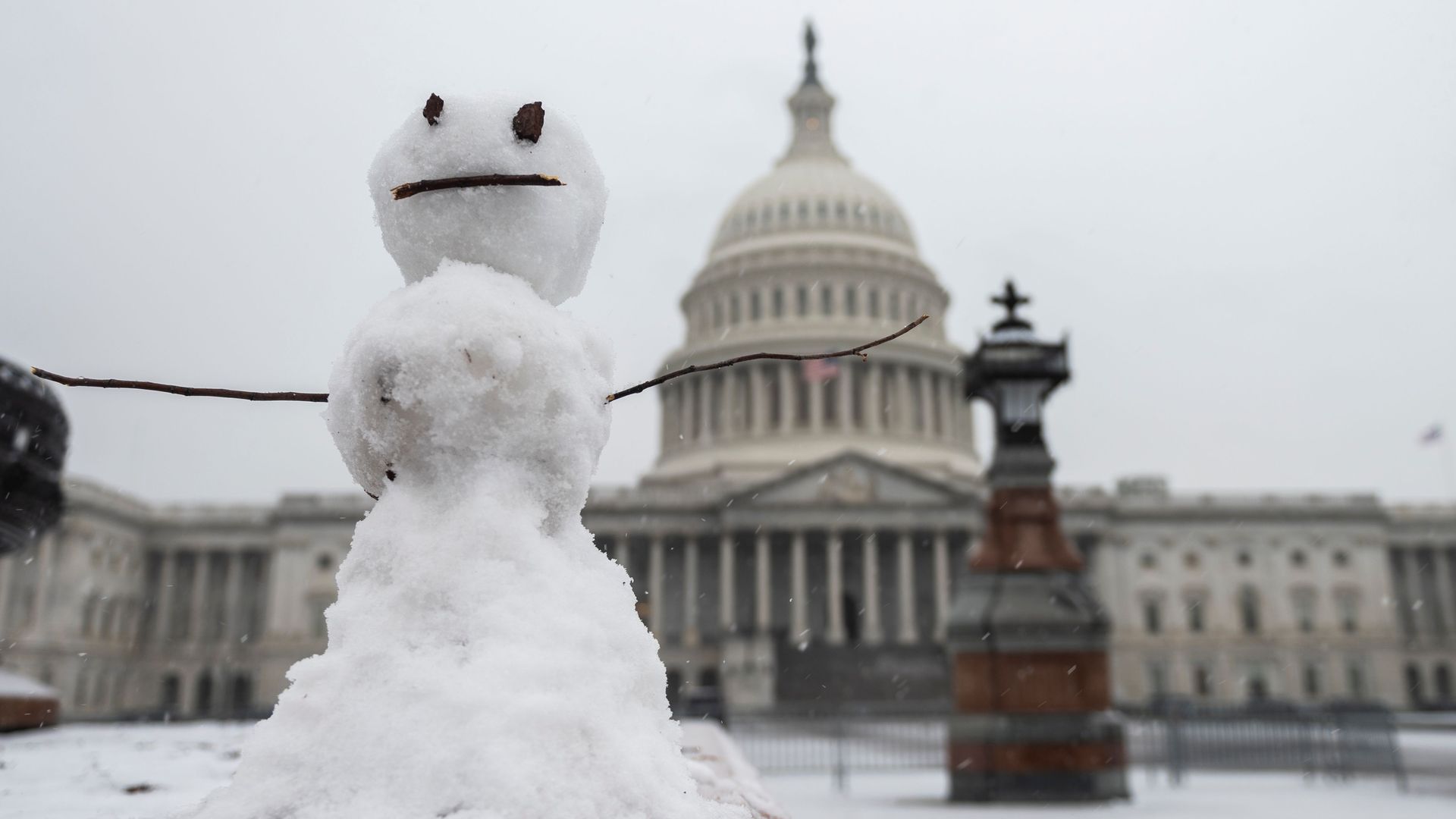 A late-fall snowstorm prompted this construction project today outside the U.S. Capitol.
👏 Thanks for reading. We'll be back tomorrow night. Please share us with your friends and let them know they can sign up here.