Axios Sneak Peek
April 26, 2020
Welcome to Sneak Peek, our weekly lookahead from both ends of Pennsylvania Avenue, plus our best scoops.
Tell your friends to sign up free for their weekly Sneak Peek!
📺 "Axios on HBO" is back! I spoke with Gov. Cuomo about New York's shocking coronavirus death count. Tune in on Monday for the full interview at 11pm ET/PT on all HBO platforms. Watch a teaser.
📚Axios is hosting a live virtual event on COVID-19's impact on education, hosted by Axios co-founder and CEO Jim VandeHei and Cities correspondent Kim Hart.
Join us Tuesday, April 28 at 12:30pm ET for a conversation with Arkansas Gov. Asa Hutchinson, Coursera CEO Jeff Maggioncalda and Common Sense Media CEO Jim Steyer. 
Register here.
Tonight's newsletter is 1,979 words, a 7.5-minute read.
1 big thing: White House to shift to economic message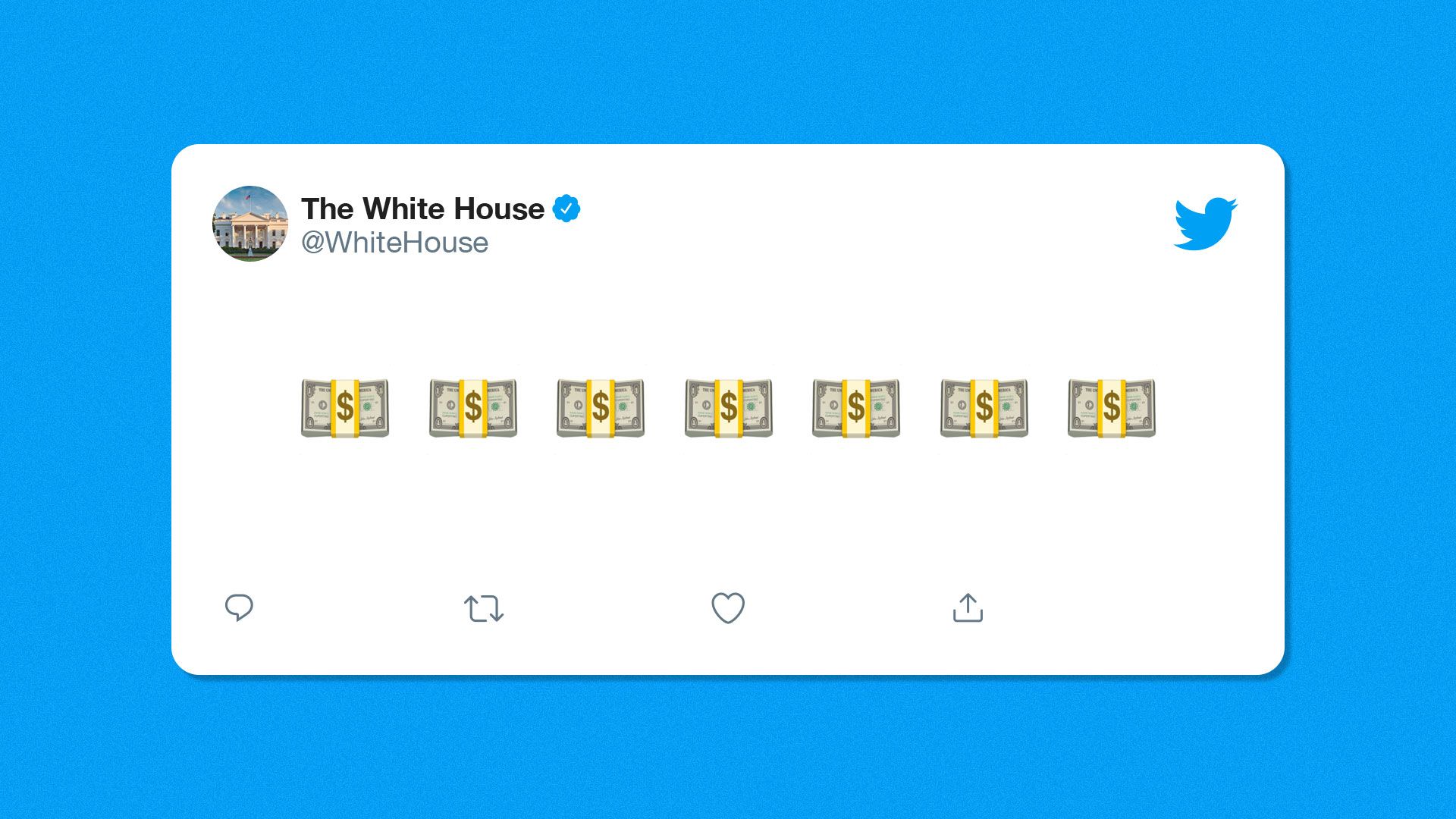 The White House plans to shift its coronavirus messaging toward boosting the economy and highlighting "success stories" of businesses, reducing its public emphasis on health statistics, according to two officials familiar with the planning.
Driving the news: The Coronavirus Task Force — and the doctors who've become household names, Deborah Birx and Anthony Fauci — "will continue but take a back seat to the forward-looking, 'what's next' message," a White House official told Axios.
President Trump is expected to make fewer, shorter appearances at press conferences, as we reported on Friday.
Nothing's ever set with Trump, and these decisions will be made day by day. But on Saturday, for the first day in weeks, the White House didn't hold a press briefing and the president made no public appearances.
What we're hearing: "Expect to see a pivot from the White House in the days ahead, focusing on the economy and a more hopeful, forward-looking message," one of these officials said.
Trump will host businesses who've been harmed by the coronavirus, and he'll highlight the governors who are reopening their economies in line with the Trump administration's guidelines.
That group pointedly does not include Georgia Gov. Brian Kemp. (More on that below.)
The big picture: The U.S. has now passed 54,000 confirmed deaths from the virus. New York City alone has suffered vastly more death than other dense global cities of similar size and even more death from the virus than most countries. Some cities and states in the U.S. have flattened the curve, but that hasn't happened nationally yet.
Some governors are gingerly trying to reopen their states as public health experts warn of a second wave of infections.
What's next: The White House briefings will eventually scale back and come to an end. But in the meantime, Trump's team plans to build his calendar around events that highlight a "safe" reopening of the economy.
The team for weeks has deliberated what a plan to stimulate an economic rebound should look like, one official said, concluding that "POTUS is strongest when he's focusing on things we can win — like bringing back the economy — rather than giving updates on the virus."
Behind the scenes: A number of Trump's most trusted advisers, inside and outside of the White House, grew increasingly alarmed at his marathon daily briefings and some told him they could harm his re-election chances.
Some officials blame the briefings for Trump's soft performance among senior citizens and for his recent spate of weak head-to-head polling numbers against Joe Biden.
"For the first time, I feel like he gets it that these aren't helping him," said one source who spoke to Trump on Friday.
But two others who spoke to Trump the same day about his press conferences said he was still insisting his performances were helping him, as evidenced by the ratings. This is why White House staff are still skittish about saying Trump will definitely wind down his appearances.
A source close to the deliberations captured a prevailing view in our Friday story when he said Trump's appearances were dragging on so long he was running out of new things to talk about. The source wondered aloud: "I mean, you wonder how we got to the point where you're talking about injecting disinfectant."
2. Why Trump went off on Brian Kemp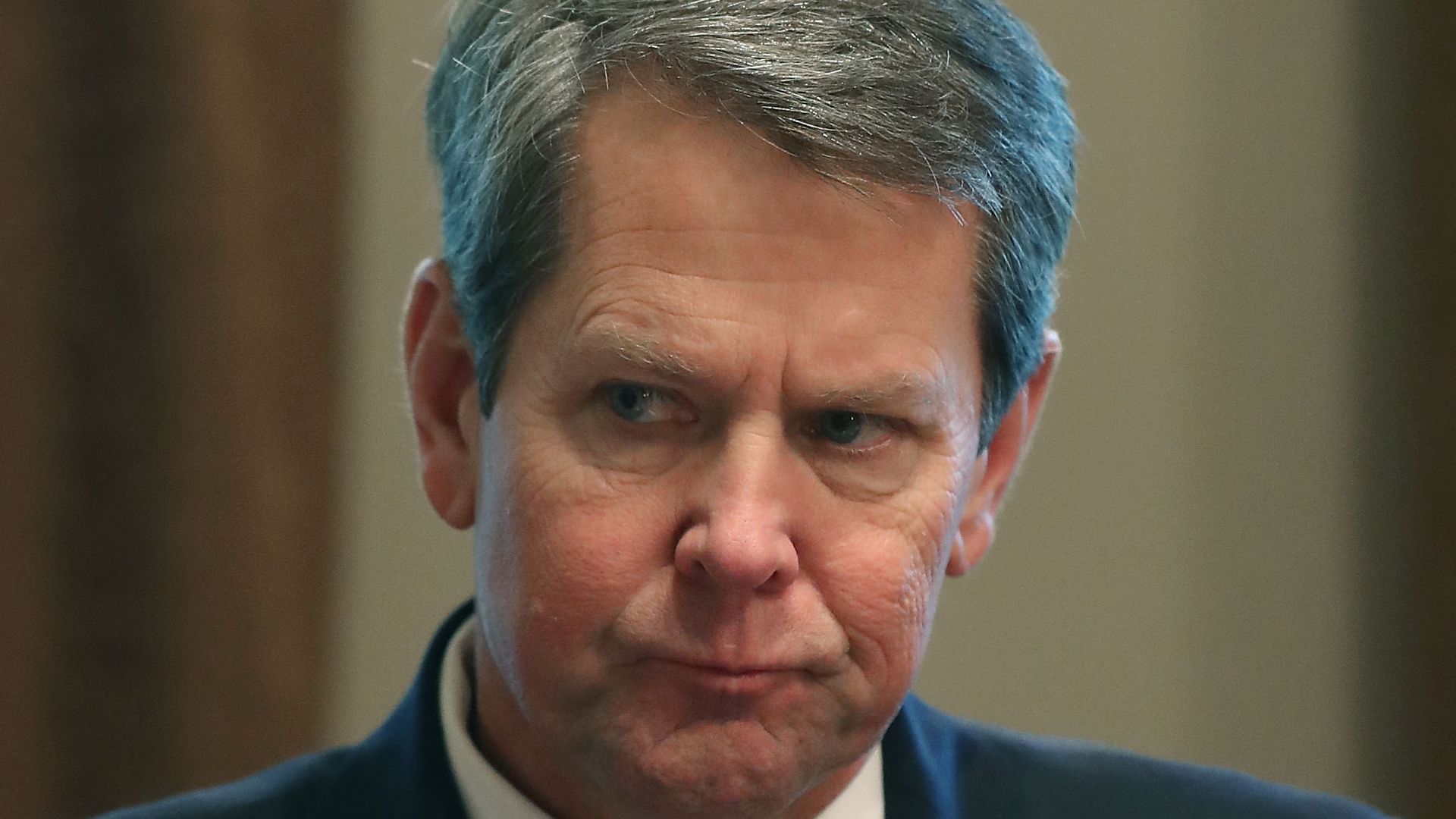 One of the more surprising recent political moments was when President Trump publicly lambasted Georgia Gov. Brian Kemp. It's rare — and politically damaging — for a Republican official to get steamrolled the way Kemp did last week.
Why it matters: Trump was encouraging governors to "liberate" their states, which anti-lockdown protesters saw as an endorsement. He offered guidelines for reopening the economy safely but said he'd leave it up to the governors to decide what was right for their states.
Kemp moved more aggressively than Trump recommended, green-lighting the opening of hair salons, spas, tattoo parlors and bowling alleys in Georgia.
Trump, in general terms, had offered support to Kemp in their previous phone calls, leading Kemp to believe the president had his back on his plan.
But in a Tuesday phone call, Trump told Kemp he disagreed with those moves and thought he was going too fast on some of those communal businesses. 
Behind the scenes: Two sources who've discussed Kemp with Trump told me there's more to it than a simple policy disagreement.
"You've got to understand, Trump feels he made Brian Kemp, and he's right," one said. "Kemp would not be governor without Trump. Would it hurt him to be a little bit grateful and to take his advice once in a while?"
In response to Axios' reporting, Kemp's press secretary Cody Hall said in a statement: "Governor Kemp is grateful for President Trump's leadership in the fight against COVID-19 and values his insight as our state takes measured steps forward that will protect the lives — and livelihoods — of all Georgians."
Between the lines: Both sources who spoke to Trump about Kemp said the president remained irritated by Kemp's earlier decision to ignore Trump's recommendation to appoint Rep. Doug Collins to the vacant senate seat in Georgia.
Kemp instead appointed Kelly Loeffler. And Trump has watched with alarm as Loeffler has since been hammered for stock trades she made during the early days of the coronavirus outbreak, including buying stock in a company that makes videoconferencing software.
Trump has paid close attention to Loeffler's weak polling numbers (an internal poll from the Collins campaign showed Collins with more than twice as much support as Loeffler).
Sources close to Trump doubt he'll endorse Loeffler in her race against Collins, even though Senate Republican leadership backs her. But Trump hasn't decided yet.
3. New: The Axios app is here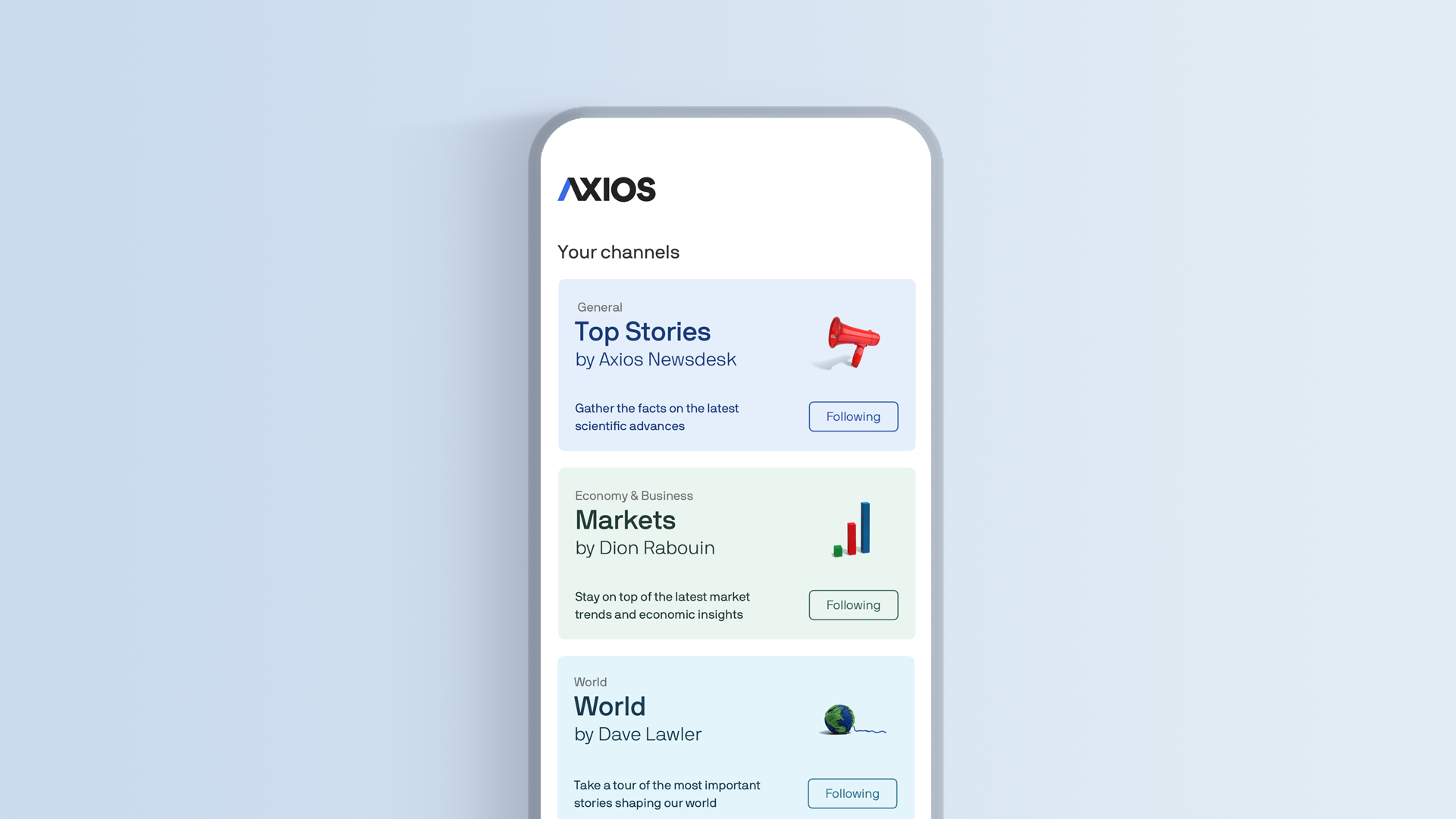 You asked for it! We're unveiling an Axios mobile app — an efficient, elegant experience that I hope you will try.
Why it matters:
One convenient place: Now you can enjoy all your Axios newsletters and stories in one easy-to-access mobile location.
It looks amazing: The app's design is sophisticated, yet simple — allowing you to intuitively consume news in Axios' signature Smart Brevity™ format.
Experience more Axios: The app captures our thinking on the future of news and newsletters — a watch-listen-read experience that includes more interaction with our journalists. You can sign up for push notifications for breaking news, and get updates from me throughout the day.
What's next: Please download the Axios app on your iPhone or Android device.
Have thoughts on the new app? Please reply to this email, or send your thoughts to

[email protected]

.
4. Trump aides eye benefits of less exposure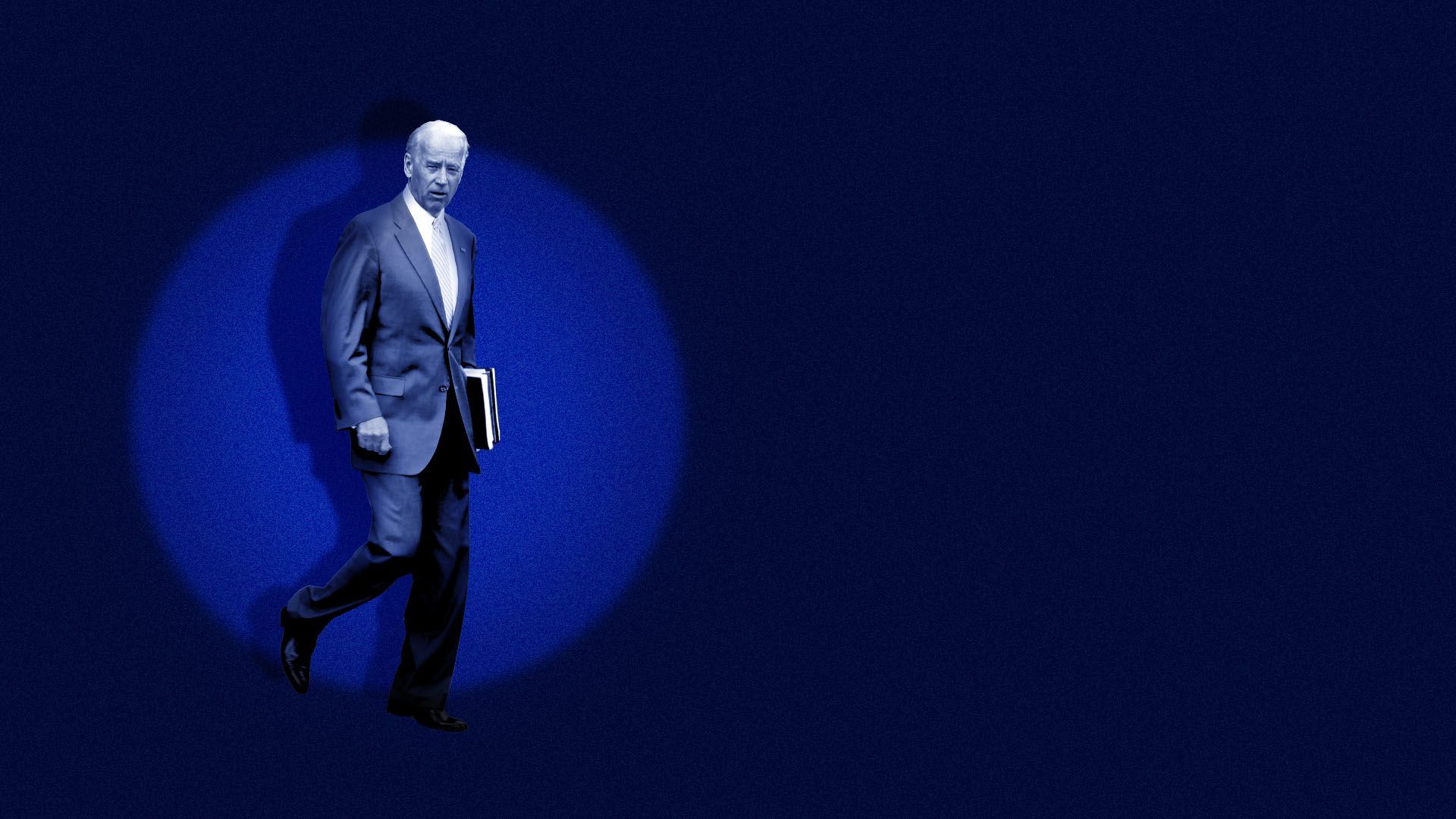 Some advisers to President Trump have been envying Joe Biden's comparative invisibility in the daily news cycle, watching with unease as Biden seems to benefit from his lower profile during the coronavirus crisis.
Driving the news: The presumptive Democratic nominee is beating Trump in national and key state polls, Neal Rothschild, Alexi McCammond and I report. This week, a barrage of swing-state polls showed Biden's position strengthening as he remains largely out of the public eye:
Between the lines: The data most bothering Trump's advisers is the president's softening standing among senior citizens — a cohort most vulnerable to the coronavirus.
Morning Consult polling shows that net approval of Trump's handling of the crisis among those 65+ decreased from +19 on March 16 to -1 on April 19.
Among voters 55+, Trump's Gallup approval rating has descended from 56% in January amid impeachment to 45% this month.
"I have told him repeatedly, he needs to always keep in mind that this is the group that is most scared," said a source advising Trump on his messaging.
Meanwhile, Biden's favorability with older voters is helping him.
In the Florida Quinnipiac poll where he leads Trump by 4 points, Biden led by 10 points among voters 65 and older. Exit polls from 2016 showed Trump beat Hillary Clinton by 17 points there among seniors.
In the Michigan Fox News poll where he leads Trump by 8 points, Biden leads by 18 among baby boomers.
What Trumpworld is seeing: Trump is no longer benefiting from being a leader in a crisis.
His approval rating hit a high point in March, but opinion turned sharply against him in April.
His overall approval rating has fallen as approval of his handling of the coronavirus crisis has plunged.
Several advisers to Trump argue that these polls will likely be Biden's high watermark.
Counselor to the president Kellyanne Conway said: "The president and his task force have the country to themselves for two hours each day. Biden-in-Hidin' has helped Joe for now. Eventually, he will need to face the music — and the voters. The debates will be the most watched in history."
The other side: TJ Ducklo, national spokesman for Biden campaign, told Axios, "Donald Trump spending less time in the briefing room is a welcome development for Americans' anxiety levels, but cannot erase the truth that will haunt him until November: He ignored early warnings about the virus and thousands of Americans lives have been lost that didn't have to be."
"The less Biden himself is exposed, the less his own warts are explored, and the more he becomes a generic Democrat, the better his own chances may be," Kyle Kondik, managing editor of Sabato's Crystal Ball, told Axios.
5. Exit through the press shop
Another White House press shop exit: this time, one of the more well-traveled members of the Trump administration.
Attorney Steven Groves, who spent a decade at the Heritage Foundation, moved from the State Department transition team to be chief of staff to former UN Ambassador Nikki Haley to a senior role in the White House Counsel's Office under Ty Cobb and then Emmet Flood.
He ended his tour in the White House press shop handling congressional oversight.
The president's former lawyer, Cobb, said Groves provided an "essential leadership contribution to the White House's successfully negotiated and executed cooperation with Special Counsel Mueller."
Between the lines: It's the latest shuffle in the White House's press and communications teams after Mark Meadows took over as chief of staff. One of Meadows' first acts was replacing former press secretary Stephanie Grisham with Trump campaign spokesperson Kayleigh McEnany.
6. Sneak Peek diary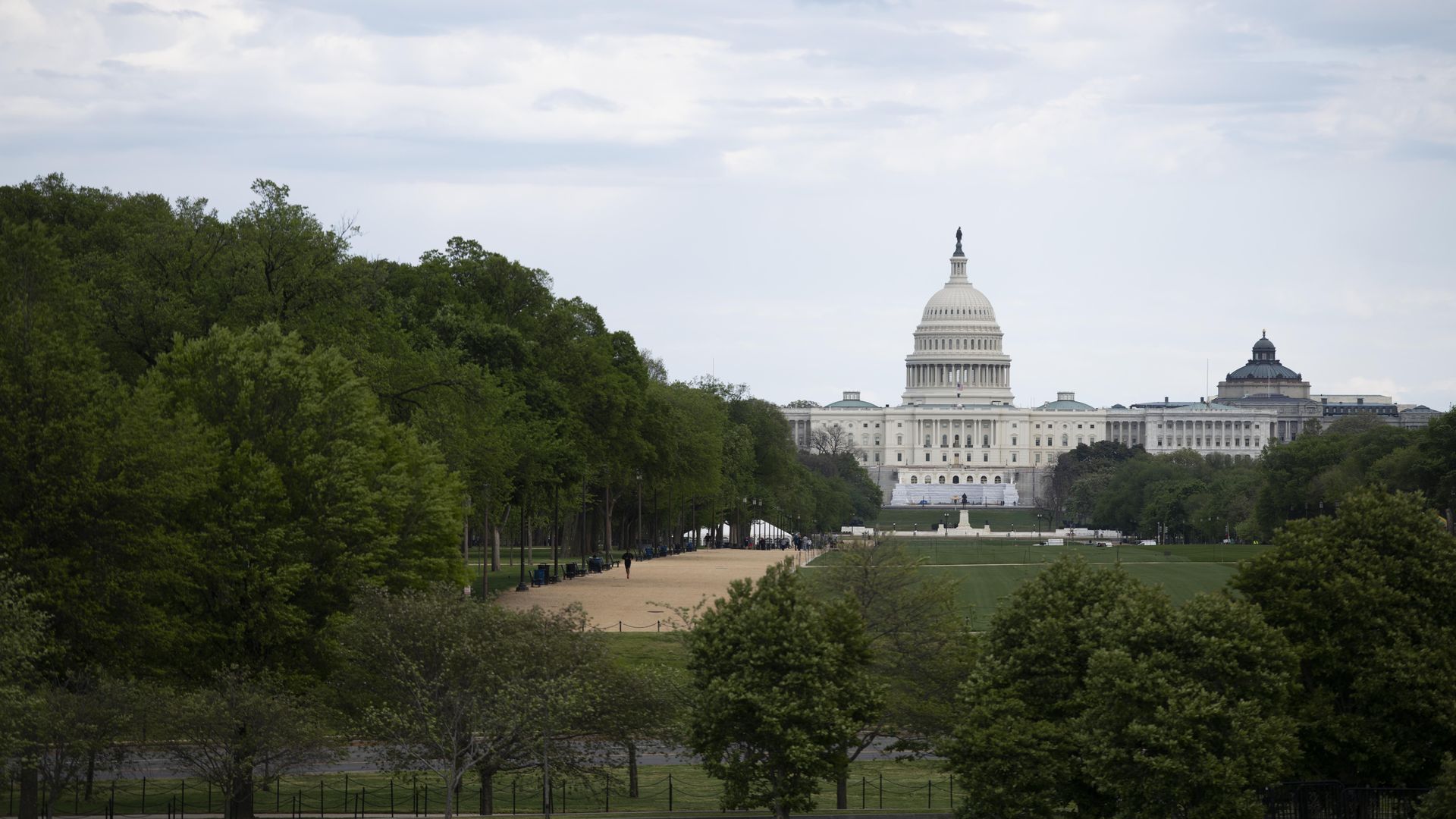 The House is on recess through May 4. Discussions over a phase 4 coronavirus funding bill will continue among leadership, Axios' Alayna Treene reports.
Democrats' top priority in the next bill is to secure more money for state and local governments.
House Speaker Nancy Pelosi told CNN's Jake Tapper on Sunday that she thinks governors are growing increasingly impatient with the stalled negotiations over new funding and that their frustration will "get an even bigger number" in the end.
Pelosi and GOP Leader Kevin McCarthy will continue to discuss remote voting by proxy. Pelosi told Tapper she's "all for it." "I want it to be bipartisan. The Republican leader, Mr. McCarthy, has assured me that he will consider this. He's not there yet. He could be there," she said.
The Senate is also on recess through May 4.
The Senate's main focus this week will be on how fast the new funding from the interim coronavirus relief bill, signed into law on Friday, can get out the door, a Senate Republican leadership aide told Axios.
Congressional leadership and the White House are prioritizing the new funding for the small business Paycheck Protection Program (PPP), which dried up over a week ago.
The aide said to expect them to push out success stories on how the PPP has helped struggling businesses, while also highlighting its failures, such as wealthier companies like Ruth's Chris and Shake Shack qualifying for the emergency money. (Both companies have returned their PPP loans).

Note: Axios qualified for a loan under this program. More details here.
The White House did not provide a copy of President Trump's schedule, but a White House official told Axios that the daily coronavirus task force briefings are expected to continue. It's still fluid how often Trump will participate.
"Since we started doing regular COVID briefings, we have never listed his appearance on the daily public schedule. Choosing and confirming to come was always up to him," the official said.
Bonus:
Tuesday: Vice President Mike Pence visits the Mayo Clinic in Rochester, Minnesota.
Thursday: Pence will travel to a GM plant in Kokomo, Indiana.
Roger Stone is scheduled to report to prison. (AP)