Axios Sneak Peek
December 08, 2019
Welcome to Sneak Peek, our weekly lookahead for both ends of Pennsylvania Avenue, plus our best scoops.
🎥 The first-ever "Axios on HBO" special just aired tonight with Mike Allen interviewing Joe Biden. You can catch it again on HBO.
Thanks to Axios' queen mensch, Margaret Talev, who pitched in while I was on the road the past 48 hours.
Tell a friend to sign up free for their weekly Sneak Peek!
Tonight's newsletter is 1,761 words, <7 minutes.
1 big thing: Biden promises restrictions on Hunter, family if elected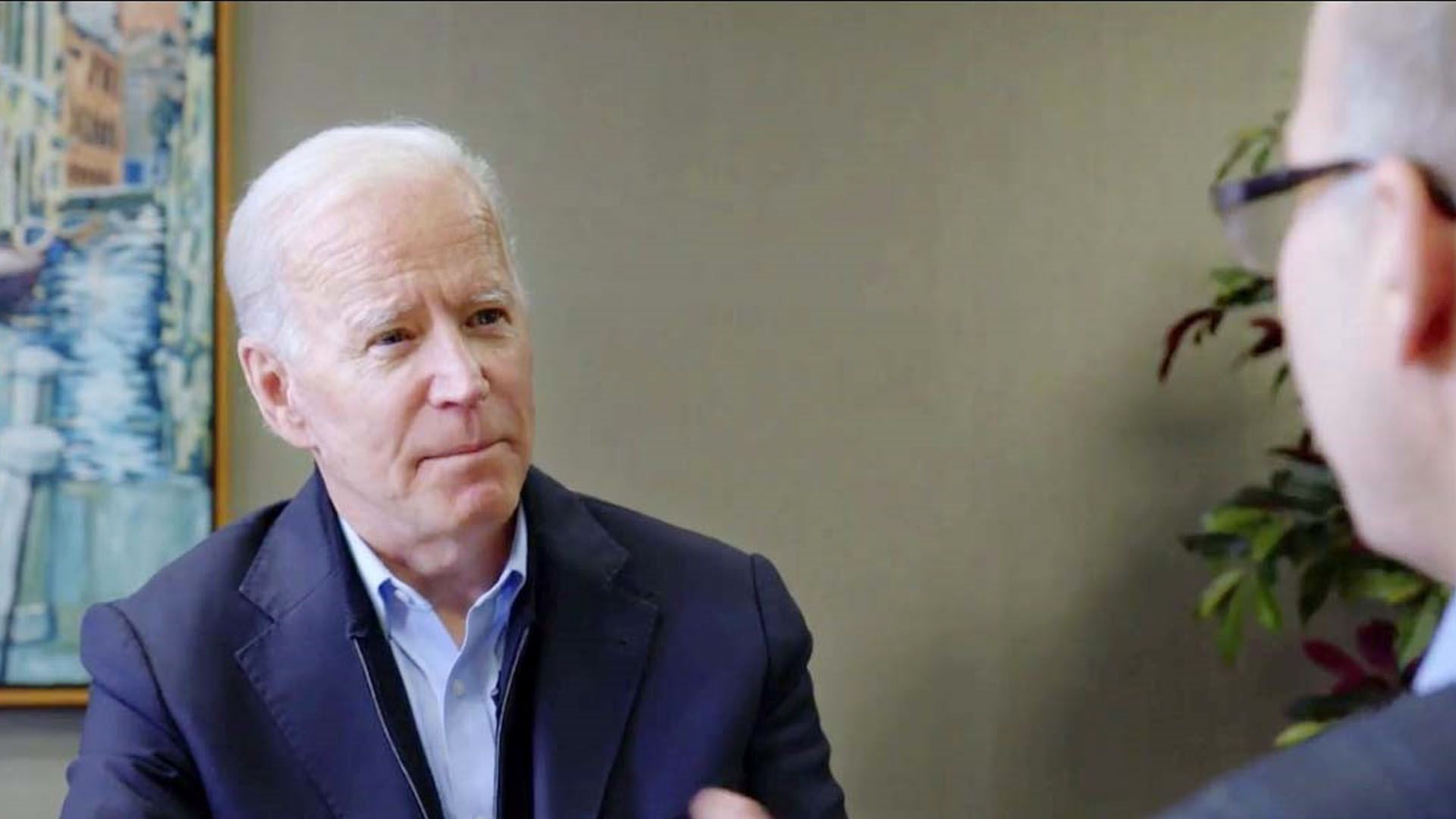 Former Vice President Joe Biden, in an interview with Mike Allen on "Axios on HBO," promised to prohibit his son Hunter, and other family members, from cashing in on his name and position overseas if he wins the presidency. 
Why it matters: Questions may intensify as impeachment proceedings against President Donald Trump move to the Senate and the Iowa caucuses approach. Biden already has drawn scrutiny for allowing his son to get paid handsomely by a Ukrainian business while the former vice president led the Obama administration's anti-corruption push in Ukraine.
The big question: Will Biden move away from a posture of defending his son's honor to acknowledge and address legitimate concerns about his own judgment from some Democrats and swing voters?
Biden told "Axios on HBO" that Hunter did nothing wrong — but that he has not dug into what Hunter actually did while working in Ukraine.
"I don't know what he was doing. I know he was on the board. I found out he was on the board after he was on the board and that was it," Biden told us. 
Asked whether he wants to get to the bottom of it, Biden said, "No. Because I trust my son."
Biden said his family will be banned from making money overseas if he wins, faulting the president's family members' government and business conflicts of interests — not Hunter's work — for the need for a formal guardrail. 
"They will not be engaged in any foreign business because of what's happened in this administration."
Axios' Alexi McCammond, who spent time on Biden's Iowa bus tour last week, said after he called a man a "damn liar" at one event for making unsubstantiated claims about Hunter's work, Biden told reporters the next day that he "probably shouldn't have challenged him to pushups" and doesn't want to stoop to Trump's level in sparring with critics.
2. Biden: Stuttering not to blame for verbal screwups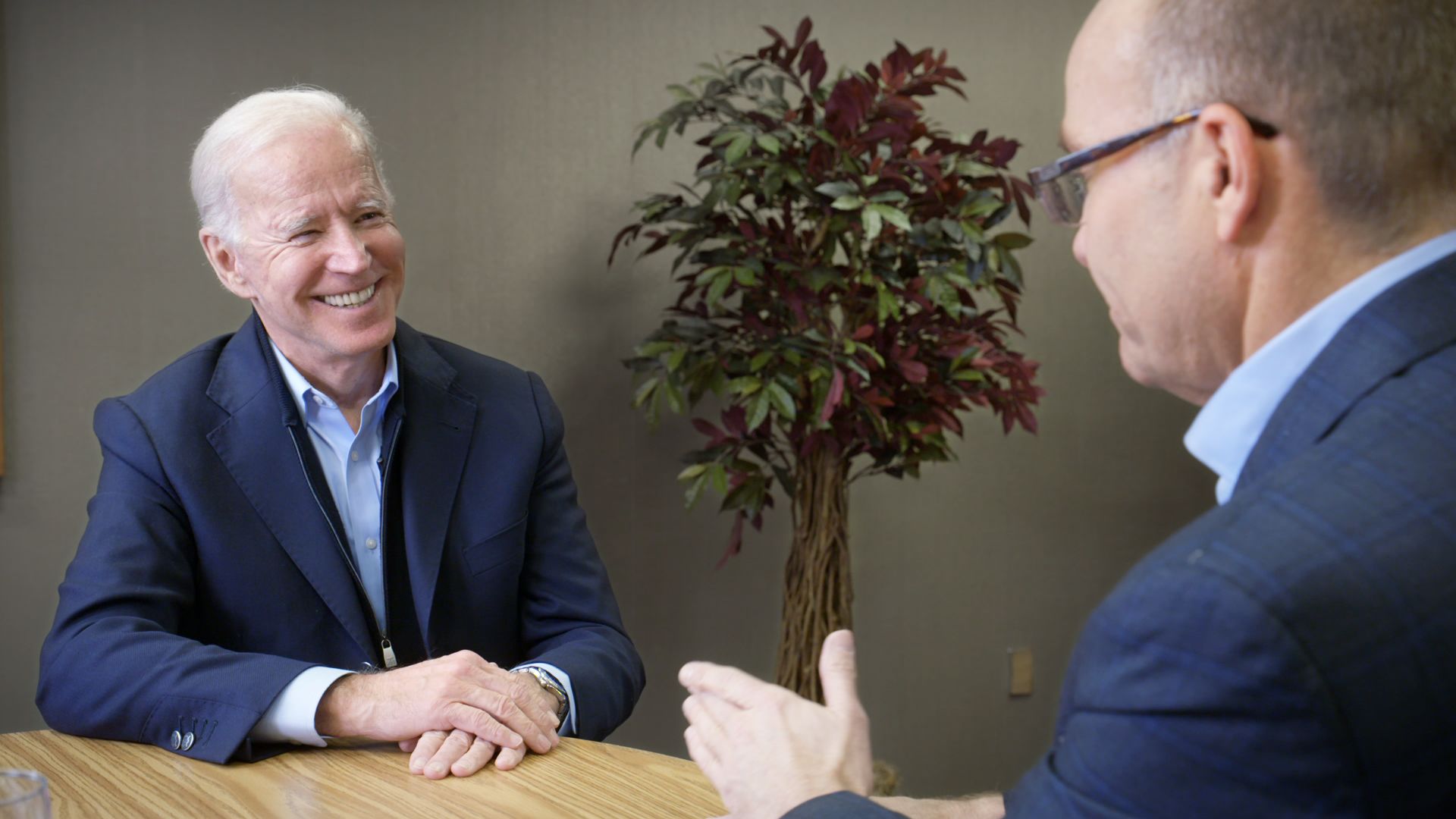 Biden told "Axios on HBO" that stuttering isn't to blame for a string of verbal mistakes in the 2020 campaign. 
Why it matters: A reporter for The Atlantic who stutters wrote recently that he studied Biden's verbal miscues and concluded that lifelong stuttering struggles were to blame, Axios' David Nather explains. 
The piece suggested that Biden's boyhood stutter, which he has talked about throughout his political career, is still with him. But in his interview with Axios' Mike Allen, Biden said that's not how he sees it.
"I don't think of myself as continuing to stutter. ... That doesn't cross my mind that I'm stuttering," Biden said. "Look, the mistakes I make are mistakes. And some people think I still stutter. I don't think of myself that way."
Sometimes, Biden said, "I'll find myself searching for a second" to find the words — but "I've always attributed that to being tired and not to the stutter."
Biden has had a number of verbal stumbles during the campaign. He referred to the mass shootings in El Paso and Dayton, Ohio, as taking place in Houston and Michigan, and he said he met with the Parkland high school students as vice president when that mass shooting happened after he left office.
But Biden dismissed those as a meaningless media obsession. He said his age isn't to blame, claiming he's operating at "110%" of the mental skills he had when he was vice president — "better than I was."
"[Voters] don't think I lost a step. There's no evidence to suggest that. You guys love it. You guys love it. But I haven't seen any evidence of that."
Biden did talk about the embarrassment he faced as a child because of his stutter. "I remember stuttering when I had to speak publicly, when I had to stand up and read. When I had to. And it was mortifying," Biden said.
But in the long run, Biden said, the experience was "maybe the best thing that ever happened to me. Because it gave me an insight that I don't know that I would have ever had before, that everybody has something ... that is not something they're able to overcome just by saying, 'I'm not going to do that.'"
3. Republicans press Trump on Saudi response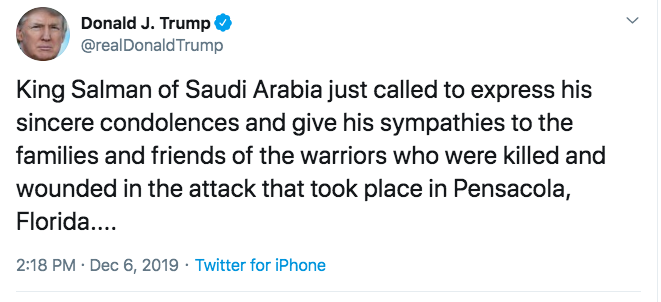 Republican lawmakers from Florida who are strong allies of President Trump are pressing the administration to respond more aggressively after a Saudi Air Force officer gunned down three U.S. sailors on Friday at a naval base in Pensacola, Florida.
Driving the news: Florida Sen. Rick Scott told Fox News "we need to suspend this program" of training foreign nationals on military bases while the administration reviews the circumstances that allowed the Saudi Air Force officer to murder U.S. sailors.
President Trump and Defense Secretary Mark Esper both said they would review the foreign nationals' training program in light of the attack.
Republican Rep. Matt Gaetz, whose congressional district includes the Pensacola base, said on ABC's "This Week" that the Saudi attack was an "act of terrorism" and that the shooting should "inform our ongoing relationship with Saudi Arabia."
Both Gaetz and Scott have urged the Saudis to fully cooperate with the investigation and not to interfere in any way with U.S. law enforcement's questioning of Saudis who may have knowledge of the attack.
Behind the scenes: Trump immediately struck a conciliatory tone toward King Salman of Saudi Arabia. A senior administration official said the president's initial tweet, after his phone call with King Salman, was ill-advised given it came before law enforcement had established the facts about the shooter's motives or whether other Saudis were involved in planning the attack.
"King Salman of Saudi Arabia just called to express his sincere condolences and give his sympathies to the families and friends of the warriors who were killed and wounded in the attack that took place in Pensacola, Florida," Trump tweeted on Friday.
"The King said that the Saudi people are greatly angered by the barbaric actions of the shooter, and that this person in no way shape or form represents the feelings of the Saudi people who love the American people."
The official said more skepticism was warranted — even though Saudi Arabia is an important Middle East ally who helps counter Iran — given America's complicated recent history with the kingdom.
15 of the 19 al-Qaeda terrorists who staged the 9/11 attacks were Saudis. And some members of Congress have been pressing the Trump administration to reevaluate its relationship with Saudi Arabia in light of the kingdom's bombing of civilians in Yemen and murder of Washington Post columnist Jamal Khashoggi.
4. Why Trump cares about this week's U.K. elections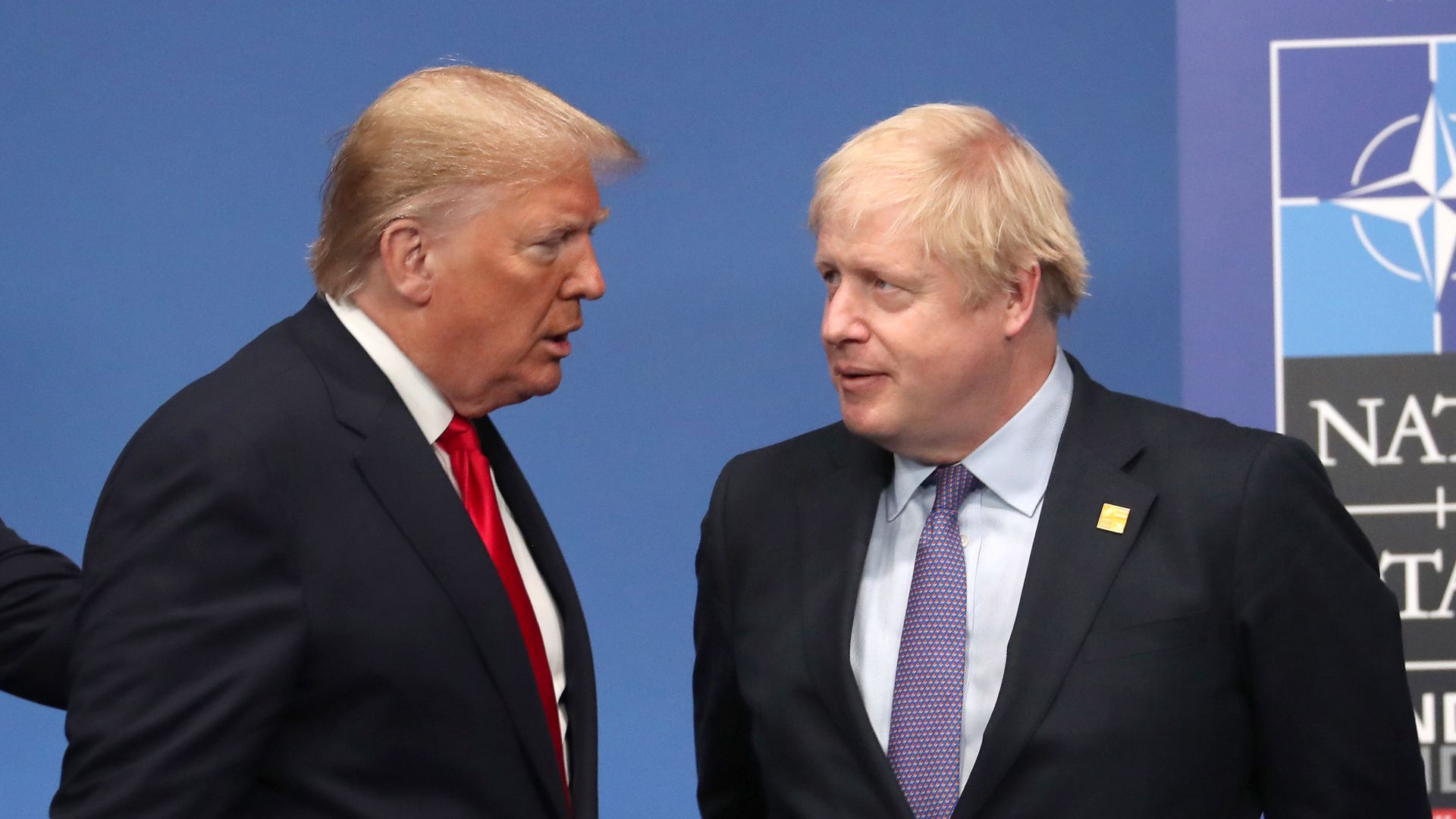 President Trump will be watching another political contest this week: The U.K.'s Dec. 12 general election will decide what happens to Brexit and if Prime Minister Boris Johnson — aka "Britain Trump" — remains in charge.
Why it matters: If Johnson's Conservatives win the majority in Parliament, Brexit clears the way for the bilateral U.S.-U.K. trade relationship that Trump favors over negotiating with the European Union.
But if Johnson falls short, one scenario is a coalition government with Labour's Jeremy Corbyn in charge, throwing a curveball not just to Brexit but to U.S. partnerships on foreign and national security policy.
"The president is interested in seeing more leaders like him win elections," Heather Conley, director of the Europe Program at the Center for Strategic and International Studies in Washington, tells Axios' Margaret Talev.
Details: Among the hurdles between Johnson and a runaway election victory this Thursday are a polarized electorate, his own reputation for dishonesty and Trump, Axios' Dave Lawler writes.
Behind the scenes: Trump is politically toxic throughout much of the U.K. And Johnson, one of the few European leaders with whom he has genuinely warm relations, was careful not to get too close to Trump during last week's NATO summit in London.
Johnson huddled with other heads of state as the Canadian prime minister mocked Trump's rambling press conferences.
"Boris kept his distance and was with the gang mocking the president," Nigel Farage — a Trump ally but a Johnson rival as leader of the upstart Brexit Party — tells Lawler via text. "I did not like it."
Yes, but: James Johnson, who ran Downing Street's polling under Theresa May, says focus groups suggest Trump isn't as much of a liability with British voters as he's made out to be. Johnson, the pollster, gives the Conservatives a 75% chance of a parliamentary majority.
The bottom line: Peter Westmacott, former British ambassador to the U.S., tells Lawler that even if Boris Johnson's Brexit deal passes, there will be "numerous dramas throughout the course of 2020" as the U.K. negotiates its future trading relationship with the EU, while a U.S.-U.K. trade deal will take "years of hard bargaining."
5. Impeachment lookahead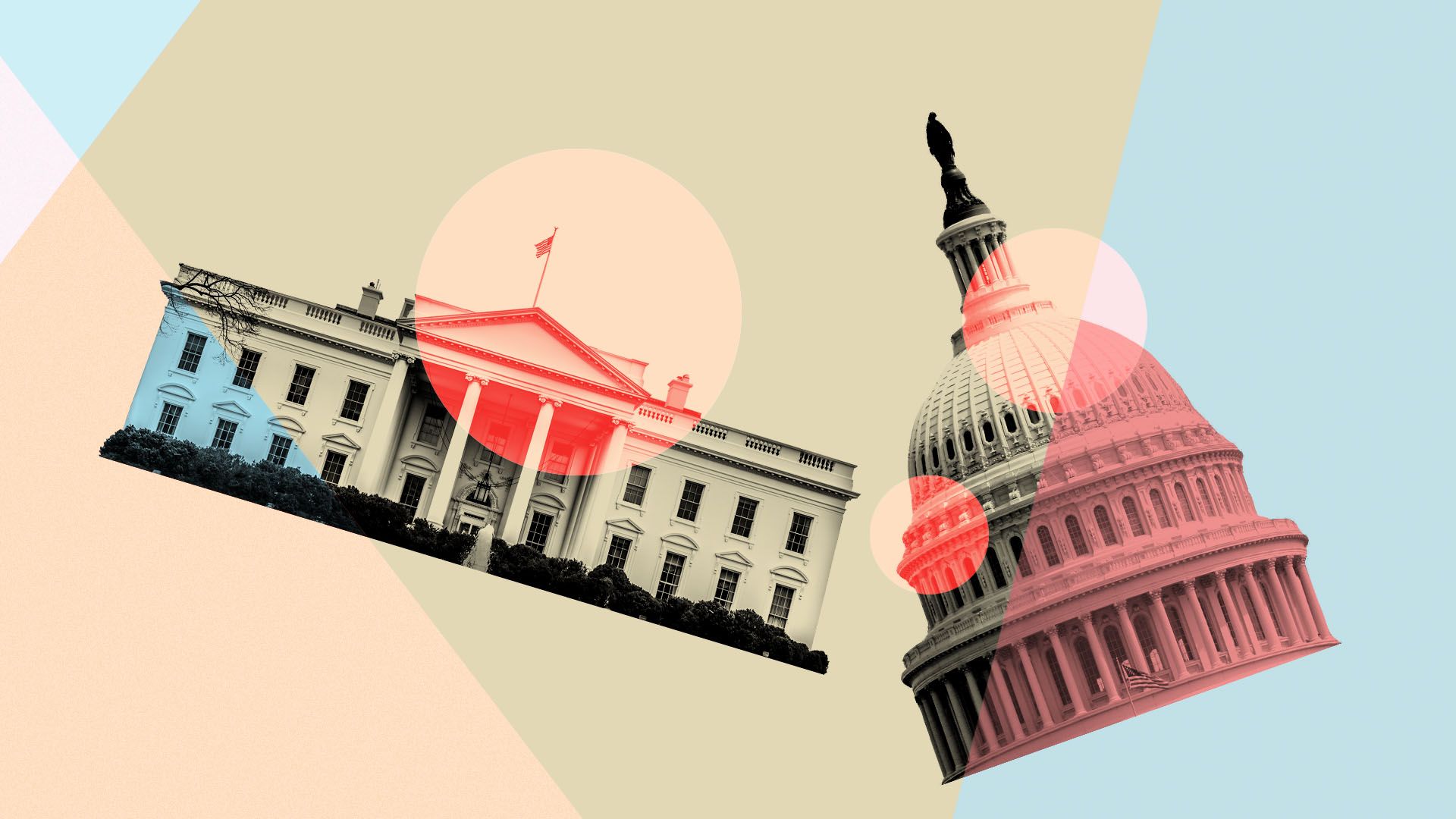 Democrats will argue during tomorrow's impeachment hearing that no U.S. president in history, until Donald Trump, abused presidential powers to attack America's democracy and corrupt its elections, Axios' Alayna Treene reports.
Driving the news: Democrats plan to argue that Trump committed the following offenses that the founders "found alarming and most worthy of impeachment," per a Democratic aide working on the impeachment inquiry:
"Abuses of power through self-dealing."
"Betrayal of national security in the service of foreign interests."
"Corruption of our elections that undermine our democratic system."
What to expect: You'll hear opposing arguments from the Democratic and Republican counsels to the Judiciary Committee and the Intelligence Committee, followed by rounds of questioning from Judiciary Committee members.
Between the lines: Our reporting indicates that the Democrat-led hearings so far have not only failed to move Republicans toward impeachment. They have also had the effect of hardening and consolidating Republican support — in both the House and Senate — behind the president.
Nobody we've spoken to, from either party, thinks there's even a remote chance Trump gets convicted in a Senate trial.
Go deeper: Read the opposing arguments from Democrats and from Republicans.
6. Sneak Peek diary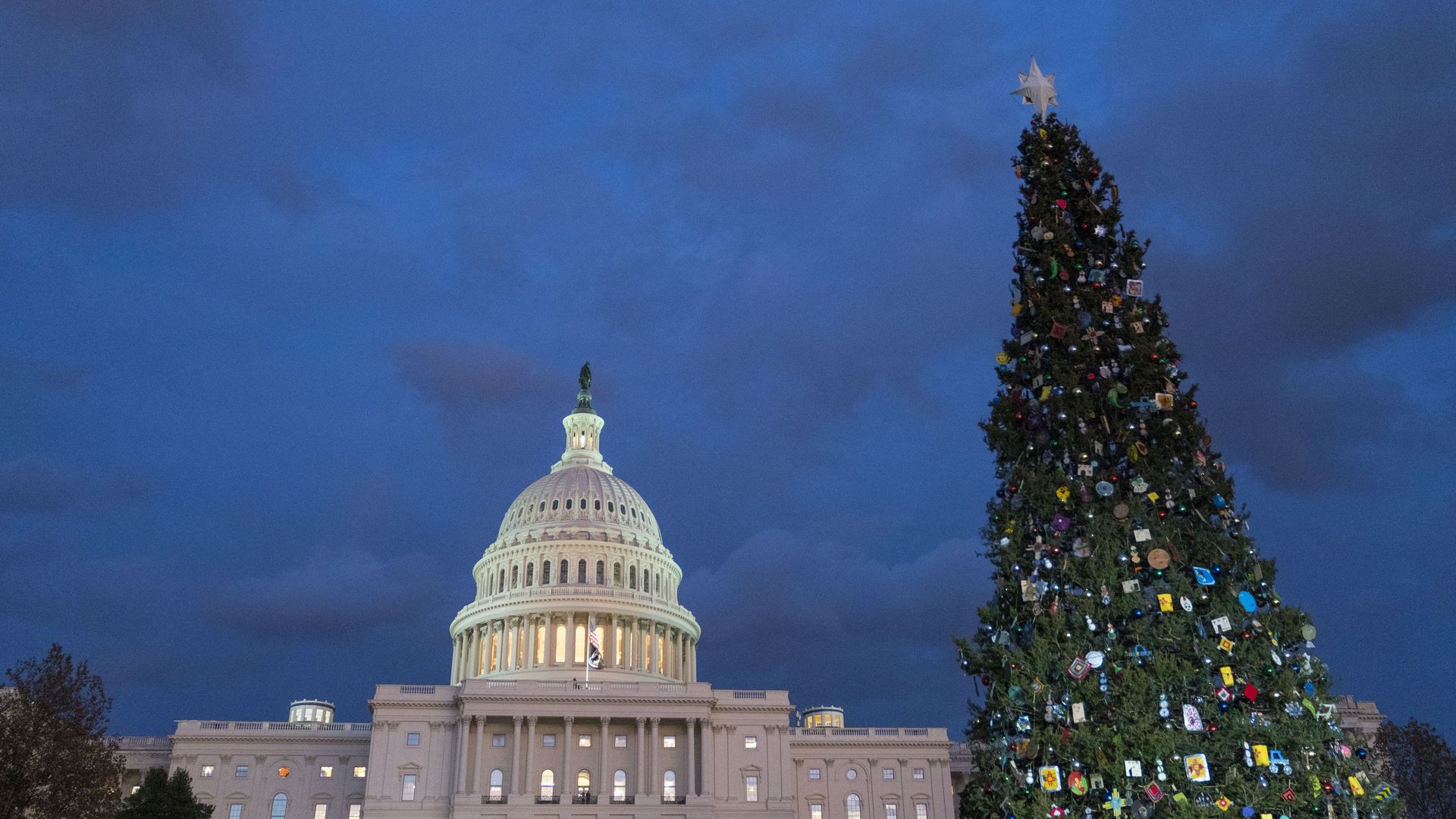 The House Judiciary Committee will hold an impeachment hearing on Monday, during which Democratic and Republican counsels for the House Intelligence and Judiciary committees will present their evidence.
The House will also vote on the Elijah E. Cummings Lower Drug Costs Now Act.
House Republicans will introduce their own legislation to lower drug costs at a press conference tomorrow afternoon, per a Republican aide. Four committee ranking members — Greg Walden, Kevin Brady, Virginia Foxx and Doug Collins — led this effort.
The Senate will vote on the following nominees, per a Republican leadership aide:
Patrick Bumatay as a judge for the Ninth Circuit.
Lawrence VanDyke as a judge for the Ninth Circuit.
John Sullivan as U.S. ambassador to Russia.
Stephen Hahn as the commissioner of the Food and Drug Administration.
Aurelia Skipwith as the director of the U.S. Fish and Wildlife Service.
President Trump's schedule, per a White House official:
Monday: Trump will have lunch with Mike Pence and join an education roundtable.
Tuesday: Trump will hold a campaign rally in Hershey, Pennsylvania.
Wednesday: Trump will participate in the ceremonial swearing-in of Energy Secretary Dan Brouillette. The president and first lady will also attend Hanukkah receptions.
Thursday: Trump will address a White House summit on child care and paid leave. The president and first lady will also attend the Congressional Ball.
Friday: Trump will host the president of Paraguay at the White House.