Axios Sneak Peek
February 04, 2021
Today's newsletter — edited by Glen Johnson — is 842 words, a 3-minute read.
1 big thing: Exclusive poll - Republicans favor Greene over Cheney
Conspiracist Rep. Marjorie Taylor Greene is far more popular than Rep. Liz Cheney among Americans who align with the Republican Party, Axios' Margaret Talev writes based on a new Axios-SurveyMonkey poll.
Why it matters: As the House GOP caucus is being torn over calls to yank Cheney from congressional leadership for backing Donald Trump's impeachment, and strip Greene from committee assignments for her baseless conspiracy theories and violent rhetoric, these findings show how strongly Trumpism continues to define most Republicans.
House Minority Leader Kevin McCarthy is much more popular with Republicans than Senate Minority Leader Mitch McConnell, the survey finds.
By the numbers: McCarthy enjoys the highest favorable versus unfavorable ratings (net favorability) of the four among Republicans, at 38%-16% (+22); followed by Greene, at 28%-18% (+10); McConnell, at 31%-46% (-15); and Cheney, at 14%-42% (-28).
Greene is the least well known of the four, with 51% of Republicans and Republican leaners saying they don't know enough to say whether their impression is favorable or not. Respondents have the most fully formed views of McConnell.
Republican respondents are three times as likely to say their views align with Greene than with Cheney, but nearly one-third say they don't align with either, and half say they don't know enough to say.
Republican respondents who voted for Trump in November gave McCarthy a high net favorable rating (+31) and McConnell a high net unfavorable rating (-18).
2. Inside the GOP's fight "for the direction of our party"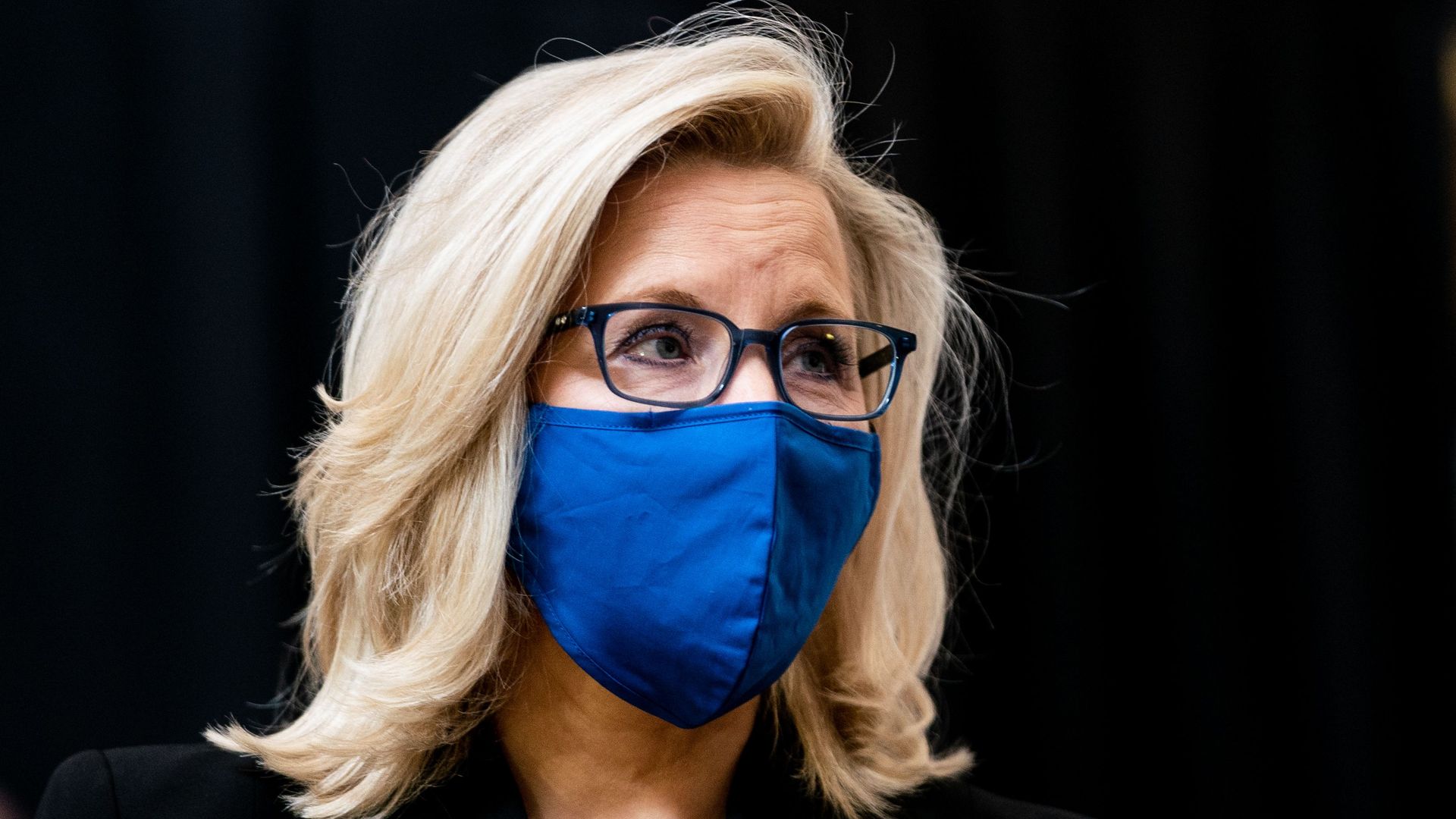 One House Republican said Wednesday's hours-long GOP caucus meeting wasn't just about Reps. Liz Cheney and Marjorie Taylor Greene but "the direction of our party," Axios' Alayna Treene writes.
Why it matters: In voting to leave Cheney in her leadership post after House Minority Leader Kevin McCarthy previously announced he would let Greene remain on her committees, the party perpetuated its divisions. Retaining Cheney risks upsetting Trump Republicans, while not ousting Greene empowers Democrats who are ready to do so themselves on Thursday.
"I don't think this is about Liz Cheney," Rep. Jaime Herrera Beutler (R-Wash.) told reporters. "This is about the direction of our party."
What we're hearing: Leadership desperately wanted the party to move on from all of the infighting, which is why it worked to end the drama surrounding Cheney — who voted to impeach former President Trump — with its secret-ballot vote.
The undisclosed tally came after members voiced their opinions over a session lasting more than four hours.
3. Schumer's hell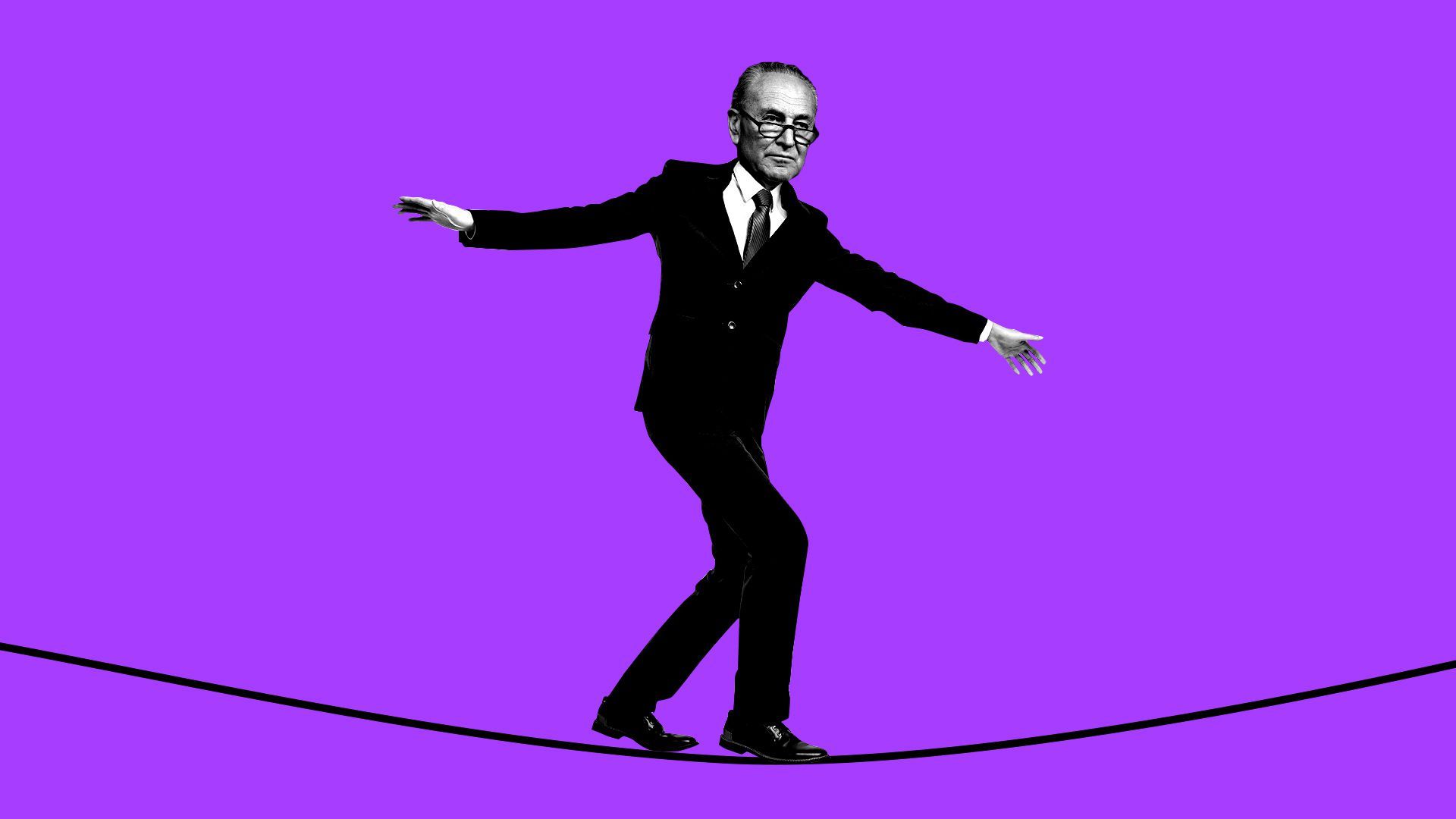 Chuck Schumer is fast rediscovering the joys of running a 50-50 Senate: stubborn centrists, irritated base, uncooperative opposition — and virtually no margin for error, Alayna also writes.
Why it matters: This will be his reality for two years unless he blows up the filibuster. Truth is, managing a divided government is a drag unless you dispense with rules and traditions.
Moderates hold immense power, both because of the razor-thin majorities in Congress and Biden's commitment to bipartisanship. Many have gone straight to the president.
Progressives are skeptical Schumer has their best interests at heart.
Rep. Alexandria Ocasio-Cortez and other progressives have flirted with the idea of challenging Schumer for his Senate seat. He's up for reelection in 2022.
Andrew Cuomo, governor of Schumer's home state of New York, is pressuring the leader to ensure more money for state and local aid makes it into the final stimulus package.
McConnell keeps trying to force him into a corner, most recently by holding up the Senate power-sharing accord and setting the schedule for the impeachment trial.
Republicans also are skirting Schumer. They would rather deal with the president himself.
4. AOC tutors Dems on mastering social media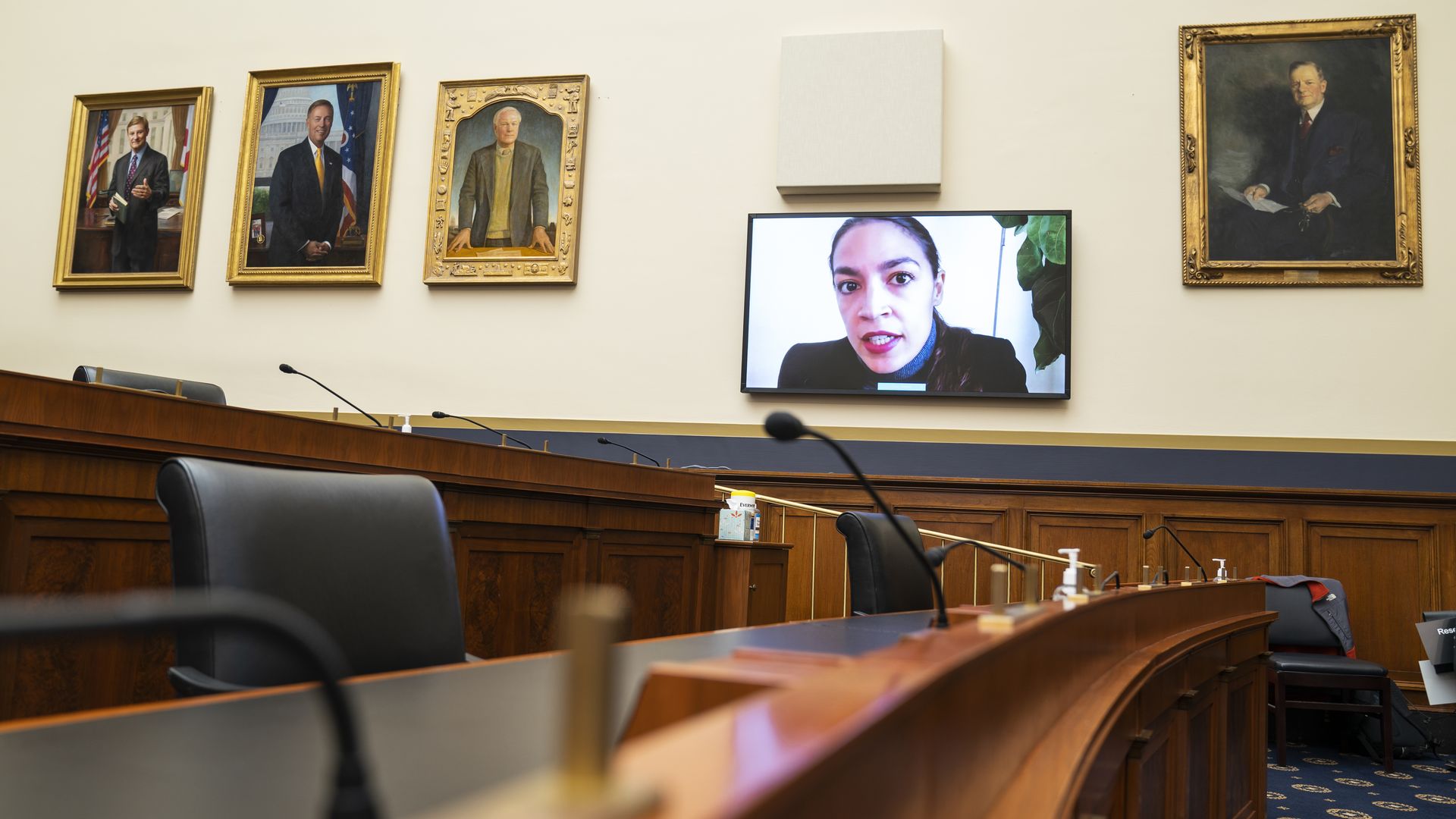 Ocasio-Cortez, who captivated millions this week with an Instagram Live monologue about her Capitol siege experience, shared her social media savvy Wednesday during a master class with her fellow Democrats, Axios' Alexi McCammond reports.
Why it matters: One of the party's best digital practitioners is trying to help the Congressional Progressive Caucus in particular become stronger, more sophisticated and prolific so it can better shape policy in the 117th Congress.
Inside the virtual room: Ocasio-Cortez acted as a creative director, of sorts, for Democratic colleagues who, by and large, are unfamiliar with how to project authenticity through social media.
She pitched a video series that Rep. Lois Frankel (D-Fla.) could launch to better share her personality with constituents, and talked about how the streaming platform Twitch can be used to mimic a more engaging town hall.
"We're just mere mortals and we rely on our staff to do all this," Frankel told her.
Rep. Brendan Boyle (D-Pa.) asked what type of content Ocasio-Cortez decides to put out on her official congressional Twitter account versus her personal Twitter account.
5. White House transparency plans come into focus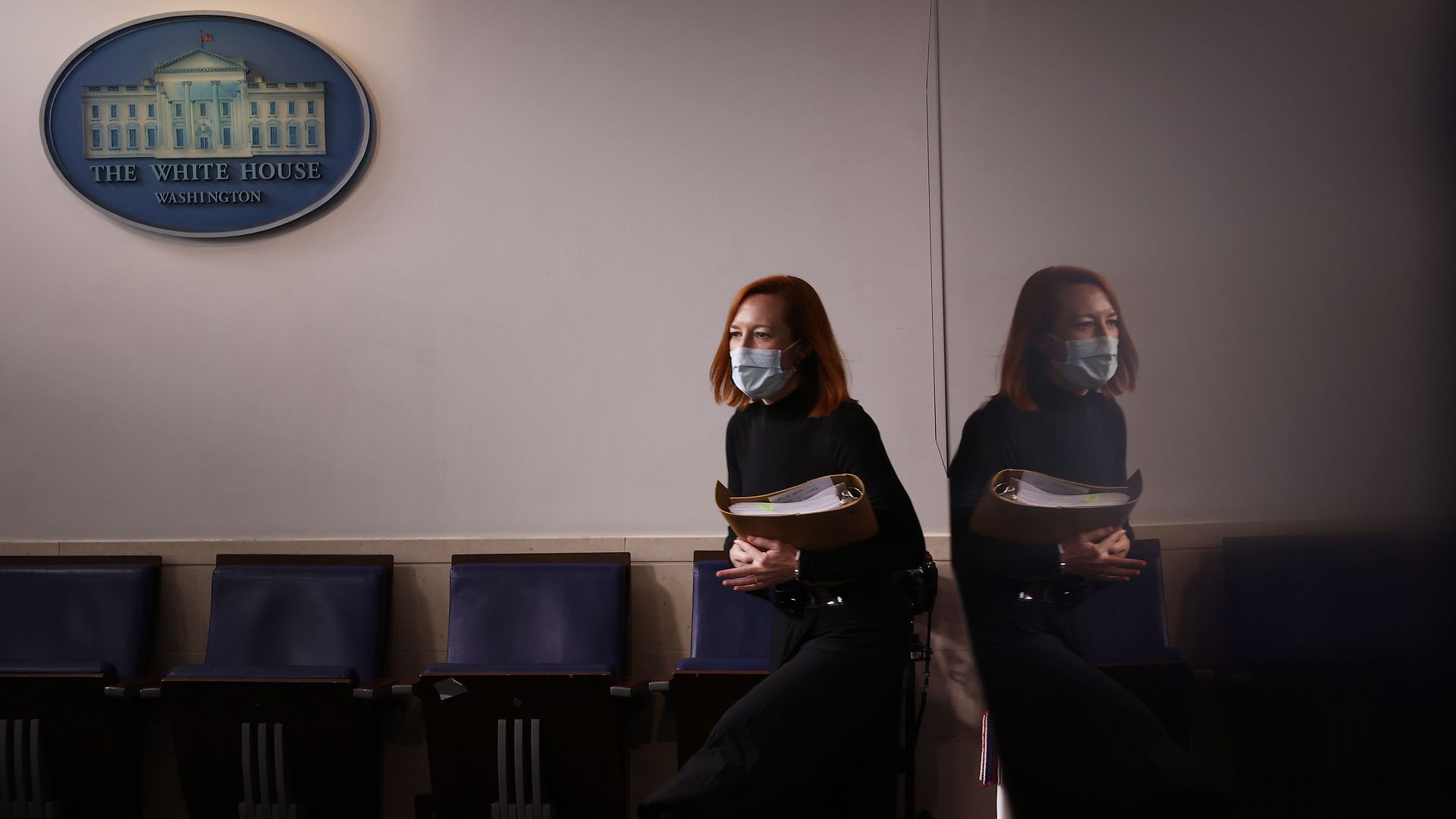 The Biden White House's ethics and transparency plans are coming into focus, with new details unveiled Wednesday about the release of staffers' personal financial information and records of White House visitors, Axios' Lachlan Markay reports.
Why it matters: The administration's disclosure efforts, while preliminary, represent a substantial improvement on those of his predecessor. Nonetheless, good-government advocates are urging the administration to do even more.
What's new: The White House is aiming to begin releasing staffers' personal financial disclosure forms on March 19, a White House spokesperson tells Axios. That's about two weeks earlier than the Trump administration.
Press secretary Jen Psaki also told reporters the White House plans to release visitor logs each quarter.
That's a return to a practice that began in the Obama administration.
6. Pics du jour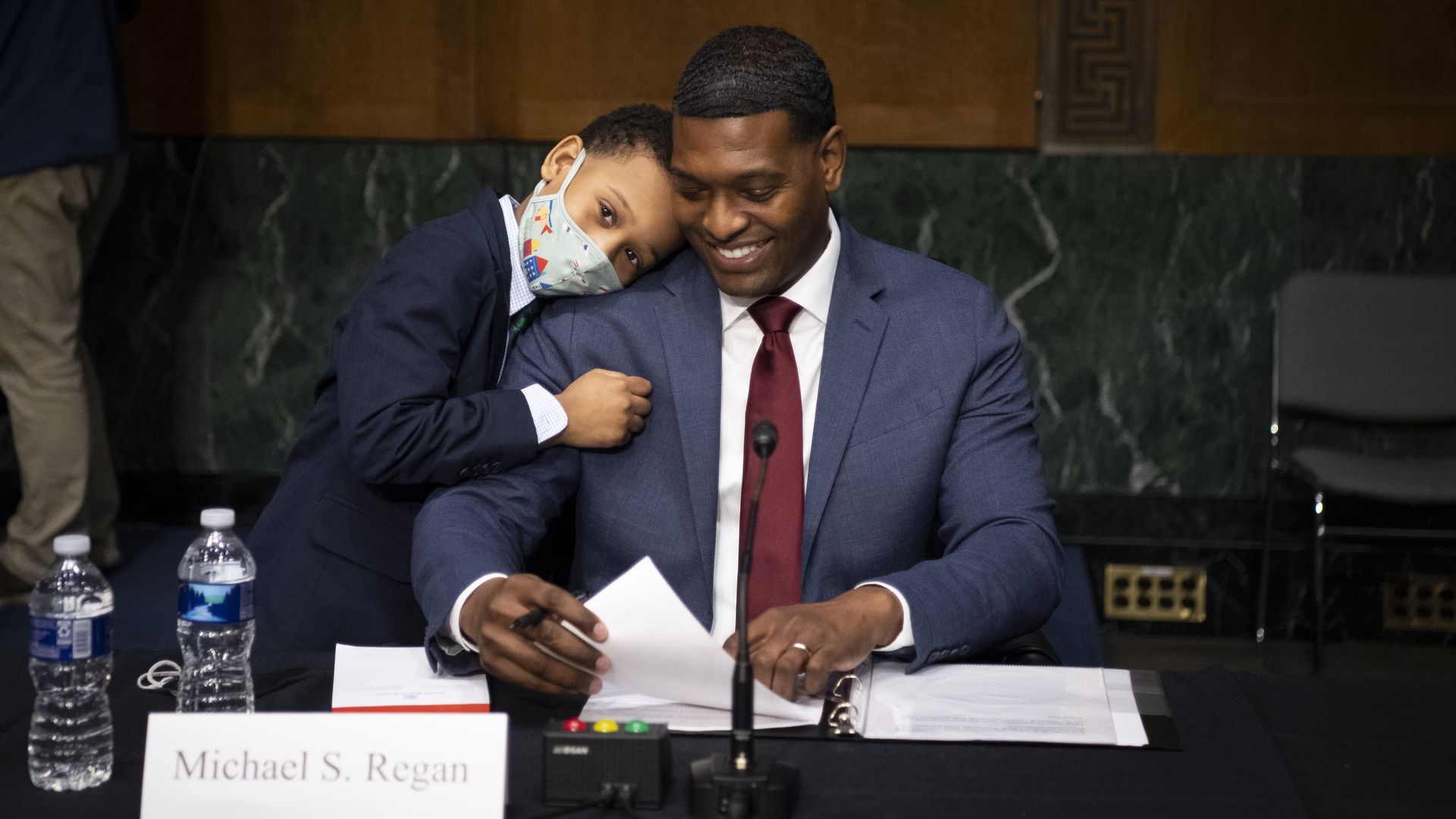 Michael Regan gets a hug from his 7-year-old son, Matthew, at the conclusion of his Senate confirmation hearing to be the administrator of the Environmental Protection Agency.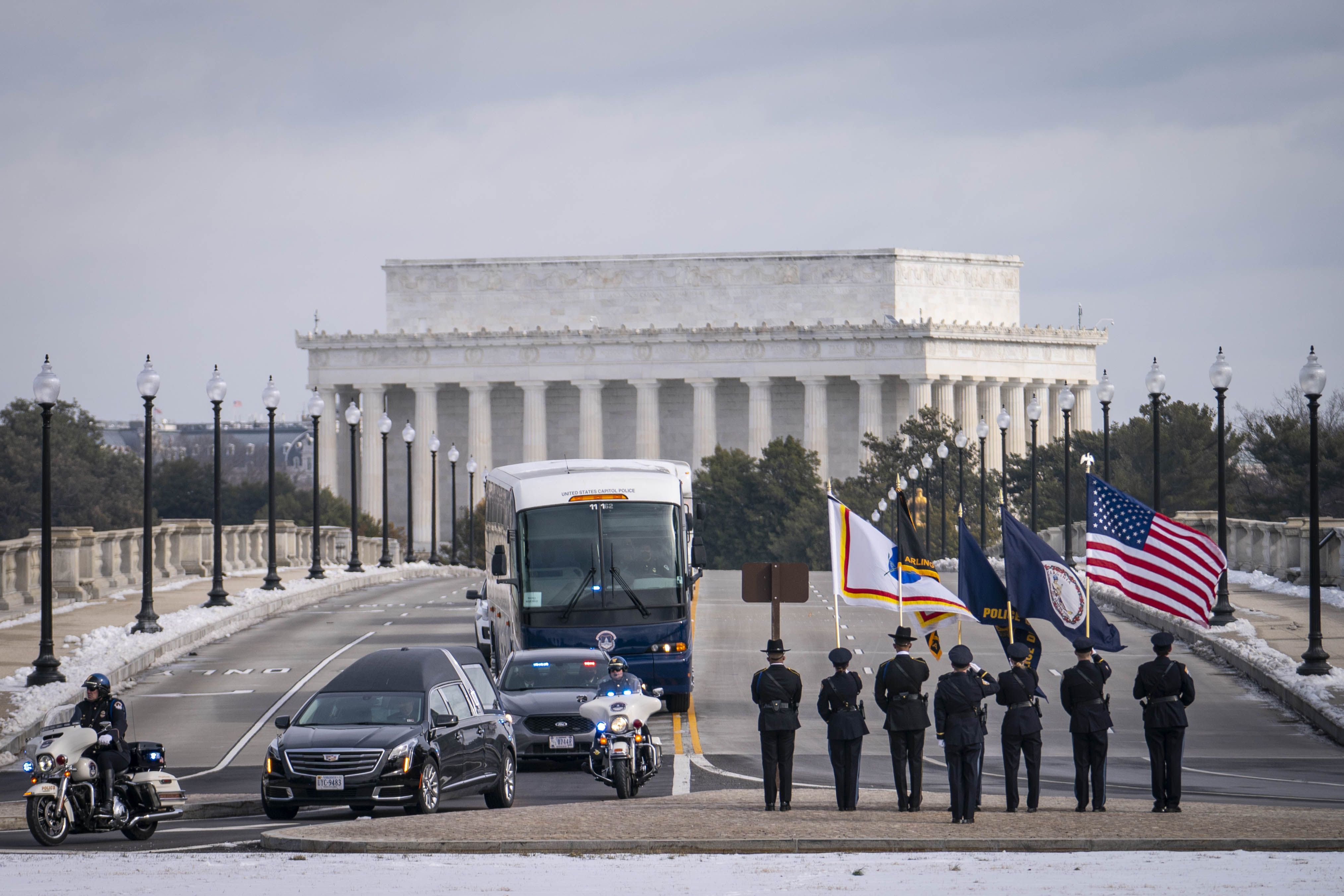 A hearse carrying the remains of U.S. Capitol Police Officer Brian Sicknick prepares to enter Arlington National Cemetery, the veteran's final resting place.
🙏 Thank you for reading tonight's Sneak. We've made it through hump day. To register for email delivery of this and all of Axios' free newsletters, click here.