Axios Sneak Peek
November 08, 2020
Welcome to Sneak Peek, our weekly lookahead from both ends of Pennsylvania Avenue, plus our best scoops.
Situational awareness: Sneak Peek is expanding! Starting after Thanksgiving, we'll be in your inboxes five days a week — Sunday to Thursday evenings — covering the Biden transition, the lame-duck Congress and the new Washington power dynamics into next year.
Our team is growing, too. Kadia Goba is joining us to cover Congress, and Glen Johnson will be a contributor and editor.
Tonight's newsletter is 1,620 words, a 6-minute read.
1 big thing: Scoop ... Inside Trump's legal warfare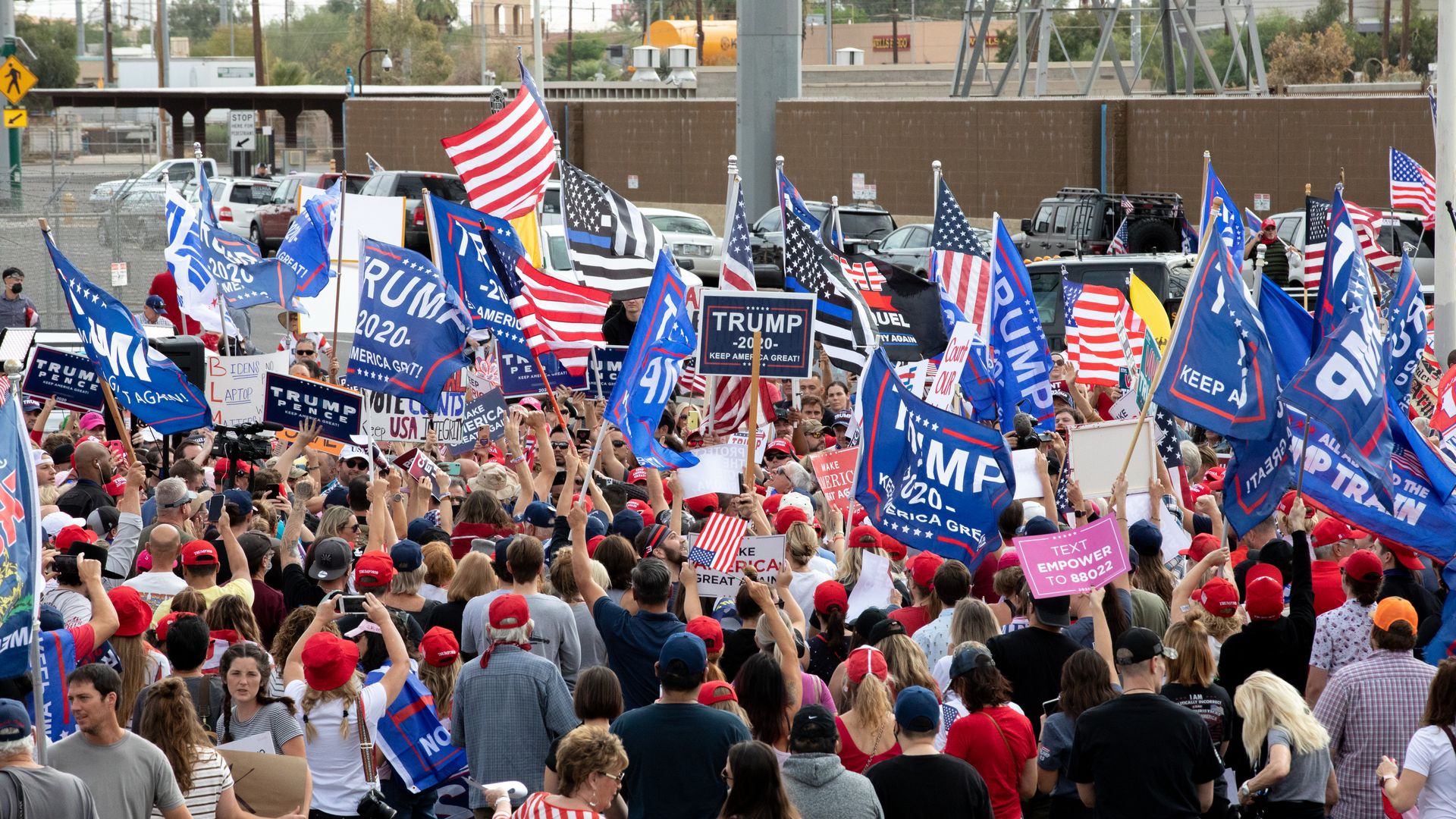 President Trump plans to brandish obituaries of people who supposedly voted but are dead — plus hold campaign-style rallies — in an effort to prolong his fight against apparent insurmountable election results, four Trump advisers told me during a conference call this afternoon.
What we're hearing: Obits for those who cast ballots are part of the "specific pieces of evidence" aimed at bolstering the Trump team's so-far unsupported claims of widespread voter fraud and corruption that they say led to Joe Biden's victory.
Fueling the effort is the expected completion of vote counting this week, allowing Republicans to file for more recounts.
What's next: Team Trump is ready to announce specific recount teams in key states, and it plans to hold a series of Trump rallies focused on the litigation.
In Georgia: Doug Collins, the outgoing congressman who lost to Sen. Kelly Loeffler in a special election to fill former Sen. Johnny Isakson's seat, will be leading the campaign's recount efforts. The team has also redeployed 92 staffers from Florida to Georgia, doubling its group on the ground.
In Arizona: Kory Langhofer, former counsel for Trump's 2016 transition, will serve as lead attorney.
In Pennsylvania: Porter Wright's Ron Hicks is heading up the legal effort.
Nationwide: They're assembling additional surrogates and lawyers.
"We want to make sure we have an adequate supply of manpower on the ground for man-to-man combat," one adviser said.
The group is also staffing a campaign-style media operation.
The team led by Trump communications director Tim Murtaugh is now a surrogate messaging center. It will pump out "regular press briefings, releases on legal action and obviously things like talking points and booking people strategically on television," one adviser said.
They'll also make a big play to raise money for their legal defense fund.
Trump's formal legal team includes 2020 campaign manager Bill Stepien, lawyer Justin Clark, and senior advisers Jason Miller and David Bossie.
Reps. Jim Jordan and Scott Perry, as well as former White House Chief of Staff Reince Priebus, are also heavily involved.
Trump's team claims there is "no daylight" between them and the White House — chiefly senior adviser Jared Kushner and current Chief of Staff Mark Meadows.
"We all have the same goal in mind, which is using the legal process over the next many days and weeks ahead to make sure that the president is re-elected," one adviser said.
2. Trump may not, but many in inner circle accept defeat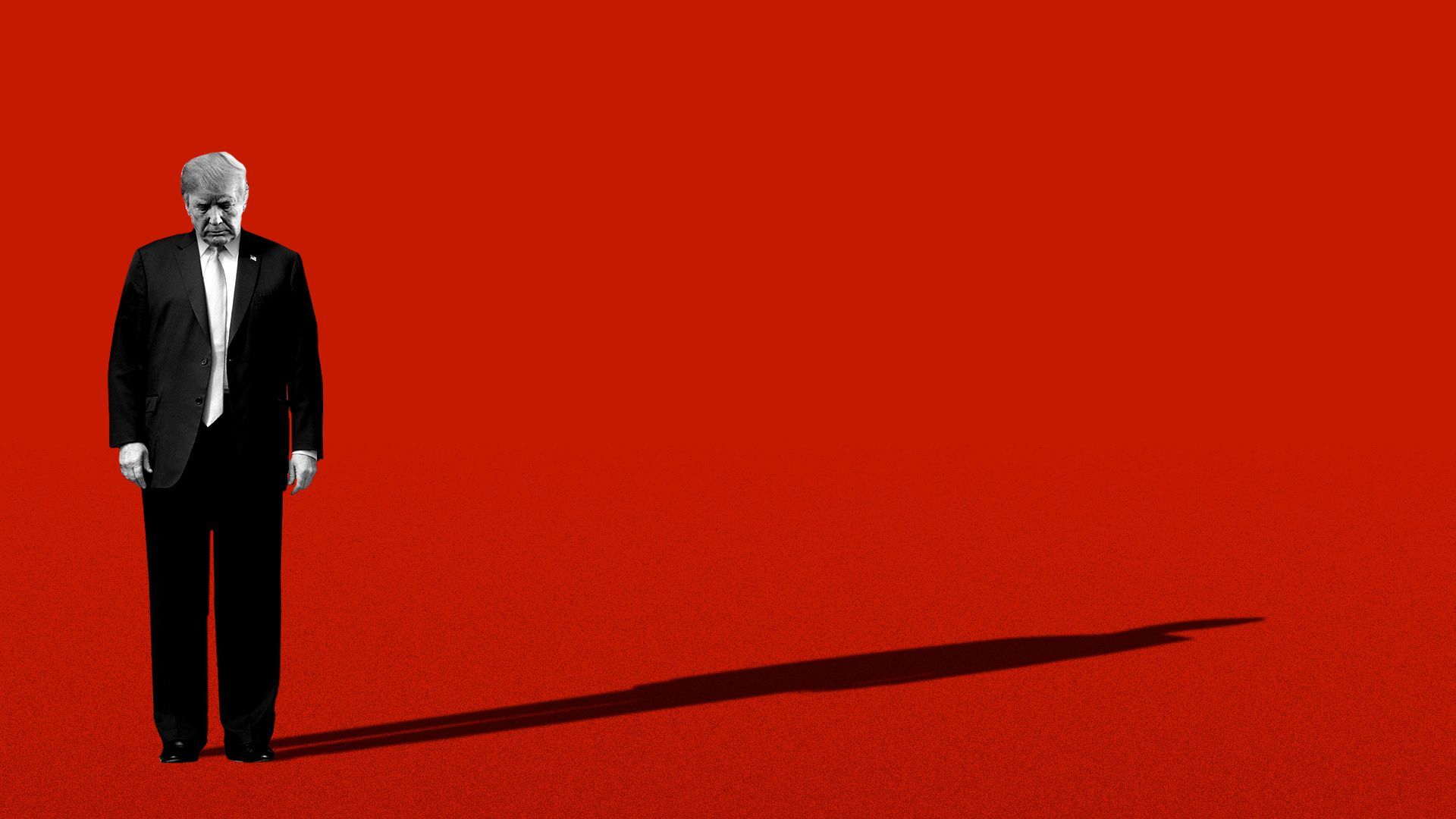 Apart from a few die-hards, most people close to President Trump know the race is over — but no one wants to be the sacrificial lamb who tells him to concede, people familiar with their thinking tell me.
Why it matters: Trump's long-shot legal war, aimed at preventing him from being the first one-term president in 28 years, is being enabled by active supporters — and a lot of passive appeasement.
What we're hearing: Top Trump advisers sat the president down at the White House on Saturday and walked him through the "options for success," a campaign official tells me.
The official added that they made clear to Trump the likely outcome of waging these legal battles, but he was firm that he wants to forge ahead anyway.
One source who recently spoke to the president tells Axios' Jonathan Swan that even Trump has discussed the possibility of not winning. He has accepted that losing may be an outcome but insists on pursuing what he claims is mass fraud.
Several of his close advisers, including social media guru Dan Scavino and personnel director Johnny McEntee, are egging him on.
But people one rung out have privately accepted reality. They know the court cases are dead ends, and some are already putting out job feelers.
Behind the scenes: Chris Liddell, Trump's deputy chief of staff for policy coordination, has been working on transition preparations for the past several weeks, but "everything is frozen right now, they're not doing anything," a source familiar with his work says.
Typically at this point, Liddell should be figuring out what priorities they can push through before Jan. 20 and working with the Justice Department to review security clearances for Biden officials.
While the Biden campaign has posted its own transition page, Emily Murphy, administrator of the General Services Administration, has yet to declare when Biden's official transition begins.
Neither may happen until the White House gets on board with the outcome.
One White House official described a scene of chaos and frustration among staff, particularly younger, lower-level aides anxious about finding new jobs.
"Senior staff can afford to drag it out, but mid to lower ... need paychecks and don't want to get left behind," the official said.
The challenge, the official added, is sending out resumes when "we are technically supposed to believe we can win."
White House press secretary Kayleigh McEnany says, "Having spoken with many younger West Wing staffers, I can tell you that the team fully supports President Trump and the movement behind him."
The bottom line: One adviser who attended Trump's election night party at the White House tells me the president had "whiplash" watching his lead diminish over the ensuing days.
"He went to bed thinking he won. We all felt good," the Trump adviser said. "That's why we collectively are still confounded. But there's only so much you can do now once a big part of the country has decided to move on."
3. Biden's Hispanic overture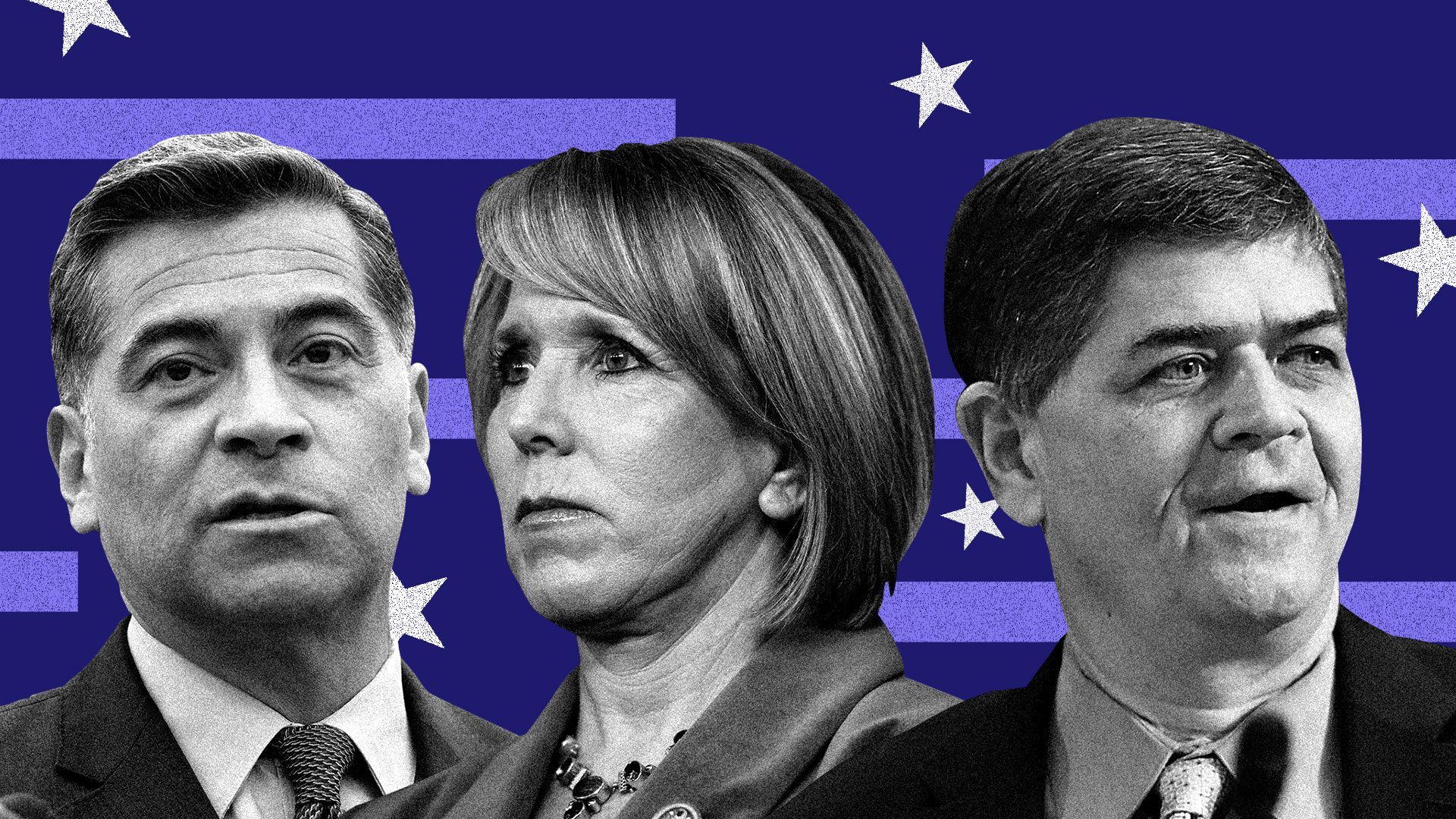 After Joe Biden whiffed with Hispanic voters in some states, Democrats are urging the president-elect to nominate several Latinos to high-profile Cabinet positions, Axios' Hans Nichols reports.
Among those in contention: California Attorney General Xavier Becerra for Homeland Security, New Mexico Gov. Michelle Lujan Grisham for Health and Human Services, and Rep. Filemon Vela for Commerce or Transportation.
Becerra and Grisham have quietly conveyed their interest to Biden's team.
Where it stands: Biden plans to roll out his senior White House staff first, potentially starting this week, and then announce some of his Cabinet later this month or next. Hispanic appointments could help win back a demographic needed to maintain House control in the 2022 midterms.
Biden wants the Cabinet to "look like America," and some of his confidants are predicting it will be more than half female. They believe the big four positions — Justice, State, Defense and Treasury — could all go to women.
While Biden's West Wing will have older white males who are longtime advisers — Ron Klain, Steve Ricchetti and Mike Donilon — expect diversity around the Oval Office, too.
Biden came to rely on Rep. Cedric Richmond, a member of the Congressional Black Caucus, for his political antenna. He's leaning toward bringing Richmond inside the White House as a senior adviser, instead of the Cabinet.
Flashback: The CBC has signaled to Biden that African Americans are expecting "nontraditional" Cabinet posts, with some targeting Treasury secretary.
They are gathering lists of names and funneling them to the transition through Richmond and Rep. Jim Clyburn, whose endorsement sealed Biden's primary victory in South Carolina.
Among their top candidates is Rep. Marcia Fudge from Ohio for Agriculture secretary.
4. Solving for Pete
One near-certainty about Joe Biden's Cabinet: Pete Buttigieg will be in it.
Biden officials have made clear to donors and party officials the question surrounding Buttigieg is not if, but where, he lands, Democrats close to Biden tell Hans.
The intrigue: Behind that certainty, though, are a range of questions about how to put his obvious political talent to use.
The multilingual Buttigieg has told friends he wants U.S. ambassador to the United Nations, but he may face internal competition from Julie Smith, a longtime Biden foreign policy confidant.
Former diplomats Wendy Sherman and Linda Thomas-Greenfield are other possibilities.
Rep. Ted Deutch from Florida also has expressed interest.
Other slots for Buttigieg range from Housing and Urban Development to Veterans Affairs to the Office of Management and Budget.
One key question: How would Kamala Harris feel about having a potential 2024 rival lurking the Cabinet and building a donor base from a perch at the United Nations — and around New York City's big donors?
Some Buttigieg allies think he should take a job letting him burnish his credibility with the African American community, where he underperformed during the primaries.
5. Sneak Peek diary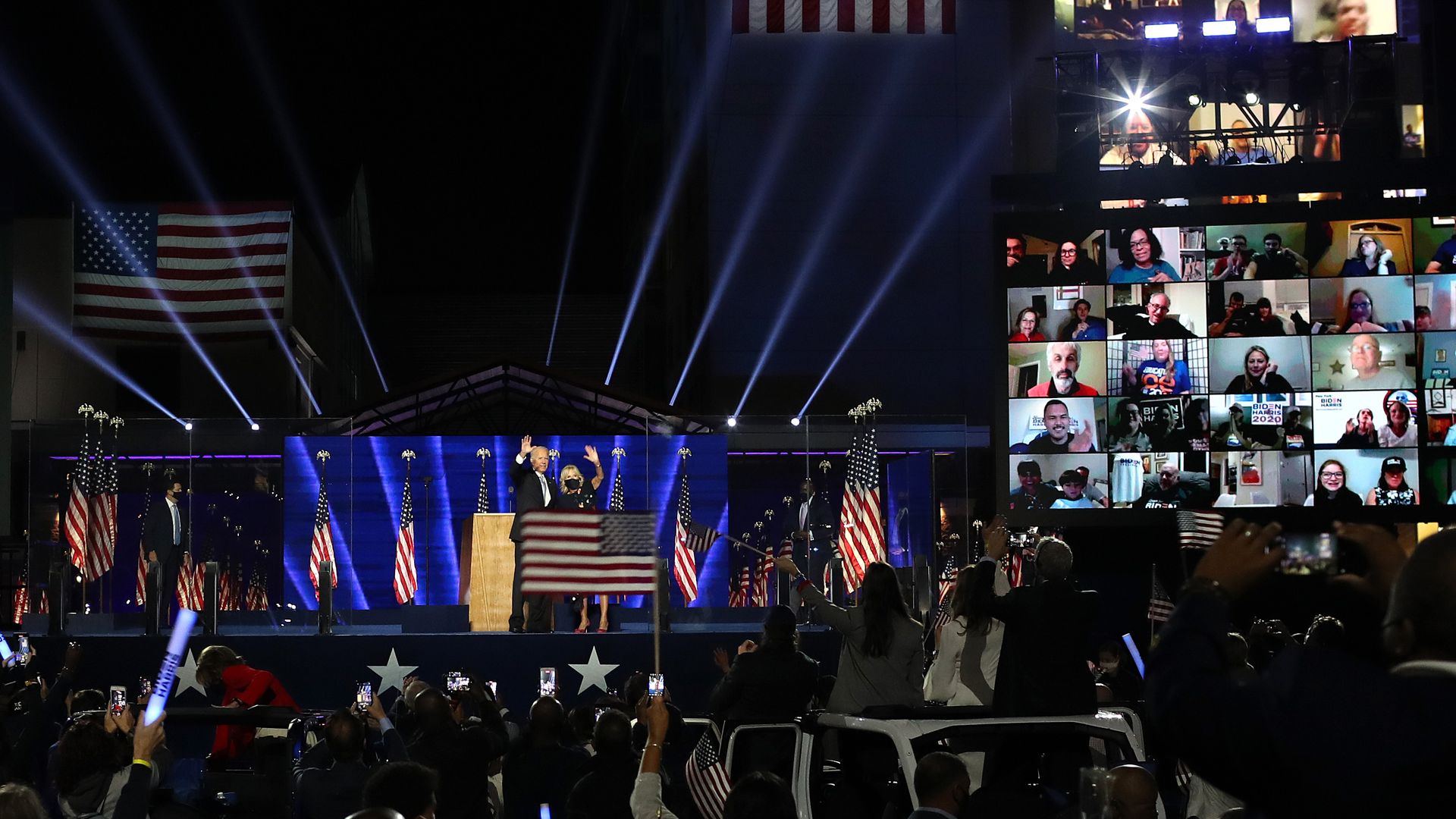 The House is on recess this week.
Leadership elections will take place Nov. 18–19.
The Senate will hold leadership elections Tuesday morning. Most roles are not expected to change.
A Senate leadership source tells me they'll hold "new member orientation" this week.
Majority Leader Mitch McConnell said his top priorities through the end of the year are to pass a full-year spending deal, tackle coronavirus stimulus legislation and confirm more Republican judges.
The Senate Judiciary Committee is also working behind the scenes to quickly confirm Thomas Kirsch, the U.S. attorney for the Northern District of Indiana, to the U.S. Court of Appeals for the Seventh Circuit (previously held by Justice Amy Coney Barrett).
At 5:30pm on Monday, the Senate will vote on the motion to invoke cloture on James Ray Knepp II to be a judge for the Northern District of Ohio.
Representatives for President Trump and President-elect Joe Biden did not provide Axios a copy of their schedules.
6. Photos: Inside election night at the Trump hotel
President Trump remained at the White House election night, but many of his top supporters still partied late into the night at the Trump International Hotel.
The party, which like the White House celebration violated D.C. coronavirus restrictions limiting gatherings to 50 people, spilled into several of the hotel's reception rooms. Fox News blared on all of the TVs.
Attendees included Trump donor Mike Lindell, CEO of MyPillow; Todd Ricketts, co-owner of the Chicago Cubs and finance chair for the Trump Victory Committee; Ralph Reed, Trump's longtime friend and chair of the Faith and Freedom Coalition; Christl Mahfouz, owner of Ace Specialties, a merchandise provider and distributor for the Trump campaign; and conservative commentator Eric Bolling.
As midnight approached, several partygoers went to the Four Seasons in Georgetown to sip champagne and mingle with campaign staff.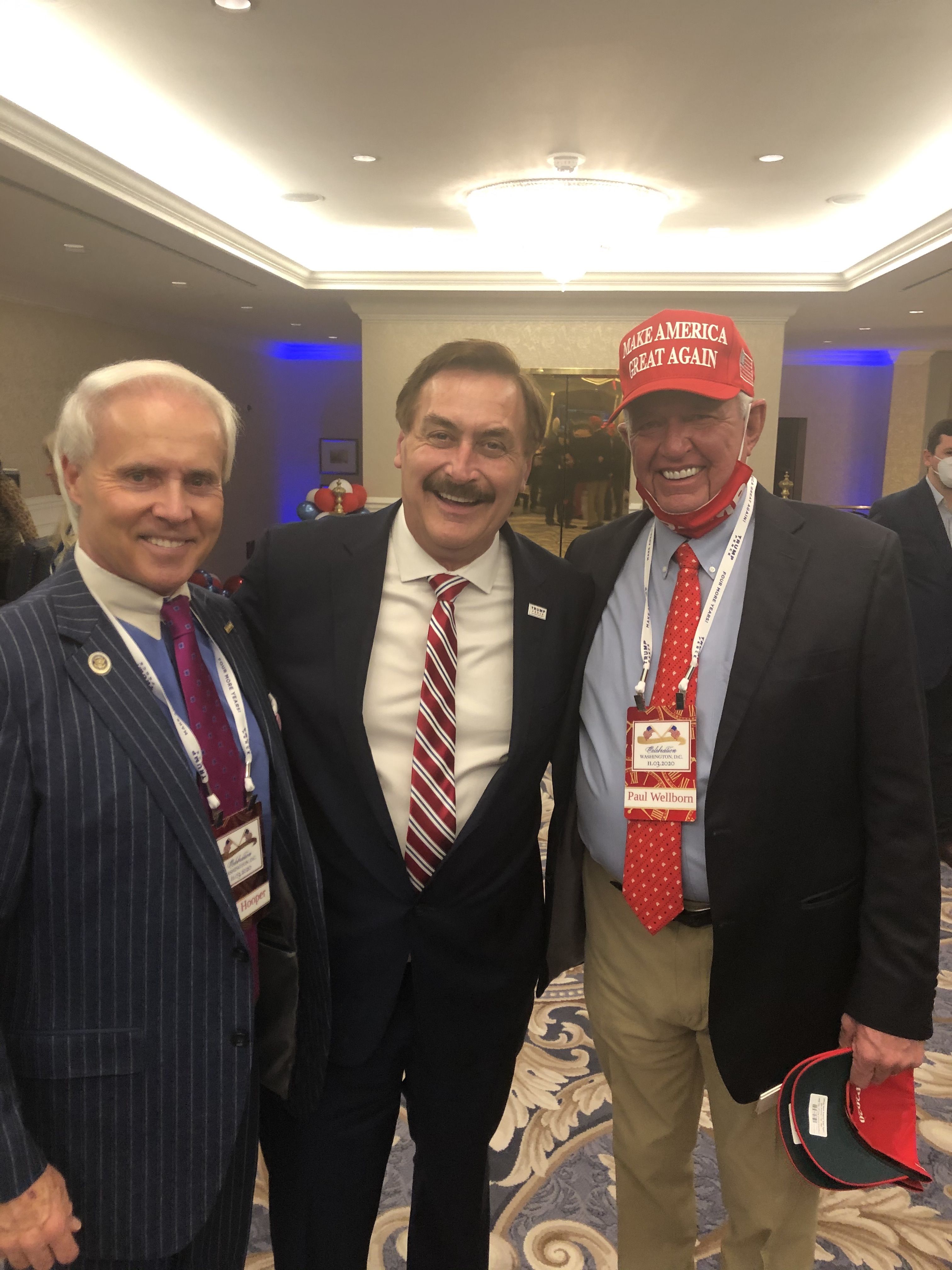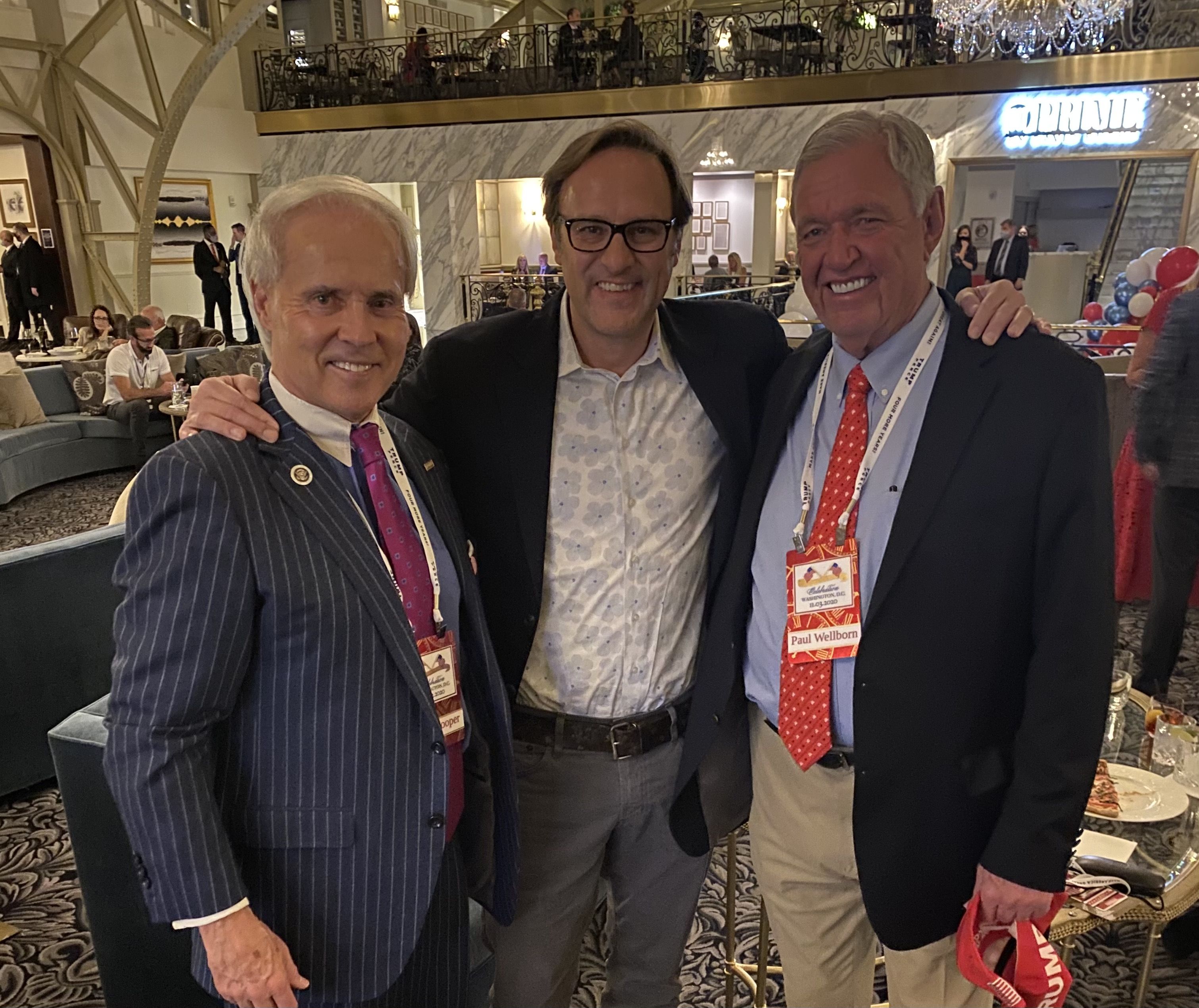 7. Saturday in Washington
After the networks called the election for Joe Biden, I headed down to the White House to take in the atmosphere.
Similar to other big cities across the U.S., people were dancing in the streets, spraying champagne, hugging, crying and cheering.
Some photos I snapped: