Axios Sneak Peek
August 07, 2022
Josh Kraushaar here. Thanks for joining Sunday Sneak Peek, a weekly look ahead at the forces shaping American politics.
⚡ Situational awareness: Senate Democrats today passed their sweeping, $740 billion tax, climate and health care reconciliation package after an all-night session, with Vice President Kamala Harris casting the tie-breaking vote.
The House returns on Friday to take it up.
Smart Brevity™ count: 980 words ... 3.5 minutes. Edited by Margaret Talev.
1 big thing: Trump gives House a break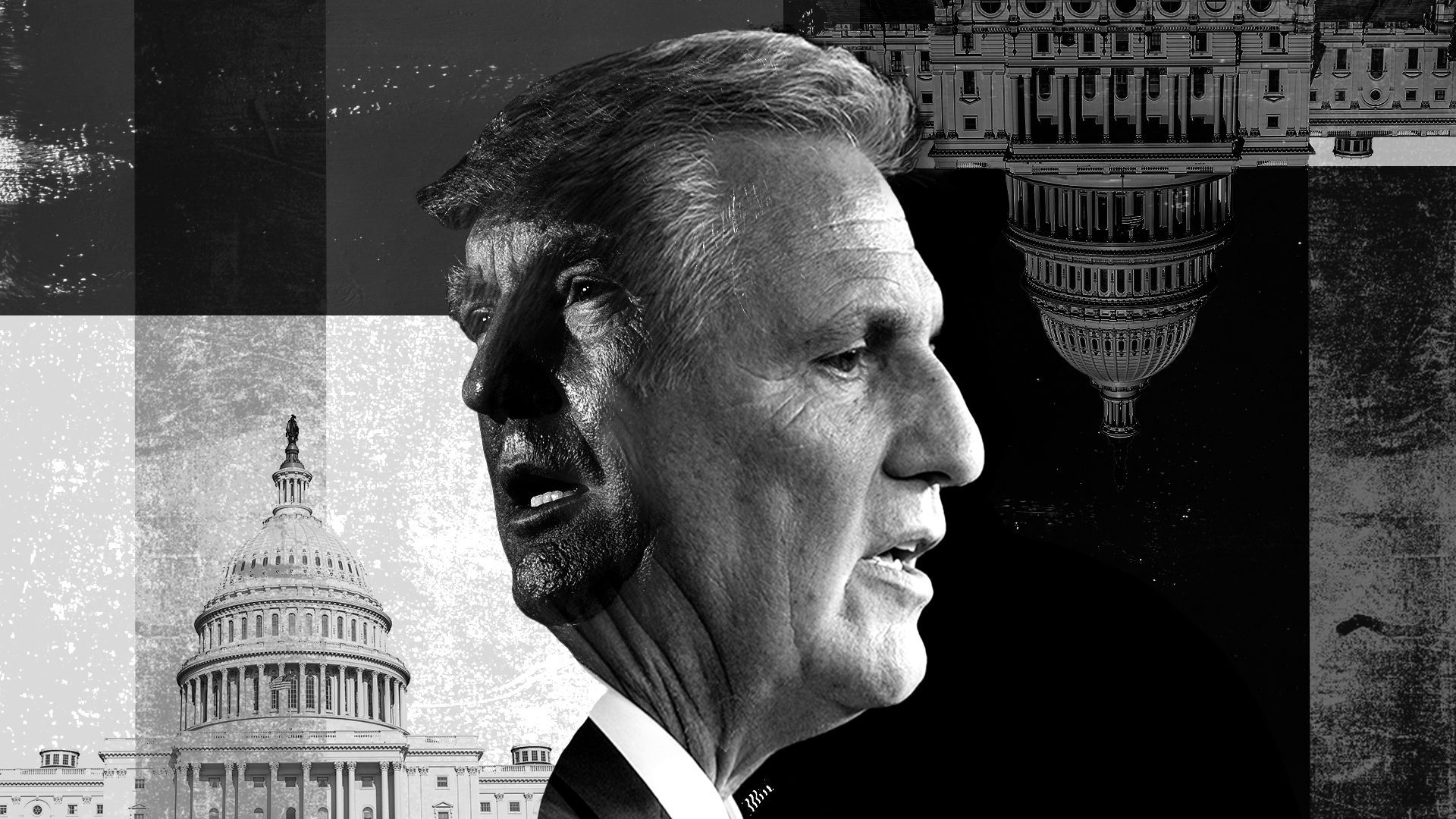 Former President Trump has been paying a lot less attention to House races than he has to statewide races — and lots of Republicans don't mind a bit.
Why it matters: House Minority Leader Kevin McCarthy and his allies are boosting the fortunes of more-mainstream-than-MAGA Republicans in pivotal primaries, often working under the radar.
The McCarthy-aligned Congressional Leadership Fund super PAC has quietly spent about $7 million in Republican primaries, boosting more electable candidates.
In California, CLF helped salvage Rep. Young Kim's campaign from a right-wing challenger and bailed out anti-Trump GOP Rep. David Valadao from a MAGA opponent as well.
The group spent $1 million to boost Juan Ciscomani, a celebrated Hispanic recruit in an Arizona swing district, and nearly $600,000 to help Navy veteran Jen Kiggans prevail against a right-wing opponent in a battleground Virginia district.
House Republicans credit McCarthy's mostly constructive relationship with Trump for helping keep the former president from causing havoc in key races. McCarthy helped convince Trump not to endorse a challenger against Valadao. If Valadao had lost the primary, Democrats would have been the odds-on favorite to win his seat.
Zoom in: While Trump has held rallies for favored Senate and governor's candidates, his House focus has been limited mainly to exacting vengeance on Rep. Liz Cheney (R-Wyo.).
Trump's House endorsements focus on going after Republicans who backed his impeachment, and a few others he views as disloyal.
McCarthy had a mixed record defending three Republican lawmakers from Trump-endorsed challenges on Tuesday. Washington Rep. Dan Newhouse defeated a MAGA challenger, but Michigan Rep. Peter Meijer narrowly lost to Trump-backed John Gibbs.
Washington Rep. Jaime Herrera Beutler's race against Trump-endorsed Joe Kent is too close to call. Super PACs aligned with the GOP establishment spent about $3 million boosting Herrera Beutler in the primary.
What's next: After November, McCarthy's caucus is likely to become more Trump-friendly.
House Republicans have nominated MAGA-oriented candidates in many safe seats, and most of the 10 Republicans who voted for Trump's impeachment either retired or lost.
Pragmatic members like Reps. David McKinley of West Virginia and Rodney Davis of Illinois, who both backed Biden's infrastructure deal, also were defeated by Trump-endorsed Republican colleagues.
2. Play of the week: "Demonic" ad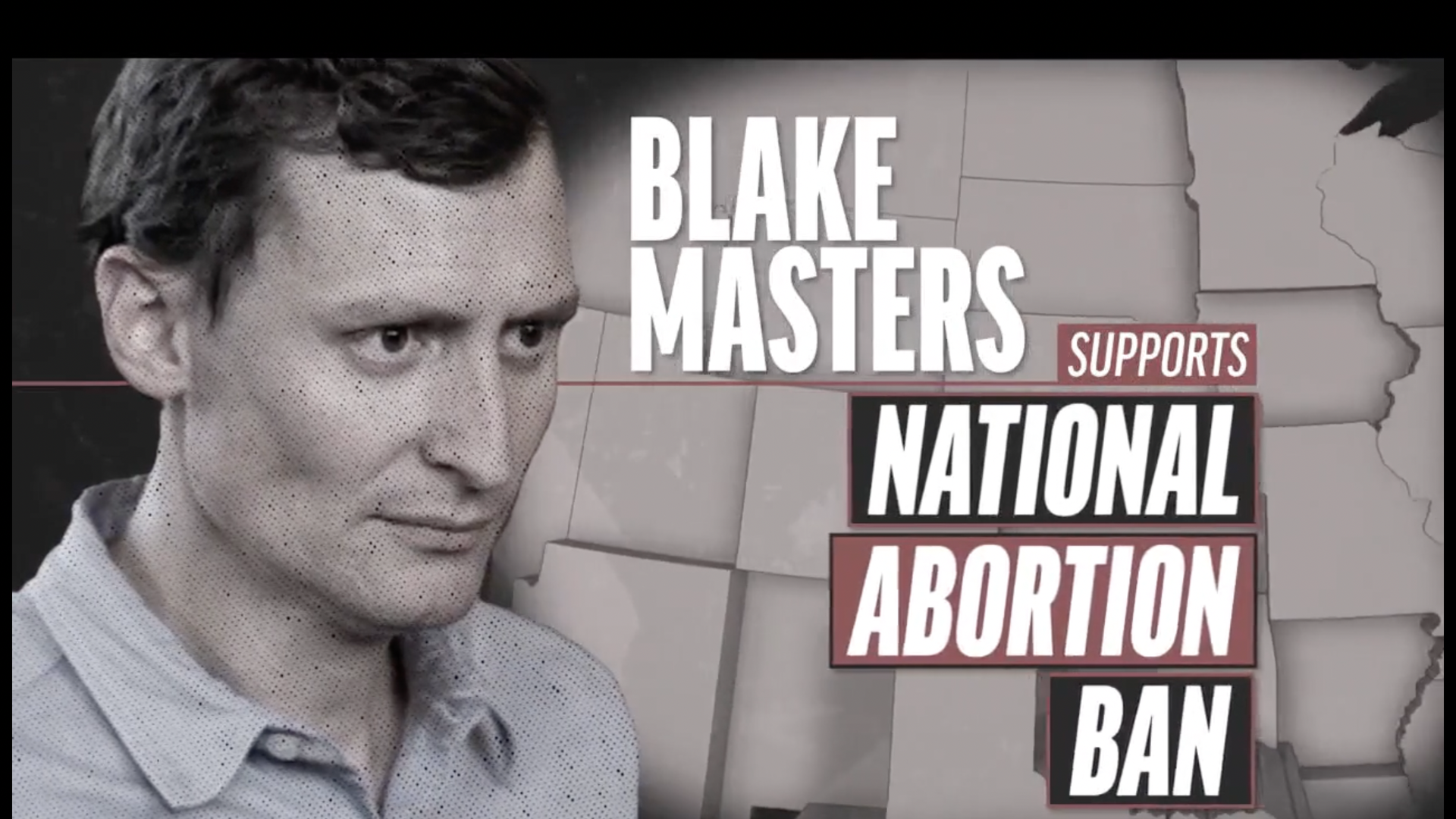 Since the failed anti-abortion rights referendum in Kansas, Democrats have already cut and begun airing ads in key states contrasting their own support for abortion rights with their opponents' anti-abortion words and stances.
In Michigan, the first general election ad from the Democratic Governors' Association-affiliated group Put Michigan First hits Republican gubernatorial nominee Tudor Dixon for opposing exceptions for rape and incest. "If you take Tudor Dixon at her word, when it comes to outlawing abortion, she's told us exactly who she is," the ad begins.
In Arizona, Senate Majority PAC, the Democratic Senate super PAC, is up with its first ad in the state, attacking Republican Senate nominee Blake Masters on abortion.
A separate ad from the campaign of his rival, incumbent Sen. Mark Kelly, features video of Masters saying: "I think Roe v. Wade was wrong. I think it always was wrong." Another clip shows Masters saying: "It's a religious sacrifice for these people. I think it's demonic."
In a swing Virginia district, Rep. Elaine Luria (D-Va.) is up with a new ad arguing that her Republican opponent, Jen Kiggans, "wants to make abortion illegal and allow politicians to ban abortion with no exceptions for rape, incest or danger to the life of the mother."
3. 🍨 Scoop: Mooney targets Manchin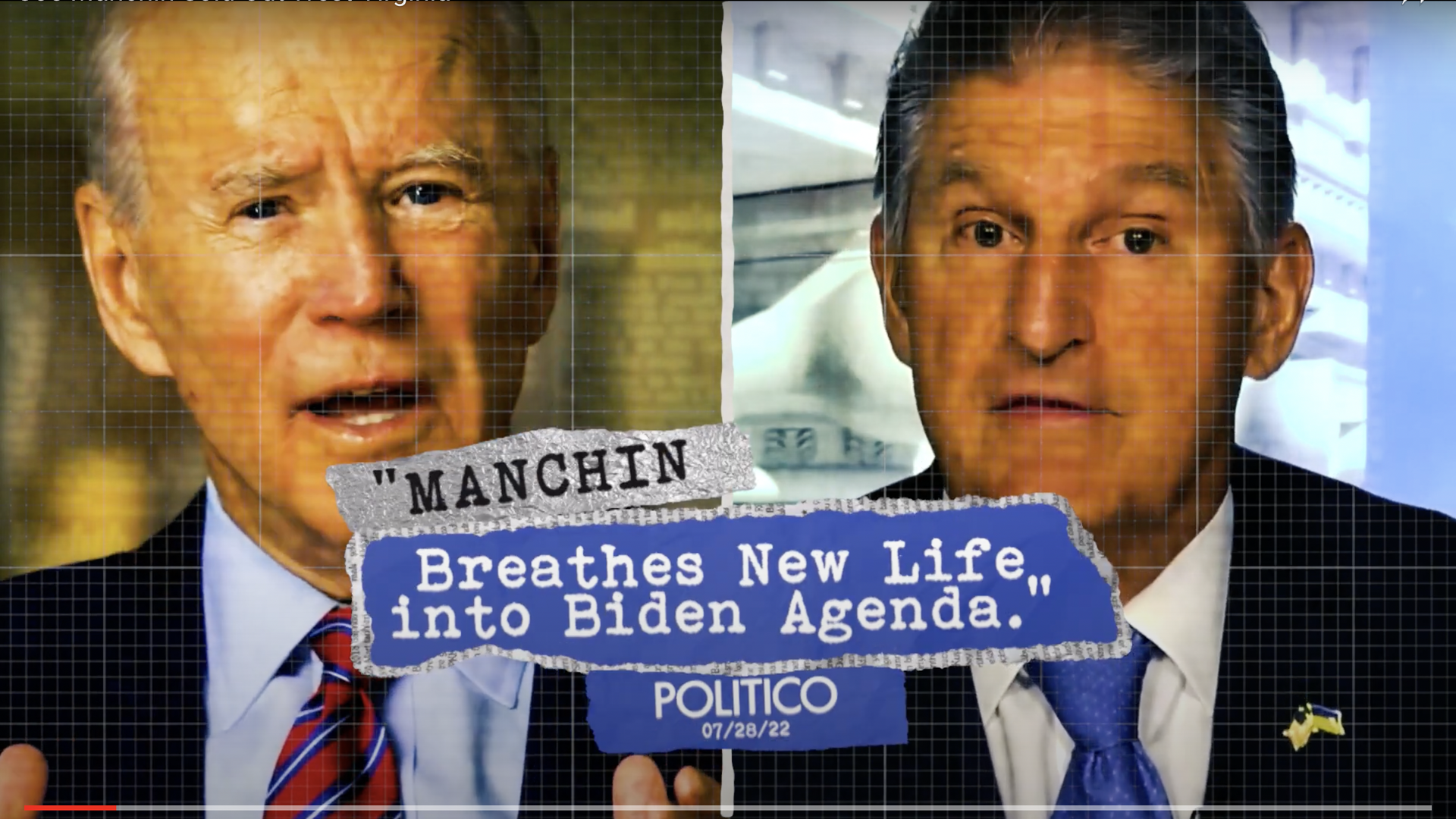 West Virginia Rep. Alex Mooney, fresh off winning a hotly contested Republican primary, is already targeting Sen. Joe Manchin (D-W.Va.) as he mulls running for Senate in 2024.
Mooney will go up with a new ad tomorrow blasting Manchin for his support of the climate change and health care spending package. "Suddenly, Joe Manchin is backing Joe Biden's liberal agenda," the ad begins. "Manchin is supporting legislation that would raise our taxes, tax our coal industry and devastate West Virginia communities."
A Mooney senior strategist tells Axios: "Mooney is running for re-election now, but this only helps 2024 considerations."
🖼️ The big picture: West Virginia is one of the most Republican states in the country, and will be a very tempting pickup opportunity for Republicans in 2024.
Manchin remains very popular. But Republicans believe his political standing will take a hit after supporting climate legislation.
4. 📊 Poll of the week: Dems gain ground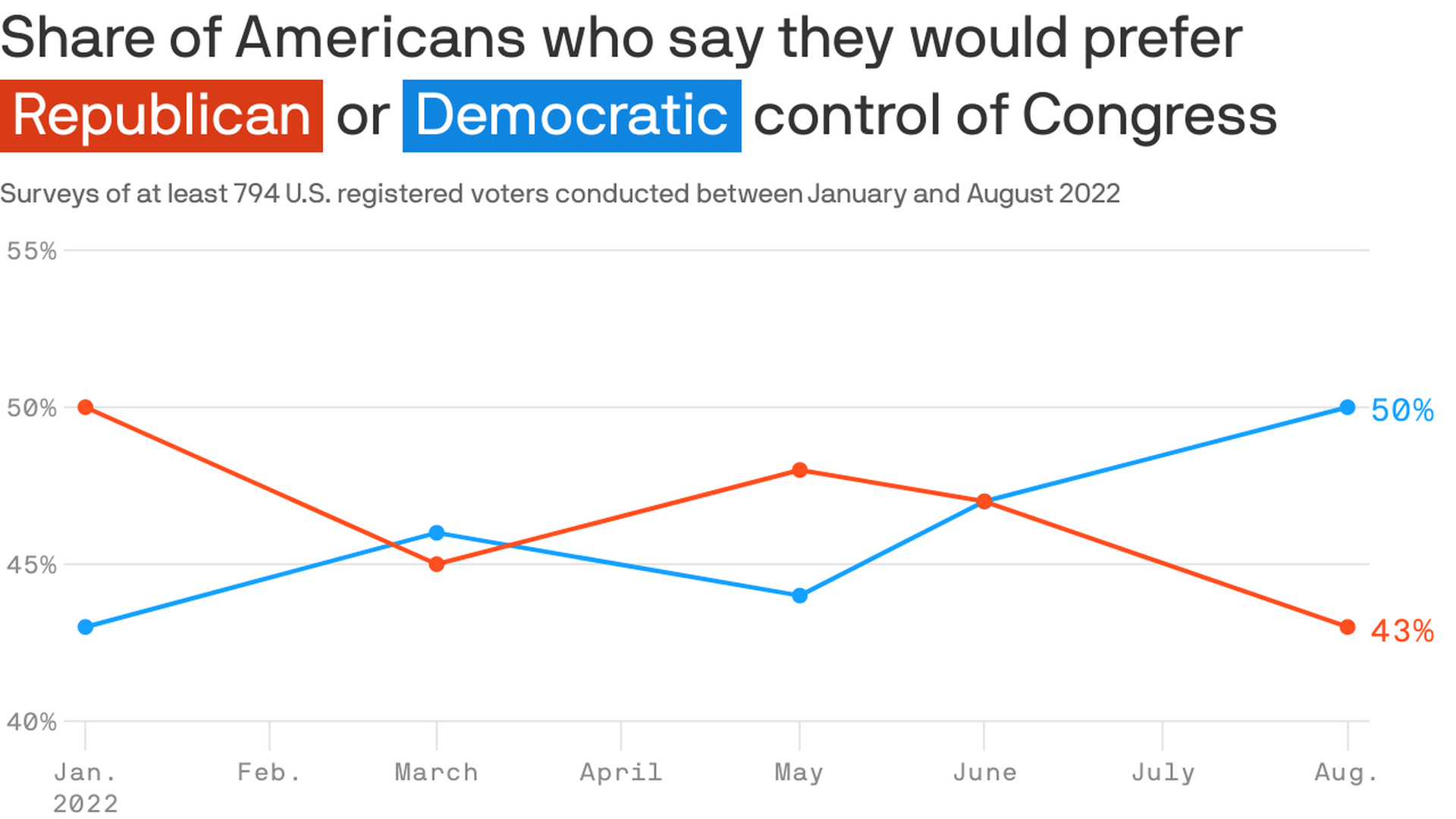 A Monmouth University poll shows Democrats gaining ground on the generic congressional ballot — another sign that the party's fortunes may have improved over the last month.
The poll finds Democrats with a 7-point lead on the generic ballot (50%-43%), up from a tie in the pollster's June survey.
More Democrats (74%) said it was "very important" for them to vote than Republicans (69%) — a sign of increased Democratic engagement in the runup to the midterms.
Despite party momentum, Biden himself still holds a dismal 38% approval rating, largely unchanged since the June survey.
Only 33% of independents approve of his performance.
5. 📺 Spot of the week: DeSantis' 2024 playbook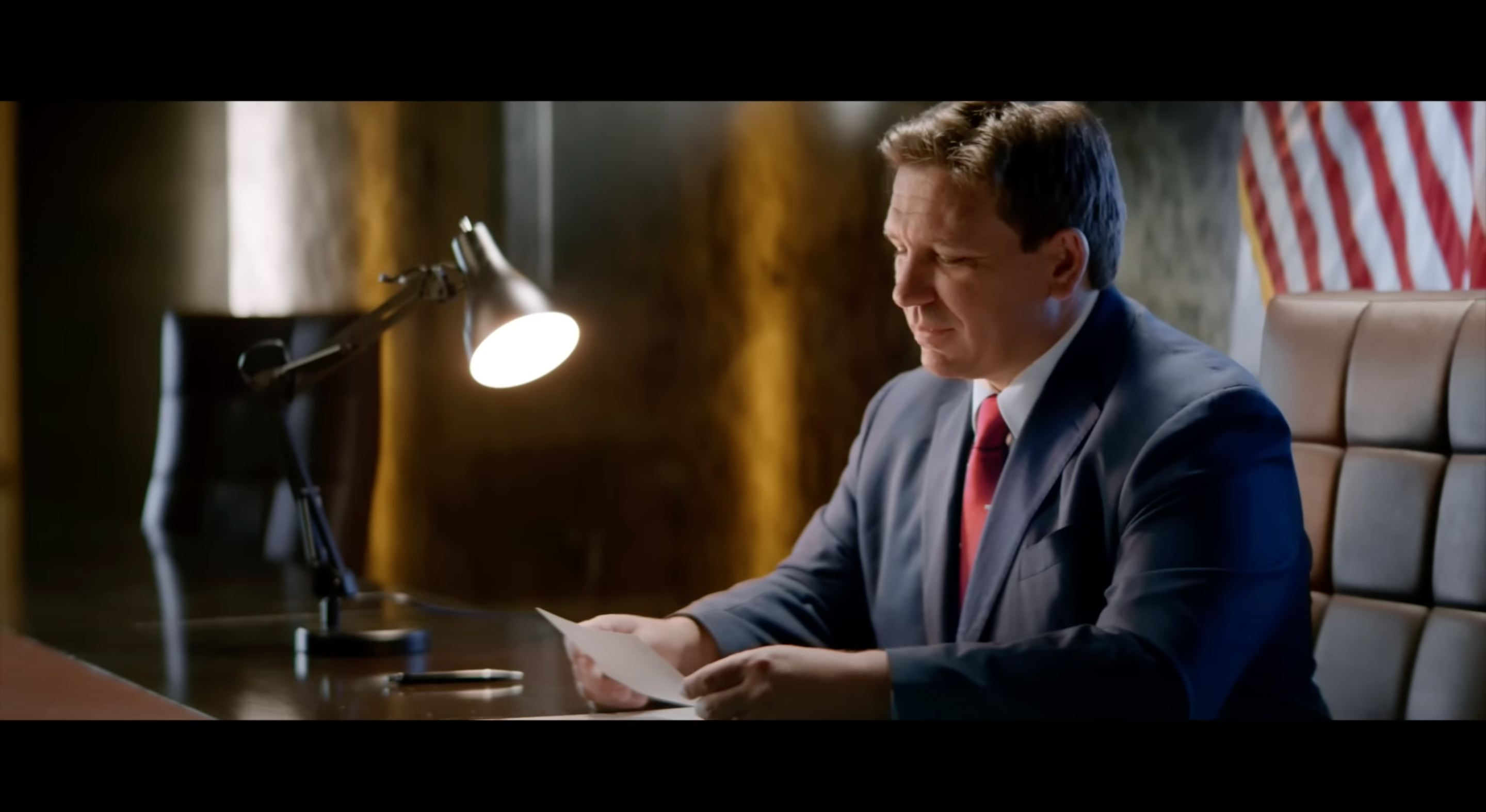 Florida Gov. Ron DeSantis' first ad in his re-election race could easily be a preview of a '24 presidential campaign platform.
The ad features DeSantis reading letters from constituents, thanking him for his leadership to keep schools and businesses open during the pandemic while fighting "the woke liberal media."
Why it matters: DeSantis' COVID-era leadership gives him a useful contrast against Trump in a theoretical primary.
📬 Thanks for reading. Please invite your friends to sign up here.