June 24, 2022
Good morning. It's Friday.
🌞 Today's weather: Mostly sunny, high near 85.
Today's newsletter is 921 words — a 3.5-minute read.
1 big thing: 🏡 The city's first 3D-printed house
Richmond's first 3D-printed house is officially complete, and the owners move in next month.
Why it matters: Virginia Housing hopes 3D printing will make it significantly cheaper to build houses in the long run, and while the process isn't there yet, the completion of the first one in Richmond is a big first step.
The process uses a large robotic arm to print the exterior walls, and the two layers of 3D-printed concrete are the only 3D-printed portions of the house.
Work started a year ago on the house, powered by a $500,000 innovation grant from Virginia Housing.
Context: The median home price in Virginia reached $400,000 in May, the Virginia Realtors association reported Thursday, a record high for the state and a 9.7% increase over the previous year.
What's next: 3D-printed houses will become affordable once builders are able to use the method to build multiple houses at once, Chris Thompson, director of strategic housing for Virginia Housing, tells Axios.
And 3D printing significantly shortens the build time and number of workers needed, down to about 20 hours for a whole house exterior as opposed to weeks.
Once the technology is better understood and more broadly used, homebuyers could see 20-30% cost savings, Thompson says.
Virginia Housing estimates the homeowner will save $54 a month heating and cooling the house because the concrete walls are energy efficient.
Details: The 1,550-square-foot, three-bedroom, two-bathroom house is in South Richmond, just off Midlothian Turnpike on Carnation Street.
Project Homes, a partner on the project, bought the vacant lot in 2019 for $35,000, according to city property records, and donated the land for the project.
The Richmond-based nonprofit also helped the new owner, Tiffany Terrell, and her daughter apply for grants to qualify for the home, which was listed for $235,000. Terrell will close on the house in mid-July.
Be smart: This is the second 3D-printed house to be completed in Virginia. The first was finished late last year near Williamsburg, and two more are in the works in Pulaski, all done in partnership with Virginia Housing and Alquist, an Iowa-based 3D home construction printing company.
2. "Ladder chandelier" proposed for fire station
The city's art commission is considering a ladder-themed art installation for Richmond's newest firehouse.
What's happening: The city is replacing its oldest operating fire station, Fire Station #12 on Cary Street in the Fan, which was built in 1908 for a horse-and-buggy crew.
As part of that work, the Public Art Commission solicited proposals for an art installation in the building's second-story tower.
Out of 39 responses, a selection panel chose a design for a "ladder chandelier" and "art windows" submitted jointly by North Carolina-based art collective A Gang of Three and Richmond artist Sylvio Lynch.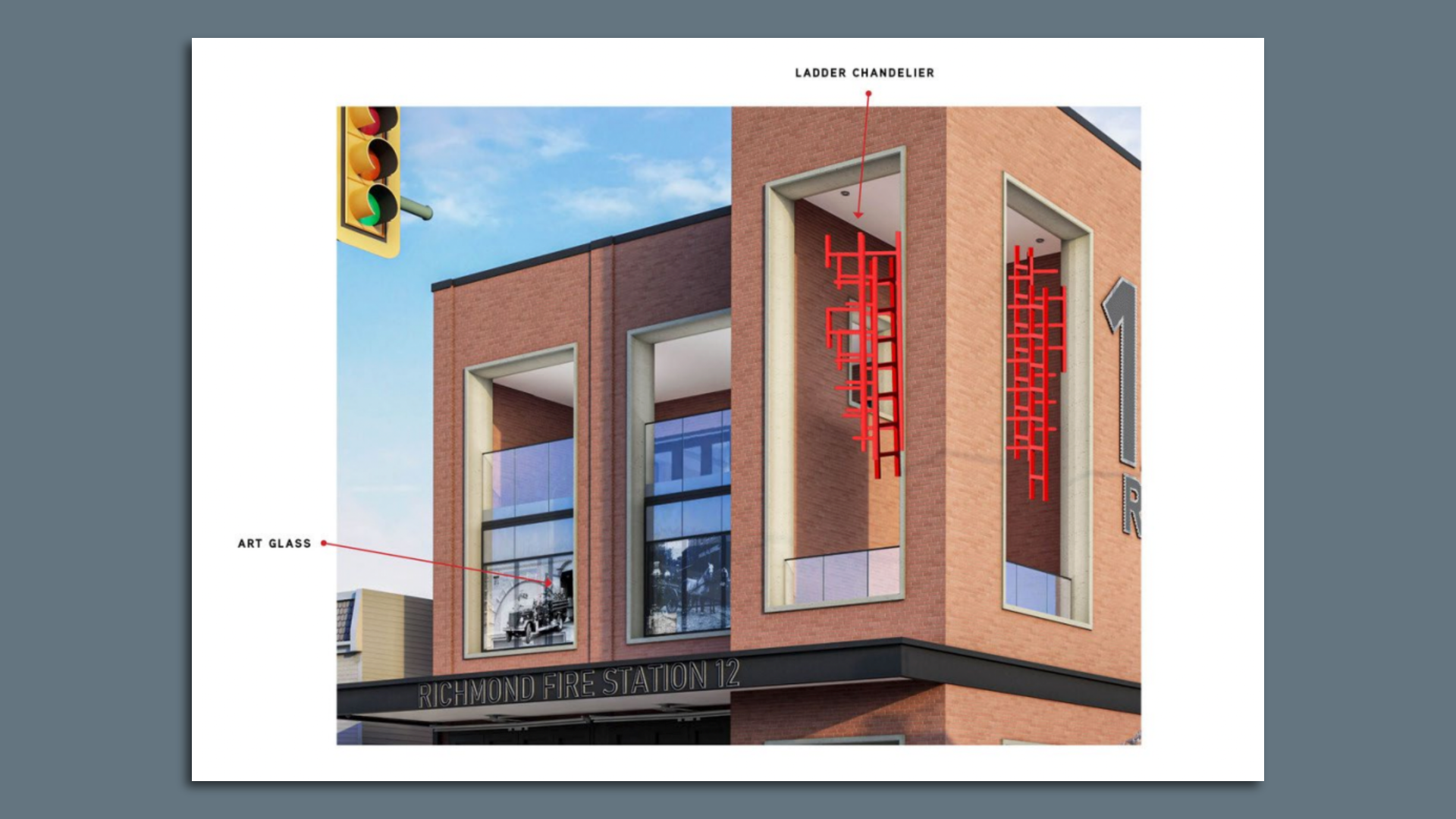 What they're saying: "The elevation, bright red hue and opportunities for night-time illumination will help this tower component serve as a persistent marker and iconic neighborhood emblem," the artists wrote in their proposal.
What's next: The Public Art Commission still has to vote on the proposal.
As for the new station, fire crews have already moved out, but otherwise, the city has not shared a timeline for the work, which is expected to cost $9.3 million, including $150,000 for the art installation.
3. The Current: Gun buyback doubts
The city is planning its first gun buyback program, despite some officials' reservations that the plan won't do much to help reduce gun violence. (Free Press)
"If this were successful, we would do it all the time," Councilmember Ellen Robertson said.
Gov. Glenn Youngkin called the Jan. 6 insurrection awful and a "blight on our democracy," but he said the media spends too much time talking about it. (CBS News)
4. Richmond Hostel is ready to reopen
It's been more than two years since Richmond's only hostel shuttered, but now it's ready to reopen to the public — just as soon as a manager is hired to run the day-to-day operations.
Driving the news: The new owners — who also own Harpers Ferry Hostel in Maryland — have spent the past few months readying the Richmond Hostel space at 7 N. Second St. and are currently vetting manager applicants. They hope to open for the rest of the summer season.
It'll reopen under a new name, Seven Hills Hostel & Lodge, Bernie Leroy, a volunteer with the hostel, tells Axios.
5. ​​🥃 Richmond's best happy hours: The Jasper
Did you know that the city's premier cocktail bar offers happy hour? Us neither, until we wandered in on a random Wednesday.
The deal: The Jasper offers $6 classic cocktails (nine in all), $6 beer-and-shot combos (including Coors Banquet & Evan Williams) and $6 food specials (steak tartare, anyone?).
The happy hour hours: Daily from 5-7pm. That's every damn day, people.
The vibe: It's The Jasper, so it's all dark wood, kick-ass wallpaper and aggressive mood lighting.
It's dark inside, super dark. In the back you can't see a thing, but the booths are so tall and intimate back there, no one can judge you for using your phone as a flashlight to see the menu.
The bar was half full when we were there just after opening, and nearly all the tables — which are first-come, first-serve — filled up fast.
Karri's thought bubble: I went with the house daiquiri — a fave of mine always. Plus, we split a shrimp cocktail. Loved it all.
Ned's thought bubble: The old fashioned was great, especially for $6, but my favorite part was the ambiance. It's a neat, private little place to meet a friend.
Pro tip: There's always a line in front of The Jasper just before 5. Now we know why.
⚔️ Ned is once again trying to get squirrels to stay out of his attic.
📺 Karri is still emotionally traumatized from Season Three of "Barry," but now she also needs new shows to watch. Send recs!