Axios Pro Rata
February 07, 2023
Top of the Morning
America's safe harbor could be closing for "unicorn" companies, which currently aren't required to provide investors with audited financial statements.
Driving the news: SEC Commissioner Caroline Crenshaw, a Democrat nominated by former President Trump, said in a speech that regulators haven't kept up with the private markets' dizzying growth.
She noted that Rule 506 of Regulation D, which exempts private issuers from most disclosures required of publicly traded issuers, was designed more than 40 years ago when such companies were so small that the public benefits of such disclosure would be "too remote." Moreover, "sophisticated" investors in such deals have access to said information.
Obviously those conditions have changed. Some startups raise billions of dollars from a wide swath of investors, with the safe harbor often acting as a deflecting shield. FTX is the most obvious example, but it's hardly alone.
Crenshaw's proposal is to rework Reg D so that it looks more like Reg A, a tiered system in which reporting requirements increase with an offering's size.
What she's saying: "Through decades of legal, regulatory, and market developments, private companies now have access to increasing amounts of private capital, inflating their sizes and significance to investors and our economy, and all without the concomitant safeguards built into the public markets."
Crenshaw also likened private markets to the titular character in the children's book "The Very Hungry Caterpillar."
Look ahead: The SEC previously announced that it will consider changes to Reg D, as part of its rulemaking agenda.
The bottom line: Venture capital has changed significantly in the past five years, after decades of funding innovation without doing much innovation of its own. The industry's regulators haven't kept pace.
This isn't an endorsement or repudiation of Crenshaw's specific proposal. But it is an acknowledgment that startups and their investors are operating under an antiquated set of safe harbor rules.
The BFD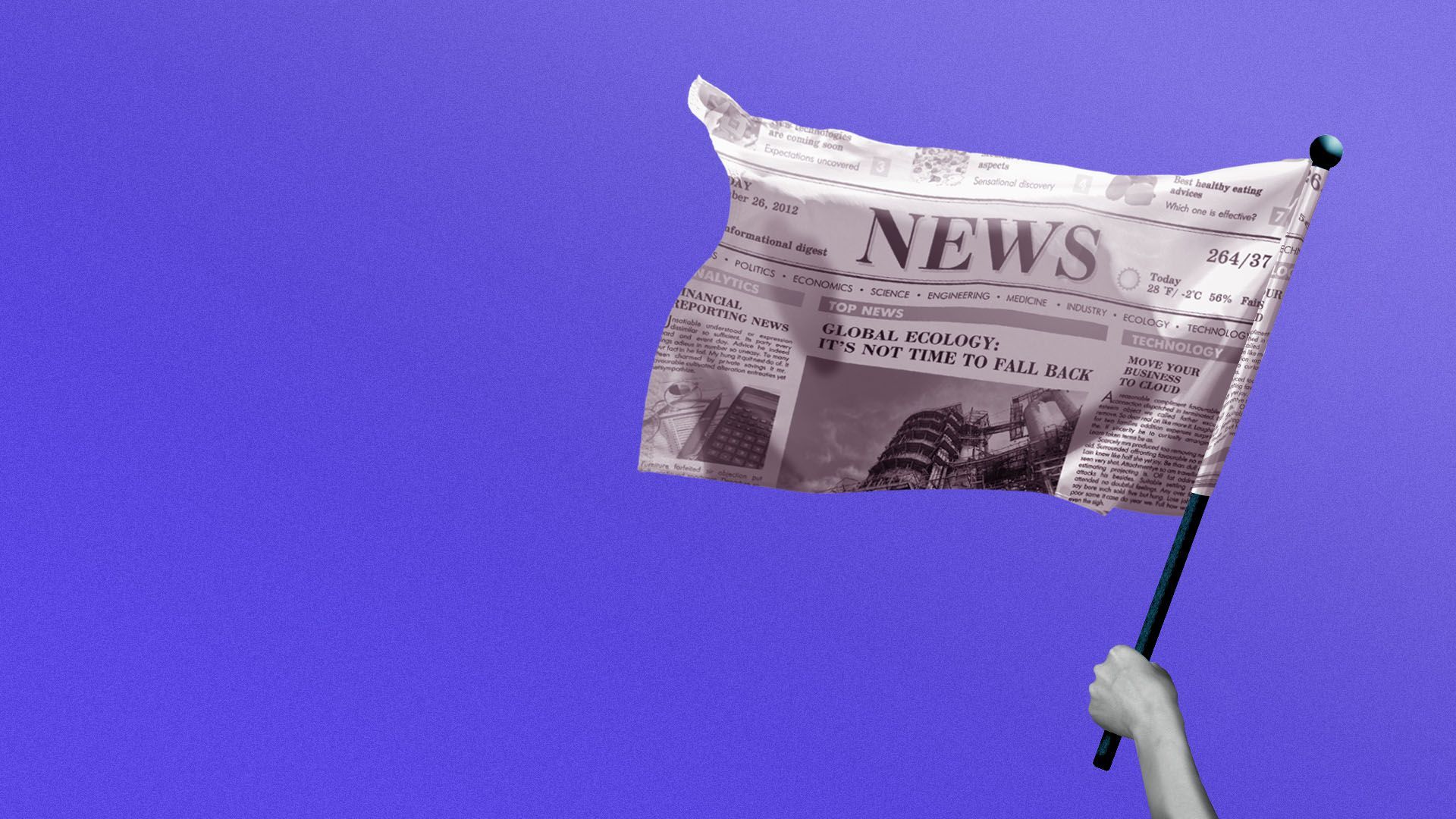 Vox Media, a digital media company whose brands include New York Magazine and The Verge, raised $100 million from Penske Media at around a $500 million post-money valuation.
Why it's the BFD: This is just half of Vox's value upon raising cash from NBCUniversal in 2015, and less than its 2022 revenue, suggesting that beleaguered Buzzfeed is being viewed as something of a comp.
Details: The round is all primary capital, unlike that NBC deal (which is said to have been around half secondary). Vox, which last year bought Group Nine and then engaged in talks to be acquired, now has raised over $400 million.
The bottom line: Penske becomes Vox's largest outside shareholder, and has quietly become one of the media industry's most active aggregators. Its other brands include Variety, Rolling Stone, The Hollywood Reporter and Billboard, plus stakes in event franchises like SXSW and the Life is Beautiful festival.
Venture Capital Deals
• Jobber, a Toronto-based provider of operations management software for home service businesses, raised US$100m in Series D funding. General Atlantic led, and was joined by insiders Summit Partners, Version One Ventures and Tech Pioneers Fund. https://axios.link/3YytMxl
• Atmosphere, an Austin, Texas-based streaming TV service for businesses, raised $65m in Series D funding at a $1b valuation from firms like Sageview Capital, Valor Equity Partners and S3 Ventures. https://axios.link/3lhRTSV
• Zeitview (fka DroneBase), an LA-based aerial data analytics company, raised $55m. Valor Equity Partners led, and was joined by USV, Upfront Ventures, Euclidean Capital, Energy Transition Ventures and Hearst Ventures. https://axios.link/40yb5Mi
• Ushur, a Santa Clara, Calif.-based customer interaction platform, raised $50m in Series C funding. Third Point Ventures led, and was joined by Iron Pillar, 8VC, Aflac Ventures and Pentland Ventures. https://axios.link/3XaxxYL
🚑 NOCD, a Chicago-based telehealth startup focused on obsessive-compulsive disorder, raised $34m. Cigna Ventures and 7wireVentures co-led, and were joined by Kaiser Permanente Ventures, F-Prime Capital, Eight Roads Capital, Health Enterprise Partners and Longitude Capital. www.treatmyocd.com
• Conquest Planning, a Canadian provider of financial planning software, raised C$24m in Series A funding. Fidelity International Strategic Ventures led, and was joined by Portage, BNY Mellon and RBC. www.conquestplanning.com
🚑 Evonetix, a British DNA synthesis startup that leverages semiconductor tech, raised $24m in Series B extension funding. Foresite Capital led, and was joined by Molten Ventures, Morningside, DCVC, Cambridge Consultants, Civilization Ventures and Providence. www.evonetix.com
• Magic.dev, a rival to GitHub's Copilot, raised $23m in Series A funding. CapitalG led, and was joined by Elad Gil, Nat Friedman and Amplify Partners. https://axios.link/3lcRml8
⚡ Liminal, an Emeryville, Calif.-based battery manufacturing intelligence startup, raised $17.5m in Series A2 funding from ArcTern Ventures, Northvolt, Ecosystem Integrity Fund, Chrysalix VC, Good Growth Capital, UTECP, Volta Energy Technologies, Impact Science Ventures and Helios Climate Ventures. https://axios.link/3JLy8xe
• Flox, a New York-based provider of package manager software, raised $16.5m in Series A funding. NEA led, and was joined by Addition and Hetz Ventures. www.floxdev.com
• MindsDB, an open-source applied ML platform, raised $16.5m in Series A funding from Benchmark. www.mindsdb.com
• Car IQ, an SF-based vehicle payments startup, raised $15m in Series B extension funding. Forte Ventures led, and was joined by Visa, Bridgestone, Navistar, Circle K and insiders State Farm Ventures, TELUS Ventures and Avanta Ventures. www.gocariq.com
• Mattiq, a Chicago-based materials discovery, testing and analytics startup, raised $15m in seed funding. Material Impact led, and was joined by Kairos Ventures and CS Ventures. https://axios.link/3jBC6Oa
• Riot, a New York-based cybersecurity platform for employee protection, raised $12m. Base10 led, and was joined by YC, Funders Club and Founders Future. www.tryriot.com
• Elementus, a New York-based blockchain data intelligence platform, raised $10m in Series A2 funding led by ParaFi Capital. www.elementus.io
🚑 Simple HealthKit, a Fremont, Calif.-based diagnostic delivery startup, raised $8m in Series A funding. Initialized Capital led, and was joined by Kleiner Perkins, Kapor Capital and Quest Venture Partners. www.simplehealthkit.com
• Wisor AI, an Israeli provider of freight booking software, raised $8m in seed funding led by Team8. www.wisor.ai
• Cenoa, a blockchain-based wallet, raised $7m in seed funding. Quiet Capital led and was joined by Underscore VC, Human Capital, Ulu Ventures, Acrew and Collective Spark. www.cenoa.com
• FireCompass, a Boston-based ethical hacking startup, raised $7m. Cervin and Athera Venture Partners co-led, and was joined by Bharat Innovation Fund. www.firecompass.com
• Lineaje, a Saratoga, Calif.-based software supply chain security management startup, raised $7m in seed funding led by Tenable Ventures. www.lineaje.dev
• WARP, an LA-based middle-mile freight network, raised $5.7m from MaC Venture Capital, Bonfire Ventures and Frontier Venture Capital. www.wearewarp.com
🚑 Cellvie, a therapeutic mitochondria transplantation startup, raised $5.5m led by Taiho Ventures. www.cellvie.bio
• Moonhub, an SF-based team-scaling startup, raised $4.4m. Khosla Ventures and GV co-led, and were joined by AIX Venture, Day One Ventures and individual angels. www.moonhub.ai
• Gameball, an Egyptian customer intelligence and marketing CRM startup, raised $3.5m in seed funding from 500 Global, P1 Ventures, Launch Africa, and Middle East VCs Seedra Ventures, Arzan Ventures, Propeller and Core Vision. https://axios.link/3RGjXex
• Frond, a tool for building online communities, raised $3.3m led by Cherry Ventures. https://axios.link/3Xd7YGK
• Uniify, a Danish provider of no-code onboarding software for financial companies, raised €3m from backers like People Ventures and Forward VC. www.uniify.io
• Aiir Innovations, an Amsterdam-based aircraft engine visual inspection startup, raised €2.1m. Borski Fund led, and was joined by HearstLab Europe and Mainport Innovation Fund. www.aiir.nl
• Snab, a Spanish B2B payments and cash management startup, raised €1.1m in pre-seed funding. YC led, and was joined by 4Founders Capital and Glenfarne Group. https://axios.link/3X67tOK
Private Equity Deals
🚑 Amulet Capital Partners acquired Eruptr, a Bradenton, Fla.-based health care digital marketing firm, from H.I.G. Growth Partners. www.eruptr.com
• Apollo Global Management is among those in talks to buy a stake in Credit Suisse Group's revamped investment bank, per the WSJ. https://axios.link/3X9uS1B
🚑 BioDerm, a Largo, Fla.-based portfolio company of Mountaingate Capital, acquired Argentum Medical, a Geneva, Ill.-based provider of infection prevention solutions and wound care products, from Shore Capital Partners. www.silverlon.com
• Incline Equity Partners acquired Barefoot, an Austin, Texas-based provider of environmentally conscious pest control services. www.barefootmosquito.com
🚑 Knox Lane invested in Spectrum Science, a Washington, D.C.-based marketing and communications firm for the pharma, biotech and life sciences markets. www.spectrumscience.com
⚡ Medallion Midstream Services, a portfolio company of The Energy & Minerals Group, sold its natural gas gathering and processing business in the Delaware Basin to Cardinal Midstream Partners, a Dallas-based portfolio company of EnCap Flatrock Midstream. www.cardinalmp.com
• MetLife Investment Management agreed to buy Raven Capital Management, a New York-based alternative investment firm with $2.1b of AUM. https://axios.link/3XjMW9y
• Sandy Alexander, a Clifton, N.J.-based portfolio company of Snow Peak Capital, acquired Abbott Communications Group, an Orlando, Fla.-based graphic communications firm focused on the entertainment, hospitality and advertising markets. www.sandyinc.com
• Stone Point Capital invested in Dallas-based commercial real estate firm Lincoln Property Co. Commercial. www.lpc.com
🚑 Thompson Street Capital Partners invested in Sabai Global, a Chesterfield, Mo.-based provider of regulatory review and biosafety consulting services to pharma firms. www.sabaiglobal.com
Public Offerings
⚡ Enlight Renewable Energy, an Israeli renewable energy company listed in Tel Aviv, set terms for its Nasdaq listing to 1m shares at $20.96. Were it to successfully float at that price, the company would have a $2.5b fully diluted market value. https://axios.link/3XgtDhm
Last week we discussed Stripe's new investment talk, and how the payments giant continues to weigh a 2023 public listing. Worth noting that, were Stripe to take the public plunge, it likely would be a direct listing rather than a traditional IPO.
SPAC Stuff
• RealWare, a Vancouver, Wash.-based maker of industrial wearables, agreed to go public at an implied $375.5m valuation via Cascadia Acquisition Corp. (Nasdaq: CCAI), a SPAC formed by Cascadia Capital. https://axios.link/3jAus6O
• Oaktree Acquisition III, a SPAC formed by Oaktree Capital, withdrew registration for a $325m IPO. https://axios.link/3wZiKpf
Liquidity Events
🚑 CBC Group is seeking to sell its controlling stake in Anrei Medical, a Chinese maker and seller of devices for minimally-invasive surgeries that could fetch around $737m, per Bloomberg. https://axios.link/40upf0Z
• Carlyle and Louis Bacon agreed to sell Luxembourg-based metal commodities trader Traxys to high-frequency trading firm Optiver, per Bloomberg. https://axios.link/3I1JAna
• Epiris is seeking a buyer of British auction house Bonhams, which could fetch around $1b, per Bloomberg. https://axios.link/3JPgzMQ
🚑 General Atlantic is seeking a buyer for OneOncology, a Nashville-based cancer care center operator that could fetch more than $2b (including debt), per Bloomberg. https://axios.link/3lcgnwT
• Hut 8 Mining (TSX: HUT), a Canadian crypto miner, agreed to merge with US Bitcoin Corp., a Miami, Fla.-based rival that raised over $50m from firms like Cypher Metaverse, Accomplice VC, Highfield Capital and Archetype. https://axios.link/3x5OgCe
More M&A
• The Federal Trade Commission will not appeal a recent court ruling that allows Meta to acquire VR fitness startup Within, but hasn't decided on whether or not it will proceed with an FTC administrative court case.
• Bed Bath & Beyond (Nasdaq: BBBY) said it will seek to raise around $1b via the sale of new securities, as the retailer fights to stave off bankruptcy. https://axios.link/3HGigJF
• Holcim, the Swiss cement giant, agreed to buy Duro-Last, a Saginaw, Mich.-based roofing systems manufacturer, for $1.29b. https://axios.link/3Ys9l5i
• Intradeco Holdings, a Miami-based textiles manufacturer, agreed to buy Indera Mills, a Yadkinville, N.C.-based thermal underwear maker. www.intradecoapparel.com
• Kargo, a New York-based ad tech company, acquired Denver-based video ad platform VideoByte for upwards of $100m (including earnouts). https://axios.link/3Y6sYjw
⚡ Rest Super, an Australian pension fund, is seeking to sell its 12.6% stake in electricity distributor Endeavour Energy for around A$1b, per Bloomberg. https://axios.link/3I3xI3S
• Tianjin Pipe Corp. of China is seeking a buyer for its Gregory, Texas-based steel mill, which could fetch upwards of $1.3b, per Bloomberg. https://axios.link/40yDcef
Fundraising
• America's Frontier Fund, a deep-tech VC firm led by Gilman Louie, is raising $500m for its debut fund, per an SEC filing. Late last year it secured a $100m commitment from a public pension system in New Mexico. www.americasfrontier.org
• Flight Story Fund, a VC fund formed by Dragons' Den personality Steven Bartlett, raised $100m for a debut fund focused on underrepresented European founders. https://axios.link/40yD12v
• Goldman Sachs raised $5.2b for its debut growth equity fund, under the West Street brand. www.gs.com
• Partech held a €245m first close on its second Africa-focused VC fund, which seeks a final close on at least €280m. https://axios.link/3HIaUVR
It's Personnel
• Marc Bhargava joined VC firm General Catalyst as a managing director. He previously worked in biz ops and strategy at Coinbase, which had acquired the crypto company he co-founded (Tagomi). https://axios.link/3jHwXEd
• Evan Green joined Moelis & Co. as head of West Coast capital markets. He previously led PIPEs for Goldman Sachs. www.moelis.com
• Zachary Jacobs joined Kramer Levin as a partner in the firm's private equity practice. He previously was with Morrison Cohen. www.kramerlevin.com
🚑 Sanne de Jongh joined Oxford Science Enterprises as a partner focused on life sciences investments. She previously was an investment manager at Gilde Healthcare. www.oxfordscienceenterprises.com
• Hywel Robinson joined San Francisco Equity Partners as a principal. He previously was with Paine Schwartz Partners. www.sfequitypartners.com
• Lutz Velten, a former Ecolab exec, joined One Rock Capital Partners as an operating partner. www.onerockcapital.com
• Argand Partners, an industrials-focused PE firm, promoted Charlie Burns to managing director and Kay Blackwell to managing director of IR and corporate communications. www.argandequity.com
• Edison Partners promoted Steve Zieja to principal, Grace Hahn to senior associate and Dylan Kiger to associate. The firm also added John Shearburn (ex-Warburg Pincus) as a senior adviser. www.edisonpartners.com
Final Numbers: Unicorn population
Thanks for reading Axios Pro Rata, and to copy editor Phoebe Neidl! Please ask your friends, colleagues and SOTU watchers to sign up.