Axios Pro Rata
May 05, 2020
🎓 You're invited: Axios today hosts a live virtual event at 12:30pm ET, focused on how COVID-19 will change education. Conversations with Revolution's Steve Case, former Florida Gov. Jeb Bush, and Teach for America CEO Elisa Villanueva Beard. Register.
Top of the Morning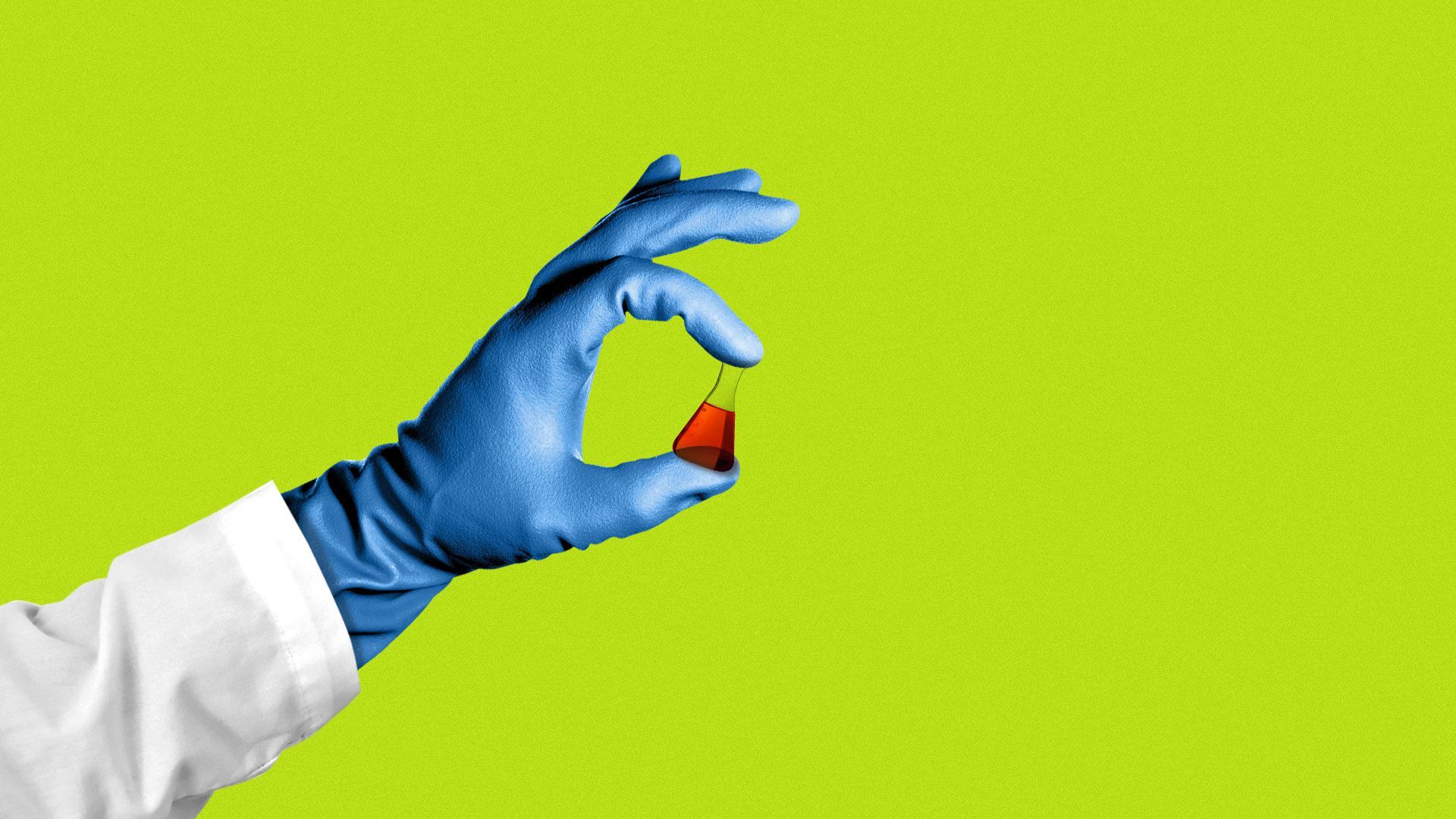 Pharma startups are in the media spotlight, after decades of playing second-fiddle to consumer and enterprise tech, but are facing their own pandemic-related challenges.
At issue: Many clinical trials have been put on indefinite hold, particularly if they involved hospital sites. The upshot is that such startups are effectively in a holding pattern, with investors scrambling to decide whether or not to foot the elongated bill.
The key date was March 23, which is when Eli Lilly announced it would "delay most new study starts and pause enrollment in most ongoing studies."
Pharma VCs tell me that many of their companies followed suit.
There were exceptions, particularly for studies that already relied on remote monitoring or telehealth, but an investor in a clinical testing facilities operator estimates that around 70% of studies starting in late March got delayed.
It is unclear what will happen to studies that were paused in-progress. There is hope that the FDA will provide added flexibility, given the circumstances, but that's likely to be determined on a case-by-case basis (here is FDA's current guidance). For some companies, months (or even years) of work may be scrapped.
Pfizer's decision last week to restart some trials could have its own tailwinds, but expect to see some costly changes for future pharma startup investing.
Longer runway: Venture fundings for pharma companies often are intended to get a company through a Phase 1 or Phase 2 clinical trial. Now, investors must build in the possibility that trials will be stopped, restarted, and then stopped again for exogenous reasons. Particularly if there is a COVID-19 resurgence in the fall.
Site spread: There will be greater emphasis on geographic diversity for clinical trial sites. For example, don't focus most enrollment in New York and Boston — or any small set of potential viral hot spots. Plus an increase in remote monitoring, such as sending phlebotomists to patient homes.
Bigger pool: COVID-19 may play havoc with trials for non-coronavirus conditions, in terms of added complications and morbidity. This could require pharma companies to increase the number of enrolled patients.
The bottom line: Lots of pharma is being forced to sit on its hands, while it waits for other pharma to move us into the next normal.
The BFD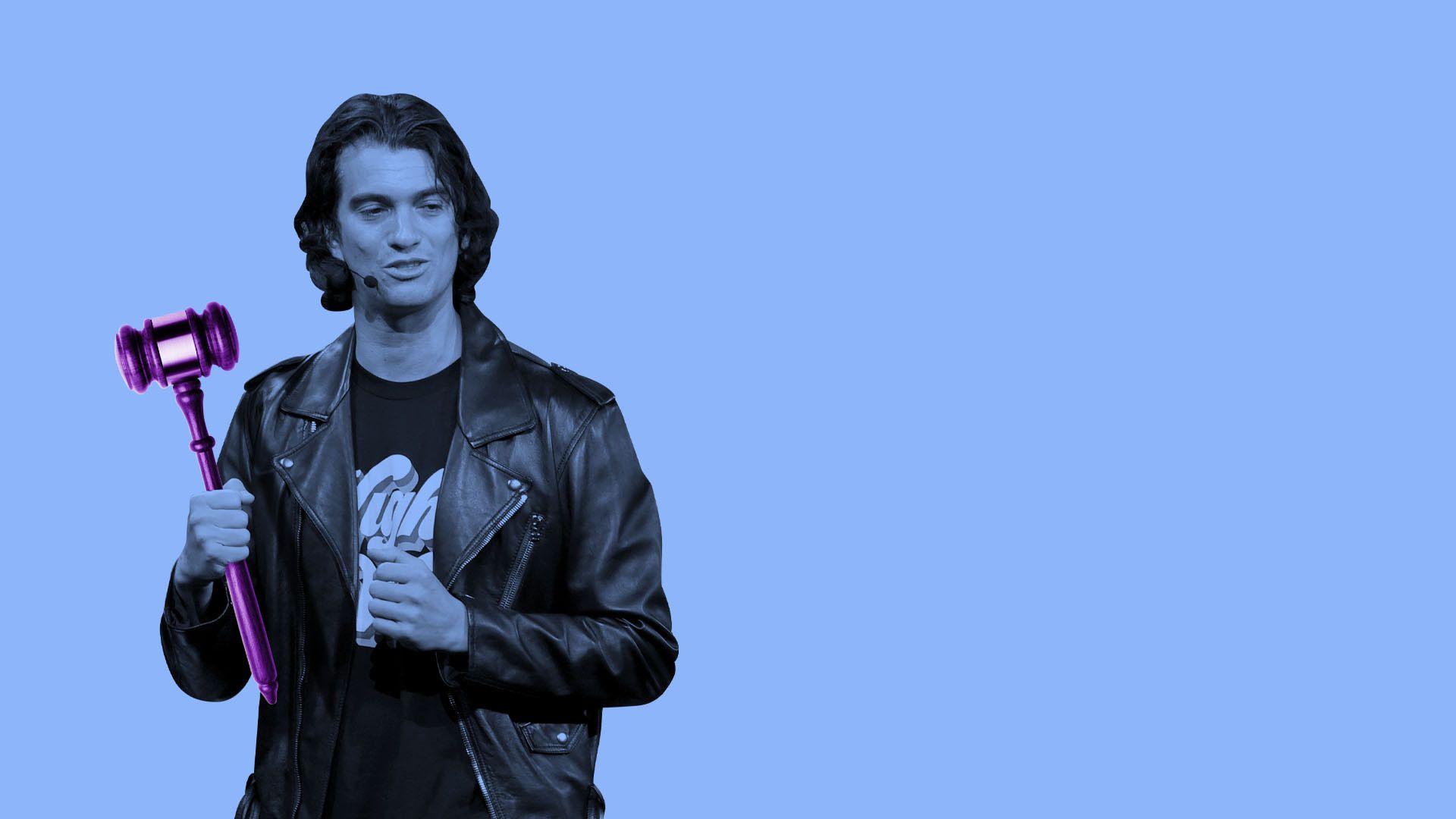 Adam Neumann, founder and former CEO of WeWork, yesterday filed suit against SoftBank, alleging breaches of contract and fiduciary duty related to SoftBank's decision to walk away from a $3 billion tender for WeWork shares.
Why it's the BFD: Because when a special committee of WeWork's board filed a similar lawsuit last month, SoftBank responded by questioning its standing to represent minority shareholders who could have participated in the tender offer. Neumann is unquestionably a minority shareholder.
Primary source: Read the lawsuit
The bottom line: The most damning allegation in Neumann's complaint is that SoftBank unilaterally amended its agreement with WeWork late last year, reversing the sequencing of new debt financing and the stock tender. Neumann claims that SoftBank tried to negotiate the amendment with him but, when unable to reach agreement, SoftBank "simply removed Plaintiffs' signature block from the document."
Pro Rata for Kids
Today's project is for your kids to draw or "make" themselves (out of Legos, etc.). Maybe just a traditional portrait, or maybe doing one of their favorite activities.
Per usual, please send me pics of what they create.
Yesterday's project was to create a musical instrument: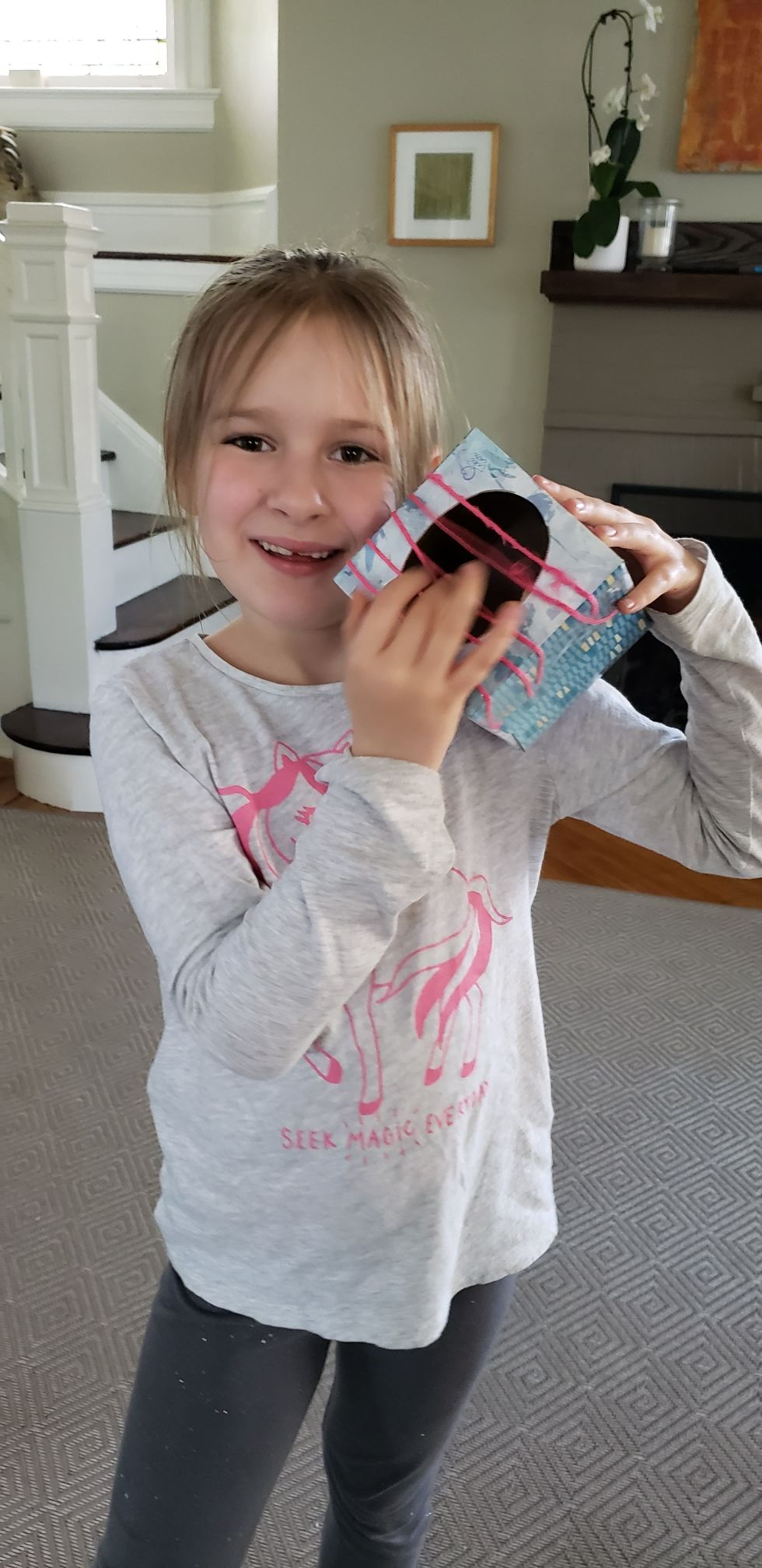 I also posted the Star Wars photos that appeared on Nasdaq's Times Square tower in this Twitter thread. An example: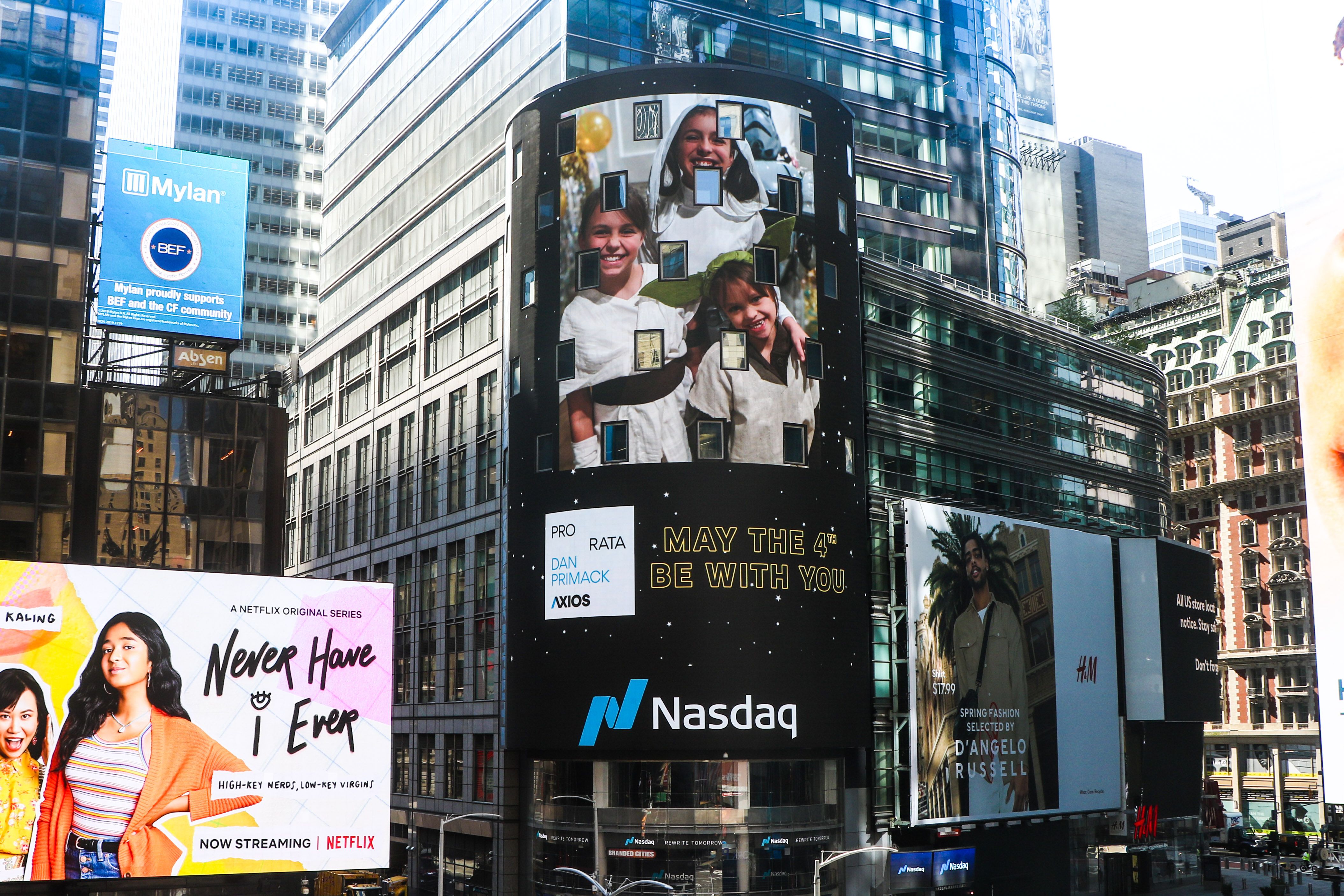 Venture Capital Deals
• Robinhood, the no-fee stock trading app, confirmed that it raised $280 million in Series F funding at an $8.3 billion valuation. Sequoia Capital led, and was joined by fellow insiders NEA, Ribbit Capital, 9Yards Capital, and Unusual Ventures.
More: Robinhood this morning is expected to announce that Dan Gallagher, a board director and former SEC commissioner, will become its new chief legal officer. Current CLO Anne Hoge, who previously was general counsel for WhatsApp, is leaving permanently "to attend to an illness in the family which is requiring more of her energy."
🐱‍👤 Ninja Van, a Singapore-based package delivery company, raised $279 million in Series D funding from GeoPost, B Capital Group, Monk's Hill Ventures, Carmenta, Golden Gate Ventures Growth Fund, Intouch Holding, Grab, and two unidentified sovereign wealth funds. http://axios.link/BLx9
• Black Market, a French refurbished device marketplace, raised $120 million from Goldman Sachs, Aglaé Ventures and Eurazeo Growth. http://axios.link/oAA9
• ApplyBoard, a Canadian application platform for international students, raised C$100 million in Series C funding at a C$2 billion valuation. Drive Capital led, and was joined by Fidelity Investments Canada, BDC, and return backers Anthos Capital, Artiman Ventures, Garage Capital, and Plug and Play Tech Center. http://axios.link/EnmL
• Zeitgold, a Berlin-based provider of automated bookkeeping software for small businesses, raised €27 million in Series B funding. Vintage Investment Partners led, and was joined by return backers Battery Ventures, HV Holtzbrinck Ventures, Saban Ventures, btov Partners, AXA Innovation Campus, and Deutsche Bank. http://axios.link/hQEE
• Cockroach Labs, a New York-based distributed SQL database, raised $86.6 million in Series D funding. Altimeter Capital and Bond Capital co-led, and were joined by Benchmark, GV, Index Ventures, Redpoint Ventures, Sequoia Capital, and Tiger Capital. http://axios.link/Rvk5
• Sensor Tower, a San Francisco-based mobile app market intelligence firm, raised $45 million from Riverwood Capital. http://axios.link/biaR
• Orca Security, a Los Angeles-based cybersecurity startup focused on cloud vulnerabilities, raised $20 million in Series A funding. GGV Capital led, and was joined by YL Ventures and SVCI. http://axios.link/HmLf
• Knowde, a San Jose, Calif.-based online chemicals marketplace, raised $14 million in Series A funding. Sequoia Capital led, and was joined by Refactor Capital, Bee Partners, Cantos Ventures, and Knollwood Investment Advisory. www.knowde.com
• Finite State, a Columbus, Ohio-based provider of supply chain security and risk management solutions for IoT and embedded devices, raised $12.5 million in Series A funding. Energy Impact Partners led, and was joined by Zetta Venture Partners. www.finitestate.io
• Tehama, a Canadian provider of global workforce deployment solutions, raised US$10 million in Series A funding. OMERS Ventures led and was joined by BDC Capital. www.tehama.io
• Qwilr, an Australian document design tool, raised $7.25 million in Series A funding. AirTree Ventures led, and was joined by Skip Capital, Robert Muñoz, and seed backers Point Nine Capital, Right Click Capital, and Macdoch Ventures. http://axios.link/JyoX
• Different, an Australian property management platform, raised A$7.1 million in Series A funding. PieLab led, and was joined by AirTree Ventures, Spring Capital, and Warburton Group. http://axios.link/smYN
• Instabug, an Egyptian mobile app feedback platform, raised $5 million in Series A funding led by seed backer Accel. http://axios.link/d9yl
• Daily.co, a San Francisco-based video chat API service, raised $4.6 million led by Freestyle. http://axios.link/9BUh
• StorySlab, a Syracuse, N.Y.-based digital sales enablement tool, raised $2.7 million in Series A funding. Armory Square Ventures led, and was joined by RiverPark Ventures and TIA Ventures. www.storyslab.com
• Dynaleo, an Edmonton-based white-label maker of cannabis gummies, raised C$2 million from Canopy Rivers (TSX: RIV). http://axios.link/ue56
🛴 Lime, the e-scooter company, is in talks to raise $170 million in new funding led by Uber at a $510 million valuation, per The Information. http://axios.link/AcnZ
• MasterClass, a San Francisco-based online course company, is seeking to raise at least $100 million at an $800 million valuation, per Bloomberg. It last raised in 2018 at a $410 million post-money valuation. http://axios.link/gBtx
Private Equity Deals
🚑 Adare Pharma, a Lawrence Township, N.J.-based portfolio company of TPG Capital, acquired Orbis Biosciences, a Lenexa, Kansas-based developer of controlled-release delivery technologies. http://axios.link/9dTS
• BV Investment Partners invested in StraighterLine, a Baltimore-based online secondary education course platform. www.straighterline.com
🚑 Safeguard Medical, a Charlotte-based portfolio company of Water Street Healthcare Partners, acquired Water-Jel Technologies, a Carlstadt, N.J.-based maker of emergency burn care products. www.safeguardmedical.com
🍿 Sauer Brands, a Richmond, Va.-based portfolio company of Falfurrias Capital Partners, acquired branded popcorn seasonings maker Chicago Custom Foods from Highlander Partners. www.cfsauer.com
• Sovos, a Wilmington, Mass.-based portfolio company of HgCapital, acquired Taxweb, a Brazilian provider of tax determination software. www.sovos.com
• Triangle Digital Ventures acquired Covideo, an Indianapolis-based provider of video messaging software, from APCO. www.covideo.com
Dead Deals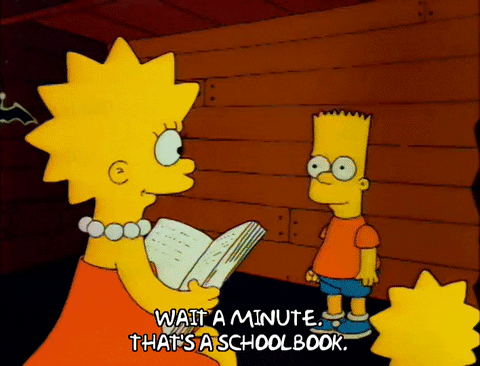 • Cengage and McGraw-Hill terminated their proposed $5 billion megamerger, which the textbook publishers originally announced in May 2019, following federal antitrust opposition. McGraw-Hill is owned by Apollo Global Management, while Cengage backers include Apax Partners, KKR, and Searchlight Capital Partners. http://axios.link/Fc6n
• Amherst Holdings, backed by Stone Point Capital, terminated its $2.3 billion acquisition of single-family home landlord Front Yard Residential (NYSE: RESI). http://axios.link/1ZAg
• L Brands (NYSE: LB) and Sycamore Partners formally called off the $525 million Victoria's Secret deal, and related litigation, with neither side to pay a termination fee. http://axios.link/FNZE
Public Offerings
• Roth CH Acquisition, a blank-check acquisition company formed by Roth Capital executives, raised $75 million in its IPO. http://axios.link/XwGs
• uCloudlink, a Hong Kong-based mobile data traffic sharing marketplace, filed for a $50 million IPO. The company plans to trade on the Nasdaq (UCL) with I-Bankers Securities and Valuable Capital as lead underwriters, and reports $5.2 million of net income on $158 million in revenue for 2019. Shareholders include Haitong Momentum Investment Fund and Beijing Cash Capital Venture Partners. http://axios.link/v9hW
Liquidity Events
🚑 Ardian and GHO Capital are considering a sale process for Envision Pharma Group, a U.K.-based medical communications firm that could fetch around $500 million, per Bloomberg. http://axios.link/b8E4
• Intel (Nasdaq: INTC) confirmed that it will buy Israeli public transit app maker Moovit for $900 million. Moovit had raised around $133 million from BRM Group, Gemini Israel Ventures, Sequoia Capital, BMW iVentures, NGP Capital, Sound Ventures, Vaizra Investments, Vintage Investment Partners, and Hanaco Venture Capital. http://axios.link/KuFF
• Nvidia (Nasdaq: NVDA) agreed to acquire Cumulus Networks, a Mountain View, Calif.-based provider of network management software. Cumulus had raised around $135 million in VC funding from firms like Telstra Ventures, Andreessen Horowitz, Battery Ventures, and Sequoia Capital. http://axios.link/Pv2p
More M&A
🚑 Alexion Pharma (Nasdaq: ALXN) agreed to buy thrombosis drug developer Portola Pharma (Nasdaq: PTLA) for $1.41 billion. http://axios.link/hDs1
🚑 AmerisourceBergen (NYSE: ABC) approached Walgreens (Nasdaq: WBA) about buying its drug distribution unit, per Reuters. http://axios.link/wSIl
• SAP (NYSE: SAP) agreed to sell its digital interconnect business for €225 million to Swedish cloud computing services provider Sinch (Stockholm: SINCH). http://axios.link/XMe1
🚑 Menarini Group of Italy agreed to buy New York-based oncology drug developer Stemline Therapeutics (Nasdaq: STML) for upwards of $677 million. http://axios.link/Eass
Fundraising
⛽ Ara Partners, a Houston-based private equity firm focused on industrial decarbonization, raised $400 million for its debut fund. www.arapartners.com
• NextGen Growth Partners, a Chicago-based buyout firm, is raising $100 million for its second fund, per an SEC filing. www.nextgengp.com
🚑 Oberland Capital raised $1.05 billion for a health care royalties fund. www.oberlandcapital.com
Final Numbers: MAC carveouts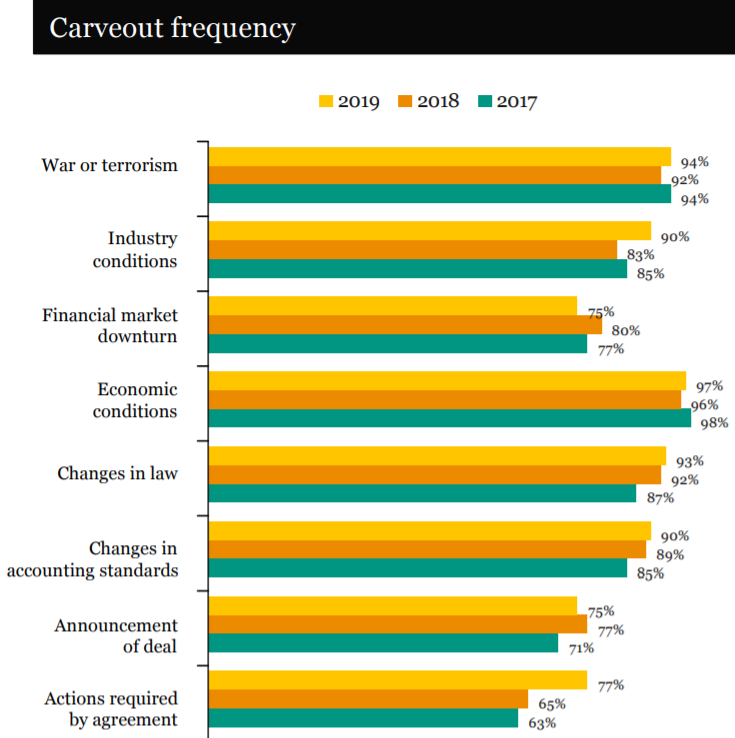 🙏 Thanks for reading Axios Pro Rata. Please ask your friends, colleagues, and at-home phlebotomists to sign up.