Axios Pro Rata
May 08, 2018
Hello, readers! I'm back just for today while Dan stands outside in his town with a sign and a box of donuts (he tells me the weather has been nice so far). Reminder that you can send me tips and scoops at kia@axios or on Twitter at @imkialikethecar.
Top of the Morning
Never a dull day in the telecom-media world: Comcast is reportedly trying to insert itself into 21st Century Fox's acquisition deal with Disney.
On Monday, Reuters reported that Comcast is asking banks to up a bridge financing facility by as much as $60 billion so it can make an all-cash offer for Fox. The latter is currently set to sell to Disney for $52 billion, though it's not clear how much Comcast will offer.
Yes, but: This is all contingent on what happens in the AT&T-Time Warner trial, another similarly structured "vertical merger" between a telecom company and a content company. This is important because according to a regulatory filing, Comcast made a $64 billion offer last November for Fox, but it was rejected over regulatory concerns. So don't count the Disney deal as dead just yet
Meanwhile: Comcast also made a $30 billion takeover bid last month for European television giant Sky, beating out Fox by offering 16% more.
Key dates: The AT&T-Time Warner decision is expected to come by June 12, while EU regulators are expected to rule on the Comcast-Sky deal by June 15.
• Carl Icahn's Xerox price: It's apparently $40 a share. On Monday, he and fellow shareholder Darwin Deason said in a letter that they would consider all-cash bids starting at that price. The duo has been fighting a $6.1 billion takeover by Fujifilm.
• Today in e-scooters: Adding to our earlier reporting that Lime is hitting Sand Hill Road this week to fundraise (a source says "at least $100 million"), I've also learned that it had some acquisition talks with Uber months ago, though they apparently didn't get very far and the latter ultimately bought Jump Bikes. No comment from either company.
Meanwhile, competitor Spin has also been talking to investors since at least last fall, I'm told. Given the current e-scooter hype, I wouldn't be surprised if those talks pick up steam.
And if you missed it in January (I did!), Spin's founders also have a side project: PIN Protocol, "a blockchain-based reputation and rewards protocol" they plan to integrate with Spin's service eventually. Truly a 2018 story!
• Crypto job: Eric Friedman, who previously ran Expa Labs, has quietly made the jump to BlockTower Capital, a cryptocurrency hedge fund, according to his Twitter bio. BlockTower is currently raising a VC fund, so it's possible Friedman will focus on that, though the firm declined to comment.
• What to watch: The Walmart-Flipkart deal will likely be announced later this week, according to Reuters. Here's a Quartz piece about what rival Snapdeal has been up to since a merger deal fell apart.
The BFD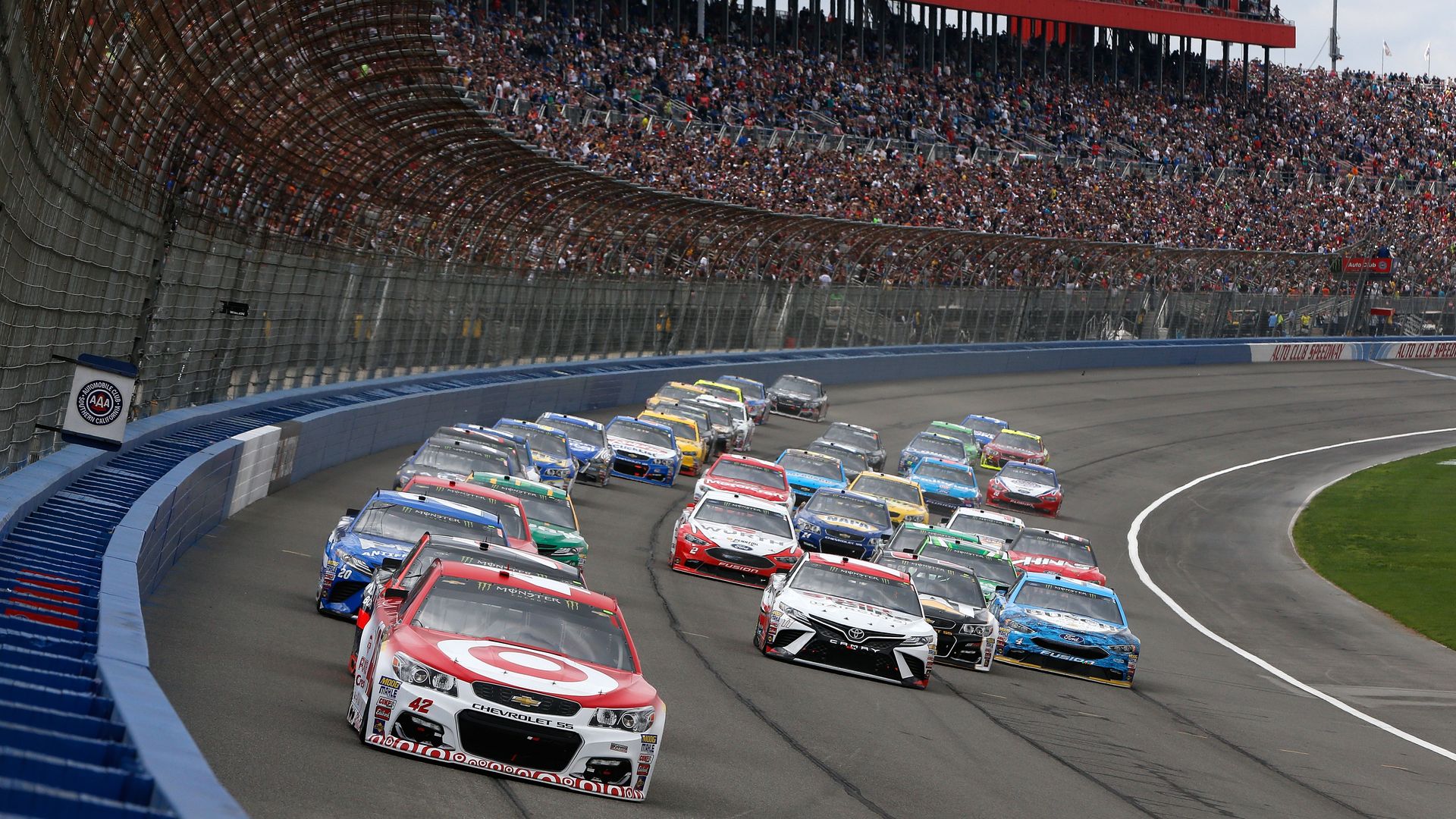 NASCAR's majority owners are working with Goldman Sachs to explore possibly selling a majority stake, according to sources who spoke to Reuters.
Why it's the BFD: The deal could be worth several billions of dollars, according to Reuters.
Bottom line: "'In a time period that is attractive for live event and live entertainment, Nascar has struggled,' BTIG analyst Rich Greenfield told Reuters. 'There is absolutely a desire to own rather than license content but everything has a price.'" — Reuters
Venture Capital Deals
🚑Kexin Health, a China-based cancer hospital operator, has raised $38 million in Series C funding led by HG Capital. http://axios.link/sk8S
• Owlet Baby Care, a Lehi, Utah-based maker of health tracking devices for babies, has raised $24 million in Series B funding led by Trilogy Equity Partners, with participation from Eclipse Ventures, Broadway Angels, Enfield Ventures, and Pelion Venture Partners. www.owletcare.com
• BorderX Lab, a Sunnyvale-based cross-border e-commerce company, has raised $20 million in a Series B funding round led by Kleiner Perkins, with Hillhouse Capital Group, CBC (China Broadband Capital), Welight Capital and iFly Venture Capital also participating. www.borderxlab.com
• Miovision, a Kitchener, Ontario-based provider of smart traffic intersection technology, has raised $15 million from MacKinnon, Bennett & Co., McRock Capital, BDC Capital and HarbourVest Partners. www.miovision.com
• Peltarion, a Swedish deep learning AI startup, has raised 11 million euros ($13 million) from FAM and EQT Ventures. www.peltarion.com
🚑mPulse Mobile, an Encino, California-based provider of mobile tools for the healthcare industry, has raised $11 million in Series B funding led by SJF Ventures with participation from HLM Venture Partners, EchoHealth Ventures, OCA Ventures and Bonfire Ventures. www.mpulsemobile.com
• HousingAnywhere.com, a Rotterdam, Netherlands-based accommodation marketplace for international students, has raised 6 million euros ($7.1 million) in Series B funding led by Vostok New Ventures, with participation from existing investors Real Web and henQ. www.housinganywhere.com
• Yobe, a Boston-based AI-powered signal processing provider, has raised $1.8M in seed funding from Clique Capital Partners. www.yobe-inc.com
• Printify, a Latvia-based customer printing marketplace, has raised $1 million in seed funding led by Gokul Rajaram. http://axios.link/mnH5
Private Equity Deals
• Gulf Capital, an Abu Dhabi-based private equity firm, has bought a stake in Geidea, a provider of electronic payment solutions in Saudi Arabia, for more than 1 billion riyals ($267 million). http://axios.link/fmXu
• Trive Capital has acquired the assets of SSW Holding Company Inc, a Fort Smith, Arkansas-based products manufacturer for the appliance, HVAC and other industrial segments. www.sswholding.net
• Be Relax, an operator of airport spas in Europe, the U.S., the Middle East and Asia, has raised up to 20 million euros from Activa Capital. www.berelax.com
🚑Periscope Equity is investing in Integrated Behavioral Health, a provider of comprehensive behavioral health and employee engagement products in the United States. www.ibh.solutions.com
Public Offerings
• iZettle, a Swedish payments services company and Square rival, said it will go public this year and list on Nasdaq's Stockholm exchange. It plans to to raise around 2 billion Swedish crowns ($227 million). The company's advisors include Carnegie, JP Morgan, Barclays, ABG Sundal Collier and Nordea, it said in Tuesday's statement. http://axios.link/j3CU
• Xiaomi, the Chinese smartphone maker gearing up for an initial public offering, has cut its IPO valuation target from $100 billion to between $70 billion and $80 billion, according to the WSJ. http://axios.link/873s
Liquidity Events
• Alibaba has acquired Daraz, a Rocket Internet-backed e-commerce site based in Pakistan. http://axios.link/zxjb
• BlackRock has agreed to sell its 40% stake in DSP BlackRock to the DSP Group, an Indian financial services firm. http://axios.link/iECE
More M&A
• Takeda Pharmaceutical has agreed to buy London-listed Shire for 45.3 billion pounds ($61.50 billion). http://axios.link/75FU
• Cohu, a Poway, Calif.-based semiconductor testing company, will acquire Xcerra for about $796 million. http://axios.link/rMEl
• Dixon Ticonderoga, a Lake Mary, Florida-based pencil maker owned by Italian group Fila, has agreed to buy U.S.-based school art and craft products supplier Pacon Group for $340 million. http://axios.link/C4XB
• Sovos has acquired TrustWeaver, a Stockholm-based provider of cloud software for VAT audit document management. www.trustweaver.com
• Seismic, a San Diego-based software company, has agreed to acquire SAVO Group, a Chicago-based sales software company. http://axios.link/ajPx
Fundraising
• Golden Ventures, a Canadian-based seed firm, has closed $57.5 million ($72 million in Canadian dollars) for a third fund. http://axios.link/JUwc
• Oxx, a London- and Stockholm-based growth capital firm, has closed $100 million in capital commitments to invest in B2B software companies in the U.K., Israel and the Nordic countries.
It's Personnel
• Jason Tan is joining Jeneration Capital Management, a Hong Kong-based firm, as partner and chief investment officer. He was previously a global partner at Tiger Global Management. http://axios.link/PpY0
• Bonnie Wang has joined Z Capital as managing director and head of corporate development. Wang was previously managing director and portfolio manager at J.P. Morgan. www.zcapgroup.net
Final Numbers