Axios Pro Rata
April 26, 2023
📢 Axios BFD is two weeks from today in San Francisco.
Conversations with the CEOs of CalPERS, TPG, Y Combinator, Alto Pharmacy and Levi Strauss. Plus Stripe's John Collison, Ark Invest's Cathie Wood and JPMorgan's Anu Aiyengar.
Request an invite to attend in person, or register for the livestream.
Top of the Morning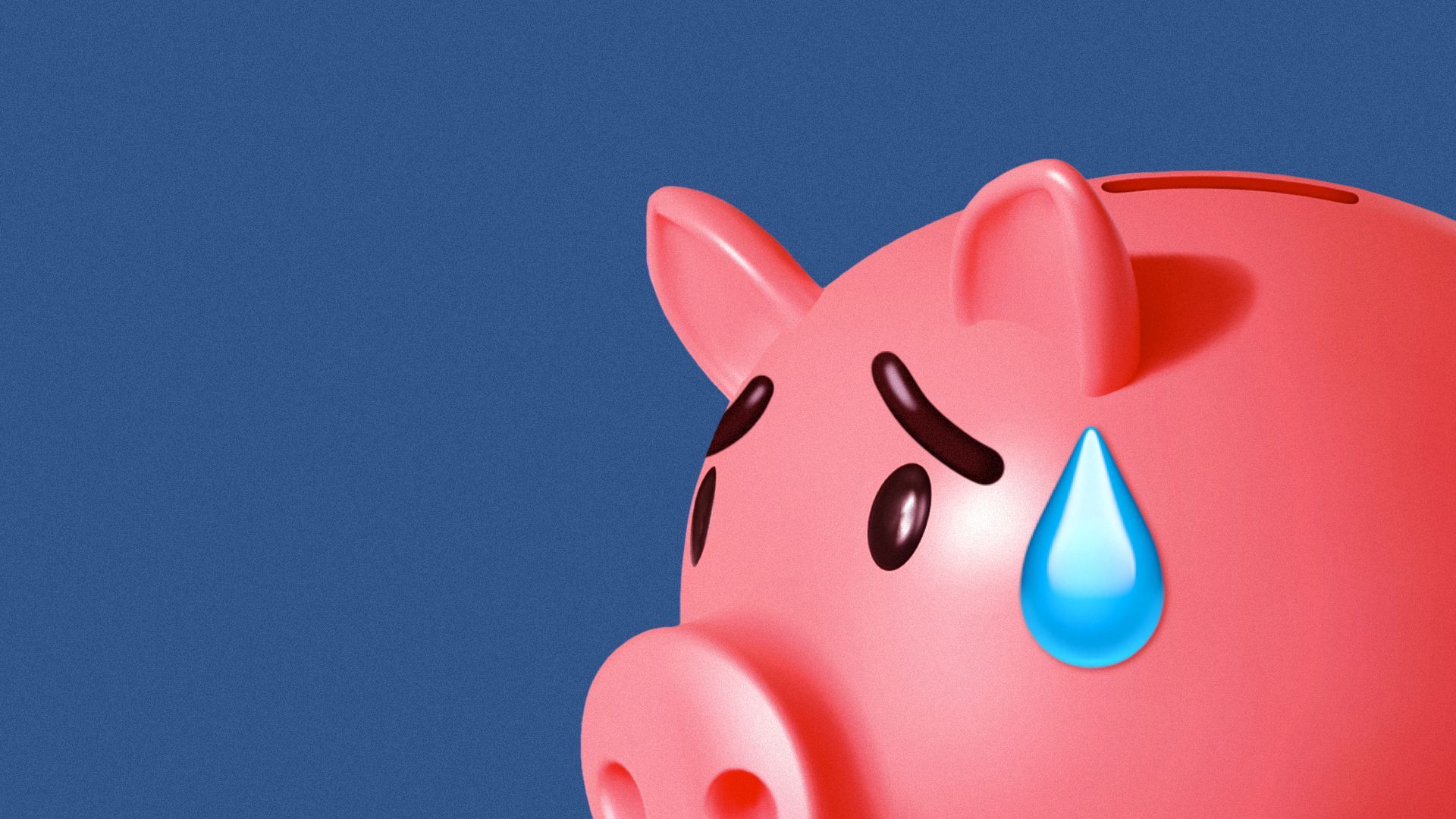 I'm old enough to remember when the regional banking crisis was contained. Feeling a little wistful.
Driving the news: First Republic Bank is in freefall, following a Q1 earnings report that showed over $100 billion of deposits walking out the door (net of around $71 billion once the JPMorgan inflows are included).
Shares fell a whopping 49% yesterday, wiping out $1.47 billion in market cap. They're down another 19% in early trading this morning, representing more than a 95% fall from 2023 highs in early February.
State of play: The San Francisco-based bank is now seeking some sort of rescue package, which could include a sale of up to $100 billion in long-dated assets like mortgages, municipal bonds and Treasuries.
Moving these assets off the balance sheet could, in theory, encourage new capital such as private equity to come in.
Another possibility, of course, is that the FDIC could seize First Republic. I'd say we're not there yet, but just remember how head-spinningly fast that happened with SVB...
All of this creates a conundrum for bulge bracket banks, some of which still have PTSD from the last time they participated in banking crisis bailouts. Either buy First Republic's assets now, or risk paying into the FDIC kitty were First Republic to fail.
Peer review: Axios' Felix Salmon writes: "The longer First Republic exists in its current zombie state, the more its franchise value erodes, and the harder it becomes to put together an attractive rescue package."
He also reports that the asset sale efforts are being brokered by Lazard, not by the FDIC.
The bottom line: Almost everyone agrees that First Republic is the firewall. How it gets built, however, remains in flux.
The BFD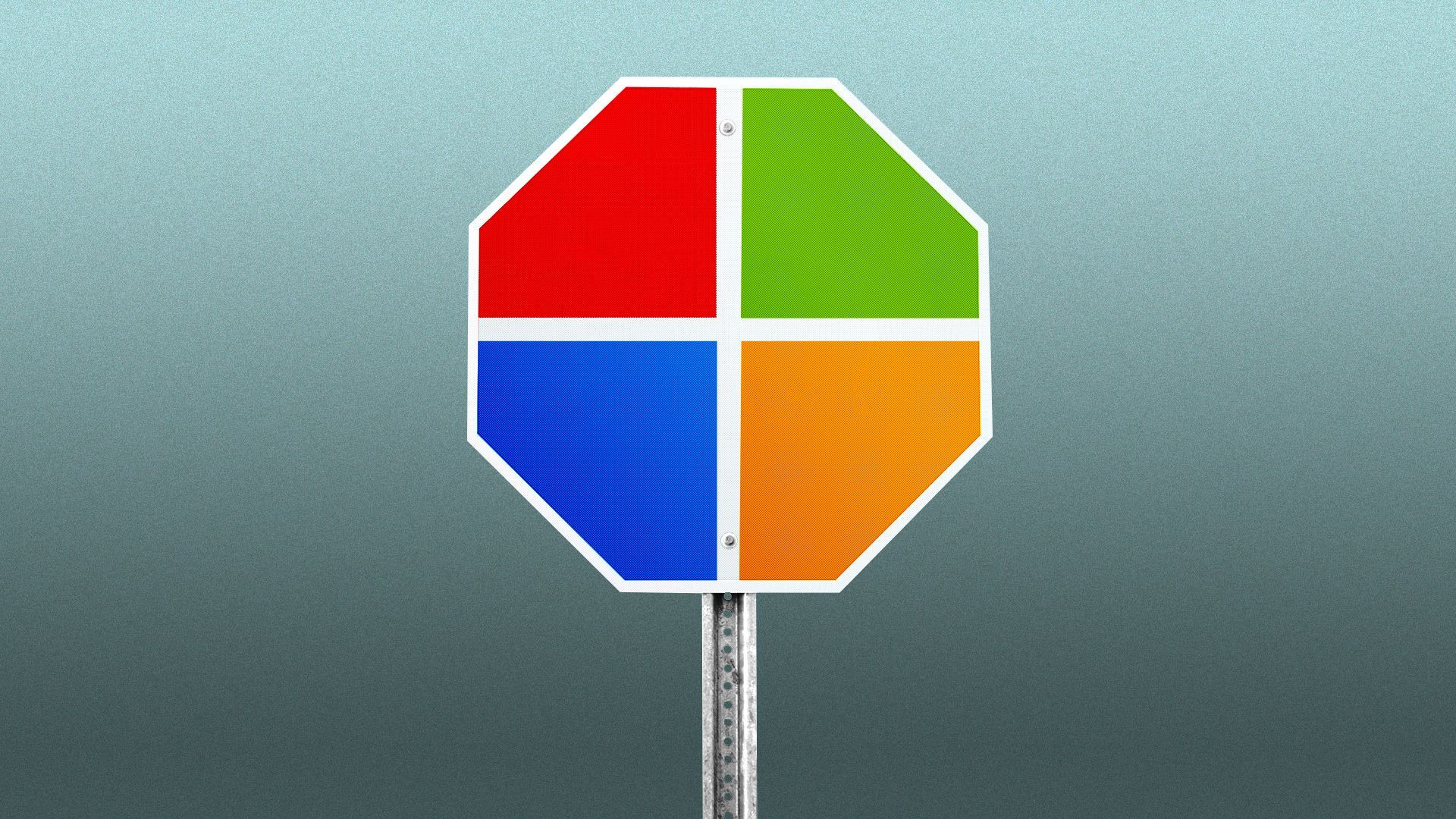 British antitrust regulators this morning said they'll seek to block Microsoft's planned $69 billion takeover of Activision Blizzard.
Why it's the BFD: This would be the largest gaming merger of all time, but now is being opposed by both U.S. and U.K. regulators, with the EU continuing to investigate.
Zoom out: Microsoft and Activision can't be happy, particularly given that the U.K. had seemed to be inching toward approval. But they might not be too distressed, given that the U.K. objection is on narrow grounds — focusing on the emerging cloud gaming market rather than the established console market — and that the FTC's complaint was filed in administrative court without an injunction request.
What to watch: If Microsoft considers closing the deal anyway, following the Illumina/Grail playbook, and then letting the legal appeal chips fall where they may.
Venture Capital Deals
🌎 Ohmium, an Incline Village, Nev.-based green hydrogen company, raised $250m in Series C funding, as first reported by Axios Pro. TPG Rise Climate led, and was joined by Hanover Technology Investment Management and insiders Energy Transition Ventures and Fenice Investment Group. https://axios.link/448l7Wm
🚑 Orbital Therapeutics, a Cambridge, Mass.-based developer of RNA medicines, raised $270m in Series A funding. Arch Venture Partners led, and was joined by Andreessen Horowitz, Newpath Partners, Abu Dhabi Growth Fund, Redmile Group, Exor, Invus, Moore Strategic Ventures, iGlobe Platinum Fund Group, Casdin Capital, Agent Capital, Alexandria Venture Investments, Rellim Capital Management and Heritage Medical Systems. https://axios.link/3V5hrR1
🚑 MedShift, a Charlotte, N.C.-based medical equipment manufacturer, raised $108m from Turning Rock Partners, Micota Capital and OY6 Capital. www.medshift.com
🚀 Ursa Major, a Berthoud, Colo.-based rocket engine maker, raised $100m in Series D funding from backers like BlackRock and Space Capital, per TechCrunch.
Related: Private companies think there's money to be made in the solar system and are using scientific missions to figure out how, Axios' Miriam Kramer writes.
• Replit, an SF-based online integrated development environment, raised $97.4m at a $1.2b valuation from backers like Andreessen Horowitz, Khosla Ventures and Coatue. https://axios.link/40xR5bv
🚑 Evommune, a Palo Alto, Calif.-based biotech focused on inflammatory diseases, raised $50m in Series B funding co-led by ArixBioscience and insiders EQT Life Sciences and SymBiosis. Other backers include Amplitude Ventures, Pivotal bioVenture Partners and Andera Partners. www.evommune.com
• Luup, a Japanese micromobility startup, raised around $30m in Series D equity and debt funding led by Spiral Capital. https://axios.link/3LtjI4b
• Veo Robotics, a Cambridge, Mass.-based provider of robotic awareness systems, raised $29m in Series B funding from Safar Partners and Yamaha Motor Ventures. https://axios.link/3HAOpDp
🌎 Cyclic Materials, a Canadian recycler of rare earth elements, raised $27m in Series A funding. BMW i Ventures and Energy Impact Partners co-led, and were joined by Fifth Wall, Bioindustrial Innovation Canada and Planetary Technologies. https://axios.link/3V3bxjf
• AIXplain, a low-code/no-code AI app development platform, raised $8m in seed funding co-led by Transform VC and Calibrate Ventures. https://axios.link/41QLApk
• Credora, a New York-based crypto lending creditworthiness startup, raised $6m from S&P Global and Coinbase Ventures. www.credora.io
• Hakimo, a Menlo Park, Calif.-based physical security monitoring startup, raised $6m. Rocketship.vc led, and was joined by insiders Defy.vc, Neotribe Ventures and Firebolt Ventures. www.hakimo.ai
• DFlow, a decentralized payment for order flow protocol, raised $5.5m. Framework Ventures led, and was joined by Coinbase Ventures, Circle Ventures, Cumberland, Wintermute Ventures, Spartan Group and ZeePrime. www.dflow.net
🌎 UniSieve, a Swiss developer of membrane solutions for decarbonization, raised $5.5m in seed funding from Amadeus APEX Technology Fund, Wingman Ventures, Ciech Ventures and Zürcher Kantonalbank. www.unisieve.com
• Plumery, a component-based banking tech startup, raised $4.5m in seed funding from Better Tomorrow Ventures, Headline, Seedcamp and Cocoa Ventures. https://axios.link/41T9Ozd
Private Equity Deals
• BMC agreed to buy Model9, an Israeli provider of mainframe cloud data management software. BMC is a portfolio company of Kohlberg Kravis Roberts, Acadia Capital Group and Access Industries, while Model9 raised around $13m in VC funding from firms like Intel Capital, GlenRock Israel, StageOne Ventures, North First Ventures and SVB. www.bmc.com
• New Mountain Capital acquired a majority stake in ALKU, an Andover, Mass.-based specialty staffing firm, from FFL Partners and WestView Capital Partners (both of which reinvested). www.alku.com
🚑 Owl Rock invested more than $100m for a portion of royalty interests for a prostate cancer drug owned by the Purdue Research Foundation.
• Stonepeak and Spirit Super completed their acquisition of GeelongPort, an Australian port located around 75 km south of Melbourne. https://axios.link/3AwPk4e
• Yahoo, a portfolio company of Apollo Global Management, acquired Wagr, a sports betting app that raised around $10m in VC funding from backers like Greycroft, Seven Seven Six, Pear, Villhard Growth Partners, HBSE Ventures, BITKRAFT Ventures and The Kraft Family Foundation. https://axios.link/3Nd7b7m
SPAC Stuff
⚡ Occidental (NYSE: OXY) will invest an additional $250m in the proposed reverse merger of "clean" natural gas energy company NET Power and Rice Acquisition Corp. II (NYSE: RONI). https://axios.link/41DWpeE
• OpSec Group, a provider of brand protection and IP management solutions, agreed to go public at an implied $426m enterprise value via Investcorp Europe Acquisition Corp I (Nasdaq: IVCB). https://axios.link/3AAs1pq
Liquidity Events
• Lookout, an SF-based enterprise security company last valued by VCs at $1.75b, agreed to sell its consumer mobile security business to listed Finnish company F-Secure for around $223m. https://axios.link/3Va1h95
• Zinnia, a Topeka, Kan.-based portfolio company of Eldridge Industries, agreed to acquire Policygenius, a New York-based digital insurance marketplace that had raised over $280m from firms like KKR, Norwest Venture Partners, Revolution, AXA, Karlin Ventures and Susa Ventures. https://axios.link/3NghxDp
More M&A
• Avery Dennison (NYSE: AVY) agreed to buy Lion Brothers, an Owings Mills, Md.-based maker of apparel brand embellishments. www.lionbrothers.com
• Binance.US scrapped its $1.3b deal to buy the assets of bankrupt crypto lender Voyager Digital. https://axios.link/3V2OhC5
• Getty Images (NYSE: GETY) rejected a $4b takeover bid from activist investor Trillium Capital, saying it's "not credible." https://axios.link/442G7xy
• Henkel, the German chemical and consumer goods company, agreed to sell its Russia business to local investors for about €600m. https://axios.link/41OYl3S
• Teleperformance (Paris: TEP) offered to buy listed Luxembourg-based customer service company Majorel Group for €3b. https://axios.link/3oN1Ucg
• TravelCenters of America (Nasdaq: TA) says it plans to proceed with its $1.3b takeover by BP (LSE: BP), after engaging with rival bidder Arko (Nasdaq: ARKO). https://axios.link/40wKMW8
Fundraising
• Smith Point Capital launched as a software VC firm co-founded by Keith Block (former co-CEO of Salesforce), Burke Norton (Vista Equity Partners) and Chris Lytle (Longfellow Capital). It's targeting $400m for its debut fund, having recently held a first close from such LPs as Hillman Company, Solamere Capital and David Tepper. www.smithpointcapital.com
• Solum Partners, a Boston-based firm focused on real assets within the agriculture and food production industries, raised $850m for its second fund. www.solumpartners.com
• TPG raised $3.4b for its second tech adjacencies fund. www.tpg.com
It's Personnel
• Jason Auerbach joined Moelis & Co. as global head of tech investment banking. He previously was with UBS. www.moelis.com
• Daniel Baginski joined Citation Capital as CFO. He previously was controller of TowerBrook Capital Partners. www.citation.capital
• Stefan Burgstaller is leaving Bank of America to join JPMorgan as vice chair of EMEA investment banking, per Bloomberg. https://axios.link/41EPa69
• Sharda Cherwoo, a former senior partner at Ernst & Young, joined the board of Carlyle (Nasdaq: CG) as an independent director. www.carlyle.com
🚑 Mathai Mammen, a former J&J exec and incoming CEO if FogPharma, joined General Atlantic as a senior advisor. www.generalatlantic.com
• Base10, an SF-based VC firm, promoted Luci Fonseca to partner. www.base10.vc
Final Numbers
Earnouts are on the rise for M&A deals outside of life sciences (where they're almost industry standard), according to the annual Deal Terms Study from SRS Acquiom.
Chris Letang, a managing director with SRS, says that earnouts tend to rise when there is macro uncertainty.
Overall, he notes that 2022 didn't see much term movement toward buyers of sellers, beyond lower valuations that were mostly tied to stock market prices or comps.
Thanks for reading Axios Pro Rata, and to copy editor Bryan McBournie! Please ask your friends, colleagues and gamers to sign up.