Axios Pro Rata
January 07, 2021
🎧 Axios Re:Cap digs into the vaccination rollout delays, as just 5.3 million doses have been injected. Listen via Apple, Spotify or Axios.
Our sister podcast, Axios Today, includes a conversation with Axios' Alayna Treene, who was in the Capitol complex yesterday when it was stormed. Listen.
💰 SBA late last night released interim rules for the new round of PPP loans. It also provided additional info for second-draw loans and for underserved borrowers.
Top of the Morning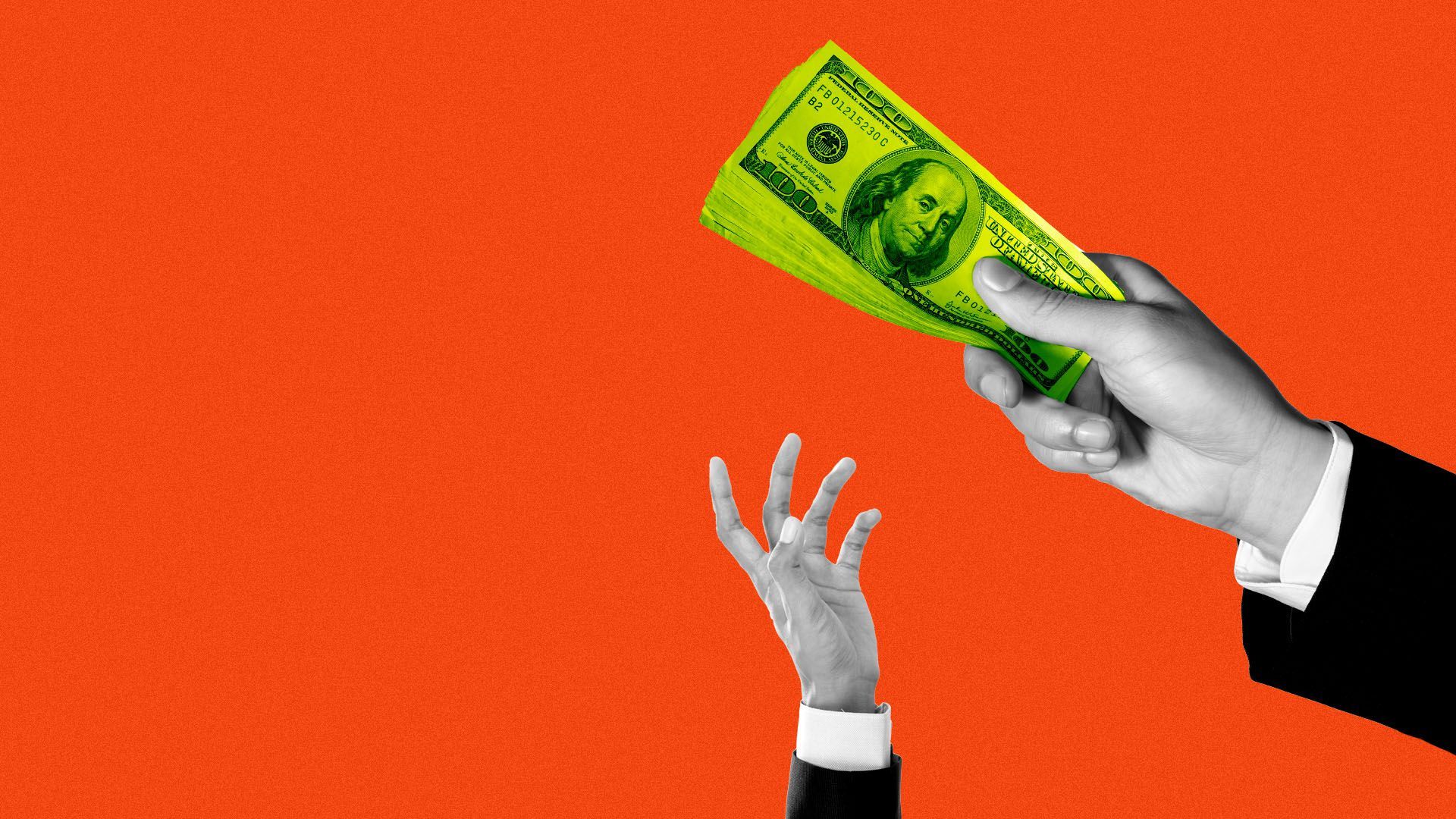 Many of America's top businesspeople have had enough of political pandering to the mob, and plan to deny future contributions to those who egged it on, Axios' Alexi McCammond and I report.
Why it matters: Senators like Josh Hawley and Ted Cruz may have been auditioning for 2024 presidential runs, but have alienated some of those who could have helped fund those campaigns.
Behind the scenes: On Monday night, 36 hours before the insurrection, Yale School of Management professor Jeffrey Sonnenfeld invited a group of high-profile CEOs and investors to a virtual meeting at 7am the following morning, to discuss expected congressional objections to the presidential certification process.
This was the second such meeting since the election, the first of which was on Nov. 6 after President Trump made clear that he favored conspiracy over concession. The group also met after George Floyd's murder, and has regularly held in-person gatherings over the years, usually with Chatham House rules.
One attendee told me yesterday morning: "The amount of anger at these 11 senators was more intense than any I can recall directed with so much universality. There is real anger at these people, particularly Hawley and Cruz, that they don't really understand. ... We all know we need public/private partnership to get through this pandemic, and these 11 are doing something they know is wrong, which hurts those efforts, for purely personal reasons."
Sonnenfeld says that polling shows CEOs are currently among America's most trusted institutional voices, and that several urged him to convene the Tuesday meeting.
Sources say that one topic of conversation, and agreement, was to no longer financially support congressional election deniers, either directly or indirectly (via PACs, etc). And possibly to support primary challengers.
There is some skepticism that participants will stick to this informal and private pledge, but Sonnenfeld expects that outside groups like the Lincoln Project and academics will call public attention to those who stray.
He adds that Hawley is in a particularly precarious position, as he has no seniority that would tempt some CEOs to trade principle for access.
The bottom line: Money in politics is a very powerful force. So is withholding it.
The BFD
Roblox, a San Francisco-based gaming platform for kids and teens, raised $520 million in private funding at a $29.5 billion valuation. It also said it will restructure its upcoming IPO as a direct listing.
Why it's the BFD: This represents Roblox's proposed solution to the "pop" problem that caused it to delay its IPO, as it tries to ensure that vested employees don't get short-shrift on pricing. It also suggests more than a sevenfold valuation increase from Roblox's last VC round.
Details: The $520 million infusion was co-led by Altimeter Capital and Dragoneer at $45 per share, which will serve as a reference price for the direct listing. Roblox raised Series G funding last February at $6.34 per share.
More math: Roblox is now valued at around 5.5 trillion "Robux," a figure that caused my daughter E's jaw to drop wide open.
The bottom line: "The company is hitting the public market following a year of dramatic growth as kids, who were forced to stay home during the pandemic, spent more time playing games. ... Daily active users almost doubled in the period ended September to 36.2 million. A metric the company calls 'hours engaged' more than doubled to 8.7 billion." — Ari Levy, CNBC
Venture Capital Deals
• Graphcore, a British AI chipmaker, raised $222 million in Series E funding. Ontario Teachers' led, and was joined by Fidelity, Schroders and return backers Baillie Gifford and Draper Esprit. http://axios.link/0LCV
• Quantum Metrics, a cloud-based service to build, test and fix digital products, raised $200 million in Series B funding led by Insight Partners at a valuation north of $1 billion. http://axios.link/kRAq
• Dremio, a Santa Clara, Calif.-based provider of data lake transformation solutions, raised $135 million in Series D funding at a $1 billion valuation. Sapphire Ventures led, and was joined by insiders Insight Partners, Lightspeed Venture Partners, Norwest Venture Partners, Redpoint Ventures and Cisco Investments. http://axios.link/jrXP
• News Break, a Mountain View, Calif.-based local news app, raised $115 million in Series C funding led by Francisco Partners. www.newsbreak.com
• Mambu, a German SaaS banking platform, raised €100 million at a €1.7 billion post-money valuation. TCV led, and was joined by Tiger Global, Arena Holdings and insiders Bessemer Venture Partners, Runa Capital and Acton Capital Partners. http://axios.link/jrs4
🚑 Kira Pharma, a developer of complement-targeted therapies, raised $53.5 million in new Series B funding. RA Capital and Vivo Capital co-led, and were joined by Foresite Capital, A Plus Partners and insiders Quan Capital and Qiming Venture Partners USA. www.kirapharma.com
🚑 CorWave, a French developer of an implantable heart pump, raised €35 million in Series C funding. The EIC Fund led, and was joined by Novo Seeds and insiders Bpifrance, Seventure, Sofinnova Partners and Ysios Capital. http://axios.link/6uRz
• Too Good To Go, a Denmark-based platform for reducing food waste, raised $31 million led by Blisce. http://axios.link/bJps
• Pennylane, a French accounting startup, raised €15 million from return backers Global Founders Capital and Partech. http://axios.link/Nr6g
🚑 Monument, a New York-based digital treatment platform for alcoholism, raised $10.3 million in Series A funding led by VMG Catalyst. http://axios.link/qkJ8
🚑 Theolytics, a British developer of cancer therapies, raised £5 million in Series A funding. Epidarex Capital and Taiho Ventures co-led, and were joined by Oxford Sciences Innovation. http://axios.link/27R8
• Teamflow, a London-based virtual HQ for distributed team collaboration, raised $3.9 million in seed funding led by Menlo Ventures. http://axios.link/lvfQ
Private Equity Deals
• Ara Partners acquired a control stake in Polar Sapphire, a Toronto-based maker of aluminum oxide. www.polarsapphire.com
⛽ DHI, a Salt Lake City-based portfolio company of Lincolnshire Management, acquired Blazer, a provider of water transfer service provider in the Permian Basin. www.dalboholdings.net
🚑 Emmes, a Rockville, Md.-based portfolio company of Behrman Capital, acquired Neox, a Prague-based clinical research organization. www.emmes.com
🚑 Frazier Healthcare Partners acquired a 50% stake in CSafe Global, a Dayton, Ohio-based provider of cold chain shipping solutions to the life sciences market, from Thomas H. Lee Partners. www.csafeglobal.com
• Incline Equity Partners invested in Jon-Don, a Roselle, Ill.-based provider of commercial supplies, equipment and consumables to specialty contractors and in-house service providers. www.jondon.com
🚑 Infab, a Camarillo, Calif.-based portfolio company of HKW, acquired MediDrapes, a Las Vegas-based provider of sterile disposable protective drapes for medical imaging equipment. www.infabcorp.com
• Marco Rubber & Plastics, a Seabrook, N.H.-based portfolio company of Align Capital Partners, acquired Premiere Precision Components, a Holiday, Fla.-based provider of custom manufactured molded rubber, plastic and metal components, from KLH Capital. www.marcorubber.com
• May River Capital acquired Unibloc Pump, a Marietta, Ga.-based provider of sanitary flow control solutions. www.uniblocpump.com
• Mercer Advisors, a portfolio company of Genstar Capital and Oak Hill Capital, acquired Atlanta Financial Associates, a wealth management with $815 million in AUM. www.merceradvisors.com
• Options Technology, a New York-based portfolio company of Abry Partners, agreed to buy Fixnetix, a London-based provider of front-office trading services, from DXC Technology (NYSE: DXC). www.finextix.com
🚑 Partners Group acquired Careismatic Brands, a Chatsworth, Calif.-based maker of medical apparel, from New Mountain Capital. www.careismatic.com
🚑 PointClickCare Technologies, a Canadian provider of cloud software for the long-term and post-acute healthcare market, secured new funding from Hellman & Friedman and existing backer Dragoneer Investment Group. www.pointclickcare.com
• Ridgemont Equity Partners acquired SEKO Logistics, an Itasca, Ill.-based third-party logistics provider, from Greenbriar Equity Group. www.sekologistics.com
• SK Capital Partners acquired a control stake in Tilley Chemical Co., a Baltimore-based distributor of specialty chemicals and lubricants. www.tilleycompany.com
🚑 SmilePartners, a Madison Heights, Mich.-based portfolio company of Silver Oak Services Partners, acquired PEDIA, a Chicago-based provider of general dentistry and oral surgery services. www.smilepartnersusa.com
• Spire Capital invested in The Inception Co., a Fairfield, N.J.-based maker of virtual engagement products and services. www.inceptioncompany.com
• SSM Partners acquired a minority stake in Keeps, a Las Vegas-based provider of auto service and parts analytics and pricing optimization solutions. www.keepscorp.com
• Vector Capital acquired Mood Media, an Austin, Texas-based provider of in-store media solutions that went bankrupt last summer. www.moodmedia.com
• Wynnchurch Capital acquired ICA, an Allentown, Penn.-based manufacturer of expanded polystyrene foam products. www.insulationcorp.com
Public Offerings
• Driven Brands, a Charlotte-based auto services franchisor owned by Roark Capital, set IPO terms to 38 million at $17–$20 per share. It would have an initial market cap of $3.14 billion, were it to price in the middle, and owns such brands as Maaco and Meineke. http://axios.link/CIah
• Playtika, an Israeli mobile gaming company, set IPO terms to 69.5 million shares at $22–$24. It would have a fully diluted value of $9.7 billion, were it to price in the middle, was acquired in 2016 for $4.4 billion by a Chinese investor group that included Shanghai Giant Network Technology, Jack Ma, Yunfeng Capital, China Oceanwide Holdings Group, China Minsheng Trust, CDH China HF Holdings, Netmarble Games and Hony Capital. http://axios.link/TCU9
SPAC Stuff
• Achronix Semiconductor, a Santa Clara, Calif.-based chipmaker that's raised around $200 million in VC funding, is in talks to go public via a reverse merger with ACE Convergence (Nasdaq: ACEV) at around a $2 billion valuation, per Bloomberg. Achronix backers include Easston Capital, New Science Ventures, Argonaut Private Equity and Battery Ventures. http://axios.link/7694
• Apollo Strategic Growth Capital II, a SPAC formed by Apollo Global Management, filed for a $400 million IPO. http://axios.link/vGUL
• Bright Lights Acquisition, a SPAC led by Michael Mahan (former CEO of Dick Clark Productions), raised $200 million in its IPO. http://axios.link/qLdT
• Fifth Wall, a property-tech VC firm, is prepping a SPAC, per Bloomberg. http://axios.link/OA6Z
• Fortistar Sustainable Solutions, a sustainability-focused SPAC formed by Fortistar, filed for a $200 million IPO. http://axios.link/1YVt
• Ivanhoe Capital Acquisition, an energy transition-focused SPAC, raised $240 million in its IPO. http://axios.link/CpTr
• Northern Star Investment II, a SPAC led by magazine vet Joanna Coles and New York Islanders co-owner Jonathan Ledecky, filed for a $300 million IPO. The initial Northern Star SPAC recently agreed to buy BarkBox. http://axios.link/LptR
• One Equity Partners Open Water I, a SPAC formed by One Equity Partners, filed for a $300 million IPO. http://axios.link/J2Br
🚑 Omega Alpha SPAC, a biotech-focused SPAC formed by Omega Funds, raised $120 million in an upsized IPO. http://axios.link/xC7c
• Primavera Capital Acquisition, a SPAC formed by Primavera Capital to buy a consumer business with a presence in China, filed for a $300 million IPO. http://axios.link/aL6q
• VectoIQ Acquisition Corp. II, a transportation-focused SPAC led by former GM execs, filed for a $300 million IPO. VictorIQ's first SPAC bought controversial electric truckmaker Nikola. http://axios.link/RzNC
• Vickers Vantage I, a SPAC formed by Vickers Venture Partners, raised $120 million in an upsized IPO. http://axios.link/sksa
Liquidity Events
• Lone Star pulled a £3 billion sale process for British residential property company Quintain, blaming the worsening pandemic. http://axios.link/fMxQ
More M&A
• CoinDesk, a New York-based provider of blockchain and crypto content, acquired TradeBlock, a provider of digital asset reference rates. http://axios.link/9D5D
• Entain, owner of British gaming giant Ladbrokes, offered to buy Swedish sports betting firm Enlabs for $343 million. This comes after Entain rejected an $11 billion takeover approach from MGM Resorts International. http://axios.link/hEmZ
• Hopin, a U.K.-based maker of virtual event software valued by VCs by more than $2 billion, acquired StreamYard, a Canadian live video streaming studio, for $250 million. http://axios.link/TDZC
• LafargeHolcim (Swiss: LHM), the world's largest cement maker, agreed to buy Indianapolis-based roofing products company Firestone Building Products from Japan's Bridgestone Corp. (Tokyo: 5108) for $3.4 billion. http://axios.link/nCbB
It's Personnel
• Centerfield Capital promoted Faraz Abbasi to managing partner, Michael Miller and Mark Hollis to senior partner and Augie Pence and Justin Haney to VP. www.centerfieldcapital.com
• North Castle Partners promoted Alyse Skidmore and David Weston to partner, Roy Chin to principal and Jennifer Barsky and Alan Bui to VPs. www.northcastlepartners.com
Final Numbers
TPG disclosed that it will raise a new fund dedicated to climate-focused businesses, and that former Treasury Sec. Hank Paulson has joined the firm to help run it.
The firm first dipped its toes into climate investing via its Rise funds, but now feels the opportunities have exceeded Rise's allocation limits.
A source says that no fund size or structure has yet been determined, but that the plan is have enough capital firepower to meet what TPG believes is an underserved space between cleantech VC/growth and private equity infrastructure investing (i.e., helping companies scale).
He adds that limited partners are eager to increase their private ESG exposure, and that the interest predates the political changes in D.C.
🙏 Thanks for reading Axios Pro Rata! Please ask your friends, colleagues and democracy defenders to sign up.