Axios Pro Rata
April 16, 2021
🎧 Axios Re:Cap today will dig into the legacy of Bernie Madoff, with "The Wizard of Lies" author Diana Henriques.
Top of the Morning
There's plenty more where that came from.
That's the upshot of a new survey of limited partners in private investment funds, conducted by placement agent Eaton Partners between March 23 and April 7.
By the numbers: 58% of respondents say they've already identified the managers with whom they'll re-up in 2021, but still have available budget to invest in new managers or strategies.
Another 17% say they've allocated relatively little capital so far this year, adding themselves to the "open to new ideas" cohort.
Inside the numbers: Venture capital may be the biggest beneficiary.
61% of respondents say they plan to increase VC exposure in 2021, which is up from around 40% in a similar survey last September.
54% plan to increase exposure to growth equity (which is where we're seeing a ton of new fund strategies, from both VC and LBO firms).
Across all strategies, LPs say North America is where they expect to most increase allocation.
My thought bubble: There just doesn't seem to be any significant fear of the sort of public equities correction that could awake denominator effects, let alone one that could create downward pricing pressure on existing unicorns.
23% of respondents say they have no concerns about inflation this year, while 71% say they are only "somewhat concerned."
Sounds like they're on the same page as Axios' Felix Salmon, who today writes not to panic about an inflation increase, even if it occurs.
The bottom line: Up and to the right. Rinse. Repeat.
The BFD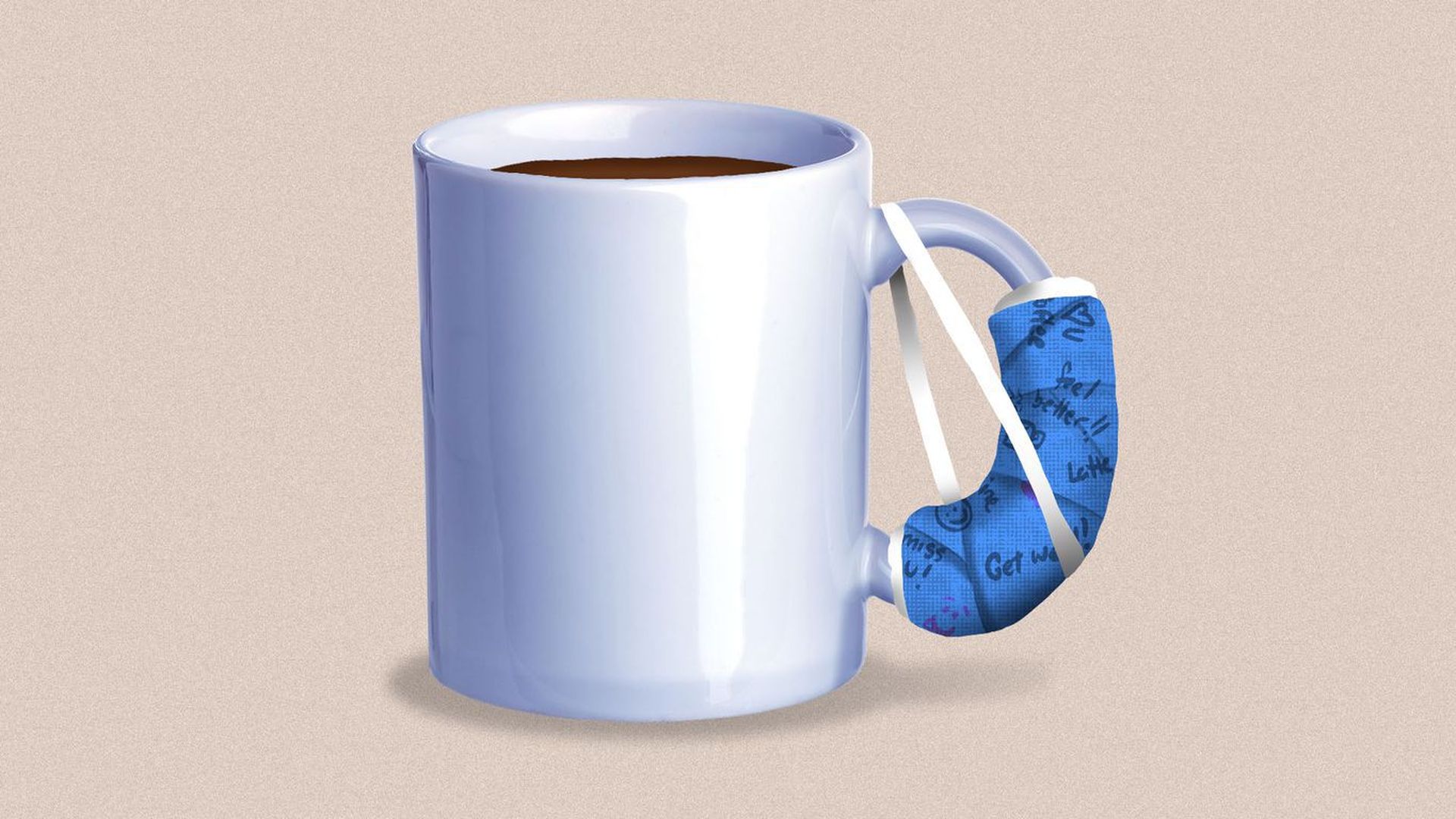 Luckin Coffee, the scandal-plagued Chinese coffee shop chain, secured a $260 million investment from existing shareholders Centurium Capital and Joy Capital. It also replaced its independent auditor.
Why it's the BFD: This will help Luckin satisfy a $180 million settlement struck last year with the SEC, which had accused Luckin of faking retail sales figures. The company went public on the Nasdaq less than two years ago at a $4.3 billion valuation, but was later delisted because of the accounting fraud.
Details: The investment is structured as convertible preferred stock, with an option for Centurium and Joy to invest an additional $150 million.
The bottom line: Luckin was supposed to be China's answer to Starbucks, but so far has been closer to China's answer to Enron.
Venture Capital Deals
🚑 C2i Genomics, a New York-based cancer recurrence monitoring startup, raised $100 million in Series B funding. Casdin Capital led, and was joined by NFX, Duquesne Family Office, Section 32, iGlobe Partners and Driehaus Capital. http://axios.link/4M05
• UserZoom, a San Jose, Calif.-based UX research platform, raised $100 million led by Owl Rock Capital. http://axios.link/bprr
• Vyond, a San Mateo, Calif.-based provider of animated video content creation for the enterprise, raised $50 million led by PeakSpan Capital. www.vyond.com
• Xwing, a San Francisco-based developer of autonomous commercial cargo aircraft, raised $40 million at a $400 million post-money valuation. Blackhorn Ventures led, and was joined by ACME Capital, Loup Ventures, R7 Partners, Eniac Ventures, Alven Capital and Array Ventures. http://axios.link/cRVW
• Chili Piper, a New York-based provider of appointment scheduling SaaS for sales teams, raised $33 million in Series B funding. Tiger Global led, and was joined by insiders Base10 Partners and Gradient Ventures. http://axios.link/PL9X
• Cart.com, a Houston-based provider of e-commerce enablement solutions, raised $25 million in Series A funding. Mercury Fund and Arsenal Growth co-led, and were joined by Moonshots Capital and Scarlet Venture Fund. www.cart.com
• Itential, an Atlanta-based provider of network and cloud automation solutions, raised $20 million in Series B funding from Elsewhere Partners. www.itential.com
• BigEye (fka Toro), a data quality automation startup, raised $17 million in Series A funding. Sequoia Capital led, and was joined by Costanoa Ventures. http://axios.link/QWJe
• Pearpop, a social collaboration marketplace for creatives, raised $16 million from Seven Seven Six, Bessemer Venture Partners, Slow Ventures, Sound Ventures, Atelier Ventures, Chapter One Ventures and a slew of celebs. http://axios.link/WmLa
• Hallow, a Catholic meditation and prayer app, raised $12 million in Series A funding led by General Catalyst. www.hallow.com
• Saltbox, an Atlanta-based co-warehousing startup, raised $10.6 million in Series A funding. Playground Global led, and was joined by XYZ VC and Wilshire Lane Partners. http://axios.link/ZB5G
• Persefoni, a Mesa, Ariz.-based carbon accounting and management platform, raised $9.7 million. Rice Investment Group led, and was joined by NGP ETP. http://axios.link/B4YT
• Chain.io, a Philadelphia-based supply chain integration platform, raised $5 million. Grand Ventures and Mercury Fund co-led, and were joined by Honeywell Ventures and Engage. www.chain.io
• Wage, a San Francisco-based provider of payroll data-sharing software, raised $5 million. Gradient Ventures led, and was joined by 8VC, Pear Ventures, Bloomberg Beta and CoFound Partners. www.wage.com
• Casa Blanca, maker of a "Bumble-like" app for real estate, raised $2.6 million in seed funding led by Samuel Ben-Avraham. http://axios.link/p9GK
• Paxafe, a Milwaukee-based provider of supply chain risk mitigation solutions, raised $2.25 million in seed funding led by Ubiquity Ventures. www.paxafe.com
Private Equity Deals
• Certares Management and Knighthead Capital Management have sweetened their takeover bid for bankrupt Hertz Global Holdings to $6.2 billion, per the WSJ. The new offer includes $2.5 billion in preferred equity financing from Apollo Global Management, and rivals an alternate proposal from Centerbridge Partners, Dundon Capital Partners and Warburg Pincus. http://axios.link/oBoe
• Francisco Partners agreed to buy e-textbook company VitalSource Technologies from publisher Ingram Content Group. http://axios.link/9FxD
• Salt Creek Capital acquired Tuscan Imports, a Florence, S.C.-based distributor of Italian ovens, grills and decorative pottery. www.tuscanimports.com
Public Offerings
• SimilarWeb, an Israeli digital market intelligence firm, filed for an IPO. It plans to list on the NYSE (SMWB) and reports a $22 million net loss for 2020 on $93 million in revenue. SimilarWeb raised over $250 million from firms like Saban Capital Group, Viola Growth, Prosus, NFX and ION Crossover Partners. http://axios.link/KpfP
SPAC Stuff
🚑 Vicarious Surgical, a Charlestown, Mass.-based developer of surgical robots, agreed to go public at an implied $1.1 billion valuation via D8 Holdings (NYSE: DEH), a SPAC led by Nautica founder David Chu. Vicarious raised around $44 million from backers like Gates Frontier, Khosla Ventures, Innovation Endeavors, AME Cloud Ventures and Marc Benioff. http://axios.link/6Tk6
• Inspirato, a Denver-based luxury vacation club company, is in talks to go public at more than a $1 billion valuation via Thayer Ventures Acquisition (Nasdaq: TVAC), per Bloomberg. Inspirato has raised over $100 million from firms like Kleiner Perkins and W Capital Partners, plus it got a PPP loan. http://axios.link/3PDz
• GigInternational1, the seventh SPAC led by semiconductor vet Avi Katz, filed for a $200 million IPO. http://axios.link/LUoo
Liquidity Events
• ABRY Partners hired Houlihan Lokey to find a buyer for SambaSafety, an Albuquerque-based provider of driver risk management and insurance software that generates around $30 million in EBITDA, per PE Hub. http://axios.link/oo6U
• The Block, a cryptocurrency-focused media startup, has bought out its non-employee shareholders, including VCs who had invested just over $4 million, per Axios. http://axios.link/7WV0
More M&A
⚡ Brookfield Renewable Partners (TSX: BEP) agreed to sell its U.K. onshore wind business to listed Danish renewables group Orsted for €571 million. http://axios.link/17mf
• Coca-Cola Amatil (ASX: CCL) shareholders voted to approve a A$9.93 billion takeover by Coca-Cola European Partners (LSE: CCEPC). http://axios.link/XL2K
🚑 Relay Therapeutics (Nasdaq: RLAY) acquired ZebiAI, a Newton, Mass.-based provider of AI-driven drug discovery solutions. www.relaytx.com
Fundraising
• CITIC Private Equity of China held a $1.8 billion first close on a $3 billion-targeted dollar-denominated fund, per Reuters. http://axios.link/IAag
• Footwork, a new VC firm led by Nikhil Basu Trivedi (ex-Shasta Ventures) and Mike Smith (ex-Stitch Fix) raised $175 million for its debut fund. http://axios.link/TyKl
• Tera Ventures, a seed-stage firm focused on Nordic region startups, raised €43 million for a new fund. www.tera.vc
• Thoma Bravo is targeting $3 billion for its debut growth equity fund, per the WSJ. http://axios.link/CoQY
• The Riverside Co. is raising $1.5 billion for its fifth micro-cap buyout fund, per the WSJ. http://axios.link/avbS
• Samurai Incubate, a Tokyo-based VC firm, raised $18.6 million for an Africa-focused VC fund. http://axios.link/VBX8
It's Personnel
• Paul Kwan stepped down as head of West Coast tech banking at Morgan Stanley, in order to join VC firm General Catalyst as a managing director. http://axios.link/LEli
• Jake Siewert is stepping down as communications chief at Goldman Sachs, in order to join old boss Tim Geithner at Warburg Pincus, per the N.Y. Times. http://axios.link/x3vy
• Oscar Engqvist joined General Atlantic as a London-based VP. He previously was a fundraising manager for Livingbridge. www.generalatlantic.com
• Michael Venit joined M2O Private Fund Advisors as a principal. He previously was with Atlantic-Pacific Capital. www.m2ollc.com
• Jayro Yoo joined Monroe Capital as a director of marketing and IR. He previously was with DWS Asset Management. www.monroecap.com
Final Numbers
Small business owners are losing confidence in their ability to get a loan, Axios' Courtenay Brown reports. Go deeper.
✔️ Thanks for reading Axios Pro Rata! Please ask your friends, colleagues and the caffeine addicts to sign up.