Axios Pro Rata
June 09, 2020
🖥️ You're invited: Axios today hosts a live virtual event at 12:30pm ET on managing through crisis, including my interviews with NYSE president Stacey Cunningham and SweetGreen CEO Jonathan Neman. Register here.
⬇️ Situational awareness: America officially entered a recession in February, ending the country's longest-ever economic expansion, per the National Bureau of Economic Research.
Top of the Morning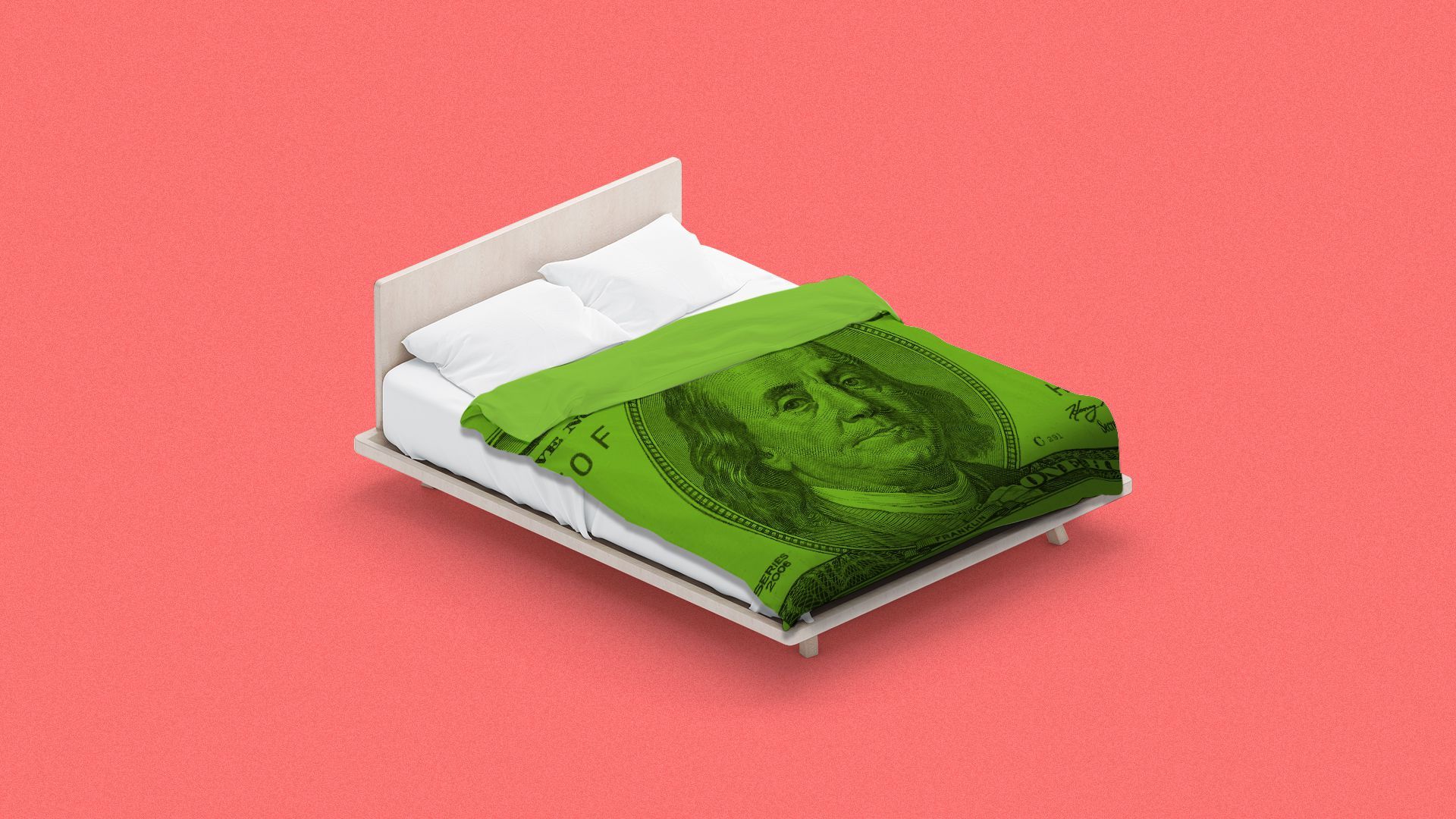 Airbnb has restarted internal conversations about going public in 2020, something unthinkable just a month ago, per multiple sources close to the company.
The big picture: Stock markets are no longer moored to macroeconomic conditions or financial performance, and IPOs are riding the tsunami.
The latest: For Airbnb, which hasn't made any formal decisions yet, the math is twofold:
1. The universe of IPO issuers is expanding.
Not only are established, profitable companies like Warner Music Group finding success, but so are money-losing, VC-backed tech companies like ZoomInfo and Vroom (which priced last night above range).
As further evidence of banker bullishness, insure-tech upstart Lemonade yesterday filed its S-1, despite growing losses and less than $100 million in 2019 revenue.
Lemonade's pitch will be "stay private shorter," offering the possibility of private-market returns to public-market investors. It also will be a test case for the $100 million revenue threshold, which had been considered tech IPO gospel in recent years.
IPO investors are often giving issuers a mulligan for recent performance, instead using 2019 results to model out past 2021. For Airbnb, this means it could go public in late Q3 without being dinged too badly for its Q1 or Q2 results.
2. The travel and hospitality sectors are showing green shoots.
Airline capacity remains well below pre-pandemic levels, but it is showing modest improvement. And their stocks are soaring.
Airbnb CEO Brian Chesky told Bloomberg that his company had more U.S. bookings between May 17 and June 3, including the Memorial Day weekend, than it did for the same period in 2019. He also said there was an increase in longer stays, perhaps reflective of people wanting to work from (a different) home.
Airbnb also shored up its cash position early in the pandemic by raising $2 billion in new debt and equity, and cut its costs via large layoffs.
A company spokesperson declined to comment on IPO plans.
The bottom line: The coronavirus hasn't gone away. In fact, infection rates and hospitalizations are accelerating in several states. But public equity markets have largely stopped caring, which is unexpectedly good news for companies like Airbnb.
The BFD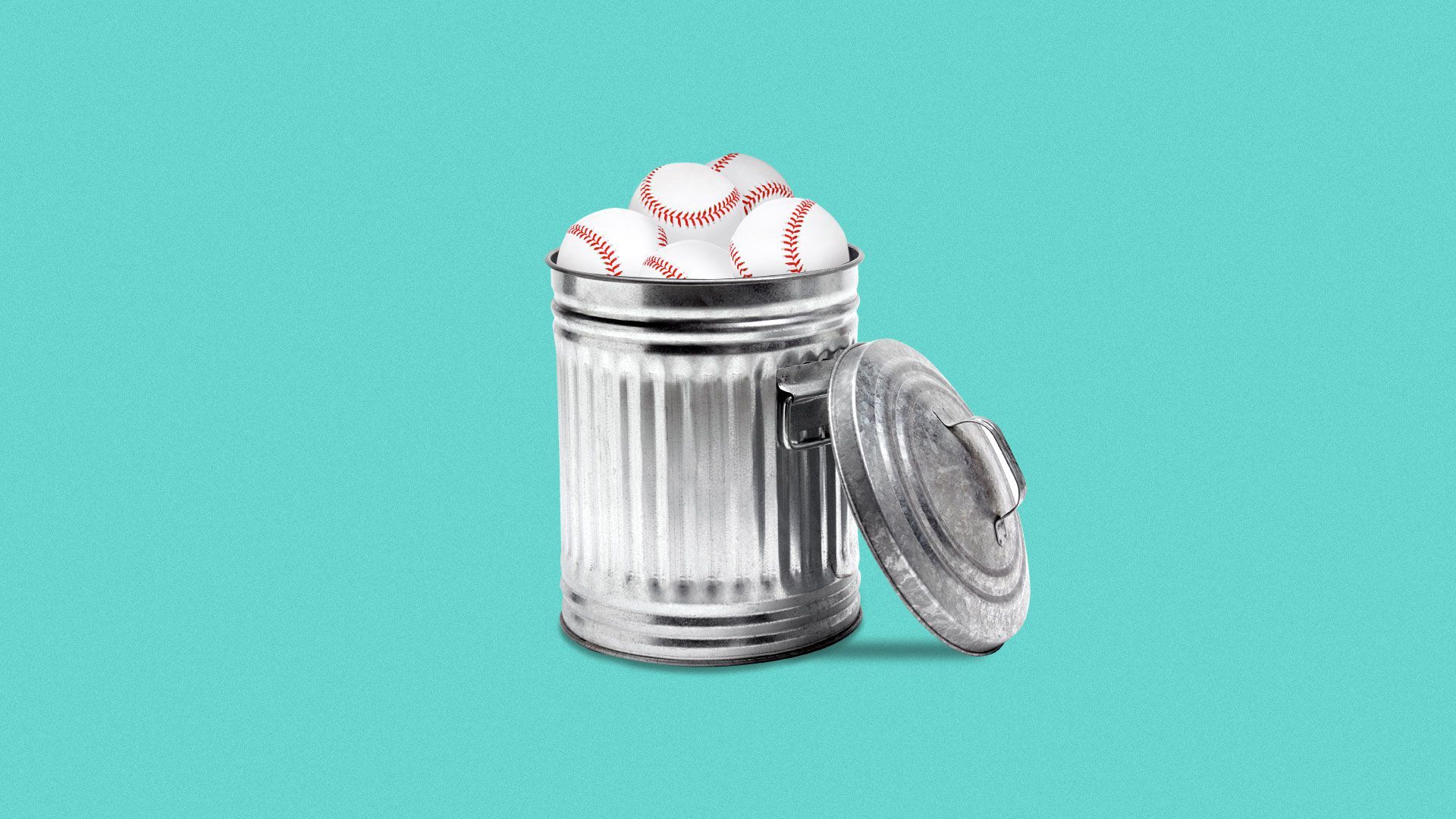 Josh Harris (Apollo Global Management) and David Blitzer (Blackstone Group) reportedly have held talks to buy the New York Mets baseball club from the Wilpon family, as first reported by Variety. The pair already owns the NBA's Philadelphia 76ers and the NHL's New Jersey Devils.
Why it's the BFD: There is no baseball right now. And not too much hope for a season at all, as millionaire players and billionaire owners continue to stubbornly bicker over their respective shares of an ever-shrinking revenue pie. The Mets' dysfunction, on the field and off, appears to be contagious.
Axios special report: Baseball in America.
The bottom line: "Harris and Blitzer have been circling the Mets for a few months, and have gotten more serious as the Wilpons have grown more desperate. ... The recent ramping up might have been piqued by reports the Wilpons are finally willing to part with their television network, SNY, giving Harris and Blitzer a chance to merge their other franchises onto one 'superregional' sports network." — Thornton McEnery, NY Post
Venture Capital Deals
• Eswin, a Chinese chipmaking startup, raised $283 million in Series B funding. Legend Capital and IDG Capital co-led, and were joined by Riverhead Capital Investment Management, Lighthouse Capital, Haining City and Zhejiang Province. http://axios.link/rXeM
🚑 DNAnexus, a Mountain View, Calif.-based provider of biomedical informatics and data management, raised $100 million in Series G funding. Perceptive Advisors and Northpond Ventures co-led, and were joined by return backers GV, Foresite Capital, TPG Capital, and First Round Capital. http://axios.link/xOCN
• jSonar, a Waltham, Mass.-based database security startup, raised $50 million led by Goldman Sachs. http://axios.link/FuaG
🚑 HistoSonics, a Plymouth, Minn.-based developer of noninvasive robotic platform and sonic beam therapy, raised $40 million in Series C-1 funding. Yonjin Venture led, and was joined by Varian Medical Systems, J&J, Venture Investors, Lumira Ventures, and State of Wisconsin Investment Board. http://axios.link/4Pjr
• Lilium, a German air taxi developer, raised $35 million in new Series C funding from Baillie Gifford. http://axios.link/Wz1o
• Yugabyte, a Sunnyvale, Calif.-based developer of open-source distributed SQL databases, raised $30 million in Series B funding. 8VC and WiPro co-led, and were joined by return backers investors Lightspeed Venture Partners and Dell Technologies Capital. http://axios.link/xGkH
• Propzy, a Vietnamese online real estate platform, raised $25 million in Series A funding. Gaw Capital and SoftBank Ventures Asia co-led, and were joined by Next Billion Ventures, RHL Ventures, Breeze, FEBE Ventures, RSquare, and Insignia. http://axios.link/d9ZA
• Keelvar, an Ireland-based provider of sourcing software, raised $18 million in Series A funding. Elephant and Mosaic Ventures co-led, and were joined by Paua Ventures. http://axios.link/x0Pw
🚑 C2i Genomics, a New York-based liquid biopsy startup, raised $12 million in Series A funding. Casdin Capital led, and was joined by NFX Capital and The Mark Foundation for Cancer Research. www.c2i-genomics.com
• Nymbus, a Miami, Fla.-based digital platform for financial institutions, raised $12 million from insiders Insight Partners and Vensure Enterprises. www.nymbus.com
⚽ Bepro, a German provider of soccer analytics software, raised €8.8 million from Altos Ventures, Softbank Ventures, Saehan Ventures, Springcamp, and Miraeasset Ventures. http://axios.link/1HNM
• Bitsensing, a South Korean radar tech startup, raised $5.8 million in seed funding. LB Investment led, and was joined by Mando Corp., Hansae, SB Partners, Future Play, and SJ Investment Partners. http://axios.link/yKFr
• ClassTag, a parent-teacher communication platform, raised $5 million in seed funding from AlleyCorp, Contour Ventures, Founder Collective, Newark Venture Partners, Smart Hub, and TMT Investments. http://axios.link/UGYD
• Powerlytics, a Doylestown, Penn.-based market intelligence platform, raised $4 million from Brewer Lane Ventures. http://axios.link/p1ke
⛽ Sun Exchange, a South African solar energy startup with a cryptocurrency twist, raised $3 million from African Rainbow Capital. http://axios.link/YQtx
• Coastal Cloud, a San Francisco-based Salesforce consulting partner, raised an undisclosed amount of capital from Sverica and Salesforce Ventures. www.coastalcloud.us
Private Equity Deals
• Appfire, a Boston-based provider of apps for software development teams, raised $49 million from Silversmith Capital Partners. www.appfire.com
• Brynwood Partners agreed to buy the Buitoni pasta brand's North American business from Nestlé. http://axios.link/xtjv
• Capital Waste Services, a Columbia, S.C.-based portfolio company of Kinderhook Industries, acquired Priority-1 Residential, a Ridgeville, S.C.-based municipal waste collection company. www.capwasteservices.com
• Therma Holdings, a San Jose, Calif.-based portfolio company of Gemspring Capital, acquired Gilbert, a Minneapolis-based provider of mechanical, electrical, plumbing, controls, and fire protection services. www.thermaholdings.com
Public Offerings
• BinDawood Holding, a Saudi Arabian supermarket chain, is planning to launch its IPO next month, per Bloomberg. It would be the Middle East's first IPO since the pandemic began. http://axios.link/0E79
• Dun & Bradstreet, a Short Hills, N.J.-based business analytics firm owned by Thomas H. Lee Partners, is prepping an IPO that could aim to raise up to $1 billion, per Reuters. http://axios.link/1UVX
• Jinke Properties (Shenzhen: 000656) picked CLSA and Huatai International to co-led a Hong Kong IPO for its property management unit, which could raise more than $500 million, per Bloomberg. http://axios.link/u9Bv
• Vroom, a New York-based platform for buying and selling used vehicles, raised $468 million in its IPO. The company priced 21.3 million shares at $22, versus plans to offer 18.8 million shares at $15-$18, for a fully diluted market value of around $2.8 billion. It will list on the Nasdaq (VRM), used Goldman Sachs as lead underwriter, and reports a $41 million net loss on $376 million in revenue for Q1 2020. The company had raised over $700 million from firms like L Catterton (20.6% pre-IPO stake), T. Rowe Price (16%), Bill Gates (7.2%), General Catalyst (6.4%), Autonation (5.9%), Durable Capital Partners, Annox Capital, Nue Capital, Fraser McCombs Capital, and Detroit Venture Partners.
Liquidity Events
• Bridgepoint is restarting the sale process for Portuguese agrochemical business Rovensa, which could fetch more than €1.2 billion, per Bloomberg. http://axios.link/gZFC
More M&A
• Cathay Pacific Airways (HK: 293) agreed to a rescue plan whereby it will sell around $5 billion of preferred shares and warrants to the Hong Kong government and private shareholders. http://axios.link/icCG
• Hyundai Development of South Korea is seeking to renegotiate its $2.1 billion agreement to buy Asiana Airlines, after the carrier's debt load increased by $3.8 billion. http://axios.link/EJUI
• Lixil Group (Tokyo: 5938) agreed to sell its 53% stake in Japanese home improvement retailer Lixil Viva to Arcland Sakamoto (T: 9842) for around $524 million. http://axios.link/m6DF
⛽ Occidental Petroleum (NYSE: OXY) is considering sale processes for Middle Eastern assets that could be valued north of $1 billion, including oil and gas fields in Oman, per Bloomberg. http://axios.link/brie
• PT Indofood of Indonesia agreed to pay $3 billion to buy Pinehill Co., a producer of instant noodles in Africa and the Middle East. http://axios.link/Tz1A
• Sennder, a German digital freight forwarding startup, agreed to merge with French peer Everoad in an all-stock deal. Sennder has raised around $100 million in VC funding from firms like Lakestar and Accel, while Everoad raised around $20 million from firms like InVenture Partners and Earlybird VC. http://axios.link/7qqB
Fundraising
• Balbec Capital of New York raised $1.2 billion for its fourth global credit fund. www.balbec.com
• Collab Capital, an Atlanta-based firm formed to focus on startups led by black founders, is raising $50 million for its debut fund, per TechCrunch. http://axios.link/0krA
• Petra Capital Partners of Nashville raised $208 million for its fourth private equity fund. www.petracapital.com
• Wing VC of Palo Alto raised $450 million for its third early stage fund. http://axios.link/9YJ4
It's Personnel
• Rick Morrow, former COO of Kastle Systems International, joined private equity firm The Halifax Group as its first operating executive. www.thehalifaxgroup.com
Final Numbers
Axios' Dion Rabouin writes that more American businesses have closed in the last three months than during the Great Recession:
The U.S. saw its largest ever decline in the number of business owners between February and April, as at least 3.3 million shut their doors, a new paper from the National Bureau of Economic Research using the Census Bureau's Current Population Survey found.
🙏 Thanks for reading Axios Pro Rata! Please ask your friends, colleagues, and any remaining baseball fans to sign up.