Last call: Tomorrow at 8 a.m., I'll interview Senate Majority Leader Mitch McConnell back-to-back with Senator Mark Warner (D-Va.), vice chair of the Senate Intelligence Committee. RSVP here.
https://www.axios.com/newsletters/axios-pm-d7a0bdbf-e4ac-4c22-8e72-97055ad67a00.html?chunk=0#story0
1 big thing: The GOP's tax cut victory rally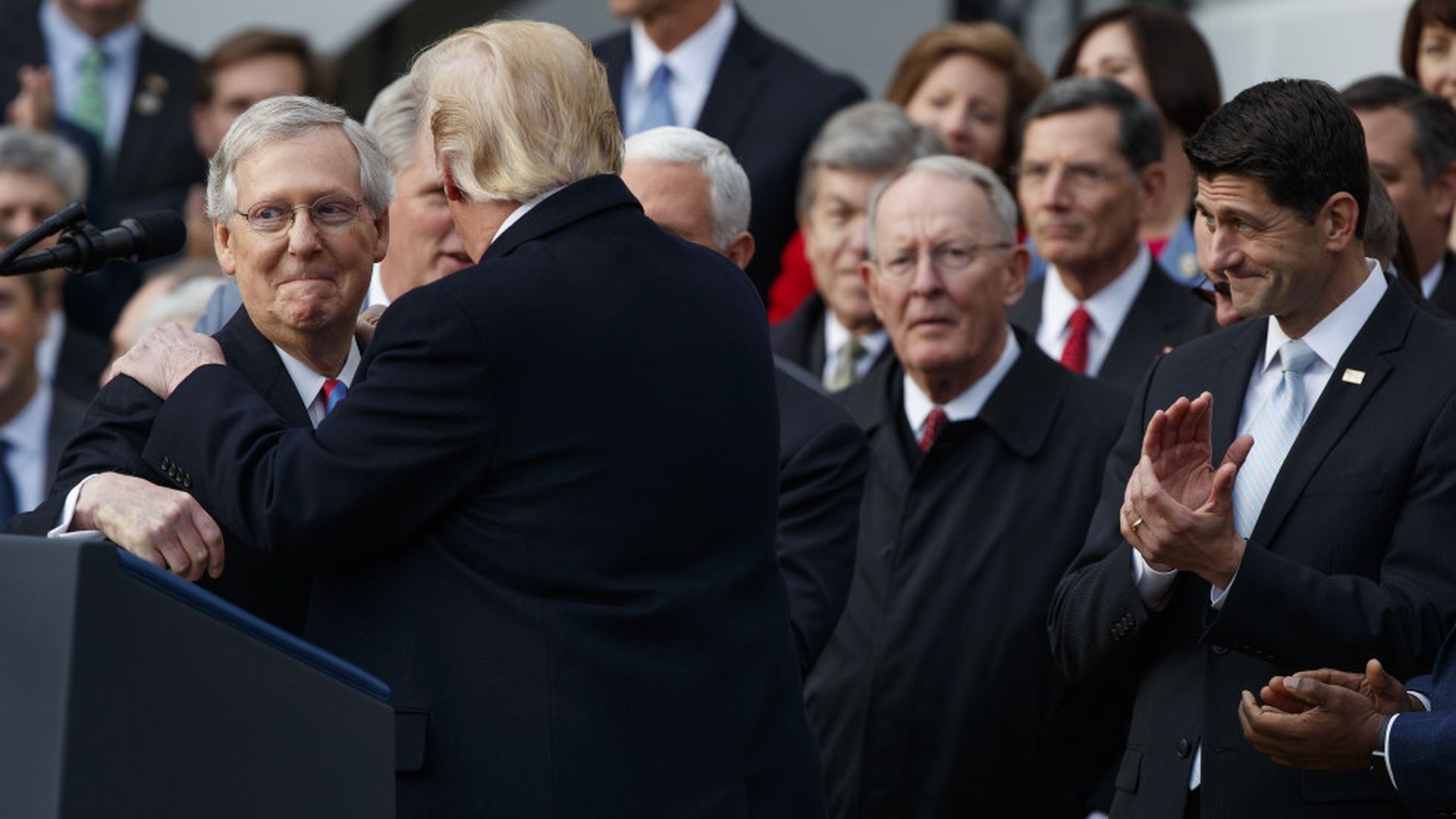 Republicans took a victory lap in Washington this afternoon, gathering at the White House to celebrate their first big legislative win of 2017.
Trump summed up: We "had a lot of fun" working with leadership to get this done. It was fun because "we won."
Other quotables, highlighted by Axios' Alayna Treene:
Majority Leader Mitch McConnell: "This has been a year of extraordinary accomplishment for the Trump administration." He cited Neil Gorsuch's Supreme Court confirmation, Circuit Court judge confirmations, regulatory rollback, and now the tax bill.
House Speaker Paul Ryan: "Something this big, something this profound could not have been done without exquisite presidential leadership."
VP Mike Pence: "We made history today but as the President said... we're just getting started! This administration will not rest until the forgotten men and women of this country are forgotten no more."
House Ways and Means Committee Chairman Rep. Kevin Brady said he knew overhauling the tax code would be possible when Trump was elected.
Go deeper: What you'll see under the new tax code
https://www.axios.com/newsletters/axios-pm-d7a0bdbf-e4ac-4c22-8e72-97055ad67a00.html?chunk=1#story1
2. What you missed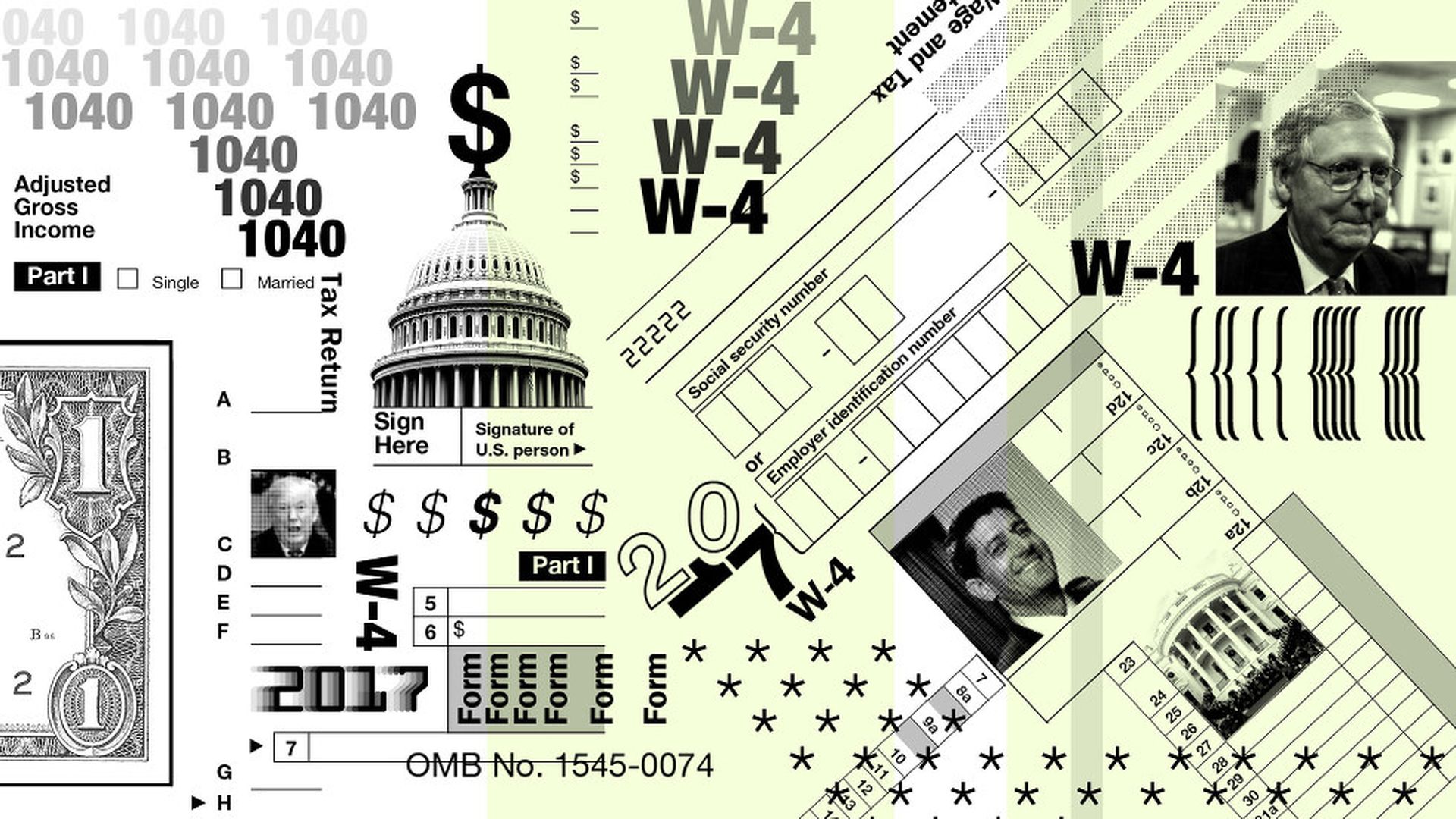 What Gary Cohn told us today about tax reform. Highlights.
Uber adds a COO: Barney Harford, the former CEO of Orbitz, will be joining Uber.
The Senate is unlikely to address outstanding health care issues in the government spending bill that must pass by Friday, according to three senior GOP aides and a Democratic leadership aide. More.
Cashier-less deja vu: Walmart is trying out stores without cashiers. Amazon is also doing this. Details.
Al Franken's last day will be January 2nd.
The NYT keeps Glenn Thrush: But he'll be moved from his White House beat. NYT story.
https://www.axios.com/newsletters/axios-pm-d7a0bdbf-e4ac-4c22-8e72-97055ad67a00.html?chunk=2#story2
3. 1 quote about Trump
Tom Hanks, star of "The Post," tells The Hollywood Reporter that he wouldn't screen it at the White House if asked:
"[I] didn't think things were going to be this way last November. I would not have been able to imagine that we would be living in a country where neo-Nazis are doing torchlight parades in Charlottesville [Va.] and jokes about Pocahontas are being made in front of the Navajo code talkers. And individually we have to decide when we take to the ramparts... This is the moment where, in some ways, our personal choices are going to have to reflect our opinions. We have to start voting, actually, before the election. So, I would probably vote not to go."