Axios PM
October 23, 2020
Good afternoon: Today's PM — edited by Justin Green — is 448 words, a 2-minute read.
Coming Monday to "Axios on HBO": Axios' Alexi McCammond interviews Rep. Ilhan Omar. (See a clip.)
Full interview airs Monday at 11:16 p.m. ET/PT on all HBO platforms.
1 big thing: How to help save 130,000 lives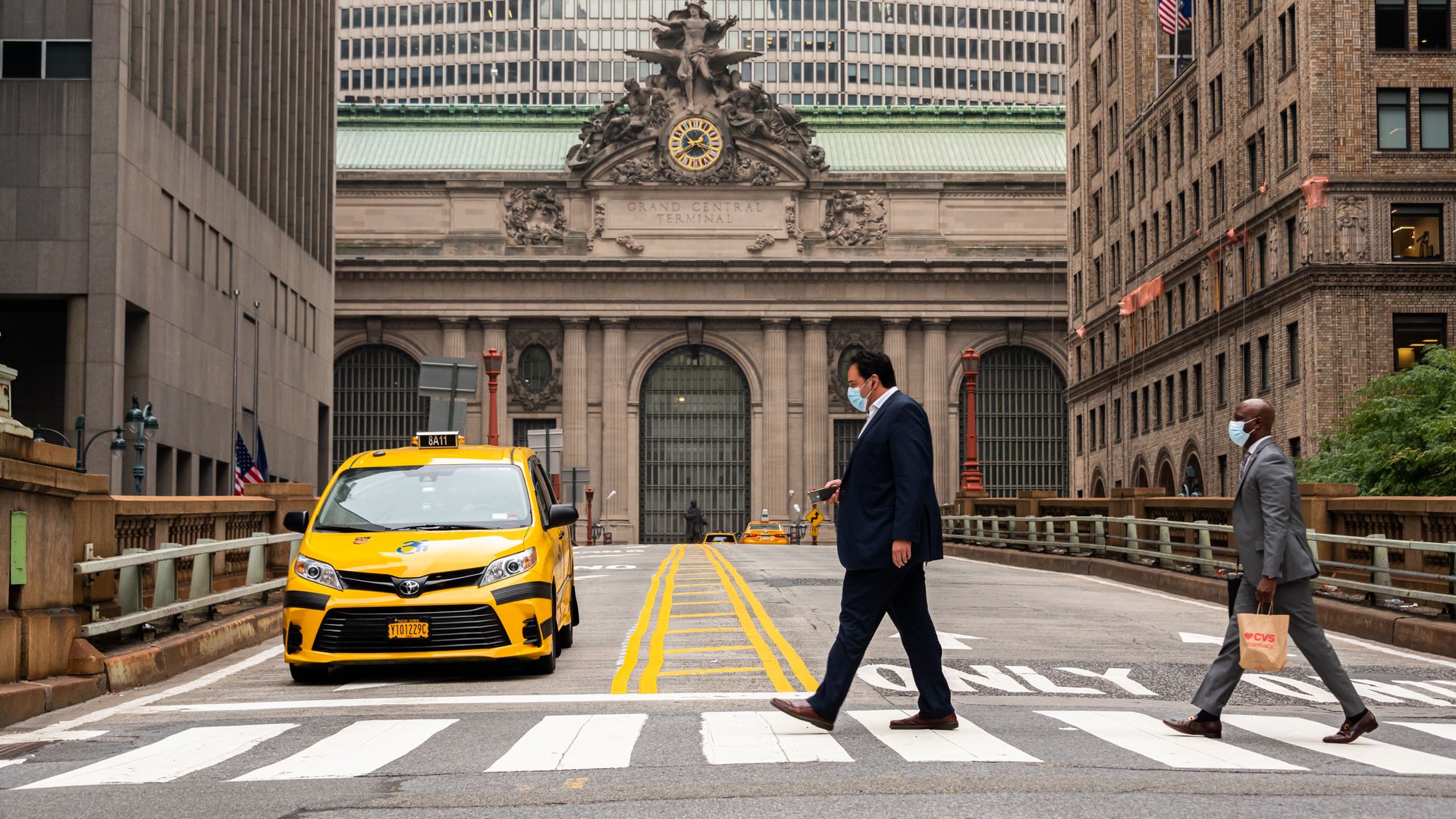 Nearly 130,000 fewer people will die of COVID-19 this winter if 95% of Americans wear face masks in public, according to new research published today.
Why it matters: "Increasing mask use is one of the best strategies that we have right now to delay the imposition of social distancing mandates," Dr. Christopher Murray of the University of Washington told the N.Y. Times.
"We strongly believe we are heading into a pretty grim winter season."
The new study estimates hospitalizations and deaths will rise until January, then continue at that level until the spring.
It "also offered a rough estimate of the pandemic's toll in the United States: perhaps 500,000 deaths by March 2021, even with social distancing mandates reinstated in most states," the Times notes.
The big picture: States with higher percentages of people who wear masks in public tend to have a lower percentage of people who know someone with COVID symptoms, WashPost reports. (See a graphic.)
Between the lines: "[I]f people say they're not wearing masks, they may not be taking other protective measures either. So perhaps what we see is a combination of mask usage, other social distancing behaviors and perhaps other factors we haven't measured," Carnegie Mellon professor Alex Reinhart told the Post.
The bottom line: Wear a mask, help save a life.
2. Pic du jour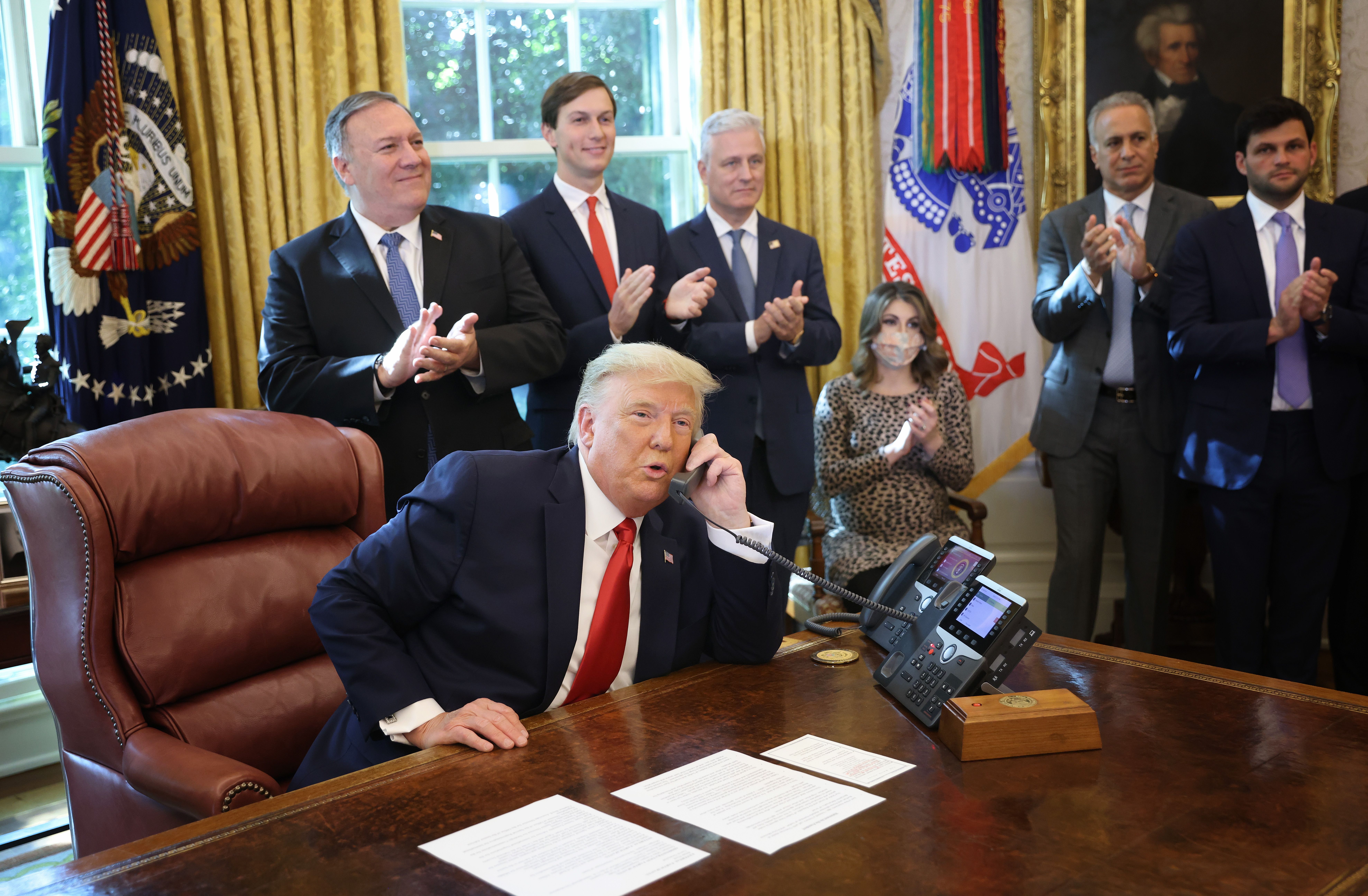 President Trump speaks with Israeli Prime Minister Benjamin Netanyahu on the phone about a Sudan-Israel peace agreement.
Sudan and Israel announced today that they will "end the state of belligerence" between them and start the process of normalizing ties.
3. Catch up quick
The Pennsylvania Supreme Court won't let election officials reject a mailed-in ballot because a voter's signature may not resemble the one on their registration form. Go deeper.
Mothers and fathers are faring equally poorly when it comes to coronavirus pandemic job losses, new data shows. Go deeper.
Another COVID toll: Kids are spending just 7.2 hours per week playing sports, down from 13.6 hours before the pandemic. Go deeper.
Tesla is making every road user — including other motorists, pedestrians and cyclists — an unwitting subject in its ongoing safety experiment. Go deeper.
Axios Re:Cap digs into the 2020 fundraising story, including what happens to a candidate's unspent money, with election law expert Ciara Torres-Spelliscy. Listen here.
4. 1 fun thing: The sounds of the season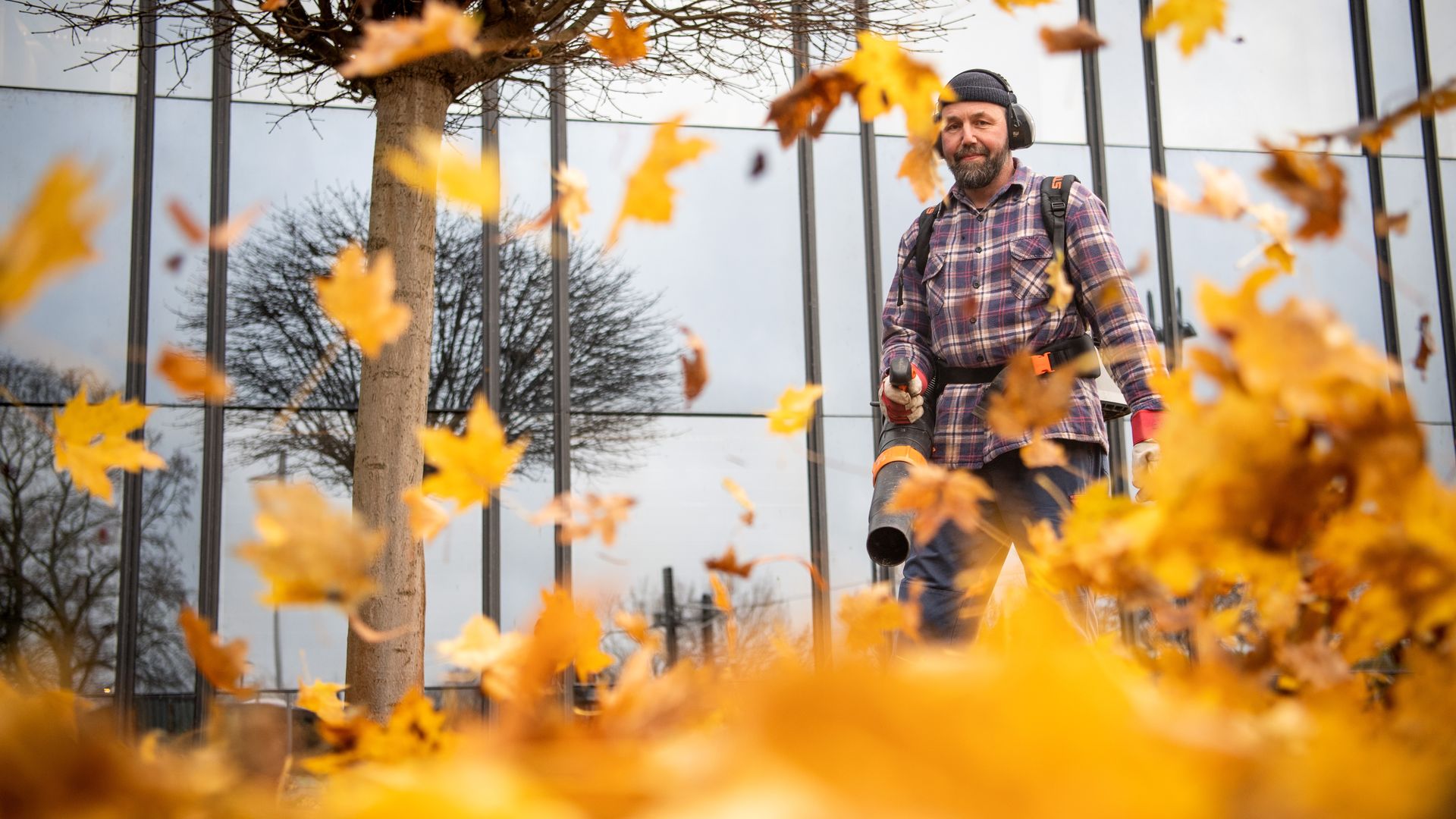 It's not just your cul-de-sac: The humble leaf blower has become a new nuisance for Americans trying to work from home, The Wall Street Journal reports.
"Many workers who in pre-pandemic days brushed off loud typists and urban street noise are frazzled by the sounds of the suburbs."
"Leaf blowers ... draw a disproportionate share of complaints."
Even Zoom is getting in on it: The company announced AI improvements to "filter out background noise so you can still Zoom while your gardener is mowing the lawn."