Axios Navigate
February 05, 2021
Happy Friday! Thanks for reading. If you've got feedback or tips, drop me a line at [email protected].
Tune in to "Axios on HBO" on Sunday for Mike Allen's interview with newly confirmed Transportation Secretary Pete Buttigieg. It airs at 6pm ET/PT on all HBO platforms.
Smart Brevity count: 1,362 words, a 5-minute read.
1 big thing: The dismal outlook for air travel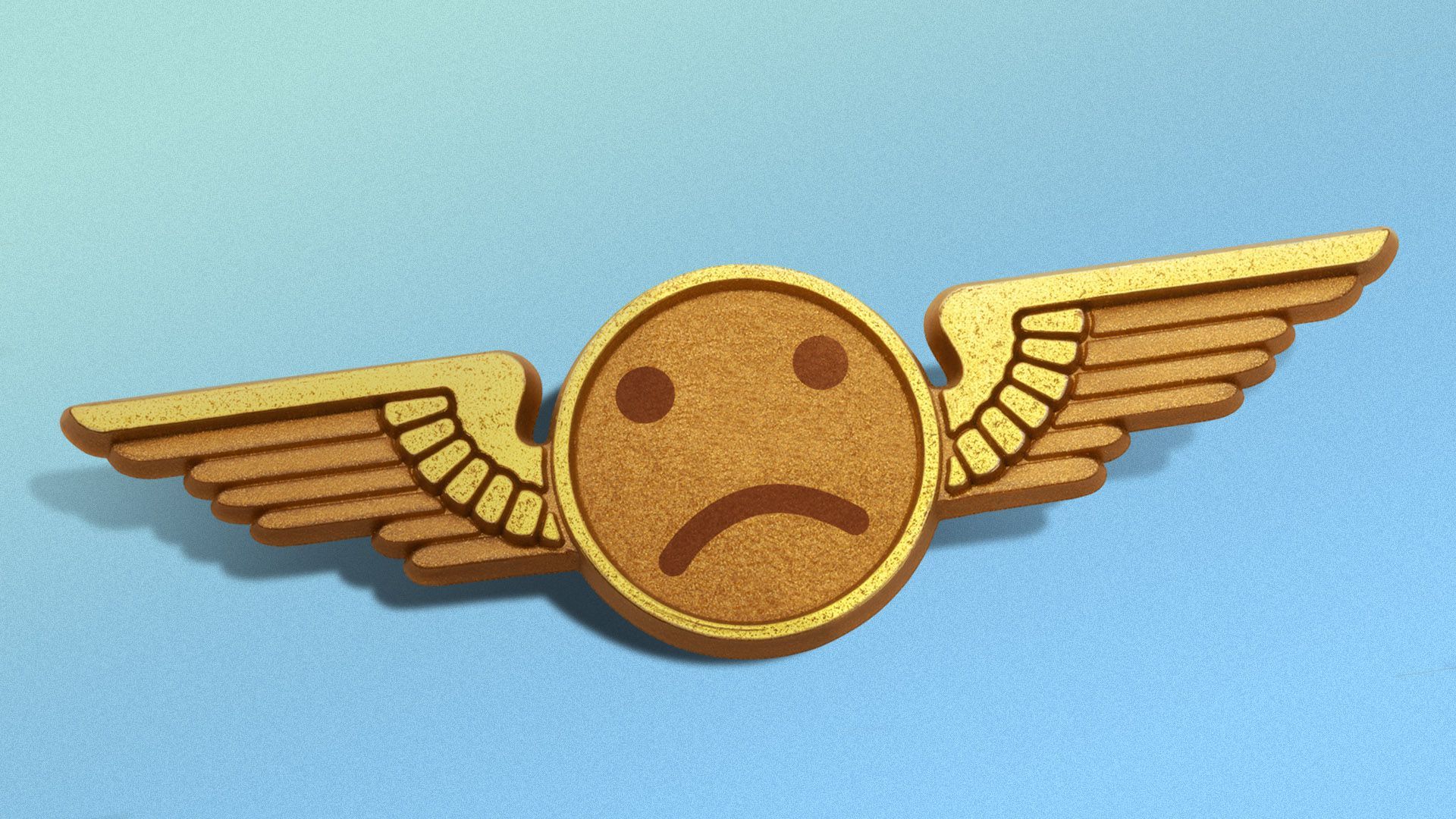 New restrictions on international border-crossings, combined with faltering COVID-19 immunization efforts, have dashed hopes for a significant rebound in air travel in 2021.
Why it matters: For global aviation, which suffered its worst year in history in 2020, the misery is likely to continue, holding back a broader economic recovery.
Forecasts that air travel would recover to 50% of pre-pandemic levels in 2021 now seem like a stretch, industry officials caution.
"There's a recovery, but it's a much smaller recovery," Brian Pearce, chief economist of the International Air Transport Association, told reporters this week.
"What we've seen in recent weeks is governments taking a much, much tougher, more cautious approach."
His worst-case scenario: air travel in 2021 is just 38% of 2019 levels.
The big picture: The world is more locked down today that at any point in the past 12 months.
New, potentially more contagious strains of the coronavirus have triggered renewed limits on cross-border travel and a dizzying array of quarantine restrictions.
While the arrival of new vaccines is good news for air travel, the slow rollout means herd immunity is still a long way off.
An ominous sign: Bookings for future travel slowed significantly in January, IATA reported.
"Things are going to become much harder before they get better," warns aviation consultant Shashank Nigam, CEO of SimpliFlying.
Even countries that are vaccinating quickly will keep their borders shut for some time, he predicts.
Israel, for example, leads the world with 20% of the population fully vaccinated, but imposed a ban on international travel last week to combat rising cases from a fast-spreading U.K. variant.
And regional travel bubbles such as those between Hong Kong and Singapore or Australia and New Zealand didn't last.
What they're saying: "Last year was a catastrophe. There is no other way to describe it," Alexandre de Juniac, IATA's director general and CEO, said in a statement.
"I don't think that anyone foresees a world free from COVID-19 anytime soon. Certainly not in the next months or even within this year. But our ability to manage the risk is increasing as more people get vaccinated and testing capacity expands."
Airlines say widespread testing, not border restrictions, will allow international air travel to resume safely.
Nigam's company is rolling out a service called Fit 2 Fly that links airlines and testing laboratories so passengers can schedule a COVID-19 test as part of the booking process.
New smartphone apps like CommonPass and IATA's Travel Pass could help validate passengers' health status so governments can safely reopen borders.
Yes, but: When it comes to domestic flights, U.S. airlines are urging the Biden administration not to require pre-departure testing, saying it would limit travel access for low-income and rural communities.
What to watch: For airlines, the outlook for the next year or two is uncertain, and will depend on how effectively vaccines and testing can head off the spread of new variants.
The bottom line: Aviation isn't likely to return to pre-pandemic levels until 2023 or 2024.

2. Chip famine slams the auto industry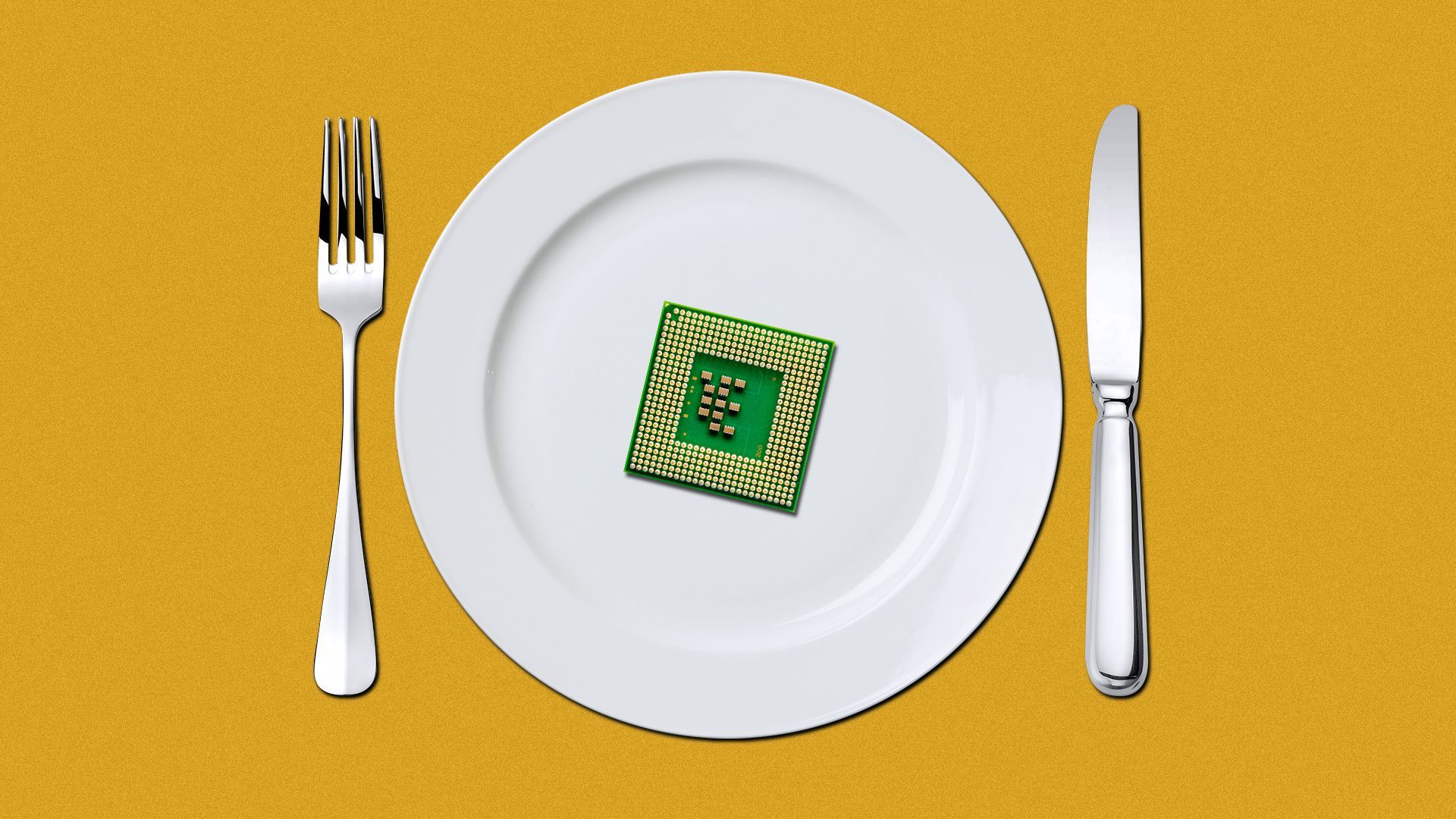 A global chip shortage has forced virtually every major automaker to halt some car production and furlough workers, Axios' Courtenay Brown and I write.
Why it matters: Fewer chips, fewer cars. Semiconductors are crucial components that make computer-controlled systems in cars work — everything from engines to power windows, as well as driver-assistance and navigation features.
The list of chip shortage victims keeps growing: Ford is the latest, slashing production of its top money-making F-150 pickup trucks and other vehicles.
The company is bracing for a big hit: "Right now, estimates from [chip] suppliers could suggest losing 10% to 20% of our planned first-quarter production," Ford CFO John Lawler said yesterday.
That could translate into lost profits of $1 billion to $2.5 billion for 2021, he said.
The company joins General Motors, Nissan, Volkswagen, Toyota, Mazda and Subaru in cutting production output — all citing the semiconductor shortage.
By the numbers: The problem will result in nearly 700,000 fewer vehicles produced globally this quarter alone, according to new research from IHS Markit. It also said the problem might not let up until Q3.
Alix Partners says the lost revenue could be as much as $61 billion this year, per Bloomberg.
3. Detroit's new urgency
We're seeing some bold announcements coming out of the Motor City lately — a sign that big automakers know their very survival is at stake.
Why it matters: For years, General Motors, Ford and Chrysler (now Stellantis) have been paying lip service to narrative themes about transformation. But their plodding steps haven't nearly kept pace with the technology revolution sweeping their industry.
Now they seem to be getting serious, placing huge bets on a massive acceleration in technology investments as if they sense time is running out.
Driving the news: Ford said Thursday it will nearly double its investment in electric vehicles, to $22 billion, and spend another $7 billion on autonomous vehicles.
This follows last week's headline-grabbing news that GM aims to phase out gasoline vehicles by 2035 and go all-electric.
Ford is becoming "an unlikely tech darling," too, by moving into Big Data and connected car services, writes the Wall Street Journal.
Earlier this week, Ford said it would partner with Alphabet Inc. to install Google's Android operating system in its cars and co-develop new digital services.
On Thursday, CEO James Farley also hinted to investors about an upcoming announcement with Microsoft for commercial fleet vehicles.
What to watch: Farley promised more details in the spring, including the possibility that Ford might invest in battery production, as GM has done through a partnership with South Korea's LG Chem.
Ford "cannot afford" to face a global shortage of batteries as it does now with semiconductors, Farley told analysts.
The bottom line: Detroit finally seems to have gotten the message — time is wasting.
4. Argo AI adds self-driving highway skills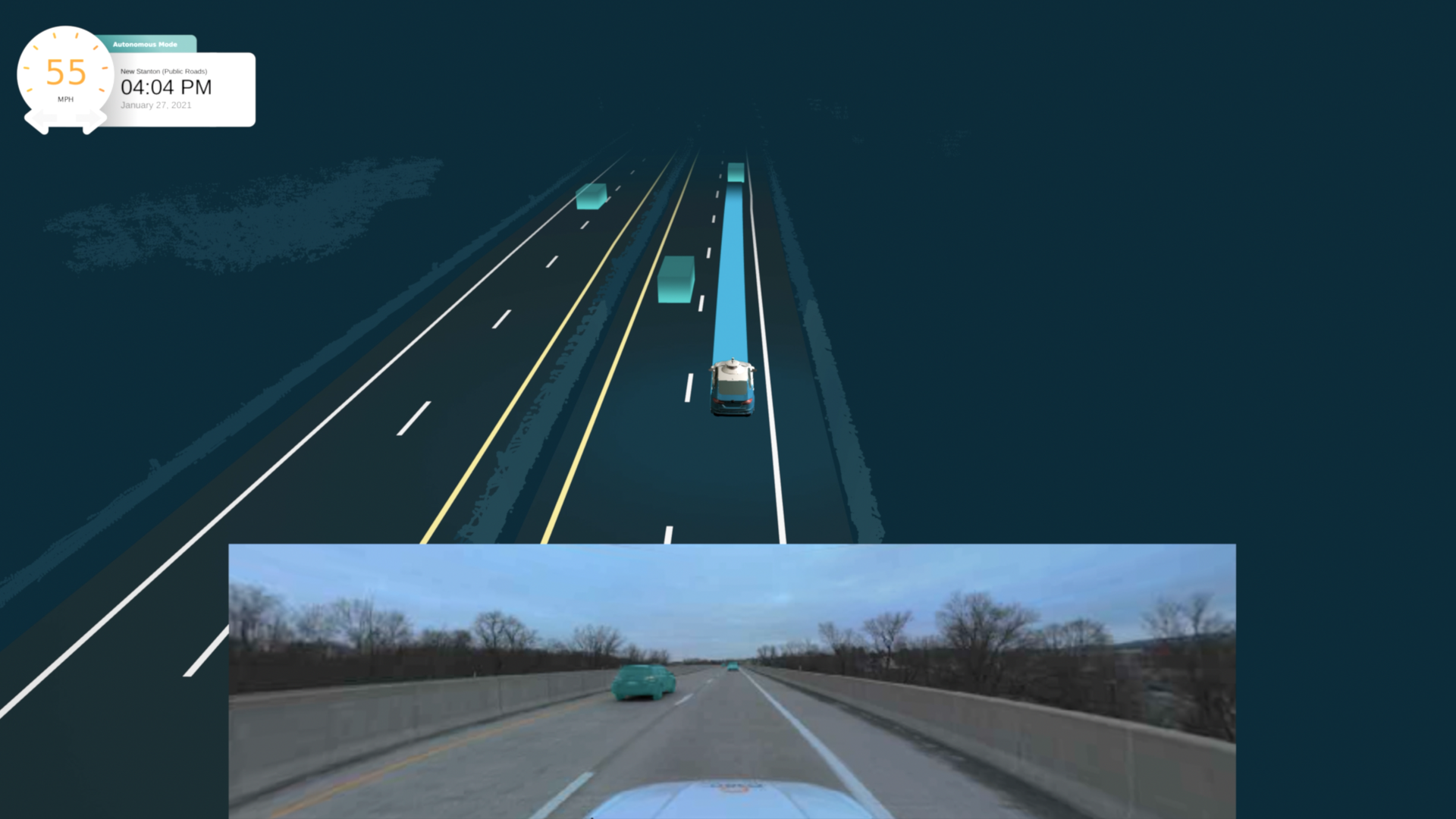 Argo AI says its autonomous test vehicles are now driving on highways, too, at least near Pittsburgh, with other markets coming soon.
Waymo is the only other AV company that is operating in urban, suburban and highway environments.
Why it matters: It's another step closer to commercialization of self-driving technology by opening up new business opportunities like driverless airport runs or on-demand delivery from warehouses to residential homes.
Between the lines: To operate in urban, suburban and highway environments requires both advanced software and the right sensors to be able detect nearby obstacles and to see far down the road at high speeds.
5. Driving the news
Canada Says No Cruises Until 2022, Shutting Down Alaska Trips (Jonathan Levin and Christopher Palmieri — Bloomberg)
Why it matters: Alaska is one of the industry's top destinations and the decision is another setback for an industry still reeling from the COVID-19 pandemic.
Amazon's electric Rivian vans will start making deliveries in 16 cities this year (Andrew J. Hawkins — The Verge)
What to watch: As many as 10,000 electric Amazon vans could be on the road by 2022. For now, a handful are being tested in Los Angeles. Rivian is preparing to start production in Illinois this summer.
How the Federal Government Could Help Kill the Highways It Built (Max Reyes — Bloomberg City Lab)
Why it matters: The birth of the Interstate Highway System in the 1950s bulldozed downtowns and waterfronts— often targeting low-income areas. Senate Majority Leader Chuck Schumer has a new bill offering billions in federal dollars for cities willing to demolish those urban highways.
6. What I'm driving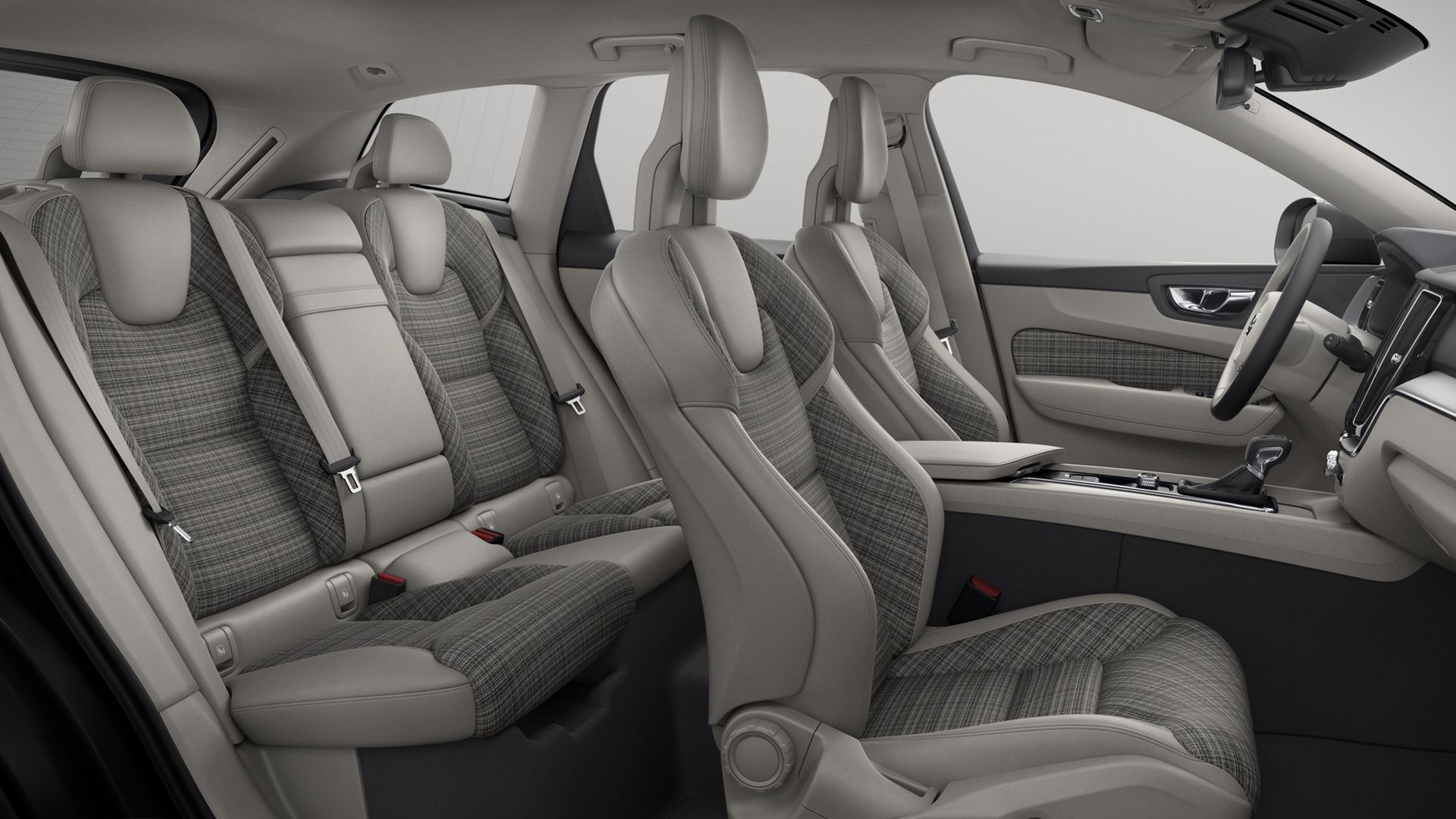 This week I'm driving the Volvo XC60 T5 AWD Momentum, a mid-sized SUV that made me smile just by opening the door.
Inside is something you don't see every day: awesome plaid cloth upholstery.
Why it matters: For years cloth seats have been relegated to the cheapest models, while anyone who could afford it would upgrade to the mysterious "leatherette" or real leather interior.
But cloth seats are popping up here and there, replacing those drab tan and black hides with tons of personality, like the worn blue jeans-inspired seats in the Hyundai Venue Denim.
Volvo's Blonde City Weave textile upholstery on the seats and door inserts is a nod to Scandinavia's home-furnishing heritage, blending seamlessly with the car's calming, minimalist interior.
No surprise, City Weave is only available on the entry-level XC60 Momentum, but the good news is you get a lot of car in a $44,000 base Volvo.
And, as Autotrader notes, you can get an XC60 with cloth seats and any of the three powertrains offered, including the 400-horsepower Recharge T8 plug-in hybrid.
My XC60 Momentum had the 250-horsepower, 2.0-liter base engine and $8,000 worth of options, including driver-assistance features like a vivid head-up display, a 360-degree camera and Volvo's pilot-assist technology.
The bottom line: Plaid is back, and I love it.