Axios Media Trends
July 23, 2019
Good morning. Thanks for subscribing to Media Trends. Tell friends to follow along by signing up here.
Coming Saturday: Every quarter Axios journalists highlight the trends they are watching in politics, energy, science, technology, business and more. As a subscriber to this newsletter, you'll see that in your inbox from Mike Allen.
Today's Media Trends is 1,964 words, a 7 minute read.
1 big thing: Netflix looks abroad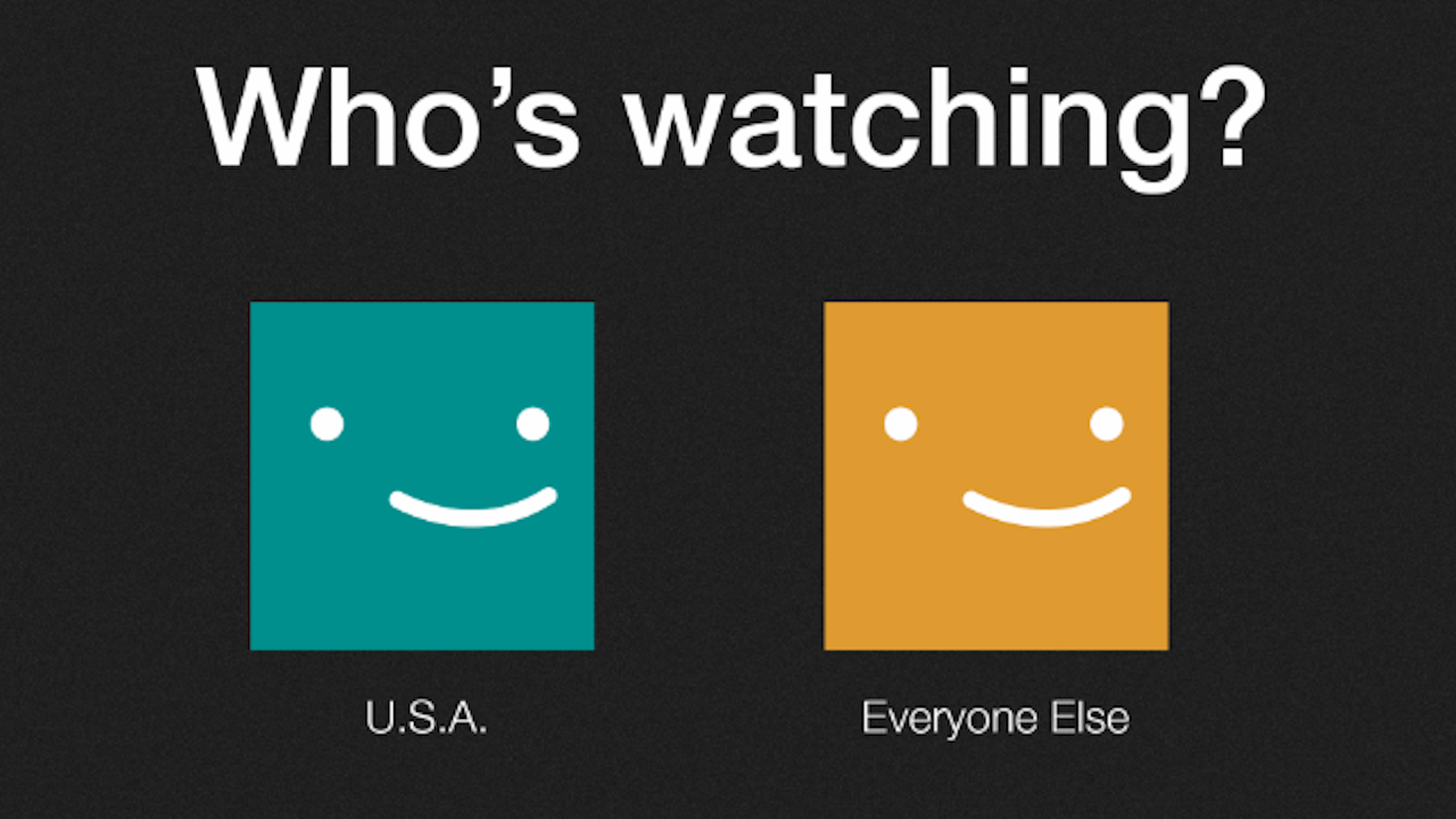 Efforts to dethrone Netflix abroad are underway, as more money pours into upstarts looking to compete locally against the streaming giant.
Why it matters: Netflix's user base is nearing saturation in the U.S., so it needs to continue growing abroad if it ever wants a chance at profitability.
The big picture: Around the world, companies are teaming up to create rival streaming services to compete with Netflix, and are withholding their top content for their own efforts.
Iflix, a Malaysia-based streaming video subscription service focused on Southeast Asia and the Middle East, raised over $50 million in what it refers to as pre-IPO funding, Axios' Dan Primack reports.
BritBox — a streaming service from British broadcasters BBC, ITV and Channel 4 — is finally arriving in the U.K. for £5.99 ($7.50) a month, after first launching in North America.
Salto, a streaming service from French broadcasters France Télévisions, M6 and TF1, launched last year to prevent French content from being at the mercy of a U.S. tech company. The broadcasters began yanking their content away from Netflix in favor of their own service in January.
Yes, but: Analysts mostly agree that the streaming giant is so far ahead of the competition that it will be tough to stop it from continuing to add subscribers overseas — even though its earnings report last week suggested otherwise.
Domestic competitors that will eventually look to launch overseas — like Disney+ — aren't set to launch globally for at least another year.
In some markets, like Japan, Netflix's investments in localized content are paying off, and are beginning to eat market share.
As The Hollywood reporter notes, several markets have seen would-be competitors try and ultimately fail to compete with Netflix.
Between the lines: Analysts don't foresee Netflix's footprint growing that much bigger in some of its biggest international markets.
The streamer currently has roughly 150 million subscribers, with about 90 million coming from about 190 markets overseas.
Most of its overseas subscribers are likely consolidated into a handful of bigger markets — Canada, the UK, Brazil, Japan, and Australia — and those markets aren't poised to grow that much more, says Michael Pachter, a research analyst at Wedbush Securities.
What's next: The next big battleground for Netflix is India, one of the fastest-growing streaming markets.
The big question for Netflix will be whether it's able to capture Indian users, with a cheap, "lite" mobile versions of its app.
"Netflix 'lite' is a land grab, pure and simple," says Pachter. "I cannot conceive that they will be profitable at $3 per month in India, but it gives them a giant head start."
Netflix is also hoping that reduced pricing options, along with a heavier investment in localized Indian content, will lure subscribers from Amazon and Disney-owned HotStar.
The bottom line: "These localized players reflect modest and isolated competition and almost always ends up being a partner outside their home market (or core content window), says Matthew Ball, former head of strategy at Amazon Studios.
2: TV blackouts are the new normal
With five months left in the year, 2019 has already set the record for the highest number of television blackouts in history, according to new data from the American Television Alliance (ATVA).
Why it matters: Increased disputes between TV networks and their distributors — mainly cable and satellite companies — over how much networks should charge distributors for the rights to air their content.
Driving the news: CBS said Saturday that AT&T dropped CBS-owned television networks from the channel lineups of millions of AT&T customers, including DIRECTV, DIRECTV NOW and AT&T U-verse TV customers, in markets all over the United States.
The big picture: These disputes, driven by a shrinking traditional TV advertising market, are leading to more programming blackouts for consumers, and are forcing some smaller, niche cable channels out of business altogether.
Some disputes last for months. Others never get resolved.
HBO and Cinemax, for example, haven't been available to Dish or Dish-owned Sling TV customers since late last year.
Dish and Disney nearly faced a big blackout this weekend, but the two parties were able to come to a last-minute extension, preventing several Disney-owned networks, like FX and National Geographic, from going dark.
What's next: Expect more blackouts as major programmers weigh whether to re-up distribution deals.
Local broadcaster Nexstar stations have been dark on AT&T properties since July 4th, when the two companies announced they were unable to reach an agreement.
Last week, 17 local broadcast stations in 12 markets owned by Meredith went dark for Dish customers.
Be smart: Regulators rarely intervene in these fights, even when they're asked to, because they believe these disputes are best left to the market.
3. A new paper powerhouse
Gannett Co, the largest newspaper owner by circulation in the U.S., and its rival GateHouse Media, the largest newspaper owner by number of papers in the U.S., are currently in talks to merge, The Wall Street Journal reports.
Why it matters: The combination of the two publishing powerhouses means that a single company would own 1 in every 6 newspapers in the United States.
Details: GateHouse, which is owned by New Media Investment Group Inc., has a reputation for slashing costs and consolidating resources.
Industry analysts say they expect cost synergies between the two companies to come from sales and operational roles and point to examples of ways the newspaper giant has consolidated resource hubs around the country, like GateHouse's Center for News and Design in Texas.
Be smart: Unlike some recent mergers in broadcast and telecom — also legacy industries upended by technology — experts don't believe that the deal would cause any regulatory concerns, because the companies don't really overlap in key markets.
The bottom line: "I think this is part of a continuation of local news publishers trying to get to an economically sustainable business model," says David Chavern, CEO of the News Media Alliance, a newspaper trade association that represents thousands of papers.
4. Patch pivots to payments
Patch, the hyperlocal (and profitable) digital news platform, is doubling down on digital transactions as it seeks to pull further away from advertising as a sole revenue source, Patch CEO Warren St. John tells Axios.
Why it matters: Scaling a high-margin revenue stream that's not contingent on page views (the way advertising rates often are calculated) is critical in local news, because truly local news is usually only relevant to small group of people.
Revenue from selling access to its hyper-local calendars grew 110% year-over-year from Q2 2018 to Q2 2019 and now generates in the low single-digit millions in revenue.
Calendar payments are Patch's first major foray into local transactions, and will hopefully open up a world into other local transactions that Patch can monetize, St. John says.
The calendars are free to post on locally, and cost a dollar per day per town to buy. The average transaction size is $48 because people choose multiple towns and multiple days.
The transactions on-site can conducted with Stripe, PayPal or Apple Pay.
The big picture: For a long time, a lot of the focus on saving local media has been on subscriptions and memberships. Both Facebook and Google are investing heavily in developing business models that work for local companies around those models.
But St. John argues that asking people to pay for news at the local level can be difficult, and rather, asking them to pay for a local service, is more realistic.
The bottom line: "Payments is probably best highest margin scalable solution for local," St. John said last quarter.
What's next: The company is looking to increase payments within its classifieds section, which launched last quarter.
5. Brands blasted on the campaign trail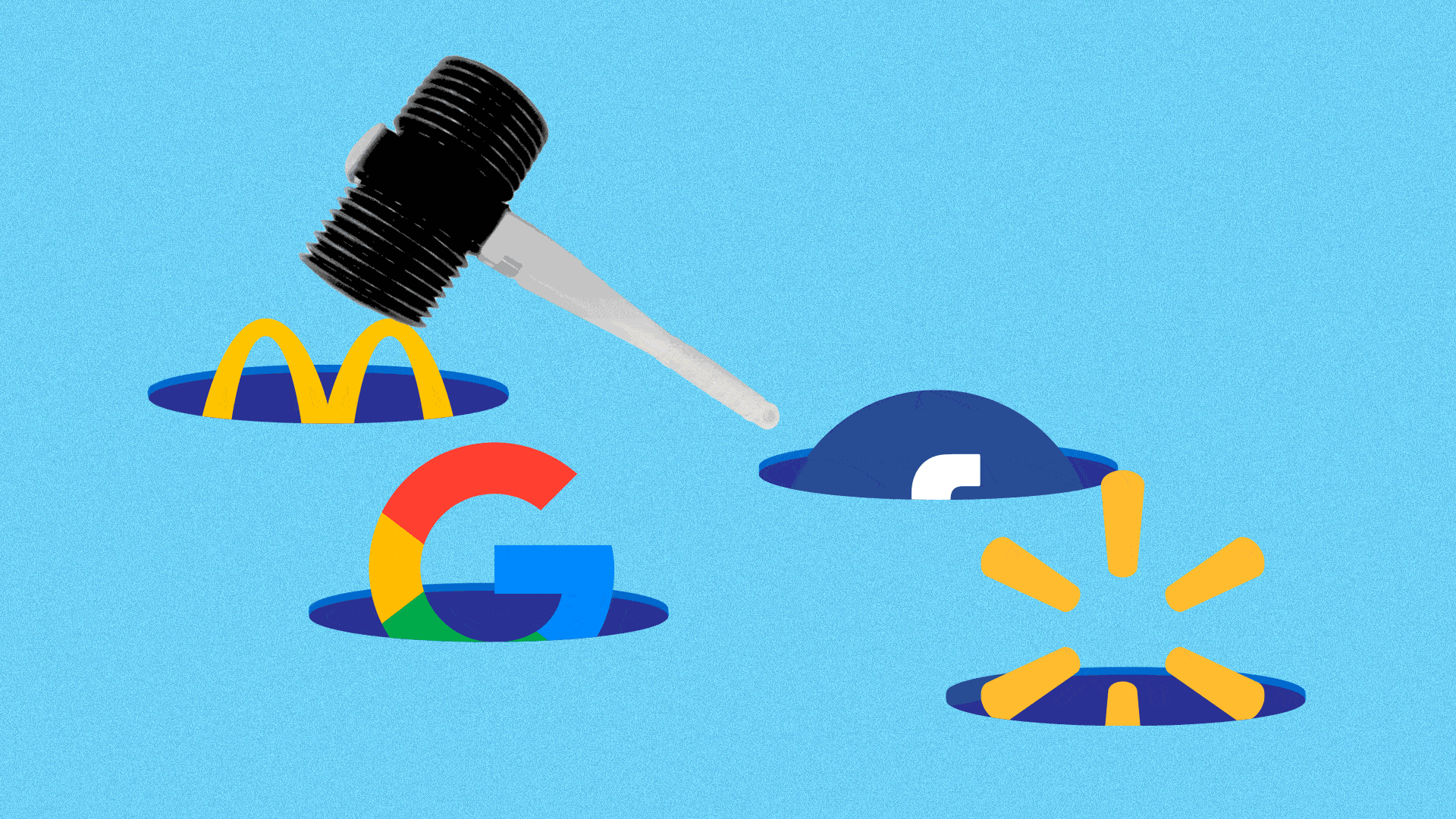 Democratic candidates are shooting at big companies on the campaign trail, and getting rewarded with a huge social-media echo.
Why it matters: There's more pressure than ever for companies to take stands on social policies. But brands risk losing trust if they hit back too hard. Progressive candidates are taking advantage of that dynamic.
"In politics, incumbents get ahead of challenges by defining them. In commerce, not so much," says Mark Penn, president of advertising holding company The Stagwell Group and former adviser to President Bill Clinton.
The companies most likely to be attacked are ones facing criticism over the minimum wage, jobs, taxes and competition — like Walmart and Big Tech — according to data pulled for Axios by the social intelligence firm Zignal Labs.
6. Earnings outlook: Big tech's big week
Snapchat reports second quarter earnings after market closes on Tuesday. Snap's stock is up dramatically since its low-point in 2018 after a rough redesign rollout.
Analysts have been more bullish on the stock after the company was able to stabilize its user base and unveiled new innovations and investments in advertising, content and gaming.
Facebook reports earnings after the market closes on Wednesday. Despite continued scandals around privacy, Facebook's stock is up more than 50% in 2019.
Facebook is facing a record privacy fine from the Federal Trade Commission and is under pressure from regulators to answer questions about its new cryptocurrency, Libra. Still, the company is expected to continue to beat earnings, as it has done for the past several quarters.
Alphabet reports earnings after the market closes on Thursday. The company is also awaiting multi-million dollar fine from the Federal Trade Commission.
Investors will be looking at whether the company has been able to stabilize slowed advertising growth at Google, which dragged down its stock after Q1 earnings in April.
Amazon reports earnings after the market closes on Thursday, just days after the company said "Prime Day" recorded its biggest 24-hour sales day ever.
Investors will be looking for whether the company has been able to increase profitability, as sales growth slows.
Twitter reports earnings before the market opens on Friday. The company has faced fewer government scandals than some of its rivals this quarter.
Twitter is coming off of six consecutive quarters as a profitable company. Investors will want to see continued advertising growth while the company invests in more measures to keep its platform safe and healthy for users.
7. Kids put Big Tech on its best behavior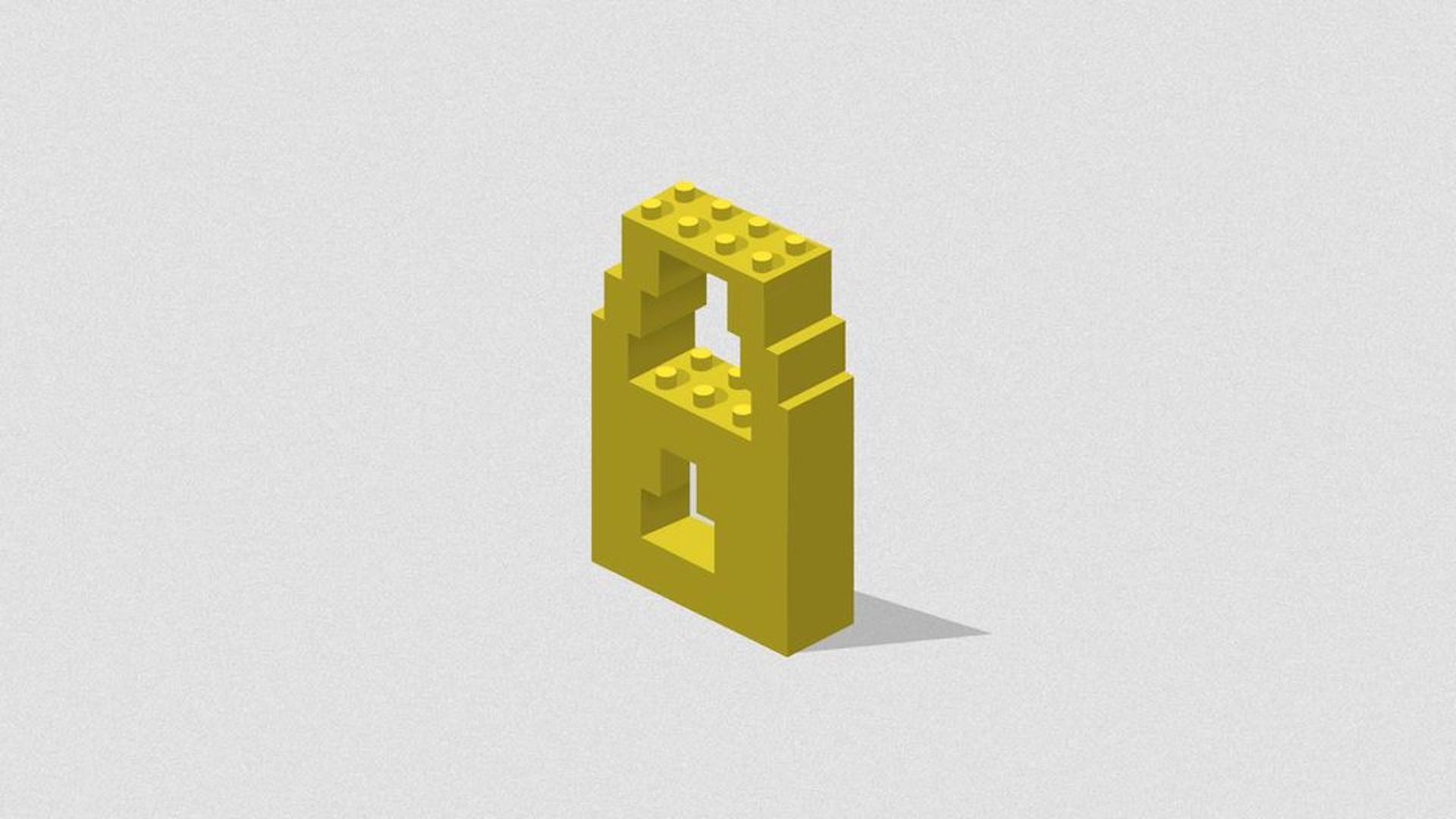 An increase in federal penalties against tech companies for violating kids' privacy rules is shaping new expectations for how the internet will be governed, Kim Hart and I reported yesterday.
Driving the news: The Federal Trade Commission has reportedly approved a settlement with Google over kids' privacy violations on YouTube, per The Washington Post.
Sources tell Axios that the penalty for violating the Children's Online Privacy Protection Act (COPPA) is expected to come in around $500 million, and will be announced imminently.
The news comes just weeks after Bloomberg reported that the FTC was considering asking YouTube to disable kids' advertising on its main app.
The big picture: "This fine and the various debates about COPPA 2.0 are inevitably going to take children's digital protections to a much more comprehensive place," emails Dylan Collins, CEO of kids' tech platform SuperAwesome.
Colins argues that in the future, laws which have previously only applied to self-declared kids' content should start to be applied to any platform that could be accessed by kids.
The bottom line: The internet was originally built for adults, and the industry has never taken full responsibility for how kids use it. That could finally begin to change if policymakers and regulators ratchet up the pressure.
8. 1 fun thing: Disney's Marvelous year
Disney's presentation of Marvel's "Avengers: Endgame" has officially surpassed "Avatar" to become the world's highest-grossing film of all time, several months after the film obliterated opening weekend records.
Why it matters: Disney has had the top grossing movie every year since 2012 and been the top grossing studio since 2016.
The big picture: Disney's success can largely be attributed to the three franchises that it has cultivated or acquired over the past few years: Marvel, Pixar and Star Wars.
Marvel films alone account for roughly 15% of the top 100 grossing films of all time, according to Box Office Mojo.