Axios Media Trends
September 26, 2017
Good morning and happy Tuesday. Thanks for subscribing to Axios Media Trends. Send tips and ideas to [email protected] and tell your friends and colleagues to join the conversation by signing up here.
1. Scoop: The FEC's plans for political ad disclosures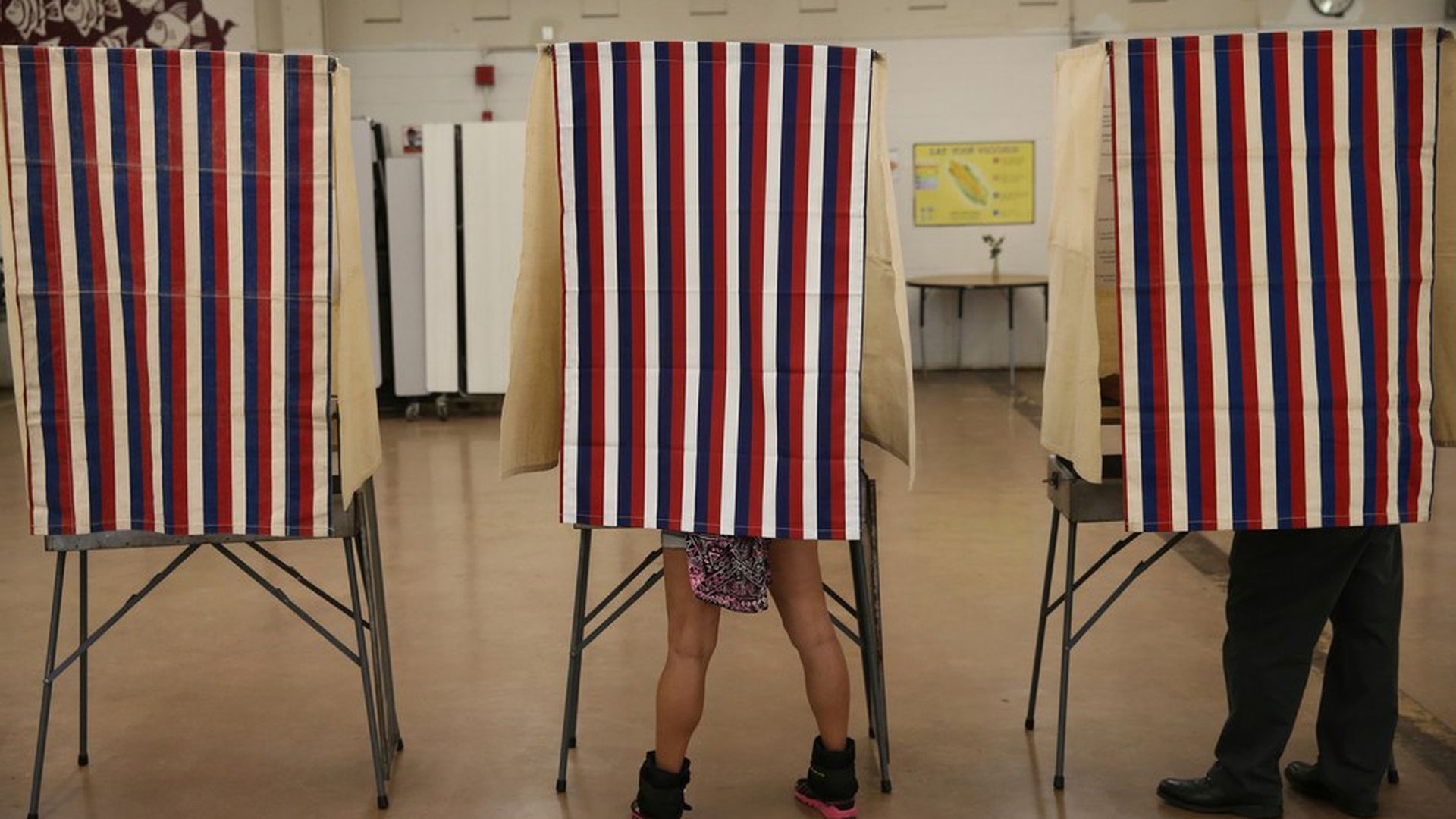 Officials at the Federal Election Commission are reaching out to political ad buyers, among others, to solicit more comments about potential new disclosure rules, Axios has learned. At this point, most of the FEC's efforts are around gathering ideas about ways to modernize outdated disclosure laws.
Among a few other ideas expected to be considered (they're still far away from actual implementation):
Creating a database of all political ads
Banning programmatic (automated) political ads from being sold
Why it matters: The past election cycle showed just how much modern campaigns lean on programmatic advertising to reach voters and donors with persuasive ads that could push them to vote one way or another.
Where it gets tricky: It will be hard for the six-person commission, divided equally among party lines, to come to a consensus, according to sources within the FEC, meaning that any major disclosure efforts would have to come from Congress.
Republican commissioners have traditionally approached regulations around election disclosures with hostility, and in order to push measures forward, two of the three Republican commissioners would need to break with party lines, because a Democratic commissioner seat is vacant at the moment.
Timing: The commission is accepting comments for 30 days. After that, FEC Commissioner Ellen Weintraub tells Axios, "I think things are moving fast and we need to get moving fast."
The back story: Per Borrell Associates, $800 million was spent on automated advertising on Google and Facebook during last year's election. The Trump campaign spent nearly as much money on programmatic ads as TV ads.
Go deeper: Read my full story.
2. 2020 watch: Choose your news
Political heavyweights on both sides of the aisle are creating and endorsing new media organizations to communicate with voters directly ahead of the 2020 election.
Former VP Joe Biden has launched a new daily podcast-like program called "Biden's Briefing" in which he shares the articles he's reading, according to CNN.
Hillary Clinton has been promoting a website called Verrit, which advertises itself as a portal that "contextualizes noteworthy facts, stats, and quotes for politically engaged citizens," per Business Insider.
The Republican Governors Association has quietly launched an online publication that looks like a media outlet and is branded as such on social media called The Free Telegraph, per The Washington Post.
Why it matters: Earlier this year, Axios reported on the explosion of conservative news sites. Audience measurement company Chartbeat confirmed that these sites continue to dominate in volume over left-wing entities, but there's also been an uptick in partisan Facebook pages on the left, per NewsWhip.
3. Advertising Week CEO: "America First" hurts for marketers internationally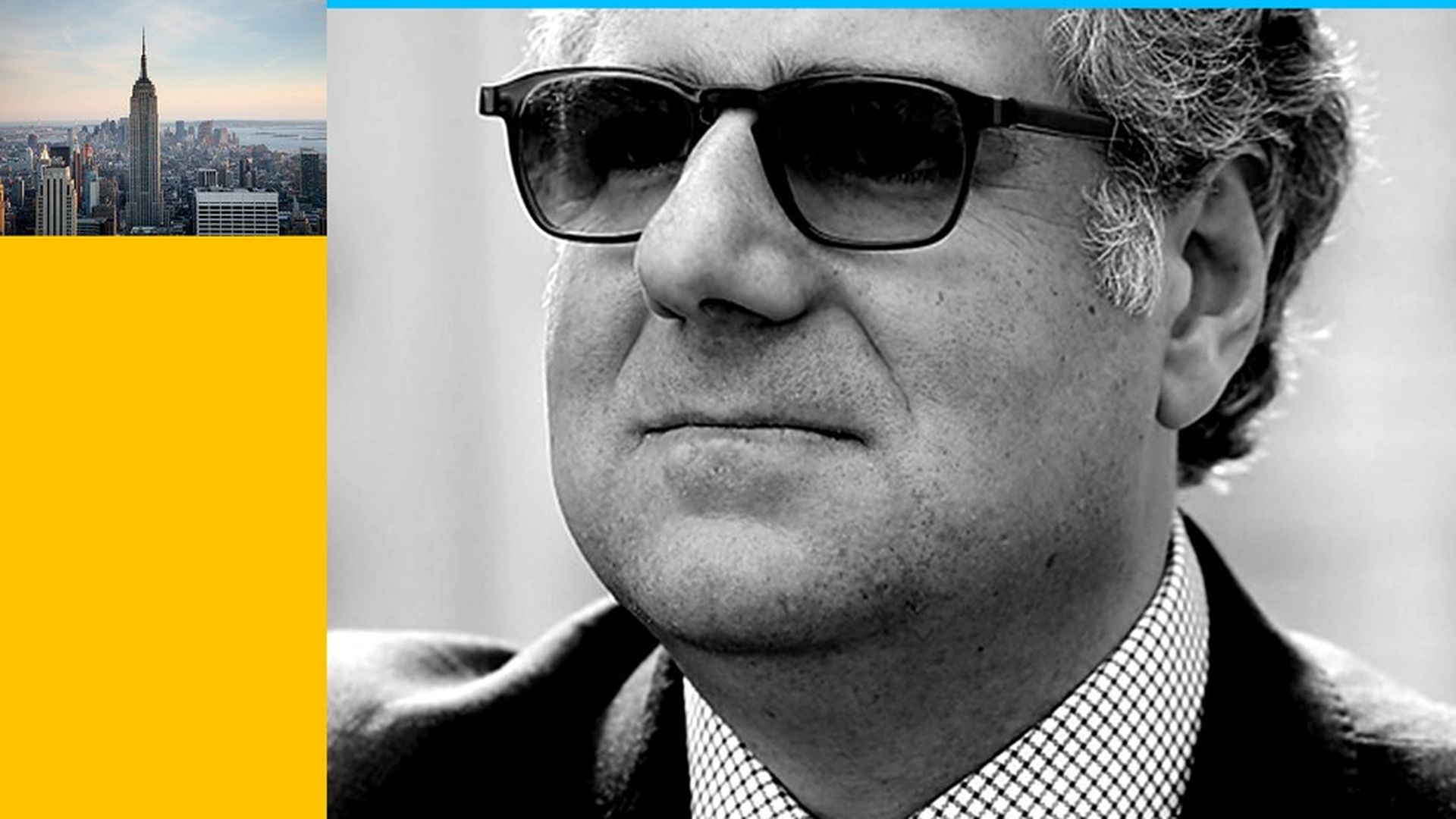 Matt Scheckner, the CEO of Advertising Week New York, one of the biggest advertising and media conferences in the world, tells Axios that this years' conference (happening this week) will address how the concept of "America First" is making brand growth difficult for marketers to in countries outside of the U.S.
New research: In a panel Wednesday, the Advertising Week staff will reveal commissioned research on how brands like Budweiser and Nike are being impacted by the negative perception of the "America first" brand oversees. Keith Reinhard, chairman emeritus of DDB Worldwide and one of the great marketers of the "Mad Men" era, will host a conversation about how agencies would manage America's brand if it was their client.
New focus: The longest panel of the hundreds over the course of this week, and the one Scheckner is most excited about, is titled "Red, White and Blue." It will focus on how marketers should manage the negative perception of American business overseas.
Other panels will cover tough political topics that are affecting advertisers more than ever. Gretchen Carlson will take the stage to talk about women in the workplace. There will also be a panel on race in America.
"People think Advertising week is transactional, but not just about being better about your job, but better at being an American," says Scheckner. "I value that we've been able to create a platform professionally that enables conversations about issues that are much bigger than advertising."
Go deeper: Full Ad Week NYC schedule.
4. Facebook ad rates soar 171% in 2017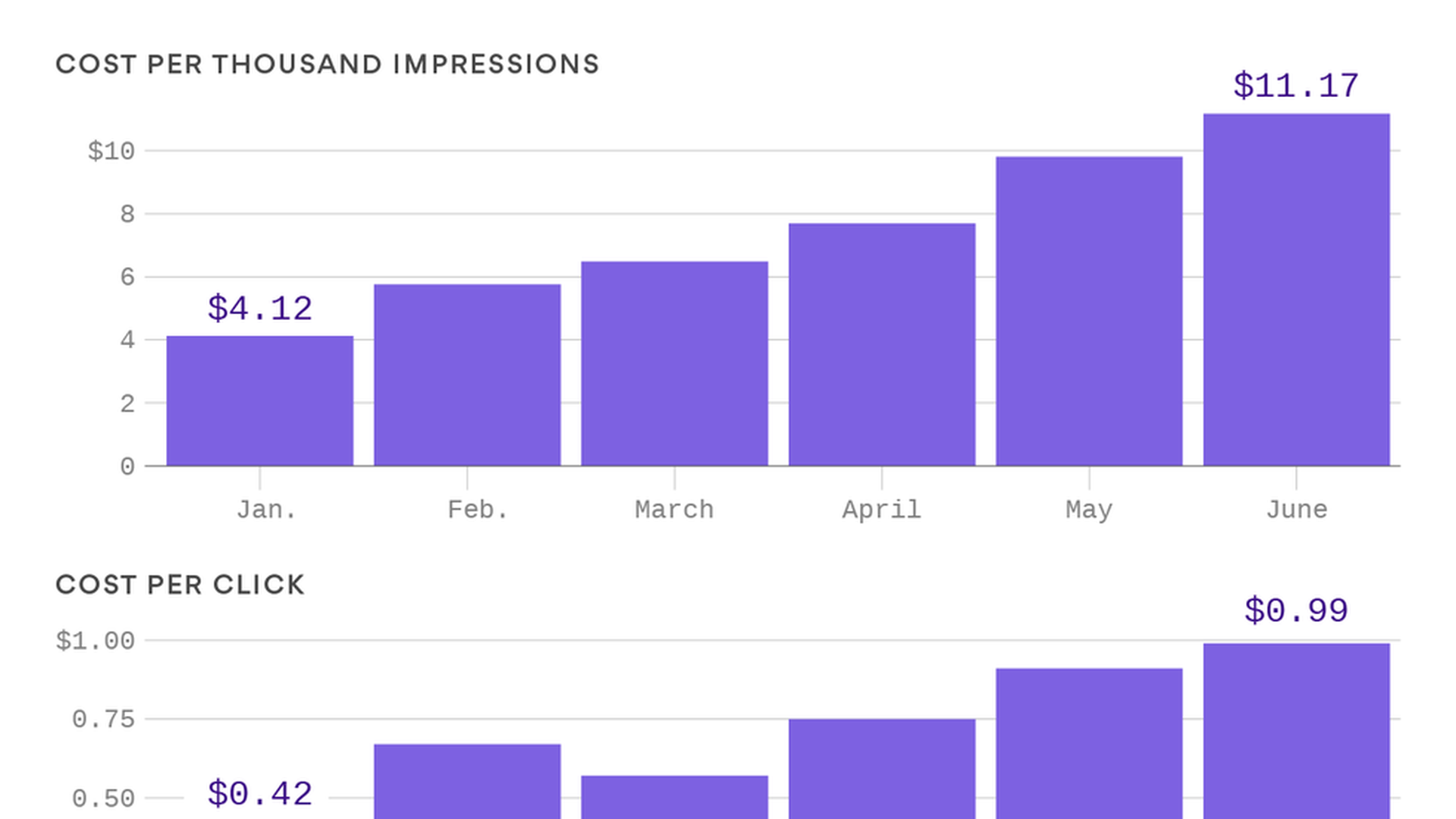 Facebook, Twitter and other tech platforms offer marketers the ability to reach niche audiences with scale and at an efficient cost. But as Facebook's ad load continues to slow, its ad auction has become increasingly competitive, causing the average cost for every 1,000 impressions (CPM) and the average cost per click (CPC) on Facebook to skyrocket, according to data from AdStage:
The average CPM on Facebook ads has increased by 171% since January 2017
The average CPC on Facebook ads has increased by 136% since January 2017
Twitter has also seen increases:
Twitter's CPM increased by 27% since January 2017.
The average CPC on Twitter increased by 18% since January 2017.
Why it matters: Facebook has been warning investors for months that ad revenue would "come down meaningfully" this year as the newsfeed becomes more saturated. Increasing CPM's helps make up for any revenue losses that would stem from that reduction in ads served. The average click-through rate has remained consistent on both platforms.
5. Subscriptions drive much more streaming music revenue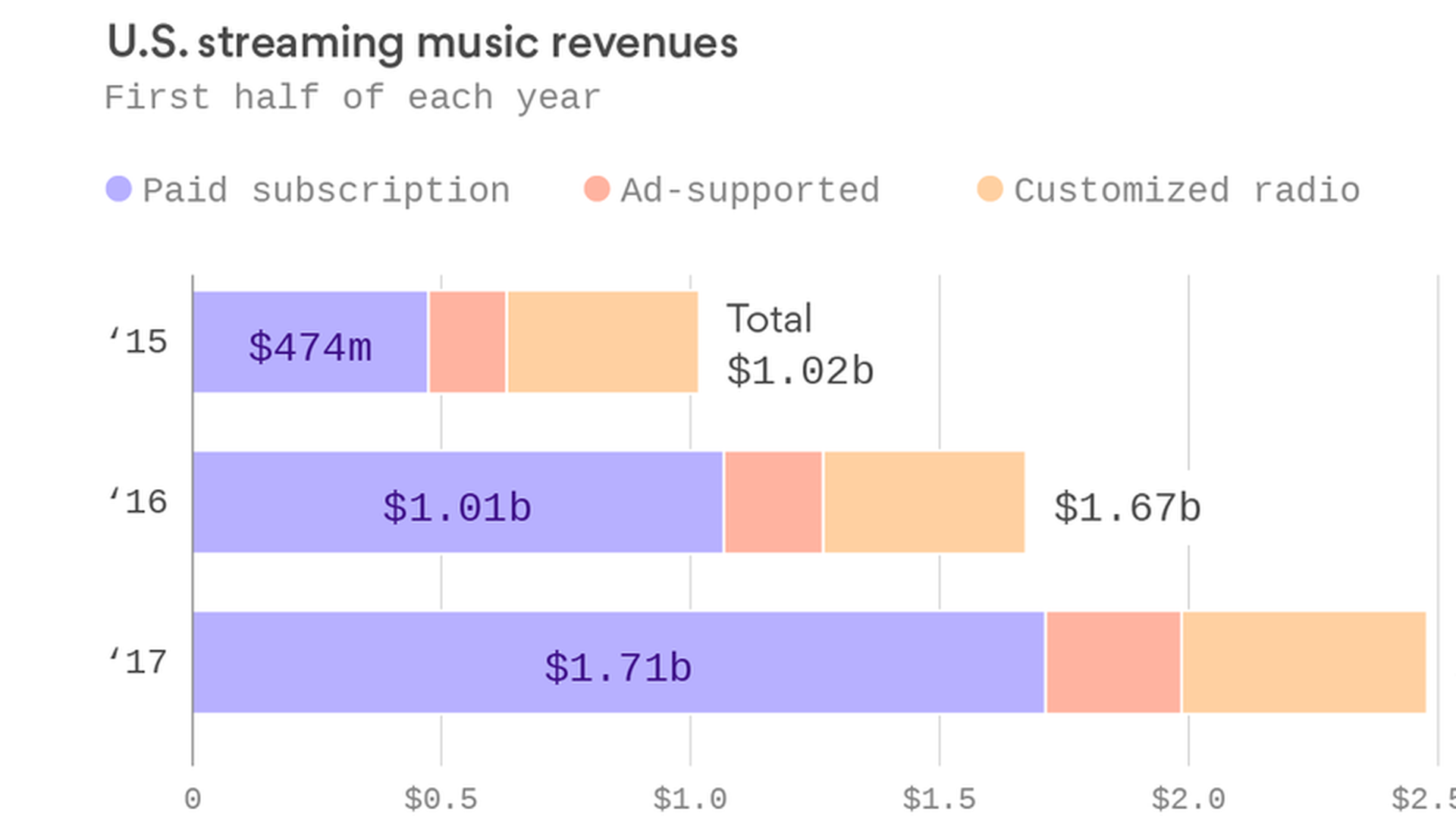 Streaming now represents the majority of music revenue in the U.S., and of that revenue, the majority comes from paid subscription services, like Spotify and Apple Music, according to a new Recording Industry Association of America report.
Revenues reached record highs for the first half of the year among all music streaming categories, (paid subscriptions, digital and customized radio, and on-demand ad-supported streams).
But paid subscriptions were by far the biggest driver of growth, growing 61% to $1.7 billion, more than 500% the amount of streaming ad revenue ($273 million).
Why it matters: User growth has been the main revenue driver, according to RIAA's Joshua P. Friedlander. There have been nearly 1 million new music subscriptions per month compared to the prior year, with total U.S. paid music subscribers reaching an average of 30 million for the first half of the year — a record high.
Whereas news publishers and legacy media outlets have struggled to create direct-to-consumer relationships on mobile, the music industry has revolutionized them, and consumers are clearly willing to pay for that premium experience.
6. People really don't like pop-up ads, pre-roll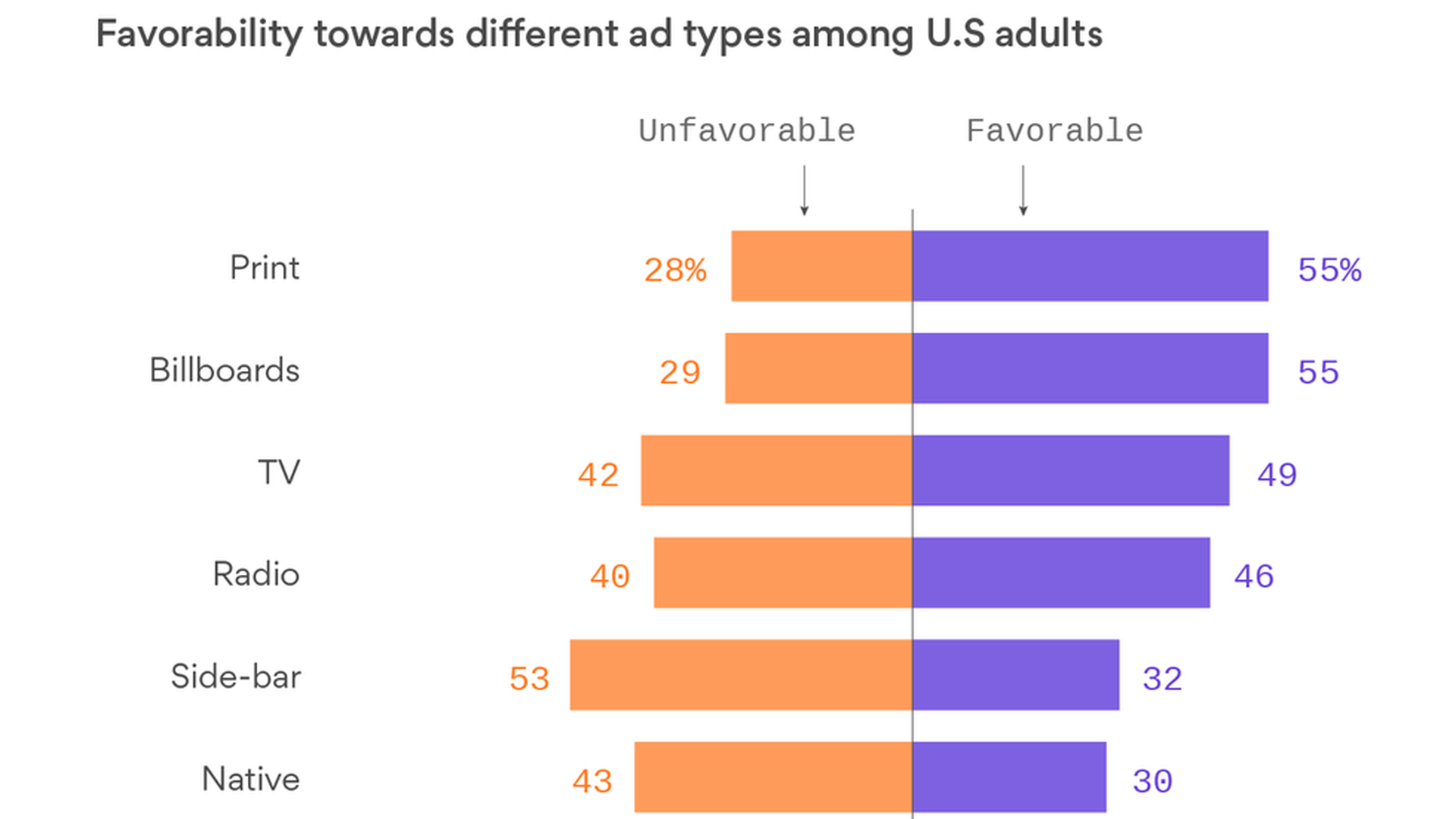 New research from Morning Consult finds that pop-up ads and pre-roll ads are the least favored by consumers. Per the study, younger viewers are willing to pay more on average to avoid invasive ads. Adults aged 34 and younger would pay about $35 to eliminate ads on social media.
The backlash against digital advertising has created an uptick in ad-blocking: More than a quarter of internet users in the United States use ad blockers, and that number has been steadily increasing year over year, according to estimates by eMarketer.
Millennials, males, streamers, researchers and heavy downloaders are most likely to use an ad blocker, according to the latest Dimension study from Kantar Media, a leading advertising measurement company.
Both Google and Apple are rolling new ad-blocking technologies within their search engines to better user experience.
7. Most millennials watch TV content via streaming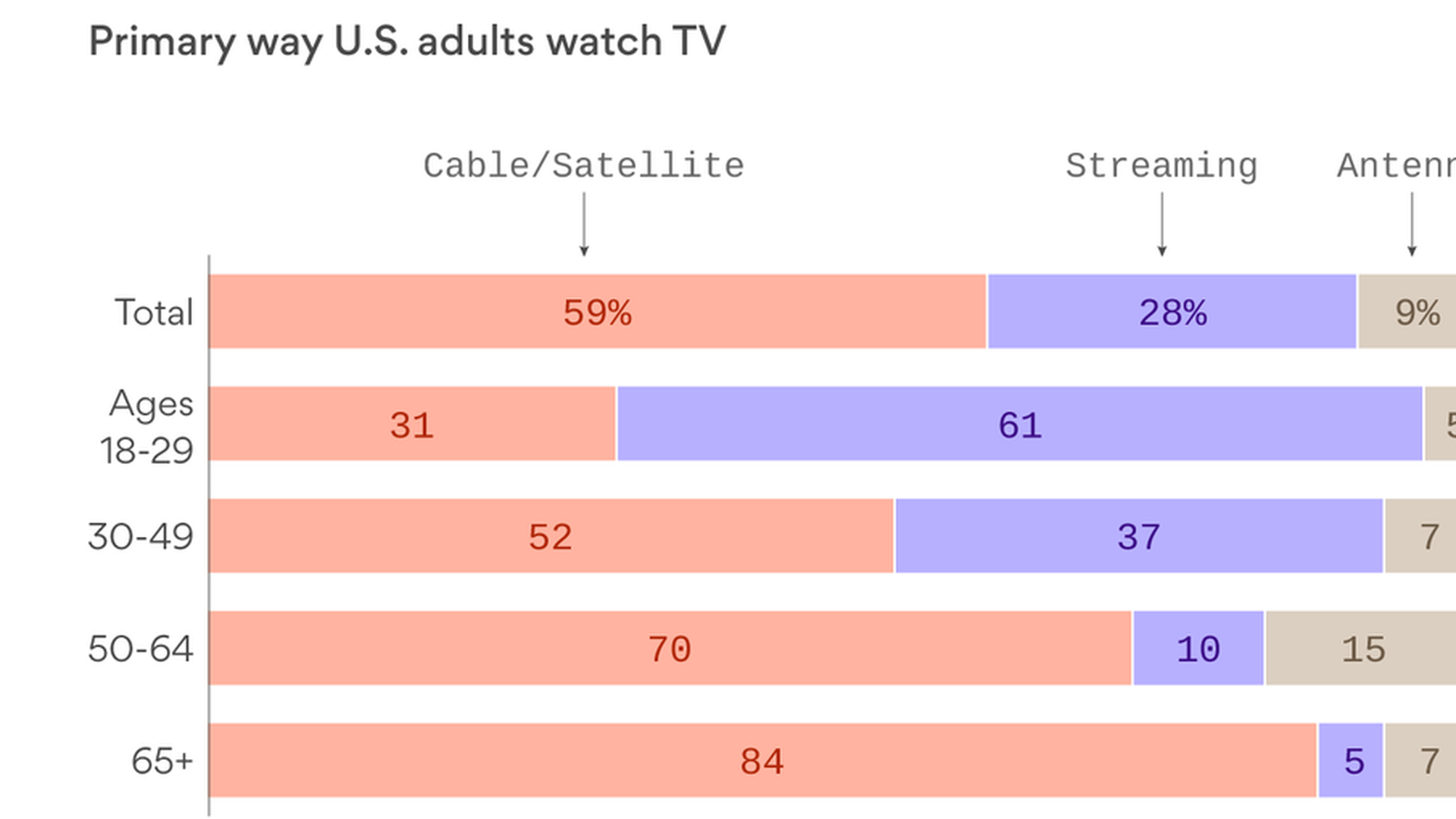 More than a quarter of Americans use streaming as their primary way of watching TV, according to new data from Pew Research Center.
Why it matters: The uptick in streaming goes hand-in-hand with the uptick in cord-cutting, or people ditching their expensive cable bundles for cheaper streaming options. Last week, eMarketer reduced its annual estimate for TV ad spending in the United States by nearly $1 billion this year due to cord-cutting.
The group predicts that by 2021, the ratio of pay TV viewers to non-pay TV viewers will drop from 4:1 to nearly 2:1.
8. #takeaknee by the numbers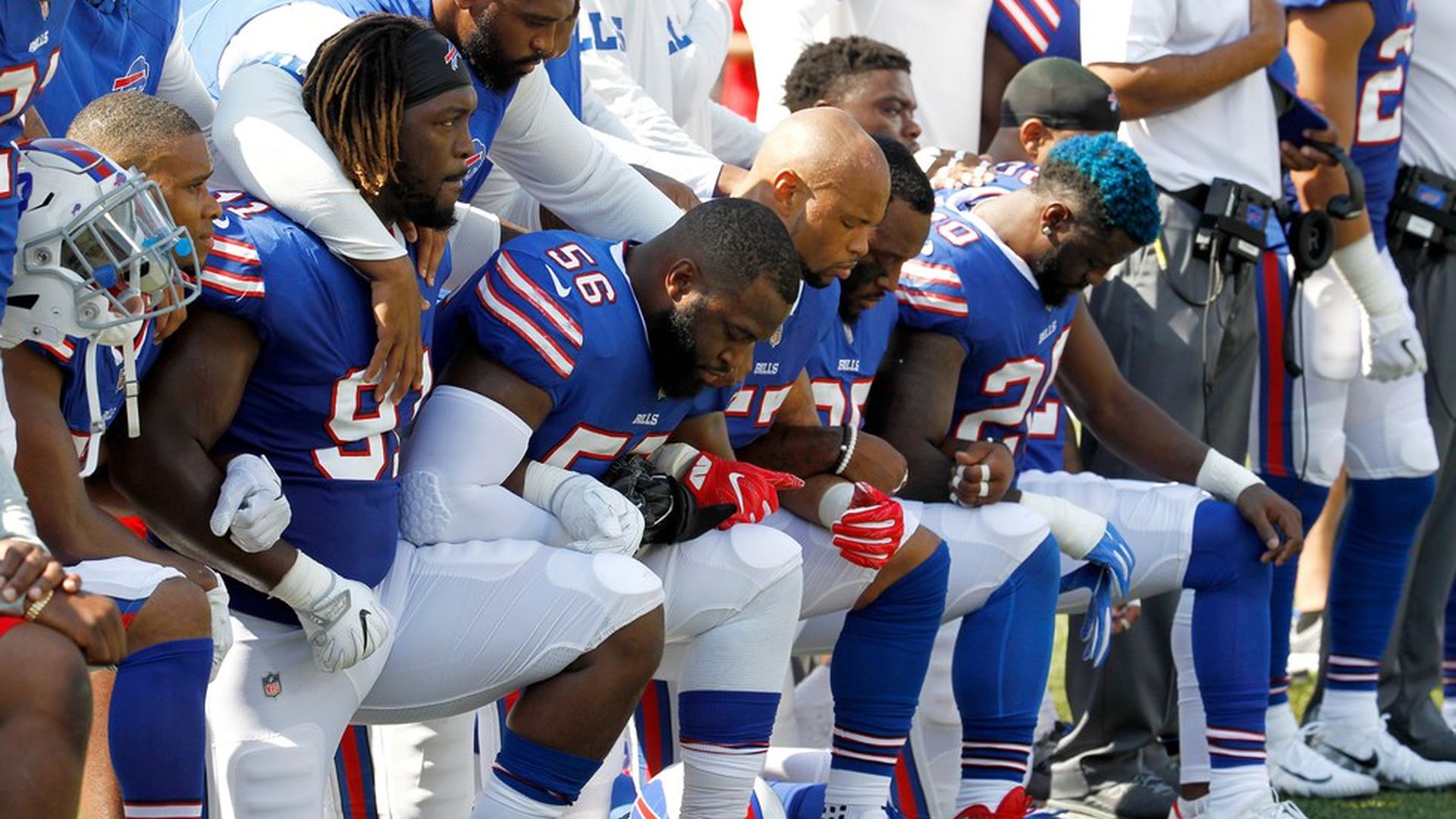 According to international social media analytics firm Talkwalker, there were more than four million social posts related to the NFL and the National Anthem – or those using the hashtags #TakeAKnee or #TakeTheKnee this weekend, as of 8 a.m. on Monday:
Among the top trending hashtags were #TakeAKnee with 2.7 million mentions and #TakeTheKnee with 1.3 million mentions. Also trending were the hashtags #BoycottNFL with 114,00 mentions and #MAGA with 102,000 mentions.
The top trending teams included #Steelers, with 11,065 mentions, when player and former Army ranger Alejandro Villanueva was the only member of the team to leave the tunnel of the locker room to stand for the National Anthem at their game with the Chicago Bears.
9. Media tax wars
Domestically, advertising interest groups for months have been pitching lawmakers to reconsider potentially using advertising taxes as a "pay-for" to offset other tax cuts, which would eliminate some advertising deductions as much as 50% over 10 years.
"This would impose hundreds of billions of dollars of additional burdens on the selling process, clearly creating major unnecessary hurdles and burdens for economic growth," says Dan Jaffe, EVP of the Association of National Advertisers.
Internationally, the European Union wants to raise taxes for some of the biggest U.S. tech companies, like Amazon, Google and Facebook, in an effort to open up competition to other businesses in the EU.
In a proposal laid out last Thursday, EU regulators said international tax laws are outdated and suggested they would put forward new mandates if a rewrite of the international tax code didn't happen by next spring.
Why it matters: Local media that relies heavily on small business advertising would be especially affected by domestic tax breaks. "Making it more expensive for businesses to advertise would impede the ability of stations to offer the high-quality news, information and entertainment on which the public relies," the National Association of Broadcasters argues in a statement.
10. 1 fun thing: Advice for Hope Hicks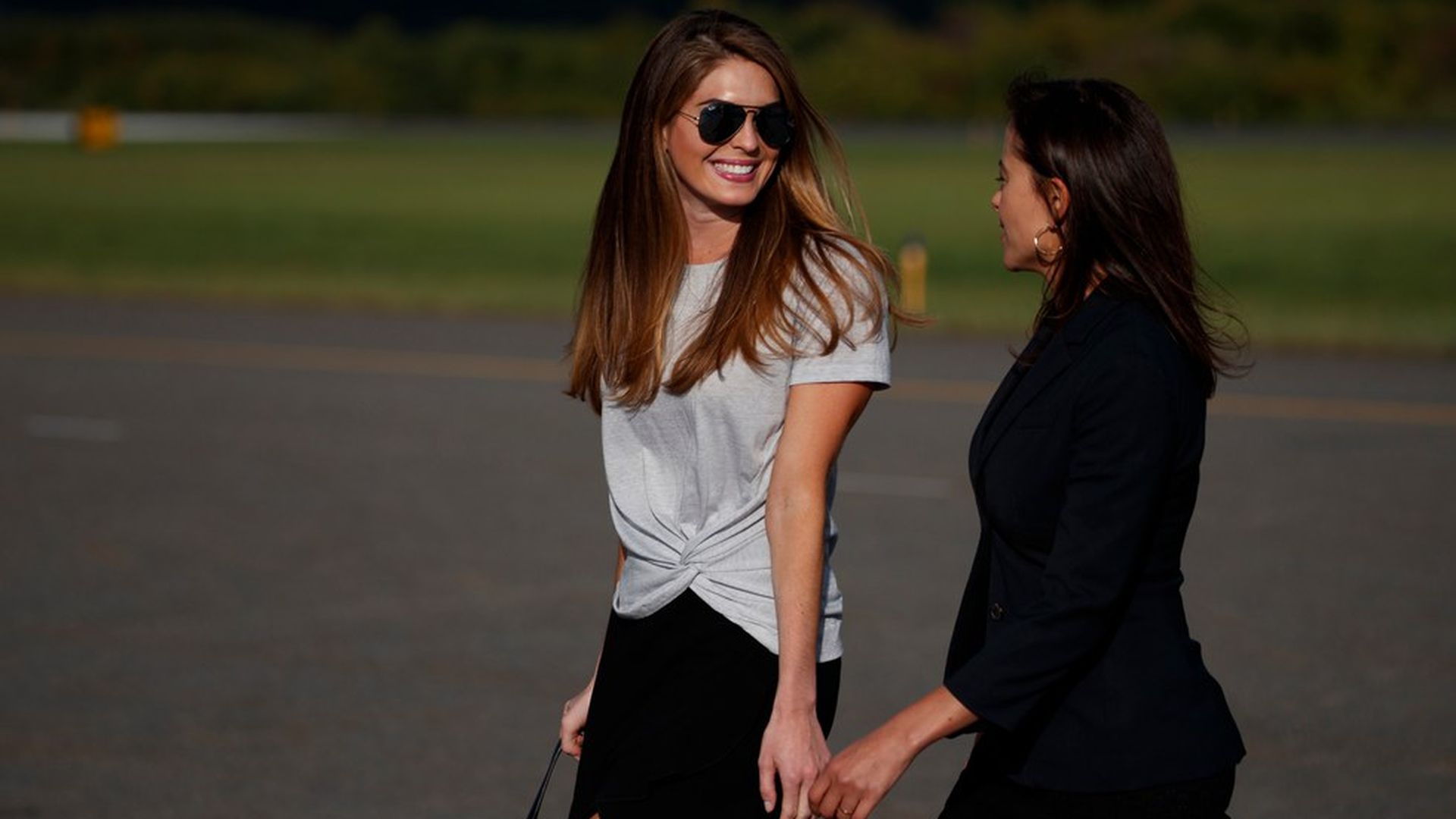 Last week, I moderated a panel between four former White House communications shop veterans at the Public Affairs Council's annual meeting: Don Baer (Clinton), Anita Dunn (Obama), Karen Hughes (George W. Bush), and Mike McCurry (Clinton).
The most popular question from PR executives across the country was what advice would each of them would give for Hope Hicks, the 27-year-old White House communications director:
Don Baer: "The job is about somebody who has a passion for anonymity, who wants to be behind the scenes as much as possible."
Anita Dunn: "Find a good excuse not to have to travel with the president, particularly on foreign trips ... At the end of the day, it's a much bigger job than staffing the president ... Being on the road (all the time) means you're not doing your job."
Karen Hughes: "Figure out the three big policy initiatives that you want plan to accomplish over the next year. Go to the chief of staff and say here's how we need to use the president's time, schedule and his words to achieve those three things and everything else becomes peripheral."
Mike McCurry: "You can't be the president's primary spokesperson and doing TV every single day and doing an effective communications job." (Baer adds: "That's where Scaramucci got it all wrong.")
Bonus: For your radar
Season 3 of Snapchat's "Good Luck America" political show picks back up today, and will now air weekly instead of bi-weekly. Host Peter Hamby travels to his hometown of Richmond, Va., for the season opener, where he interviews Virginia Gov. Terry McAuliffe and Richmond Mayor Levar Stoney about Confederate statues on the historic Monument Avenue. Axios readers can watch a sneak peek here.