Axios Media Trends
December 05, 2017
Good morning and happy Tuesday. Thanks for subscribing to Axios MediaTrends. Send tips and ideas to [email protected] and tell your friends and colleagues to join the conversation by signing up here.
Happening today: Axios will host an event at Ajax (1011 4th Street NW) on the future of health care. Axios' Mike Allen and Evan Ryan will chat with Arianna Huffington (Thrive Global), Aneesh Chopra (ex-U.S. CTO), and more. Info and RSVP here.
1. News Corp tackles Google/Facebook with new ad network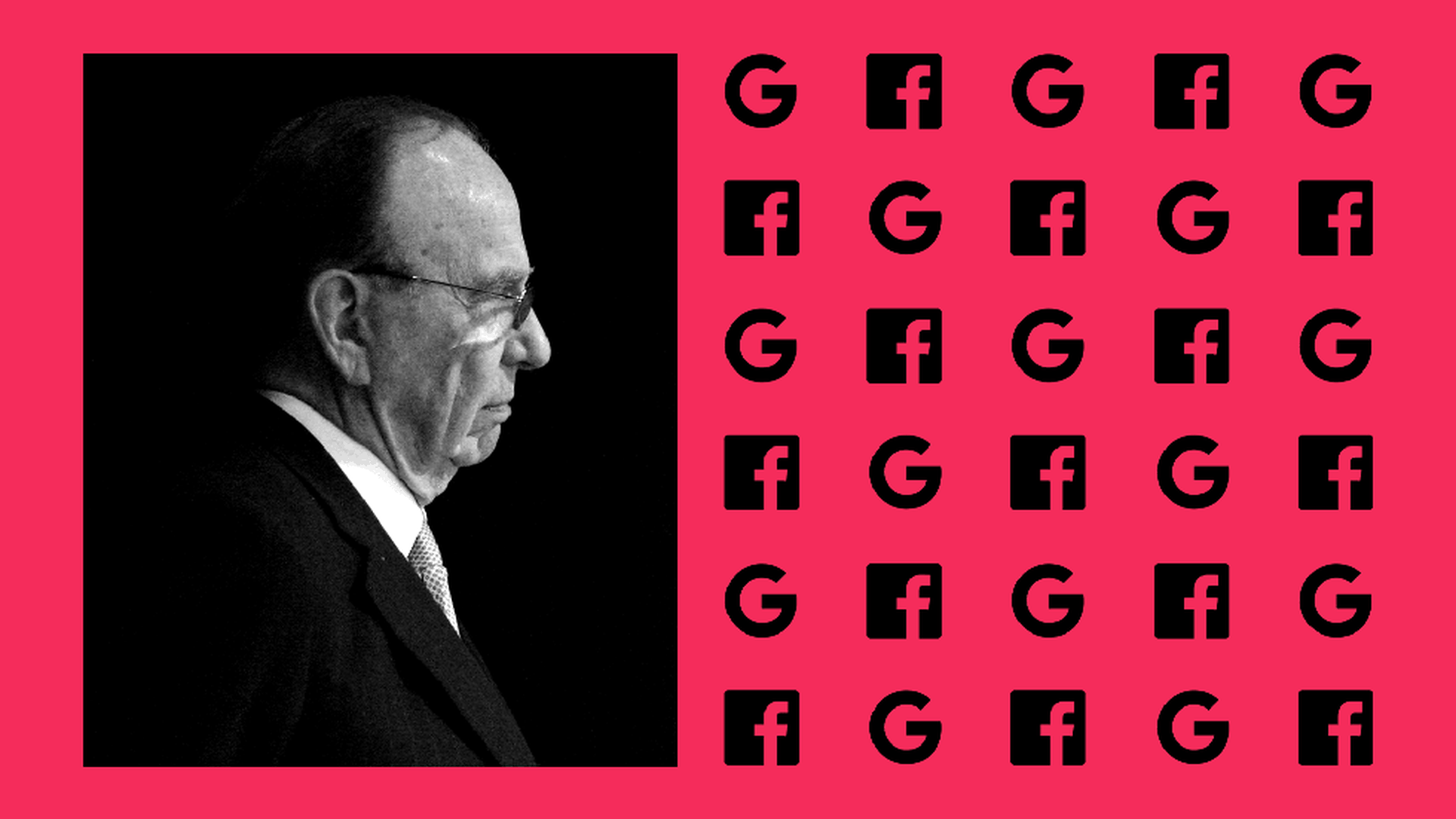 News Corp is taking aim at the digital-ad dominance of Google and Facebook with a new platform to let advertisers reach audiences across all of its online properties. The new platform, called News IQ, will pull audience data from sites like The Wall Street Journal, New York Post and Barron's and give advertisers a way to reach specific audiences around safe content.
Why it matters: News Corp is the latest publishing company to launch a data-based advertising network to win back digital ad dollars from Google and Facebook. Disney, NBC and Vox Media, and Verizon and Oath have all similar steps.
While none of these new ad networks are as big as Google or Facebook's, they are hoping to offer more brand-safe content at scale — major selling point for advertisers spooked by terrorist content and suicide videos.
News IQ will launch globally over the coming months and years, News Corp CEO Robert Thomson tells Axios exclusively. "We're not going to stop at U.S. borders."
The product was built in Australia, where News Corp has a significant media footprint, and then brought to the U.S. The U.K. will be next. "There isn't another publisher that reaches the global English-speaking population at scale with this quality," says Jesse Angelo, Publisher and CEO of The New York Post and Chief of Digital Advertising Solutions for News Corp.
Bottom line: News Corp's ad network will reach 140 million in the U.S. and millions of more globally, according to comScore, but competing with Google and Facebook on scale and efficiency will be tough. Facebook says it has more than two billion monthly active users, and both Facebook and Google reach over 200 million monthly active users monthly, per comScore.
2. This week in Amazon becoming a media company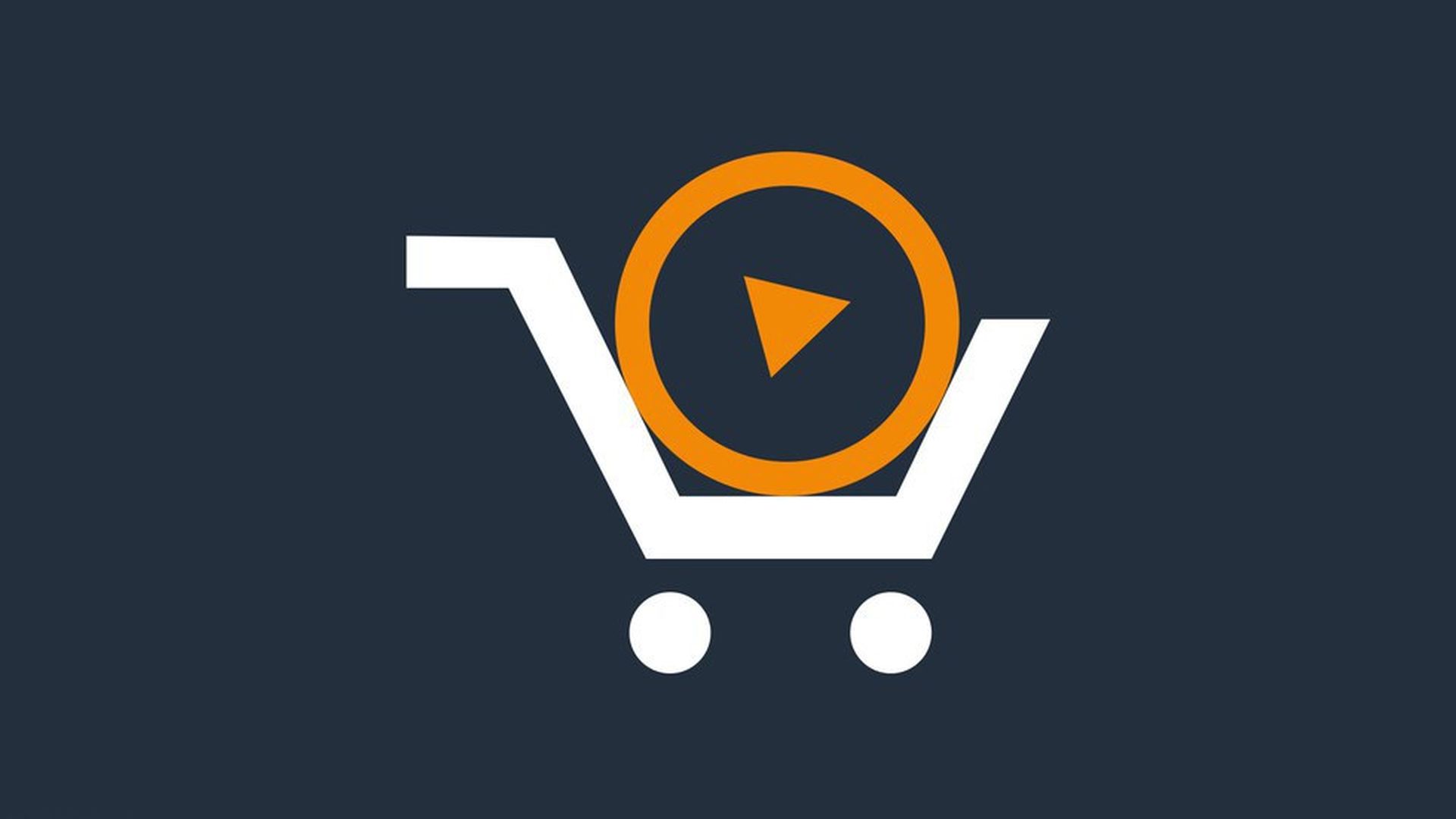 Amazon is introducing customer service videos as a part of a broader push into the digital advertising market, Quartz reports.
Such efforts take advantage of a growing trend of consumer video reviews on YouTube — which Amazon is reportedly going after for video ad dollars.
It's also a push into giving users a discount for watching ads. "In October, Amazon was awarded a patent for "content-based price reductions and incentives," per Quartz.
"The patent says that 'customers in an electronic environment can be presented with the option to receive advertising, such as audio, video, or interactive content, in order to receive discounted pricing or similar benefits.'"
Why it matters: These types of ads are surprisingly effective and studies show that people want to be rewarded for watching ads.
While Google and Facebook are the clear leaders in online advertising, Amazon is predicted to grow its ad businesses at a faster rate than either company. A recent Digiday study found that 90% of media executives think that Amazon can threaten the duopoly.
3. Amazon's staggering dominance over voice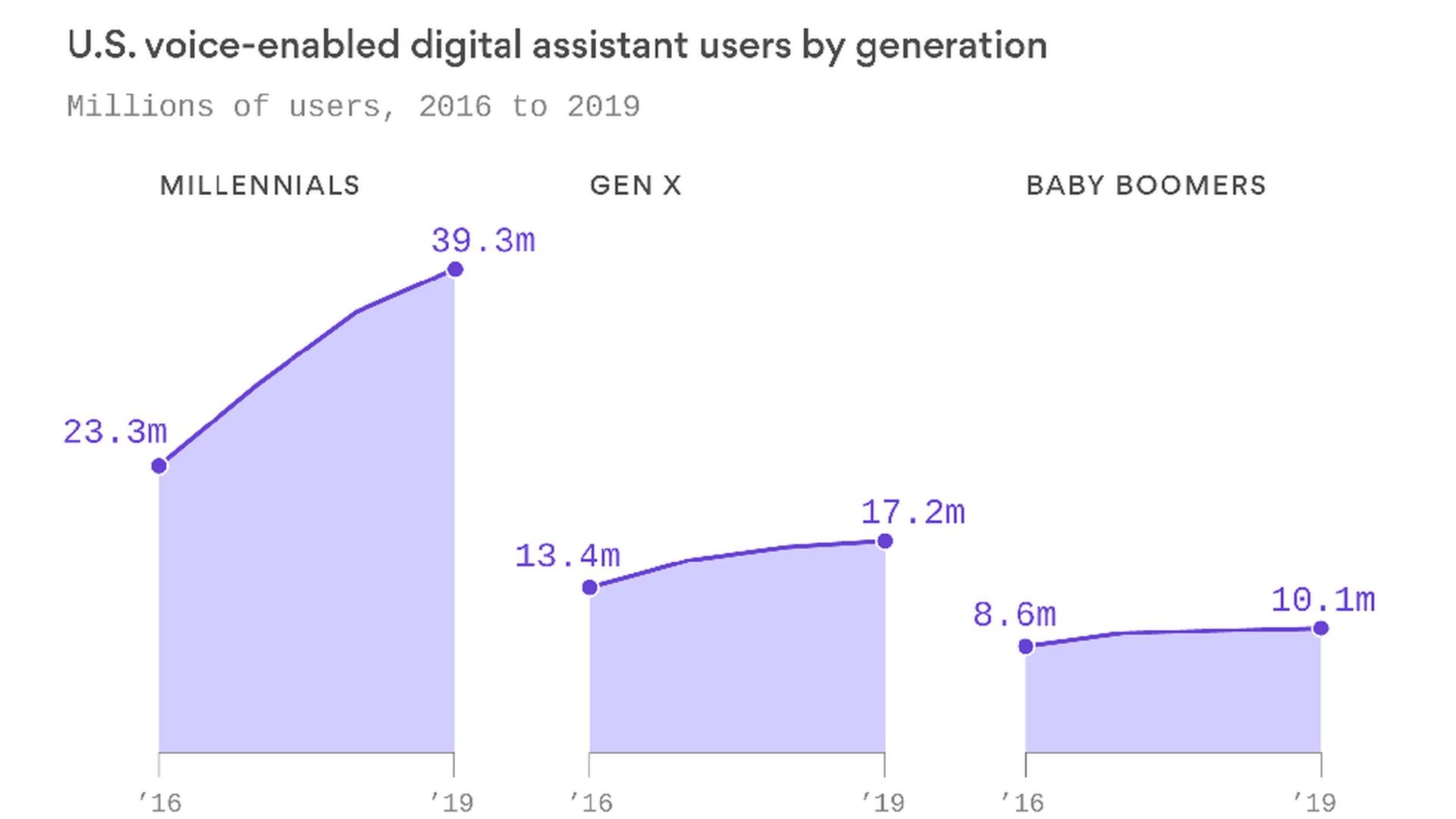 Amazon's foray into video and advertising are a tiny part of its media push. Amazon dominates the voice-assistant market, per eMarketer, which is skyrocketing in use amongst millennials.
Amazon's Echo: 70.6%
Google Home: 23.8%
Everyone else: 6.6% (Lenovo, LG, Harmon Kardon and Mattel)
Why it matters: Voice adoption is exploding, and Amazon is light-years ahead of everyone else in this category. This year, monthly voice-enabled device usage is up 189% year-over-year in the United States.
What's next: The future of search is voice, images and video, so this could be the first big step in potentially putting a dent into Google's search dominance. Google is expected to take roughly 78% of search advertising and owns a majority of desktop and mobile search traffic.
4. The rise of "headline browsers"
A new paper from researchers at Notre Dame University, cited by Vice, finds that roughly 73% of posts on Reddit are voted on by users that haven't actually clicked through to view the content being rated. "Researchers identified signs of 'cognitive fatigue' in Reddit users most likely to vote on content. Online aggregation is then somewhat a function of mental exhaustion."
The data shows that many users are "headline browsers." A whopping "84% of participants interacted with content in less than 50% of their pageloads, and the vast majority (94%) of participants in less than 60 percent of their pageloads."
The trend exists on other platforms: 59% of links shared on Twitter have never actually been clicked, according to a Columbia University and French National Institute study cited by The Washington Post.
Why it matters: People trust their friends to affirm what's real and legitimate more than news brands themselves. A study earlier this year by the American Press Institute and the Associated Press-NORC Center for Public Affairs Research found that people are most likely to share a news article that comes from a family member or friend than a brand or news outlet.
5. Antitrust goes global in major ad markets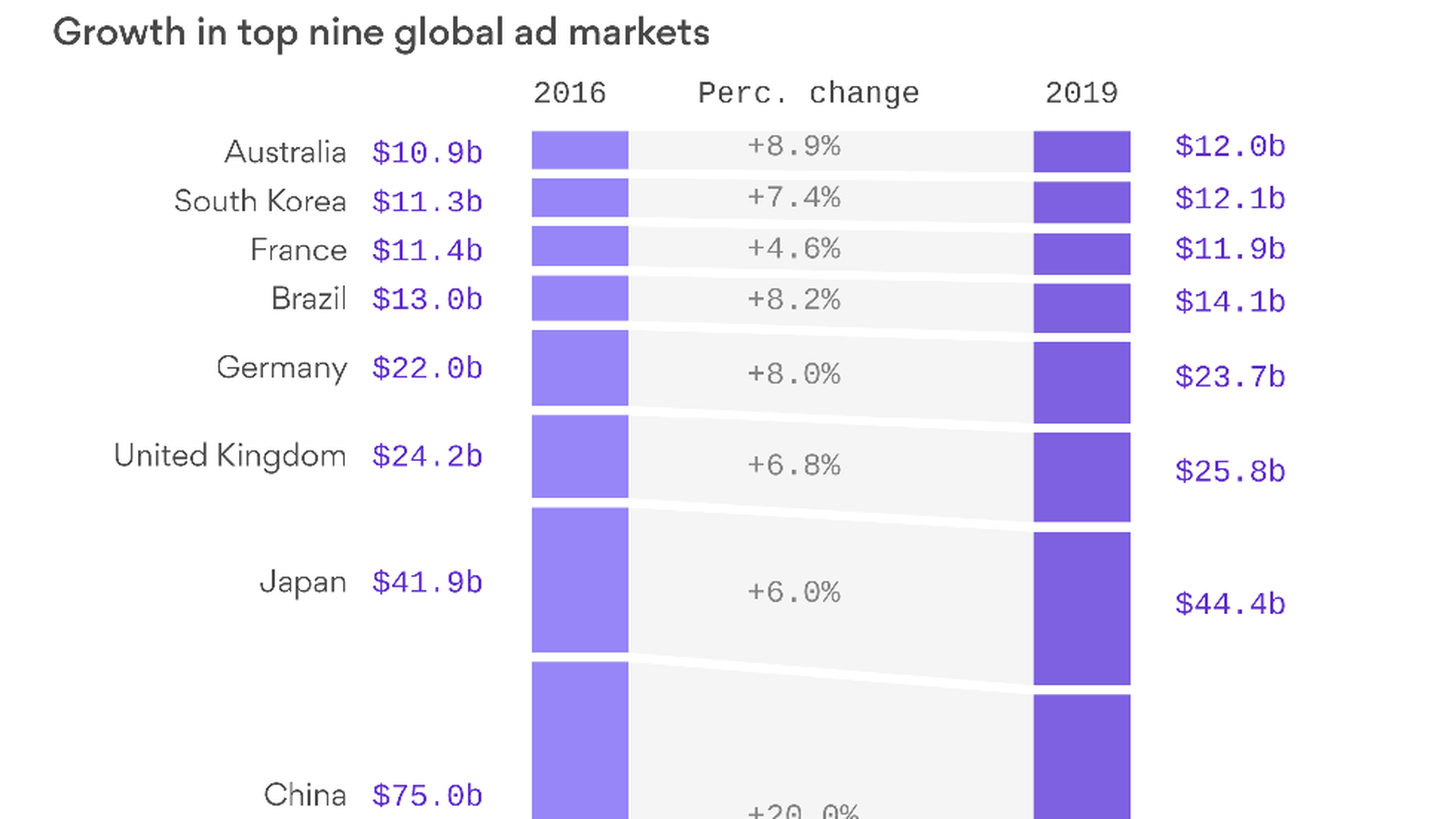 Australia is the latest major ad market to launch an antitrust probe into the dominance that is big U.S. tech. Its competition regulator said Monday that it would investigate whether Facebook and Google "have disrupted the news media market to the detriment of publishers and consumers," per Reuters.
It follows Japan and the E.U. in efforts this year to curb the dominance of the likes of Google, Amazon and Facebook.
Why it matters: All of the most sophisticated ad markets in the world are very publicly tackling tech antitrust, except for the U.S., which has seen a significant portion of its ad revenue and e-commerce move to Google, Facebook and Amazon.
Go deeper: Professor and author Scott Galloway, one of the biggest thought-leaders on the business of big U.S. tech companies, gave a scathing presentation at Business Insider's Ignition conference last week on why "The Big Four" — Amazon, Apple, Facebook, and Google — should be broken up. "Our democracies are breaking down because these companies have gotten too powerful," Galloway says.
6. Brand safety's dark, twisted nightmare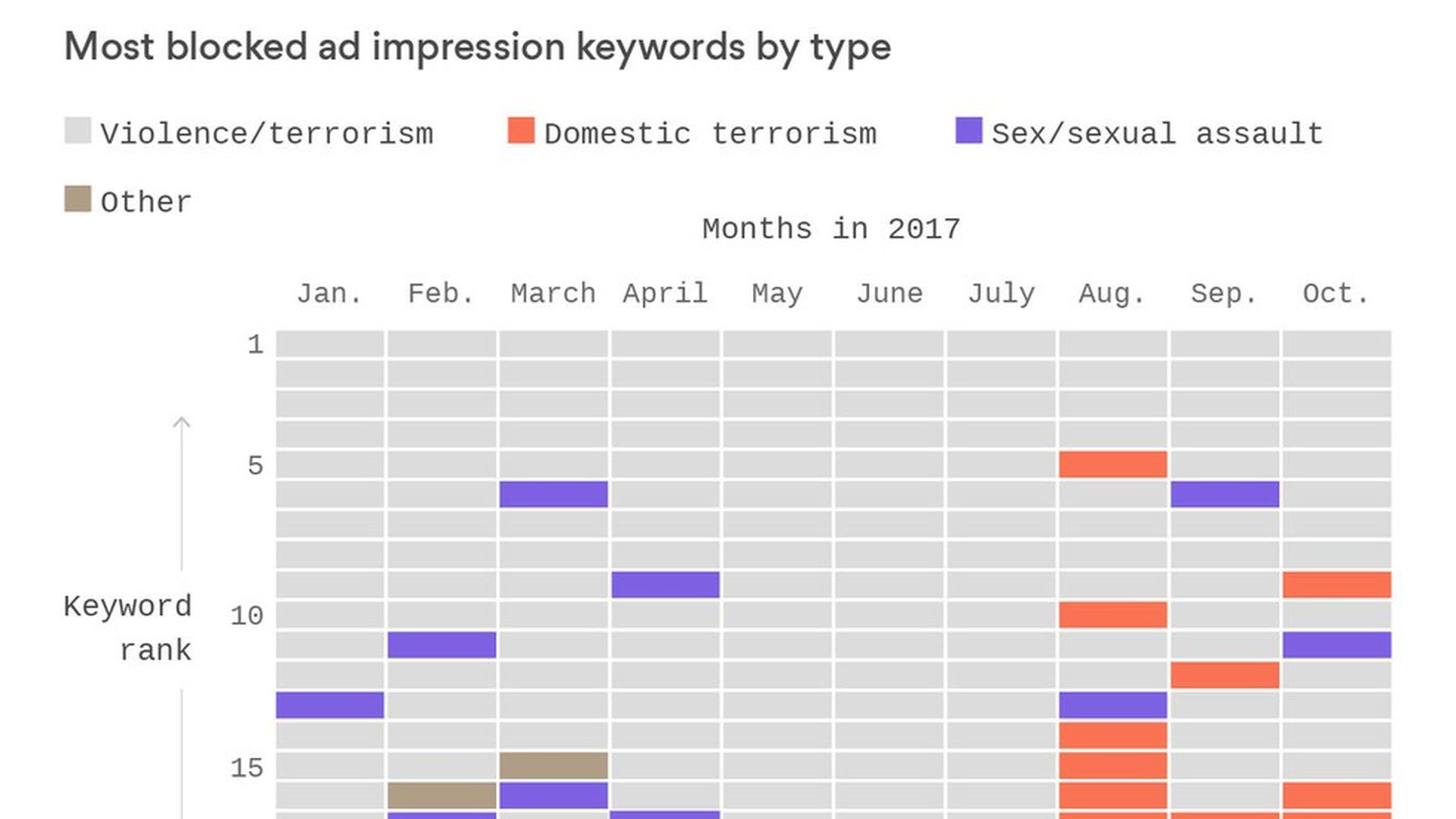 Last week, Axios' Kim Hart and I wrote about America waking up to the dark side of the internet.
Bad actors abusing the open web with terrorism content and violence are not only challenging our conventional notion of the benefits of the internet, but also forcing regulators to revisit outdated Internet policies.
An analysis of the 20-most blocked keywords monthly from January to October of this year via data from Integral Ad Science shows that marketers are most concerned about gruesome, violent content, like mass shootings, bombings and explosions.
Keywords blocking marijuana seem to have decreased in the ranks amid crises flooding the news cycle, like multiple terror attacks, bombings, and mass shootings.
References to domestic related events, like "Las Vegas," "Mandalay Bay," and "Charlottesville" were commonly blocked in August, September and October.
7. Startling stats
By the numbers:
Google hopes to hire at least 10,000 human content reviewers to review mostly bad YouTube videos in 2018, YouTube CEO Susan Wojcicki wrote in a blog post Monday.
Facebook said in May it would hire an additional 3,000 human moderators on top of its existing 4,500. It said it would hire another 1,000 after Russian meddling came to light on its platform in October, bringing the total to 8,500.
There are 40,090 reporters and correspondents employed in the U.S., according to the Bureau of Labor Statistics' latest estimate (May 2016).
9. 1 fun thing: Top tweeters
Twitter has released its end-of-year best of Twitter data. Here are the top-tweeted news outlets and the top-tweeted journalist and/or commentator at each:
@FoxNews - @SeanHannity
@CNN - @JakeTapper
@NYTimes - @MaggieNYT
@MSNBC - @JoyAnnReid
@WashingtonPost - @Fahrenthold
@TheHill - @JoeConchaTV
@NBCNews - @BraddJaffy
@ABC - @GStephanopoulos
@POLITICO - @ddiamond
@AP - @ZekeJMiller