Axios Media Trends
November 27, 2018
Thanks for subscribing to Media Trends. Tell friends to follow along by signing up here.
Situational awareness: Fox News' new streaming service "Fox Nation" launches today. The New York Times calls it "The Netflix for conservatives." Go deeper.
1 big thing: Misinformation bots, smarter than we thought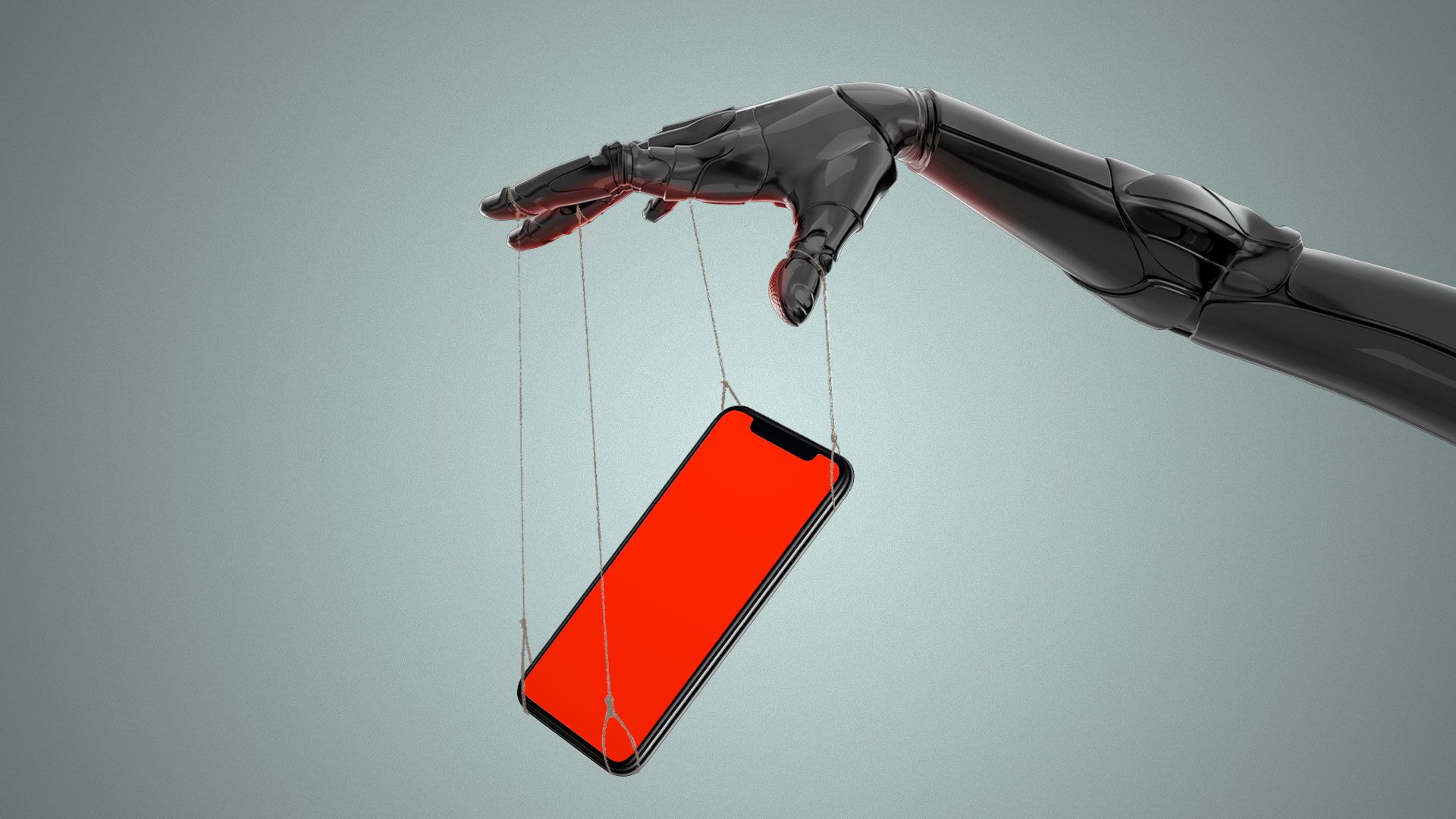 Misinformation bots are increasingly deploying more sophisticated techniques to game social media platforms, even as the platforms are making changes to weed them out, according to new studies.
Why it matters: Most Americans say they can't distinguish bots from humans on social media, according to a recent Pew Research Center survey.
Driving the news on bots:
Focus on speed: The spread of low-credibility content by social bots happens very quickly, according to a new study from Indiana University published in Nature Magazine. The study suggests that bots amplify questionable content in the early spreading moments before it goes viral, like the first few seconds after an article is first published on Twitter.
Using specific targets: Bots target specific social influencers, who are more likely to engage with bots, according to a new study from the Proceedings of the National Academy of Sciences (PNAS). This elevates content more quickly than if it were to be exposed to everyday users or other bots and suggests that bots are more strategic in who they target than previously thought.
Elevating human content: Bots aim to exploit human-generated content, because it is more prone to polarization, according to the PNAS study. "They promote human-generated content from (social) hubs, rather than automated tweets, and target significant fractions of human users," the report said. This helps social bots accentuate the exposure of opposing parties to negative content, which can exacerbate social conflict online.
Targeting original posts, not replies: Bots spread bad content that is created through an initial tweet or posting, according to the Nature study. "Most articles by low-credibility sources spread through original tweets and retweets, while few are shared in replies," per the study. "This is different from articles by fact-checking sources, which are shared mainly via retweets but also replies."
Gaming metadata: Bots are using more metadata to mimic authentic human engagement, not just the way that humans post, according to a new study from Data & Society. As platforms get better at detecting inauthentic activity, bots are using metadata — photo captions, followers, comments, etc. — to make their posts seem more human-like.
Social platforms have been trying to reduce the content-elevating signals that are easily gamed by bots. Twitter, for example, has made follower counts appear less prominent on its iOS app by making the font size smaller in a new redesign effort, per The Verge.
What's next: The best way to tackle the problem at scale is by identifying the source of inauthentic behavior, says Joshua Geltzer, executive director of Georgetown University's Institute for Constitutional Advocacy and Protection.
"Although it's improved over the past two years, there needs to be an even better collaboration between the government and the private sector about detection of bad activity in the early stages. While the government doesn't normally share this type of information with the private sector, they should be doing so in order for platforms to act on it and vice versa."
— Joshua Geltzer
Go deeper: Fake News 2.0: The propaganda war gets sophisticated
2. Gut check: Most internet traffic comes from bots
More than half of internet traffic is bots, but an increasing number of internet bots are being developed to game social platforms.
Not all bots are bad. (Some, for example, are used to make our search experiences more accurate.) But the bots used to spread fake news are usually bad, and bad bots make up roughly one quarter of internet traffic.
Bots are programmed to perform simple internet tasks repeatedly. On social media, such tasks include liking or retweeting certain content to falsely inflate its authority on the internet.
3. Facebook's global trust crisis comes to a head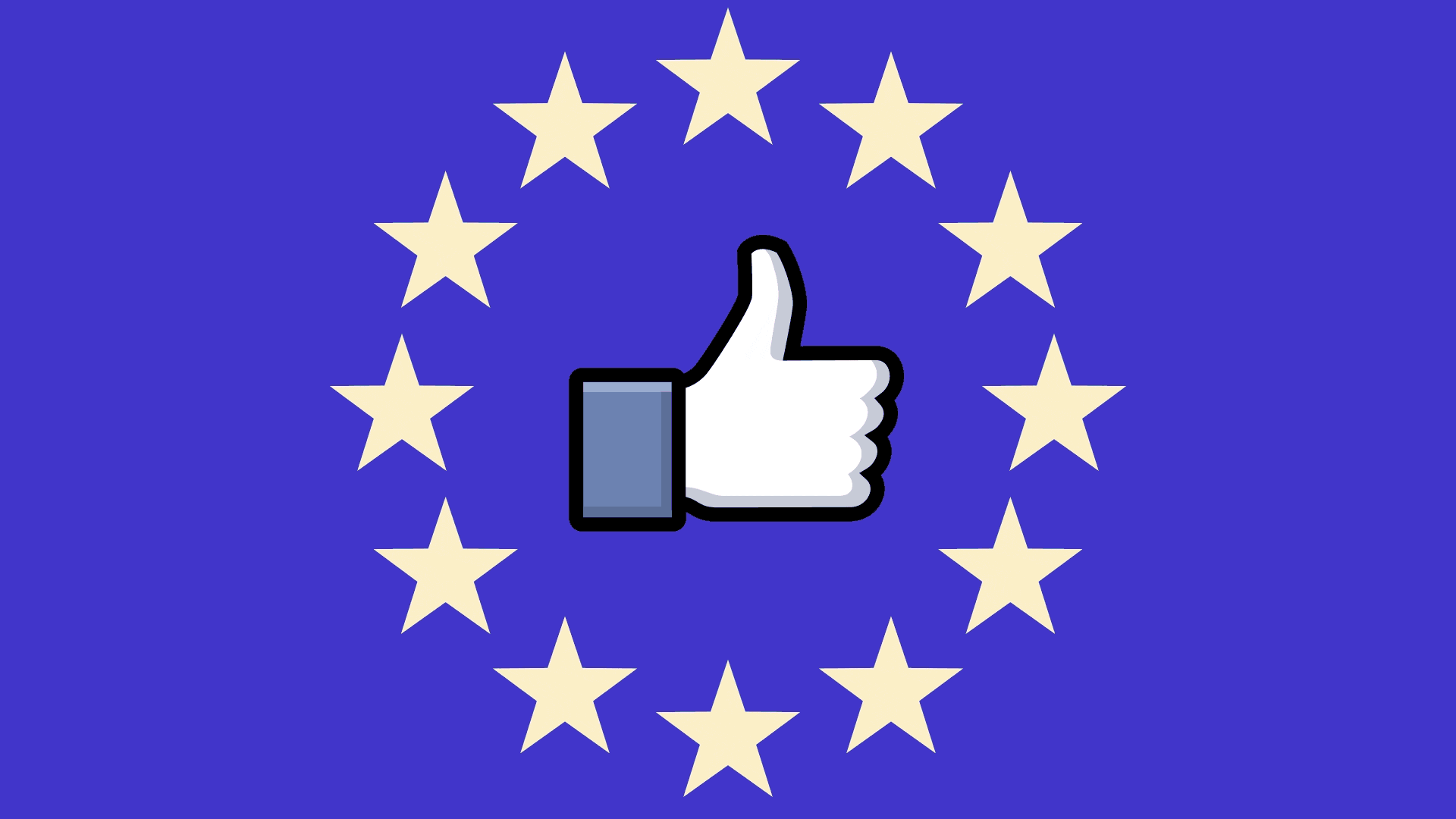 Facebook is under intense political pressure around the world, with hearings on both sides of the Atlantic today that challenge its commitment to treating users fairly.
Why it matters: Facebook's year of controversies in the U.S. still isn't over, and it might be the beginning of many more to come abroad.
In the U.S.: Lawmakers will push members of the Federal Trade Commission today to provide details of their investigation into whether Facebook's handling of the Cambridge Analytica data leak violated a previous legal settlement with the agency, per Axios' David McCabe.
In the U.K.: Meanwhile across the Atlantic, Facebook's Richard Allan faces policymakers from around the world who are part of a British parliamentary effort to question the company over a variety of issues.
Between the lines: What's happening today in the U.K. is highly-unusual and noteworthy.
The documents: Over the weekend, the U.K. Parliament seized internal Facebook documents in an unusual move aimed at answering questions it feels the company has been dodging. The files reportedly contain "significant revelations" about Facebook decisions on data and privacy control, per the Guardian. But the story of just how Parliament got the documents is crazy, no matter what the papers actually show. (You can read about that here.)
The global probe: Facebook has been dodging this hearing for a while. And now, lawmakers from nine different countries around the world will be present to grill Facebook's European policy chief, including Argentina, Belgium, Brazil, Canada, France, Ireland, Latvia, Singapore and the U.K.
"While we were playing on our phones and apps, our democratic institutions... [were] upended by frat boy billionaires from California," said Charlie Angus, the vice chair of a top privacy committee in Canada, who criticized Zuckerberg for his decision to "blow off" the hearing." (Washington Post)
Be smart: It's unusual for countries from four different continents to band together in an effort to hold a U.S.-based company accountable for its actions in this way. The move suggests that Facebook's public relations crisis in the U.S. is spilling over globally.
Go deeper... 'Generally amoral': Facebook's 6 million advertisers will keep it afloat no matter the scandal, via Digiday's Kerry Flynn.
4. More people are into fashion, but fewer inspired by legacy pubs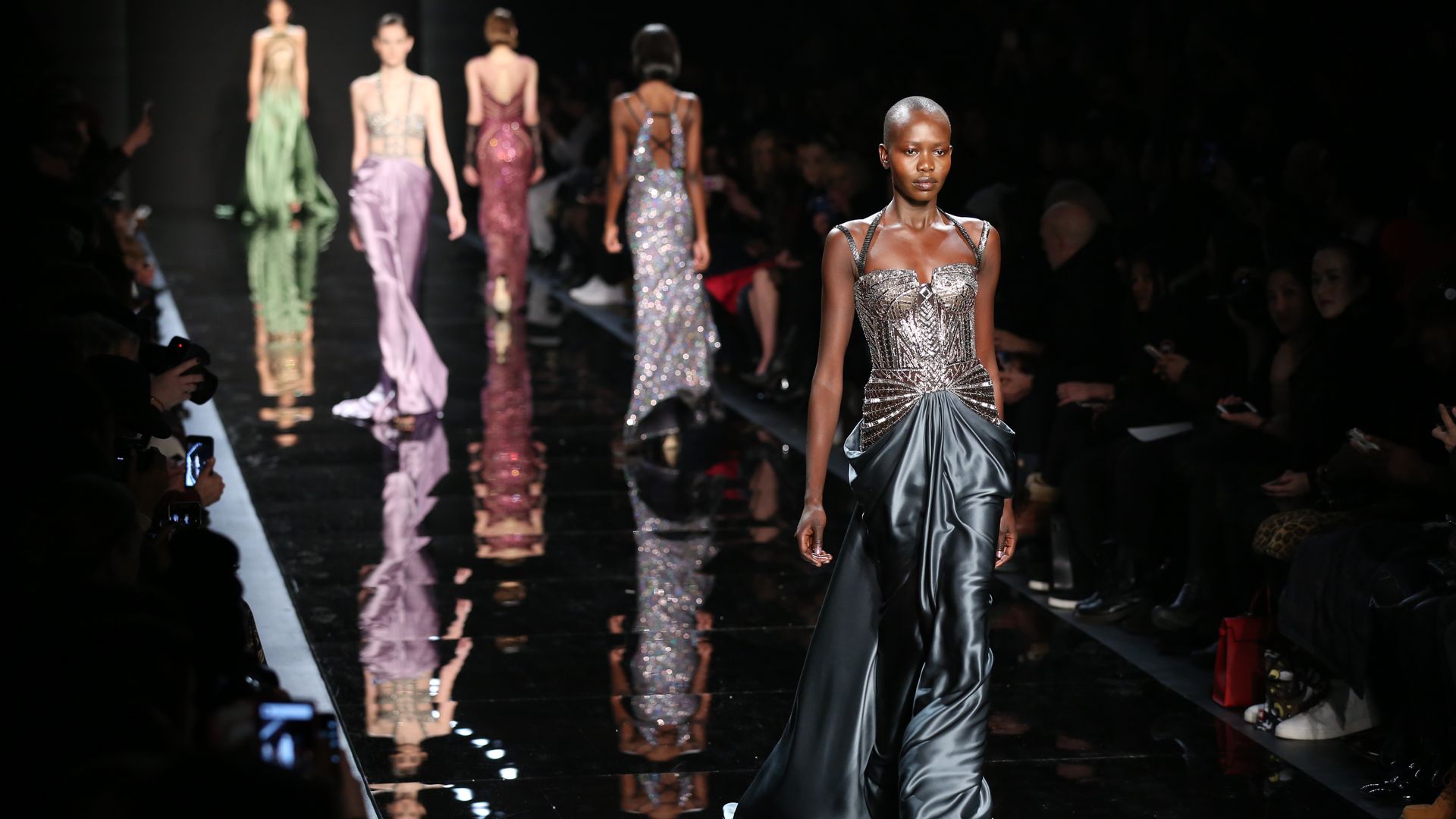 Glamour, the decades-old fashion and beauty magazine owned by Condé Nast, announced last week it was ending its regular print publication.
It's the latest fashion rag to shutter or reduce its print edition, or consolidate its operations, in the wake of a digital media transformation.
Why it matters: Fashion and beauty media has been hit particularly hard by the transition to digital, in part because newer bloggers and digital upstarts have been able to develop deeper relationships with consumers using direct-to-consumer products and influencers on social media that seem more authentic.
By the numbers: According to data from consumer intelligence research firm CivicScience, more people are interested in fashion trends, but fewer trust the legacy fashion media as sources of inspiration.
"Over the last few years, we've seen an increase in people who are into fashion in any capacity," says Casey Taylor, a VP at CivicScience. "But those who seek out fashion inspiration from traditional sources (magazines, TV and film, blogs / sites) has stayed completely flat for the last 4 years (all of those sources hover around the 8%-12% mark)."
Driving the news: In the past year, several legacy fashion magazines have either ceased print editions or reduced frequency, including Glamour, Self, Teen Vogue, W, Brides and more. Most are putting more efforts into digital alternatives, like video and social media, but even there the competition is fierce and growing.
Digital upstarts that sought to replace traditional fashion brands online, like Refinery29, Racked and PopSugar, gained popularity quickly at the peak of Facebook's publishing algorithm in 2015 and are still big, but are now struggling in a post-Facebook world.
Smaller niche properties, like Man Repeller, The Cut, The Business of Fashion, and Into the Gloss (Glossier's media outlet) have been more successful in developing direct-to-consumer relationships, launching digital subscription products and commerce lines.
And now most brands, like J. Crew and Tory Burch, have their own media blogs to develop close relations with consumers online.
5. Live sports battle royale
Media rights are the biggest sector within the sports industry in North America, according to a new report from PwC.
Amid a flurry of increased digital competition for rights, they are expected to be the fastest growing,
Between the lines: More digital streamers are vying to win the rights to lucrative sporting events, many of which are up for renegotiation over the next few years.
CNBC reported last week that Amazon has tossed a bid into the ring for Disney's 22 regional sports networks. It comes amid a broader push by the tech giant to win live sports rights, like its Thursday night NFL streaming deal.
John Skipper, who resigned as head of ESPN late last year, is back and looking to build a new global sports media giant in the U.S. called DAZN. Last week DAZN announced a deal with Major League Baseball that will allow it to show live look-ins throughout its prime-time programming in the U.S.
Yes, but: As Bloomberg's Gerry Smith notes, "Sports is moving to the internet. But the internet still isn't ready for sports."
Last week, "AT&T Inc. was forced to make a pay-per-view golf match between Phil Mickelson and Tiger Woods free to watch on Friday after suffering a glitch processing customers' online purchases."
"In August, Amazon had problems live streaming the U.S. Open for U.K. viewers, with fans complaining about poor picture quality and functionality.
"In July, YouTube's TV service crashed while England and Croatia played in the World Cup semifinals."
"In February, some Hulu viewers got error messages during the final moments of the Super Bowl.
The bottom line: Digital streamers want to win sports rights to lure customers, but they're going to have to prove that their service will be a better live experience than linear television.
6. The appeal of regional sports networks
The top 10 most expensive cable affiliate fees in the U.S. last year were all sports channels — mostly regional sports networks (RSNs) — with ESPN being by far the most expensive, per SNL Kagan data provided to Axios.
The big picture: They're expensive because the bulk of their content comes from licensing sports rights, which as noted above, are getting more expensive.
So why would Amazon want to get into such a business?
To bolster Prime membership: Per The New York Times' Edmund Lee: "At a time when pay TV is in decline, sports content drives viewership across platforms. Owning rights to big franchises would help Amazon market its Prime program (which costs $119 a year), especially if that membership included access to those games. That, in turn, could add more revenue, as Prime members tend to buy more on Amazon."
It's easier than going directly to the sports leagues: Per BTIG Managing Director and Media Analyst Rich Greenfield in a note to clients: "While ultimately tech platforms could simply buy local rights directly from leagues/owners, the quickest way to enter the local/regional sports licensing game could be through the acquisition of RSNs."
7. Latin America has a big internet problem
A new report from Cisco forecasts an alarmingly slow internet traffic growth rate for Latin America, especially when compared to the other lagging regions, like the Middle East and Africa.
Why it matters: Latin America's slow internet growth will make the adoption of digital technologies, like streaming, more difficult, as companies like Netflix and Amazon try to push more aggressively into the region.
Details: Latin America is behind its competitors in Europe, North America and Asia in offering more public wi-fi access points and home broadband access, per Cisco's latest Visual Networking Index (VNI).
As a result, IPv6 (the most recent version of the Internet Protocol) total internet traffic in Latin America is expected to grow slower than the compound annual growth rate (CAGR) globally.
And at a 63% CAGR, it is the only region that's expected to grow more slowly than the global CAGR for internet traffic, which is 77%. By comparison, the Middle East and Africa are expected to grow at a 96% CAGR. More saturated regions, like North America and Asia-Pacific, are expected to grow at a 79% CAGR.
Between the lines: When it comes to internet speed, Latin America is far behind all other regions and will continue to lag over the next five years, per the report.
Be smart: A weak regulatory framework for increasing connectivity is likely to blame for this gap, according to Cisco senior director of technology and spectrum policy Mary Brown.
"If I were a regulator in Latin America, I'd be looking at this data with some degree of concern. Because Latin America is not doing what the Middle East and Africa are doing, which is using regulatory frameworks to create more internet competition."
— Brown
8. 1 fun thing: Disney's new Lion King trailer already going viral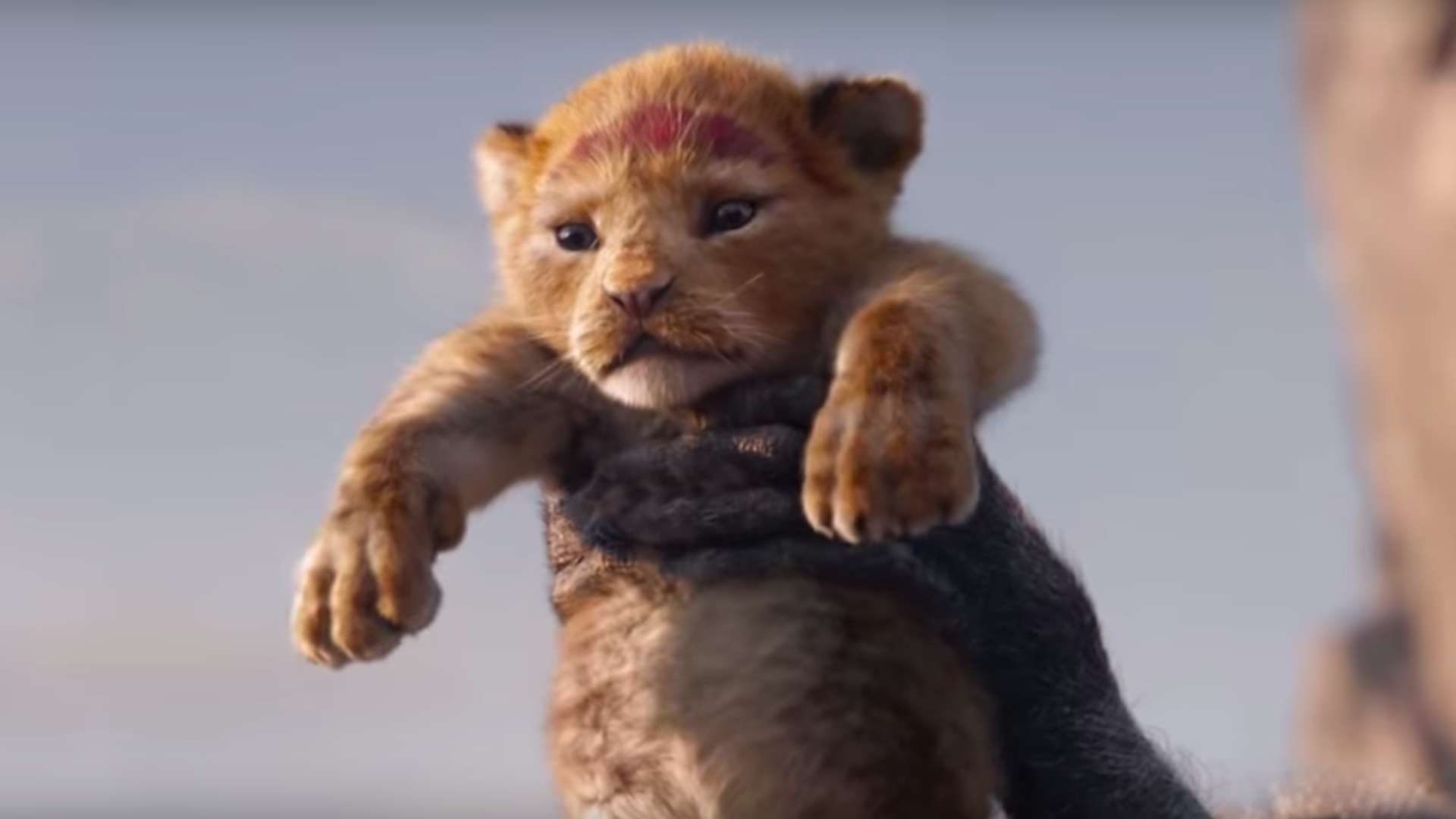 "Only 24 hours after posting the teaser trailer for the new live-action/CGI Lion King—on Thanksgiving no less—Disney already had a lot to celebrate. And the film doesn't even hit theaters until next summer," per Vanity Fair.
"In 24 hours, the trailer got 224.6 million global views, making it the second most viewed trailer from any studio in that time frame."