Axios Media Trends
November 16, 2021
Today's Media Trends is 1,495 words, a 6-minute read. Sign up here.
1 big thing: Big media strikes back at Substack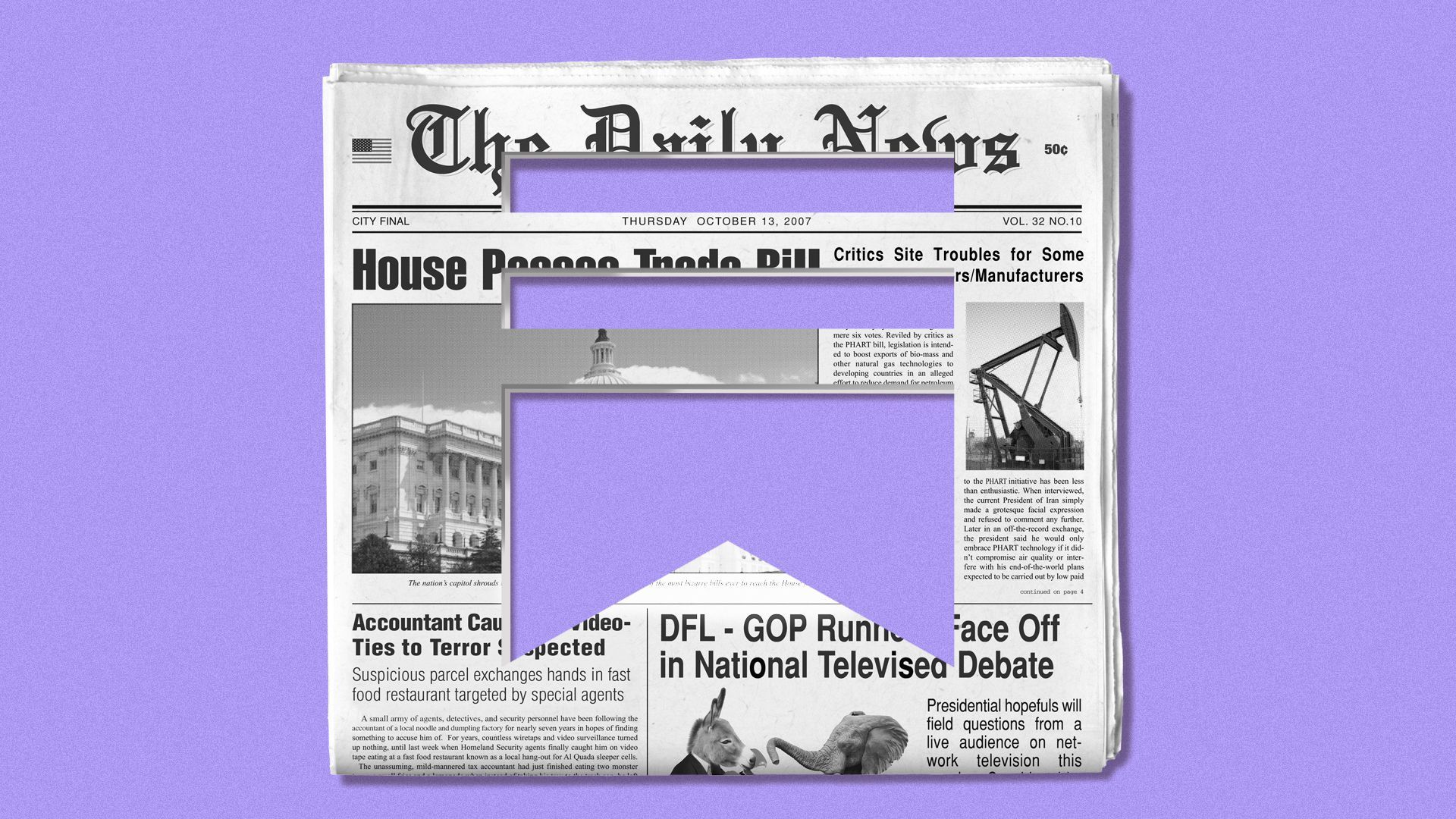 Pressure from new publishing platforms has finally pushed newsrooms to create programs that give writers more pay, autonomy and flexibility.
Those changes are attracting some independent writers back to traditional news companies, Axios' Nicholas Johnston and I write.
Why it matters: The Substack threat to newsrooms was overblown.
Newsrooms have been quick to react to the idea of the independent-operator model while journalists have been sharing its challenges or detailing why they decided to return to newsrooms.
The Information is in the early stages of launching The Information Newsletter Network, a platform to power independent newsletter writers.
"Everyone in publishing knows the hard part happens after you hit send," says CEO and founder Jessica Lessin.
The company's first member is Parqor from Andrew Rosen. Rosen's newsletter was previously on Substack.
The platform is "designed for subscription newsletters and the vast majority will be paid, but one of the next to launch is currently free and exploring paid related products," Lessin says.
Other news outlets like The Atlantic, The New York Times, Puck and Forbes are molding their strategies to meet the demand.
State of play: Substack said yesterday there are more than 1 million paid subscriptions to publications on its platform, up from about 250,000 in December 2020.
Bari Weiss, the former New York Times writer who left the paper, now makes roughly $800,000 on Substack.
Alex Berenson reportedly earns around $720,000 per year on Substack.
"Substack is way more reliant on political controversy," says Uri Bram, publisher of The Browser. Bram left Substack for publishing platform Ghost last year.
By comparison, a few top journalists that left mainstream platforms have recently revealed data that showed how building an audience on Substack can be more challenging than anticipated.
Eric Newcomer, a Bloomberg veteran, wrote last month he has 1,374 paid subscribers after one year on Substack. The "Newcomer" newsletter is one of the top technology paid publications on Substack.
Charlie Warzel recently wrote when he left Substack for The Atlantic that he accrued 1,600 paid subscribers since leaving The New York Times in April.
2. Audiobooks, podcasts gain share of listening time
New data finds the share of audio consumed by people ages 13+ in the U.S. that includes the spoken word — podcasts, audiobooks, live talk shows, etc. — has increased by 40% since 2014, while the share of music vs other mediums has decreased by 8 percentage points in that time.
Why it matters: Streaming has made it much easier for consumers to convert hobbies from the analog world, like listening to the radio or reading a book, to the digital world.
Data from NPR & Edison Research's latest annual "spoken word" report shows that much of the growth of spoken word audio is coming from outsized consumption among younger adults (13-34 year-olds) and multicultural audiences.
Driving the news: Spotify on Thursday announced it is acquiring Findaway, an audiobook distribution company.
The deal will scale Spotify's audiobook catalog and bring new features to Spotify that will enhance listeners' engagement with books, says Nir Zicherman, head of audiobooks at Spotify.
Spotify started out as a music platform, but has quickly become a leading distributor and incubator of podcasts through a series of acquisitions and significant financial investment.
3. Metaverse bull market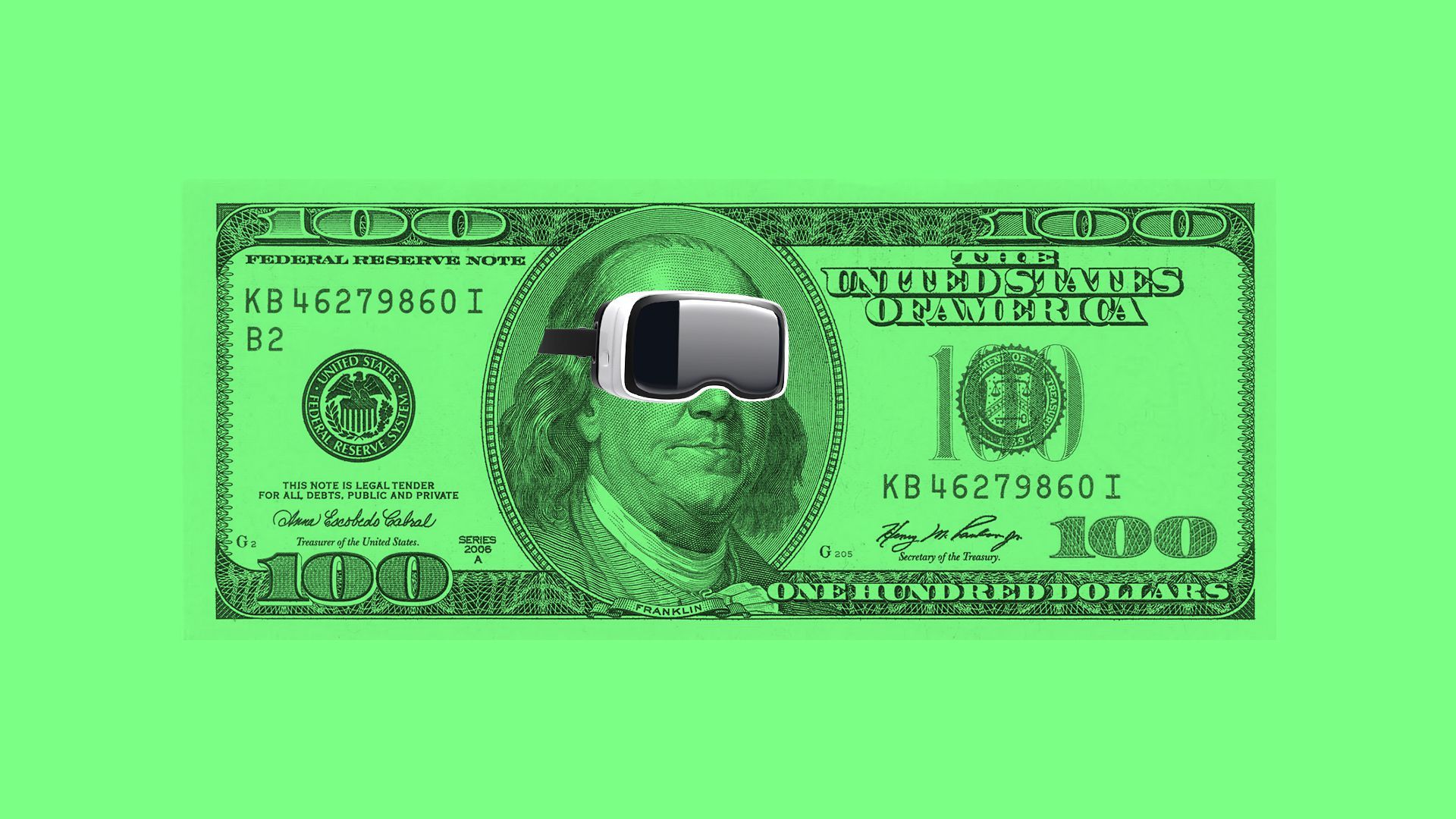 The promise of a "metaverse" is being used by companies across entertainment, tech and gaming to lure developers and get investors excited, Axios' Scott Rosenberg and I write.
By the numbers: The word "metaverse" has been mentioned 128 times so far this year during investor presentations, compared to just 7 times last year, according to data from corporate research company Sentieo.
The terms "AR or VR" were mentioned 991 times year-to-date, which is on pace with 2020 mentions, but nearly double the 547 mentions in 2015. 
Driving the news: Disney on Thursday shocked Wall Street by telling investors it hopes to connect consumers via "our own Disney metaverse."
Disney CEO Bob Chapek offered few details about the company's plan, but told CNBC in an interview that he aims to use Disney+ as a platform for the metaverse.
Facebook, Snapchat, Roblox, Epic Games, Nvidia, Microsoft and others are all building their own metaverse products.
Reality check: We're still many years away from any sort of shared 3D alternate reality achieving the kind of prevalence and utility of basic internet services today.
What to watch: The fight in the market will likely be over selling hardware — who's got the fastest headset or coolest spectacles with the longest battery life.
Go deeper: How all of the new metaverse pitches differ
4. Streaming growth stalls
Subscriber growth slowed last quarter for most of the major streaming services, prompting analysts to consider whether the subscription streamers are prepared to compete globally as the U.S. market saturates.
Why it matters: "Consumers sampled many different SVODs during the height of the pandemic. Churn is a challenge as consumers get back to a new normal routine," said Andrew Hare, SVP of research for global media & entertainment at media research firm Magid.
Disney last quarter added just 2.1 million subscribers globally, about 10 million less than the number it added the quarter before that.
Netflix's subscriber growth rate has fallen to the single-digit percentage points, after seeing growth rates in the 20% range all of last year.
Be smart: Data from Magid suggests the ceiling on subscription video is lower than many may think. The willingness to pay remains at four services for about $10 per streaming service.
What to watch: Consumer demand for free, ad-supported streaming services remains high, per Magid.
5. The media's epic fail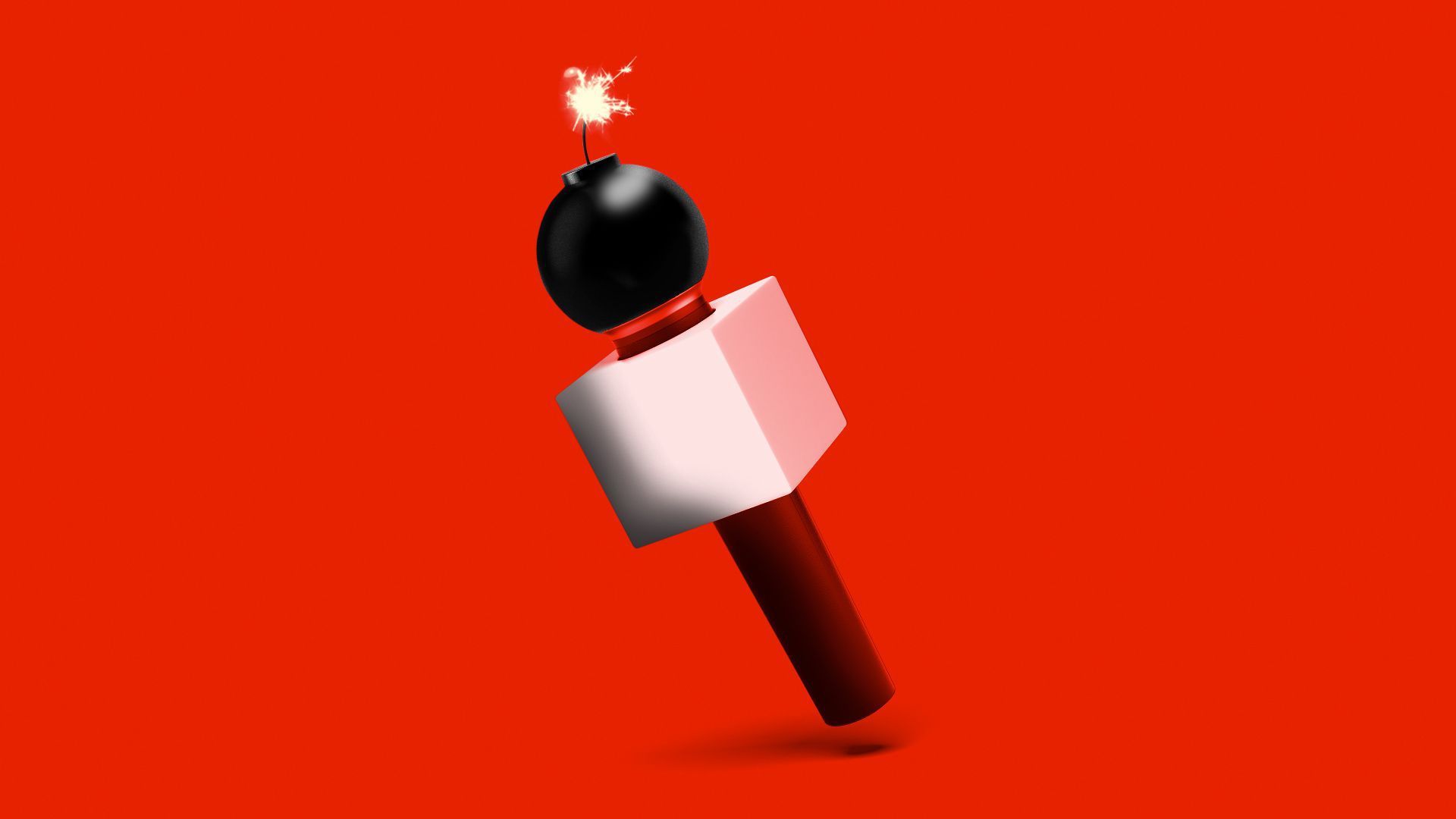 A reckoning is hitting news organizations for years-old coverage of the 2017 Steele dossier, after the document's primary source was charged with lying to the FBI.
Why it matters: It's one of the most egregious journalistic errors in modern history. The media's response to its own mistakes has been tepid.
Outsized coverage of the unvetted document drove a media frenzy at the start of Donald Trump's presidency that helped drive a narrative of collusion between former President Trump and Russia.
Driving the news: In wake of the key source's arrest and further reporting on the situation, The Washington Post on Friday corrected and removed large portions of two articles.
To The Post's credit, its media critic Erik Wemple has written at length about the mistakes made by The Post and others in their coverage of the dossier.
BuzzFeed News, which made waves in 2017 by publishing the entire dossier, says it has no plans to take the document down.
Ben Smith, who was BuzzFeed's editor-in-chief at the time and is now a media columnist at The New York Times, told Axios, "My view on the logic of publishing hasn't changed."
6. Ethnic media outlets sprout up in U.S. "news deserts"
Ethnic news outlets are filling a void in local news, and serving up coverage that seeks to rectify journalistic bias in story selection and how news is framed, Axios' Eileen Drage O'Reilly writes.
Systemic racism has played a role in the past, with prominent news organizations controlling the narrative, says Cheryl Thompson-Morton, director of CUNY's Black Media Initiative.
Black and bilingual newspapers, as well as magazines like Ebony and Jet, have rapidly declined or closed over the last decade, creating a new opportunity for startups to fill the void.
Ten Black newspapers created a new online collaborative this year, Word In Black, to "amplify the Black experience by reporting, collecting and sharing stories about real people in communities across our country."
The streaming service Canela Media, a minority- and female-owned digital media tech startup directed at U.S. Latinos, launched last year.
7. How to hit the top on each platform
The creator economy has produced thousands of social media entrepreneurs who have built mega-audiences in the millions — larger than many media companies.
Often, they operate in parallel universes, with little overlap between platforms, Axios' Neal Rothschild and I write.
Why it matters: What differentiates social platforms is no longer their features, but their values and communities.
What makes one person popular on one platform may not make them remotely interesting or influential on another.
For example: Fictional British sitcom character Mr. Bean is the 4th most popular page on Facebook, with 129 million followers. He has just 215,000 followers on Twitter.
Driving the news: According to an Axios analysis of the top 50 most-followed accounts on each platform, TikTok is unique in minting its own stars who don't blow up on other platforms.
The top five most-followed accounts on TikTok — Charli D'Amelio, Khaby Lame, Addison Rae, Bella Poarch and Zach King — do not rank in the top 50 of any other social media network.
The big picture: While there is some overlap across each platform, the very top performers tend to be widely different.
About half (123) of the top 50 accounts across all five platforms measured originate from the United States.