Thanks for subscribing to Media Trends. Tell friends to follow along by signing up here.
Mornin' from Vegas, where the hashtag #VegasBorn is trending as the Golden Knights become the first NHL expansion team to make the playoffs. I'll be interviewing HootSuite CEO Ryan Holmes about brand safety on social media at Adobe's annual Digital Marketing Summit, where partnerships execs from Twitter and Facebook are also slated to speak.
New to Axios: Our twice-weekly Axios newsletter, Codebook, launches today. Guru Joe Uchill (@JoeUchill) decodes the latest in cybersecurity, including policy & defense. Don't miss out.
1. Wild West of digital finally gets reined in
The Advertising Research Foundation will announce an initiative tomorrow to develop industry guidelines on consumer data privacy and protection. The move comes as regulators and consumers start to pay closer attention to data privacy and security in light of recent revelations about the abuse of user data on big tech platforms.
Why it matters: Obscure data practices have been used for years in the ad tech industry to monetize as much user data as possible. Efforts by industry groups and regulators to rein in those practices could have a significant impact on the way advertisers spend their marketing budgets online.
A recent eMarketer poll suggests that the percentage of ad spend that will go to Facebook and Google this year will decline.
Facebook and Google will capture 56.8% of the U.S. digital ad market this year, compared with 58.5% last year.
Meanwhile, several big brands, like Subway and Procter & Gamble, say they are pulling back ad dollars from some of the bigger tech platforms, in a move of defiance.
The shifts could signal that marketers are ready to move dollars from open platforms that rely mostly on user-generated content to companies with tighter content scrutiny, like Apple, Amazon and Snapchat.
Go deeper: Investor and consumer confidence dips in wake of the scandals.
2. Washington and Brussels get fired up
Lawmakers are calling on the CEO's of Google and Twitter to testify before Congress on April 10, as well as Mark Zuckerberg.
But the biggest threat of action will likely come from regulators at the Federal Trade Commission (FTC), which is responsible for enforcement of privacy standards.
The FTC confirmed Monday that it has an open non-public investigation into the privacy practices of Facebook. While analysts don't think the body will fine Facebook out of business, it does put pressure on Facebook and its competitors to be transparent about any past data privacy abuses and to comply with Europe's sweeping privacy regulations that take effect in May.
Meanwhile, sirens are going off in Europe. Regulators are threatening that the EU is considering breaking up Google. "We are not there yet but it is important to keep an awakened eye," EU Competition Commissioner Margrethe Vestager told The Daily Telegraph Monday.
Go deeper: How digital advertising became a total mess 
3. Global digital ad spend keeps going up
Despite market hype about user privacy and brand safety in digital advertising, marketers around the globe are still pouring more money into digital advertising.
Global ad agency Zenith forecasts that advertisers will spend 40.2% of their budgets on online advertising this year, up from 37.6% in 2017.
"Zenith has found no evidence that advertisers as a whole are shifting budgets away from online advertising – in fact, its share of global advertising expenditure continues to rise rapidly," the report finds.
Zentih suggests that growth in digital advertising over the next four years will be driven mostly by the U.S. and China. Developing countries, particularly in Southeast Asia, will also contribute to digital growth, mostly via mobile.
4. NEW: Survey data shows users aren't hot on Snap
Despite dodging scandals around fake news and user privacy, only than one third of U.S. adults surveyed have a favorable view of Snapchat, according to new Axios/SurveyMonkey polling. By comparison, an overwhelming majority of adults have a favorable view of YouTube.
Celebrity effect? Chrissy Teigen Bails on Snapchat, and Snap Stock Sinks
5. The new internet economy looks a lot like TV
Groups of internet websites are forming in clusters so that they can share resources and leverage their collective size to negotiate better deals with digital content distributors and offer better advertising solutions.
The latest: Bustle Digital Group announced yesterday that it is acquiring The Zoe Report from Rachel Zoe, Inc., a popular fashion and lifesytle brand for young women. Bustle CEO Bryan Goldberg says they are planning more acquisitions in the future.
Why it matters: The holding groups in some ways mimic the way cable channels joined together decades ago to create mega-networks (Turner, Viacom, etc.) that could be used to negotiate more powerful distribution deals with TV content distributors, like cable and satellite companies.
Some of the new digital networks that have formed over the last few years:
Some networks, like CBS and NBCUniversal, also own and/or invest in a handful of digital media sites. CBS owns sites like CNET and TV Guide. NBCUniversal has partnered with Refinery29 on content and invested in sites like BuzzFeed, Vox Media and Axios.
Editor's note: This piece has been corrected to show that NBCUniversal has partnered with Refinery29 on content, not invested in the brand.
6. FX boss: Some consolidation could kill good content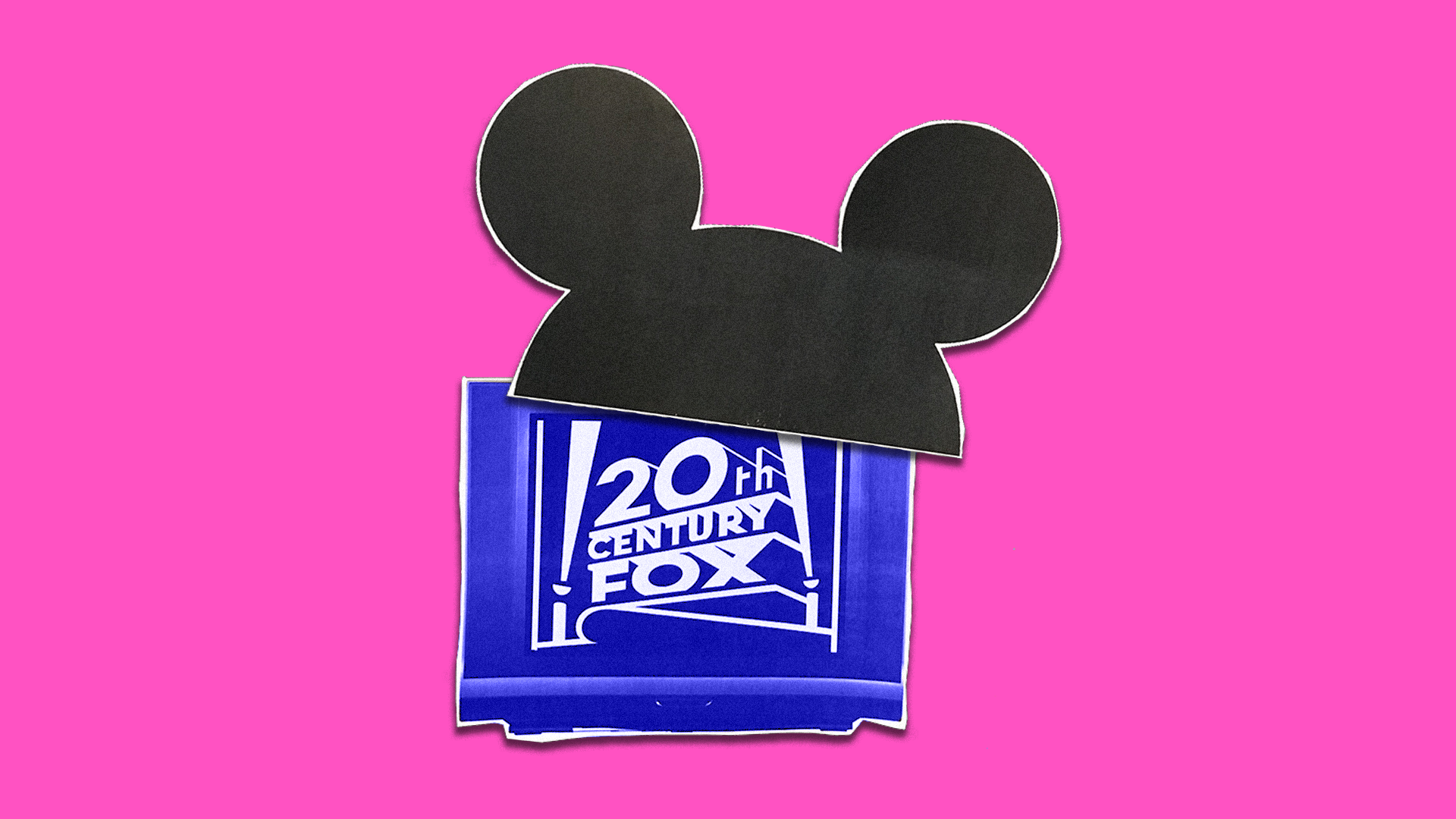 John Landgraf, the CEO of 21st Century Fox-owned cable network FX and FX Productions, which produces hits ranging from It's Always Sunny in Philadelphia to The Americans, tells Axios he's worried that media consolidation with other industries (tech, telecom, etc.) could lead to less quality storytelling.
"If Fox and Disney don't merge, I think existing TV brands have a pretty uncertain future," says Landgraf.
"There's a possibility that in the aftermath of a merger between Disney and Fox that (the combined company) will be the only free-standing company started by a storyteller — Walt Disney—- that's large enough to be at scale to compete. Every other company will be owned by a phone company or cable company or internet platform."
"There's a special status that storytellers hold inside these creative companies. We have decades or sometimes upwards of 100 years of experience nurturing stories and I worry about the future of fictional storytelling, to be honest, in an environment where it's farther down the scale of priorities. I'm not saying it's a non-priority, it's just not the number one priority to a company like Google or Facebook and I worry about that."
Meanwhile ... A contentious start to the AT&T/Time Warner trial suggests there's no sure bet that consolidation will continue to happen, anyway. Axios' David McCabe takes you inside the drama in courtroom, where Dish Network executive Warren Schlichting became the second DOJ witness Monday to say the merger would hurt his business. (Cox Communications argued this last week.)
7. Exclusive: Ad upgrades are taking hold
Roughly half of digital display ads (on mobile and desktop) aren't viewable, meaning they aren't actually seen by real people even though advertisers pay for them to be. Instead, they are "viewed" by bots or they don't load properly.
But, there's good news: According to Integral Ad Science's 2017 H2 Media Quality Report, out later today, efforts to make ads more viewable on both desktop and mobile have improved over the last six months.
Between the first half of 2017 and the second half of 2017, viewability increased across desktop display and video formats, as well as mobile web.
U.S. desktop display viewability increased by roughly 1% from 53.6 to 54.7.
U.S. desktop video viewability increased by 12.9% from 57.8% to 66.3%.
U.S. mobile web display viewability increased by 6% from 43.9% to 49.0%.
Note: Mobile App viewability methodology changed and therefore cannot be accurately compared to previous reports.
Why it matters: This improvement reflects the heavy pressure big brands are putting publishers and tech providers to take action and improve ad quality.
8. Streaming bumps music revenues back to CD-ROM era levels
Revenues from recorded music in the U.S. increased materially for two years in a row for the first time since 1999, according to a new Recording Industry Association of America 2017 year-end report.
Why it matters: The growth is being driven by increases in new subscription-based streaming services, like Pandora Premium and iHeartRadio All Access, as well as the growth of older subscription music services, like Apple Music, Spotify, Tidal, and others.
Overall, the number of paid subscriptions grew 56% to average 35.3 million for the year for full on- demand services, compared with 22.7 million in 2016.
Those subscriptions drove a 16.5% increase in retail sales to $8.7 billion.
But, but, but: Subscription revenues are not a finite opportunity (most people only subscribe to one subscription music service), so music streamers are now looking for ways to beef up their ad technology to make more money from serving users as on their tiered or free platforms.
Go deeper: Pandora and Spotify battle for advertising revenue
9. Publishers get cornered by GDPR compliance schemes
Google will ask web publishers to obtain consent on its behalf to gather personal information on European users and target ads at them using, as a part of a plan to keep up with data-privacy rules in Europe, The WSJ reports.
At the same time, GroupM, one of the largest digital ad agencies, is preparing for GDPR by requiring publishers sign a data-protection contract, per Digiday.
"Any publisher worth their salt won't sign it."
— An industry executive about GroupM's contract.
Why it matters: Publishers are already struggling to manage confusing and difficult GDPR compliance procedures. Now, new contracts and partnership agreements that seem to be forced on publishers and are surfacing just two months before the law goes into affect, further complicating the process.
10. 1 healthy thing: Sports leagues pressured to cut junk food ads
A team of scientists is calling on sports organizations — including NFL and the Little League — to have healthier foods and drinks shown by their sponsors, in an effort to help cut childhood obesity, Axios' Eileen Drage O'Reilly reports.
Watching today: NBC will host its fourth annual Innovation Day at 30 Rock for top execs in marketing and advertising. We're told Jeffrey Katzenberg will share details about his new video upstart, Wndrco. Facebook is also expected to be a hot topic. Variety's Brian Steinberg (@bristei) will be in the room and is a good follow for updates.