Axios Media Trends
July 24, 2018
Thanks for subscribing to Media Trends. Tell friends to follow along by signing up here.
Primack's pod: Axios Business Editor Dan Primack officially launched his Pro Rata podcast yesterday, designed to help you get smarter, faster on the collision of tech, business, and politics in 10 minutes. Subscribe on Apple, Google Play, Stitcher, TuneIn, Spotify, iHeart, RSS.
1 big thing: Local sites rise as newspapers fall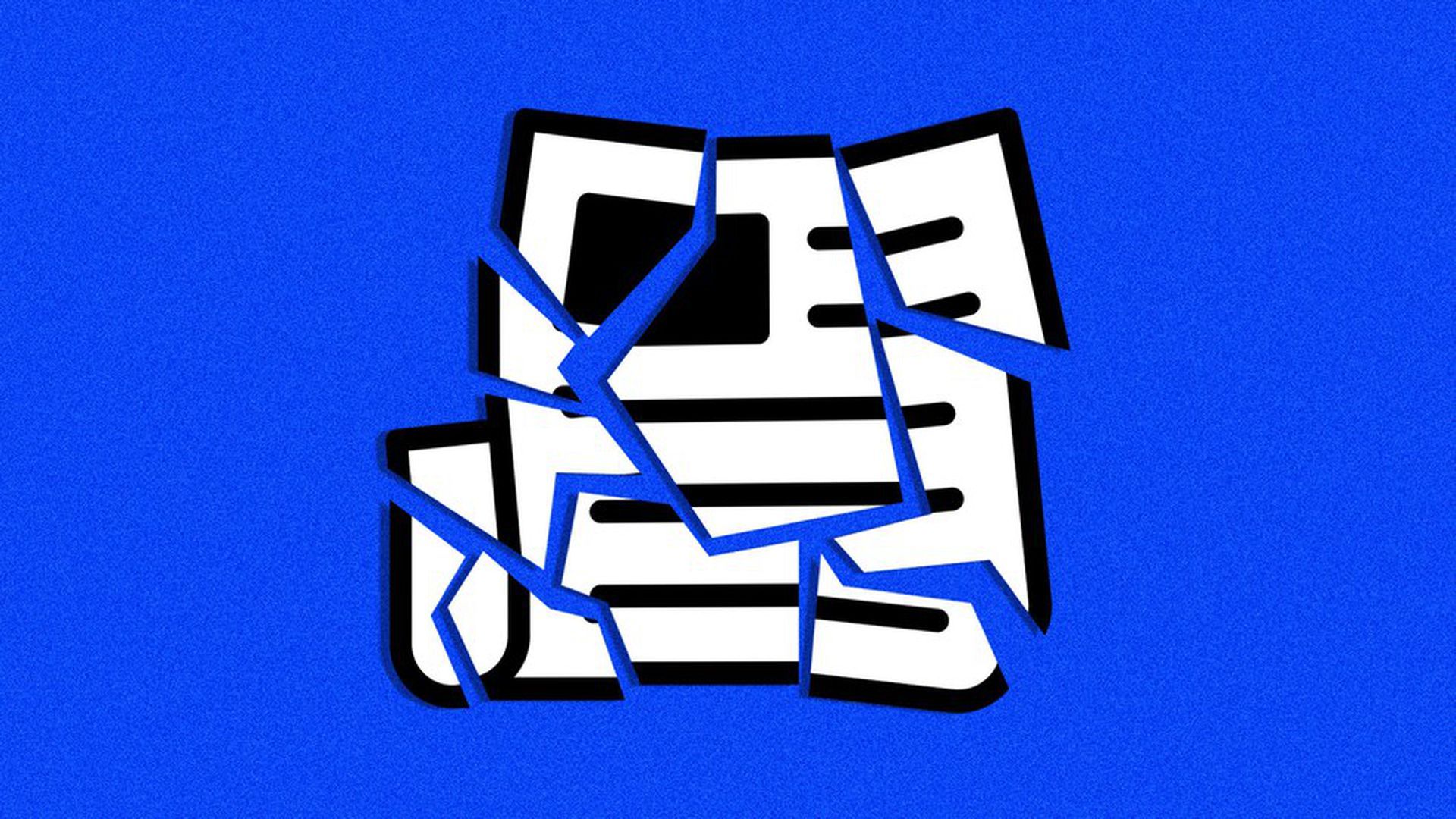 Digital-first local websites are starting to partially fill the void left by the slow death of local newspapers.
Why it matters: About a third of large U.S. newspapers have suffered layoffs since 2017, according to a new study from Pew Research Center.
Newspaper layoffs have accelerated over the past year as Canadian print tariffs continue to strangle local presses and economic pressures from tech companies continue to squeeze out ad dollars from legacy news organizations.
Most recently, New York Daily News announced it's letting go of roughly half of its editorial team.
Other Tronc-owned newspapers, like The Baltimore Sun and Chicago Tribune, are also expecting some layoffs, CNN's Brian Stelter reports.
"Our membership has doubled in the past two years. So we have 225 members. The Institute for Nonprofit News has experienced similar growth."
— Matt DeRienzo, executive director, Local Independent Online News Publishers (LION)
On top of that, DeRienzo says that the trade group has a database of 600+ of local online news sites that would qualify for membership to LION, meeting their requirements of doing real journalism and being independent — and they come across new ones every day.
The Local Media Consortium — which represents dozens of local papers and media companies, like The Seattle Times, The McClatchy Company and Cox Media Group — also says that it's seeing record growth for digital websites of newspapers, some of which are downsizing in print.
Local banner advertising revenue for LMC members (generated through the LMC Ad Exchange/Auction Package) has increased over 100% in the last three years, according to  2017 vs. 2016 LMC membership self-reported numbers audited by AAM, the Alliance for Audited Media.
The rise of niche, local sites: LMC CEO Fran Wills says there are also a lot of websites creating hyper-local news around certain interest areas, like sports and entertainment.
In the past, some of these sites would only be represented in perhaps a small newspaper section, but now they are becoming entire entities.
One example: Dawgnation.com is a niche sports site created by Cox Media Group for UGA football fans in the Atlanta/Athens area of Georgia.
The bottom line: While these efforts can't fully replace the thousands of journalists being displaced across the country, they are helping small communities access local news and information. In some cases, they are able to take coverage of certain small topic areas or communities to the next level.
Go deeper: Read the full story.
2. Facebook's roadmap for dodging free speech land mines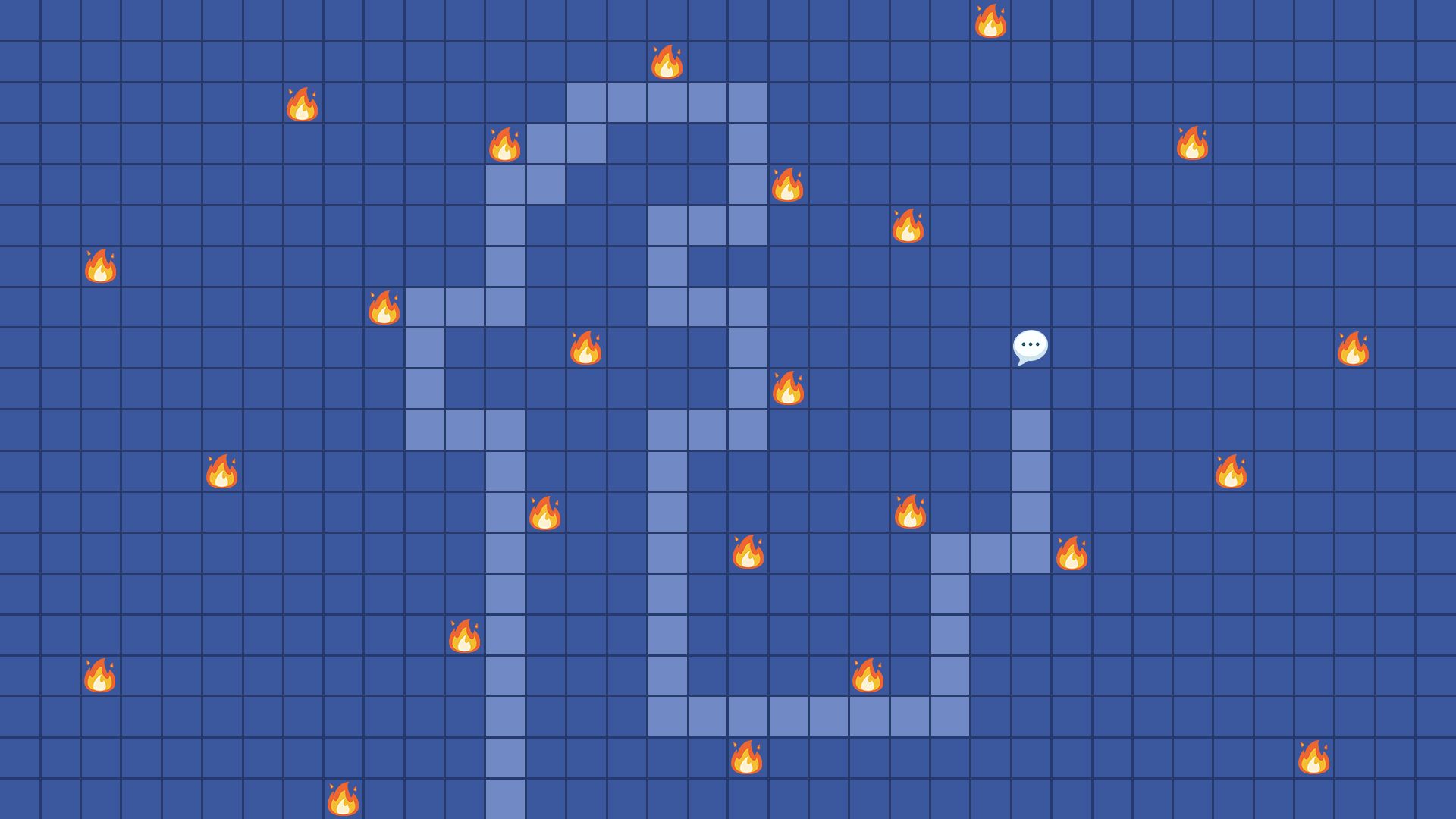 Experts argue Facebook could do a number of things to reduce fake news, but almost every option could hit its bottom line or would challenge CEO Mark Zuckerberg's long-term vision for the company.
Sources say that Zuckerberg prefers to manage the fake news problem through rational, careful experiments and modest changes. He often sees this as a public relations problem, not a foundational one.
But other Facebook executives are pushing for more radical changes, realizing the free-speech zeal that brought them fame and riches is causing constant and growing problems.
The most drastic changes Facebook could make to its policies include:
Removing news from the platform altogether.
Pre-approving content before letting users post it.
Removing all monetization efforts around news.
Some experts suggest more realistic options:
Ramp up its enforcement regime.
Draw tighter lines around what's considered harmful content.
Lower the threshold of removal.
Use stricter authentication of users.
Remove more financial incentives for spreading fake news.
Elevate brand presence around content.
Separate news from social media.
Go deeper: Read the full story.
3. Rise of encrypted messaging spurs fake news concerns
Messaging apps are becoming increasingly popular across the globe, often outpacing even the most popular social media apps in growth.
Why it matters: Experts worry they could pose an even bigger threat to fake news and misinformation than social networks because end to end communication is encrypted, and thus impossible to track.
Most of the world's biggest tech companies have a stake in messaging apps, or are building one.
Facebook owns the two biggest messaging apps in the world — Messenger and WhatsApp.
Tencent, the Chinese tech giant, owns WeChat and GQ.
Snapchat has over 190 million daily active users, most of which engage through its one-on-one messaging feature.
Amazon is reportedly building its own messaging service called Anytime.
Debate around misinformation within encrypted messaging apps, particularly in developing countries, has increased over the past year.
In India, one of WhatsApp's largest markets, leaders have blamed WhatsApp for spreading provocative content that they say has led to violence in the region. In response, Facebook has taken out newspaper ads to warn users how spot fake news in the app and said it would drastically limit forwarding across the globe to stop the spread of fake news, per Recode.
In Myanmar, Facebook says it's taking steps to reduce fake news that is inciting violence. In April, CEO Mark Zuckerberg said Facebook had added dozens of Burmese language content reviewers to monitor reports of hate speech and had "increased the number of people across the company on Myanmar-related issues," including a product team working on building tools to try to help stem the violence there, per The New York Times.
Researchers expressed concern last week on a conference call with reporters about being able to study misinformation on Facebook messaging apps because of its encrypted nature.
Jennifer Grygiel, assistant professor of communications at Syracuse University, argues that small product changes could be helpful in reducing fake news in densely populated, developing countries. She says:
"Facebook Inc. only recently added a label for WhatsApp forwards. This change is so simple and obvious that one has to wonder why it wasn't in place already ... Facebook Inc. also needs to seriously consider reducing the WhatsApp group audience size... [Facebook] claims that WhatsApp was designed as a private messaging app, but the current group limit is 256 people..."
4. Reality check on China's Big Tech
Silicon Valley's tech companies have a new argument in the unfolding debate over their size and power: We're better than the Chinese competition, Axios' David McCabe writes.
The big question: How long will those companies remain second to American ones?
From an advertising perspective, the answer is that some of the "Big Three" in China are now growing faster in ad revenue, the primary source of income for some of the biggest American social tech companies.
Driving the news: The China Internet Report, co-authored by South China Morning Post, Abacus News and 500 Startups, shows how China's big three companies — Baidu, Tencent and Alibaba — have grown across all industries. This includes ad-based media and communication industries, like social apps, messaging and video.
Takeaways from the report:
The Big Three are involved in almost every sector, but success is often contingent on government authority.
They are empowering rural communities to become connected. For example, 78 million people in rural China read news from the three primary news apps at least once a month and 175 million short video app users are in rural China.
They often embrace the "social+" model, like U.S. companies, meaning they use social media functions to promote other use cases, like streaming and digital payments.
Go deeper: The report lets you filter through every investment, acquisition and self-made app being built by the "Big Three" in China.
5. Democratic lawmakers bounce back on Facebook
A new Pew Research Center study finds that after the 2016 election, Democrats in Congress posted on Facebook more often than Republicans, which is a startling difference from prior to the 2016 election.
Why it matters: The same Pew study from 2017 found that before Donald Trump became president, Republicans were much more likely to leverage social distribution networks, like Facebook, to communicate with their constituencies over press releases.
This was particularly true for some of the most partisan Republicans, like members of the Liberty/Freedom Caucus. Members of the Liberty/Freedom caucus shared more than 20% more news on Facebook than their Progressive Democratic Caucus counterparts before the election.
Between the lines: Some political experts Axios has spoken to — including high-level Democratic Hill staffers during the Obama years — argue that Democrats during at that time were more focused on message substance over delivery, which is why they often took to traditional modes of communication, like press releases.
6. Hollywood's new giant looks to take on Netflix
Comcast has given up on pursuing 21st Century Fox's entertainment assets, nearly guaranteeing that Disney will acquire most of Fox barring any regulatory concerns.
Why it matters: The combined company will nearly double Disney's size, giving it enough content and international assets to take on Netflix, which has quickly become a dominant force in the American entertainment industry.
The big picture: The new mega-media company will bring together two of Hollywood's "Big 6" movie studios, Walt Disney Studios and 20th Century Fox. Combined, the company will own 7 of the 10 highest-grossing films.
Last year, Fox and Disney collectively brought in roughly one third of movie studio revenue.
On the TV side, the deal will also give Disney access to a slew of new cable channels, like National Geographic and FX, that can be used to populate its own streaming service. Disney already owns several cable channels, like ESPN, Disney, and Freeform.
When it comes to streaming, some experts worry that the combined company could be problematic for Hulu, the streaming service that's jointly owned by Comcast, Fox, Disney and Turner (now owned by AT&T).
Disney has reportedly indicated that it would divest Hulu, which is about one-sixth the size of Netflix, if needed for regulatory approval.
7. ICYMI: Retailers now in media and ad biz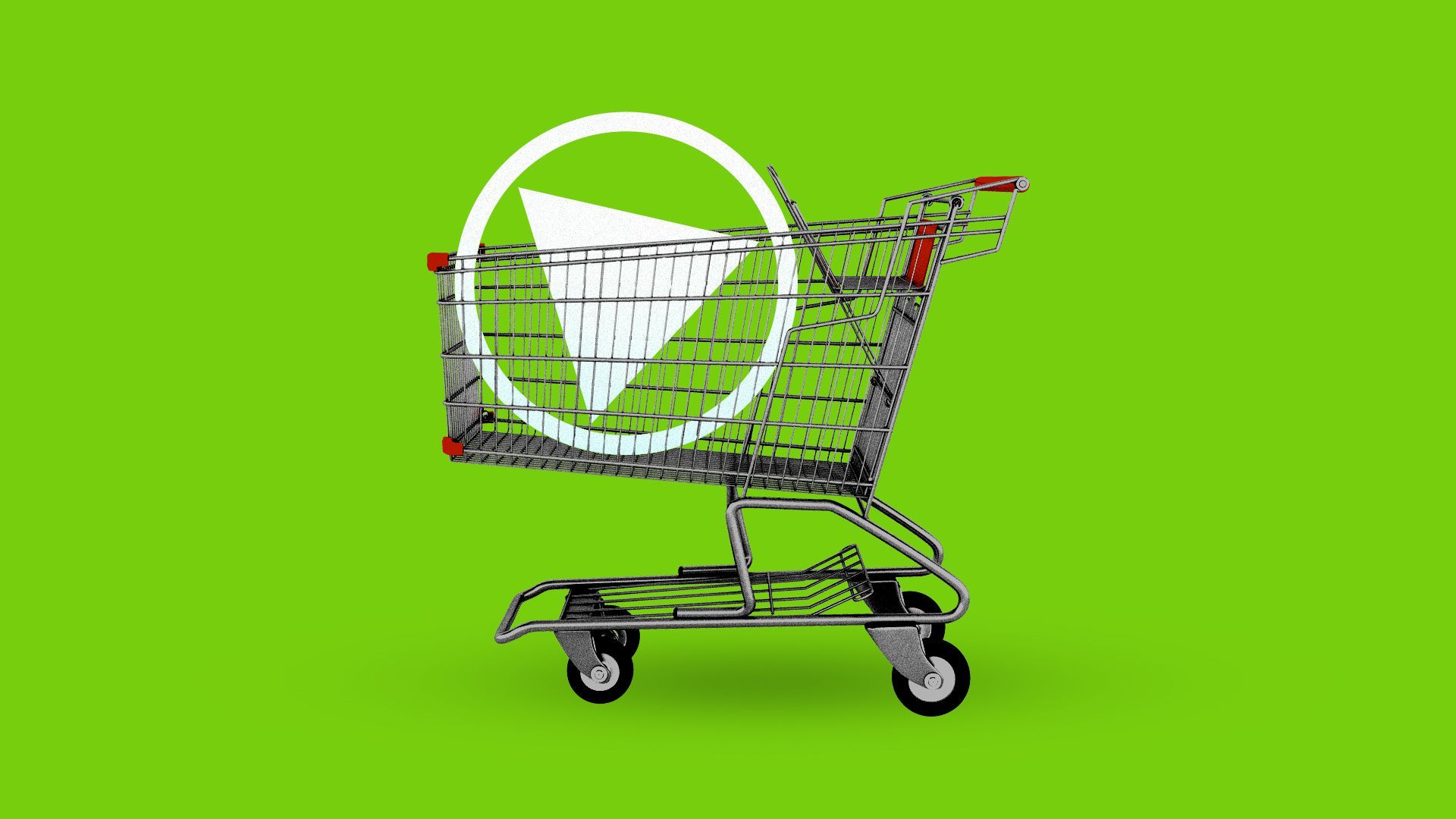 Move over, telecom and big tech. Mass market retailers and grocers are developing their own content and advertising businesses to compete with legacy media.
Why it matters: Ad-serving and video creation has become so democratized that any company with an audience is now able to steal advertising dollars, content rights or consumer attention away from traditional media companies.
Details: Walmart is considering launching an ad-supported subscription streaming video service, per The Information. Amazon is also staking its future in media with advertising, streaming video and social media. Target, Kroger, and Albertsons have all launched their own ad networks.
Go deeper: Read the full piece in the Axios stream.
8. 1 TV thing: Cord-cutting grows
Cord cutters will outpace previous projections and grow more than 30% this year, analysis from eMarketer shows. This is the second time eMarketer has increased projections for cord cutting in less than a year, Axios' Marisa Fernandez reports.
Why it matters: The report also shows that despite cable and satellite companies forming partnerships with OTT video providers, like Netflix and Hulu, to retain subscribers, Pay-TV subscribers are still leaving for cheaper digital live "skinny bundles" in droves.
The bigger picture: eMarketer has increased its future viewership estimates for some of digital streaming companies, like YouTube, Netflix, Amazon and Hulu, which they argue are growing at Pay-TV's expense.
There still is progress from satellite companies, including Dish's Sling TV and AT&T's DirecTV Now. Though growth is a sliver of the 92 million people who still pay for satellite and cable.
What's next: Earnings reports from the major cable and satellite providers this week and next will show how far streaming cut into traditional TV services.