Axios Markets
August 26, 2020
Good morning! Was this email forwarded to you? Sign up here. (Today's Smart Brevity count: 1,156 words, 4.5 minutes.)
🎙 "There are no great things, only small things with great love. Happy are those." - See who said it and why it matters at the bottom.
1 big thing: Consumer confidence is wilting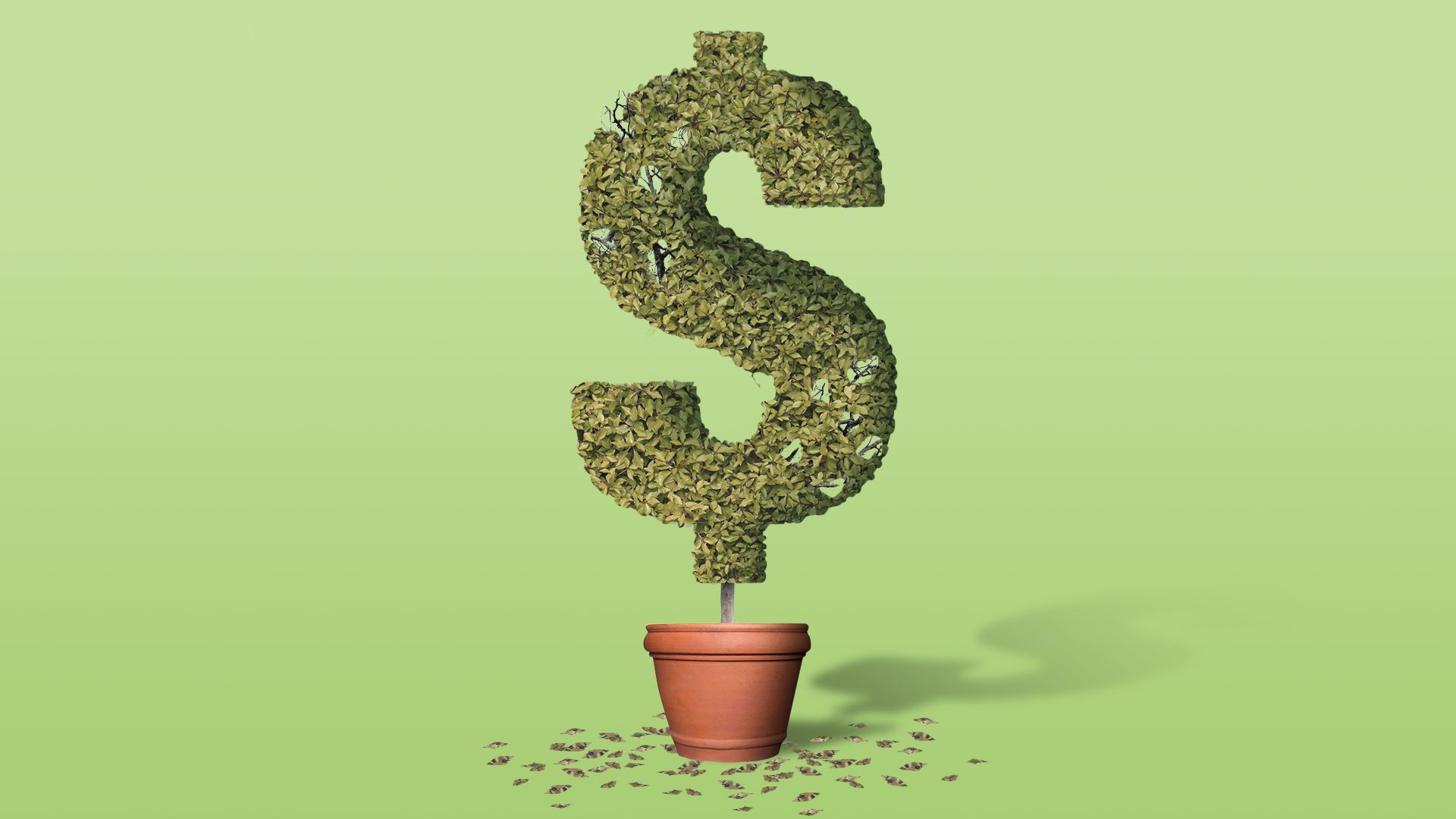 Consumer confidence is moving backwards as more companies announce layoffs, jobs get harder to find and the coronavirus pandemic continues to wreak havoc on the economy.
Why it matters: It's the latest indicator showing the U.S. economy is weakening moving into the back half of the year.
The big picture: The low readings on consumer confidence have persisted despite the skyrocketing housing and stock markets, which typically boost sentiment by driving the wealth effect.
That consumer sentiment has fallen while the S&P 500 has risen for five straight months and by nearly 50% with housing prices counting superb back-to-back months suggests an increasing disconnect between markets and the economy.
Driving the news: The Conference Board's consumer confidence survey fell for the second straight month in August, dropping to its lowest since April 2014.
Plus, the University of Michigan's consumer sentiment index has similarly shown weak readings in July and August.
What they're saying: "The Present Situation Index decreased sharply, with consumers stating that both business and employment conditions had deteriorated over the past month," Lynn Franco, senior director of economic indicators at the Conference Board, said in a release.
"Consumers' optimism about the short-term outlook, and their financial prospects, also declined and continues on a downward path."
The intrigue: "Consumer spending has rebounded in recent months but increasing concerns amongst consumers about the economic outlook and their financial well-being will likely cause spending to cool in the months ahead," Franco added.
Make it plain: Readings fell across the board.
Consumers' assessments of their current and future conditions fell and the view that business conditions are "good" declined, while those claiming business conditions are "bad" increased.
Appraisal of the job market also tumbled, with more respondents describing jobs as "hard to get."
Consumers were similarly pessimistic about the future, with expectations of job expansion and income increases all falling.
Yes, but: The survey gathered data until Aug. 14, which was near a turning point of daily new COVID-19 cases in the U.S. falling from their late-July peak.
The bottom line: U.S. consumer spending has held up remarkably well thanks to significant fiscal and monetary assistance, but spending is highly tied to confidence and, of course, money. And millions of unemployed Americans now have $600 a week less.
"This does not bode well for Q4 consumption, if Congress does not get its act together," Ian Shepherdson, chief economist at Pantheon Macroeconomics, said in a note.
Bonus chart: Consumers and CEOs see the economy very differently
As consumer confidence has fallen in recent months CEO confidence has picked up, with CEOs holding a more positive outlook in the Conference Board's third quarter survey than they did when surveyed in Q1, before the coronavirus pandemic hit.
CEO confidence is nine points higher — nearly 22% — than it was in the Q1 survey in February, and reached its highest since Q3 of 2018.
What's happening: CEO confidence has improved despite more expectations for layoffs, reduced capital spending and lower budgets.
Over the next 12 months, 38% of surveyed CEOs expect to reduce their workforce.
37% say they will trim their capital spending budgets by 10% or more.
More than a third do not foresee increasing employees' average wages over the next 12 months.
Nearly 50% say they will increase wages by less than 3%.
2. Catch up quick
Global trade flows collapsed in the second quarter, falling by the most on record, as coronavirus lockdowns disrupted air and sea transport and slashed consumer demand. (WSJ)
The Justice Department is preparing to charge Teva Pharmaceuticals for conspiring with competitors to raise prices for generic drugs. (Bloomberg)
Former Fed chair Janet Yellen says in a new op-ed that the Fed has done its job and it's now Congress' turn, asking, "why is a Fed chair being ignored again?" (NY Times)
The U.S. is considering formally labeling China's treatment of Muslim Uighurs a genocide, according to two White House officials. (Politico)
Two weeks after President Trump's executive action delaying payroll taxes, the Treasury Department still has not given companies guidance on how to handle the order. (Bloomberg)
3. NY Fed's weekly economic index falls again
The New York Fed's weekly index of real-time, high-frequency data fell in the first reading for the week of Aug. 25.
What's happening: The index continues to rise from its bottom in April, but after seeing consistent gains in May and June, there has been much more volatility in the last two months, including persistent declines since July.
The latest downturn was "in spite of increases in retail sales, steel production, and consumer confidence," the New York Fed notes, "and is due to data series that have recently provided more positive signals not yet being available."
4. China is less than half way to trade deal targets
To satisfy the conditions of the phase one U.S.-China trade deal, China is expected to purchase at least $200 billion more in U.S. exports combined in 2020 and 2021. Data show that as of July they are more than 50% behind the pace of expected purchases.
By the numbers: So far, China's purchase of covered products was $39.3 billion, compared with a year-to-date target of $83.2 billion, Chad Bown, a fellow at the Peterson Institute for International Economics, notes.
Through July, Chinese imports of all uncovered products from the U.S. were actually 28% lower than over the same period in 2017.
Driving the news: Following a videoconference between senior U.S. and Chinese officials on Monday, both sides said they were committed to carrying out the deal.
More importantly, no adjustments or plans for China to realistically meet the targets were announced despite the severe disruption to its economy as a result of the coronavirus pandemic.
Why it matters: With tariffs still in place on most Chinese exports to the U.S. and on many Chinese imports from the U.S., businesses and consumers are still paying the trade wars costs, but are seeing less than half of the purported benefits from the conflict's lone agreement.
In particular, American farmers, who have suffered greatly from the trade war, were anticipating a boost from the increased Chinese purchases after retaliation from Beijing caused a severe decline in commodity prices and exports last year.
Yes, but: Earlier this month the Department of Agriculture reported the sale of 126,000 tonnes of soybeans to China, the eighth consecutive weekday with large sales to Chinese buyers.
And U.S. oil traders, shipbrokers and Chinese importers reportedly told Reuters that Chinese state-owned oil firms have plans to carry at least 20 million barrels of U.S. crude for August and September.
Between the lines: As Axios' Bethany Allen-Ebrahimian wrote last week, trade is the last major area where the U.S. is still relying on traditional diplomacy with China, as President Trump has ratcheted up measures targeting China heading into the November presidential election.
5. U.S. imports jump in August, especially from China
Total U.S. imports have risen in August after 10 straight months of declines, data from S&P Global show, with U.S. imports by sea growing by 7% year over year in the first 15 days of the month.
Details: Imports from China surged 14.3% higher year over year in the first half of August after increasing by 4.3% in July, per Panjiva, the supply chain research unit of S&P Global Market Intelligence.
Exports from the EU rose by 7.5% after falling 13.9% in July.
Growth was not universal with shipments from Asia, excluding China, down by 4.6% due to a continued decline in imports from Japan.
Thanks for reading!
Quote: "There are no great things, only small things with great love. Happy are those."
Why it matters: On Aug. 26, 1910, Agnes Gonxha Bojaxhiu, also known as Mother Teresa, was born. Founder of the Missionaries of Charity, she began working in the slums of Calcutta in 1948 and went on to establish orphanages, hospitals and hospices dedicated to the sick and the poor.
She received the Nobel Peace Prize in 1979.